LETTUCE CUPS
INGREDIENTS:
1 spring onion, finely diced
1/4 red chilli, finely sliced
1/2 tsp. garlic, finely diced
1 tsp. olive oil
125g mince of choice
1/2 carrot, coarsely grated
1/2 zucchini, coarsely grated
1/2 small can water chestnuts
1/4 cup bean sprouts
2 lettuce cups
INSTRUCTIONS:
Sauté spring onion, chilli and garlic with olive oil over medium heat.
Add mince and brown.
Add vegetables, water chestnuts and cook for 3-5 mins.
Add bean sprouts and serve mince in lettuce cups.
Serves1
Calories260
Fat7g
Protein42g
Carbs7g
Fibre3g
Adapted from http://www.shapeme.com.au/weight-loss-recipes/1244/Turkey-Lettuce-Cups?fbclid=IwAR0u1NVWQXEZpdspIgU-Puy6-Cgbrnrl8cIHF4x2Qz8m9HWxCxPkRzARsP4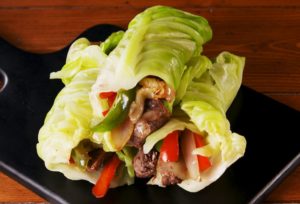 STEAK CABBAGE WRAPS
Ingredients
8 large green cabbage leaves (from 1 head)
2 tbsp. Olive oil, divided
1/2 large onion, thinly sliced
2 large bell peppers, thinly sliced
1 tsp. dried oregano
Ginger to taste
Freshly ground black pepper
500 g. steak, thinly sliced
6 slices provolone
INSTRUCTIONS
In a large pot of boiling water, use tongs to dip cabbage leaves in water for 30 seconds to blanch. Place on a paper towel–lined plate to dry.
In a large stoneware fry pan over medium heat, heat 1 tablespoon of oil, then add onion and bell peppers. Season with oregano, ginger and pepper. Cook, stirring often, until onions and peppers are tender, about 5 minutes. Remove from fry pan and add remaining tablespoon oil to skillet.
Add steak in a single layer and season with ginger and pepper. Cook until steak is seared on one side, about 2 minutes. Flip and cook until the steak slices are seared on second side and cooked to your liking, about 2 minutes more for medium.
Add onion and peppers back to fry pan and toss to combine. Top mixture with an even layer of provolone and cover fry pan with a tight-fitting lid. Cook until cheese is melty, about 1 minute.
Place a scoop of steak mixture onto the centre of a cabbage leaf. Fold short end of leaf over mixture, then roll up the long side like a burrito with an open end. Repeat with remaining ingredients and serve immediately.
Adapted from https://www.delish.com/cooking/recipe-ideas/a26279552/philly-cheesesteak-cabbage-wraps-recipe/?utm_campaign=socialflowFBDEL&utm_source=facebook&utm_medium=social-media&fbclid=IwAR1pnCqtkhMHn5DIcMzTUwoL_rMAIAOGpTSIxWOz3mb0qARagDIL9VnTVl8
THIA CHICKEN LETTUCE WRAPS
INGREDIENTS
1/4 cup rice vinegar
2 tablespoons lime juice
2 tablespoons reduced-fat mayonnaise
2 tablespoons reduced-fat creamy peanut butter
1 tablespoon reduced-sodium soy sauce
2 teaspoons minced fresh gingerroot
1 teaspoon sesame oil
1 teaspoon Thai chili sauce
1 garlic clove, chopped
3 tablespoons olive oil
1/2 cup minced fresh cilantro
CHICKEN SALAD:
2 cups cubed cooked chicken breast
1 small sweet red pepper, diced
1/2 cup chopped green onions
1/2 cup shredded carrot
1/2 cup unsalted dry roasted peanuts, chopped, divided
6 Bibb or Boston lettuce leaves
INSTRUCTIONS
In a blender, combine the first 9 ingredients. While processing, gradually add oil in a steady stream; stir in cilantro. Set aside.
In a large bowl, combine the chicken, red pepper, onions, carrot and 1/4 cup peanuts. Add dressing and toss to coat. Divide among lettuce leaves; sprinkle with remaining peanuts. Fold lettuce over filling.
Nutrition Facts of original which included 1 tsp of brown sugar.
1 1/2 cup chicken salad: 284 calories, 19g fat (2g saturated fat), 38mg cholesterol, 222mg sodium, 12g carbohydrate (6g sugars, 2g fibre), 19g protein.
Diabetic Exchanges: 3 fat, 2 lean meat, 1 starch.
Adapted from https://www.tasteofhome.com/recipes/thai-chicken-lettuce-wraps/?fbclid=IwAR37CfRgNGTkOsafyxl1S3Cr9tTR9EJyV8rMYgCDvH5xke_15dy5BWfTGY8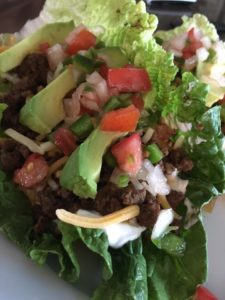 CHICKEN TACO LETTUCE WRAPS
Ingredients
2 tbsp. extra-virgin olive oil
1 small yellow onion, chopped
1 lb/500g. ground omega 3 chicken white meat
1 tsp. kosher ginger
1 tbsp. no added salt tomato paste
1 tbsp. chili powder
1 cup water
2 heads romaine lettuce, outer leaves separated
Shredded cheese, for serving
For serving
Shredded cheese
Chopped tomatoes
Chopped red onion
Chopped avocado
Chopped cilantro or coriander optional
INSTRUCTIONS
Heat oil in a large fry pan over medium-high heat. Add onion and cook until just soft, about 5 minutes. Add the chicken and season with ginger. Cook, breaking up meat with the side of a spoon, until meat is cooked through, 4 minutes.
Stir in tomato paste and chili powder and cook 1 minute. Add water and simmer, stirring occasionally, until thickened, about 2 minutes more.
Double up lettuce leaves. Divide meat mixture among leaves. Sprinkle with cheese, tomato, onion, avocado, and cilantro and serve.
Adapted from https://www.delish.com/cooking/recipe-ideas/a20964799/turkey-taco-lettuce-wraps-recipe/?utm_medium=social-media&utm_campaign=socialflowFBDEL&utm_source=facebook&fbclid=IwAR1Oa-FzND09MzWJ50Dj932__8-eRwcGBP4acKvXUeQvoA-kXaay5P3LPhY
FLAXSEED WRAPS
INGREDIENTS
1cup flaxseed – golden or brownor 1 1/2 cup flaxseed meal
1cupwater- boiled
Spices – optional but delicious
1/4teaspoonturmeric
1/4teaspoon ground ginger
1/4teaspoon garlic powder
1/4teaspoononion flakes
INSTRUCTIONS
In a blender, add the flaxseed, blend on high speed until it forms a ground/meal. You can also use flaxseed meal from the store but make sure the meal is thin as almond meal or it won't absorb all the water in the recipe and gets sticky.
In a small saucepan, bring the water to boil.
Remove from heat, stir in all the spices and add the flaxseed meal all at once.
Stir immediately with a wooden spoon, until the meal absorbs all the water, dry out and form a dough ball. As you stir, the dough will form, gradually forming a dough ball. It takes about 1-2 minutes max.
Remove the dough ball from the saucepan and transfer onto a piece of parchment paper, to avoid the dough to stick to your bench top. The dough should not be too sticky if it is it means your meal wasn't thick enough and that is ok. Sprinkle extra meal onto the ball to make it less sticky.
Divide the ball into 4 dough ball of same size. Place one of the dough ball onto a piece of parchment paper. Place another piece of parchment paper on top to avoid the dough to stick to the roller pin. Press the dough ball with your hand slightly to flatten and stick the top parchment paper piece to the ball.
Roll with a rolling pin until flat but not too thin or it won't get soft when cooked. You aim for a 2-3 mm thickness. Peel off the top piece of parchment paper.
Take a round shape – like a saucepan lid – place on top of dough and cut around the edges to make a circle. Remove the outside dough, form a ball and reuse later for another wrap if you like.
Remove lid and flip over the prepared wrap onto a non-stick pan – I used a ceramic non-stick pan. Peel off the last piece of parchment paper and cook. If you are not using a non-stick pan, spray some oil before adding the wrap into the pan.
Warm over high-medium heat and cook for 1-2 minutes or until the border get dry – centre is soft – and you can easily slip a spatula under the wrap to flip over.
Cook for about 1 extra minute on the other side. Don't over-cook or the wrap will get very crispy as tortillas chips! It has to be dry but stay soft to roll.
Place the cooked wraps on a plate.
Repeat those steps with the rest of the batter until you form 4 wraps (or 5 if you use the leftover dough from the edge you can make an extra one!) It depends of how thick you made you wraps. You can reuse the same piece of parchment paper many times!
Serve them cold with filling of your choice or hot – you can also rewarm them in a sandwich press with your favourite filling.
Store in the fridge for 3 days, on a plate covered with a plastic wrap, to prevent them to dry.
Recipe Notes
Choosing flaxseed: golden flaxseed has a better taste than brown flaxseed – can be bitter. I recommend you use golden flaxseed if you don't appreciate the slight bitterness of brown flaxseed. Both have the same nutrition properties.
Spices: use the spices you love like ground paprika, nutritional yeast, dried herbs. Spices are really recommended to add some flavour to the wrap as flaxseed could be very 'blend' in flavour.
Ground/meal: it is important to use a ground that is thin as almond meal or it won't absorb all the water. If you bought ground flaxseed that is too thick – still can see pieces of flaxseed – process few minutes in a blender before use.
Pan: use a non-stick pan – ceramic are the best no need for oil. But if you are not using a non-stick pan, spray some oil before adding the wrap into the pan.
Freezing: Freeze them as regular wraps – make sure you wrap them flat, inside a zip plastic bag. Defrost 2-3 hour before or previous day. Slightly rewarm in a frying pan few sec – no oil. Or wrap the food you like in the wrap in a sandwich press!
Nutrition Facts
Serves 4
Amount Per Serving
Calories
338
% Daily Value*
Total Fat 26.6g
41%
Total Carbohydrate 18.5g
6%
Dietary Fibre 17.3g
69%
Sugars 1g
Protein 11.6g
23%
Vitamin A 0%

Vitamin C 1%
Adapted from https://www.sweetashoney.co/flaxseed-wraps-keto-vegan-gluten-free/?fbclid=IwAR33rcHUWnKMZUADI9LmGCEl8jyv7DJzi6J8_sxbEvb2FmskfijAdhlwqQQ
KETO CHEESY TACO RECIPE
INGREDIENTS:
1 LB/ 450 g grass fed ground beef (make your own if possible)
1 & 1/2 Cups Cheddar Cheese (Shredded)
1 Red Bell Pepper (Diced)
1 Green Bell Pepper (Diced)
1 Zucchini (Diced)
1 Yellow Onion (Diced)
1 Cup Cherry Tomatoes (Diced)
1 Jalapeno Pepper (Diced)
1 TBSP chili powder
2 TSP onion powder
1 TSP cumin
1 TSP garlic powder
1 TSP paprika
1 TSP dried oregano
Optional for Garnish/Toppings:
1 Bunch Green Onion (Sliced)
Iceberg Lettuce (Shredded)
INSTRUCTIONS:
Prep the Vegetables by Dicing them all into bite-size pieces.
In a large fry pan over Medium-High Heat brown the Grass-Fed Ground Beef.
When the meat is browned add in the Yellow Onion, Green Bell Pepper, Red Bell Pepper, and Zucchini then stir and cook for a few minutes.
Next add in the Cherry Tomatoes and Jalapeno Pepper then stir and cook for a couple minutes before adding in the seasoning.
For the seasoning you could use your own preferred Taco Seasoning (NB1), but here we listed the spices as above. So many of the packaged Taco Seasonings have added ingredients like Dextrose or MSG that are not so good for you to consume. By making the seasoning ourselves, we can be assured we know what is in it.
Stir in the seasoning and cook for about 5 minutes before turning off the heat.
Shred the Cheddar Cheese and sprinkle on top of the skillet mixture and allow to melt while the food is still very hot.
Optionally you can garnish the dish with a topping of Shredded Iceberg Lettuce, Green Onions. This can be served this as-is or even scoop it into some Iceberg Lettuce Leaves for some Keto Cheesy Taco Lettuce Wraps.
NB1 Recipes for Taco seasoning can be found here.
http://www.findtex.com.au/uncategorised/spice-mix-sugar-salt-and-fat-free/?fbclid=IwAR17uV5h-a72GLRhnHawtFpGsXWm-VYQGgPG5yV7_K0bs8DorJCKPn9H7ek
Adapted from https://keto-daily.com/keto-cheesy-taco-skillet-recipe/?fbclid=IwAR0hGhP6xU5O8gMJyfW-4e5z8FbL3-zOUKtHToIFg1DMl3DoWRaCj9ll–8
CAPSAICIN HAMBURGER
Ingredients
400 g ground grass fed beef (make you own if possible.)
1/4 c. chopped parsley
1/4 c. grated Parmesan, plus more for garnish
2 egg
2 garlic cloves, minced
1 tsp. ginger
1/2 tsp. red pepper flakes
2 tbsp. olive oil, divided
4 bell peppers, cored and halved
INSTRUCTIONS
Preheat oven to 350°F/180°C.
In a large bowl, combine beef, parsley, parmesan, egg, garlic, ginger and red pepper flakes. Mix until just combined and form into 16 balls.
In a large stoneware fry pan over medium-high heat, add 1 tablespoon oil. Add meatballs and cook, turning occasionally, until seared on all sides, about 10 minutes. Cover the fry pan with lid and simmer until meatballs have cooked through completely, about 10 minutes more. (These can also be cooked in a steamer for a healthier burger.)
Place bell peppers cut side-up on a large rimmed baking sheet and drizzle with olive oil. Top 4 halves with mozzarella slices. Bake until cheese has melted and bell peppers are just warmed through.
Add meatballs on top of the bell pepper halves with cheese and sprinkle with more parmesan, if using. Place remaining bell halves on top and serve.
Adapted from https://www.delish.com/cooking/recipe-ideas/recipes/a58297/bell-pepper-meatball-subs-recipe/?utm_source=FCFacebook&utm_medium=SocialFlow&utm_campaign=SocialFlow&fbclid=IwAR30tRLXHWh4vBrm5UL1W3_tVU3f4nkJPXRdnlcea_cNzmtmapWwhntjCOM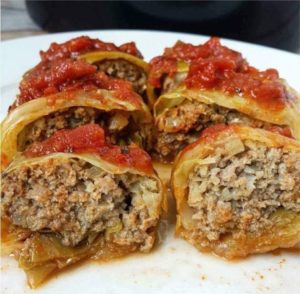 SLOW COOKED CABBAGE ROLLS STUFFED WITH CAULIFLOWER RICE
INGREDIENTS
1 Kg lean ground meat
1 small head cabbage (3 cups total)
1½ cups (1 small head) cauliflower rice
2 diced tomatoes
1/3 cup diced onion
2 tsp whole leaf oregano
½ tsp ginger
½ tsp pepper
2 garlic cloves, minced
INSTRUCTIONS
1. In a large bowl, mix together ground meat, cauliflower rice, onion, seasoning, ginger, pepper and garlic.
2. Take your prepared cabbage leaf (to prepare: boil for approximately 5 minutes)
3. Fill each leaf with approximately ¼ cup of the meat/cauliflower mixture.
4. Roll up each leaf like a burrito.
5. Spoon a thin layer of diced tomatoes in the bottom of the slow cooker.
6. Add the cabbage rolls, seam-side down.
7. Add the rest of the diced tomatoes on top.
8. Cook HIGH 2-3 hours or LOW 4-6 hours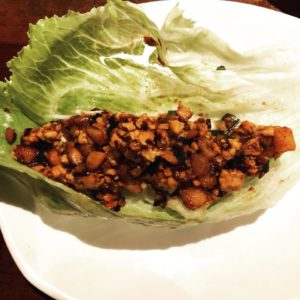 5 MINUTE ASIAN LETTUCE WRAP
INGREDIENTS

250 gms lean chop meat
Tablespoon chopped Scallions
Any in season vegetables chopped.
Boston Lettuce cups or romaine
INSTRUCTIONS
Sauté ground meat and drain all fat.
Add the vegetables and stir
Add into lettuce cups
Top with scallions
ENJOY!
LOW CARB TACO SHELLS WITH SPINACH
INGREDIENTS
4 oz fresh spinach leaves (100 g)
4 cups boiling water
2 omega-3 eggs
4 tablespoon almond meal or oat flour
1/2 cup grated cheese
1/4 teaspoon garlic powder
1/4 teaspoon ginger
INSTRUCTIONS
Preheat oven to 390 F (200 C).
Place the fresh spinach leaves into a large mixing bowl.
Cover the spinach leaves with 4 cups of boiling water. Cover. Set aside 2 minutes.
In another bowl add ice cubes, about 1 cup.
Using tongs remove the cooked spinach leaves from the mixing bowl and place them into the bowl filled with ice cubes. Stir the leaves into the ice cubes for few seconds to cool down.
Squeeze the spinach leaves with your hands to remove all the water. It will form a compact spinach 'ball.'
Pat dry the spinach between layers of absorbent paper to ensure that the cooked spinach is fully dry.
Finely chopped the cooked spinach on a chopping board.
Place them into a large mixing bowl and combine with grated cheese, eggs and almond meal, garlic powder and ginger until it forms a sort of batter.
Scoop out the batter onto a baking tray covered with parchment paper.  It is recommended to spray some olive oil on the parchment paper too to avoid the shells to stick to the paper!
Use your fingers to flatten each scoop of taco batter into an evenly flat thin circle that looks like a taco.
Bake at 390 F (200 C) for 15 minutes or until it is golden and crispy on sides. Depending on oven and thickness of your tacos you may have to reduce to 350 F (180C). Simply watch the colour and texture while baking to avoid burning. It is baked when the border are crispy and slightly golden brown.
Cool down on a plate few minutes before eating.
Can be eaten lukewarm or cold with toppings of your choice.
Recipe Notes
Toppings ideas: lettuce, scramble eggs, tomatoes and avocado and for a delicious breakfast or grilled vegetables, tofu, chicken. Any of your favourite taco fillings will be delicious in those shells/
Cheese: use any hard-grated cheese like mozzarella, cheddar, etc.
Freezing: freeze well in airtight container. Make sure the shells don't overlap or it make them difficult to defrost individually. Place a piece of parchment paper between each taco to avoid this problem. Defrost in less than 1 hour at room temperature. Rewarm in sandwich wrap or hot oven 1-2 minutes at 150 C (300f).
Adapted from https://www.sweetashoney.co/low-carb-taco-shells-spinach/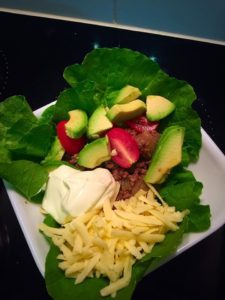 TURKEY/CHICKEN TACOS
INGREDIENTS
1tbs no added salt tomato paste
1 medium onion, thinly sliced
3 cups shredded cooked turkey or chicken
8 corn tortillas or home-made fathead tortillas or lettuce leaves.
olive oil cooking spray
1 avocado, pitted
1/4 cup prepared salsa
2 tablespoons Greek yoghurt
2 tablespoons chopped fresh cilantro
1 cup shredded romaine lettuce
1/2 cup shredded cheese of choice
INSTRUCTIONS
1. Position racks in the upper and lower thirds of the oven; preheat to 375°F/190°C.
2. In a medium saucepan over medium heat. Add onion and tomato paste and cook, stirring occasionally, until the onion is soft and most of the liquid has evaporated, 15 to 20 minutes. Add turkey (or chicken) and cook until heated through, 1 to 2 minutes.
3. Meanwhile, coat tortillas (if using) on both sides with cooking spray. Divide the tortillas between 2 large baking sheets. Bake, turning once, until crisped and lightly brown, about 10 minutes.
4. Mash avocado in a bowl. Stir in salsa, yoghurt and cilantro until combined.
5. To assemble tostadas, spread each crisped tortilla with some of the avocado mixture. Top with the turkey (or chicken) mixture, lettuce and cheese.
Tip
To poach chicken breasts, place boneless, skinless chicken breasts in a medium skillet or saucepan. Add water to cover and bring to a boil. Cover and reduce heat to low and simmer gently until chicken is cooked through and no longer pink in the middle, 10 to 12 minutes.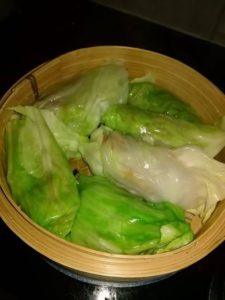 CABBAGE ROLLS
Ingredients
8 large green cabbage leaves (from 1 head)
1 tbsp. extra-virgin olive oil
1/2 onion, chopped
½ kg ground grass fed beef
2 cloves garlic, minced
1 tbsp. taco seasoning mix find recipe here http://www.findtex.com.au/uncategorised/spice-mix-sugar-salt-and-fat-free/
Ginger
Freshly ground black pepper
1 (15-oz.) can black beans or dried soaked overnight.
1/2 c. chopped cherry tomatoes
Any in season vegetables
1/2 c. shredded cheddar
INSTRUCTIONS
Preheat oven to 350ºF/180ºC and line a small baking sheet with parchment paper/ alternatively prepare a steamer.
In a large pot of boiling water, use tongs to dip cabbage leaves in water for 30 seconds to blanch. Place on a paper towel-lined plate to dry.
In a large skillet over medium heat, heat olive oil. Add onion and cook until soft, about 5 minutes, then stir in ground beef and garlic. Cook, stirring often, until beef is no longer pink, about 5 minutes. Drain excess fat, then season with taco seasoning mix, ginger, and pepper. Stir in black beans and cherry tomatoes.
Lay 2 cabbage leaves side by side, overlapping slightly. Place a heaping spoon of ground beef mixer, then top with cheese. Fold short sides of cabbage leaves in first, then roll into a cylinder — like a burrito! Repeat with remaining beef mixture.
Place on baking sheet and bake until cheese is melted, about 10 minutes/ these can also be steamed.
Adapted from https://www.delish.com/cooking/recipe-ideas/a21633960/cabbage-burritos-recipe/
LETTUCE WRAP CHICKEN TACO
INGREDIENTS
Grilled Taco Chicken
1/2 Boneless, skinless chicken breasts or thighs
2 cloves garlic minced
1 tablespoon olive oil
2 tablespoons taco seasoning from http://www.findtex.com.au/uncategorised/spice-mix-sugar-salt-and-fat-free/
To Assemble
8 leaves Romaine Lettuce rinsed
1 avocado diced
1 tomato diced
1/4 cup onion diced
Cilantro Sauce
INSTRUCTIONS
To Cook Chicken
Add the chicken, garlic, olive oil, and spices in a large bowl or zip-seal bag. Place in fridge and let marinate for at least 15-30 minutes or up to 24 hours.
Remove chicken from marinade and discard marinade. Place chicken on a grill/BBQ or stoneware fry pan heated to medium-high heat. Let chicken cook until it is no longer pink on the inside, about 9-10 minutes per side.
To Assemble
Layer lettuce wraps with chicken, tomatoes, onion, and avocado. Drizzle with cilantro sauce or your favourite taco sauce.
Nutrition Facts
Amount Per Serving (1 tacos)
Calories 161 Calories from Fat 82 % Daily Value*
Total Fat 9.1g 14%
Saturated Fat 1.5g 8%
Cholesterol 42.5mg 14%
Sodium 382.9mg 16%
Total Carbohydrates 6.1g 2%
Dietary Fibre 1.2g 5%
Sugars 2.3g
Protein 14.5g 29%
* Percent Daily Values are based on a 2000 calorie diet.
Adapted from https://gimmedelicious.com/2018/03/20/chicken-taco-lettuce-wraps-low-carb-paleo-keto/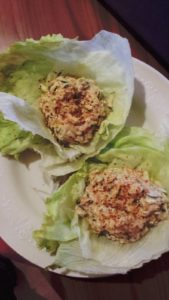 BLACK BEAN BURGER
INGREDIENTS
1 can 15.5 ounce low-sodium black beans (drained rinsed with cold water) or dried freshly cooked, drained and rinsed
1 large egg
1/2 cup cooked cauliflower rice
2 scallions (green and white minced about 1/4 cup)
2 tablespoons Chopped fresh cilantro (or basil leaves or a combination)
1 clove garlic (peeled and minced)
1/4 teaspoon dried oregano or basil
1/2 teaspoon ginger
1/2 teaspoon black pepper
4 lettuce leaves
INSTRUCTIONS
Add beans to a bowl and mash with a fork until chunky. Add the egg and mix well.
Add precooked cauliflower rice, scallions, garlic and oregano, ginger and pepper and mix until well combined.
Divide the mixture into 4 portions and form each portion into a patty about ¾ to 1 inch thick.
Place a large steamer on the stove on high heat.  When the steamer is hot, add burgers and cook 8 to 10 minutes per side until are heated throughout. Place on a lettuce leaf and enjoy as a burger.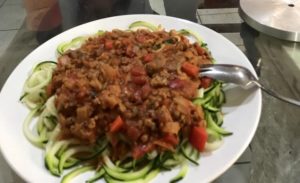 ZUCCHINI NOODLE TACO
INGREDIENS
1 tbsp olive oil
2 large zucchinis, spiralized
½ kg lean any meat mince
1 clove garlic, minced
1/2 small brown onion, peeled and finely chopped
3 tbsp of homemade taco seasoning from http://www.findtex.com.au/uncategorised/spice-mix-sugar-salt-and-fat-free/
1/4 cup water
1 small can diced tomatoes (Or fresh roughly sliced)
1/2 cup shredded cheddar cheese
fresh cilantro leaves
one lime, sliced into wedges
INSTRCTIONS
In a large pan or skillet, add olive oil and bring to medium high heat. Add zucchini noodles and cook until zucchini release water and are just cooked. Drain water and remove noodles from pan, setting them aside for later.
Add garlic, onions and the mince to your skillet. Cook until mince has browned. Drain out excess fat.
Sprinkle taco seasoning mince. Add entire contents of the diced tomatoes (including the liquid), 1/4 cup water and stir into the mince. Stir and cook on medium heat until everything is evenly mixed, the mince is cooked through, and sauce has thickened.
Turn heat down to low and add in zucchini noodles. Gently toss zucchini into the sauce but be careful not to cook the zucchini further or else the noodles will release more water and make the sauce watery. Sprinkle cheese over the pasta. Turn off heat and cover with a lid until cheese is melted.
Garnish with cilantro and squeeze lime juice if desired before serving.
Adapted from https://kirbiecravings.com/2017/06/one-pot-taco-zucchini-noodles.html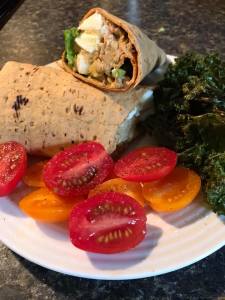 RANCHEROS
INGREDIENTS
1 1/2
Tbsp.
olive oil, divided
1
small
onion, minced
2
garlic cloves, minced
1/2
small
jalapeño pepper, seeded and minced (about 1 Tbsp)
1
(28-oz) can whole tomatoes, drained
1/4
tsp.
ginger
1/4
tsp.
freshly ground black pepper
1/4
tsp.
cayenne pepper (optional)
4
(6-inch-diameter) tortillas NB1
4
large
eggs
1 1/2
Tbsp.
grated cheddar cheese
1
Tbsp.
minced fresh cilantro
INSTRUCTIONS
In a large skillet, heat 1/2 Tbsp of the olive oil over medium heat. Add the onion and sauté for 3 to 4 minutes. Add the garlic and jalapeño pepper and sauté for 1 minute.
Heat the oven to 350 F/180C.
Add the tomatoes to a large bowl and crush them with your hands. Add the tomatoes to the skillet and bring to boiling. Lower the heat to simmer and cook, uncovered, for 15 to 20 minutes, until thick. Add the ginger, black pepper, and, if desired, cayenne pepper and cook for 5 more minutes.
Meanwhile, in a large non-stick skill stoneware fry pan, heat the remaining 1 Tbsp of olive oil over medium heat. Add the tortillas, one at a time, and cook for 2 to 4 minutes per side, until lightly browned. You want the tortillas to get a little crispy, so they don't get soggy when you add the sauce. Remove the tortillas from the fry pan and keep them warm in the oven.
Crack an egg into a small custard cup, keeping the yolk whole, and then add the egg to the empty fry pan. Repeat with the remaining eggs. Cook the eggs for 2 to 3 minutes, until set.
To serve: Place a tortilla on a plate. Spoon about 2 Tbsp of the tomato sauce on top of the tortilla. Top with an egg. Add an additional 2 Tbsp of tomato sauce and sprinkle with some of the cheese and cilantro. Repeat with the remaining ingredients.
Makes: 4 servings
Serving Size: 1 tortilla, 1 egg, about 1/4 cup sauce
Calories
220
Fat
12
g
Saturated Fat
2.9
g
Trans Fat
0
g
Carbohydrate
20
g
Fiber
3
g
Sugars
5
g
Cholesterol
190
mg
Sodium
240
mg
Potassium
425
mg
Protein
10
g
Phosphorus
240
mg
Choices: Starch 1, Non starchy Vegetable 1, Medium-Fat Protein 1, Fat 1
Adapted from http://www.diabetesforecast.org/2016/mar-apr/recipes/by-the-plate-huevos.html#.WpWAPkVyrq8.facebook
NB1 Some recipes for friendly tortillas can be found here.
www.findtex.com.au/recipes/asian/texs-indian/
Some here may prefer a lettuce or cabbage leaf wrap. Some ideas here
http://www.findtex.com.au/diabetic-foods/wraps/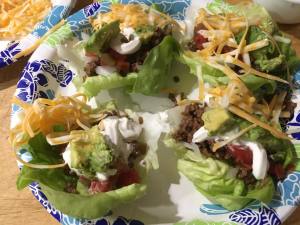 CHICKEN LETTUCE WRAPS
INGREDIENTS
Leaf Lettuce
1 cup diced chicken breast
1 cup chopped carrots
½ cup chopped celery
Any other in season green vegetables
¼ teaspoon chili powder
½ teaspoon cumin
¼ teaspoon ginger
1 tablespoon olive oil
INSTRUCTIONS
Heat olive oil in skillet.
Sauté chicken until cooked.
Add carrots and celery and cook for another two minutes.
Add spices, ginger and other green vegetables steamed if necessary; mix well.
Serve in lettuce leaves.
VIETNAMESE RICE PAPER ROLLS
Serves 4
INGREDIENTS
1 chicken breast fillet, thinly sliced
1 tablespoon lime juice
1 garlic clove, crushed
8 12 x 22cm rice paper rounds (Some here may prefer lettuce or cabbage leaf.)
1 cup finely shredded Chinese cabbage
1/2 cup bean sprouts
1 red capsicum, thinly sliced
1/3 cup fresh mint leaves
1/2 cup fresh coriander leaves
INSTRUCTIONS
In a mixing bowl, combine the chicken, garlic and lime juice. Cover with glad wrap and let sit in the fridge for 30 minutes.
In a non-stick frying pan over medium heat, cook the chicken (this should take approximately 5-6 minutes.
To assemble each rice paper roll: place 1 rice paper round in a medium bowl of lukewarm water for 15 seconds or until just soft. Place on a clean tea towel or paper towel. Fill roll with some chicken, sliced cabbage, bean sprouts, capsicum, mint and coriander. Fold in the ends and roll tightly, like wrapping a Christmas present. Repeat with each roll.
Nutritional Information: of original.
NUTRITION INFORMATION PANEL
Serves per recipe: 4
Per 100g
Per Serve(123g)
Energy (kJ)
 452
555
Protein (g)
 8
 10
Total Carbohydrate (g)
 16
19
Total Fat (g)
 0.8
 1
Saturated Fat (g)
0.1
0.1
Dietary Fibre (g)
1.3
1.6
Sodium (mg)
 50
 62
Adapted from https://www.diabetesqld.org.au/recipes/snacks/vietnamese-rice-paper-rolls.aspx
CHICKEN SHAWARMA WRAP
INGREDIENTS
Pita Bread 4 NB1 (or lettuce leave)
For Chicken
Chicken 200 gm (cubed) (Any lean meat can be used)
Yogurt 4 tea spoons
ginger ½ tea spoon or to taste
Crushed red chili 1 tea spoon
Cumin powder ½ tea spoon
Lemon juice 2 tea spoons
Olive Oil 2 tea spoons
For Salad
Cucumber 1 small (Julienned)
Capsicum 1 small (Julienned)
Cabbage 6-8 leaves (Julienne)
Any other in season salad vegetables
White vinegar ½ cup
For Mayo Sauce
Mayonnaise ½ cup
Greek Yogurt 4 tea spoons
Chili garlic sauce 2 tea spoons
INSTRUCTIONS
For Chicken
Combine chicken with other ingredients and leave for 15 minutes. Heat a grill pan oiled with the Olive oil, add the chicken and cook. When chicken through break it into small pieces.
If you don't have grill pan, heat oil in pan and cook chicken until browned and done.
For Salad
Mix salad ingredients in a bowl.
For Mayo Sauce
Combine mayo sauce ingredients in a bowl.
Assembling: Heat up pita bread on tawa, place on butter paper; place chicken on one side of bread, top with salad and sauce. Now roll it.
Serve warm.
Adapted from http://www.therecipespk.com/chicken-shawarma-recipe/
NB1
PITA BREAD RECIPE
INGREDIENTS
Plain flour 2 cups
White flour 1 cup
Dry yeast 1-1/4 tea spoons
Salt 1 tea spoon
Milk 2 cups
Oil 4 tea spoons
INSTRUCTIONS
In a bowl combine all the dry ingredients, then add some milk and make sure that salt and yeast grains are fully mixed. Add milk and knead the dough about 5 minutes. When the mixture starts looking like dough, add oil and keep kneading until the oil is mixed with the rest.
When the dough is too stiff to stir, turn it out onto a lightly floured board and knead for 5 to 8 minutes, until dough is smooth and elastic.
Leave it in the bowl; apply oil on surface and cover to rise for 30 minutes on warm place. When the dough is about double to its original size, punch it down to eliminate the air bubbles and leave for more 15 minutes.
Preheat oven at 180 C.
Take pieces of dough according to what size of pita bread you want, and roll them out on a surface sprinkled with flour. Flatten each piece of dough and make a shape of pita bread.
Place pita bread on greased baking try and bake for about 6-8 minutes at the middle rack. Turn them on the other side after first couple of minutes. Let it cool.
http://www.therecipespk.com/pita-bread/
QUINOA SUSHI
INGREDIENTS
3 nori sheets (Cabbage leaves can also be used) NB1
1 cup cooked quinoa NB 2
1 cucumber, sliced julienne
1 carrot, sliced julienne
1 avocado, cubed
reduced-salt soy sauce, to dip
INSTRUCTIONS
Cook quinoa according to packet instructions. Spread 3 tbsp. of quinoa on each nori sheet at one end.
Top with cucumber, carrot and avocado. Roll starting from the end with all the fillings.
Slice into five bite-size sushi pieces.
Nutrition Information (per serve)
| | |
| --- | --- |
| Energy | 957.1 kJ (229 calories) |
| Protein | 9.1g |
| Total Fat | 10.6g |
| Carbohydrates | 21.6g |
| Saturated Fat | 2.2g |
| Sugars | 5.3g |
| Dietary Fibre | 5.6g |
| Sodium | 1787.7mg |
Adapted from https://daa.asn.au/recipes/quinoa-sushi/
NB1 Try cabbage leaves and steaming them see picture.
NB 2 Quinoa Glycemic Index
A 150g serving of cooked quinoa has received a glycemic index rating of 53 from the Glycemic Index Foundation.
http://www.med-health.net/Quinoa-Glycemic-Index.html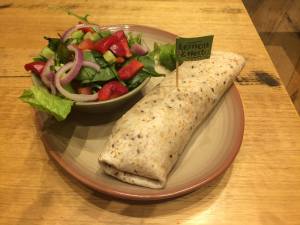 BLACK BEAN BURRITOS
Ingredients
For the Sweet Potatoes:
3 cups sweet potatoes, peeled and chunked
2 tablespoons olive oil
1 teaspoon garlic powder
1 teaspoon chili powder,
1 teaspoon ground cumin
For the Black Bean Mash:
2 1/2cups black beans
2 tablespoons tahini
1 teaspoon cumin
juice from a half lime (~ 2 tablespoon in 1/2 half lime)
1/4cup olive oil
For the Eggs:
8 eggs, large omega three
splash of milk, any kind
1/2tablespoon EVOO (Extra Virgin Olive Oil)
1/2 yellow onion, finely diced
Ginger and pepper to taste
Other:
8 whole wheat or multigrain tortillas (Lettuce leaf can also be used)
1/2 cup green chilis
1/2 cup chopped onion
Instructions
For the Sweet Potatoes:
Preheat oven to 400ºF 200 C and drizzle about 2 tablespoons of olive oil on a baking pan.
Prep sweet potatoes by dicing them into 1-inch chunks. Spread on pan and season with spices.
Use your hands to toss the sweet potatoes so that they are evenly covered in the olive oil and spices. Roast for 20-25 minutes or until you can pierce with a fork. Set aside
For the Black Bean Mash:
Place all ingredients in a high-speed food processor and process on high until smooth. Add more olive oil if you need to thin your paste out. ***Place about half the black bean paste in a sealed jar to eat later, you'll only use about half of it for this recipe!
For the Eggs:
Prep scrambled eggs by heating about ½ tablespoon of EVOO in a large pan. Add in yellow onion and sauté until almost translucent.
Crack 8 eggs into a bowl and add a splash of milk. Whisk. Then, add into pan and cook for a few minutes, scraping the sides often with a spatula until cooked. Season with ginger and pepper to taste.
Assemble:
Lay out 8 tortillas on your counter top. Spread on about a tablespoon of black bean mash onto each tortilla. Then, add sweet potatoes, egg, a tablespoon of green chiles, and a tablespoon of chopped onion.
Wrap like a burrito and eat immediately or *freeze later.
Note:
*To freeze: Before wrapping the burritos in tin foil, wrap them in plastic wrap and squeeze as much air out as possible. This will prevent freezer burn and allow them to last for up to 3 months in the freezer. What I like to do is write the name of the recipe on the tin foil followed by the date so that I know which ones to eat first.
adapted from http://pulses.org/nap/recipe/black-bean-breakfast-burritos/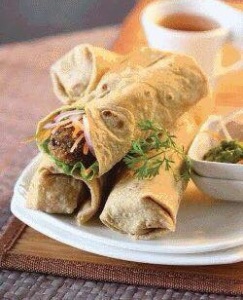 HARA BARA TIKKI ROLL
Preparation Time: 15 mins Cooking Time: 10 mins Makes 4 rolls
INGREDIENTS
For The Hara Bhara Tikkis
1 cup blanched, drained and roughly chopped spinach (palak)
1/2 cup boiled green peas
1 cup cooked chana dal (split bengal gram)(Chick peas)
25 mm (1″) piece ginger (adrak)
2 tsp grated garlic (lehsun)
2 tsp finely chopped green chillies
1/2 cup grated low-fat paneer
1/4 tsp garam masala http://www.findtex.com.au/diabetic-foods/sugar-free-masala/
whole wheat bread crumbs for rolling
2 tsp olive oil for cooking
For The Pahadi Marinade
1 cup chopped mint leaves (phudina) leaves
1/2 cup chopped coriander (dhania)
3 tbsp hung curds (chakka dahi) (Yoghurt)
1 tsp cumin seeds (jeera)
2 green chillies, roughly chopped
1 tsp lemon juice
1 tbsp. cornflour
1 tbsp fresh cream
Other Ingredients
INSTRUCTIONS
For the hara bhara tikkis
Combine the spinach, green peas, chana dal, ginger, garlic and green chillies and blend in a mixer to a coarse paste without using any water.
Transfer the paste to a bowl, add the paneer and masala and mix well.
Divide the mixture into 8 equal portions, shape each portion into a 50 mm (2") oval flat tikki and roll in breadcrumbs till they coat the roll evenly from all sides.
Heat a non-stick tava (griddle) and cook each tikki on a medium flame using ¼ tsp of oil till the tikkis are light brown in colour from both the sides. Keep aside.
For the pahadi marinade
Combine all the ingredients, except the cornflour and cream, and blend in a mixer to a smooth paste, without using water.
Add the cornflour and cream, mix well and keep aside.
How to proceed
Combine the carrots, onion slices and chaat masala in a bowl, mix well and keep aside.
Place a roti on a clean dry surface and arrange ½ cup of lettuce in a single row in the centre on the roti.
Place 2 hara bhara tikkis and arrange ¼th of the carrot-onion mixture over it.
Finally spread ¼th of the pahadi marinade over it and roll it up tightly.
Repeat with the remaining ingredients to make 3 more rolls.
Wrap a tissue paper around each roll and serve immediately.
Tips
To get 1 cup of cooked chana dal, soak ½ cup of chana dal overnight, pressure cook it till done and drain well. Drain again and use as per the recipe.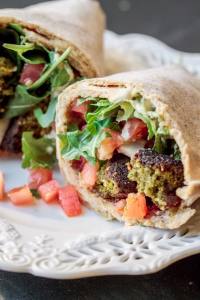 PANEER KHURCHAN WRAPS
Preparation Time: 15 mins Cooking Time: 10 mins Makes 4 rolls
INGREDIENTS
For The Paneer Khurchan Filling
2 tsp olive oil
1 tsp cumin seeds (jeera)
1 tbsp ginger-garlic (adrak-lehsun) paste
3/4 cup finely chopped spring onions whites
1/2 cup finely chopped capsicum
1/2 cup tomato puree
1/2 tsp turmeric powder (haldi)
1 tsp chilli powder
2 tsp chaat masala NB1
2 cups low-fat paneer (cottage cheese), cut into 10 mm. (1 cm) cubes
2 tbsp. finely chopped coriander (dhania)
Other Ingredients
INSTRUCTIONS
For paneer khurchan filling
Heat the oil in a deep non-stick pan, and add the cumin seeds.
When the cumin seeds crackle, add the ginger-garlic paste and spring onion whites and sauté till the spring onions turn transluscent sprinkle a little water to avoid the spring onions from burning.
Add the capsicum and cook on a medium flame for 2 to 3 minutes, while stirring continuously.
Add the tomato, turmeric powder, chilli powder, chaat masala, paneer and coriander and cook for another 2 minutes, while stirring continuously. Keep aside.
How to proceed
Combine the onion rings with chaat masala in a bowl, mix well and keep aside.
Place a roti on a clean dry surface and spread 2 tsp of healthy green chutney evenly over it.
Arrange ¼th of paneer khurchan filling in a row in the centre of the roti.
Arrange ¼ cup of onion rings over it and roll it up tightly.
Repeat with the remaining ingredients to make 3 more rolls.
Wrap a tissue paper around each roll and serve immediately.
SOYA FLOUR ROTI
INGREDIENTS
1 cup soya flour
1 teaspoon wild celery seed (ajwain) (optional)
boiling water, as required
INSTRUCTIONS
Sieve flour.
Mix in seeds.
Slowly add boiling water mixing in with a fork to get a firm dough. If mixture is sticky add a bit more flour to make handling easier.
Knead for one minute.
Divide dough into 4 balls.
Flatten each ball into a disc and roll with the aid of plenty of flour to a diameter of about 15cm.
Heat a non-stick pan, tawa or griddle on medium high heat. Cook roti's on one side, when you notice small bubbles turn over and cook for one minute on the other side or until golden brown flecks appear. If the first side does not have the golden-brown spots you can flip over and cook it for a further 30 seconds or so.
Nutrition Info for roti
Serving Size: 1 (21 g)
Servings Per Recipe: 4
Amt. Per Serving % Daily Value
Calories 91.6
Calories from Fat 39  43%
Total Fat 4.3 g     6%
Saturated Fat 0.6 g     3%
Cholesterol 0 mg     0%
Sodium 2.7 mg    0%
Total Carbohydrate 7.4 g    2%
Dietary Fiber 2 g     8%
Sugars 1.6 g      6%
Protein 7.2 g    14%
Adapted from http://www.geniuskitchen.com/recipe/soya-flour-roti-393946
NB1 Chaat Masala contains dried Mango (Aam) Powder which will have Fructose (Fruit sugar) and may be enough to affect sugar levels in some in this group. I have added it my page http://www.findtex.com.au/diabetic-foods/sugar-free-masala/ but I would suggest that it may be wiser to use one of the others which can be found on this page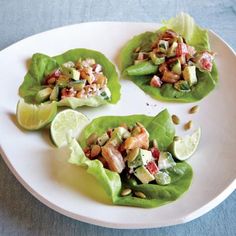 CURRY CHICKEN SALAD LETTUCE WRAPS
SERVINGS 2 (3 wraps each)
CARB. PER SERVING 21 g
START TO FINISH 15 minutes
 INGREDIENTS
1 5.3-ounce carton plain fat-free Greek yoghurt
1⁄2 teaspoon curry powder
6 ounces seedless red grapes, halved
1 left over grilled (BBQ) skinless chicken breast, chopped
1⁄2 cup chopped celery (1 stalk)
2 tablespoons slivered almonds, toasted
6 lettuce leaves
INSTRUCTIONS 
In a medium bowl stir together yoghurt, curry powder, and a dash of black pepper. Add grapes, chicken, celery, and almonds; stir to combine.
Divide the chicken mixture among the lettuce leaves. To eat, wrap the lettuce around the chicken mixture.
Per serving: 219 cal., 5 g total fat (1 g sat. fat), 37 mg chol., 0 mg sodium, 21 g carb. (2 g fibre, 17 g sugars), 24 gn pro. Exchanges: 1 fruit, 0.5 starch, 3 lean meat.
Adapted from http://www.diabeticlivingonline.in/food/meals-minutes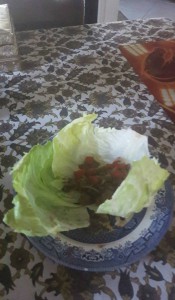 SPICY BEEF AND NODDLE LETTUCE WRAPS.
Yet another illustration of how readily the principles of The Nordic Way can be applied to foods in your favorite ethnic traditions. These beef bundles get a hint of Southeast Asia from rice noodles and lemongrass.
Serves: 1
INGREDIENTS:
58g / 2 ounces bean thread noodles NB1
Boiling water, as needed, for the noodles
Olive oil spray
115g / 4 ounces trimmed beef sirloin steak
1 fresh red chili, such as Fresno or jalapeno, seeded and finely chopped
1 teaspoon finely chopped lemongrass
1 garlic clove, crushed
100g / 3 ½ ounces snow peas, trimmed and halved crosswise
¼ red bell pepper, seeded and thinly sliced
2 teaspoons fresh lime juice
1 tablespoon chopped fresh cilantro, plus more for serving
Baby lettuce leaves, for serving
Method:
Place the noodles in a medium heatproof bowl, cover with boiling water, and set aside for 3 to 4 minutes, or just until softened. Drain well.
Meanwhile, coat a wok with olive oil spray and heat over high heat. Add the beef and sear for 2 minutes each side, or until cooked to medium-rare. Transfer to a plate and set aside. Add the chili, lemongrass, and garlic to the wok and stir-fry for 30 seconds. Add the snow peas and bell pepper and stir-fry for 2 minutes more, or until crisp-tender.
Return the beef to the wok and add the noodles, lime juice, and cilantro. Toss to combine. Spoon the mixture into the lettuce leaves, scatter with cilantro, and serve immediately.
Per serving
315 calories/ 1318kJ; 29g protein; 11g fat (includes 3g saturated fat); 21g carbs; 7g fibre; 69mg sodium
Adapted from http://www.gisymbol.com/spicy-beef-noodle-lettuce-wrap
NB1 Bean thread noodles
Cellophane noodles (/ˈsɛləˌfeɪn/ ; also known as Chinese vermicelli, bean threads, bean thread noodles, crystal noodles, or glass noodles) are a type of transparent noodle made from starch (such as mung bean starch, yam, potato starch, cassava or canna starch), and water.
https://en.wikipedia.org/wiki/Cellophane_noodles
Try Kelp Noodles Asian Salad
http://www.furtherfood.com/recipe/kelp-noodles-asian-salad-recipe-mango-macadamia-nuts-lime-zest-diabetes-diet/
or try Konjac Noodles:  In Japan, a noodle made from a flour called 'konjac' has been a dietary staple for 2000 years. It contains zero net calories and zero net carbs and has a glycemic index score of zero, meaning it will not spike your blood sugar levels at all.
https://miraclenoodle.com/blogs/miraclenoodle-blog/105467078-how-to-beat-the-glycemic-index

Konjac Foods for People with Diabetes (Noodles. Pasta.)As medical research has demonstrated, the higher the viscosity of soluble fiber, the better the ability to control blood sugar level. The glucomannan fiber is the most viscous soluble fiber in nature, making it the best way to control the blood sugar level of diabetic people. At the same time, it is a very efficient way to control blood sugar level when you take it before each meal. Simply consume as a beverage before each meal.As stated, Konjac fiber is the most viscous fiber in nature. This allows the Konjac to move through the digestive tract very slowly which can slow down carbohydrate absorption. This slowed absorption will keep the blood sugar at a moderate level during the digestion process. Konjac also acts to trap food and waste residues as it moves through the digestive system. Konjac fiber can block substances that are easily reabsorbed such as excess bile acids. The digestive regulatory quality of Konjac fiber makes it a natural agent in the treatment and regulation of diabetes and high cholesterol.Glucomannan is known to show hypoglycemic effects by inhibiting the uptake of glucose by the body. It is believed that it does this by preventing contact of the glucose with the intestinal walls for absorption. By reducing the amount of blood sugar, glucomannan can help patients with type II diabetes. Konjac fiber when absorbs lots water, it will form soft gel, the glucomannan will delays gastric emptying and slows the release of sugar into the bloodstream, which helps to lower levels of insulin and blood glucose. Additionally, glucomannan improves blood-lipid profiles and can lower systolic blood pressure. Because of these effects, glucomannan can greatly benefit individuals with metabolic syndrome or diabetes.
http://www.konjacfoods.com/noodles/19.htm
PANEER AND SALSA TORTILLA WRAPS
Chef – Aditya Bal
Time – 45 Minutes to prepare
INGREDIENTS
1/2 tsp cumin
150 gm cottage cheese
2 tsp, ginger garlic paste
1/2 tsp chili powder
3 spring onion
1/2 tsp turmeric
Small green chilies, to taste
20 gm extra virgin olive oil
1 lime
1/2 tomato
1 English cucumber
1 onion
1 radish
1 tortilla NB2
400 ml curd (Yoghurt)
1/2 tsp ginger
7 mint leaves
Chaat Masala to taste NB1
INSTRUCTIONS
For the paneer marinade:
Dry roast and grind the cumin.
Take a bowl, add Curd, ginger garlic paste, chili powder, turmeric, dry roasted cumin, spring onion, green chilies, and drizzle some extra virgin olive oil. Mix it all together and prepare the mixture to marinate the Cottage cheese.
Squeeze a bit of lime for some zing in the mixture.
Cut approx. 150 gm of cottage cheese in slices (not too big) and gently marinate them in the mixture.
For the salsa:
Take tomato, English cucumber, onion, daikon radish and spring onion. Chop them and put it in a bowl
Add extra virgin olive oil, salt, limejuice, chat masala and mint leaves to prepare the salsa.
For the wraps:
Take 2 tsp of extra virgin olive oil in a pan and heat it up.
Shallow fry the cottage cheese.
In another pan take some extra virgin olive oil and lightly roast the corn tortillas.
On the toasted tortilla put the chunks of marinated Cottage Cheese and salsa, gently close and roll over.
Cook for a little time.
Via Thadani
NB1 Chaat masala (Hindi चाट मसाला, also spelled chat masala) is a spice powder mix or masala used in South Asian cuisine, primarily in Indian, Bangladeshi and. It typically consists of amchoor (dried mango powder), cumin, coriander, dried ginger, salt (often kala namak), black pepper, asafoetida (hing) and chili powder.[1] The ingredients are combined and served on a small metal plate, polystyrene plate or a banana leaf, dried and formed into a bowl, at chaat carts, especially in India, Bangladesh and Punjab
https://en.wikipedia.org/wiki/Chaat_masala
NB 2 Homemade Tortilla : http://allrecipes.com/recipe/157642/homemade-flour-tortillas/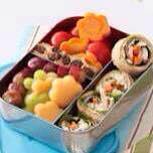 CHICKEN OR PANEER WRAP
This lunchbox-friendly wrap is a tasty way to use leftover chicken and get kids to eat more veggies. Using colorful, thin strips of vegetables adds visual interest when the wrap is cut into slices. Suddenly spinach is too pretty to refuse. —Taste of Home Test Kitchen
Healthy Quick Diabetic Exchange
SE
TOTAL TIME: Prep/Total Time: 10 min.
MAKES: 1 servings
INGREDIENTS
1/4 cup hummus
1 whole wheat tortilla (8 inches), room temperature
1/2 cup fresh baby spinach
1/3 cup shredded cooked chicken breast
2 carrot sticks
2 sweet red pepper strips
Nutritional Facts
1 wrap equals 324 calories, 10 g fat (1 g saturated fat), 36 mg cholesterol, 441 mg sodium, 35 g carbohydrate, 7 g fiber, 23 g protein. Diabetic Exchanges: 3 lean meat, 2 starch, 1 vegetable, 1 fat.
INSTRUCTIONS
Spread hummus over tortilla; top with spinach. Place chicken, carrot and red pepper in a row near center of tortilla; roll up tightly. If desired, cut crosswise into slices. Wrap securely or pack in an airtight container; refrigerate until serving. Yield: 1 serving.
Thadani
Basic Psylli Wraps – Low Carb | Gluten Free
Ingredients
Spicy Variation
Instructions
Combine dry ingredients, stirring to mix well. Pour egg whites into dry ingredients. Stir with a spoon or small spatula until you have an even, lump free batter. Batter should be very pourable, like a thin crepe batter. If it's not thin enough,add more egg white. Do NOT add water or any other liquid—they will stick and turn brittle.
Heat a nonstick skillet over medium high heat. Spray pan with olive oil spray. Measure 2 Tbsp of batter at a time, into a small cup. Pour batter into the pan all at once. Swirl quickly to distribute batter like a round crepe. Cook until set on one side. Edges will begin to curl slightly. Flip and cook on the second side. Each tortilla takes about 90 seconds to fully cook.
Once both sides are set, flip back and forth in the pan, until you see brown spots on each side. The texture changes from semi-moist and dries out like a tortilla. Cool on a clean dish towel.
Store cooled tortillas in an airtight container in the fridge up to a week, or freezer up to 1 month.
http://fluffychixcook.com/basic-psylli-wraps-low-carb-gluten-free/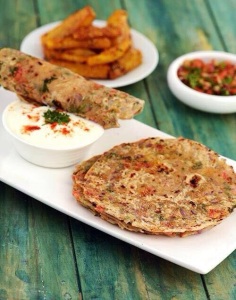 This looks like it would a great pizza base or wrap.
JEERA PARATHA RECIPE
PREP TIME
1 hour 10 mins
COOK TIME
15 mins
TOTAL TIME
1 hour 25 mins
Jeera Paratha Recipe – A tasty cumin flavored Indian flat-bread recipe that goes well with yogurt raitas and daals.
Author: Gopi Patel (Adapted)
Recipe type: Breakfast
Cuisine: Indian
INGREDIENTS
For Making Dough
Whole Wheat flour 2 cups with ¼ tsp dried yeast
Jeera (cumin seeds) 2 tsp
Olive Oil 1 tbsp.
Water1 cup or as needed
For Making Jeera Paratha
Olive Oil 6 tbsp.
Dry whole wheat flour 1 tbsp.
Red chili powder1 tbsp. (optional)
INSTRUCTIONS
In a mixing bowl take whole wheat flour, yeast,  add cumin seeds, olive oil and water.
Mix well all the ingredients.
Once everything is mixed add water as required and knead dough.
After the dough is kneaded rest it for about 1 hour.
Now divide paratha dough and make small lemon size balls.
With the help of the rolling pin roll the small ball into small 4-5 inch diameter.
Apply oil, dry whole wheat flour and red chili powder and fold into half and again apply oil and fold to forms a small triangle.
Repeat the steps for remaining dough balls and make triangles and keep aside.
Now carefully roll all the triangle into round paratha.
Heat a flat bottom non-stick pan or tawa and place the paratha on it.
When you see bubble start coming on top flip the paratha to the other side.
Apply oil on top and again flip the paratha cook properly on both side till golden brown.
Jeera paratha is ready. Server it with veg jaipuri, palak daal or boondi raita or onion tomato raita.
http://www.findtex.com.au/recipes/chicken/healthy-pizza/
OAT TORTILLAS
INGREDIENTS
2 1/4 cups oat flour, plus extra for flouring surface (560 ml) NB1
1 cup cold water (250 ml)
1 tsp dried yeast/ sour dough starter if you have it
INSTRUCTIONS
In a mixing bowl, whisk together oat flour and yeast/sour dough starter.
Add the water slowly, starting with 3/4 cup, mixing with a fork (or your hands) until a dough is formed. If mixture crumbles easily, add more water. If mixture feels sticky, add more oat flour.
Let the dough stand for 90 to 120 minutes this allows the yeast to feed on any available sugar and for a sort of sough dough.
Turn dough out onto a surface, lightly dusted with oat flour, and knead until dough is smooth
Divide into eight balls and let rest, covered with plastic wrap, for 10-15 minutes. (more if required)
Working with one ball of dough at a time, roll out on a Silpat or parchment until you have a thin, round tortilla. Tip: roll from the centre out, rotating dough as necessary.
Stack tortillas between sheets of parchment or plastic, covered with a slightly damp kitchen towel, until ready to cook. Do not allow tortillas to dry out.
In a dry, non-stick or cast-iron or stoneware fry pan over medium-high heat, cook tortillas, one at a time, for 30 seconds to one minute per side. Stack and keep warm in a tortilla holder or on a plate, covered with foil.
NB1 Carbohydrates
A serving of oat flour contains a total of 19.5 g of carbohydrates, which is about 7 percent of the daily value for carbohydrates. This total consists of 17 g of complex carbohydrates and 2.5 g of dietary fiber, which is 10 percent of the daily value for dietary fiber. Oat flour contains no simple sugar.
https://www.livestrong.com/article/258791-nutrition-information-for-oat-flour/
http://www.findtex.com.au/recipes/bread/gluten-free-breads/