SUNFLOWER SEED FLOUR BREAD
INGREDIENT
Dry Ingredients
150 g sunflower seed flour (finely ground with high-speed grinding machine)
27 g psyllium husk
8 g baking powder
5 g instant rise yeast (optional, for bread flavour only)
Wet Ingredients
310 g egg whites (8 large egg whites), room temperature
½ tbsp apple cider vinegar
20 ml boiling water
INSTRUCTIONS
Preheat oven at 180°C/350°F..
Mix all dry ingredients together.
Add in egg whites and acv. Use a spatula to mix.
Pour in boiling water. Quickly, use spatula to mix. Followed by mixer to mix until it become a sticky and solid dough.
Bake for 1 hr 10 mins.
Useful Tips
The key success here to carefully control the water. Excessive water will cause the bread to deflate. The bread dough should be solid and sticky before it goes into the oven.
Egg whites must be at room temperature.
The water must be boiling.
Weight everything using weighing device. Use a scale with accuracy up to 0.01 g.
Sunflower seed flour must be grounded to fine powder form so that it can absorb water efficiently.
Psyllium husk MUST NOT be too fine as it will block its ability to absorb water.
Instant yeast is optional. It does not help to rise the bread but only for bread flavour.
Do not use a cake tin which is too small for it to capture heat and rise evenly.
Do not cut the bread while it is still hot as the bread will shrink and collapse which end up a cakey bottom.
Let it cool in the oven with the oven door opened will prevent the bread shrink due to temperature shock.
If you need to cover the top with aluminium foil to avoid burning, ensure you only open the oven door after the bread has already risen tall and solid. Usually after 30-40 mins mark of baking.
Macro per loaf (12 serving per loaf)
1088.3 kcal
C: 25.9 g
P: 69.5 g
F: 80.3 g
Macro per serving
92.3 kcal
C: 2.2 g
P: 5.8 g
F: 6.7 g
Adapted from : https://youtu.be/xn5UPZrl9cE
ALMOND FLOUR BREAD
INGREDIENTS
200 g (2 cups) almond meal/flour
2 teaspoon baking powder
20 g (¼ cup) psyllium husk
4 eggs – medium
125 ml (½ cup) warm water
INSTRUCTIONS
Place all the dry ingredients in a mixing bowl.
Add the eggs, olive oil and warm water. Mix until combined well. Do not over mix.
Pour into a lined loaf tin or a silicon loaf tin. Bake at 180°C (160°C fan)/350°F/gas 4 for 30 minutes, or until golden on the outside and cooked thoroughly inside. It appears some ovens require a longer cooking time, so please be guided by your oven.
Nutrition Facts of original
Low-Carb Almond Flour Bread
Serving Size
1 slice (makes 15)
Amount per Serving
NET carbs 1.9 g
Total Carbohydrates 3.9 g 1%
Fiber 2 g 8 %
Sugar 0.6 g 1 %
Protein 4.4 g 9%
Fat 11.3 g 17 %
% Daily Value*
Calories
126
* Percent Daily Values are based on a 2000 calorie diet.
Adapted from Low-Carb Almond Flour Bread (Dairy Free) 1.9g – The famous 2-step bread (ditchthecarbs.com)
CHICKPEA FLATEBREAD
INGREDIENTS
For the flatbread:
1 cup chickpea (gram) flour
1 cup Gluten-free Flour Mix (see below)
2 cups water
1 tablespoon baking soda
black sesame seeds
For the caramelized onions:
2–3 tablespoons olive oil
1 yellow onion, sliced
1/2 teaspoon sweet paprika
2–3 medjool dates, stoned (pitted) and torn or finely chopped
For the marinated chickpeas:
1 can chickpeas, drained or dried soaked overnight drained and rinsed.
1/2 teaspoon sesame seeds
1/2 teaspoon dried parsley
1/2 teaspoon red chilli flakes (red pepper flakes)
To serve:
coriander (cilantro) and mint, chopped
Gluten-Free flour mix:
Makes approx. 1 kg flour, you will have extra:
1 1/3 cups brown rice flour
1 cup buckwheat flour
1/2 cup white rice flour
1/2 cup oat flour
1/4 cup potato starch/flour
1/2 cup tapioca flour
INSTRUCTIONS
To make the gluten-free flour mix, mix all flours together and store in an airtight container.
Preheat the oven to 400ºF/200ºC and line a baking tray (baking sheet) with greaseproof paper (wax paper).
In a bowl combine all the bread ingredients and set aside.
Next, start on the caramelized onions. Heat a good glug of olive oil in a stoneware fry pan and fry the onion for 10 minutes until nice and soft. Add the sweet paprika along with the dates, give it a stir and set aside.
Drain the chickpeas very well – you can even pat them dry with a towel. Put them in a bowl and add the rest of the marinade ingredients, then stir to coat the chickpeas and set aside.
Drizzle a bit of olive oil over the lined baking tray and spoon the bread mixture over the tray. Make sure the mixture is spread out evenly with a spatula.
Sprinkle the chickpeas evenly over the top along with dollops of the caramelized onions. Make sure that every bite will have a little bit of both mixtures. Scatter over the sesame seeds.
Place the tray in the middle of the oven and cook for 20 minutes. After the bread is done, move it to the top of the oven for 5 minutes or under the grill to give the chickpeas an extra crunch, but keep an eye on it to make sure they don't burn.
Take the bread out of the oven and transfer to a wire rack to cool. Serve immediately as a side dish or as a starter bread with any of the dips that can be found here:- http://www.findtex.com.au/diabetic-foods/diabetic-friendly-dips/
Adapted from https://www.onegreenplanet.org/vegan-recipe/chickpea-flatbread-and-marinated-crunchy-chickpeas-vegan/?fbclid=IwAR316H-cewLDd25zta3Xy_PGXYBtuFmNJeSgGptgdFVrkHRCMku7sUX-Yx4
SOURDOUGH (INJERA) TEFF BREAD NB1
INGREDIENTS
1/4 cup teff flour NB2
• 3/4 cup all-purpose gluten free flour (or your favourite diabetic friendly flour)
• 1 cup water
• Olive oil
INSTRUCTIONS
Put the teff flour in the bottom of a mixing bowl and sift in the all-purpose flour.
Slowly add the water, stirring to avoid lumps.
Put the batter aside for a day or more (up to three days) to allow it to ferment. In this time, your injera batter will start to bubble and acquire the slight tanginess for which it's known. Note: If you find that your injera batter does not ferment on its own, try adding a teaspoon of yeast.
Heat a non-stick pan or lightly oiled cast-iron skillet until a water
drop dances on the surface. Make sure the surface of the pan is smooth: Otherwise, your injera might fall apart when you try to remove it.
Coat the pan with a thin layer of batter. Injera should be thicker than a crêpe, but not as thick as a traditional pancake. It will rise slightly when it heats.
Cook until holes appear on the surface of the bread. Once the surface is dry, remove the bread from the pan and let it cool.
Adapted from https://exploratorium.edu/cooking/bread/recipe-injera.html
NB 1 Injera is a sourdough-risen flatbread with a slightly spongy texture. Traditionally made out of teff flour, it is the national dish of Ethiopia, Somalia, Djibouti, and Eritrea. It is central to the dining process in those cultures as bread is the most fundamental component of any meal. While originally specific to Ethiopia and other parts of the Horn of Africa, Jews migrating from that region have spread injera to Israel.
https://en.wikipedia.org/wiki/Injera
NB2 INTRODUCING TEFF, Gluten free and diabetic friendly.
Cultivation and uses
In 1996, the US National Research Council characterized teff as having the "potential to improve nutrition, boost food security, foster rural development and support sustainable landcare."[2]
Teff is high in protein, carbohydrates and fiber.[13]
https://en.wikipedia.org/wiki/Eragrostis_tef
Teff and Millet – November Grains of the Month
Teff is, however, high in resistant starch, a newly-discovered type of dietary fibre that can benefit blood-sugar management, weight control, and colon health. It's estimated that 20-40% of the carbohydrates in teff are resistant starches. A gluten-free grain with a mild flavour, teff is a healthy and versatile ingredient for many gluten-free products.
http://wholegrainscouncil.org/…/teff-and-millet-november-gr…
Teff has been widely cultivated and used in Ethiopia and neighbouring countries, accounting for about a quarter of total cereal production in Ethiopia.[12] Teff is a main ingredient for preparing injera, a sourdough-risen flatbread.
Teff is high in protein, carbohydrates and fibre.[13]
https://en.wikipedia.org/wiki/Eragrostis_tef
http://www.findtex.com.au/recipes/asian/texs-indian/
OAT TORTILLAS
INGREDIENTS
2 1/4 cups oat flour, plus extra for flouring surface (560 ml) NB1
1 cup cold water (250 ml)
1 tsp dried yeast/ sour dough starter if you have it
INSTRUCTIONS
In a mixing bowl, whisk together oat flour and yeast/sour dough starter.
Add the water slowly, starting with 3/4 cup, mixing with a fork (or your hands) until a dough is formed. If mixture crumbles easily, add more water. If mixture feels sticky, add more oat flour.
Let the dough stand for 90 to 120 minutes this allows the yeast to feed on any available sugar and for a sort of sough dough.
Turn dough out onto a surface, lightly dusted with oat flour, and knead until dough is smooth
Divide into eight balls and let rest, covered with plastic wrap, for 10-15 minutes. (more if required)
Working with one ball of dough at a time, roll out on a Silpat or parchment until you have a thin, round tortilla. Tip: roll from the centre out, rotating dough as necessary.
Stack tortillas between sheets of parchment or plastic, covered with a slightly damp kitchen towel, until ready to cook. Do not allow tortillas to dry out.
In a dry, non-stick or cast-iron or stoneware fry pan over medium-high heat, cook tortillas, one at a time, for 30 seconds to one minute per side. Stack and keep warm in a tortilla holder or on a plate, covered with foil.
NB1 Carbohydrates
A serving of oat flour contains a total of 19.5 g of carbohydrates, which is about 7 percent of the daily value for carbohydrates. This total consists of 17 g of complex carbohydrates and 2.5 g of dietary fiber, which is 10 percent of the daily value for dietary fiber. Oat flour contains no simple sugar.
https://www.livestrong.com/article/258791-nutrition-information-for-oat-flour/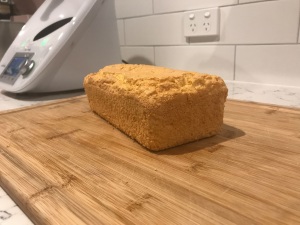 LOW-CARB BREAD (Gluten free)
INGREDIENTS
for 12 servings
6 omega-3 egg yolks
6 omega-3 egg whites
2 omega-3 eggs
2 cups almond flour
⅓ cup Olive oil
1 tablespoon baking powder
salt, to taste
¼ teaspoon cream of tartar
INSTRUCTIONS
Preheat oven to 375°F (190°C).
Carefully separate 6 eggs, placing the yolks in a large bowl and the whites in a medium size bowl.
Place the 2 whole eggs in the large bowl with the yolks and add the oil. Beat together with a fork or whisk until smooth.
Add the almond flour, baking powder, and a pinch of salt to the egg yolk mixture. Stir the mixture with a spatula until well incorporated and set aside.
Add the cream of tartar to the egg whites and beat with a hand mixer until stiff peaks form.
Use a rubber spatula to transfer ⅓ of the whipped egg whites to the almond mixture and gently fold the batter together.
Add the next ⅓ of the whites to the batter and fold in until smooth.
Gently fold in the remaining egg whites just until the batter is smooth and no white streaks remain.
Line the bottom of an ungreased loaf pan with parchment paper and pour in the batter.
Bake for 40 minutes, until the top has set and formed a golden crust.
Let the loaf cool for 10 minutes before running a thin knife along the inside of the pan to release the sides of the loaf. Gently remove the loaf from the pan and remove the parchment paper on the bottom.
Let the bread cool at room temperature for 1 hour before slicing.
Enjoy!
Adapted from https://tasty.co/recipe/low-carb-bread
I have seen Protein bread in several groups so I thought I would give it a test run. PROTEIN BREAD INGREDIENTS In the Pack
Golden flax meal
Lupins
Whey protein
Rice protein
Pea protein
Kibbled sunflower
Almond meal
Coconut flour
Baking powder (gluten free)
Sunflower seeds
Chia seeds
May contain traces of sesame seeds
You will need
3 large eggs
460 ml water.
INSTRUCTIONS
Preheat oven to 180 C
Empty contents of packet into a bowl, make a well in the middle, add the water and eggs and mix well with a spoon
Bake for 60=70 minutes at 180C.
Remove and cool.
My thoughts. Smells more like a roast meat than a bread while cooking As this contains Baking powder it is to my mind more of a cake than bread. The packet did make a large loaf, I would divide it into two next time to make two small loaves some days apart. As it was a large loaf I divided it into small serves and placed this into the freezer. It froze well and kept much of its freshness   Positives. It did not affect my sugar. It is gluten free. Negatives It contains Coconut flour which will be high in Saturated fats. I was left with a fatty aftertaste which I assume was the saturated fat in the coconut flour. The Cost at $12.95 AU for a large loaf it is not cheap. (Plus, your time and cooking costs). https://theproteinbreadco.com.au/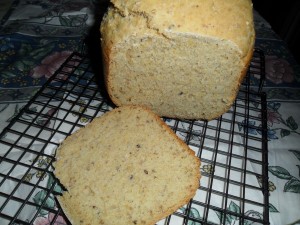 Potato Bread 1 tablespoon gelatine 60 g mashed potato 60 g arrowroot ¼ cup olive oil 1 teaspoon sugar 1 teaspoon salt 1 tablespoon dried yeast 200 g bread flour mix 1 tablespoon baby rice cereal or extra arrowroot 1 beaten egg 2 teaspoon sesame seeds    
Small White Loaf 1 tablespoon dried yeast 1 teaspoon sugar 1 teaspoon salt 1 tablespoon gelatine 1 tablespoon psyllium ½ teaspoon citric acid 300 g superfine flour 2 egg whites
Grain Loaf 1 teaspoon sugar 1 teaspoon salt 1 tablespoon gelatine 450 g superfine flour 3 egg whites 60 g brown rice flour 2 tablespoon dried yeast 60 g Sunflower meal ¼ cup olive oil
Sourdough Loaf Starter 2 tablespoon dried yeast 180 g superfine flour 1 teaspoon sugar 1 teaspoon salt              
Bread ½ cup starter 200 g superfine flour 1 egg 1 teaspoon sugar 1 tablespoon dried yeast 1 teaspoon salt
Sandwich Bread 2 tablespoons gelatine 1 teaspoon sugar 1 teaspoon salt 2 tablespoons dried yeast 3 egg whites 450 g bread and pastry flour 60 g arrowroot ½ cup olive oil
Brown Fruit Loaf 450 superfine flour 1 teaspoon cocoa or carob 2 teaspoon caster sugar 2 teaspoon salt 2 tablespoons dried yeast 3 egg whites 50 g sunflower meal 1 tablespoon treacle (molasses) 2 tablespoons gelatine 100 g pitted prunes 1 teaspoon citric acid ½ cup olive oil
Bush Damper 1 table spoon psyllium 1 egg 2 teaspoons milk or water for egg wash 200 g superfine flour 2 tablespoons milk powder 1 table spoon gluten free baking powder 1 teaspoon salt
Linseed and Cheese Loaf 2 tablespoons gelatine 1 teaspoon sugar 1 teaspoon salt 2 tablespoons dried yeast ½ cup olive oil 500 g superfine flour 1 tablespoon baby rice flake cereal 2 eggs 125 g cheddar cheese 60 g linseeds
Butternut Bread 1 tablespoons gelatine 1 teaspoon sugar 1 teaspoon salt 1 tablespoons dried yeast Pumpkin seeds to taste 250 g superfine flour 2 egg whites ½ cup olive oil 60 g butternut pumpkin grated    
Herb and Onion Bread 1 tablespoon gelatine 1 teaspoon sugar 1 teaspoon salt 1 tablespoons dried yeast 1 tablespoon sesame seeds 250 g superfine flour 1 egg ½ cup olive oil 1 tablespoon dried onion (to taste) 1 teaspoon herbs fresh or dried (to taste)
More Gluten Free Breads   Bacon Bread 1 teaspoon salt 1 teaspoon sugar 1 tablespoon yeast 2 teaspoon gelatine 2 teaspoons psyllium 1 egg white ½ teaspoon citric acid ½ cup olive oil 250 g super fine flour 125 g bacon pieces
Challah Plait Bread 3 tablespoon sesame seeds 2 teaspoon salt 2 tablespoon sugar 2 tablespoon yeast 1 tablespoon 3 egg whites 1 teaspoon citric acid 500 g super fine flour 3 tablespoon olive oil
Herb Focaccia     1 pinch of salt 1 teaspoon sugar 1 tablespoon yeast 1 teaspoon gelatine ¼ cup olive oil 150 g super fine flour 1 egg 1 teaspoon mixed herbs 1 teaspoon sesame seeds
Irish Griddle bread ½ cup warm milk 1 teaspoon sugar 2 tablespoons baby rice cereal 200 g super fine flour 2 teaspoon gluten free baking soda 2 tablespoon olive oil
Choux Cheese Bread 1 teaspoon salt 130 g butter 250 g super fine flour 5 eggs 250 g Gruyere cheese cubed 30 g cheddar cheese grated
More Gluten Free Breads   Panettone 1 tablespoon yeast 100 g sugar 200 g superfine flour 2 eggs (separate) ½ teaspoon salt 60 g butter 2 teaspoon vanilla essence 125 g sultanas 60 g mixed peel
Pumpernickel 60 g polenta (corn meal) 1 teaspoon salt ¼ cup treacle ¼ cup olive oil 100 g superfine flour 60 g brown rice flour 1 tablespoon yeast 1 egg 1 tablespoon carob 1 teaspoon Parisian 1 tablespoon caraway seeds
Pita Bread 1 teaspoon gelatine 2 teaspoon psyllium 1 tablespoon yeast 1 teaspoon sugar 1 teaspoon salt 200 g superfine flour 2 tablespoons olive oil