AIR FRYER SALMON WITH LEMON DILL SAUCE
INGREDIENTS
4 X 120 g/4 oz salmon fillets
ginger and pepper
1 lemon, juice and zest
Olive oil cooking spray
125 g/1/2 cup mayonnaise can use low fat
1 tsp Dijon mustard
1 tbsp chopped dill
INSTRUCTIONS
Preheat the air fryer to 200 °C/ 400° F.
While it's preheating, season the salmon with ginger and pepper and sprinkle the zest of half a lemon all over.
Once the air fryer is preheated, arrange the salmon in the basket of the air fryer and spray it with a cooking spray. (If you choose to use oil instead of the spray, brush the salmon with 1 tsp of olive oil, then season with ginger, pepper and lemon zest.) Cook for 8 minutes.
While the salmon is cooking, in a small bowl, mix the mayonnaise with the zest and juice of ½ lemon, mustard and chopped dill to make the sauce.
Nutrition of original
Calories: 253 kcal | Carbohydrates: 5 g | Protein: 24 g | Fat: 15 g | Saturated Fat: 2 g | Polyunsaturated Fat: 7 g | Monounsaturated Fat: 4 g | Trans Fat: 1 g | Cholesterol: 71 mg | Sodium: 1488 mg | Potassium: 638 mg | Fiber: 1 g | Sugar: 2 g | Vitamin A: 84 IU | Vitamin C: 14 mg | Calcium: 25 mg | Iron: 1 mg
Adapted from Air Fryer Salmon with Lemon Dill Sauce (8 Minute Recipe) – Vikalinka
AIR FRIED ZUCCHINI CHIPS
INGREDIENTS
2 medium zucchinis
⅛ teaspoon 
1 cup pork rind crumbs alternatively use almond or coconut flour
¼ cup grated parmesan
⅛ teaspoon black pepper 
¼ teaspoon garlic powder 
1 teaspoon paprika
2 eggs
1 tablespoon water
INSTRUCTIONS
Preheat Air Fryer to 200 °C/ 400° F.
Slice the zucchini and place on a plate lined with paper towel. Let sit for 15 minutes and then dab the zucchini with a paper towel to remove the moisture.
In a small bowl mix the pork rind breadcrumbs with the grated parmesan cheese, black pepper, paprika and garlic powder.
In another small bowl whisk the eggs with the water.
Dip the zucchini slices into the egg mixture, allow any excess to drip off. Then dredge through the pork rind mixture, coating both sides. Place on a plate lined with paper towel.
Air fry in batches at 200 °C/ 400° F for 5 minutes, then flip and air fryer for another 3 minutes or until crispy and golden.
 
Nutrition Facts
Amount per Serving
Calories 66
% Daily Value*
Fat 4 g 6%
Carbohydrates 1 g 0%
Fiber 0 g 0%
Sugar 1 g 1%
Protein 7 g 14%
* Percent Daily Values are based on a 2000 calorie diet.
Adapted from Crispy Air Fried Zucchini Keto Chips – I Hacked Diabetes
This and other zucchini recipes can be found here.
http://www.findtex.com.au/diabetic-foods/zucchini-fritters-with-chili-lime-mayo/
HEALTHY AIR FRYER SALMON
INGREDIENTS
4 salmon fillets
4 tablespoons freshly squeezed lemon juice
2 teaspoons extra virgin olive oil
1 tablespoon soy sauce
2 teaspoons minced garlic
1/2 teaspoon ginger
1/2 teaspoon black pepper
1/2 teaspoon paprika
2 tablespoons finely chopped fresh dill
Lemon slices for serving
INSTRUCTIONS
In a shallow dish combine the lemon juice, olive oil, soy sauce, and minced garlic. Place salmon fillets in the dish and flip them over, ensuring both sides are coated.
Next, sprinkle fillets with ginger, pepper, and paprika.
Preheat air fryer to 200 °C/ 400° F.
Spritz a little oil onto the cooking surface of the air fryer and place fillets in the air fryer and cook for 8-10 minutes, depending on their thickness. Remove from air fryer.
Sprinkle fresh dill on top of salmon and serve immediately. Garnish with lemon slices if desired.
AIR FRYER GARLIC PARMESAN KETO FRIES
INGREDIENTS
¾ cup almond flour 
1 tablespoon xanthan gum 
1 teaspoon garlic powder 
½ teaspoon ginger
5 ½ tablespoon warm water
3 tablespoon grated parmesan
INSTRUCTIONS
Mix together the almond flour, xanthan gum, garlic powder and ginger. Slowly add 1 tablespoon of warm water at a time until it gets to a doughy consistency.
Using your hands knead the dough for about 1 minute. Then place the ball of dough between two pieces of parchment paper and roll out the dough to about a ¼ centimeter in thickness.
Preheat Air Fryer to 400°F (200°C).
Cut the rolled out dough it into strips about ½"/1.25 cm wide.
Spray the preheated air fryer basket with olive oil cooking spray and then lay out the strips in batches. Leave room for the air to flow through. Lightly spray the strips in the basket with cooking spray and Air Fry at 400°F (200°C) for 5 minutes or until crispy and golden.
Transfer fries to a plate and sprinkle with ginger (if needed), parsley and freshly grated parmesan cheese.
NOTES
Crispy Fries: ensure your air fryer basket it preheated to 400°F (200°C) before dropping those strips of fries in. Don't forget to spray the basket and the tops of fries with cooking spray. Use a good olive oil cooking spray.
Warm Water:the water should be warm but not too hot or it may result in a gummier dough. It should be warm enough to touch but not too cold either.
Nutritional Information of original
All nutritional information is based on third-party calculations and should be considered estimates. Actual nutritional content will vary with brands used, measuring methods, portion sizes and more.
Amount per Serving
Calories 49
% Daily Value*
Fat 4 g 6%
Carbohydrates 3 g 1%
Fiber 2 g 8%
Sugar 0 g 0%
Protein 3 g 6 %
* Percent Daily Values are based on a 2000 calorie diet.
Adapted from Garlic Parmesan Keto French Fries – Air Fryer – I Hacked Diabetes
AIR FRIED PORK TENDERLOIN
INGREDIENTS
INSTRUCTIONS
Prep the meat.Dry the pork with a clean paper towel then mix up the dry rub seasoning in a small bowl by combining the garlic powder, Italian seasoning, Chili Powder, onion powder and pepper.
Drizzle the pork tenderloin all over with olive oil then rub the seasoning mixture all around the pork tenderloin on all sides.
Cook the pork tenderloin.Preheat the air fryer to 380 degrees F 380°F/ 190°C. Once the air fryer is ready, spray the air fryer basket with olive oil spray.
Place the seasoned pork tenderloin into the air fryer and cook it for 17-20 minutes. Turn it over halfway through the cooking time. Cook it until cooked through.
Let rest, slice and serve. Once the meat is done, remove it from the air fryer basket and place it onto a rimmed plate or cutting board. Let it rest for at least 10 minutes. Then slice and serve it.
Nutrition
Serves 5
Serving Size: 4 oz/ 113 g
Calories Per Serving: 152
% DAILY VALUE
7% Total Fat 5.3 g
Saturated Fat 1.2 g
25% Cholesterol 73.7 mg
13% Sodium 293.4 mg
0% Total Carbohydrate 1 g
1% Dietary Fiber 0.2 g
Sugars 0.1 g
48% Protein 23.9 g
0% Vitamin A 0.2 µg
0% Vitamin C 0.1 mg
1% Calcium 11.3 mg
7% Iron 1.2 mg
Nutritional information is only an estimate. Any nutritional info on this site is not guaranteed.
Adapted from Easy Juicy Air Fryer Pork Tenderloin – Pinch Me Good
CAJUN AIR FRIED SALMON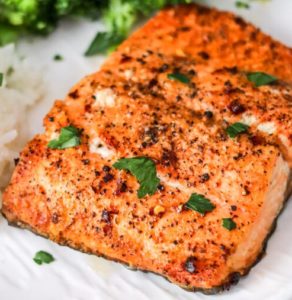 INGREDIENTS
INSTRUCTIONS
Rub olive oil over the tops of the fillets. Sprinkle with cajun seasoning, black pepper, and red pepper flakes.
Place the cajun salmon fillets into the air fryer basket. Make sure they are NOT touching. You can cook as many fillets at once that will fit in your basket.
Set the air fryer to 400° F (204° C) and 8 minutes. Depending on the size of your fillets, you may need another minute.
Remove from the air fryer basket carefully and serve the air fryer salmon immediately.
Serve with steamed vegetables or a salad.
Adapted from https://domesticsuperhero.com/air-fryer-salmon-cajun-style/?fbclid=IwAR0pnHsDr-X-ysaKawdJ4htI3hVdL9FDwsgXOsdMG5_MjvwsGX8cEJOavDc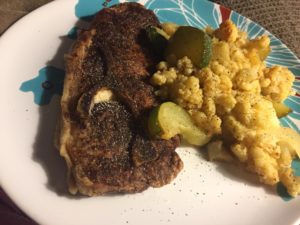 AIR FRIED PORK
INGREDIENTS AND INSTRUCTIONS
Pork Steak with chili powder & cinnamon cooked in air fryer at 160 degrees C 10 minutes, longer if you like it well done.
Cauliflower & zucchini with chili powder, lemon pepper & nutmeg sautéed in olive oil 5 minutes.
Super yum!
AIR FRIED CHICKEN WINGS WITH GARLIC DIP
INGRDIENTS
15 chicken Wings remove as much skin as you can
1/4Tspginger
1/8Tsppepper
2Tbs Olive Oil
2TspPaprika
1TspGround turmeric
4Tbslemonfresh squeezed
1 1/2Tsponion powder
Garlic Dip:
4Tbs Mayo
5 Garlic cloves finely minced
4 Tsp lemon juicefresh
3 Tbs Olive Oil
1/8 Tsp Cayenne pepper
1/8 Tsp ginger
Pinch black pepper
INSTRUCTIONS
Wings:
Mix all ingredients together in a large bowl and marinate 30 minutes or more in refrigerator
Place wings in Air Fryer
Set Air fryer to 20 minutes
Serve hot with Garlic Dip
Repeat and serve another batch!
Garlic Dip:
Using a mixer or blender mix all ingredients and Serve in a small bowl on the side with wings
Adapted from https://completelyketo.com/harlan-kilsteins-completely-keto-tangy-lemon-spiced-air-fryer-wings-garlic-dip/?fbclid=IwAR1svO-izKCadABwxjsWwpMwJbXcHni30BGDKXjTXuy56LroguwObegeiGI
http://www.findtex.com.au/recipes/chicken/spicy-chicken/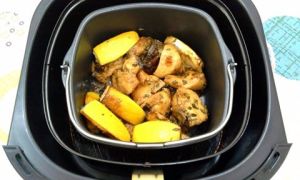 ROSEMARY CHICKEN USING AIRFRYER
Serves 2 persons
INGREDIENTS
(A) For marinating the chicken
350g chicken skin removed.
1 tsp ginger, minced
1 tbsp. soy sauce
1/2 tbsp. olive oil
(B) For the sauce
1/2 lemon, cut in wedges with skin
15g fresh rosemary, chopped
1 tbsp. oyster sauce
INSTRUCTIONS
1) Marinate ingredients in (A) together for at least 30 min. Chill in refrigerator while marinating.
Prepare the marination ingredients
Pour over the chicken and marinate for 30 min. (Overnight is best)
2) After 30 min, preheat air fryer 200 degrees C for 3 min.
3) Transfer the chicken (with the marinate) into a baking pan. Bake in air fryer at 200 degrees for 6 min.
4) Meanwhile, prepare the sauces. Mix ingredients in (B) except the lemon wedges together.
5) Pour ingredients in Step #4 over the half-baked chicken. Spread the lemon wedges evenly in the pan and squeeze. The lemon juice and zest will brighten the flavour of the chicken while tenderizing it.
6) Continue to bake in air fryer at 200 degrees C for another 13 min, turning the chicken pieces halfway to ensure that each piece is evenly browned. You are now ready to serve.
If you are using Philips' baking tray, just remove it and serve. Enjoy!
Via Thadani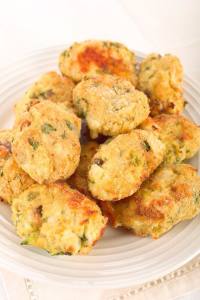 AIRFRYER CAULIFLOWER CHEESE TATER TOTS
Author:
RecipeThis
Serves:12
Prep time:10 mins
Cook time:36 mins
Total time:46 mins
INGREDIENTS
Philips Airfryer
1 Kilo Fresh Cauliflower
150g Cheddar Cheese
100ml Bread Crumbs
15ml Oats
1 Large Egg
100g Onion (peeled and thinly diced)
1Tsp Garlic Puree
1Tsp Parsley
1Tsp Chives
1Tsp Oregano
Salt & Pepper
INSTRUCTIONS
Chop your cauliflower up into florets and place it into your soup maker and steam it for 20 minutes with some water.
While the cauliflower is cooking prepare your bread crumbs. Mix together in a bowl your coconut, oats and bread crumbs. In another bowl have your egg, beaten ready for when you bread crumb your tater tots.
When your cauliflower is cooked, drain it and place it back in your soup maker with the salt, pepper and garlic puree. Blend until it resembles bread crumbs. Place it into a clean tea towel and squeeze it for a few minutes until you have drained out the water.
Place the cauliflower in a mixing bowl with the onion and the rest of the herbs and the cheese and mix well. Shape into tater tots and then roll in the bread crumbs.
Place in the Airfryer for 6 minutes at 180c followed by a further 10 minutes at 200c or until hot in the middle and nice and crispy on the outside.
Notes
I use measuring cups when I am making bread crumbs because then it is so much easier to measure into your dish the quantities. You can usually get some nice ones at a cheap pound shop.
Thadani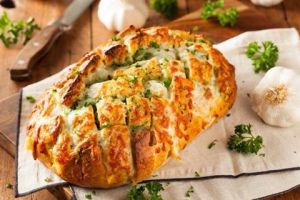 AIR FRYER FIVE CHEESE PULL APART BREAD
Author:
RecipeThis.com
Serves:2
Prep time:15 mins
Cook time:4 mins
Total time:19 mins
INGREDIENTS
Philips Airfryer
1 Large Bread Loaf
100g olive oil
2Tsp Garlic Puree
30g Cheddar Cheese
30g Goats Cheese
30g Mozzarella Cheese
30g Soft Cheese
30g Edam Cheese
2Tsp Chives
Salt & Pepper
INSTRUCTIONS
Grate your hard cheese into four different piles and put to one side.
In a saucepan melt the butter on a medium heat. Add the chives, salt and pepper and the garlic. Cook for a further 2 minutes and mix well. Put to one side.
Using a good quality bread knife create little slits into your bread. In each of the little slit wholes cover with garlic butter until you have done them all. Then cover them all with soft cheese in order to give them a lovely creamy taste.
In every other one place a little cheddar and a little goats' cheese.
Then with those that have not been filled add the Edam and mozzarella.
Place in the Air Fryer for 4 minutes or until the cheese is melted and the bread is lovely and warm.
Serve.
Notes
I get the best results from using a really soft loaf of ciabatta. You could adapt this recipe and use a French stick if you liked. The main objective though is that the bread is lovely and soft so that when it cooks it doesn't go really hard.
Thadani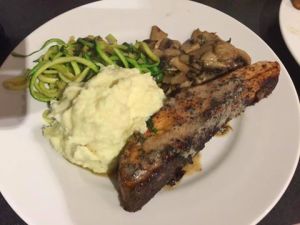 MARINATED SALMON COOKED IN AN AIR FRYER
Last night's yummy dinner. Salmon fillet marinated in garlic, ginger, fresh coriander, chili, then cooked in an air fryer (crispy skin – looks burnt in photo, but was just really dark golden and delish). With zoodles, mushrooms and cauliflower mash.