CAJUN AIR FRIED SALMON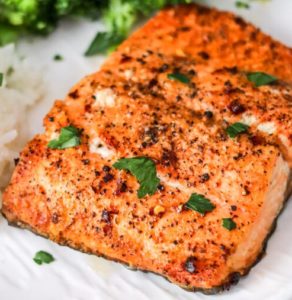 INGREDIENTS
INSTRUCTIONS
Rub olive oil over the tops of the fillets. Sprinkle with cajun seasoning, black pepper, and red pepper flakes.
Place the cajun salmon fillets into the air fryer basket. Make sure they are NOT touching. You can cook as many fillets at once that will fit in your basket.
Set the air fryer to 400° F (204° C) and 8 minutes. Depending on the size of your fillets, you may need another minute.
Remove from the air fryer basket carefully and serve the air fryer salmon immediately.
Serve with steamed vegetables or a salad.
Adapted from https://domesticsuperhero.com/air-fryer-salmon-cajun-style/?fbclid=IwAR0pnHsDr-X-ysaKawdJ4htI3hVdL9FDwsgXOsdMG5_MjvwsGX8cEJOavDc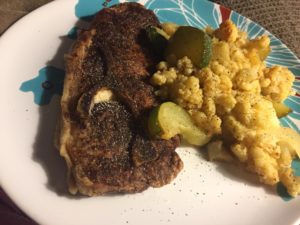 AIR FRIED PORK
INGREDIENTS AND INSTRUCTIONS
Pork Steak with chili powder & cinnamon cooked in air fryer at 160 degrees C 10 minutes, longer if you like it well done.
Cauliflower & zucchini with chili powder, lemon pepper & nutmeg sautéed in olive oil 5 minutes.
Super yum!
AIR FRIED CHICKEN WINGS WITH GARLIC DIP
INGRDIENTS
15 chicken Wings remove as much skin as you can
1/4Tspginger
1/8Tsppepper
2Tbs Olive Oil
2TspPaprika
1TspGround turmeric
4Tbslemonfresh squeezed
1 1/2Tsponion powder
Garlic Dip:
4Tbs Mayo
5 Garlic cloves finely minced
4 Tsp lemon juicefresh
3 Tbs Olive Oil
1/8 Tsp Cayenne pepper
1/8 Tsp ginger
Pinch black pepper
INSTRUCTIONS
Wings:
Mix all ingredients together in a large bowl and marinate 30 minutes or more in refrigerator
Place wings in Air Fryer
Set Air fryer to 20 minutes
Serve hot with Garlic Dip
Repeat and serve another batch!
Garlic Dip:
Using a mixer or blender mix all ingredients and Serve in a small bowl on the side with wings
Adapted from https://completelyketo.com/harlan-kilsteins-completely-keto-tangy-lemon-spiced-air-fryer-wings-garlic-dip/?fbclid=IwAR1svO-izKCadABwxjsWwpMwJbXcHni30BGDKXjTXuy56LroguwObegeiGI
http://www.findtex.com.au/recipes/chicken/spicy-chicken/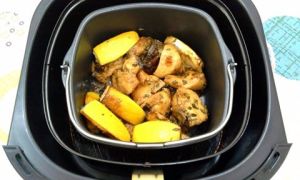 ROSEMARY CHICKEN USING AIRFRYER
Serves 2 persons
INGREDIENTS
(A) For marinating the chicken
350g chicken skin removed.
1 tsp ginger, minced
1 tbsp. soy sauce
1/2 tbsp. olive oil
(B) For the sauce
1/2 lemon, cut in wedges with skin
15g fresh rosemary, chopped
1 tbsp. oyster sauce
INSTRUCTIONS
1) Marinate ingredients in (A) together for at least 30 min. Chill in refrigerator while marinating.
Prepare the marination ingredients
Pour over the chicken and marinate for 30 min. (Overnight is best)
2) After 30 min, preheat air fryer 200 degrees C for 3 min.
3) Transfer the chicken (with the marinate) into a baking pan. Bake in air fryer at 200 degrees for 6 min.
4) Meanwhile, prepare the sauces. Mix ingredients in (B) except the lemon wedges together.
5) Pour ingredients in Step #4 over the half-baked chicken. Spread the lemon wedges evenly in the pan and squeeze. The lemon juice and zest will brighten the flavour of the chicken while tenderizing it.
6) Continue to bake in air fryer at 200 degrees C for another 13 min, turning the chicken pieces halfway to ensure that each piece is evenly browned. You are now ready to serve.
If you are using Philips' baking tray, just remove it and serve. Enjoy!
Via Thadani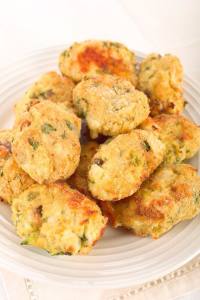 AIRFRYER CAULIFLOWER CHEESE TATER TOTS
Author:
RecipeThis
Serves:12
Prep time:10 mins
Cook time:36 mins
Total time:46 mins
INGREDIENTS
Philips Airfryer
1 Kilo Fresh Cauliflower
150g Cheddar Cheese
100ml Bread Crumbs
15ml Oats
1 Large Egg
100g Onion (peeled and thinly diced)
1Tsp Garlic Puree
1Tsp Parsley
1Tsp Chives
1Tsp Oregano
Salt & Pepper
INSTRUCTIONS
Chop your cauliflower up into florets and place it into your soup maker and steam it for 20 minutes with some water.
While the cauliflower is cooking prepare your bread crumbs. Mix together in a bowl your coconut, oats and bread crumbs. In another bowl have your egg, beaten ready for when you bread crumb your tater tots.
When your cauliflower is cooked, drain it and place it back in your soup maker with the salt, pepper and garlic puree. Blend until it resembles bread crumbs. Place it into a clean tea towel and squeeze it for a few minutes until you have drained out the water.
Place the cauliflower in a mixing bowl with the onion and the rest of the herbs and the cheese and mix well. Shape into tater tots and then roll in the bread crumbs.
Place in the Airfryer for 6 minutes at 180c followed by a further 10 minutes at 200c or until hot in the middle and nice and crispy on the outside.
Notes
I use measuring cups when I am making bread crumbs because then it is so much easier to measure into your dish the quantities. You can usually get some nice ones at a cheap pound shop.
Thadani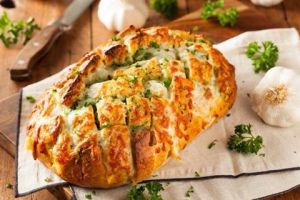 AIR FRYER FIVE CHEESE PULL APART BREAD
Author:
RecipeThis.com
Serves:2
Prep time:15 mins
Cook time:4 mins
Total time:19 mins
INGREDIENTS
Philips Airfryer
1 Large Bread Loaf
100g olive oil
2Tsp Garlic Puree
30g Cheddar Cheese
30g Goats Cheese
30g Mozzarella Cheese
30g Soft Cheese
30g Edam Cheese
2Tsp Chives
Salt & Pepper
INSTRUCTIONS
Grate your hard cheese into four different piles and put to one side.
In a saucepan melt the butter on a medium heat. Add the chives, salt and pepper and the garlic. Cook for a further 2 minutes and mix well. Put to one side.
Using a good quality bread knife create little slits into your bread. In each of the little slit wholes cover with garlic butter until you have done them all. Then cover them all with soft cheese in order to give them a lovely creamy taste.
In every other one place a little cheddar and a little goats' cheese.
Then with those that have not been filled add the Edam and mozzarella.
Place in the Air Fryer for 4 minutes or until the cheese is melted and the bread is lovely and warm.
Serve.
Notes
I get the best results from using a really soft loaf of ciabatta. You could adapt this recipe and use a French stick if you liked. The main objective though is that the bread is lovely and soft so that when it cooks it doesn't go really hard.
Thadani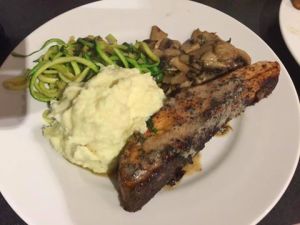 MARINATED SALMON COOKED IN AN AIR FRYER
Last night's yummy dinner. Salmon fillet marinated in garlic, ginger, fresh coriander, chili, then cooked in an air fryer (crispy skin – looks burnt in photo, but was just really dark golden and delish). With zoodles, mushrooms and cauliflower mash.