We all enjoy a little bit a naughty food from time to time. We can however still have a tasty pizza without the fat that comes with the popular take aways.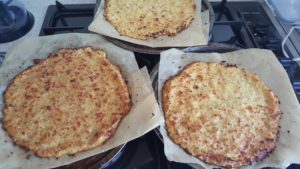 HOMEMADE CAULIFLOWER PIZZA CRUST
INGREDIENTS
INSTRUCTIONS
Preheat oven to 375 F/ 190 C and line a baking try with baking paper or similar.
Rinse cauliflower, remove the outer leaves, separate into florets and chop into smaller pieces. Process in a food processor in 2 batches, until "rice" texture forms. Transfer cauliflower rice on a prepared baking sheet and bake for 15 mins.
Remove cooked cauliflower rice from the oven, transfer to a bowl lined with a double/triple layered cheesecloth or linen towel and let cool for 5 minutes. Then squeeze the liquid out of the ball (cauliflower inside the cheesecloth) as hard as you can. Be patient and do this a few times until barely any liquid comes out.
Increase oven temperature to 450 F/ 230 C. In a bowl whisk the egg with Italian seasoning, ginger and pepper for 10 seconds. Add cheese and squeezed cauliflower; mix very well with spatula until combined.
Line same baking sheet with new parchment paper or similiar (just make sure to scrape off any bits of cauliflower) and spray with cooking spray. Transfer "dough" in the middle and flatten with your hands until thin pizza crust forms.
Bake for 20 minutes, carefully flip with spatula and bake for a few more minutes. Top with your favourite toppings and bake again until cheese on top turns golden brown. Slice and enjoy.
Adapted from https://ifoodreal.com/cauliflower-pizza-crust/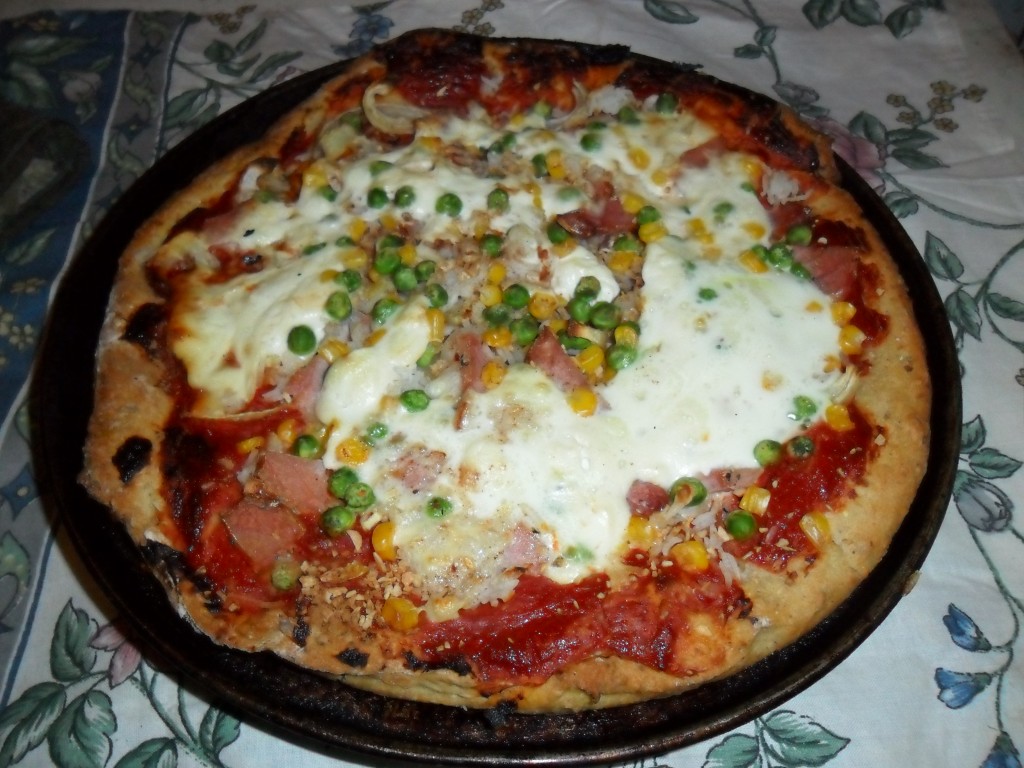 Here is my Healthy Pizza.
Ingredients
Any of my bread mixes. (See breads)
Two large pizza dishes
Leggos Tomato Paste – No Added Salt.
Any fresh vegetables from the garden or left overs.
Albacore or a strong tasting oily fish. (Many fish like flathead will get lost in this pizza.)
Herbs and spices to taste including pepper and chili
4 egg whites
1/3 cup of milk.
2 teaspoons of  olive oil
Method
Put the bread mix including the water in the bread maker. Mine has a dough option 8.
when the dough cycle has finished, tip out on a lightly floured board and rollout into a cylinder. I use my hands lightly floured.
Cut into four quarters.
Place one quarter into each of the trays which should be lightly oiled with olive oil.
The remaining dough can be fashioned into dinner rolls and cooked with the pizza
With a lightly floured rolling pin roll out to cover the base of the trays.
Use the back of a large spoon to cover the dough with the tomato paste.
Cut up your vegetables and place on the pizza.
Add your herbs etc.
10.Repeat with the albacore.
11. Mix the egg whites and milk together with a betting action until a thick paste is formed.
12. Pour over the pizza.
13. Place in a warm place for 30 to 40 minutes to allow the bread mix to again rise. (I use the oven which has not been turned on.
14. Turn on the oven, set 180 C cook for 30-40 minutes.
15. Cut into wedges and enjoy
My man size pull apart dinner rolls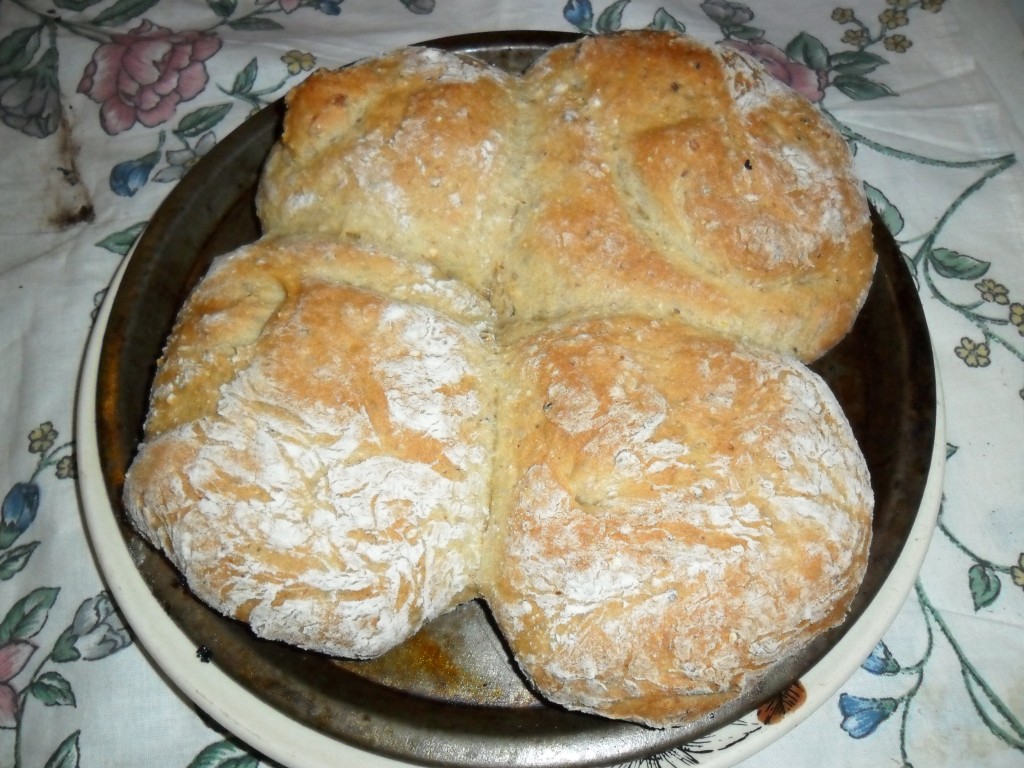 Other Varieties
Left over meat, chicken or even fish can be used in your pizza instead of the albacore.
Sardines, anchovies, mackerel can also be used. (If you catch your own mackerel, be certain you bleed them as soon as you catch them, place them in fresh clean sea water and change until fully bled.)
I find this tasty enough and I do not miss the cheese but if you have to have cheese try Cottage, Ricotta or Philadelphia.
Texs Score card
| | | |
| --- | --- | --- |
| Contains no | Score / 10 Higher the better | Comment |
| Sweetener | 10 | |
| Fat | 10 | |
| Salt | 10 | |
| Fibre | 10 | If you used my no sugar bread base I hold to these scores |
| Total | 40/40 | |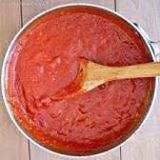 HOMEMADE TOMATO SAUCE
Prep Time 30min
Total Time 2hr45min
SERVING SIZE 20
 INGREDIENTS
2 kg whole tomatoes, fresh from the garden if possible
3 Tbsp. extra virgin olive oil
2 medium onion, chopped
1 kg chopped mushrooms
4 clove garlic, minced
¾ tsp dried basil or 1 tablespoon chopped fresh
¾ tsp dried thyme or 1 tablespoon chopped fresh
¾ tsp dried oregano or 1 tablespoon chopped fresh
1 ¾ tsp ginger
½ tsp freshly ground pepper
2 Tbsp. no added salt tomato paste
 INSTRUCTIONS
Chop the tomatoes, reserving any juice.
Heat the oil in a Dutch oven or large stockpot over medium heat. Add onions and cook, stirring, until beginning to brown, about 4 to 6 minutes. Add garlic and mushrooms and cook, stirring, for 1 minute. Add the tomatoes (and any juice), basil, thyme, oregano, ginger, and pepper, bring to a boil. Reduce heat to maintain a simmer and cook until thickened to the consistency of pizza sauce, about 2 hours. Taste and season with additional ginger and pepper.
Transfer the sauce to a blender, add tomato paste and blend until smooth. (Use caution when pureeing hot liquids.)
Make Ahead: Cover and refrigerate for up to 3 days or freeze for up to 6 months. Use in moderation on a healthy pizza or in soups and stews.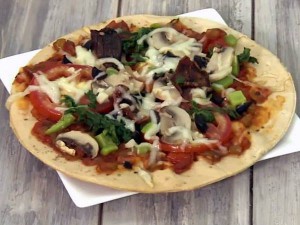 DIABETIC FRIENDLY PIZZA
Ingredients:
2 whole wheat pizza base
4 egg whites (cottage cheese can be mixed with these if you require more dairy in your diet.)
For the pizza sauce
2 tsp olive oil
2 bay leaves
6 black peppercorns
1 tsp garlic, chopped
1/4 cup onions, finely chopped
1/2 tsp dried oregano
1/2 cup capsicum, finely chopped
1/4 cup tomatoes, blanched and finely chopped
1/4 cup fresh tomato pulp
Ginger to taste
For the topping:
6 tomato slices
2 tbsp capsicum, chopped
2 tbsp spinach, blanched and chopped
3 tbsp mushrooms, blanched and sliced
6 sun-dried tomatoes , soaked and drained
1 tbsp black olives, chopped
1 tsp garlic, finely chopped
Method:
For the pizza sauce
Heat the oil in a broad stone ware pan, add the bay leaves and peppercorns and sauté on a medium heat for a few seconds.
Add the garlic and onions and sauté on medium heat for one minute.
Add the oregano and capsicum and sauté on medium heat for another minute.
Add the tomatoes, tomato pulp, ginger and two tbsp of water, mix well and cook on medium heat for two to three minutes..
Remove from the heat and discard the bay leaves and peppercorns.
Divide the sauce into two equal portions and keep aside.
How to proceed
Place a pizza base on a flat, dry surface and spread one portion of the pizza sauce over it.
Arrange 3 tomato slices, sprinkle 1 tbsp of capsicum, 1 tbsp of spinach, 1½ tbsp mushrooms, 3 sun-dried tomatoes, ½ tbsp black olives and ½ tsp of garlic evenly over it. Top with half the eggs whites beaten well.
Repeat for the second Pizza.
Pre-heated oven at 200°c (400°f) for 15 to 20 minutes or till the pizza base is crisp.
Cut into four equal wedges and serve immediately.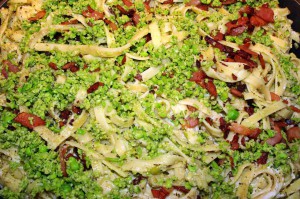 SKINNY CARBONARA
For those days when you have to have bacon
Ingredients
200 g freshly podded or frozen peas
1 tablespoon flaked almonds
1 small clove of garlic
½ a bunch of fresh basil , (15g)
15 g Parmesan cheese
1 lemon
150 g whole-wheat spaghetti
1 rasher of the leanest bacon you can find.
olive oil
1 large free-range egg
100 g fat-free natural yoghurt
Instructions.
Put a pan of boiling water on the heat for your pasta, dunk a sieve containing the peas into the water for just 30 seconds, then put aside, leaving the pan on the heat.
Very lightly toast the almonds in a dry non-stick frying pan on a medium heat, then blitz until fine in a food processor.
With the processor still running, peel and drop in the garlic, a pinch of ginger, the basil leaves, the finely and the lemon juice. Blitz until it comes together, then pulse in the peas, to try and keep a bit of texture.
Cook the pasta in the boiling water according to the packet instructions.
Whisk the egg and yoghurt together well. When the pasta's done, reserving a mugful of cooking water, drain the pasta and toss straight into the pea pan, mixing well, then take the pan off the heat (this is very important, otherwise the egg will scramble when you add it, and we don't want that).
Pour in the egg mixture and toss until evenly coated, silky and creamy, loosening with cooking water if needed.
Taste and season to perfection, and serve topped with the remaining pea mixture and the crispy bacon. It might be skinny, but it's beautifully light and delicious. Enjoy!
MUSHROOM AND ZUZZHINI PIZZA
INGREDIENTS
Pizza
2 large wholemeal pita bread
300 g button mushrooms, sliced thinly
1 medium zucchini, sliced thinly
250g cherry tomatoes, halved
½ medium red onion, sliced thinly
60g bocconcini cheese, torn (cottage cheese can also be used)
¼ cup fresh basil leaves
Pesto
1 bunch fresh basil
50g almonds, unsalted
1 clove garlic
1 tbs lemon juice
INSTRUCTIONS
Pre-heat the oven to 220C (200C if fan forced).
To make the pesto, in a mortar and pestle, pound all of the pesto ingredients together until it is smooth and well combined.
Place the pita bread onto a baking tray, covered with a piece of baking paper.
Spoon the pesto mixture across the bases of the pizza, leaving about 1cm of spare space from the edge of the pita.
Arrange the mushrooms, zucchini, tomatoes and onion on top of the pizza and top with some bocconcini balls and fresh basil leaves.
Bake in the oven for around 15 minutes or until the pita pizzas are brown and crisp.
Serve immediately with a garden salad.
Adapted from http://www.diabetessa.com.au/recipes/pesto-mushroom-and-zucchini-pizza.html
PIZZA PARATHA (Stuffed Vegetable Cheese Paratha)
Everyone enjoy pizza. Pizza has become a universal food enjoyed by all. Pizza paratha is perfect for the times when you want to enjoy homemade pizza. This is also quick and easy recipe. Personalize your pizza with your favorite toppings. You can serve this for lunch, snack, or especially good for kids lunch box. This is also my grandkids favorite.
Course Snack
Cuisine Indian
Prep Time 10 minutes
Cook Time 10 minutes
Total Time 1 hour 20 minutes
Servings 2 people
INGREDIENTS
For Paratha Dough NB1
1 cup whole wheat flour or you favorite flour
1/2 tsp yeast
2 Tbsp. olive oil
1/3 cup lukewarm water (use as needed)
For Filling
1-1/2 Tbsp. tomato paste
1/2 tsp chili flakes (adjust to taste)
1/2 tsp dry basil
1/2 tsp dry oregano
1/2 cup bell pepper (finely chopped)
1/2 cup mushrooms (finely chopped)
1 jalapeno pepper (finely chopped, adjust to taste)
1/4 cup mozzarella cheese (shredded)
Also need
1/4 cup whole wheat flour (for rolling the paratha)
2 Tbsp. olive of oil (to cook parathas)
INSTRUCTIONS
In a bowl mix the flour, yeast and oil, add the water as needed to make soft and pliable dough. Cover the dough and set aside for about one hour. (This should make a sough dough like base)
Squeeze the chopped bell peppers to remove the extra water.
In a bowl mix all the ingredients for filling, bell pepper, mushrooms tomato paste, chili flakes, basil, oregano, jalapeno, and cheese, mix it well.
Knead the dough and divide in two equal parts. Roll each part of the dough in smooth ball.
Roll one part of the dough into about six-inch diameter, use dry flour as needed to roll.
Place half a cup of filling in the center. Pull the edges of the dough to wrap it around the filling, making sure it is covered from all around.
Meanwhile heat the skillet/stoneware fry pan on medium low heat, skillet should not be very hot, otherwise paratha will not cook through. Heavy skillet works best.
Lightly sprinkle the dry flour on the surface you will roll the paratha. Press the filled patty lightly from both sides, with your fingers. Now using a rolling pin, roll the paratha about eight-inch in diameter. If the dough sticks to the rolling pin or rolling surface, lightly dust the parathas with dry flour.
Oil the skillet generously, and place the paratha on the skillet. Cook the paratha for 2-3 minutes and flip the paratha. Paratha should be golden brown. It is important to cook paratha on low heat.
Again brush the paratha with oil all around and flip it again in about 2 minutes. Paratha should be golden brown both sides for crispness. Paratha should take about five minutes to cook nicely.
Take out the pizza paratha place on a wire rack to keep them from getting soggy.
Suggestions
You can make these pizza parathas in any combinations of filling. When I make for my grandkids I don't add any peppers.
NB1 some may prefer a base of eggs.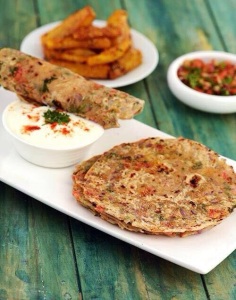 This looks like it would a great pizza base.
JEERA PARATHA RECIPE
PREP TIME
1 hour 10 mins
COOK TIME
15 mins
TOTAL TIME
1 hour 25 mins
Jeera Paratha Recipe – A tasty cumin flavored Indian flat-bread recipe that goes well with yogurt raitas and daals.
Author: Gopi Patel (Adapted)
Recipe type: Breakfast
Cuisine: Indian
INGREDIENTS
For Making Dough
Whole Wheat flour 2 cups with ¼ tsp dried yeast
Jeera (cumin seeds) 2 tsp
Olive Oil 1 tbsp.
Water1 cup or as needed
For Making Jeera Paratha
Olive Oil 6 tbsp.
Dry whole wheat flour 1 tbsp.
Red chili powder1 tbsp. (optional)
INSTRUCTIONS
In a mixing bowl take whole wheat flour, yeast,  add cumin seeds, olive oil and water.
Mix well all the ingredients.
Once everything is mixed add water as required and knead dough.
After the dough is kneaded rest it for about 1 hour.
Now divide paratha dough and make small lemon size balls.
With the help of the rolling pin roll the small ball into small 4-5 inch diameter.
Apply oil, dry whole wheat flour and red chili powder and fold into half and again apply oil and fold to forms a small triangle.
Repeat the steps for remaining dough balls and make triangles and keep aside.
Now carefully roll all the triangle into round paratha.
Heat a flat bottom non-stick pan or tawa and place the paratha on it.
When you see bubble start coming on top flip the paratha to the other side.
Apply oil on top and again flip the paratha cook properly on both side till golden brown.
Jeera paratha is ready. Server it with veg jaipuri, palak daal or boondi raita or onion tomato raita.