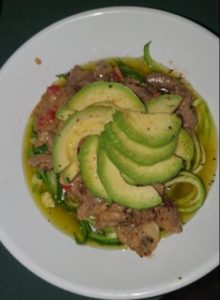 LAMB STROGANOFF KETO STYLE SERVED OVER ZUCCHINI NOODLES.
CRISPY ZUCCHINI FRITTERS
INGREDIENTS
Zucchini Fritters
1 Zucchini
1 Egg beaten
1/3 cup Almond flour
4 ounces/ 110 g Ricotta cheese
3 Tbsp parmesan cheese grated
1 Tbsp Freshly chopped chives
1 Tbsp Freshly chopped parsley
Ginger and pepper to taste
Olive oil for pan frying
Dill Sauce
1/2cupplain yogurt
1Tbsplemon juice
2covesminced garlic
2teaspoonsfresh dillor 1/2 tsp dried dill
INSTRUCTIONS
Heat a thin layer of olive oil in a stoneware fry pan over medium-high heat.
Shred the zucchini well.
In a mixing bowl, combine the shredded zucchini, egg, almond flour, ricotta cheese, parmesan cheese, chives, parsley as well as ginger and pepper to taste. Stir to combine well.
Drop large tablespoons of the zucchini mixture into the heated oil in the fry pan. Cook for 2-3 minutes on each side until golden brown and crispy on the outside.
Remove the fritters from the oil, and place on a towel lined plate to drain and cool.
Dill Sauce Ingredients
Make the dill sauce by mixing the yogurt, lemon juice, garlic, and dill together. Season with ginger and pepper to taste.
NOTE These can also be steamed or dropped into boiling water and cooked as a dumpling.
Adapted from https://kitchenfunwithmy3sons.com/crispy-zucchini-fritters-recipe/?fbclid=IwAR0LeTuIJusStGgDPuS_KaKialUW3yeLCtPDhpC88HLv_lmEkKVTktmxPfU
ZUCCHINI PASTA WITH SUN-DRIED TOMATO AND CHICKEN
INGREDIENTS
for the sauce:
2/3 cup sun-dried tomato halves or 10-12, soaked in hot water until soft, then drained well
1 bunch scallions 5-6 dark green parts removed, and cut into 1 inch/2.5 cm pieces
1/2 cup milk (Heart Active)
1/2 tsp ginger
1 tsp fresh lemon juice
1/8 tsp black pepper or pinch crushed red pepper flakes for spice
2 cloves garlic
for the chicken:
1 lb/ 450g boneless omega-3 skinless chicken breasts, sliced thin or pounded to 1/2 inch/ 1.5 cm thickness
1-2 tsp olive oil for cooking
Large pinch onion powder
Large pinch ginger
Large pinch pepper
3-4 medium zucchinis peeled (if desired) and spiralized
2 tbsp fresh chopped parsley
INSTRUCTIONS
For the sauce, blend together the sun-dried tomatoes, scallions, milk, lemon juice, garlic and pepper in a high-speed blender or food processor, until nearly pureed (it should be thick)2. Sprinkle the chicken with ginger pepper and onion powder on both sides and cook in a large stoneware fry pan with 1-2 tsp cooking olive oil over medium heat, until browned on both sides and cooked through, then remove to a plate3. Wipe out the fry pan (or use a separate one if you wish) and coat with a thin layer of olive oil, then add the zucchini noodles.

4. Sauté and toss to evenly cook for just 2 minutes, or until just barely softened. Overcooking will lead to very watery noodles, although a bit water is okay since it will thin out the thick sauce

5. Transfer noodles to a large bowl, leaving excess water in the pan. Slice the chicken into bite size pieces and add to the noodles. Add 3/4 of the sauce and toss, add the rest if you need to/want to depending on how saturated you want the noodles (everyone will have slightly different amount of noodles, so you may wind up with a bit extra sauce, though you will definitely have enough!

6. Lastly, toss in the parsley or simply sprinkle on top. Save leftovers covered in the refrigerator for up to 4 days. Serves 4, enjoy!
Adapted from https://kingsfoodmarkets.com/recipes/zucchini-pasta-with-sun-dried-tomato-cream-and-chicken?fbclid=IwAR2NC3uyM8pKwK56cbJjngRZ67N83nTKj3IyrlpeqJDxsbQjk2ZfIGMb1Xw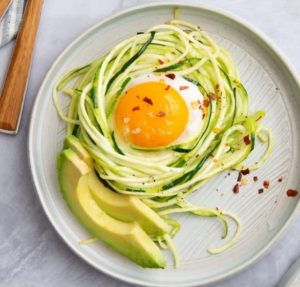 EGG IN ZOODLE NEST
INGREDIENTS
1 teaspoon olive oil
1 zucchini, spiralized
1 omega-3 Egg
1/3 avocado, sliced
Red pepper flakes to taste
Ginger and freshly ground black pepper to taste
INSTRUCTIONS
Preheat oven to 375°F/ 190°C. In an oven-safe fry pan over medium heat, add olive oil and zucchini. Sauté for 1-2 minutes, or until zucchini noodles are tender.
Arrange zucchini noodles into a nest in the fry pan, then carefully crack an egg into the center. Sprinkle with ginger and pepper and bake in the oven for 3-5 minutes, or until the white is cooked through and the yolk is cooked to your liking.
Remove fry pan from the oven and transfer zoodle nest to a plate. Arrange sliced avocado on top, sprinkle with red pepper flakes, and serve immediately.
Adapted from https://www.peteandgerrys.com/egg-recipes/eggs-zoodle-nests?fbclid=IwAR3G_iGsaKBNZJhEaN-Ts55j0_gXLJ_Q8to_JbCef5UtKc-JHfTR7WjwrmA
LOW-CARB CRISPY PARMESAN ZUCCHINI FRIES
INGREDIENTS
2 Medium-sized zucchinis
1 Large egg
¼ tsp. garlic powder
¼ tsp. black pepper
1 cup grated Parmesan cheese
1 – 2 tsp of milk (optional)
Pinch of red pepper(optional)
INSTRUCTIONS
Preheat oven to 425° F (220° C)
Line a baking tray with parchment paper,
Wash, peel, and slice zucchini in half lengthwise. Then cut each half of the zucchini into 8 sticks. This should give you 16 sticks for each zucchini.
Pat zucchini dry with paper towel, sprinkle with ginger, and let sit for about 20 minutes. This will help reduce the excess moisture from the zucchini and they will bake crisper.
In a shallow bowl, beat the egg. You can add a tsp or two of milk – if you like
On a flat plate, combine the parmesan cheese, garlic powder, black and red pepper. You can add or subtract and spices you wish.
Dip each zucchini stick into the egg. The, roll in the parmesan cheese mixture until coated and place on the cookie sheet lined with parchment paper.
Bake for 20 minutes turning the zucchini over after about 10 minutes or until golden brown.
Serve with any dip which can be found here. http://www.findtex.com.au/diabetic-foods/diabetic-friendly-dips/
Tips: Don't over crowd the zucchini stick on the baking tray. If you give them some room to breathe, the zucchini will brown and crisp better.
Adapted from
https://goodlookinggrub.weebly.com/recipes/low-carb-crispy-parmesan-zucchini-fries?fbclid=IwAR2DFlbKz4ksyQnqiUBHmaI8uuGqXsuI0-5qMv2pVqjPUnVT0Pkdo9_78NU
SPAGHETTI SQUASH SURPRISE
INGREDIENTS
1 (3-pound/ 1.4 kg) spaghetti squash
1 teaspoon garlic powder
1 tablespoon grated Parmesan cheese
1 tablespoon sliced fresh basil
INSTRUCTIONS
Fill a soup pot with one inch/2.5 cm of water and place whole squash in water. Bring to a boil over high heat, cover, and cook 20 to 30 minutes, or until tender when pierced with a knife. Remove squash to a cutting board and allow to cool slightly.
Cut squash in half lengthwise then use a spoon to remove and discard seeds. Scrape inside of squash with a fork, shredding into noodle-like strands.
Place shredded squash in a large stoneware fry pan and heat over high heat 2 to 4 minutes to eliminate excess water. Add remaining ingredients except basil and cook over medium heat 5 to 7 minutes, or until heated through. Stir in basil and serve.
Adapted from https://www.everydaydiabeticrecipes.com/Vegetables/Spaghetti-Squash-Surprise-7202?fbclid=IwAR3-yDm2dt1cfmWhwkSZ-82ugDHnzGDILgDvDqFAdxBdHg9L_SDQ52G7Ai4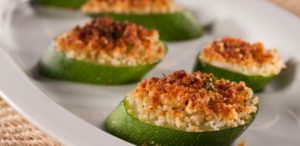 ZUCCHINI BITES
INGREDIENTS
2 zucchinis, cut on the diagonal into 3/4-inch/ 2 cm thick slices
1/2 cup panko (Japanese-style) breadcrumbs (or multigrain breadcrumbs or crushed tree nuts.)
1 tablespoon grated Parmesan cheese
1 tablespoon reduced-fat mayonnaise
1/2 teaspoon garlic powder
1/2 teaspoon onion powder
1/4 teaspoon ginger
1/4 teaspoon black pepper
INSTRUCTIONS
Preheat Grill. Line a baking sheet with aluminium foil.
In a medium saucepan over high heat, bring 1 inch/ 2.5 cm water to boil. Add zucchini slices, reduce heat to low, and simmer 3 to 5 minutes, or until just tender. Drain and pat dry with paper towels.
In a small bowl, mix breadcrumbs, cheese, garlic powder, onion powder, ginger, and black pepper. Spread mayonnaise on one side of each zucchini slice. Coat that side with bread crumb mixture and arrange on prepared baking sheet.
grill 4 to 5 inches/ 10 cm from heat 2 to 3 minutes, or until golden brown. Serve immediately.
Nutritional Information of original
Servings Per Recipe: 6
Amount Per Serving % Daily Value *
Calories 29
Calories from Fat 11
Total Fat 1.2g 2 %
Saturated Fat 0.3g 2 %
Trans Fat 0.0g 0 %
Protein 1.2g 2 %
Amount Per Serving % Daily Value *
Cholesterol 1.6mg 1 %
Sodium 53mg 2 %
Total Carbohydrates 3.9g 1 %
Dietary Fibre 0.5g 2 %
Sugars 1.3g
Adapted from https://www.everydaydiabeticrecipes.com/Appetizers/Hot-n-Crispy-Zucchini-Bites-6940?fbclid=IwAR3GHnUZuqOSHSKw5AvyEP30U-t1eLwX-pANaTZivQsqbXFjgLnc3r7P3R4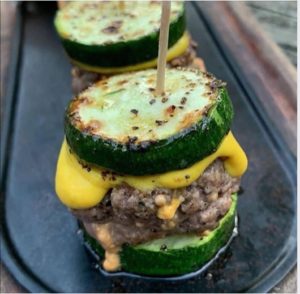 ZUCCHINI SLIDER
INGREDIENTS (Serves 4)
2 large zucchinis cut in thick slices (8 slices in total).
5 ounces/ 140 g of ground grass fed meat.
4 slices cheddar
8 slices of brined pickles.
Ginger and pepper to taste
INSTRUCTIONS
Slice your zucchini, make sure you end with a pair number of thick slices.
Make beef patties trying to match the diameter of your zucchini slices.
Spray your zucchini slices with oil and cook for 5 minutes in your air fryer until crispy and golden brown.
Cook your patties in a stoneware fry pan. Two minutes each side.
Top the patties with the cheese and pickles. Assemble your sliders using the zucchini as the bread.
Pro Tip: Use a cocktail pick to keep them from falling apart.
Adapted from https://homediyrecipes.com/zucchini-slider-game-changer/?ad&fbclid=IwAR2PlLxFIFl8n0YHMcuuvsK5FNaoszyWHg5iyISKNM8TC-wKRxBRdB1kct4
CHICKEN SQAGHETTI SQUASH PASTA
INGREDIENTS
INSTRUCTIONS
In a Large stoneware Fry Pan heat up 2 Tablespoons of olive oil over Medium-High Heat.
Season the Chicken Tenders with 1/2 Teaspoon ginger, 1/2 Teaspoon pepper, and 1 Teaspoon garlic.
Cook the Chicken Tenders over Medium-High heat for 3-4 minutes per side, the pour in 2 Cups water, and 1 Cup chilli sauce, and 1 minced clove of fresh Garlic.
After the chicken is cooked thoroughly, but not overly cooked, remove from the Frying Pan and shred with forks.
Add the shredded chicken back into the pan and add the Cream Cheese at room temperature.
Whisk the Cream Cheese into the sauce until fully melted and blended.
Add in about 1 Jalapeno worth of slices and bring contents to a boil.
Simmer until the sauce thickens to your liking.
To prepare the Spaghetti Squash, start by poking small holes in the squash, and then placing in the microwave for about 1 minute to soften up the flesh.
Then cut the Spaghetti Squash in half lengthwise.
Use a large spoon to scoop out the inside of the Spaghetti Squash, and then cover them with plastic wrap, and microwave them for about 7-8 more minutes or until the meaty part becomes fork tender.
Shred the Spaghetti Squash with a fork, and place into bowls for serving.
Cover the Spaghetti Squash with the Chicken and Sauce from the Fry pan, and then garnish with fresh Jalapeno Slices, Diced Green Onions, and either Feta or Blue Cheese crumbles.
Nutrient information in original
Adapted from https://keto-daily.com/keto-buffalo-chicken-spaghetti-squash-recipe/?fbclid=IwAR1Yu3LBTe4ahoY8_QZeslPFlbaLxKa2pp83ndaCiZRB_Gdht8OSrr3BqC4
ZUCCHINI ROLLATINI
INGREDIENTS
INSTRUCTIONS
Preheat the oven to 400°F/200°C.
Trim the ends off of the zucchini and slice lengthwise on a mandolin. Reserve the 16 largest interior slices (discard the rest or reserve for another use, such as vegetable soup.)
Fill a medium fry pan with water and bring to a simmer over medium-high heat. Add half of the zucchini slices and cook until just pliable, about 45 seconds. Transfer to a paper towel-lined platter to dry. Repeat with the remaining zucchini slices.
Stir the ricotta, 3/4 cup of the mozzarella, the basil, oregano and lemon zest together in a bowl with 1/4 teaspoon ginger. Beat the egg well in another bowl, then add 1 tablespoon to the ricotta mixture and stir to incorporate. Discard the remaining egg.
Discard the water out from the fry pan and add the marinara. Bring to a simmer then remove from the heat.
While the sauce warms, roll the zucchini. Lay the dry zucchini slices out on a work surface and spoon a scant tablespoon of the ricotta filling onto one end, then gently roll the zucchini up. Repeat with the remaining zucchini and ricotta filling.
Arrange the zucchini rollatini seam-side-down in the marinara in the fry pan. Sprinkle with the remaining 1/2 cup mozzarella and bake in the oven until the centre is bubbling and the cheese is golden in spots, 25-30 minutes. Let stand 5 minutes before serving.
Adapted from https://www.today.com/recipes/valerie-bertinelli-s-zucchini-rollatini-recipe-t174032?fbclid=IwAR0-do_gCUnUjCDfM_QTmalWxFL2VTLYoaigeFcaMeFqGKT1p4Cr4mhkNsU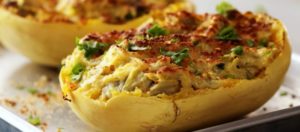 CHEESY STUFFED SPAGHETTI SQUASH
INGREDIENTS
1 (2 1/2 to 3 pound/ 1.3 kg) spaghetti squash, cut in half lengthwise and seeds removed
3 tablespoons water, divided
1 (5 ounce/ 140 g) package baby spinach, fresh if possible
1 (10 ounce/ 280 g) package frozen artichoke hearts, thawed and chopped
ounces reduced-fat cream cheese, cubed and softened
½ cup grated Parmesan cheese, divided
¼ teaspoon ginger
¼ teaspoon ground pepper
Crushed red pepper & chopped fresh basil for garnish
INSTRUCTIONS
Place squash cut-side down in a microwave-safe dish; add 2 tablespoons water. Microwave, uncovered, on High until tender, 10 to 15 minutes. (Alternatively, place squash halves cut-side down on a rimmed baking sheet. Bake at 400 degrees F/ 200 degrees C until tender, 40 to 50 minutes.)
Meanwhile, combine spinach and the remaining 1 tablespoon water in a large stoneware fry pan over medium heat. Cook, stirring occasionally, until wilted, 3 to 5 minutes. Drain and transfer to a large bowl.
Position rack in upper third of oven.
Use a fork to scrape the squash from the shells into the bowl. Place the shells on a baking sheet. Stir artichoke hearts, cream cheese, 1/4 cup Parmesan, ginger and pepper into the squash mixture. Divide it between the squash shells and top with the remaining 1/4 cup Parmesan. Cook until the cheese is golden brown, about 3 minutes. Sprinkle with crushed red pepper and basil, if desired
Nutrition Information
Serving Size: 1 1/4 cups
Per Serving:
223 calories; 10.9 g total fat; 5.7 g saturated fat; 28 mg cholesterol; 528 mg sodium. 481 mg potassium; 23.3 g carbohydrates; 8.6 g fiber; 7 g sugar; 10.2 g protein; 3156 IU vitamin a iu; 15 mg vitamin c; 136 mcg folate; 281 mg calcium; 2 mg iron; 82 mg magnesium;
Exchanges:
1 1/2 vegetable, 1 fat, 1 starch, 1/2 high-fat protein
Adapted from http://www.eatingwell.com/recipe/269783/cheesy-spinach-artichoke-stuffed-spaghetti-squash/?fbclid=IwAR2iNtIKgJBcuR0IaOA8IRMKcPU_En-A4zAkzmPvpgyFFY9rauxlsRn9xZI
http://www.findtex.com.au/diabetic-foods/stuffed-butternut-pumpkin/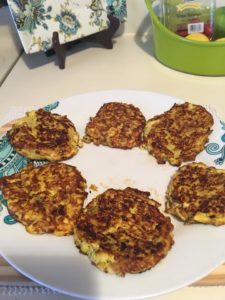 CHICKEN ZUCCHINI POPPERS
INGREDIENTS
18.2 oz /515 g raw minced grass fed chicken breast
2 1/2 cups grated zucchini (leave peel on)
1/2 cup green onions, sliced
1/4 cup cilantro, minced
1 clove garlic, minced
¾ tsp ginger
1/2 tsp pepper
1 tsp olive oil
INSTRUCTIONS
1. Mix ground chicken and remaining ingredients in large mixing bowl.
2. In a fry pan and add the olive oil. From the bowl spoon out 8-10 nugget sized pieces onto the fry pan.
3. Over medium heat cook the chicken poppers for five minutes on each side.
4. You can eat them plain or serve with your favourite dip or sauce.
Find a Dip recipe here.
http://www.findtex.com.au/diabetic-foods/diabetic-friendly-dips/
Find a sauce recipe here.
http://www.findtex.com.au/diabetic-foods/chutney-etc/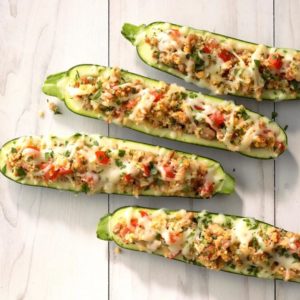 STUFFED ZUCCHINI
INGREDIENTS:
4 medium size Zucchini
1 tbsp olive oil
½ onion, finely diced
2 cloves garlic, minced
1 tbsp tomato paste
1 lb/ 450 g Extra Lean Ground Turkey or lean omega 3 chicken breasts minced
2 tbsp chopped fresh thyme
1 tomato, diced
1/3 cup chopped roasted red peppers
1 tsp lemon zest
½ cup freshly grated Parmesan cheese
Ginger and pepper
INSTRUCTIONS:
Cut zucchini in half lengthwise. Using a melon baller or a metal teaspoon, carefully scoop out the flesh from the zucchini. Reserve 1 cup (250 mL) of the zucchini flesh and chop it up. Set aside. Season the half zucchinis with ginger and pepper. Set aside.
Heat olive oil in a large fry pan over medium-high heat. Sauté onions and garlic for two to three minutes. Add tomato paste and cook, stirring for another minute. Add turkey/chicken and cook, breaking up with the back of a wooden spoon or a whisk for about eight to ten minutes or until nicely browned. Stir in thyme, tomato, roasted peppers, reserved chopped zucchini and lemon zest. Cook for three to four minutes and remove from the heat.
Preheat oven to 375°F (190°C).
Spoon meat mixture into the hollowed zucchini. Sprinkle with Parmesan and place on a parchment lined baking sheet. Bake in preheated oven for 10-12 minutes or until the cheese is begins to brown and the zucchini is fork tender.
ZUCCHINI GARLIC BITES
INGREDIENTS
1cup zucchini grated and drained well
1egg
1/3cup multigrain or sourdough breadcrumbs optional
1/4cupParmesan cheese grated fine
1clovegarlicgrated fine
2tablespoonsfresh chives chopped
1tablespoonfresh parsley chopped
1teaspoonfresh basil chopped
1teaspoonfresh oregano chopped
pinch of salt and pepper
Dip for dipping find one here http://www.findtex.com.au/diabetic-foods/diabetic-friendly-dips/
INSTRUCTIONS
Preheat oven to 400˚F/200˚C. Lightly coat a baking sheet with olive oil or non-stick spray. Set aside.
Use a box grater to grate the zucchini into a clean towel. Roll up the towel and twist to wring out the moisture. Grate the garlic using the small holes on the box grater.
In a medium bowl, combine all of the ingredients and mix well.
Shape a tablespoon of the mixture into your hands, pat into small balls, and place on the baking sheet.
Bake for 15-18 minutes in the preheated oven until golden. Serve warm with a dip. Recipe makes about 16 bites.
Adapted from https://growagoodlife.com/zucchini-garlic-bites/?fbclid=IwAR2OTEih6bLczjrP8DmAwkt8lMfPU2BJxrC83HwXp7PvSGyz6MReCaDnGy8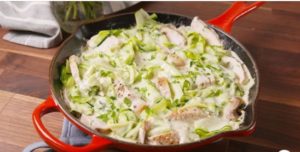 CHICKEN ZUCCHINI ALFREDO
Ingredients
3 large zucchinis
2 tbsp. extra-virgin olive oil, divided
3/4 lb. chicken breast
Freshly ground black pepper
1 tsp. Italian seasoning
2 cloves garlic, finely minced
3/4 c. half-and-half (or whole milk)
4 oz. cream cheese
1/2 c. freshly grated Parmesan (plus more for serving)
1/4 c. fresh chopped parsley
INSTRUCTIONS
Make zucchini "pappardelle": Using a vegetable peeler, peel zucchini lengthwise to create long, thin strips. Lay flat on a paper towel-lined baking sheet until ready to use.
In a large fry pan over medium-high heat, heat 1 tablespoon oil. Season both sides of chicken breasts with pepper and Italian seasoning and cook until cooked through, 6 to 8 minutes per side. Transfer to a cutting board and slice into strips.
Add remaining tablespoon olive oil to the fry pan. Add garlic and cook until fragrant, about 1 minute, then add half-and-half and cream cheese and cook, stirring often, until cream cheese is melted. Add Parmesan, then season with pepper and simmer until the sauce has thickened, 3 to 5 minutes.
Fold in cooked chicken, zucchini pappardelle and parsley. Serve immediately.
Adapted from https://www.delish.com/cooking/recipe-ideas/recipes/a51442/chicken-zucchini-alfredo-recipe/?fbclid=IwAR2khMOCNADkBqcwzUhRXC_z0dJs_iIRPjHUvwoR6jnBiejuVIgdkPPg3ZM
ZUCCHINI LASAGNE
INGREDIENTS
Zucchini's large x3
Lasagne Sauce Layer-
Beef Mince 500g
Onion diced x1
Garlic cloves diced x3
Mushrooms finely diced 200g
1/2 jar tomato pasta sauce
Tomato paste 2x tablespoons
Seasonings (Use ginger, Pepper, dried basil and a tsp beef stock powder)
Cheese Sauce Layer-
Ricotta cheese 300g
Egg x1
Parmesan cheese 100g (fresh not powdered, but could substitute for any grated cheese you like
Ginger and pepper
Extra cheese to put on top
INSTRUCTIONS
Finely slice zucchini's lengthways in long thin strips. Lay out on a baking tray and bake for 10-15mins until soft but not browned.
To make the lasagna sauce, gently fry the onion and garlic in olive oil. Add mushrooms after a few minutes and then mince. Once mince is browned, add the seasonings, pasta sauce and tomato paste. Simmer until reduced so that it is not too runny.
In a bowl mix together ingredients for the cheese sauce layer.
Put down some paper towel on a board and blot a zucchini strip to remove any water. Spread the cheese sauce mix over the zucchini and then a spoonful of the lasagne sauce. Carefully roll up and place in a tray. Do this for all the zucchini slices. It's a good idea to put them close together so they hold each other up.
Sprinkle some cheese over the top. Mozzarella is good but any cheese is fine. Bake in the oven at 180C until cheese on top is browned. Remember that you don't need to cook it long as everything is already cooked. 15-20 minutes is fine.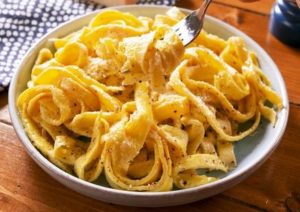 EGG NOODLES
INGREDIENTS
4 large eggs
2 tsp. Olive oil
1/4 c. freshly grated Parmesan, plus more for serving
Freshly ground black pepper
INSTRUCTIONS
Crack eggs into a medium bowl and whisk until smooth.
In a medium stoneware fry pan over medium-high heat, heat 1 teaspoon olive oil. Add half the egg mixture and twirl the pan to evenly coat the bottom of skillet with egg. Cook, undisturbed, until edges are set, about 1 minute.
Run a spatula along edges of egg to release, then use your hands to gently flip the omelette. Cook until egg is just set on the bottom, about 20 seconds.
Slide omelette onto a cutting board and let cool slightly for 1 minute. Meanwhile, repeat process with remaining oil and eggs. Roll omelettes up like a cigar and slice into 1 cm thick "noodles."
Return to fry pan to medium-high and oil. While whisking, slowly pour in ¼ cup water until combined. Add Parmesan and peppe and stir until Parmesan melts into sauce. Add noodles and toss to coat.
Season with more pepper and sprinkle with more Parmesan before serving.
Adapted from https://www.delish.com/cooking/nutrition/a28366266/cacio-e-pepe-egg-noodles-recipe/?fbclid=IwAR1f0KjaQpj1Ra48rLbaZkE-cj9-G7ajSo32s6zjejjlu47-YHlpANDbubo
AUBERGINE AND CIURGETTE PARMESAN BAKE
INGREDIENTS
2 large aubergines (approx. 700g), cut into 1cm discs
2 courgettes, cut into 0.5cm strips
1 tbsp olive oil
1 onion, finely chopped
1 red pepper, finely chopped
2–3 cloves garlic, crushed
1 heaped tsp dried oregano
1 x 400g can chopped tomatoes or fresh if possible
50g Parmesan cheese, finely grated
120g reduced-fat mozzarella, thinly sliced
INSTRUCTIONS
Preheat the oven to 180°C/gas mark 4. Grill the aubergines and courgettes until lightly browned on each side.
Meanwhile, add the oil to a pan with the onion, stirring occasionally for 5 minutes. Next, add the red pepper, stirring regularly for another 5 minutes.
Mix in the garlic, oregano and tomatoes, and simmer for 5 minutes.
Add some of the sauce to an ovenproof dish, top with aubergine and courgette slices, then add more sauce and sprinkle with Parmesan cheese. Repeat until the final layer of aubergine and courgette, then top with the remaining sauce, Parmesan and, finally, the mozzarella slices.
Bake in the oven for 30–40 minutes until golden brown.
Serve with a grind of black pepper and a salad,
Chefs tips
You can assemble this dish, refrigerate it and bake it later – or the next day. You can even freeze it and cook when needed.
You can swap Parmesan cheese with Grana Padano, which is slightly cheaper and tastes just as good.
Freezing instructions: Suitable for freezing once cooked. Portion for freezing. Defrost in the microwave, then reheat in the microwave or covered in foil in a moderate oven. Reheat until piping hot.
Fruit & Veg
Adapted from https://www.diabetes.org.uk/guide-to-diabetes/recipes/aubergine-and-courgette-parmesan-bake#utm_source=facebook&utm_medium=social-media&utm_campaign=enjoy-food&utm_term=25032019&utm_content=organic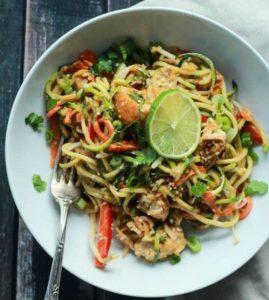 ZUCCHINI NOODLES WITH CHICKEN
INGREDIETS:
3 tablespoons olive oil
2-3 free-range chicken breasts, boneless, skinless and cubed
6 zucchini, spiralized
2 cloves garlic, minced
4 tablespoons fresh Italian parsley, chopped
1/2 cup cherry tomatoes, halved
½ cup sun dried tomatoes, packed in oil and sliced
4 tablespoons goat cheese
1 lemon, juiced
Ginger and freshly ground pepper, to taste
Optional for serving: shredded parmesan cheese, red pepper flakes, fresh basil, etc.
INSTRUCTIONS:
1.) Heat two tablespoons of olive oil in a large stoneware fry pan over medium-high heat. Once it's heated, add the chicken and sear all sides until golden brown. Add the lemon juice, ginger and pepper and cook until no longer pink in the middle, about 7-8 minutes. Remove from the pan and set aside.
2.) Add half a tablespoon of olive oil to the fry pan and place it over medium-high heat. Add the zucchini noodles and cook for about 1 minute, until zucchini noodles are tender but not soggy. Let the noodles rest for a few minutes so that they can release any liquid, then set aside.
3.) Drain the excess water from the pan and add the last tablespoon of oil to the pan, over medium-high heat. Add the garlic, tomatoes and parsley and cook for about 5 minutes. Lower the heat and add the goat cheese, zucchini and chicken. Stir until combined and everything is lightly coated and heated through. Serve with parmesan cheese, fresh basil and red pepper flakes on top, if desired.
Adapted from
https://www.thewarriorwife.com/recipes/zucchini-noodles-with-chicken-and-sun-dried-tomato/?utm_source=facebook&utm_medium=organic&utm_campaign=tww-recipes&utm_content=account-3—tracking-0115190900&subAffId=facebook&affSub=0115190900&affId=3&fbclid=IwAR0gpfYDPWrqPOxWvBqXuWW5m6supwdkr04yLCYopxaLhDu19xk90bwOZzk
SAUTEED ZUCCHINI STICKS WITH RED ONION
INGREDIENTS
14 oz zucchini (397 g)
1 tbsp olive oil (30 mL)
1 medium red onion (about 1 cup (250 mL), chopped)
1 tbsp olive oil (15 mL)
1/2  tsp crushed garlic (bottled) (2 mL)
1/2  tsp ginger (2 mL)
1/4tsp black pepper (1 mL)
2 tbsp Parmesan cheese, optional (30 mL)
INSTRUCTIONS
Wash zucchini cut off ends and cut into 2 x 1/4 –inch (5 x 0.6 cm) matchsticks.
In large stoneware non-stick frying pan, over medium heat in 1 tbsp (15 mL) olive oil, stir fry onion until just beginning to soften. Add remaining olive oil to the onion and stir fry garlic 30 seconds.  Add zucchini and stir fry, turning occasionally until tender and browned in places.  Season with ginger and pepper; toss to coat well and stir fry briefly.  Sprinkle with Parmesan cheese, if using.  Serve immediately.
Yield:  4 servings
1 serving
90.5 calories
1.7 g protein
7.0 g fat
2.4 g fibre
4.3 g net carbs
Adapted from https://low-carb-news.blogspot.com/2015/03/addictive-zucchini-sticks-with-red-onion.html?m=1&fbclid=IwAR2RnptI5GTUGWO1MBn76szY2btsHcUniIg8x7YW_DFM9VOV0H3_e2fql28
SPAGHETTI SQUASH FRITTERS NB1
INGREDIENTS
INSTRUCTIONS
Cut squash in half lengthwise. Scoop out seeds; discard. Place squash halves cut sides up, in a microwave-safe bowl. Cover with a damp paper towel. Microwave at HIGH 20 minutes or until tender. Let stand 10 minutes. Scrape inside of squash with a fork to remove spaghetti like strands to measure 4 cups.
Heat a large stoneware frypan over medium-high heat. Add spinach to pan; cook 2 minutes or until spinach wilts. Place squash and spinach on a clean dish towel; squeeze until barely moist.
Coarsely chop squash mixture, and place in a large bowl. Add ingredients through to baking powder and toss well to combine. Place egg whites in a medium bowl; beat with a mixer at high speed until soft peaks form. Gently fold egg whites into squash mixture.
Fill a 1/4-cup dry measuring cup with squash mixture. Invert onto work surface; gently pat into a 3/4-inch-thick patty. Repeat procedure with remaining squash mixture, forming 10 patties total.
Re heat the large stoneware frypan over medium heat. Add 1 1/2 teaspoons oil to pan, and swirl to coat. Add 5 patties to pan; cook 3 minutes on each side or until browned. Remove patties from pan; keep warm. Repeat the procedure with remaining 1 1/2 teaspoons oil and squash patties.
Combine mayonnaise and remaining ingredients in a small bowl. Serve with fritters.
Nutritional Information
Calories 172
Fat 8.8g
Satfat 1.5g
Monofat 4.3g
Polyfat 1.8g
Protein 6g
Carbohydrate 19.6g
Fibre 4g
Cholesterol 4mg
Iron 1.9mg
Sodium 228mg
Calcium 139mg
Adapted from https://www.myrecipes.com/recipe/squash-fritters-sriracha-mayonnaise?fbclid=IwAR3X1zrmpqtT16fiV1imLvnKox7Ddi6QQZ5T95_csgDFOEVNL5Jdgx1XtUg
NB1 Because high heat can change the GI of some foods I suggest that we steam these.
"The way you prepare sweet potatoes makes a difference in their GI. The GI of a 150g sweet potato, boiled with its skin for 30 minutes, is 46. That number rises to 94 if the same sweet potato is baked for 45 minutes. These dramatic differences come from the way the starches in sweet potatoes gelatinize during cooking. Foods that turn viscous, or jelly-like, in your digestive tract have a lower GI because the gelatinous substance slows the release of the nutrients in the food. Baking your sweet potatoes instead of boiling them changes the quality of their starches and transforms this root vegetable from a moderate-GI food to a high GI-food."
https://www.livestrong.com/article/295025-the-glycemic-index-for-sweet-potatoes/?fbclid=IwAR0LJ1ma4SaLhfcE_eP6eikMvv87MthSqsUdXYjeOSvmkcH6NeLTdSsSjrY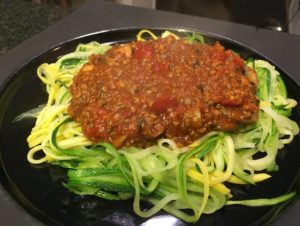 ZUCCHINI BOLOGNESE
INGREDIENTS
500g lean beef mince (make your own if possible.)
1 brown onion diced
2 cloves of garlic, crushed
2 carrots, diced finely
4 celery stalks, diced finely
2 x fresh diced tomatoes
1/4 cup no added salt tomato paste
1/4 cup dry red wine
3 bay leaves
3 sprigs of thyme
1 tbsp. olive oil
4-6 small zucchinis, spiralised
Handful of basil, ripped, for serving
INSTRUCTIONS
For the bolognese sauce: heat half the oil in a large frying pan over a medium heat.
Add the mince and brown, stirring to break up any lumps.
Remove from the pan and set aside.
Heat the remaining oil and add the onion, garlic, celery and carrot. Sweat these ingredients down till they are soft and fragrant.
Return the mince to the pan along with the tomatoes, tomato paste, wine, bay leaves and thyme giving the mixture a good stir.
Cover and simmer for up to an hour, but in the last 10 minutes of cooking remove the lid and let the sauce reduce and thicken.
In this last 10 minutes of cooking, heat a smaller pan over a low-medium heat with a spray of oil and sauté the zucchini noodles for 8-10 minutes.
Serve the bolognese over a good helping of zucchini noodles and top with basil.
Nutrient values of original
Calories 360
Fat 15g
Protein 37g
Carbs 12g
Fibre 8g
Adapted from http://www.shapeme.com.au/weight-loss-recipes/883/Zucchini-Bolognese?fbclid=IwAR1IjHkb_b6jfCMgkVPeq728sLnxHdh0hkx10TreflDVlr0KNS0r-ABbsgY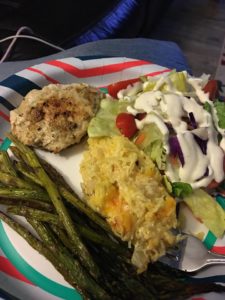 SPAGHETTI SQUASH AND LEMON CHICKEN
INSTRUCTIONS
1 small spaghetti squash
olive oil
ginger and black pepper, to taste
2 omega-3 skinless chicken breasts, cut into 1-2 (2 1/2 cm) in pieces
SAUCE
1 medium yellow onion, diced
4 cloves garlic, minced
3 cups cherry tomato, halved (600 g)
¼ teaspoon black pepper
½ lemon, juiced
1 cup water (240 mL)
8 oz baby spinach (235 g)
INSTRUCTIONS
Preheat oven to 375˚F (190˚C).
Poke several holes into the spaghetti squash. Microwave on high for 5 minutes.
Cut squash in half along the holes. Remove seeds with a spoon. Drizzle squash with olive oil, and season with ginger and pepper.
Place squash upside down on baking tray and bake for 40 minutes until soft. Let cool.
Using a stoneware fry pan, cook the chicken breast on medium-high heat with a little olive oil for 6-8 minutes until the chicken is golden brown and cooked through. Remove chicken from the pan and set aside.
Sauté onion for a few minutes. Add garlic and cook for a minute. Add tomatoes and cook for a couple minutes. Cook until onions are translucent.
Add lemon juice and water, and cook until the liquid partially reduces, about 20 minutes.
Add chicken and cook for 2 minutes. Add spinach and cook for 2 minutes.
Using a fork, shred the inside of the squash.
Pour sauce over the squash. Serve immediately.
Serve with a salad or steamed vegetables.
Enjoy!
Adapted from https://tasty.co/recipe/lemon-chicken-spaghetti-squash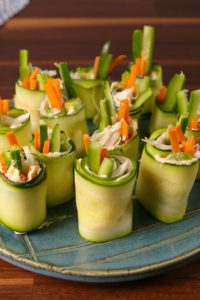 ZUCCHINI SUSHI
Ingredients
2 medium zucchinis
4 oz. cream cheese, softened
1 tsp. Chili Powder
1 tsp. lime juice
1 c. White fin fish steamed
1/2 carrot, cut into thin matchsticks
1/2 avocado, diced
1/2 cucumber, cut into thin matchsticks
1 tsp. Toasted sesame seeds
INSTRUCTIONS
Using a vegetable peeler, slice each zucchini into thin flat strips, peeling until you reach the centre. Place zucchini on paper towel-lined plate to sit while you prep the rest of your ingredients.
In a medium bowl, combine cream cheese, Chili powder and lime juice. Mix until smooth.
On a cutting board, lay zucchini slices down horizontally (so that the long side is facing you). Spread a thin layer of cream cheese on top of zucchini, then top the left side with a pinch each of fish, carrots, avocado and cucumbers.
Starting from the left side, tightly roll each zucchini slice.
Sprinkle with sesame seeds.
Adapted from https://www.delish.com/cooking/recipe-ideas/recipes/a52239/zucchini-sushi-recipe/
CABBAGE PASTA
INGREDIENTS
1 large head cabbage, leaves separated
2 tbsp. extra-virgin olive oil, plus more for baking dish
1 onion, chopped
2 cloves garlic, minced
1 Kg. ground lean grass-fed beef (If possible, make your own.)
1 small can crushed tomatoes. Or fresh if possible
1 tbsp. balsamic vinegar
1/4 c. torn basil leaves
Freshly ground black pepper
3 c. ricotta
2 eggs, beaten
1/4 c. grated Parmesan, plus more for serving
INSTRUCTIONS
Preheat oven to 350°. In a large fry pan over medium heat, heat oil. Add onion and cook until onion is soft, about 5 minutes. Stir in garlic and ground beef, breaking up meat with a wooden spoon. Cook until beef is no longer pink, about 6 minutes; drain excess fat. Add crushed tomatoes and balsamic vinegar. Bring mixture to boil then reduce heat and simmer for 20 minutes. Season with salt and pepper then stir in basil.
In a medium bowl, combine ricotta, eggs, and Parmesan.
Oli a large baking dish with olive oil. Spoon a thin layer of sauce into bottom of baking dish. Add a layer of cabbage leaves, then top with more sauce, ricotta mixture, and mozzarella. Repeat layering twice more.
Bake until cabbage is tender, and mozzarella is bubbly, about 25 minutes. Garnish with more basil.
Adapted https://www.delish.com/cooking/recipe-ideas/a22352284/cabbage-lasagna-recipe/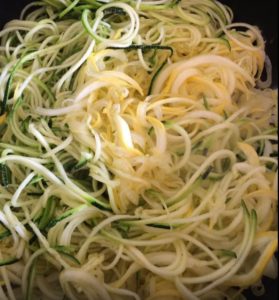 DIABETIC ZUCCHINI EGG LASKA
INGREDIENTS
4 free range omega 3 eggs
1x 400ml your favourite diabetic milk
1500ml water
1 bunch broccolini, trimmed and cut into thirds
1 bunch bok choy, trimmed
600g zucchini, spiralled to noodles
Laksa paste: recipe found here http://www.findtex.com.au/diabetic-foods/chutney-etc/
1 bunch coriander stalks, rinsed and pat dry, leaves reserved for garnish
3 cloves garlic peeled
4cm piece (25g) ginger
60g brown onion (approx. 1 small)
1 teaspoon lime zest (approx. 1 lime)
2 tablespoons olive oil
To serve:
4 Asian shallots, finely sliced
1 green chilli seeded and finely chopped
1 lime cut in quarters
INSTRUCTIONS
Make the Laksa paste by placing all ingredients into high speed food processor or blender and processing until smooth as directed here http://www.findtex.com.au/diabetic-foods/chutney-etc/
Heat a large saucepan on medium heat, add olive oil and Laksa paste and sauté for 3-4 minutes until fragrant, then add the milk and water.
Bring to a simmer, add broccolini and bok choy, reduce heat and simmer for 10 minutes.
Bring a separate small pot of water to the boil, add EGGS, and boil for 7-8 minutes for a hardboiled egg.
Remove from water, crack gently and peel under water.
Once vegetable broth is finished, add zucchini noodles and cook a further 3-4 minutes until tender.
Divide noodles and broth between 4 bowls, cut eggs in half and place on top of noodles.
Garnish with coriander leaves, Asian shallots, green chilli and a big squeeze of lime.
Adapted from https://www.australianeggs.org.au/recipes-and-cooking/thai-zucchini-egg-laksa/
THAI ZUCCHINI NOODLE AND QUINOA SALAD
INGREDIENTS
·         1 medium zucchini
·         1 cup shredded cabbage
·         1 cup sliced red bell pepper
·         2 scallions thinly sliced
·         1/4 cup chopped cilantro
·         1/2 cup cooked quinoa
·         1/4 cup dry roasted peanuts
·         for the sauce:
·         2 tablespoons almond butter
·         Juice of 2 limes
·         2 teaspoons gluten-free tamari
·         1 teaspoon sriracha sauce or Asian hot sauce of choice (see Nutrition Facts below)
·         1/2 teaspoon ground ginger
·         Water as needed to thin the sauce
INSTRUCTIONS
1.    Slice the ends off the zucchini and secure it to your spiralizer. Spiralize the zucchini into long noodles and transfer to a large bowl.
2.    Thinly slice the cabbage and pepper, either with a knife or mandolin slicer, and add that to the bowl with the zucchini noodles, along with the scallions, cilantro, quinoa and peanuts.
3.    In a small bowl, whisk together dressing ingredients. Add water, 1 tablespoon at a time, until it's thin enough to pour — you're looking for the consistency of a creamy dressing.
4.    Pour dressing over the vegetables and toss to coat. Transfer to two bowls, sprinkle with a bit more peanuts and cilantro and enjoy!
Nutrition Facts
Pad Thai Zucchini Noodle + Quinoa Salad
Amount Per Serving
Calories 337 Calories from Fat 171
% Daily Value*
Total Fat 19g 29%
Saturated Fat 3g 15%
Sodium 478mg 20%
Potassium 880mg 25%
Total Carbohydrates 35g 12% A lot came out of the sauces that I omitted
Dietary Fibre 9g 36%
Sugars 10g
Protein 14g 28%
Vitamin A 57%
Vitamin C 180.9%
Calcium 9.1%
Iron 17.1%
* Percent Daily Values are based on a 2000 calorie diet.
Adapted from https://www.simplyquinoa.com/pad-thai-zucchini-noodle-quinoa-salad/
ZUCCHINI FRITTERS
INGREDIENTS
1 zucchini grated
Mushrooms
Onions
1 Egg
Any in season herbs
Garlic
Salt and pepper
A dash of Turmeric
INSTRUCTIONS
Grate the zucchini and finely chop the herbs, mushroom and garlic
Mix all ingredients together and form into fritters
Cooked them in a couple drops of olive oil until brown and cooked through.
ZUCCHINI PASTA
Serves 4
Ingredients
4 small zucchini
Pasta sauce (tomato, pesto, etc.) or low-calorie dressing I use Leggo's no added salt.
Preparation
Run a vegetable peeler down the length of zucchini to create long strips. (The strips should resemble noodles.)
Steam or microwave zucchini for 2 minutes to soften.
Toss with pasta sauce or dressing.
Nutritional Information
39 Calories
1 g Fat
0 mg Cholesterol
62 mg Sodium
7 g Carbohydrate
2 g Fiber
2 g Protein
309 g Potassium
ZUCCHINI NOODLE SALAD
Ingredients
2 medium zucchini passed through a Spiralizer or mandolin slicer
1 Tbsp. fresh raw tahini
1 fresh squeezed organic lime
1 garlic clove
1 Tbsp. Japanese rice vinegar
½ Tbsp. cumin
2 Tbsp. Hijiki or Wakaname seaweed
Instructions
In a food processor or blender, mix all ingredients except for the zucchini noodles. Puree until smooth. Pour the mixture over the zucchini noodles.
Other Pasta Substitutes
Healthy Alternatives to Pasta
Spaghetti Squash
Zucchini
Shredded cabbage
French beans
Ribboned eggplant
Whole Wheat and Fortified Pastas
Quinoa
Barley
Veggie Ribbons
Soba Noodles
These Japanese noodles are packed with fiber and protein and have a nuttier taste than traditional pasta.
Shirataki Noodles
Made popular by Hungry Girl. These noodles are primarily made of fiber and contain virtually no fat or calories. They come in a package of liquid and are usually sold in the produce section alongside tofu. The only cooking required is draining the liquid and rinsing them off!
Quinoa
Though it's not shaped like pasta, this ancient grain can be a great pasta alternative, especially if you are looking to increase your protein — 1 cup has 32 grams!
Brown Rice Pasta
A great source of protein and magnesium, brown rice pasta is a way for people who are gluten-free to get their pasta fix.
Tofu Noodles – Can only find these in Asian stores. Make sure that tofu is the only ingredient. Again, these come already cooked. Just put them in a strainer and run them under the hot water faucet while separating them with your fingers. Use them for almost any pasta application, including pesto.
Read more: http://www.rd.com/slideshows/6-healthy-alternatives-to-pasta/#ixzz3OTU0lrSd
Pasta substitutes which are gluten free and for diabetics.
The author loves all kinds of pasta, but in recent years I have had to modify my diet to account for a sensitivity to gluten.  As a result, I have developed some great ideas that are also helpful for diabetics looking for a pasta substitute!  I have compiled my top 5 for you.  Some substitutes are healthier for diabetics because they are higher in protein and/or fiber than pasta is.  (The higher protein and fiber content helps with regulating blood sugar).  Some of my suggestions are lower than pasta in carbohydrate and calories, allowing you to have a larger portion size!
http://diabetes.about.com/od/dieticiansadvice/tp/Pasta_Substitutes.htm?utm_term=is%20pasta%20good%20for%20diabetics&utm_content=p1-main-1-title&utm_medium=sem&utm_source=google&utm_campaign=adid-612ccbeb-4e87-48a4-afce-aa6456030ebb-0-ab_gsb_ocode-5950&ad=semD&an=google_s&am=broad&q=is%20pasta%20good%20for%20diabetics&dqi=&o=5950&l=sem&qsrc=999&askid=612ccbeb-4e87-48a4-afce-aa6456030ebb-0-ab_gsb
Kelp Noodles Asian Salad
http://www.furtherfood.com/recipe/kelp-noodles-asian-salad-recipe-mango-macadamia-nuts-lime-zest-diabetes-diet/
Other Zuchini recipes
Zucchini Salad
500g small zucchini, sliced
2 tbs Apple Cider
1/3 cup almond nut (Lightly crushed if you like.)
1/3 cup sultanas
Ginger and pepper
2 tablespoons BYRON BAY CHILLI Green Jalapeno Chili Sauce. Make your own using fresh or dried chili in a mortar and pestle. (A few drops of water may be required.) (Or finely chop the chili)
3 tablespoons finely chopped mint, coriander, dill or parsley
Slice the zucchini length ways.
Steam the sliced zucchini until it begins to soften.
Transfer to a bowl and add remaining ingredients.
Add the oil in which you cooked the garlic.
Serve hot or at room temperature and garnish with additional herbs.

Zucchini Boats
I made these tonight and every fortnight to give the carbs a break and they're a hit at my place (especially with fussy non-vegie liking t1d teens!lol) We call them Zucchini Boats and it's basically spag bol with mince plus whatever I scoop out of the zucchinis, mixed into the mince. I fill half a zucchini with mince then sprinkle with light cheese. Then I bake until zucchinis tender and voila! Almost free: max 7g carbs per boat, and really filling and healthy! Nice low carb winter dinner!
Zuchini Fritters
Ingredients
3 cups  zuchini squash ( grated )
1  cup  onion ( diced )
3  eggs whites
1  cup  multigrain flour or gluten free
1 teaspoon baking powder
1/2  teaspoon  chili powder
1/2  teaspoon ginger
1/4 teaspoon pepper
pinch  cayenne pepper
CHICKEN ZUCCHINI BOATS
INGREDIENTS
I kg medium zucchini (about 3-4)
1 Tbsp. Olive oil
1/2 cup chopped yellow onion
3 garlic cloves, minced
½ cup diced green bell pepper
250 gm cooked, shredded or chopped skinned chicken
1 tsp ground cumin
½ tsp dried oregano
1 tsp medium-hot chili powder
3 Tbsp. water
2 Tbsp. chopped fresh cilantro
½ cup Tomato paste no added salt (Or fresh tomatoes pulped seeds and all.)
1/4 cup shredded Monterey Jack cheese (or other melting cheese of your choice)
INSTRUCTIONS
Preheat the oven to 200C. Cut each zucchini lengthwise, then using a spoon to scoop out the flesh, hollow out each zucchini half to create the zucchini boats. Set the boats aside and chop all of the scooped out zucchini flesh into small pieces.
2. Heat the oil in a large skillet over medium heat. Add the onion, garlic, and bell pepper. Sauté until the onion has softened and become translucent, about 5 minutes. Add in the chopped zucchini flesh, cumin, oregano, chili powder, 3 Tbsp. of the tomato paste, the 3 Tbsp. of water and chicken and stir to mix. Taste for seasoning and add ginger and pepper if required.
3. Line up all of the hollowed zucchini halves in the pan, then spoon the filling evenly into each zucchini boat and the remainder of the tomato paste, sprinkle the shredded cheese.
4. Cover the pan with foil and bake 35-40 minutes until the cheese is melted and the zucchini is tender.
5. Sprinkle with additional chopped cilantro and optional green onions, if desired.
ZUCCHINI CHCKPEA FRITTERS
Ingredients.
1 large/2 medium zucchini – grated
1 can chickpeas
4 tbsp chickpea flour (Besan flour)
1 heaped tbsp nutritional yeast
ginger – to taste
Chili powder or paprika – to taste
1 clove garlic – grated
1/4 red onion – very finely chopped
Olive oil spray – for pan frying
Preparation
Add the ginger to the grated zucchini. Mix well and let it sit for 10 minutes.
Rinse the chickpeas well and sauté in a dry pan for five minutes. Mash well with a potato masher.
Squeeze the water out of the zucchini mix and put in mixing bowl
Add the mashed chickpeas, chickpea flour, nutritional yeast, paprika, garlic, onion and mix very well. You may need to add a little more chickpea flour depending on how wet the zucchini mix is.
Form into small patties and pan roast in the olive oil spray. Press down well so the patties are fairly thin and cook till crispy, golden brown.
Notes: try these as dumplings, steamed or baked as muffins. They also go well on the BBQ
SPAGHETTI SQUASH WITH ROASTED TOMATO.
Ingredients
1kg spaghetti squash, halved lengthwise and seeded
1 Tbsp olive oil
Ginger and pepper
2 cups cherry or grape tomatoes
2 Tbsp olive oil
2 Tbsp minced garlic
Chilli to taste
1/4 cup chicken broth or water to cut down on the hidden salt.
1/2 cup chopped onion
8 pieces of bite-size fresh mozzarella balls
1/4 cup chopped fresh basil
2 Tbsp chopped fresh mint
Freshly grated Parmesan cheese
Instructions.
Prepare a steamer.
Brush the flesh of the squash with 1 Tbsp olive oil, then sprinkle with ginger and pepper. Using a fork, poke holes into the skin and place in steamer. Steam for 30 to 40 minutes or until tender.
While the squash is steaming, place the tomatoes in a large bowl. Add the remaining olive oil, garlic, ginger and chilli to taste. Stir everything together. Place the tomato mixture onto a large, shallow baking pan. Bake in the oven with the squash for the last 20 minutes.
In a large skillet, bring the chicken broth (water) to a boil. Add the onion, then cook for about 3 minutes or until slightly tender. Remove the skillet from the heat, then add the roasted tomatoes. Using a fork or potato masher, gently press onto the tomatoes to pop the skin and release the juice. Add the mozzarella, basil and mint into the tomato mixture, then toss everything together.
Remove the flesh of the squash from the shell with a fork. Top it with the tomato chutney and Parmesan cheese.
Spaghetti Squash
Serves 4
Ingredients
Preparation
Preheat oven to180 C
With a fork, poke holes into spaghetti squash so that it does not burst while baking.
Bake squash for 35 minutes or until soft.
Allow to cool until cool enough to handle.
Cut squash into lengthwise halves and clear out seeds.
With a fork, remove squash meat from rind and place into medium bowl.
Discard rind.
Serve with your favourite marinara sauce, adding basil, garlic powder, or pepper to taste.
Nutrition Information
31 Calories
.6g Fat
17mg Sodium
109mg Potassium
7g Carbohydrate
5g Fibre
8g Sugar
.6g Protein
COMFORT FOOD
Thought this was a cool idea and thought I would share it here.
If you're out of lasagne sheets just use these might try multigrain wrap, the herbal ones also sound interesting.
Works a treat!
KOREAN STYLE ZUCCHINI
Slice zucchinis;
Drizzle with Olive oil;
Place into preheated grill for about 5 minutes;
Arrange on the plates when ready and cool down;
Place grated carrot dipped in home-made tomato source.
Sprinkle with sesame seeds.
Enjoy!
Adapted from http://juliaorganic.com.au/index.php/recipe/155-korean-style-zucchini
ZUCCHINI FRITTERS
INGREDIENTS
1 large zucchini or 2 small (any vegetable can be added or substituted)
1 clove of garlic peeled and minced
¼ Cup fresh basil; we grown our own, but you can find it at any grocery store
¼ cup fresh oregano. Ditto
1 tablespoon lemon zest
2 organic Omega 3 eggs
¼ cup gluten free flour or steamed sweet potato mashed NB1
¼ teaspoon Onion powder or to taste
1 teaspoon ginger or to taste
¼ teaspoon of pepper or to taste
INSTRUCTIONS
Using the large holes of a box grater, grate zucchini. Place zucchini in a colander set in the sink and toss with 1/2 teaspoons ginger. Let stand 10 minutes, and then wring zucchini dry in a clean kitchen towel to remove moisture. Place zucchini in a large bowl and gently mix in egg, garlic, basil, oregano, lemon zest, onion powder, ginger and pepper. Mix well to combine. Slowly add flour/ sweet potato, stirring so no lumps form.
Heat 2 tablespoons olive oil in a large sauté pan over medium-high heat until the oil sizzles when you drop a small amount of zucchini mixture into the pan. Carefully drop about 2 tablespoons zucchini mixture into pan; repeat, spacing fritters a few inches apart.
Cook fritters until golden, 2 to 3 minutes. Lower heat to medium. Turn fritters, and continue cooking until golden, 2 to 3 minutes more. Transfer fritters to a plate; set aside in a warm place. Cook remaining zucchini mixture, adding more oil to pan if necessary.
Adapted from http://www.healthy-holistic-living.com/zucchini-fritters-recipe.html?t=DM
NB1 flour and sweet potato will contain some carbs, sweet potato will also contain fibre which may make it a better option for diabetics as the fibre will slow digestion and absorption.
LOW CARB PASTA
INGREDIENTS
1-ounce (28 g.)cream cheese,room temperature
2eggs,room temperature
1/4teaspoonwheat gluten,may omit but it creates a better texture
INSTRUCTIONS
Preheat the oven to 325F (160C).
Add the cream cheese, eggs, and gluten to the jar of a blender.
Blend on high for 1 minute, or until smooth.
Pour out on a silicone mat that's placed on top of a heavy baking pan.
Smooth out into a rectangle, keeping the batter very thin.
Bake at 325F (160C) for 5 minutes, or until set. DON'T over-bake!
Remove from oven and let set for a couple of minutes before cutting and using as desired. These are best if they are gently simmered in a sauce or broth for a few minutes.
Adapted from https://www.lowcarb-ology.com/low-carb-egg-noodles/