BEAN BURGERS WITH LIME YOGHURT AND FRESH TOMATO SALSA
Ingredients
2 x 400g/14oz cans kidney beans, rinsed and drained, or dried beans soaked overnight.
100g multigrain breadcrumbs
2 tsp chilli powder (to taste)
small bunch coriander, stalks and leaves chopped
1egg
200g tub fresh salsa
150ml low-fat naturalyoghurt (Greek)
juice ½lime
6 Multigrainburger buns, sliced red onion and salad leaves, to serve
Method
Heat BBQ to high. Tip the beans into a large bowl, then roughly crush with apotato  Add the breadcrumbs, chilli powder, coriander stalks and ½ the leaves, egg and 2 tbsp salsa, season to taste, then mix together well with a fork.
Divide the mixture into 6, then wet your hands and shape into burgers. The burgers can now be frozen. Then BBQ for 4-5 mins on each side until golden and crisp.
While the burgers are cooking, mix the remaining coriander leaves with theyoghurt, lime juice and a good grind of black pepper. Split the buns in half and spread the bases with some of the yogurt. Top each with coriander leaves, onion, burger, another dollop of the lime yoghurt and some salsa, then serve.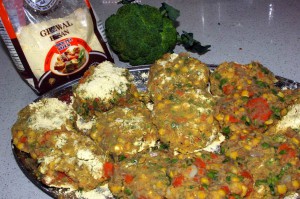 INDIAN VEGE PATTIES
LENTIL DAHL
Ingredients
1 Small Sweet potato chopped
1 Medium carrot chopped
1 Medium onion chopped
1 Corn cob kernels removed.
¼ cup fresh peas
1 tbsp coriander chopped
Chilli to taste
1 tsp lemon juice
Ginger and pepper to taste.
Wholemeal or chick pep flour
Olive oil spray.
4 Cucumber slices per serve.
4 Tomato slices per serve.
Greek or plain yoghurt.
Instructions
Cook the sweet potato, carrot and onion in boiling water.
Drain
Mix into a course mash.
Allow to cool.
Heat BBQ, Stoneware frypan or an oven to 220C.
Add corn, peas, coriander, chilli, lemon juice, ginger and pepper.
Form into patties, add flour to thicken so it can be worked.
Spray the cooking surface with olive oil spray.
Cook, turn once.
Serve with cucumber, tomato and yoghurt.
Teamed with a simple Dahl with red lentils and loads of spices.
BEAN BURGERS
The best "bean burgers" I have ever made. and the secret ingredient is…. wait for it.. drumroll….
MUSHROOMS!!!!
Kidney Bean, Mushroom and Carrot vegie burgers…
Serve on a multigrain bun or your favourite low GI bun. (Can be gluten free)
VEGETARIAN BURGER
To peel a tomato, place in a bowl with boiled water wait a couple of minutes, remove, and the skin will come off easily.
1  cups vegetable stock or water
1/2 cup Byron Bay Chilli Heavenly Habanero Chilli Sauce
Juice from one lemon
2 cups cooked chickpeas
2 tablespoons chopped, flat leaf parsley
Salt
1 medium zucchini, cubed
1/2 cup sultanas
2 tablespoons chopped coriander
Steamed couscous
Byron Bay Chilli Red Cayenne Chilli Sauce
COOKING DIRECTIONS-
Heat oil (or ghee) in a pot over medium heat and add onion, capsicum, ginger and spices. Cook, stirring for 5 minutes. Add sweet potatoes and cook an additional 2 minutes. Then add tomatoes, stock, chilli sauce, lemon juice, chick peas and parsley. Stir to combine and season with salt to taste. Turn heat down, cover and simmer for 20 minutes or until sweet potatoes are just tender. Add zucchini and sultanas and cook for an additional 5 minutes. Stir in coriander just before serving. Spoon curry over couscous and serve with red chilli sauce on the side.
VEGETABLE AND TUFU KABABS
INGREDIENTS
½ red capsicum, cut into chunks
150g Soyco Japanese Tofu, cut into 18 pieces
1 large zucchini, cut into chunks
100g broccoli, cut into small florets
6 small wooden skewers
85g (1⁄3 cup) SunRice Doongara Clever Low GI White Rice or brown Basmati
Cooking spray
1 tsp olive oil
1 bunch baby bok choy, trimmed, leaves separated
½ tsp olive oil
1½ tbsp sweet chilli sauce (This will contain sugar and may be omitted)
2 tsp sesame seeds, toasted
INSTRUCTIONS
Thread capsicum, tofu, zucchini and broccoli onto skewers.
Cook rice in a small saucepan of boiling water following pack instructions or until tender. Drain well.
Meanwhile, preheat a barbecue grill or chargrill pan on medium. Spray skewers with olive oil cooking spray and add to grill. Cook for 2-3 minutes on each side or until vegetables are just cooked. Transfer to a plate and cover with foil to keep warm.
Heat oil in a large wok over a high heat. Add bok choy. Stir-fry for 3-4 minutes or until tender. Add olive oil. Toss to coat.
Drizzle sweet chilli sauce (delete if preferred) over skewers and sprinkle with sesame seeds. Serve with rice and bok choy.
Note: Use remaining tofu to make a snack for two: Slice tofu and pan-fry in ½ tsp olive oil for 2-3 minutes. Top 1 low-fat, low-salt wrap with tofu, 15g (½ cup) baby spinach leaves, 40g (¼ cup) drained roasted red capsicum strips, in vinegar, ½ Lebanese cucumber, peeled into long ribbons, and ¼ cup fresh coriander leaves. Drizzle with 1 tsp sweet chilli sauce. Roll up, cut in half and serve.
To toast sesame seeds, cook in a small non-stick frying pan over a medium heat, stirring often, for 3-4 minutes.
Nutrition info per serve:
1719kJ, protein
21.4g, total fat 14.2g (sat. fat 1.8g),
carbs 46.6g,
fibre 6.7g,
sodium 373mg.
Carb exchanges 3.
GI estimate medium.
Adapted from http://www.diabeticliving.com.au/recipe/food/vegetable-and-tofu-skewers