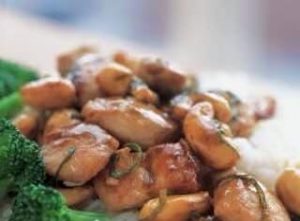 CASHEW CHICKEN
INGREDIENTS
1 Tbs. soy sauce
1 Tbs. rice wine or dry sherry
2 tsp. grated fresh ginger
1 lb/ 450 g. boneless, skinless chicken thighs, cut into bite-size pieces
1 tsp. Worcestershire sauce
1 tsp. Asian sesame oil
1/4 tsp. corn starch (optional)
3 Tbs. Olive oil
2 green onions, chopped
1 cup unsalted roasted cashews
Salad for serving
INSTRUCTIONS
Marinate the chicken
In a large bowl, stir together 2 Tbs. of the soy sauce, the wine and ginger. Stir in the chicken to coat evenly and set aside for 15 minutes or longer if possible
Make the sauce
In a small bowl, combine 2 Tbs. water, the remaining 1 Tbs. soy sauce, the Worcestershire sauce, sesame oil and corn starch (if using), and stir to dissolve the corn starch.
Stir-fry the chicken
Heat a wok or large fry pan over high heat until very hot and add 2 Tbs. of the olive oil. Remove the chicken from the marinade, draining it well, and discard the marinade. Add the chicken to the wok and stir-fry until opaque, about 3 minutes. Using a slotted spoon, transfer the chicken to a bowl.
Return the wok to medium heat and add the remaining 1 Tbs. olive oil. Add the green onions and stir-fry until fragrant, about 10 seconds. Return the chicken to the wok and add the cashews. Give the sauce a quick stir, add to the pan and stir until the sauce thickens slightly, 1 to 2 minutes. Serve immediately with the salad. Serves 4
http://www.findtex.com.au/recipes/stir-frys/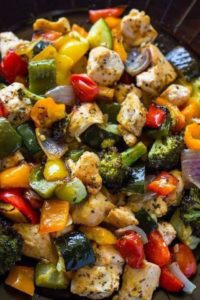 15 MINUTE HEALTHY ROASTED CHICKEN AND VEGGIES
INGREDIENTS
2 medium omega-3 chicken breasts, chopped
1 cup bell pepper, chopped (any colours you like)
½ onion, chopped
1 zucchini, chopped
1 cup broccoli florets
½ cup tomatoes, chopped or plum/grape
2 tablespoons olive oil
½ teaspoon ginger
½ teaspoon black pepper
1 teaspoon Italian seasoning find recipe here http://www.findtex.com.au/uncategorised/spice-mix-sugar-salt-and-fat-free/?fbclid=IwAR1Yx9vPt-IRigo8d7CbeU7Sk68ZTh1M2D-r6PAPTHtvXOVEPqqzfl6RFQI
¼ teaspoon paprika (optional
INSTRUCTIONS
Preheat oven to 500 degrees F/ 260 degrees C.
Chop all the veggies into large pieces. In another cutting board chop the chicken into cubes.
Place the chicken and veggies in a medium roasting dish or sheet pan. Add the olive oil, ginger and pepper, Italian seasoning, and paprika. Toss to combine.
Bake for 15 minutes or until the veggies are charred and chicken is cooked. Enjoy with a salad if you wish.
FAJITA STUFFED CHICKEN
INGREDIENTS
2 tablespoonsolive oildivided
1/2 small white oniondiced
1 largered bell pepperdiced
2 large mushroom sdiced
1 clove of garlic minced
4 large chicken breasts
1 cup shredded pepper jack cheese
1 teaspoon ground cumin
1 teaspoonchili powder
1 teaspoononion powder
1/2 teaspoon ginger
1/2 teaspoon crushed red pepper flakesoptional
2 tablespoons lime juice
2 tablespoons freshly chopped cilantrofor garnish
INSTRUCTIONS
Heat 1 tablespoon olive oil in a large stoneware fry pan over medium-high heat. Add in onion, bell pepper, and mushrooms. sauté until the vegetables are tender, about 5 to 7 minutes. Add garlic in during the last 1 minute of cooking. Remove from pan into a small bowl and set aside.
Pound out chicken breasts until thin, or butterfly breasts. Spoon vegetable mixture into the middle. Sprinkle with cheese. Fold chicken breasts over so filling is inside. Secure with toothpicks if desired
In a small bowl combine cumin, chili powder, onion powder, ginger, and red pepper flakes (if using). Sprinkle over chicken breasts.
Wipe out the fry pan you used for the vegetables and return to medium-high heat. Add remaining 1 tablespoon olive oil to the pan. Add in chicken breasts and cook for 5-7 minutes per side, or until chicken is cooked
Drizzle with lime juice before serving and garnish with freshly chopped cilantro (optional).
Nutrition Of Original
Calories: 429 kcal | Carbohydrates: 8g | Protein: 56g | Fat: 18g | Saturated Fat: 7g | Cholesterol: 169mg | Sodium: 721mg | Potassium: 1058mg | Fiber: 2g | Sugar: 3g | Vitamin A: 29.1% | Vitamin C: 63.2% | Calcium: 24.1% | Iron: 10.5%
Adapted from https://thestayathomechef.com/fajita-stuffed-chicken/?fbclid=IwAR3eQccbKkTTFf2Su5evWIx2AkSNklWfJMkPaxO-fcKzYq9IoDJKHKrVws8
GRILLED CHICKEN WITH AVOCADO SALSA
INGREDIENTS
5 pound/680 g boneless skinless chicken breasts or 4 chicken breasts
For the Marinade
2garlic cloves finely minced
3tablespoonsolive oil
¼cupcilantrochopped
Juice of 1 lime
1/2 cumin
½tsp paprika
½tspsaltor to taste
¼tspblack pepper
Avocado Salsa
2avocados diced
2small (or 1 large tomato) chopped
¼cupred onionchopped
1jalapenode-seeded and chopped (optional)
1/4cupcilantro finely chopped
Juice of 1 lime
fresh cracked pepper & ginger to taste
INSTRUCTIONS
In a large bowl, whisk all the ingredients for the marinade and set aside.
Pound the breasts to even thickness or slice in half horizontally to get evenly sized breasts and add to the bowl of marinade. Mix through until the chicken is fully coated in the marinade. Use right away if needed or marinate for 30-minutes or up to 12 hours.
Grill chicken over medium-high heat or in a large fry pan on the stovetop for 5-6 minutes per side or until the inside is cooked through and the outside is charred. Top with fresh avocado salsa and serve immediately.
To Make Avocado Salsa
While the chicken is grilled, combine all the ingredients for the salsa in a small bowl. Cover with plastic wrap in the fridge until ready to use.
Nutrition Facts
Grilled Chicken with Avocado Salsa
Amount Per Serving (1 serving (1/4th of the dish))
Calories 468 Calories from Fat 261
% Daily Value*
Total Fat 29g 45%
Saturated Fat 4g 20%
Cholesterol 108mg 36%
Sodium 501mg 21%
Potassium 1288mg 37%
Total Carbohydrates 12g 4%
Dietary Fiber 7g 28%
Sugars 2g
Protein 39g 78%
Vitamin A 19.7%
Vitamin C 27%
Calcium 3.5%
Iron 10.4%
* Percent Daily Values are based on a 2000 calorie diet.
Adapted from https://gimmedelicious.com/2019/06/03/grilled-avocado-chicken/?fbclid=IwAR0uNNYnlz9NjD145-nJkTRQQ7RTUfqYXdxNWh-3VNicuH5ODJgKQTOwfqY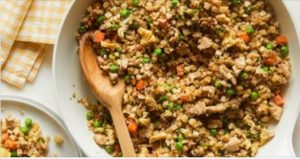 CHICKEN AND CAULIFLOWER FRIED RICE
INGREDIENTS
1 medium head cauliflower, stem removed
3 teaspoons olive oil
2 large omega-3 eggs, lightly beaten
3 cloves garlic, minced
One 2.5 cm piece fresh ginger, peeled and grated
1 cup frozen mixed peas and carrots, thawed or fresh if possible
1/4 cup thinly sliced scallions
2 tablespoons sesame oil
2 cooked omega 3 chicken breasts, diced
INSTRUCTIONS
Cut the cauliflower into chunks. Working in batches, pulse the cauliflower in a food processor until coarse in texture, like rice. This recipe uses about 4 cups of cauliflower rice. If you have any leftover, save it for another use.
Heat a wok or large fry pan over medium-high heat. Add 1 teaspoon of the olive oil. Add the eggs and quickly scramble. Transfer the eggs to a plate and set aside. Heat the remaining 2 teaspoons olive oil. Add the garlic and ginger and cook, stirring constantly, about 1 minute. Add the peas and carrots, scallions and cauliflower. Stir-fry until the vegetables are tender, about 5 minutes.
Add the chicken into the cauliflower mixture. Cook an additional minute or 2. Stir the cooked eggs back into the mixture. Serve.
Adapted from https://www.foodnetwork.com/recipes/katie-lee/chicken-cauliflower-fried-rice-3588745?soc=sharefb
GRILLED CHICKEN BREASTS WITH TOMATO-CAPER SAUCE
INGREDIENTS 4 servings
Tomato-Caper Sauce
1½ teaspoons olive oil
2 cloves garlic, minced
1 cup grape tomatoes, halved, or 2½ cups chopped tomatoes
½ cup dry white wine
2 tablespoons capers, rinsed
¼ teaspoon ginger
¼ teaspoon ground pepper
Tomato-Caper Sauce
1½ teaspoons olive oil
2 cloves garlic, minced
1 cup grape tomatoes, halved, or 2½ cups chopped tomatoes
½ cup dry white wine
2 tablespoons capers, rinsed
¼ teaspoon ginger
¼ teaspoon ground pepper
2 tablespoons chopped fresh basil
Chicken
450 g boneless, skinless chicken breasts
1 tablespoon olive oil
¼ teaspoon ginger
¼ teaspoon ground pepper
INSTRUCTIONS
Preheat grill to medium-high.
To prepare sauce: Heat 1½ tsp. oil in a large fry pan over medium heat. Add garlic and cook, stirring, until fragrant, 30 seconds to 1 minute. Stir in tomatoes, wine, capers, and ¼ tsp. each ginger and pepper; cook until the liquid has evaporated slightly, about 4 minutes. Stir until the sauce has thickened slightly and the tomatoes are soft, 1 to 2 minutes. Remove from heat and stir in basil. Keep warm.
To prepare chicken: Place chicken between 2 sheets of plastic wrap; pound with a mallet until 1 cm thick. Rub with oil and sprinkle with ginger and pepper. Grill the chicken until cooked through, 4 to 5 minutes per side. Serve the chicken with the sauce.
Nutrition information of original
Serving size: 4 oz. chicken + ½ cup sauce
Per serving: 232 calories; 10 g fat(3 g sat); 2 g fibre; 6 g carbohydrates; 24 g protein; 22 mcg folate; 68 mg cholesterol; 3 g sugars; 0 g added sugars; 1,089 IU vitamin A; 16 mg vitamin C; 34 mg calcium; 1 mg iron; 398 mg sodium; 492 mg potassium
Adapted from http://www.eatingwell.com/recipe/273170/grilled-chicken-breasts-with-tomato-caper-sauce/?fbclid=IwAR3Qg_b6ijBgexjrsWbcsMHE3AuFQrWAC7-8U-Z3ScQgUkUkYLV8C3DdV2Y
ONE PAN BALSAMIC CHICKEN VEGGIE BAKE
INGREDIENTS
boneless skinless omega 3 chicken breast, tenders or thighs (if large, cut in half)
3 small heads of broccoli, chopped into pieces (about 4–5 cups)
3–4 medium carrots, peeled and cut into skinny sticks
2 cups button mushrooms, halved if large
1 small red onion, diced
1/2 cup cherry or grape tomatoes
1/4 cup balsamic vinegar
1/4 cup olive oil
4 garlic cloves, finely minced
3–4 tbsp. fresh basil, finely chopped + additional for topping
1 tsp. fresh thyme (1/2 tsp. dried) – optional
½ tsp sea ginger
¼ tsp pepper
Instructions
Preheat oven to 400℉/200 C.
Combine balsamic vinegar, oil, garlic, basil, thyme, ginger and pepper. Whisk to make sauce.
Place chicken in zip-lock bag or glass container with about 1/2 of the balsamic sauce. Toss and move chicken breast around to coat. Set in fridge (may marinate for longer period of time if you wish).
Meanwhile, chop veggies.
Place veggies, EXCEPT for tomatoes, on the pan. Pour remaining balsamic sauce over veggies and toss veggies to coat. Make sure all pieces are coated. Feel free to use your hand with this to really get the broccoli florets coated.
Remove chicken from zip-lock bag or container, move veggies around to make spaces for the chicken. Place chicken on pan.
Transfer pan to the oven and bake for 10 minutes. After 10 minutes, remove from oven and add tomatoes and toss veggies. Place back into the oven.
Bake for an additional 5-10 minutes or until chicken is cooked through. This will depend on the thickness of the chicken. For example, tenders or small chicken breasts will need to bake for 5-7 additional minutes.
Top with chopped fresh basil. Serve and enjoy!
Nutrition
Serving Size: 4 servings (chicken breast)
Calories: 368
Sugar: 9 g
Sodium: 400 mg
Fat: 16 g
Carbohydrates: 16 g
Fiber: 4 g
Protein: 36 g
Adapted from https://therealfoodrds.com/one-pan-balsamic-chicken-veggie-bake/?fbclid=IwAR2xuKCXomfcbTKGuFU6nJpKofwp1h0kFkVwDw93a9Zb-L7ty1Xq9eZ6z4g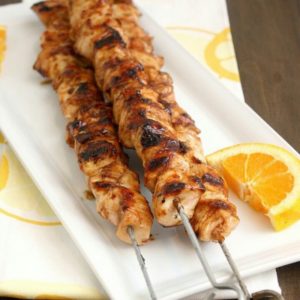 GRILLED CHICKEN KEBABS WITH PISTACHIO GREMOLATA
INGREDIENTS
For chicken kebabs:
3 kg boneless, skinless omega 3 chicken breasts or thighs, cut into 3 cm cubes
1/2 cup Greek yogurt
1/4 cup olive oil
1/4 cup fresh lemon juice
2 teaspoons ginger
1 teaspoon culinary grade lavender buds (optional)
1/2 teaspoon garlic powder
1/2 teaspoon onion powder
1/4 teaspoon freshly ground black pepper
For Pistachio Gremolata:
1 cup flat-leaf parsley, finely chopped
1/2 cup Wonderful Pistachios No Shells, finely chopped
Zest of 2 medium lemons, finely grated
2 garlic cloves, finely minced
1-2 teaspoons culinary grade lavender buds (optional)
1/2 teaspoon ginger, or to taste
1/4 teaspoon freshly ground black pepper, to taste
1/2 to 3/4 cup olive oil
INSTRUCTIONS
Place chicken cubes in a casserole dish or large bowl.
Combine yogurt, olive oil, lemon juice, and remaining marinade ingredients. Whisk well to combine. Pour over chicken. Toss so chicken is completely coated. Cover bowl and place in refrigerator to marinate for at least one hour or overnight.
To make gremolata, combine parsley, pistachios, lemon zest, garlic, lavender (if using), ginger, and pepper. Add 1/2 cup of the olive oil and stir well. If needed, add the remaining olive oil. The gremolata should be loose and not too "dry." Cover and refrigerate until ready to serve.
To grill kebabs, prepare outdoor grill for direct heat on one side and indirect heat on other side; or have a grill pan ready to preheat if using stovetop. Thread the chicken cubes onto metal or pre-soaked bamboo skewers. (If using cooking indoors, preheat grill pan now.)
Arrange skewers over direct heat side of grill and cook for 3-4 minutes; turn over and cook for another 2-3 minutes, then move to indirect heat to continue cooking for 3-5 more minutes. (Using the indirect heat side prevents the chicken from burning on the outside before the inside is cooked properly.)
Transfer chicken kebabs to a serving platter. Drizzle some of the gremolata over the kebabs. Serve remaining sauce on the side along with steamed vegetables or a salad.
Adapted from https://helloglow.co/grilled-chicken-kebabs-with-pistachio-gremolata/?fbclid=IwAR2LsaoOFcL0hfRMDhGUQZJ1T8ixn5ny-H1c42dAyZLxDk9tynJDPzEs-1w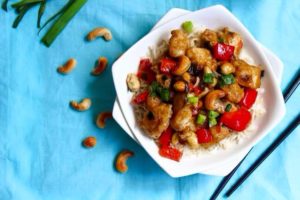 CASHEW CHICKEN WITH GINGER
INGREDIENTS
1-1/4 cups water
2 tablespoons soy sauce
3 tablespoons olive oil, divided
500 g boneless skinless chicken breasts, cut into 2 cm pieces
225 g sliced fresh mushrooms
1 small green pepper, cut into strips
1 225 g can sliced water chestnuts, drained
1-1/2 teaspoons grated fresh gingerroot
4 green onions, sliced
3/4 cup unsalted cashews
Steamed vegetables including cauliflower rice for serving
INSTRUCTIONS
Mix first 2 ingredients until smooth. In a large fry pan, heat 2 tablespoons oil over medium-high heat; stir-fry chicken until no longer pink. Remove from pan.
In same pan, heat remaining oil over medium-high heat; stir-fry mushrooms, pepper, water chestnuts and ginger until pepper is crisp-tender, 3-5 minutes. Stir broth mixture and add to pan with green onions; bring to a boil. Cook and stir until sauce is thickened, 1-2 minutes.
Stir in chicken and cashews; heat through. Serve with steamed vegetables including cauliflower rice.
Nutrition Facts of original which included 2 tablespoons corn starch and 1 tablespoon brown sugar
3/4 cup chicken mixture: 349 calories, 19g fat (3g saturated fat), 64mg cholesterol, 650mg sodium, 18g carbohydrate (6g sugars, 2g fibre), 28g protein.
Diabetic Exchanges: 3 lean meat, 3 fat, 1 starch.
Adapted from https://www.tasteofhome.com/recipes/cashew-chicken-with-ginger/?fbclid=IwAR3r-KGRR-BIPWfD84TX3mBEdHj_NkALBGmc0tCcUmwvwaGaNsc24sEYu-A
GREEK CHICKEN AND SALAD
INGREDIENTS
Greek Chicken
1 kgbonelessskinless chicken breasts
1/4cupolive oil
3Tbsgarlicminced (Note, adjust to preference)
1/3cupfresh lemon juice
1Tbsred wine vinegar
1Tbsdried oregano
1/3cupplain Greek yogurt
Ginger and freshly ground black pepperto taste
Cucumber Salad
2English cucumberspeeled and sliced
1/3cuplemon juice
2Tbsolive oil
1Tbsred wine vinegar
1/2Tbsminced garlic
1/2tspdried oregano
Tzatziki Sauce
1cupplain Greek yogurt
1English cucumberfinely diced
1tsp- up to 1 Tbs minced garlicadjust to garlic preference
1/2Tbsdill weedor 1 Tbs fresh dill, chopped fine
1 1/2tspfresh lemon juice
1tsplemon zest
1/2tspchopped fresh mintoptional
Ginger and pepper to taste
The Rest (optional)
3cupscooked brown rice
1 1/2poundscherry tomatoeshalved
1/2cupred onion slices
INSTRUCTIONS
In a large plastic zip bag, combine olive oil, garlic, lemon juice, red wine vinegar, oregano, Greek yogurts and ginger and pepper. Massage to mix.
Add chicken into the bag.
Massage to make sure chicken is full covered and marinate for at least 20 minutes, up to 12 hours.
Drain the chicken from the marinade, discarding the marinade.
In a stoneware fry pan, heat some olive oil over medium-high heat.
Add chicken when it is hot, and cook, turning part way through. Cook approximately 3-4 minutes per side. Cooking time depends on thickness and size of the chicken.
Remove from pan and let cool.
Once cool, cut into bite sized pieces. Just make sure you let it cool, or all the juice will run out.
Meanwhile, make cucumber salad by chunking the cucumbers, and tossing in a bowl with the lemon juice, olive oil, red wine vinegar, garlic, and oregano. Set aside
Make tzatziki sauce by combining the Greek yogurt, cucumber, garlic, dill weed, lemon juice, lemon zest in a small bowl; season with ginger and pepper. And add mint (optional)
Refrigerate while assembling your bowls.
Cook brown rice if using according to package directions. When finished cooking, divide between meal prep containers, 1/2 cup in each container, halve cherry tomatoes, and mix with red onion slices. Divide amongst the bowls.
Top with chicken, cucumber salad, and some tzatziki sauce.
Keep for 3- 5 days in airtight container, serve cold!
Adapted from http://www.eazypeazymealz.com/greek-chicken-bowls-meal-prep-easy/?fbclid=IwAR2FZhC0x3Q__hMSeef8I74RBO4J3KEcyFLSXbBt17gk_sOiZqd6ZCoXoLE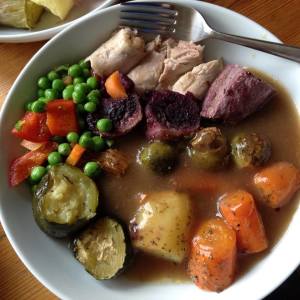 MARSALA CHICKEN
INGREDIENT
4 boneless skinless chicken breast cutlets
1 small onion
1 cup mushroom slices
3 tablespoons olive oil
1/2 cup dry Marsala wine
2 tablespoon minced Italian (flat leaf) parsley
1/2 cup water
INSTRUCTIONS
If desired, pound chicken between two pieces of wax paper or plastic (use anything from an old wine bottle to a small heavy pot for this or a meat hammer). Season chicken with ginger and pepper.
2. Heat oil in a fry pan or BBQ and add chicken. Pan fry chicken for 5 minutes on each side until golden, turning once until done. Remove, and cover with foil to keep warm.
3. Add onion and mushrooms to the pan (add a little more oil if needed), cook until onion is translucent, and mushrooms are soft (approximately 5 minutes).
Add wine to pan and cook for 1 to 2 minutes.
5. At this point, judge the amount of liquid for sauce for chicken. If you need more, add a bit of water. Taste, and adjust seasonings.
6. Pour vegetables and sauce over chicken, and sprinkle with parsley
Serve with steamed vegetables or a salad.
Adapted from https://www.verywell.com/chicken-marsala-2242171?utm_source=facebook&utm_medium=social&utm_campaign=shareurlbuttons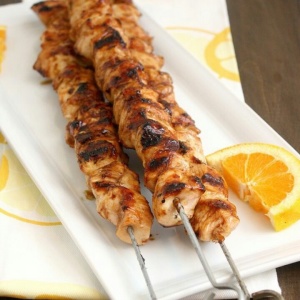 CHICHEN SOUVLAKI WITH TZATZIKI SAUCE
INGREDIENTS
Chicken Souvlaki:
3 tablespoons fresh lemon juice
1 1/2 teaspoons chopped fresh or 1/2 teaspoon dried oregano
2 teaspoons olive oil
1/2 teaspoon ginger
4 garlic cloves, minced
250 gms. skinless, boneless chicken breast, cut into 2cm pieces
1 medium zucchini, quartered lengthwise and cut into (1/2-inch-thick) slices
Olive oil cooking spray
Tzatziki Sauce: (Greek yoghurt, garlic, cucumber and lemon juice)
1/2 cup cucumber, peeled, seeded, and shredded
1/2 cup plain low-fat yogurt
1 tablespoon lemon juice
1/4 teaspoon ginger
1 garlic clove, minced
INSTRUCTIONS
To prepare souvlaki, combine the first 5 ingredients in a zip-top plastic bag; seal and shake to combine. Add chicken to bag; seal and shake to coat. Marinate chicken in refrigerator for 30 minutes, turning once.
Remove chicken from bag; discard marinade. Thread the chicken and zucchini, alternately onto each of 4 (8-inch) skewers.
Heat a grill pan coated with cooking spray over medium-high heat. Add skewers; cook 8 minutes or until chicken is done, turning once.
To prepare tzatziki sauce, combine cucumber, yogurt, 1 tablespoon lemon juice, 1/4 teaspoon ginger, and 1 garlic clove, stirring well. Serve the tzatziki sauce with souvlaki.
Nutritional Information
Calories 219
Caloriesfromfat 19%
Fat 4.7g
Satfat 1.3g
Monofat 2.3g
Polyfat 0.6g
Protein 30.9g
Carbohydrate 12.3g
Fiber 2.4g
Cholesterol 69mg
Iron 1.4mg
Sodium 705mg
Calcium 161mg
Adapted from http://www.myrecipes.com/recipe/chicken-souvlaki-with-tzatziki-sauce-0
CHICKEN MALAI BOTI
INGREDIENTS
Boneless Omega 3 chicken 1 kg (thigh pieces works well)
Olive Oil as required
Marination
Yogurt ¼ cup
Lemons 2
Ginger, garlic paste 2 tea spoons
Green chili paste 2 tea spoons
Cumin powder 1 tea spoon
Black pepper powder 1½ tea spoons
masala powder 1 tea spoons try one from http://www.findtex.com.au/diabetic-foods/sugar-free-masala/
Ginger to taste
Onion rings and lemon wedges for garnishing
INSTRUCTIONS
Cut chicken into bite size pieces.
Mix together marination and coat the chicken with it. Leave to marinade for 2-4 hours (overnight in the fridge is best).
Put chicken pieces on skewers then barbeque over charcoal. Apply oil when half done and turn the side.
For Baking: Preheat oven for 10 minutes.
Arrange chicken on baking tray and bake at 180 Degree C for 10-12 minutes from one side then apply oil and turn the side and bake another 10-12 minutes from the other side till tender.
Decorate with onion and lemon slices and serve with a salad.
Adapted from http://www.therecipespk.com/chicken-malai-boti/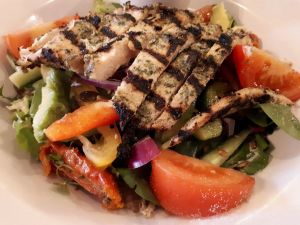 GRILLED CHICKEN SWITH SALAD
INGREDIENTS
For the chicken:
2 – small boneless, skinless omega 3 chicken breasts
½ tbsp. extra virgin olive oil
½ tsp garlic powder
½ tsp paprika
ginger & pepper to taste
For the salad:
4 cups romaine lettuce or other green
1 medium summer squash (~1 cup), diced
1 cup cherry tomatoes, sliced in half
For the dressing;
½ tbsp. extra virgin olive oil
½ tbsp. white balsamic vinegar
¼ cup ground spicy mustard
INSTRUCTIONS
Spray a grill pan with olive oil cooking spray. Bring to a medium heat.
Place the chicken breasts on a plate, drizzle the extra virgin olive oil over each breast then the seasonings.
Place in the grill pan and cook 7 minutes then flip and cook another 5-7 minutes until cooked through.
Remove from the grill pan and place on a clean plate.
While the chicken rests, combine the ingredients for the dressing in a small bowl. Set in the refrigerator to marinade.
Prepare the salads by placing the ingredients in two bowls.
Slice the chicken breasts widthwise on an angle and place on top of the salad.
Drizzle each salad with ½ the dressing.
Nutrition Information
Serving size: 1 Calories: 357 Fat: 16g Saturated fat: 3.3g Unsaturated fat: 12.7g Carbohydrates: 9g Sugar: 4.9g Sodium: 1011mg Fiber: 3.3g Protein: 60.3g Cholesterol: 147.6mg
Adapted from http://skinnyfitalicious.com/blt-grilled-chicken-salad/
We will again use the crock pot to make this heart healthy chicken breast.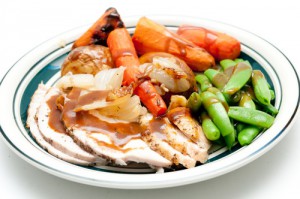 Ingredients
Boneless Skinless Chicken Breast (cut into cubes) 4
Carrot (sliced) 1
Green Bell Pepper (chopped) 1
Red Bell Pepper (chopped) 1
Onion (quartered) 1
Pineapple Chunks (canned) 8 oz
Cilantro Leaves (minced) 10
Ginger Root (minced) 2 tablespoons
Chicken Bouillon 1 teaspoon (be aware that there may be salt here )
Quick Cooking Tapioca 2 tablespoons
Garlic (minced) 1 clove
Soy Sauce 1 tablespoon (be aware that there may be salt here )
Dark Brown Sugar 1/3 cup (This should be left out for diabetics)
Red Wine Vinegar 1/3 cup
Method
Spread the vegetables at the bottom of the crock pot and sprinkle tapioca over them.
Now place the chicken pieces over the vegetables.
Combine the other ingredients in a bowl and mix well.
Pour the mixture over the chicken and close the crock pot.
Cook on low for 8 to 9 hours and serve with rice. (Basmati rice)
For more information, read
You can try all these boneless skinless chicken breast recipes and see which suits your taste buds the best. There are immense variations of each of these recipes as well. I have modified a number of these recipes to suit the taste buds of my family members, and you can do the same as well.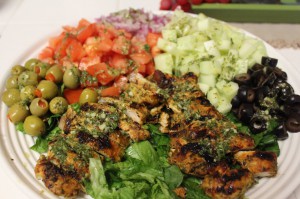 LEMON HERB MEDITERRANEAN CHICKEN SALAD Ingredients Marinade/dressing 2 tbsp olive oil juice of 1 lemon (about 1/4 cup fresh squeezed) 2 tbsp water 2 tbsp red wine vinegar 2 tbsp. fresh chopped parsley 2 tsp dried basil (I used fresh) 1 tsp dried oregano 1 tsp salt cracked pepper to taste 1 lb chicken thighs. I used chicken breast less fatty, Salad 4 cups romaine lettuce washed, dried and chopped 1 large cucumber diced 2 roma tomatoes diced 1 red onion diced 1 avocado sliced 1/3 cup black olives. I added 1/3 cup green. I love olives Instructions Whisk together all of the marinade ingredients/dressing in a large bowl. I also blended it up a bit in my Nutribullet. Left it with a little texture. Add 1/2 the marinade to the chicken. Mix to incorporate. cover and let sit for 15 to 30 mins Once chicken is ready heat about 1 tbsp. oil in grill pan. Sear chicken on both sides. Cook for about 6 mins on each side on med/ low heat. (thin breasts cooking time) When cooked through remove from heat and let rest for about 5 mins Place lettuce on a platter, arrange rest of vegetables, slice chicken up arrange on platter. Drizzle rest of dressing all over. While the recipe did not call for Feta cheese, we did add some to it. Serves four. Delicious. I could drink the marinade/ dressing by itself. Nutritional values Calories 471 (based on using thighs) Fat 36.3g ( healthy fats) Net Carbs 10.4 g, Sugar 4.4 g,Sodium 770 mg 31 % daily values. Protein 23.7
Thanks to Gail Mendonca
STUFFED CHICKEN BREASTS   INGREDIENTS
INGREDIENTS
1skinless chicken breast
1tsp Low fat cottage cheese 28 g
1Artichoke Hearts
1tsp sundried tomatoes chopped
5large Basil leaves
1clove garlic
1/4tsp curry powder
1/4tsp paprika
1pinch pepper to taste
Instructions
Preheat the oven to 365 F (185 C)
Cut the chicken breast almost halfway through with a sharp knife
Chop up the mozzarella, artichoke, basil, tomato and garlic. Mix to combine and stuff it into the cut chicken breast
Use a few toothpicks to close the chicken breast around the stuffing
Place the chicken breast on a baking sheet and season it with pepper, curry powder, and paprika.
Bake for 21 minutes (depending on the size of the chicken breast)
Remove tooth picks before serving.
ONE PAN CHICKEN AND VEGETABLES INGREDIENTS
2 tablespoons olive oil
½ Kg Omega 3 chicken thighs, boneless and skinless, sliced into strips
1 tbsp. low added salt tomato paste
2 cup green vegetables
½ Kg asparagus, ends trimmed, cut in half, if large
1/4 cup basil pesto
INSTRUCTION
Heat a large skillet on medium heat, add 2 tablespoons olive oil, add sliced chicken thighs, season chicken generously with ginger, add the tomato paste- and cook everything on medium heat for 5-10 minutes, flipping a couple of times, until the chicken is completely cooked through. Remove the chicken and sun-dried from the skillet, leaving oil in.
Add asparagus (ends trimmed), seasoned generously with ginger, remaining half of green vegetables, and cook on medium heat for 5-10 minutes until the asparagus cooked through. Remove asparagus to serving plate.
Add chicken back to the skillet, add pesto, stir to coat on low-medium heat until chicken is reheated, 1 or 2 minutes. Remove from heat. Add and mix with the basil pesto and the chicken. Add chicken to the serving plate with asparagus.
Adapted from http://juliasalbum.com/2016/06/one-pan-pesto-chicken-and-veggies/?_utm_source=1-2-2   SPICED CHICKEN AND CHICKPEA SALAD INGREDIENTS:
2 carrots, sliced
1 tbsp. olive oil
2 tsp. smoked paprika
2 tsp. ground cumin
½ tsp. ground turmeric
2 chicken breast fillets skin removed
1 cup mint leaves
⅓ cup (80ml) Greek-style yogurt
2 tsp. tahini
1 tbsp. lemon juice
275g chickpeas (soaked overnight) *
INSTRUCTIONS: The night before:
The night before, cover chickpeas in water (make the water sit at least 3cm over the top of the chickpeas) and place in the fridge.
On the day
Cook chickpeas per packet instructions.
Preheat oven to 200C.
Combine the full breasts of chicken with the oil, paprika, cumin and turmeric in a large bowl.
Line baking tray/s with baking paper. Place the carrots, chicken and chickpeas on the tray/s. Drizzle with remaining oil from the chicken seasoning. Roast for 25 mins or until cooked through and tender. Thinly slice the chicken breast.
Meanwhile, reserve half the mint. Finely chop the remaining mint. Place in a bowl with the yoghurt, tahini and lemon juice and stir to combine. Season with ginger and pepper.
Combine the chicken, carrots, chickpeas, any other ingredients** and reserved mint in a large bowl. Divide among serving plates. Drizzle with the yoghurt mixture.
Notes:  * The weight of the chickpeas was measured after I had soaked them overnight. I soaked more than I needed as I also made falafels and hummus. ** I used extra ingredients I had in the fridge and encourage you to do the same no waste . Adapted from http://www.bbqbaker.com/blog/spiced-chicken-and-chickpea-salad   Healthy Pumpkin Chili with Chicken Ingredients
3 Tbsp. olive oil
1 small onion, chopped
1 green bell pepper, seeded, and chopped
1 jalapeño chili, seeded and finely chopped
2 cloves garlic, minced
1 kg ground organic, pasture-raised chicken or chicken meat roughly chopped.
10-12 whole tomatoes, peeled and diced
1 1/2cups fresh pumpkin puree (see below for recipe)
2 cups homemade chicken broth
1 1/2 chili powder
1 Tbsp. cumin
Salt and pepper
1 1/2cups cooked kidney beans
1 1/2cups cooked white kidney beans
Preparation
Warm oil in a large pot over medium heat. Add onion, bell pepper, jalapeño, and garlic; sauté until tender, about 12 minutes. Transfer to a bowl. Add chicken to pot and cook, stirring, until no pink remains, about 8 minutes. Return vegetables to pot.
Add tomatoes, pumpkin, broth, chili powder, cumin, and 1/2 tsp. salt. Bring to a boil. Reduce heat to medium-low and stir in all beans. Cover and simmer, stirring occasionally, until chili thickens slightly, about 30 minutes. Taste and season with salt and pepper.
Crock Pot Chicken White Bean Pumpkin Chili Ingredients: Olive oil cooking spray 1Kg skinless chicken breast chopped into chunks. 1/2 tsp. olive oil 1 small onion, chopped 3 garlic cloves, minced 1 tsp. chili powder, to taste 2 bay leaves 2 tsp. cumin 1 tsp. oregano 2 cups of beans of choice. 1 cup pumpkin  cut into chunks 1 cup chopped green chile (To taste) 2 cups water chopped chives for topping ginger and pepper to taste Directions: Heat a large heavy saute pan over high heat and lightly spray with oil. Add meat and cook, breaking it up until white, about 5 minutes. Add to crock pot. Add oil to the saute pan, then onions, garlic, sauté about 3 – 4 minutes; Add cumin and sauté another minute. Add to crock pot. Add beans, pumpkin puree, green chilis, broth, chili powder, oregano, and bay leaves. Cover and cook on high for 4 hours or low for 8 hours Remove bay leaves and adjust seasoning to taste before serving. Enjoy!   Servings: 9 • Serving Size: 1 cup Calories: 272.5 Fat: 2.5 g • Protein: 32 g Carb: 31 g  Fibre: 12 g Sugar: 2.4 Sodium: 499 (without salt)   Adapted from :- http://www.skinnytaste.com/2011/10/crockpot-turkey-white-bean-pumpkin.html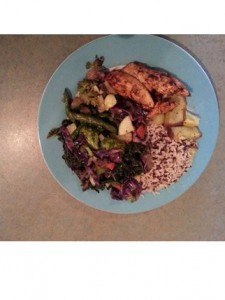 SARAH-ANN'S  CHICKEN, VEG BASMATI RICE AND QUINOA Ingredients: 2 chicken tender lions skin removed per person 50 g Basmati rice 50 g Quinoa Mixed fresh vegetables Sarah-Ann used broccoli, cauli. Silver beat, mushrooms, red onion, green and red capsicums. Kale, red cabbage, beans and courgettes. Water as below.   Directions: Soak rice and Quinoa in ¾ cup of water. (For at least 20 minutes, better overnight.) In a Steamer place the chicken and steam for 20 – 30 minutes Bring the rice and Quinoa to the simmer. Add the vegetables to the steamer. NB1 After 5 minutes stir the rice and Quinoa with a metal fork. Cook for a further 5 minutes and serve.   NB1 Sarah-Ann cooks for a large family she "stir fries" the vegetables in a wok with water for a couple of minutes; a good technique.
QUINOA AND CHICKEN MEATLOAF
Serves: 4 Ingredients 500 grams omega 3 or free range chicken meat roughly chopped. 1 cup quinoa ½ cup chopped mushrooms – chopped 2 Garlic cloves – minced 1 Onion – finely chopped Grated Zucchini Grated Carrot ¾ cup  basmati Rice crumbs or your favourite flour (Gluten free or wholemeal etc.) 2 tablespoon Tamari 1 egg
Instructions
Preheat oven to 180 degree Celsius. Line a loaf tin with baking paper.
Cook Quinoa according to instructions or cook in your rice cooker. Once cooked set aside to cool.
Place all ingredients into a bowl and give a good mix together.
Pour into loaf tin, flatten the top out with a fork
Place in the oven for 45 minutes or until cooked.
MY VERSION OF GENERAL TSO'S CHICKEN