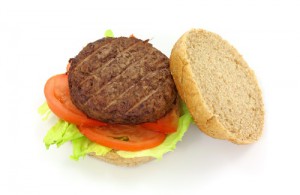 Makes: 4 servings
Ingredients
2 bulbs garlic
2 teaspoons olive oil
3/4 teaspoon chili powder
1 tablespoon whiskey or water
1 pound ground venison, chicken breast or other lean meat
4 small whole wheat hamburger buns, split and toasted (Make your own)
Lettuce leaves
Thin slices fresh jalapeno chile peppers (optional)
Tomato slices
Thin red onion slices
1/2 teaspoon of ginger
Directions
Cut off the top 1/4 to 1/2 inch of each garlic bulb to expose the cloves. Remove the papery outer skins, leaving the cloves intact. Cut each bulb in half and remove the small green shoot if present.
Place each garlic bulb on a 6-inch square of heavy foil; drizzle bulbs with olive oil. Wrap foil up around bulbs; seal.
For a charcoal grill, grill garlic on the rack of an uncovered grill directly over medium coals about 25 minutes or until garlic is soft. (For a gas grill, preheat grill. Reduce heat to medium. Place foil-wrapped garlic bulbs on grill rack over heat. Cover and grill as above.)
Remove garlic from grill and cool slightly.
Meanwhile, in a medium bowl, combine chili powder, and ginger. Stir in whiskey or water. Add venison; mix well. Shape into four 1/2-inch-thick patties.
For a charcoal grill, grill patties on the greased rack of an uncovered grill directly over medium coals for 10 to 13 minutes or until an instant-read thermometer inserted into side of each patty registers 160 degrees F, turning once halfway through grilling. (For a gas grill, place patties on grill rack over heat. Cover and grill as above.)
Meanwhile, squeeze garlic cloves from the skins into a small bowl. Mash garlic with a fork. Spread garlic on bun bottoms; add lettuce  and grilled patties. If desired, top with chile peppers, tomato and red onion. Add bun tops.
Nutrition Facts Per Serving:
Servings Per Recipe: 4
PER SERVING: 315 cal., 6 g total fat (1 g sat. fat), 96 mg chol., 422 mg sodium, 30 g carb. (3 g fiber, 4 g sugars), 32 g pro.
Diabetic Exchanges
Fat (d.e): 1; Lean Meat (d.e): 3.5; Starch (d.e): 2
Recipe Source: http://www.diabeticlivingonline.com/recipe/game/whiskey-burgers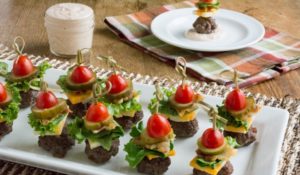 MINI BUN-LESS CHEESEBURGER BITES
INGREDIENTS
2 pounds/ 900 g grass fed ground beef
1 teaspoon ginger
1/2 teaspoon pepper
1/2 teaspoon onion powder
1 teaspoon garlic powder
8 ounces/ 225 g  cheddar cheesecut into 48 pieces
24 cherry tomatoes halved
2 cups red leaf lettuce chopped
optional: pickles
Thousand Island Dip
1 clove garlic minced
1 cup plain Greek yogurt
1 tablespoon extra-virgin olive oil
2 tablespoons sugar free ketchup
2 tablespoons chopped dill pickle
1 teaspoon apple cider vinegar
1/2 teaspoon ginger
1/2 teaspoon onion powder
1/4 teaspoon pepper
1/2 teaspoon Tabasco sauce
INSTRUCTIONS
Preheat oven to 400° F (204° C).
Combine the first 5 ingredients together in a bowl.
Using about 1 tablespoon of the meat mixture, make 48 mini patties or meatballs.
Place them on a foil lined baking sheets and bake for 15 minutes. Turn oven off and add a slice of cheese to each burger bite. Place back in oven to melt cheese for 2-3 minutes. Set aside to prepare remaining ingredients.
To assemble burgers on toothpicks, start with a tomato half, pickle, lettuce, and cheeseburger.
Recipe Notes
Serving size is 3 burger bites and 1 tablespoon of dip.
Adapted from https://www.sugarfreemom.com/recipes/mini-bun-less-cheeseburger-bites-with-thousand-island-dip/?fbclid=IwAR2Yn409EW_wxof9Tt2VsLQLO_n41hdBt18dOGyAkBNpZUWrQP6S7HBLJ0E
KETO JALAPENO POPPER STUFFED BURGER
INGREDIENTS:
Jalapeno Cheese Buns
3/4 Cup Cheddar Cheese (Shredded)
3/4 Cup Pepper Jack Cheese (Shredded)
2 Large Eggs
1/2 Jalapeno Pepper (Sliced)
Stuffed Burgers
1 Pound/ 450 g Grass fed mince beef
8 Ounces/225 g  Cream Cheese (Softened)
1 Jalapeno Pepper (Diced)
2 Green Onions
1 Tablespoon Olive oil
1 Teaspoon Granulated Garlic.
1/2 Teaspoon Ginger
1/2 Teaspoon Black pepper
INSTRUCTIONS:
Jalapeno Cheese Buns
Pre-Heat Oven to 375°F/190°C.
Shred the Cheddar and Pepper Jack Cheeses and set aside in a Medium Bowl.
Whisk 2 Large Eggs in a small bowl and set aside.
Slice Jalapeno Pepper into thin slices and set aside.
Add the Whisked Eggs to the Shredded Cheeses and stir to coat evenly.
Cover a baking pan with baking paper (To prevent the cheese buns from sticking to the pan).
Scoop 1/4 Cup of the Cheese Mixture onto the baking paper being sure to space them apart.
Bake at 375°F/190°C for about 15-20 Minutes, or until the cheese on the top has turned a crisp golden brown.
Remove from the oven and allow to cool on the counter.
Jalapeno Popper Stuffed Burger Patties
In a Medium Bowl combine 8 Ounces of Cream Cheese that has been softened on the counter beforehand, with 1 diced Jalapeno Pepper, 1 Teaspoon Granulated Garlic and the 2 diced Green Onions.
Split the 1 Pound/450 g of mince beef into 4 equal parts and form thin patties with them. Season one side of the patties with a pinch of ginger and pepper and flip two of those side over.
Scoop about 2 Tablespoons of the cream cheese filling in your hand and form small patties with the cream cheese that are about half the size of the meat.
Place the cream cheese filling into the middle of the upside down patty, and then place the other patty on top.
Pinch the side of the patties to seal them closed around the Cream Cheese filling.
Add 1 Tablespoon of olive oil to a fry pan and heat on Medium-Low and cook the Patties for about 7 minutes per side.
Serve between two of the Jalapeno Cheese buns with your choice of Keto-friendly toppings.
Adapted from https://keto-daily.com/keto-jalapeno-popper-stuffed-burger-recipe/?fbclid=IwAR3XRwF5KzVM7gepKc2vCxhimmjpRIyUWbkzpQgHyXK5KDg-yJFsvS0VXKI
PULLED PORK BURGER
INGREDIENTS
1 brown onion, chopped
1 green capsicum, chopped
1 garlic clove, crushed
1 small fresh red chilli, deseeded, thinly sliced, plus extra to serve
400g lean pork shoulder, fat trimmed, cut into 2cm pieces
400g can diced tomatoes
1 tbs apple cider vinegar
1 (200g) corn cob (optional)
½ large (160g) avocado
1 tbs fresh lime juice
1 tbs chopped fresh coriander, plus extra sprigs to serve
4 x 50g wholemeal bread rolls, split or Multigrain bread roll or omit
150g pre-cut coleslaw mix
Olive oil
INSTRUCTIONS
Lightly spray a 20cm (base measurement) heavy-based saucepan with olive oil and heat over medium-high heat. Cook onion, capsicum, garlic and sliced chilli, stirring, for 3 minutes or until softened. Transfer to a plate.
Lightly spray same pan with olive oil and heat over medium-high heat.
Cook pork, turning once, for 3-4 minutes until lightly browned.
Stir in tomatoes, vinegar and onion mixture and bring to the boil. Reduce heat and simmer, covered, for 1 hour.  Simmer, uncovered, for 30 minutes or until pork is tender and sauce thickens. Transfer pork to a large plate, Using two forks, coarsely shred meat. Return meat to pan and season with pepper.
Meanwhile, steam corn until tender. Set aside to cool. Remove kernels and discard cob. Mash avocado and juice in a small bowl. Stir in corn and chopped coriander. Season with pepper.
Toast bread rolls. Sandwich rolls with avocado mixture, coleslaw mix and pork. Serve with extra chilli and coriander, if desired.
Nutrition Information (per serve) of original
| | |
| --- | --- |
| Energy (kJ) | 1525 |
| Protein (g) | 26.0 |
| Fat  – Total (g) | 10.7 |
| – Saturated fat (g) | 2.5 |
| Carbohydrate      – Total (g) | 35.7 |
| Fibre (g) | 11.0 |
| Sodium (mg) | 356 |
Adapted from http://diabetesnsw.com.au/recipe/pulled-pork-burger/