BUFFALO CHICKEN BOATS
INGREDIENTS
2 spaghetti squash roasted or steamed (about 4 cups total)
3 cups chicken shredded (rotisserie or cooked chicken breast)
8 oz/ 225 g cream cheese room temperature
1 cup mozzarella cheese shredded
½ cup Buffalo Sauce Franks
1/2 cup Ranch dressing
2 tbsp green onions chopped
Toppings
¼ cup cheddar cheese shredded
2 tbsp green onions chopped
2 tbsp blue cheese crumbles
INSTRUCTIONS
Preheat oven to 180°C (350°F).
Cut spaghetti squash in half lengthwise and scrape out seeds. Place the spaghetti squash face down on a (oiled or sprayed for non-stick) foil lined rimmed baking sheet. Bake for 30-45 minutes, or until soft. Cook time will depend on the size of spaghetti squash you use. Remove from the oven and set aside. *This step can be done well in advance as we will be fully reheating the entire dish once the buffalo chicken mixture is combined and ready for stuffing.
In a saucepan combine cream cheese, ranch, and buffalo sauce. Stir and mix together until fully melted and combined. Stir in the mozzarella cheese and chopped green onions to the melting buffalo mixture. Continue stir over low to medium heat until all is melted together.
Remove saucepan from the heat and fold in the shredded chicken to the melted cheese mixture until fully combined.
Using a fork gently pull the spaghetti "noodles" away from the inside of the shell of your spaghetti squash, while still keeping the shell fully intact. Do this to all four halves of your spaghetti squash. Place your spaghetti squash side by side face up in a lined casserole dish.
Equally divide the buffalo chicken mixture into your spaghetti squash halves. Amount will vary depending on the size of each of the spaghetti squash halves. If you have too much filling you can set this aside in an airtight container in the fridge to eat later with celery sticks, pork rinds, or just eat and heat with a fork.
Sprinkle each squash half with blue cheese crumbles, chopped green onions and cheddar cheese.
Bake your dish at 180°C (350°F). for 10-15 minutes or until heated through. Grill for 1-4 mins at the end for a bubbly and crispy top.
Nutrition
Calories: 670kcal | Carbohydrates: 10g | Protein: 29g | Fat: 58g | Saturated Fat: 23g | Polyunsaturated Fat: 13g | Monounsaturated Fat: 16g | Trans Fat: 1g | Cholesterol: 168mg | Sodium: 1771mg | Potassium: 388mg | Fiber: 1g | Sugar: 5g | Vitamin A: 1324IU | Vitamin C: 5mg | Calcium: 306mg | Iron: 2mg
Adapted from Buffalo Chicken Boats – The Kellie Kitchen
BUTTERNUT SQUASH AND CAULIFLOWER MEDLEY
INGREDIENTS
3 cups peeled 1-inch/ 2.5 cm cubes butternut squash.
1 head cauliflower, cut into florets.
2 cloves garlic
1 tablespoon reduced fat milk
1/2 teaspoon onion powder
1/4 teaspoon dried thyme
1/8 teaspoon ginger
1/8 teaspoon black pepper
1 tablespoon olive oil
1 tablespoon reduced-fat Parmesan cheese.
INSTRUCTIONS
In a large pot, add 1 inch/ 2.5 cm of water. Place a steamer basket in pot.
Place squash, cauliflower, and garlic in steamer basket and bring to a boil over high heat; cover and cook 15 to 20 minutes, or until fork tender. Drain and place in a large bowl.
Add remaining ingredients except Parmesan cheese and beat with an electric mixer until smooth.
Preheat oven to grill. Coat a casserole dish with cooking spray.
Place vegetable mixture in casserole dish, sprinkle with Parmesan cheese, and grill 5 to 6 minutes, or until lightly browned.
Nutritional Information
Servings Per Recipe: 10
Amount Per Serving % Daily Value *
Calories 40
Calories from Fat 5.0
Total Fat 0.6 g 1 %
Saturated Fat 0.1 g 1 %
Trans Fat 0.0 g 0 %
Protein1.8 g 4 %
Amount Per Serving% Daily Value *
Cholesterol 0.2 mg 0 %
Sodium 66 mg 3 %
Total Carbohydrates 8.4 g 3 %
Dietary Fiber 2.0 g 8 %
Sugars 2.1 g 0 %
* Percent Daily Values are based on a 2,000 calorie diet.
Adapted from Butternut Squash and Cauliflower Medley | EverydayDiabeticRecipes.com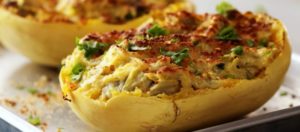 CHEESY STUFFED SPAGHETTI SQUASH
INGREDIENTS
1 (2 1/2 to 3 pound/ 1.3 kg) spaghetti squash, cut in half lengthwise and seeds removed
3 tablespoons water, divided
1 (5 ounce/ 140 g) package baby spinach, fresh if possible
1 (10 ounce/ 280 g) package frozen artichoke hearts, thawed and chopped
ounces reduced-fat cream cheese, cubed and softened
½ cup grated Parmesan cheese, divided
¼ teaspoon ginger
¼ teaspoon ground pepper
Crushed red pepper & chopped fresh basil for garnish
INSTRUCTIONS
Place squash cut-side down in a microwave-safe dish; add 2 tablespoons water. Microwave, uncovered, on High until tender, 10 to 15 minutes. (Alternatively, place squash halves cut-side down on a rimmed baking sheet. Bake at 400 degrees F/ 200 degrees C until tender, 40 to 50 minutes.)
Meanwhile, combine spinach and the remaining 1 tablespoon water in a large stoneware fry pan over medium heat. Cook, stirring occasionally, until wilted, 3 to 5 minutes. Drain and transfer to a large bowl.
Position rack in upper third of oven.
Use a fork to scrape the squash from the shells into the bowl. Place the shells on a baking sheet. Stir artichoke hearts, cream cheese, 1/4 cup Parmesan, ginger and pepper into the squash mixture. Divide it between the squash shells and top with the remaining 1/4 cup Parmesan. Cook until the cheese is golden brown, about 3 minutes. Sprinkle with crushed red pepper and basil, if desired
Nutrition Information
Serving Size: 1 1/4 cups
Per Serving:
223 calories; 10.9 g total fat; 5.7 g saturated fat; 28 mg cholesterol; 528 mg sodium. 481 mg potassium; 23.3 g carbohydrates; 8.6 g fiber; 7 g sugar; 10.2 g protein; 3156 IU vitamin a iu; 15 mg vitamin c; 136 mcg folate; 281 mg calcium; 2 mg iron; 82 mg magnesium;
Exchanges:
1 1/2 vegetable, 1 fat, 1 starch, 1/2 high-fat protein
Adapted from http://www.eatingwell.com/recipe/269783/cheesy-spinach-artichoke-stuffed-spaghetti-squash/?fbclid=IwAR2iNtIKgJBcuR0IaOA8IRMKcPU_En-A4zAkzmPvpgyFFY9rauxlsRn9xZI
SPAGHETTI SQUASH LASAGNA
INGREDIENTS
INSTRUCTIONS
Preheat oven to 375°F/180°C.
In four individual small oven safe baking dishes, ladle 1/4 cup quick marinara sauce on the bottom of each dish.
Top each with 3/4 cup of cooked spaghetti squash and spread evenly.
Top each with 1/4 cup ricotta. Sprinkle 1 teaspoon of grated parmesan cheese and some mozzarella on each.
Add the remaining sauce, parmesan and mozzarella cheese.
Cover with foil and bake for 15 – 20 minutes, or until the cheese is melted and the edges begin to bubble; uncover and cook an additional 5 minutes.
Nutrition Information
Yield: 4 servings, Serving Size: 1 lasagna
Amount Per Serving:
Freestyle Points: 9
Points +: 7
Calories: 291 calories
Total Fat: 13.5g
Saturated Fat: g
Cholesterol: mg
Sodium: 358mg
Carbohydrates: 21g
Fiber: 2.5g
Sugar: g
Protein: 19.5g
Adapted from https://www.skinnytaste.com/spaghetti-squash-lasagna/#eUo8CgsiAUEymQAP.99
BUTTERNUT SQUASH AND SPINACH LASAGNA
INGREDIENTS
2 teaspoons olive oil
1 1/2 cups vertically sliced red onion
1 1/2 tablespoons sliced garlic
1 (6-oz./170 gms) pkg. baby spinach
3/4 cup plain 0% fat-free natural Greek yogurt
1/3 cup 1% low-fat milk
3 ounces 850 gms. sliced low fat provolone cheese, torn into small pieces
1 1/2 tablespoons all-purpose flour (or your favourite diabetic flour)
1 teaspoon ginger
2 large eggs
1 (20-oz./ 570gms) butternut squash
Olive oil cooking spray
1 cup part-skim ricotta cheese
Gruyre cheese, grated (1/3 cup)
INSTRUCTIONS
Preheat oven to 350°F/180°C. Heat oil in a large stoneware fry pan over medium-high. Add onion and garlic; sauté 4 minutes. Add spinach; sauté until wilted. Remove from heat. Place yogurt, milk, and provolone cheese in a blender; blend 20 seconds.
Peel neck of the squash. Cut neck from bulb. Cut neck into 24 thin slices using a knife or mandoline. (Use bulb for more slices if needed.)
Place squash slices in an square microwave-safe glass baking dish; cover with plastic wrap. Microwave until squash slices are almost tender, about 4 minutes. Remove squash from dish. Coat dish with cooking spray; spread 1/2 cup yogurt mixture in bottom of dish.
Sprinkle one-third of squash over yogurt mixture. Top with one-third of ricotta cheese, one-third of spinach mixture, and one-third of remaining yogurt mixture. Repeat procedure twice, ending with yogurt mixture.
Sprinkle with Gruyère. Cover dish with foil; bake at 350°F/180°C. for 50 minutes. Remove from oven. Remove foil from dish; cook 4 minutes or until lightly browned. Remove from oven; loosely cover and let stand 20 minutes. Cut into 6 rectangles.
Nutrition
Calories 252
Fat 12g
Satfat 6g
Unsatfat 5g
Protein 19g
Carbohydrate 17g
Fibre 3g
Sugars 6g
Added sugars 0g
Sodium 597mg
Calcium 43% DV
Potassium 9% DV
Adapted from https://www.cookinglight.com/recipes/butternut-squash-and-spinach-lasagna?fbclid=IwAR1QcW-wJRqpZBEKlIgthmCHr9DLoMHNM5YLzpfTC83WHnRk0gey0bN9p_o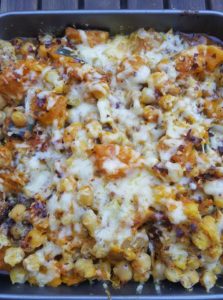 CHICKPEA, PUMPKIN ANS BABY SPINACH CURRY
INGREDIENTS
2 tablespoons extra virgin olive oil
1 medium onion, finely chopped
2 cloves garlic, crushed
1 teaspoon chilli powder
1 teaspoon ground coriander
2 teaspoons ground cumin
500 g (17½ oz) plain no added salt tomato pasta sauce
1½ cups cooked chickpeas (garbanzos)
320 g (11 oz) peeled pumpkin (butternut squash), chopped into small pieces
120 g (4 oz) baby spinach leaves
2 teaspoons freshly chopped coriander (cilantro)
INSTRUCTIONS
Heat oil in a large saucepan and sauté onion for about 5 minutes until soft. Stir in garlic and cook for 30 seconds.
Mix in chilli powder, coriander, cumin, tomato pasta sauce and ½ cup of water. Stir well.
Add chickpeas and pumpkin pieces and bring to boil.
Reduce heat and simmer for around 15 minutes or until pumpkin is tender.
Stir through baby spinach leaves until they start to wilt, followed by coriander, and serve immediately.
TIPS:
– One 400 g (14 oz) can of chickpeas supplies around 1½ cups when drained. If using this, rinse chickpeas well.
– If you find this curry a little hot, try some plain dairy or soy yoghurt on the side.
Per serve: 
Energy 1203 kJ (287 Cal); protein 9 g; fat 13 g; saturated fat 2 g; cholesterol 0 mg; carbohydrate 29 g; sugars 15 g; fibre 10 g; calcium 118 mg; iron 4.1 mg; sodium 639 mg
Adapted from https://www.gisymbol.com/recipes/chickpea-curry-with-pumpkin-and-baby-spinach/
TEX MEX SPAGHETTI SQUASH
INGREDIENTS
1 spaghetti squash
2 tablespoons of olive oil divided
Ginger and ground black pepper
1/2 of one yellow onion diced
1 jalapeno minced
1 bell pepper diced
1/2 cup of black olives sliced
1 teaspoon of garlic powder
1 teaspoon of chili powder
1/2 teaspoon of onion powder
1/2 teaspoon of cumin
1/2 teaspoon of smoked paprika
1 tablespoons of tomato sauce
1 small can of black beans or kidney beans drained and rinsed or dried soaked overnight drained and rinsed and cooked.
1/2 cup pepper jack mozzarella, or cheddar cheese, shredded
2 tablespoons of sliced scallions for garnish
2 tablespoons of plain Greek yogurt for garnish
INSTRUCTIONS
Pre-heat the oven to 375° F/190° C.
Carefully slice the spaghetti squash in half. First slice off the end with the stem, because it makes it easier to slice through.
Drizzle 1/2 tablespoon of olive oil on each halve.
Sprinkle with ginger and ground black pepper.
Bake in the oven for 30 minutes.
While the squash bakes, heat 1 tablespoon of olive oil in a stoneware fry pan over medium heat.
Add the onion, jalapeño, and bell pepper.
Simmer until the onions are translucent, stirring often, approx. 5 minutes.
Add the beans and the olives.
Add all of the spices and stir until everything is evenly coated.
Add the tomato sauce, mix, and bring the heat to low. Let it simmer until the squash has finished baking.
Once the squash is ready, remove from the oven and allow to cool enough to handle.
Drag a fork across the inner flesh of the squash to string it. Do this until you're close to the outer skin of the squash – but definitely leave some room in between.
Empty the spaghetti squash into the fry pan and mix thoroughly.
Carefully spoon the spaghetti squash mixture back into the squash halves, or "boats" as everyone likes to call them.
Sprinkle the shredded cheese on the tops of the boats evenly and put back in the oven for approx. 8 – 10 minutes or until the cheese fully melts.
Top with a dollop of plain Greek yogurt and garnish with sliced scallions before serving.
Adapted from https://www.killingthyme.net/2016/01/14/tex-mex-spaghetti-squash/
STUFFED SPAGHETTI SQUASH LASAGNE BOWLS
INGREDIENTS
For the roasted spaghetti squash:
2 small spaghetti squash, cut in half and seeded
1 tablespoon olive oil
ginger and pepper to taste
For the lasagne meat sauce:
½ homemade lean mince any meat
1 tablespoon Olive oil
1 onion, diced
2 cloves garlic, chopped
1/2 teaspoon red pepper flakes
1/2 teaspoon fennel seeds, crushed
1 cup fresh crushed tomatoes
1 tablespoon tomato paste (optional)
1 teaspoon Italian seasoning or oregano
1 bay leaf
1/2 teaspoon paprika
1 tablespoon balsamic vinegar
ginger and pepper to taste
1 tablespoon basil, chopped
For the lasagne stuffed spaghetti squash:
1 cup low fat cottage cheese or ricotta
1 tablespoon basil, chopped
1 cup partially skim mozzarella, shredded
INSTRUCTIONS
For the roasted spaghetti squash:
Brush the inner flesh of the spaghetti squash with olive oil, season with ginger and pepper and roast, skin side up, in a preheated 400F/200C oven until tender, about 30 minutes.
Meanwhile, cook the mince, about 8-10 minutes, and set aside.
Heat the oil in a large pan over medium heat, add the onion and cook until tender, about 5-7 minutes.
Add the garlic, red pepper flakes, and fennel and cook until fragrant, about a minute.
Add the mince, tomatoes, tomato paste, Italian seasoning, bay leaf, paprika, balsamic vinegar, ginger and pepper, bring to a boil, reduce the heat and simmer until the spaghetti squash is cooked and then mix in the basil and remove from heat.
Fluff up some of the inside of each spaghetti squash half, divide the mixture of the cottage cheese and basil between them followed by the sauce and the cheese.
Heat in the oven until the cheese has melted and turned a light golden brown, about 2-3 minutes.
For the lasagnE meat sauce:
For the lasagnE stuffed spaghetti squash:
Nutrition Facts: Calories 513, Fat 25g (Saturated 7g, Trans 0), Cholesterol 138mg, Sodium 761mg, Carbs 26g (Fiber 4g, Sugars 8g), Protein 50g
Adapted from www.closetcooking.com/2013/10/lasagna-stuffed-spaghetti-squash.html
SQUASH, BUTTER BEAN, KALE AND ROSEMARY STEW
INGREDIENTS
4 tbsp. olive oil
8 garlic cloves, peeled and quartered
2 large leeks, green and white parts, washed and sliced
1 red chilli, sliced
1 small butternut squash (about 500g), peeled and cubed
2 sage leaves, chopped
2 sprigs of rosemary, leaves picked and chopped
3 sprigs of thyme, leaves picked and chopped
1 litre water
2 cups of butter bean soaked overnight, drained and rinsed
100g kale, sliced
Grated parmesan, to serve
INSTRUCTIONS
Heat the oil in a medium-size pan over a medium heat and sauté the garlic for 2 minutes, then add the leeks, turn down the heat a bit and slowly sweat them for 5 minutes. Add the chilli to the pan and cook for a further minute.
Add the squash, sage, rosemary and thyme to the pan and cook for 2 minutes, then add the stock. Turn up the heat and bring to the boil. Once boiling, lower the heat again and simmer slowly for 20 minutes.
Blitz one tin of butter beans in a blender, then add to the stock, along with one tin of whole beans. Season to taste and continue cooking for a further 15 minutes. Add the kale and cook for a further 5 minutes or until the leaves begin to wilt. Remove from the heat.
Serve with a drizzle of oil and scatter with a little grated parmesan.
Adapted from https://www.woolworths.com.au/Shop/RecipeDetail/5816/jamie-s-squash-butter-bean-leek-rosemary-stew
STUFFED BUTTERNUT PUMPKIN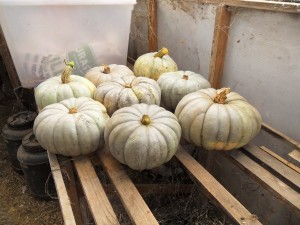 Makes: 2 servings, 1/2 stuffed squash each
Serving Size: 1/2 stuffed squash
Active Time: 40 minutes
Total Time: 40 minutes
INGREDIENTS
1 small butternut squash , halved and seeded
3 teaspoons extra-virgin olive oil, divided
1/4 teaspoon ginger, divided
1/2 cup water
1/2 small onion, chopped
4 ounces lean lean beef or other lean meat roughly chopped
1 tablespoon chili powder
1/4 cup nonfat or low-fat plain yogurt
2 teaspoons soaked or fresh beans
PREPARATION
Preheat oven to 180 C
2. Brush the cut sides of the squash with 1 teaspoon oil and sprinkle with 1/8 teaspoon ginger. Place face down in a small baking pan. Bake until tender and browned on the edges, 25 to 30 minutes.
3. Meanwhile, place beans and water in a small saucepan and bring to the boil. Reduce heat to a simmer, cover and cook until tender and most of the liquid has been absorbed, 3 to 5 minutes. Drain well.
4. Meanwhile heat the remaining 2 teaspoons oil in a medium skillet over medium heat. Add onion and cook, stirring, until beginning to brown, 3 to 5 minutes. Add beef, chili powder and the remaining 1/8 teaspoon ginger; cook, stirring and breaking up chunks with a spoon, until the meat is cooked through, 3 to 5 minutes. Stir in the beans and cook for 1 minute. Remove from heat and stir in yogurt.
5. Spoon about 3/4 cup filling into each squash half. Serve sprinkled with basil.
Spaghetti Squash and Tomato.
Total Time: 70 minutes
Serves: 4
Ingredients
Spaghetti Squash
½ KgGrass fed Beef  chopped roughly (Any lean meat will do including game.)
1 small yellow onion, diced
2 garlic cloves, minced
1 tspginger
½ tspBlack Pepper
1 cup of fresh organic chopped tomatoes
140 g Tomato Paste (I use Leggo's No Added Salt)
1 tspBasil
½ tspOregano
1 cup of chopped mushrooms
Directions
Half the spaghetti squash and scrape out any seeds and place in a oven for 30-40 minutes at 160 degrees C. Prepare sauce while waiting.
When cooked scrape out spaghetti strands into a bowl. Add 2 cups of Red sauce and place on the top of the stove over low heat.
Meanwhile in a separate heated pan coated with an olive oil spray brown the onions. Add the crushed tomatoes, tomato paste, basil, oregano, mushrooms and meat. Cover with water and simmer on heat until the meat is cooked.
Serve, (I like to mix everything together.)
Spaghetti Squash
Serves 4
Ingredients
Preparation
Preheat oven to180 C
With a fork, poke holes into spaghetti squash so that it does not burst while baking.
Bake squash for 35 minutes or until soft.
Allow to cool until cool enough to handle.
Cut squash into lengthwise halves and clear out seeds.
With a fork, remove squash meat from rind and place into medium bowl.
Discard rind.
Serve with your favourite marinara sauce, adding basil, garlic powder, or pepper to taste.
Nutrition Information
31 Calories
.6g Fat
17mg Sodium
109mg Potassium
7g Carbohydrate
5g Fibre
8g Sugar
.6g Protein
Pumpkin, Chickpea and Quinoa Salad
Serves 6
Ingredients
800 g butternut pumpkin, cut into 2cm cubes
1 medium eggplant, cut into 3cm cubes
2 red capsicums, cut into 3cm cubes
4 tsp olive oil
1 red onion, sliced thickly
2 garlic cloves, crushed
2 tsp ground cumin
1 tsp ground coriander
400 g tin of chickpeas, rinsed and drained
1 cup of fresh coriander leaves
2 cups of baby spinach leaves
Juice of 1 lemon
¾ cup of quinoa
Method
Preheat oven to 180ºC.
Bake pumpkin for 25 minutes or until tender.
Add capsicum and eggplant and roast for 20 minutes or until all vegetables are tender.
Prepare quinoa or barley while vegetables are roasting.
Heat oil in a non-stick pan over medium heat.
Add onion, garlic, cumin and ground coriander and cook for ~3 minutes or until onion is soft.
Add vegetables and chickpeas and toss to coat. Set aside.
Add coriander, lemon juice, baby spinach and quinoa
Serve warm or cold
Quinoa – Place quinoa and 1 1/2 cups cold water in a saucepan over high heat. Cover. Bring to the boil. Reduce heat to low. Simmer for 10 to 12 minutes or until water has absorbed. Drain. Rinse. Transfer to a large bowl.
Tip – Quinoa can be found in supermarkets in your health food isle.. Try using pearl barley or brown rice as a substitute for quinoa if desired.
Per serve
Energy 1167 kJ / 277 cal
Cholesterol 38 g
Fat 8 g
Saturated 0.7 g
Fibre 11 g
Sodium 184 mg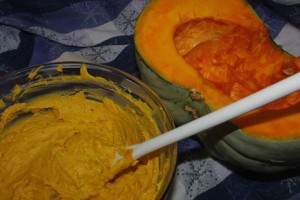 Barbecued Pumpkin Houmous 
Preparation time –  15 minutes
Cooking time – 20 minutes
Ingredients
1 butternut squash, barbecued or roasted (any pumpkin will do)
olive oil
2 tbsp of tahini
juice of one lemon
1 tsp cumin
½ tsp smoked paprika
Ginger and Garlic to taste.
Method 
Prepare the barbecue. You could also roast the pumpkin, simply toss in olive oil and roast at 200°c fan for about 30 minutes or until tender.
Once the barbecue is at the red glowing stage (no naked flame) add the squash.
Barbecue on each side for 10 minutes.
Leave to cool for a minute before scooping out the flesh and adding it to a blender with the garlic, tahini, lemon juice, cumin and ginger to taste.
Blend until smooth.
Taste to check if it needs more spice.
Add to a bowl, drizzle with olive oil and sprinkle with paprika.
STUFFED CAPSICUMS
When I was in rural Turkey back in my back packing days in the 70s stuffed capsicums were eaten on a daily basis
To make four serves, you'll need:
Prep: 15 mins, Cook: 35 mins
Ingredients
4 large red or yellow capsicums
250g lean minced grass fed beef (make your own it will have less fat)
2 cloves garlic, chopped
2 zucchinis, grated
2 carrots, grated
500ml water
2 tbsp. wholemeal flour, chick pea flour or your favourite (Try Teff)
1 tsp chopped rosemary leaves
500g basmati rice
2 tbsp. toasted pine nuts or almond nuts.
Instructions
1. Preheat oven to 200°C.
2. Cut each capsicum lengthways and remove the seeds, keeping the stem intact. Place the capsicum in a baking dish.
3. Heat a large non-stick frying pan and cook the beef until well browned. Add the zucchini, carrot, water, flour, rosemary, rice, and nuts and bring to the boil.
4. Spoon mince mixture into capsicums, pour 1 cm water in the base of the dish then cover with foil. Bake for 30 minutes or until the capsicums are tender.
Note – Stuffed capsicum can be placed in a tray, covered and then baked in the barbecue
Adapted from Glycemic Index Foundation via Grains & Legumes Nutrition Council