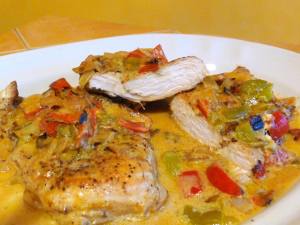 MEXICAN CHICKEN WITH CHILE
INGREDIENTS
4 large, thick Omega-3 chicken breasts, OR 8 thinner chicken breasts
3/4 tsp ginger (3 mL)
3/4 tsp cumin (3 mL)
1/2 tsp black pepper (2 mL)
1/4 tsp hot chili powder (1 mL)
4 tbsp olive oil divided (45 mL)
1 cup chopped onion (250 mL)
1 large red bell pepper chopped
1 tsp crushed garlic (5 mL)
5 oz-can green chilis, OR canned jalapenos (127 g) OR fresh or dried if possible
Rich Creamy Cheese Sauce: Optional
1 cup water (250 mL)
4 oz cream cheese (125 g)
11/2 cups grated Cheddar cheese (375 mL)
3/4  – 1 cup additional water if required water (175 to 250 mL)
INSTRUCTIONS
Slice the chicken breasts in half length-wise.
In small bowl, combine salt, cumin, black pepper and hot chili powder.  Sprinkle on both sides of the chicken.
In large non-stick stoneware frying pan add 2 tbsp (15 mL) olive oil and over medium heat cook half the chicken for 4 minutes per side until golden brown.  Set aside and repeat with remaining chicken and use 1 tbsp (15 mL) olive oil.  Remove chicken.
In the same pan, cook onion and peppers over medium heat in 1 tbsp (15 mL) olive oil.  Once softened and the onion has turned brown, add garlic and cook a further 2 minutes.  Add green chills, OR jalapenos.
Rich Creamy Cheese Sauce:
In non-stick stoneware frying pan or a slow cooker, add the water and add cream cheese (broken into chunks) and Cheddar cheese.
Allow all to melt and gradually stir in water.
Stir in vegetables.
Place chicken breasts in the 2 pans and pour sauce over the chicken in each pan (the sauce will reduce and thicken).
Cover the pans with lids and cook a further 10 minutes, or until the chicken is white throughout when cut through the thickest part.
If using a slow cooker cook for at least 3 hours on high or 6 hours on low.
Spoon sauce over chicken half way through the cooking time.  Serve chicken with sauce.
Yield:  8 servings
1 serving
350.9 calories
35.5 g protein
20.4 g fat
1.3 g fibre
3.6 g net carbs
Adapted from  https://low-carb-news.blogspot.com.au/2018/01/mexican-chile-skillet-chicken.html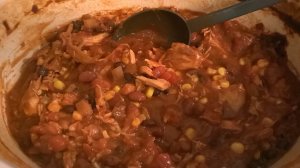 SLOW COOKED CHICKEN AND CHILI
INGREDIENTS:
2 Chicken Breasts
1 Onion, diced
1 Red bell Pepper, diced
1 Tsp. Garlic, crushed
2 Tbsp. no added salt Tomato paste
1 cup Diced Tomatoes
1 cup Red Kidney Beans soaked overnight and drained
1 tsp. paprika
1 tsp. Cumin, ground
1 tsp. Oregano, dried
2 tsp. Chili Paste or similar
Ginger & Pepper
INSTRUCTIONS:
First add the chicken breasts to the slow cooker.
2. Add the rest of the ingredients on top of the chicken breasts and mix together.
3. Cook on low for 6-8 hours.
4. Remove the chicken breasts from the slow cooker and shred using two forks.
5. Return the chicken and cook for 15-30 minutes or until reheated.
6. Season with ginger & pepper.
7. Serve & Enjoy.
Cooking Tips:
■ If you're thinking this chili might not be spicy enough for you then you can always double the amount of chili. Doubling the chili should really add a good amount of heat to the dish.
■ Beans are one of the best parts of a good chili but if you're not a fan then you can easily leave these out. You can replace them with something like chunky carrots.
■ If you're not a fan of chicken breasts in the slow cooker, then you can swap these out for chicken thighs. It will still pull apart the same way and still be incredibly tasty. You will need about 4 thighs to make up for the 2 chicken breasts (Roughly 500 g/17 oz).
â–  You will want defrost the chicken before placing it in the slow cooker to avoid increased risks of food poisoning.
■ This dish uses sugar to help reduce the tartness of the tomatoes, if you're not a fan of adding sugar to your meals then you can simply leave it out or replace it with something you're happy to use.
Nutritional Information:
One thing that you might be interested in is the nutritional information for this slow cooker chicken chili. If this is the case, then you can find out all the information you need below.
Keep in mind this information doesn't include any extras that you might have with the chili such as sour cream, bread and so on. It is also only estimated using an online tool so it may not be super accurate but should be good enough to able to tell if this dish is ok for you or not.
Nutrition Facts
Serving Size 251g
Servings Per Container 6
Amount Per Serving
Calories 430 Calories from Fat 68.4
% Daily Value*
Total Fat 7.6g 12%
Saturated Fat 1.9g 10%
Trans Fat 0g
Cholesterol 75mg 25%
Sodium 110mg 5%
Total Carbohydrate 51g 17%
Dietary Fiber 12.1g 48%
Sugars 8.1g
Protein 40.6g 81%
*Percent Daily Values are based on a 2,000 calorie diet. Your daily values may be higher or lower depending on your calorie needs.
Adapted from https://slowcookingperfected.com/slow-cooker-chicken-chili/
Crock Pot South-western Chicken Chilli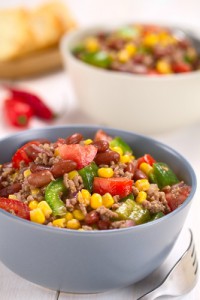 1 small onion, chopped
1 16-oz can black beans Fresh if you have them
1 16-oz can kidney beans… Fresh if you have them if not any fresh bean
1 8-oz can tomato sauce Leggo's no added salt
10 oz package frozen corn kernels Fresh if you have them
2 14.5-oz cans diced tomatoes w/chillies Fresh if you have them
1 tbsp chilli powder
2 lbs boneless skinless chicken breasts or tenderloins
bell peppers or chilli peppers, chopped to taste.
1 Large Sweet potato roughly chopped
5 large Carrots roughly chopped.
Combine everything but chicken in crock pot. Place chicken on top and cover. Cook on low for 10 hours or on high for 6 hours.
Makes 10 servings (about 1 3/4 cups each) approx 204 calories 5
Tex's Soup
Ingredients:
1 lb of extra lean Ground Beef., pork or veal. Chicken works well.
1 onion, chopped
(2) 24oz cans of Spaghetti Sauce Leggo's no added salt
(2) 4oz cans sliced mushrooms (do not drain) Fresh is better.
(2) 14.5oz cans Fire Roasted Diced Tomatoes
3 Tbsp. Italian mixed herbs
4-5 cups of water
3 Tbsp Minced Garlic (less if you want, I garlic!)
6-8  noodles, broken in pieces or some other pasta.
Vegetable e.g. sweet potato carrots Jerusalem artichoke. Any available greens roughly chopped.
Brown the beef in a pan. Drain off grease IF necessary. Add chopped onions and garlic. Cook for several minutes. Add in the rest of the ingredients (except the noodles) and bring to a boil. Cook 10 minutes or add noodles cook until the noodles are "al dente".
A diabetic soup tend to by chunky to avoid sugar spikes and Hypos. Soups are usually the broth from a stew which contains dissolved sugars starch fats and small particles of food which will be absorbed quickly.
It is our job as diabetics to slow this absorption through the use a fibre and large particles of food. The teeth cannot chew food as small as a blender. A diabetic soup is therefore more like a watery stew than a broth.