Christmas is a time in which we over indulge in the things that we should not; Alcohol, biscuits and sweets. At least the main meal can be healthy and tasty.
As with all my meals feel free the play with this one and add to it as for your taste.
I will provide you with the basics and some suggestions which work well.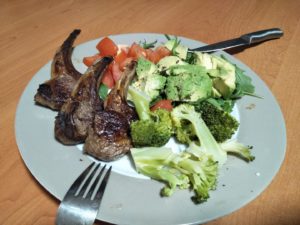 HERB-CRUSTED RACK OF LAMB
INGREDIENTS
4 cloves garlic, minced
1/2 cup chopped fresh rosemary leaves
1/4 cup chopped fresh mint leaves
ginger to taste
freshly ground black pepper
1 rack of lamb, fully French trimmed
1/2 cup chopped fresh parsley leaves
1 cup plain bread crumbs (optional)
1 tablespoon Dijon mustard
INSTRUCTIONS
In a small bowl, mix the garlic, ginger, pepper, rosemary and mint together. Rub the mixture over the lamb and refrigerate for an hour or overnight.
Meanwhile, combine the bread crumbs and parsley in a small bowl. Season with ginger and pepper and set aside.
Spray a roasting pan with non-stick spray and place it in the oven. Preheat the oven to 500F/260 C.
Place the lamb, meat-side down in the hot roasting pan and cook for 10 minutes. Remove the lamb from the oven and reduce the heat to 400F/200C.
Turn the lamb meat-side up and brush the meat with the mustard. Spread the crumb mixture over the mustard and press it onto the meat. Return to the oven and cook for 10 minutes more to brown the bread crumbs.
Let the meat rest for 5 minutes. Carve the racks into chops and serve.
Recipe Yield: Yield: 4 servings. Serving Size: 2 chops
Nutritional Information Per Serving:
Calories: 341
Fat: 12 grams
Saturated Fat: 1 grams
Fibre: 0.5 grams
Sodium: 302 milligrams
Cholesterol: 189 milligrams
Protein: 35 grams
Carbohydrates: 23 grams
Adapted from https://diabeticgourmet.com/diabetic-recipes/herb-crusted-rack-of-lamb?fbclid=IwAR22pyrN15hcmncQiJ-5TuU8eC2g2ubhrX13pqTiuHkizAo3doOwbybUJUI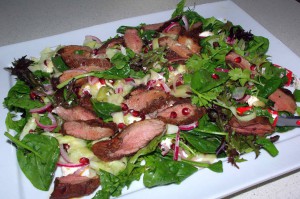 What are you planning for your Christmas Eve or Christmas day menu? Here is..
A PEFECT SALAD FOR THE CHRISTMAS TABLE
Grass fed Lamb back strap grilled and sliced thinly with a green salad and a little goat cheese for a little dairy. Lots of flavour from pomegranate seeds for that Christmas colour.
For full vegetarians you can add roasted sweet potato.
While this dish will be my centre piece this Christmas it is a meal I dish out on special occasions and eat in moderation.
This recipe can be found on and refers to other recipes on:-
Poached Roast in Stout.
Cooking Time
At least two hours but may vary on the size of your joint and cooking method.
You Will Need
Meat
A lean joint of meat, I prefer on the bone but works well with a cut off the bone.
Marinade
Garlic
mixed herbs
Stock
Cinnamon stick.
375 ml stout
Vegetables
Sweet potato
White potato
Carrots
Pumpkin
Any other root vegetable you have fresh in the garden (Woolworths)
Any greens vegetable you have fresh in the garden (Woolworths) do not forget that Broad bean and pea top shoots can be used.
Sweet corn.
Method.
The day before.
1. Make several stabs into your joint, use a sharp knife and each stab should be large enough to fit a finger. Try to cut across the grain of the meat, in other words from the ends. The number will vary on the size of your joint. It should be at least four.
2. Chop the garlic into fine cubes and mixed with mixed herbs, fresh is best finely chopped but is unavailable mixed herbs can be bought dried.
3. With your finger fill the cavity with the marinade.
4. Massage the surface of your joint with the marinade.
5. Cover and place in the refrigerator over night.
Cooking
This can be done in a baking pan, preferably one with a lid on a BBQ, in an oven or slow cooker (slow cookers work well but can take a longer time, at least four hours, depending on the size of the joint.)
Place your joint in the pan.
Add about 2 cm of stout to the pan.
Crumble a cinnamon stick into the stout.
Add any marinade that you may have left over.
Anything can be added hear to taste. Tomatoes and Fruits roughly chopped works well
I add my vegetables (except for the greens) here. I think the stout gives them a malty taste but they can be cook separate if you prefer.
Place in a pre heated oven and bring to the simmer and then turn down to about 150 C to maintain a simmer.
If cooked on a BBQ, close the lid on the BBQ, use all four burners to bring to simmer and then turn off the centre burners and the end ones to low.
Cooking time should be about 2 hours.
Once the joint start to shrink it should be cooked. Well done on the ends and almost blue in the centre near the bone, something for everyone.
I add my sweet corn about 10 minutes before serving to steam, but this can be cooked separately if you prefer.
About 10 minutes before serving steam you greens.
Do not forget to rest the joint before serving.
Do not forget to warm your plates. This can be done on top of the oven, or in the grill section. It can also be achieved on the BBQ on top of the lid. Vegetables can also be steamed under the hood.
Serve and enjoy. A little of the stock can be drizzled over the meal as a sauce but remember this will contain any fat from the joint.
Variations
Marinade
The following work well to taste.
Chile, sweet and hot.
Pepper
Sweet pepper.
Any dried fruit, this may need to be chopped.
Nuts.
Seeds
Stock
Any of the above.
Fresh fruit works well, do not be afraid to leave a couple of seeds in the stock, they do add and extra flavour of their own, but may not be to everyone's  taste.
Tomatoes.
Onions.
Garlic.
Anything you like.
Other root vegetables.
Beer Wine Vinegar to taste.
Salad Option
A Salad instead of vegetables can be served.
Try using Lemon and Orange juice as a juice dressing. A little of the rind can also be added. Do not forget the young shoots of Broad Bean, Pea, Beet Root and Silver beet can be used. (The Silver beet may be in seed but the young leaves on the stalks can add a tasty boost.)
Left Over Stout.
This can be used to
1.Make a merry Christmas Ginger Bread Man or in your bread.
2. I think you may know what to do with it.
Poultry
Works well with any poultry, skinned of course; I know who skins a chicken at Christmas.
Mix your marinade with bread crumbs as a stuffing.
Cook as above.
Keep any left over stock, allow to cool and remove any visable fat. This can be be frozen or kept cool for future use. See my naughty poached eggs and stew.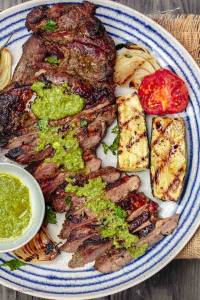 SLOW-COOKED BBQ LAMB WITH MINT AND LENTIL SALSA
INGREDIENTS
1 lamb shoulder, bone in, fat trimmed (lamb should be young and grass fed)
2 tbs. olive oil
4 garlic cloves, sliced
¼ cup fresh rosemary leaves, chopped
1 cup fresh mint leaves
1 cup fresh parsley leaves
2 tbs. finely chopped red onion
1 cup brown lentils, soaked overnight, rinsed, drained
½ cup sugar free tomato relish or TOMATO THOKKU (TOMATO CHUTNEY) found here http://www.findtex.com.au/recipes/vegetarian/baba-ghannoj/
125g cherry tomatoes, chopped fresh from the garden if possible
INSTRUCTIONS
1.    Preheat barbecue to high. Place lamb in a large baking tray. Rub with garlic, drizzle with oil and scatter with garlic and rosemary. Season with ginger and freshly ground black pepper.
2.    Tightly wrap with 2 layers of baking paper, making sure that it is well sealed. Place tray in centre of barbecue and lower the lid. Cook for 30 mins on high.
3.    Reduce heat to low and cook for 3-4 hours or until very tender. Check every hour or so to see that the lamb is moist. If it begins to dry, then add ½ cup of water and rewrap with paper.
4.    When the lamb is cooked, remove the paper, raise the heat to high and cook for another 10-15 minutes to brown the outside of the lamb.
5.       Combine mint, parsley and red onion and lentils in a bowl. Combine tomato relish and chopped cherry tomatoes in another bowl. Serve the lamb with salsa and tomato relish and steamed green vegetables.

Other Serving suggestion
Steamed sweet potatoes or sweet potato salad.
Note
You need a barbecue with a lid to cook the lamb in this way.
Adapted from https://www.originenergy.com.au/blog/lifestyle/slow-cooked-lamb-with-mint-lentil-salsa.html
SLOW COOKED PORK
SHREDDED ITALIAN PORK STEW
INGREDIENTS
2 medium sweet potatoes, peeled and cubed
2 cups chopped fresh kale
Any other in season vegetables
1 large onion, chopped
3 garlic cloves, minced
1 boneless pork shoulder butt roast any visible fat removed. (1 to 1/1/2 kg) (Any lean meat can be used)
1 can (14 ounces) white kidney or cannellini beans, rinsed and drained
1-1/2 teaspoons Italian seasoning
1/2 teaspoon ginger
1/2 teaspoon pepper
3 cups water
Sour cream, optional
INSTRUCTIONS
Place the sweet potatoes, kale, onion, other vegetables and garlic in a slow cooker. Place meat on vegetables. Add the beans and seasonings. Pour water over top. Cover and cook on low for 8-10 hours or until meat is tender.
Remove meat; cool slightly. Skim fat from cooking juices. Shred pork with two forks and return to slow cooker; heat through.
Garnish servings with sour cream if desired.
Yield: 9 servings.
Nutritional Facts
1-1/2 cups (calculated without sour cream): 283 calories, 13g fat (5g saturated fat), 78mg cholesterol, 860mg sodium, 15g carbohydrate (4g sugars, 3g fiber), 24g protein.
Adapted from https://www.tasteofhome.com/recipes/italian-shredded-pork-stew?trkid=soc-toh-facebook
http://www.findtex.com.au/uncategorised/mediterranean/