2 large eggplants
3 cloves garlic
3 tbsp olive oil
2 tbsp lemon juice
1/2 cup Tahini
1/2 tsp ground cumin
1 tsp ginger
Roast eggplant at 180 of until soft. Remove skin, blend with remaining ingredients. Serve chilled as a dip or salad on a bed of raw spinach leaves with olives, capsicum and wholegrain flat bread.
BABA CHANOUSH (Roasted Eggplant Dip)
Keep in Mind for a party.
Ingredients
1 head garlic (about 8 cloves)
2 eggplants, sliced lengthwise
1 red bell pepper, halved and seeded
Juice of 1 lemon (about 4 tablespoons)
1 tbsp chopped fresh basil
1 tbsp olive oil
1 tbsp black pepper or to taste
2 rounds of multigrain flatbread or pita
Preparation
Spay a stoneware fry pan with olive oil spray.
Slice the top off of the garlic bulb, and wrap the bulb in foil. Roast it for 20-30 minutes on the cooler part of the grill.
On hot part of fry pan, place eggplant slices and bell pepper. Grill for 2-3 minutes a side.
Squeeze roasted garlic out of bulb and place in food processor. Add grilled eggplant, red bell pepper, lemon juice, basil, pepper and olive oil. Pulse until smooth. Place dip in serving bowl.
Warm bread on grill for a few seconds on each side. Serve with dip.
Nutrition Information
148 Calories
4 g Fat
0 mg Cholesterol
164 mg Sodium
25 g Carbohydrate
3 g Fiber
0 g Sugar
4 g Protein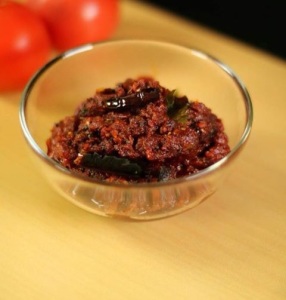 TOMATO THOKKU (TOMATO CHUTNEY) recipe | thakkali thokku recipe | spicy tomato pickle recipe
Prep time
10 mins
Cook time
30 mins
Total time
40 mins
easy tomato thokku recipe | thakkali thokku recipe | spicy tomato pickle recipe
Author: Hebbar's Kitchen
Recipe type: pickle
Cuisine: south India
Serves: 8 Servings
INGREDIENTS
3 tbsp. olive oil
5 large sized ripped tomato, finely chopped
1 small ball sized tamarind / emli
½ tsp turmeric / haldi
1 tsp methi seeds / fenugreek seeds
1 tsp mustard seeds / rai
2 tsp kashmiri red chili powder / lal mirch powder
for tempering:
2 tsp olive oil
1 tsp mustard seeds / rai
2 dried red chilis
few curry leaves / kadai patta
½ tsp hing / asafoetida
INSTRUCTIONS ( 1 cup =255 ml)
Firstly, in a large thick bottomed kadai/stoneware fry pan heat olive oil and add chopped tomatoes.
additionally add a small ball of tamarind and turmeric powder. mix well.
Cover and cook for 10 minutes or till the tomatoes turn mushy.
Stir occasionally, to prevent tomatoes from burning.
Again cover and simmer for 10 more minutes or till the water evaporates from tomatoes.
mash the tomatoes well.
Meanwhile, heat a pan and add a tsp of mustard seeds and methi.
Dry roast and powder them into fine powder.
Further, add the roasted and powdered methi and mustard seeds into prepared tomato thokku.
also add red chili powder and ginger.
Mix well making sure the spices are blended well.
In a small kadai/stoneware fry pan, heat olive oil for tempering.
Add mustard seeds, red chilli, curry leaves and hing. allow to splutter and pour the tempering onto the prepared tomato thokku.
Finally, mix well and tomato thokku / tomato pickle is ready to serve as a side dish.
Notes
Tomato thokku taste great when right amount of oil, chili powder and ginger is added. be generous as the sourness of tomato will balance.
If preparing in large quantity, it takes long time for tomatoes to cook.
If you prefer the thokku to be very smooth then put in a blender before adding spices.
Temper with garlic for more flavours to taste.
Use unripe red and green tomatoes to prepare tomato thokku / tomato pickle for best results
Via Thadani
This can be separated and frozen in small containers. Use in moderation.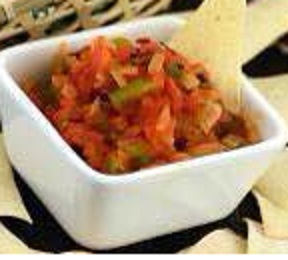 MEXICAN SALSA
INGREDIENTS
1 green capsicum
1/2 cup finely chopped onions
2 1/2 cups blanched and chopped tomatoes
1/2 tsp chilli powder
1/2 tsp dried oregano
1 tsp chillies in vinegar
3 1/2 tsp olive oil for brushing and cooking
INSTRUCTIONS
Brush 1/ 2tsp oil all over the capsicum and pierce with a fork and hold over a BBQ or gas cooker flame until the skin blackens.
Remove from the flame, immerse it in water and allow it to cool.
Once cooled, remove the burnt skin on the capsicum with your hands, deseed it and chop it finely. Keep aside.
Heat the remaining 3 tsp of olive oil in a large stoneware non-stick fry pan, add the onions and sauté on a medium heat for 2 to 3 minutes.
Add the capsicum and sauté on a medium heat for 1 to 2 minutes.
Add the tomatoes, chilli powder and oregano, mix well and cook on a medium heat for 5 minutes or till the tomatoes are soften, while stirring occasionally.
Add the chillies in vinegar, mix well and cook on a medium heat for 1 to 2 minutes, while stirring occasionally.
Serve warm on other vegetables, meat or a side in moderation.
http://www.findtex.com.au/diabetic-foods/chutney-etc/