SHAKSHUKA
INGREDIENTS
1 tsp. extra-virgin olive oil
1/2 medium onion, diced
1 garlic clove, minced
1 red bell pepper, diced
1 cup diced tomatoes
1/2 tsp. chili powder
1/2 tsp. ground cumin
1/2 tsp. paprika
1/2 tsp. ginger
1 tbsp. freshly chopped parsley
4 large eggs
INSTRUCTIONS
In a large stoneware fry pan, heat the oil over medium heat.
Sauté the onion for 3–5 minutes, until it just begins to soften. Add the garlic and bell pepper. Continue to cook for 5 minutes, until the pepper softens.
Add the tomatoes and mix until blended. Add the chili powder, cumin, paprika, and ginger and mix well. Simmer for an additional 5 minutes, until the sauce is slightly reduced.
Crack the eggs into the tomato mixture, allowing for plenty of space between them to cook. Cover the pan and simmer for 3–7 minutes until the eggs are your desired doneness.
Sprinkle with parsley to garnish and serve.
Nutrition info (2 eggs and 1/2 cup sauce) Calories: 216; Total fat: 12 g; Saturated fat: 4 g; Cholesterol: 372 mg; Sodium: 517 mg; Carbs: 13 g; Fibre: 3 g; Sugar: 6 g; Protein: 15 g
Adapted from https://www.healthline.com/health/diabetes/fall-recipes-for-diabetes?slot_pos=article_1&utm_source=Sailthru&fbclid=IwAR3QWZi-YnckWBzJJCWIfHXT3NLe1uII0o0RPl6jCv19gsIycF61mW97muY#4
EGG ON BURGEN WHOLEGRAIN AND OATS WITH AVOCADO SALSA
Serves: 2
INGREDIENTS
½ avocado, peeled and cubed
1 Roma tomato, seeded and finely diced
1 Tbs. lime juice
1 Tbs. finely diced coriander
2 poached omega 3 eggs
Toasted Burgen Wholegrain and oats.
INSTRUCTIONS
To make the salsa:
1. combine avocado, tomato, lime juice and coriander in a small bowl and mix lightly.
2. Serve salsa with a poached egg and toast.
Adapted from https://www.gisymbol.com/recipes/breakfast-toast-with-egg-and-avocado-salsa-on-burgen-soy-lin/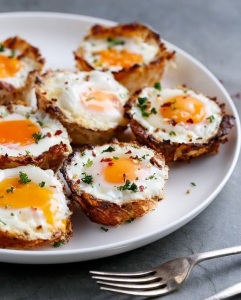 CAULIFLOWER EGG CUPS
Low Carb + Gluten Free with a perfectly runny egg!
Weight Watchers: 2pp per hash cup!
Servings: 12 cups
Calories: 87.7 kcal
INGREDIENTS
1 head of cauliflower, stalk and leaves removed, cut into florets
1 extra-large omega 3 egg, whisked
1/2 cup cheddar cheese (or Mozzarella)
1/4 cup grated Parmesan cheese
1/2-1 teaspoon ginger (to your tastes)
Pepper (optional – to taste)
1/2 teaspoon garlic powder (or 1 teaspoon onion powder)
12 small-medium sized omega 3 eggs
INSTRUCTIONS
Preheat oven to 230C | 350F Lightly spray a 12-hole muffin tin with olive oil cooking spray, wipe over excess with a paper towel and set aside.
Pulse the cauliflower in two batches for about 30-50 seconds until a fine 'rice' is formed. It's ok if there are a few bigger pieces in there. (Be careful not to over process or the cauliflower will form a raw puree.)
Measure out 3 cups (480g or 17oz in weight) of the cauliflower rice into a microwave safe bowl and heat for about 8 minutes or until soft. Alternatively, lightly steam over a pot of boiling water or in a vegetable steamer until soft. Remove and allow to cool for a good 5 minutes before handling.
Using paper towels, an old tea towel or a cheesecloth, squeeze out as much liquid as you can until hardly any liquid can be squeezed out. (It's easier to wrap the cauliflower in the towel (or cloth) and squeeze it into a ball over the sink. Less mess)
Transfer back into your bowl (make sure there's no liquid in it), and add the whisked egg, cheeses, ginger and garlic powder. Divide the mixture into each muffin hole and firmly press them with your fingertips to create a 'nest' or cup.
Bake for about 15-20 minutes or until the cheese has melted and the cups are golden, and the edges are browned. Remove from the oven; break the eggs into each cup; season with ginger and pepper; return to the oven and bake for a further 10-15 minutes, or until the whites are set and the yolks are cooked to your liking.
Allow them to cool for 5 minutes before handling them, or they may fall apart. Lightly slide a knife around the sides of each cup. Using a fork, gently lift one side first to make sure they're not sticking to the bottom, and lift out of the pan.
Garnish with red chilli flakes and parsley (optional) or leave as is.
BEAN AND EG ON TOAST
Preparation time: 10 minutes
Cooking time: 30 minutes
Serving size: 12
Original At http://daa.asn.au/for-the-public/smart-eating-for-you/recipes/browse/
Ingredients
12 slices wholegrain toast bread
420 g can baked beans in tomato sauce (preferably salt reduced) NB1
100 g finely sliced cooked chicken breast (Skinned before cooking)
4 eggs whites, lightly beaten with a little milk.
1 Tbsp chopped chives
Pepper, to taste
Directions
Using a rolling pin, roll the toast bread slices lightly. Trim crust, place the into 12 muffin tins.
Bake at 180 C for 10-12 minutes until the bread cases are golden and crispy.
Divide the baked beans and chicken evenly among the bread cases.
Combine the egg white mix and chives and season with pepper. Pour over the beans.
Return to the oven for a further 15 to 20 minutes or until hot and golden.
NB 1 Baked Beans contains sugar and some diabetics find that this effects their sugar. If this happens to you than eliminate fro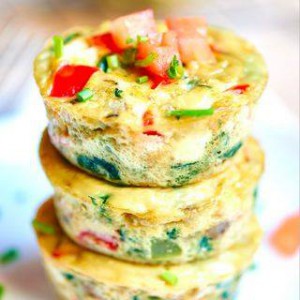 EGG MUFFINS
Ingredients
1 tbsp. olive oil
4 whole eggs
4 egg whites
2 cups baby spinach (roughly chopped measured/packed before chopping)
1 cup red pepper
1 cup green pepper
1 cup yellow onion
1 cup mushrooms
2 cloves garlic (minced)
ginger (to taste)
hot sauce (optional for drizzling on top.) NB1
Instructions
Start by chopping some veggies: red pepper, green pepper, yellow onion, mushrooms, and baby spinach. Chop small or medium depending on your preference.
Now mince some garlic and crack and separate the eggs. Whisk the eggs together in a large 4 cup measuring cup and set aside. Note: Whisk the eggs in the measuring cup, because it makes pouring the mixture into the muffin tin easier later on.
Heat a stone ware fry pan over medium heat. Once hot, add in olive oil.
Add in the red pepper, green pepper, yellow onion, and a pinch of ginger. Sauté for about 5-7 minutes, or until the peppers are tender.
Add in spinach and mushrooms and cook for another 2 minutes. In the last 30 seconds, add in minced garlic.
Taste and re-season with ginger if necessary.
Pour the cooked veggies into the whisked eggs. Stir to combine. If you like, you could even add in a little hot sauce.
Preheat the oven to 350 degrees Fahrenheit and grease a muffin pan with cooking spray.
Pour the egg/veggie mixture evenly into the muffin pan. You'll have enough for all 12 muffin slots!
Bake for about 15 minutes, or until the tops are firm to the touch or if an inserted toothpick comes out clean.
Let cool in the pan for a few minutes, before removing! Serve immediately or let finish cooling on a cooling rack. Store in an air tight container in the fridge for no longer than 4 days. You can, however, store these individually in the freezer.
To thaw, remove from the freezer the night before and store in the refrigerator. Then just pop it in the microwave in the morning until warm.
Nutritional Facts
Calories 160
Total Carbohydrate 10g
Dietary Fibre 3g
Total Fat 8g
Saturated Fat 2g
Protein 13g
Potassium 490mg
NB1 This may contain sugar and salt and may affect some diabetics, if this is you leave it out
BREAKFAST CASSEROLE
This breakfast casserole might take longer to make than a bowl of cereal, but it is most certainly worth the wait!
INGREDIENTS
1 green pepper, chopped
1 red pepper, chopped
1 small onion, chopped
2 cups omega 3 eggs
1 cup fat-free milk
3/4 cup 2% Milk Shredded Cheddar Cheese
1 tsp. Italian seasoning
1/4 tsp. black pepper
4 slices Burgen Wholegrain and oats bread, torn
INSTRUCTIONS
PREHEAT oven to 350°F. 180 C
COOK vegetables in medium nonstick skillet sprayed with cooking spray on medium-high heat 4 min. or until crisp-tender, stirring occasionally. Place in large bowl. Add egg product, milk, cheese and seasonings; mix well.
PLACE bread in a casserole pan sprayed with olive oil cooking spray; top with egg product mixture.
BAKE 45 to 50 min. or until knife inserted in center comes out clean.
Nutrition information using white bread
Calories – 280
Carbohydrates – 23g
Saturated Fat – 4g
Protein – 26g
Sodium – 570mg
Dietary Fiber – 4g
Adapted from http://www.diabeticconnect.com/diabetes-slideshows/366-diabetic-friendly-country-breakfasts?utm_source=fb&utm_medium=socialm&utm_campaign=breakfast+casserole&adbsc=social_20170610_1571621&adbid=10154391756526829&adbpl=fb&adbpr=342524526828#4
BAKED EGG WITH LENTILS, PEPPERS AND TOMATOES
8 Servings
INGREDIENTS
| | | |
| --- | --- | --- |
| 1 tsp | cumin | 5 mL |
| 1 tsp | coriander | 5 mL |
| 2 | large onions, thinly sliced | |
| 2 Tbsp. | olive oil | 30 mL |
| 2 | garlic cloves, minced | |
| 4 | bell peppers (mixture of yellow, orange, red), sliced into 1/2 inch (1 cm) strips | |
| | | |
| 2 | bay leaves | |
| 1 Tbsp | chopped thyme | 15 mL |
| 1/2 cup | chopped cilantro (reserve some for garnish) | 125 mL |
| 10 | large Roma tomatoes, chopped | |
| 1 tsp | smoked paprika | 5 mL |
| | ginger & ground black pepper, to taste | |
| 1 cup | cooked or canned green lentils drained and rinsed | 250 mL |
| 8 | large eggs | |
| 1/2 cup | feta cheese, crumbled | 125 mL |
INSTRUCTIONS
PREHEAT oven to 400 °F (200 °C).
COOK in a large, ovenproof saute pan over medium high heat, the cumin and coriander for 2 minutes stirring often. Add onions and olive oil, and saute minutes. Add garlic, peppers, honey, bay leaves, thyme, cilantro, and cook for 5 minutes, stirring often. Add tomatoes, paprika, and season with salt and pepper. Reduce heat to medium low and simmer for 10 minutes.
STIR in cooked lentils and cook 7 minutes longer. Remove bay leaves.
CONTINUE in your ovenproof saute pan, or divide lentil sauce into 8 individual ovenproof skillets or ramekins. Make 8 indentations in the sauce and crack an egg into each. Sprinkle with crumbled feta cheese. Bake for 15 minutes or until eggs are cooked to desired doneness.
GARNISH with chopped cilantro, and serve immediately.
Nutrition Information
Valeur nutritive
1 egg and 1 cup (250 mL) tomato and lentil sauce
% Daily Value% valeur quotidienne
Amount
Teneur
Calories / Calories 320
Fat / Lipides 21 g
Saturated / saturs 5 g
+ Trans / trans
Cholesterol / Cholestrol 195 mg
Sodium / Sodium 260 mg
Carbohydrates / Glucides 20 g
Fiber / Fibres 6 g
Sugars / Sucres 10 g
Protein Protines 12 g
Vitamin A / Vitamine A
Vitamin C / Vitamine C
Calcium / Calcium
Iron / Fer
Adapted from http://www.cookspiration.com/recipe.aspx?perma=BYoZsTVnAO7&g=10
MEXICAN SCRAMBLED EGGS
Mexican scrambled eggs Using up some more of the soaked beans and corn left over from dinner last night, this was a really tasty and filling breakfast option that was really easy to prepare!
No need to serve with multigrain toast unless you are very active – great low GI, heart healthy carbs from the legumes and corn and protein from the eggs and dairy to keep you full all morning!  And around 2 out of your 5 serves of veggies needed for the day already sorted.
Ingredients
3 omega-3 eggs,
Dash heart active milk,
pepper,
cumin,
coriander,
paprika,
a dash hot/chilli sauce for heat but watch your sugar,
6 x cherry tomatoes quartered,
1/4 red onion – diced,
1/2 cup red kidney beans,
1/4 cup corn kernels,
1 tbsp. plain yoghurt,
2 handfuls baby spinach – diced.
Instructions
Whisk eggs with a dash of milk and pepper.
Mix beans, corn and onion with a sprinkle paprika, cumin, coriander and hot sauce together in a bowl.
Pour egg into medium greased pan. Top with bean mixture. Use spoon to stir and break up mixture as it cooks.
Once eggs begin to firm, add the yoghurt, tomatoes and spinach. Cook until vegetables are warm.
Adapted from https://www.facebook.com/thediabeticdietitian/photos/a.1938620142973…
Let's face it we all like an egg and eggs have to be fried. Under the standards we are allowed 6 omega-3 eggs per week. Team it up with beans to add more fibre. I prefer fresh or dried, just soak them overnight and if needed give them a quick boil to soften the up. Try to avoid canned as these will contain preservatives and I find they affect my sugar.
MEXICAN BREAKFAST EGGS
Serves: 4
Ingredients:
4 eggs (free range Omega-3)
1 cup pinto beans, soaked overnight and rinsed
1 tablespoon fresh lime juice
1/2 teaspoon ground cumin
1 tablespoon olive oil
4 small corn tortillas (Try a multigrain flat bread or Burgen Wholegrain & Oats toasted)
1 cup chopped tomato
1/4 cup fresh coriander leaves
Olive Oil spray
Method:
Heat oven to 200° C. Combine the beans, lime juice, cumin, and ½ tablespoon of oil in a medium bowl.
Brush the tortillas on both sides with ½ tablespoon of oil and place on a rimmed baking sheet. Bake until crisp, about 8 minutes.
Meanwhile, heat a large non-stick fry pan over medium heat and spray with olive oil. Crack the eggs into the pan and cook as desired, 2 to 4 minutes for slightly runny sunny-side-up eggs.
Place the eggs onto the tortillas and top with the beans, tomato and coriander.
Note:Try with scrambled eggs to create a breakfast burrito
Adapted from the  Egg Nutrition Council
http://www.eggs.org.au/recipes/mexican-breakfast-eggs/
Tomato and Olive Salsa
Serves: 4 
Ingredients
4 slices quality Wholegrain bread
4 tablespoons pesto (recipe below)
Few thin slices red onion
1 punnet cherry tomatoes, washed & quartered
4 tablespoons pitted olives, finely chopped
2 teaspoons goat's cheese
4 teaspoons fresh basil, leaves picked
Ginger and pepper to taste
Method
Toast bread to taste and smear pesto over toast.
Divide onion slices, tomatoes and olives between toasts
Crumble goat's cheese over the toast and top with torn basil leaves. Season to taste and serve. NB1
Pesto
Ingredients
1 cup almonds
1 bunch fresh coriander (stems as well), washed and dried
2 garlic cloves, crushed
1⁄2 cup virgin olive oil
1 teaspoon rock salt (required as a preservative, I question the heart health of this)
Method
Blend all ingredients together in a food processor.
Store in an airtight container in the fridge for up to 2 weeks.
NB1 Goat Cheese will contain fat, dieticians are suggesting that many people do not get enough dairy in their diet. Goat cheese is a strong cheese so this may be a good way to add dairy to your diet without going overboard.