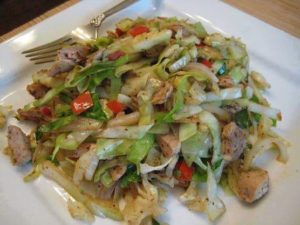 CHICKEN CABBAGE STIR FRY
INGREDIENTS
3 Omega-3 chicken breast halves
1 teaspoon olive oil
3 cups green cabbage, shredded
1 Capsaicin chopped
1⁄2 teaspoon ground ginger
1⁄4 teaspoon garlic powder
1⁄2 cup water
INSTRUCTIONS
1. Cut chicken breasts into strips.
2. Heat the Olive oil in a frying pan.
3. Add chicken strips and stir fry over medium-high heat, turning constantly until done.
4. Add cabbage and sauté 2 minutes until cabbage is crisp-tender.
5. Mix in the seasonings; add water and mix until smooth.
6. Stir sauce into chicken/cabbage mixture.
7. Cook until sauce has thickened, and chicken is coated, about 1 minute.
STIR FRY
INGREDIENTS:
1 cup cabbage, shredded
1/4 cup celery, chopped
1/4 cup scallions, chopped
6 oz /175 gms raw 93% lean ground beef or pork or chicken
1/4 cup egg beaters
1/8 tsp ground ginger
1/8 tsp garlic powder
1/8 tsp Chinese five spice blend Find recipe here http://www.findtex.com.au/uncategorised/spice-mix-sugar-salt-and-fat-free/?fbclid=IwAR2xZPaNQl5RKjczn6cqHLpeLiYaBSqU-Jrar7pTOgw0iS5J147mDKing8c
Lettuce Leaves
Any other in Season vegetables
INSTRUCTIONS:
1. Combine shredded cabbage, celery, and scallions. Toss together. Set aside.
2. Brown the ground beef or pork or chicken. Add the veggies in with the meat. Sprinkle stir-fry mixture with ginger, garlic, and 5-spice. Add the egg beaters into fry pan. Continue to stir-fry until vegetables are tender, but firm. (No pieces of egg should be visible.) Remove fry pan from heat.
3. Wrap in lettuce leaves, if desired. Serve.
CASHEW CHICKEN
INGREDIENTS 4 servings
2 teaspoons grated fresh ginger or ½ teaspoon ground ginger
12 ounces skinless, boneless omega 3 chicken breast halves, cut into cm pieces
2 tablespoons water
1 (6 ounce) package frozen snow pea pods, fresh is possible
⅓ cup unsalted dry roasted cashews, coarsely chopped
3 teaspoons olive oil
1 medium red onion, cut into thin wedges
1 medium red sweet pepper, seeded and cut into bite-size pieces
3 cloves garlic, minced
1 small can sliced water chestnuts, drained
INSTRUCTIONS
Heat a large stoneware fry pan or wok over medium-high heat. Add cashews to the hot fry pan; cook about 3 minutes or until nuts start to brown, stirring frequently. Remove from skillet; set aside. Add 1 teaspoon of the olive oil to fry pan; add onion and stir-fry for 1 minute. Add sweet pepper, pea pods and garlic; stir-fry for 1 minute. Stir in water chestnuts.
Remove vegetables from fry pan. Add the remaining 2 teaspoons olive oil to the fry pan; add chicken mixture and stir-fry for 2 to 3 minutes or until chicken is cooked through. Return vegetables to the fry pan. Heat through, scraping up any browned bits from bottom of the fry pan. Transfer to a serving dish or plates. Sprinkle with the roasted cashews.
Nutrition information of original that include sauces I removed
Serving size: 1¼ cups
Per serving: 299 calories; 13 g fat (2 g sat); 6 g fibre; 23 g carbohydrates; 25 g protein; 49 mg cholesterol; 5 g sugars; 1,009 IU vitamin A; 51 mg vitamin C; 54 mg calcium; 3 mg iron; 551 mg sodium; 483 mg potassium
Nutrition Bonus: Vitamin C (85% daily value), Vitamin A (20% dv)
Carbohydrate Servings: 1½
Exchanges: 3 lean protein, 1½ fat, 1 starch, 1 vegetable
Adapted from http://www.eatingwell.com/recipe/267686/cashew-chicken/?fbclid=IwAR1OuDiPfVbxHwSz7A3ZbzY-AFGrAvszlj9dhj4WSXDNzlJJVEXlmdzgh40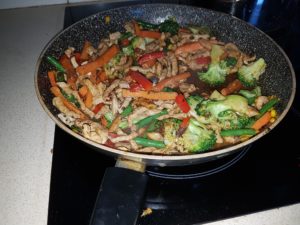 KOREAN GROUND BEEF STIR FRY
INGREDIENTS
½ kg lean ground beef (90% lean)
3 garlic cloves, minced
Tablespoon olive oil
1 red bell pepper, diced
1 zucchini, sliced
½ cup sugar snap peas
½ cup shredded carrots
8 ounce mushrooms, sliced
1 Tablespoon Olive oil
½ teaspoon ground ginger
¼ teaspoon crushed red pepper flakes
½ teaspoon pepper
Any other in season vegetables
sliced green onions and sesame seeds for garnish
INSTRUCTIONS
In a large stoneware fry pan cook the ground beef and garlic breaking it into crumbles over medium heat until no longer pink. Remove the ground beef and set aside on a plate.
Drain the fat from the fry pan and add 1 Tablespoon olive oil to the skillet. Add bell pepper, zucchini, snap peas, carrots, and mushrooms. Sauté 2-3 minutes or until tender. Add the ground back to the skillet.
In a small bowl whisk Olive oil, ginger, red pepper flakes and pepper. Pour over the ground beef and let simmer for another minute or two.
Serve over cauliflower rice and garnish with green onions and sesame seeds.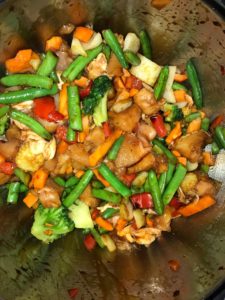 SPICY ASIAN STIR FRY
INGREDIENTS
800 g chicken thigh fillet (cubed)
2 brown onions (diced)
4 x large carrots
4 x large zucchini
200g of beansprouts
Handful of snow peas
1 tablespoon of dried chilli
½ spring onion (to garnish)
ginger & pepper (to season)
Vegetables noodles (as desired)
INSTRUCTIONS
In a medium-high heat, cook chicken until just undercooked with a little olive oil. Remove from wok.
Cook carrots, onion and zucchini until just cooked in a medium-high heat wok. Re-add in chicken alongside snow peas and beansprouts.
Add the chilli to the wok until fully cooked. The mixture should be thicker and bubbling slightly.
Serve ingredients with spring onion, over vegetable noodles.
Tip: Grate in some ginger
Adapted from https://ibdmedical.com.au/blogs/news/recipe-round-up-spicy-asian-stir-fry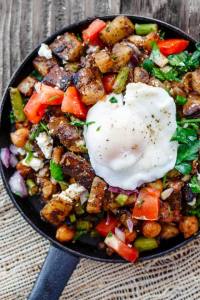 LOADED EGG IN ONE PAN
INGREDIENT
½ small sweet potato, grated with skin on
½ red capsicum, grated
1 x 400g can crushed tomatoes (fresh if possible)
1 x 400g can kidney beans, rinsed and drained
Omega-3 Eggs, as many as each person would like
2 generous cups of spinach
½ cayenne pepper (optional)
1 tbs smoked paprika
Ginger and pepper to taste
2 tbs sunflower seeds, toasted
1 tbs pine nuts, toasted
Low fat cheese of choice e.g. cottage cheese
½ cup of water
INSTRUCTIONS
Place sweet potato and capsicum in a non-stick fry pan along with the water. Simmer for 10 -15 minutes until beginning to soften.
Add tomatoes, beans, paprika, and cayenne. Simmer for 10 minutes stirring occasionally.
Add spinach and combine well the spinach will wilt as your eggs cook in the next step.
Make a well in the tomato mixture for each egg you'd like to cook. Crack eggs into wells and cover, cook on a low heat for 10-12 minutes until whites are just set.
Add the cheese and seeds and nuts over, season if you like, then serve!
Adapted from https://www.australianeggs.org.au/recipes-and-cooking/fully-loaded-one-pan-eggs/
CHICKEN AND PUMPKIN STIR FRY
INGREDIENTS:
500g skinless, boneless chicken breast, cut into strips
2 carrots, cut into matchsticks
1 bunch bok choy, chopped and any other in season green vegetables
1 cup pumpkin
2 tbsp. chives, chopped finely
1 red chili, deseeded and chopped finely
Juice of a lemon
1 tsp. Olive oil
1 1/3 cup cooked brown rice/ Cauliflower rice (recipes for Cauliflower rice can be found here http://www.findtex.com.au/diabetic-foods/roasted-turmeric-cauliflower/
INSTRUCTIONS:
Get your rice/ cauliflower ice prepared as per
Steam the pumpkin and carrot in a steamer for four minutes, then set aside.
Heat Olive oil in a pan over a medium and add chives and chicken.
When the chicken is browned add the carrots and pumpkin stir frying for a couple of minutes, then stir through the bok choy.
Add the chilli and season to taste with ginger and pepper. Add a dash of water to the pan if you feel it needs it.
Serve with 1/3 cup of rice/cauliflower rice.
Adapted from www.shapeme.com.au/weight-loss-recipes/730/Chicken-&-Pumpkin-Stir-Fry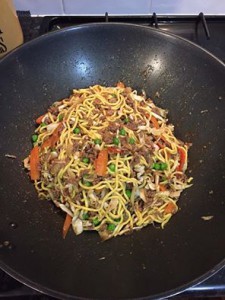 BEEF CHOW MEIN
Ingredients
1 tablespoon Olive oil
1 medium brown onion, chopped
2 garlic cloves, crushed
600g grass fed beef mince (Any lean meat can be used.)
1 carrot, peeled, halved, thinly sliced
1 tablespoon wholemeal flour
1 cup water
350g packet fresh chow mein noodles NB1
1 bunch baby pak choy, trimmed, shredded
1/2 cup fresh peas
2 tablespoons vinegar
1/4 cup Red Wine
Method
Step 1
Heat olive oil in a frying pan over medium-high heat. Add onion and garlic. Cook, stirring, for 3 minutes or until onion has softened. Add mince. Cook, stirring with a wooden spoon to break up mince, for 8 to 10 minutes or until browned and cooked through.
Step 2
Add carrot. Cook, stirring for 5 minutes or until carrot starts to soften. Add flour. Cook, stirring, for 1 minute. Stir in stock. Season with pepper. Bring to the boil. Reduce heat to medium-low. Simmer, stirring occasionally, for 10 minutes or until sauce thickens slightly.
Step 3
Meanwhile, place noodles in a heatproof bowl. Cover with boiling water. Set aside for 3 to 5 minutes or until tender. Drain.
Step 4
Add pak choy, peas, vinegar and read wine. Cook, stirring occasionally, for 3 minutes or until pak choy is just wilted and peas are tender. Add noodles. Toss to combine. Serve.
NB1 Some diabetics find that pasta can affect their sugar. Try a Pasta substitute.
http://www.findtex.com.au/diabetic-foods/zucchini-fritters-with-chili-lime-mayo/
Also it has been claimed that day old pasta has a lower GI due to the fact that starch turns into resistant starch and thus a lower GI. The same has been claimed for rice.
Is reheated pasta less fattening?
But what if you could change pasta or potatoes into a food that, to the body, acts much more like fibre? Well, it seems you can. Cooking pasta and then cooling it down changes the structure of the pasta, turning it into something that is called "resistant starch".
It's called "resistant starch" because once pasta, potatoes or any starchy food is cooked and cooled it becomes resistant to the normal enzymes in our gut that break carbohydrates down and releases glucose that then causes the familiar blood sugar surge.
So, according to scientist Dr Denise Robertson, from the University of Surrey, if you cook and cool pasta down then your body will treat it much more like fibre, creating a smaller glucose peak and helping feed the good bacteria that reside down in your gut. You will also absorb fewer calories, making this a win-win situation.
http://www.bbc.com/news/magazine-29629761
20 INGREDIENTS STIR FRY
THE INGREDIENTS
Onion
garlic (ONLY good garlic)
ginger
Olive oil
THE VEG (all diced)
green capsicum
red capsicum
carrot
celery
corn cobs (cut out the kernels)
mushrooms
can bamboo shoots
can chestnuts
cabbage
peas
Almond nuts
Left over rice or Quinoa NB1
Any other vegetables available
MEAT
Fresh or leftover chicken and/or other lean meat
Left over rice or Quinoa NB1
Apple cider vinegar
NB1 Quinoa is often suggested as a substitute for rice, while it relatively low GI it is at the top end of low.  Bottom Line: The glycemic index of quinoa is around 53, which is considered low. However, it is still relatively high in carbohydrates.
https://authoritynutrition.com/11-proven-benefits-of-quinoa/
Kodri (also known as Foxtail Millet, Varai, Varagu, Khododhan, Kodra, Kodon, or Paspalum scrobiculatum) is a couscous-like / rice-like grain which is commonly eaten in India (largely grown in Gujarat, Maharashtra, Madhya, Pradesh, Andhra, Pradesh, Tamil Nadu, Odisha and Bihar) – and it's delicious!
https://www.google.com.au/webhp?sourceid=chrome-instant&ion=1&espv=2&ie=UTF-8#q=KODRI
It is claimed the recooking cooled rice increases the fibre (the resistant starch in rice), I think that it is more likely that the soluble starch has gone down the sink. But there is some science behind the claim:-
http://www.eurekalert.org/pub_releases/2015-03/acs-nlr021915.php#.VROD4KHwLTQ.facebook
http://www.findtex.com.au/diabetic-foods/can-we-lower-the-gi-of-rice/
BROAD BEANS
In warmer climes of the southern hemisphere broad beans will soon be in season her are some suggestions to inspire you.
* QUINOA, AVOCADO AND BROAD BEAN SALAD NB1 NB2
* LEEK, MUSHROOM AND ROAST CAPSICUM AND EGG WHITES
* 20 VEGETABLE STIR FRY
* STEAMED BROAD BEANS AND ASPARAGUS
NB1 Avocado is high in fat and low in fibre and may not be suitable for all diabetes. If this affects you leave it out
NB2 Quinoa is often suggested as a substitute for rice, while it relatively low GI it is at the top end of low.  Bottom Line: The glycemic index of quinoa is around 53, which is considered low. However, it is still relatively high in carbohydrates.
https://authoritynutrition.com/11-proven-benefits-of-quinoa/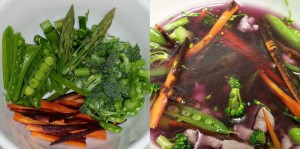 VEGETARIAN STIR FRY
So I went out into my garden and picked broad beans, silver beet, Tuscan kale, Warrigal green spinach, Asian mint and stir-fried them with marinated tofu and organic soba noodles. Yummy. Almost self-sufficient!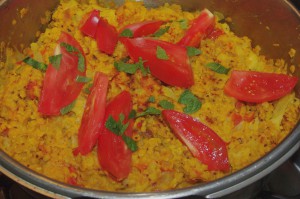 RED LENTIL DAHL
My 9 step method.
1. Heat EV Olive oil in a large pan and lightly saute 2 red onion and 1 brown onion chopped with a chopped green chilli, 1 tablespoon of brown mustard seeds, 1 teaspoon ground turmeric, 1 teaspoon freshly milled coriander, 1/2 teaspoon freshly milled coriander, and 1 teaspoon freshly milled cumin seeds. Add 1 teaspoon cumin seeds whole, mix.
2. Grate in 1 good large garlic clove or 2 small ones. Mix.
3. Grate in 2 cm ginger root, stir.
4. Wash and rinse 2 cups red lentils. Stir into the pot
5. Add 2 x chopped tomatoes (or 1 tin tomatoes fresh is best)
6. Stir and cook on the stove for 15 minutes or on low pressure in a pressure cooker, natural release.
7. Check for done-ness and cook longer if needed. Should not be mushy.
8. Grate in 1 clove garlic and stir.
9. Add chopped tomato and chopped mint on top and sweet paprika sprinkled.
Serve with cucumber, garlic and mint, some Basmati  rice (cook rice in usual manner but add 1/2 teaspoon turmeric) or as part of indian/Sri Lankan feast.
Greek Yoghurt can be added if you require a creamy taste.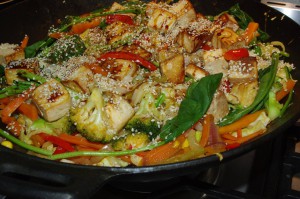 STIR FRY VEGETABLES AND TUFU WITH SEASAME SEEDS
Method.
Fry the tofu pieces in olive oil and some tamari and garlic/ginger crushed.
Set aside.
Fry onion, garlic, ginger, all other veg in olive oil until just cooked. (Except for the spinach and broccoli)
Add extra garlic ginger 5 minutes before, then stir through broccoli, cook for 2 minutes, then spinach till just wilted.
You can cook up some Pad Thai or rice noodles and stir through at end.
TOFU STIR FRY ASIAN GREEN, CHILLI AND LEMONGRASS
olive oil spray
400g firm tofu, diced in 2cm cubes
1 lemongrass stalk, trimmed, white part finely chopped
3 cloves garlic, thinly sliced
1 long red chilli, seeded, finely chopped
2 medium carrots, peeled, cut in thin matchsticks
1 red capsicum, seeded, thinly sliced
1 bunch choy sum, trimmed
1 bunch Chinese broccoli, leaves and stems separated
2 tablespoons reduced-salt tamari
2 teaspoons Olive oil
2 cups steamed brown rice, to serve
Instructions
Spray a large wok with olive oil and set over high heat.
Add tofu in batches; stir-fry for 2–3 minutes, or until golden brown. Remove tofu from wok and set aside.
Return wok to high heat and spray lightly with olive oil.
Add lemongrass, garlic and chilli; stir-fry for 30 seconds, or until fragrant.
Add carrot and stir-fry for 2 minutes; add capsicum and stir-fry for 1 minute.
Add Choy sum, broccoli leaves and stems, and 2 tablespoons water; stir-fry for another 2–3 minutes, or until vegetables are tender yet crisp.
Return tofu to wok.
Add tamari and olive oil; toss until well combined and heated through.
Divide rice among plates; top with stir-fry. Serve immediately.
CHINESE STIR FRY
Chinese stir-fry of beef & 9 vegetables served on Basmati rice! Tonight we will eat the leftovers re-heated in the microwave.
The 9 vegetables I used in it were:
Onion
Carrot
Celery
Mushrooms
Zucchini
Cucumber (green)
Capsicum
Snow Peas
Bean Sprouts
It was flavoured with finely sliced fresh ginger, a finely sliced large garlic clove, 2 Star anise, 1/2 teaspoon 5 spice, soy sauce, sesame oil & sherry!
STIRFRY WITH ALMONDS AND CASHEWS
INGREDIENTS
2 tsp Olive oil
350 g Any lean meat fillet, thinly sliced, visible fat removed
1 stalk lemongrass, white part only, thinly sliced
2 Tbs cashews
2 Tbs whole almonds
2 green onions, cut into 3cm lengths
4 C sliced mixed vegetables e.g. carrots, bok choy, snow peas, capsicum
1 long red chilli, thinly sliced
1 Tbs lime juice
INSTRUCTIONS
Heat the oil in a wok or large non-stick frying pan e.g. stoneware
Stir fry the meat in batches until browned then remove and keep warm
Add the lemongrass, cashews, almonds, green onions, vegetables and chilli and cook for 3-4 minutes or until the lemongrass is soft
Return the pork to the wok, along with the combined lime juice.
Cook for a further 3 minutes then serve immediately with noodles
Adapted from wwww.nutsforlife.com.au
100% Home grown! Everything in this stir fry is home grown, goat, broccoli, turnips, purple & green cabbage, coloured silver beet, rocket and stinging nettle.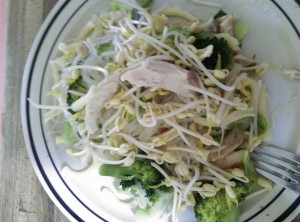 Simple lunch bean sprouts and left over chicken.
Some say Sprouts are healthy and are even better than dried beans.
It does make sense, if anything it would be other way round because:-
Pre-digested foods refer to the foods that have been pre-digested for us either by another animal or machines or equipment. The nutrients are in pre-digested form, so they require very little digestion, and the nutrients are easily absorbed into the bloodstream. Thus, an elemental diet provides you nutritional needs while giving your digestive system at rest.
Sprouting refers to the process of germinating seeds to be eaten raw or cooked. The nutritional changes that occur while sprouting mainly happen due to the breakdown of complex compounds into simpler forms.
http://www.thefitindian.com/sprouts-for-weight-loss/
PORK STIR FRY
4 – 6 people
INGREDIENTS:
500gm lean pork mince
1Tb Extra Virgin Olive Oil
1 Tb curry powder
1Tb fresh ginger, julienne
1 long red chilli, sliced, plus extra to serve
1 bunches gai lan (or any Asian green), roughly chopped
1 cup flat mushrooms
1 cup beansprouts, plus extra to garnish
egg to combine
1Tb crushed peanuts to garnish
INSTRUCTION:
Heat a stoneware fry pan with the oil. Cook the pork mince for 5 minutes, breaking up with a spoon.
Add in the KEEN's curry powder, ginger, chilli and cook for 1 minute.
Add in the Asian greens, mushrooms and stir cook a further for 2-3 minutes along with a splash of water to help steam the vegetables.
Add in the bean shoots and cook for 2 minutes until warmed through. Remove from the heat and divide evenly amongst serving bowls. Scatter with extra bean sprouts, crushed peanuts and red chilli.