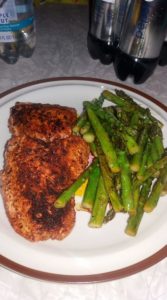 SALMON WITH ASPARAGUS, LEMON AND DILL
INGREDIENTS
Extra virgin olive oil for drizzling
5 to 2 lb/ 900 g fresh salmon filet
ginger and pepper
2 lbs/900 g asparagus, washed
1/3 cup fresh dill, washed
3 lemons, washed
1/3 cup extra virgin olive oil
INSTRUCTIONS
Preheat oven to 400°F /200°C. Drizzle a sheet pan with a light coating of extra virgin olive oil. Lay the salmon filet skin side down on top. Sprinkle with ginger and pepper.
Snap woody ends off of each asparagus and keep the tops. This is the most tender part of the asparagus. Discard the woody ends.
Arrange asparagus around the salmon and sprinkle with ginger.
Rip the fresh dill in your hands and cover the top of the salmon with a nice layer. Slice a lemon into rounds and cover the salmon with it.
Take a second lemon and squeeze the juice of it over the salmon and asparagus. Drizzle the sheet pan with 1/3 cup extra virgin olive oil.
Bake at 400°F /200°C for 20 – 25 minutes or until salmon is flaky. After 20 minutes you can check the salmon by flaking away a little of the flesh with a fork. If it looks a little undercooked, cook for 5 more minutes. Serve with a lemon cut in 1/4s for each person to squeeze on their serving as they please!
Enjoy!
Adapted from https://www.mediterraneanliving.com/recipe-items/sheet-pan-salmon-with-asparagus-lemon-and-dill/?fbclid=IwAR13bzmUYvxpNmYtHYdnVJMnfyitwuYqqsr5cQLoQQg4SsCy2rsYmrJIyVw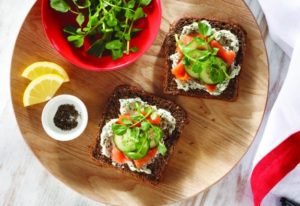 TROUT AND WATERCRESS
INGREDIENTS
100g smoked ocean trout
2 Tbs light cream cheese (60% less fat)
2Tbs finely chopped capers
2Tbs finely chopped chives
Finely sliced Lebanese cucumber
1 cup watercress sprigs
INSTRUCTIONS
Combine cream cheese, capers and chives.  Spread evenly over 4 slices of your diabetic friendly bread.  Top 2 slices with ocean trout, cucumber and watercress and top with the other slice of bread.  Can also be served as open sandwiches.
https://www.gisymbol.com/recipes/ocean-trout-and-watercress-on-burgen-rye/?fbclid=IwAR1qrAC9_B-hDHeFNRTaAd50pMSHiRkV36yTjNamzUEmW_-NfZVIgH334CE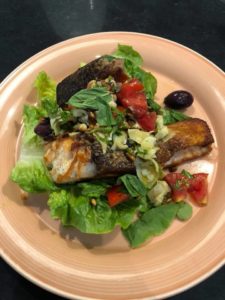 SALMON SALAD
INGREDIENTS
1 fresh salmon fillet steamed
12 green beans, blanched
1/2 cup raw kale leaves
2 tbsp. basil leaves, chopped
1 tbsp. parmesan cheese
1 small spring onion, green part only, chopped finely
1/3 cup sweet potato, steamed
10 almonds, roasted or toasted
1 1/2 tsp. extra virgin olive oil
2 tbsp. lemon juice
INSTRUCTIONS
Combine all ingredients in a bowl, dress with the olive oil and lemon juice then serve.
Serves1
Calories400
Fat24g
Protein30g
Carbs15g
Fibre6g
Adapted from http://www.shapeme.com.au/weight-loss-recipes/868/Easy-Salmon-Salad?fbclid=IwAR3Vs71sAfbjACOIjA6A-bJ64iiAbCZqJgRYF8KZJQhOcdUZTKJiYl0DHJE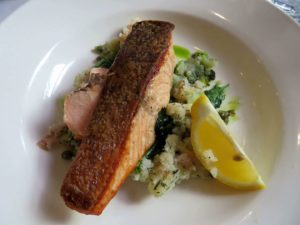 SALMON, WALNUT AND AVOCADO GRAIN BOWL
INGREDIENTS
Chipotle Lime Vinaigrette
1/4 cup extra virgin olive oil
3 tablespoons lime juice
3/4 teaspoon chipotle chili powder
1/2 teaspoon garlic
1/8 teaspoon black pepper
Salmon Bowl
1 pound/ ½ Kg salmon fillets
4 cups kale, chopped and lightly packed
2 1/2 cups cooked brown rice/ cauliflower rice
1 cup walnuts, toasted and coarsely chopped (plus more for garnish)
1 1/3 cups cooked black beans
3/4 cup red or green bell pepper, sliced
1 large avocado, peeled, pitted and cubed
2 large green onions, sliced
1/4 cup fresh cilantro leaves, roughly chopped
INSTRUCTIONS
Whisk together all vinaigrette ingredients in a small bowl. Cover and refrigerate until ready to serve. (May be prepared several days ahead.)
Cook salmon on a well-oiled grill over medium-high heat for 3 to 4 minutes on each side. Remove from grill and remove skin. Let cool, then cut into 1/2 inch/ 2.5 cm pieces.
Mix kale and brown rice together in a large bowl and toss with vinaigrette. Place equal amounts on one side of 4 large salad bowls.
Place equal amounts of walnuts, salmon, black beans, bell pepper, avocado and green onion on the other side of the bowl.
Nutrition values of original that contain 1 tsp of sugar which I removed.
Calories 547 cal
Total Fat 35 g
Saturated Fat 5 g
Polyunsaturated Fat 14 g
Monosaturated Fat 14 g
Cholesterol 36 mg
Sodium 294 mg
Carbohydrates 40 g
Dietary Fibre 10 g
Total Sugars 3 g
Added Sugars 1 g
Protein 22 g
Vitamin D 7 mcg
Calcium 80 mg
Iron 3 mg
Potassium 830 mg
Adapted from https://walnuts.org/recipe/salmon-walnut-and-avocado-grain-bowls/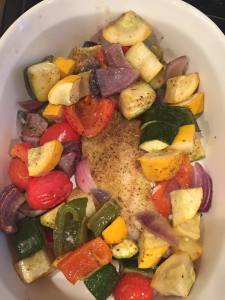 ONE POT SALMON
INGREDIENTS
4 Fresh Salmon Portions (any fin fish can be used.)
400g sweet potatoes, halved
4 fresh beetroot peeled and cubed
8 asparagus spears trimmed and halved
1 bunch broccolini, trimmed and halved
4 small vine tomatoes
2 lemons cut into quarters
4 garlic cloves peeled
2 Tbsp olive oil
1 bunch of fresh rosemary
Any other in season vegetables
INSTRUCTIONS
Pre-heat oven to 200°C/ prepare a steamer
Place the sweet potatoes, beetroot, garlic, rosemary and 1 Tbsp of olive oil into an ovenproof casserole dish and roast for 30 mins until starting to brown. NB1. Or steam these vegetables
Toss the asparagus into the casserole dish, broccolini, tomatoes, other vegetables and lemons to pot, and nestle the salmon amongst the vegetables. Return to the oven for a final 10-15 mins until the salmon is cooked.
Remove from oven and drizzle with the remaining oil and garnish with basil leaves. Serve hot from the pot.
Adapted from http://www.tassal.com.au/recipes/one-pot-salmon/
NB1 the method by which we cook vegetables can affect their GI. Here are two hints.
Resistant starch and day-old potatoes has been discussion before, yams including sweet potatoes, the same can be said for pasta and it is claimed that also rice.
Diabetes Diet: Benefits of Eating Digestive Resistant Starches
Potatoes, yams and pastas that are cooked, and cooled (heating and cooling alters the chemical structure).
http://www.informationaboutdiabetes.com/lifestyle/lifestyle/diabetes-diet-benefits-of-eating-digestive-resistant-starches
2. Also Glycemic Index of Sweet Potato
The way you prepare sweet potatoes makes a difference in their GI. The GI of a 150g sweet potato, boiled with its skin for 30 minutes, is 46. That number rises to 94 if the same sweet potato is baked for 45 minutes. These dramatic differences come from the way the starches in sweet potatoes gelatinize during cooking. Foods that turn viscous, or jelly-like, in your digestive tract have a lower GI because the gelatinous substance slows the release of the nutrients in the food. Baking your sweet potatoes instead of boiling them changes the quality of their starches and transforms this root vegetable from a moderate-GI food to a high GI-food.
http://www.livestrong.com/article/295025-the-glycemic-index-for-sweet-potatoes/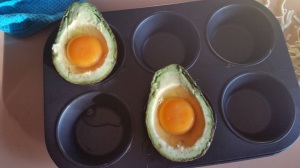 NB no salmon in the picture.
Just for fun
SALMON, EGG AND AVOCADOS
makes about 8 servings
INGREDIENTS:
4 avocados
4 oz smoked salmon
8 free range omega-3 eggs
ginger salt
black pepper
chili flakes
fresh dill
INSTRUCTIONS:
Preheat oven to 425°F 220 C
Halve the avocados and remove the pit/seed. If the hole looks small, scoop out a small bit at a time until it can hold an egg.
Arrange the avocado halves on a cookie sheet, and line the hollows with thin strips of smoked salmon.
Carefully crack each of the eggs into a small bowl, then spoon the yolks and however much white the avocado will hold.
Sprinkle with ginger and fresh cracked black pepper on top of the eggs, to taste.
Gently place the cookie sheet in the oven and bake for about 15-20 minutes, or until eggs are done to your liking.
Sprinkle chili flakes and fresh dill on top and serve warm.
Adapted from https://cleanfoodcrush.com/salmon-egg-baked-avocados/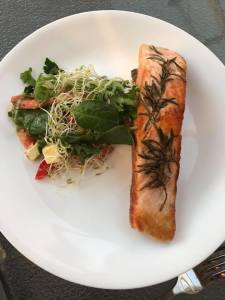 TERRIYAKI AND GINGER SALMON
Teriyaki and ginger salmon, while this looks good it is a good example of how sugar can be hidden in a recipe. From Diabetic Living
INGREDIENTS
1 Tbsp. teriyaki sauce or gluten-free teriyaki sauce (check sugar content) NB1
2cm piece ginger, peeled, finely grated
2 cloves garlic, crushed
Freshly squeezed juice of ½ lime
120g piece skinless and boneless salmon
2 Tbsp. Basmati Rice or leave out serve with a salad.
Olive oil Cooking spray
½ Lebanese cucumber, halved lengthways, thinly sliced
50g snow peas, trimmed, shredded
½ red capsicum, cut into short, thin strips
Lime wedges, to serve (optional)
INSTRUCTIONS
Put teriyaki sauce, ginger, garlic and lime juice in a shallow dish and stir to combine. Add salmon and turn to coat. Set aside for 15 minutes or more to marinate.
Meanwhile, cook rice in a small saucepan of boiling water following pack instructions or until tender. Drain well. Set aside.
While rice is cooking, spray a small non-stick frying pan with cooking spray and heat over a medium-high heat. Drain salmon and add to pan. Cook for 3 minutes on each side or until just cooked through. Set aside.
Put cucumber, snow peas and capsicum in a small bowl and toss to combine. Transfer to a serving plate and add rice and salmon. Serve with lime wedges, if using.
Nutrition Info PER SERVE 1976kJ, protein 33g, total fat 17g (sat. fat 3.4g), carbs 41g, fibre 8g, sodium 461mg • Carb exchanges 2 2⁄3 • GI estimate low • Gluten-free option
Adapted from http://www.diabeticliving.com.au/recipe/food/teriyaki-and-ginger-salmon
NB1 TERIYAKI SAUCE will not suit all diabetics perhaps just add more ground ginger and garlic powder.
INGREDIENTS
cup soy sauce (will contain sugar and salt)
1 cup water
1⁄2 teaspoon ground ginger
1⁄4 teaspoon garlic powder
5 tablespoons packed brown sugar
1 -2 tablespoon honey
2 tablespoons corn-starch
1⁄4 cup cold water
Directions See How It's Made
Mix all but corn-starch and 1/4c water in a sauce pan and begin heating.
Mix corn-starch and cold water in a cup and dissolve. Add to sauce in pan.
Heat until sauce thickens to desired thickness.
Add water to thin if you over-thick it.
http://www.food.com/recipe/restaurant-teriyaki-sauce-133751
16 ounces / 453g soybeans, (organic if desired) cooked until they're crumbly, removed from pods
12 ounces / 340g flour of choice (all purpose, organic if desired)
8 ounces / 226g salt
1 gallon / 3.7 liters water
1 gallon / 3.7 liters water
http://www.wikihow.com/Make-Soy-Sauce
SALMON
Overindulged over the festive season? This frittata might be low in fat but it's not low in taste!
Preparation Time
10 minutes
Cooking Time
30 minutes
Ingredients (serves 4)
Olive oil spray
1 bunch asparagus, woody ends trimmed, cut into 3cm lengths
150g (1 cup) frozen baby peas, thawed
8 egg whites
60ml (1/4 cup) skim milk
90g (1/3 cup) low-fat ricotta (this may contain salt and fat)
200g grape tomatoes, halved
150g Springs Hot Smoked Salmon with Chilli, skin removed, flaked. (All smoked foods will contain sugar and salt in the solution in which it is soaked before smoking.)
2 tbs shredded fresh basil
Method
Preheat oven to 180 C. Spray the base and side of a round 20cm (base measurement) cake pan with olive oil spray to lightly grease. Line the base and side with non-stick baking paper.
Cook the asparagus and peas in a saucepan of boiling water for 1-2 minutes or until bright green and tender crisp. Drain.
Whisk together the egg whites, milk and 2 tablespoons of the ricotta in a large bowl. Add the asparagus, peas, tomato, salmon and basil. Season with pepper and stir to combine.
Pour the mixture into the prepared pan. Crumble over remaining ricotta. Bake for 20-25 minutes or until puffed and golden.
Cut into wedges and serve with mixed salad leaves, if desired.
Notes
To save money at the checkout, you can replace the salmon with a can of chilli tuna, drained.
Source
Based on a recipe I found at Good Taste – January 2009
Good Taste – January 2009, Page 38
Recipe by Chrissy Freer
| | | | |
| --- | --- | --- | --- |
| | Tex's Score for original (Higher the better /10) | Score for my daddy's suggestion | Tex's comments |
| Sweetener | 8 |  9 | |
| Fat | 8 |  8 | |
| Salt | 8 |  9 | |
| Fibre | 10 |  10 | |
| Total /40 | 34/40 |  36/40 | Despite the low score this is a good meal to have occasionally |
Steamed salmon on a Broad Bean Wholemeal noodle.
        
Grilled Salmon with Basmati Rice
Ingredients
1 C cooked Basmati rice
6 spring onions, thinly sliced (include green tops)
1 medium red capsicum, seeded and finely diced
1 medium yellow capsicum, seeded and finely diced
1/2 C chopped parsley
4 x 100g salmon fillets
Olive oil spray
1 bunch bok choy, quartered
1/2 C unsalted almonds (70g), roughly chopped, to serve
Dressing
2 tsp balsamic vinegar
1 tsp olive oil
Juice of 1/2 a lemon
Method
In a large bowl, mix together the cooked rice, spring onion, capsicum and parsley.
To make dressing, combine vinegar, olive oil and lemon juice in a cup. Pour over salad and stir through well.
Place a metal steamer into a large saucepan with a few centimetres of water. Add bok choy to the top steamer and bring to the boil. Steam with lid on for 3 minutes or until tender.
Meanwhile heat a griddle, BBQ grill or large non-stick frypan (I use a stone ware fry pan) on high. Lightly spray each side of salmon with olive oil, season with pepper. Reduce heat to medium and cook salmon for 3 minutes each side until golden brown and just cooked.
Top rice salad with almonds then spoon onto serving plates. Add bok choy and salmon fillets; serve immediately.
Nutrition
Energy (g)                     2420
Protein  (g)                    33.2
Fat       (g)                    24.1
Sat Fats (g)                   5
Carbohydrates  (g)        54.6
Sugar (g)                      268
CRIPY SKIN SALMON
Crispy Skin Salmon fried in Olive oil Spray.
Place salmon in heated oiled pan skin side down and cook for 5 minutes.
Turn salmon over and gently peel skin off and cook salmon to taste.
Add cherry tomatoes here to cook – add capsicum if available.
Plate up with skin on the salmon and it will finish crisping.
Extra-Virgin Olive Oil Reduces Glycemic Response to a High–Glycemic Index Meal in Patients With Type 1 Diabetes: A Randomized Controlled Trial
Although only a small study, this new study indicates that better glycaemic effect is shown with EVOO rather than butter.
So if you're a butter user, here's another good reason to swap to olive oil.
http://care.diabetesjournals.org/content/early/2016/01/29/dc15-2189?papetoc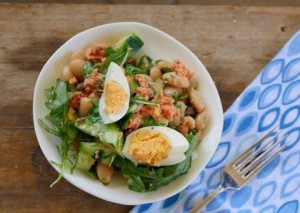 I always plan ahead; I find it helps. Last night we had Steamed salmon with vegetables and beans so I cooked twice as much for lunch today. So basically this is leftovers mixed with cucumber and rocket to make the best salad. I added a boiled egg just because my hens are laying and I felt like an egg.
SALMON AND SPINACH SALAD
Ingredients
1 large salmon fillet divided for 2
2 tbsp. vinegar, divided
3 cups fresh baby spinach
1 Tbsp. chopped natural almonds
1 Tbsp. sunflower seeds, toasted
1 Tbsp. dried cranberries NB1
Olive oil spray
Preparation
Preheat stoneware fry pan and coat with cooking spray.
Drizzle 1 Tbsp. vinegar over salmon, then place fillet on the pan. Fry until fish flakes easily with a fork, about 5 minutes each side.
While the fish cooks, toss spinach with remaining 1 Tbsp. vinegar in a large bowl. Divide between two plates.
When the salmon is done, cut the fillet into two pieces. Top each bed of spinach with a piece of salmon and add, almonds, sunflower seeds and cranberries.
NB1 This may affect some diabetics, if you leave it out.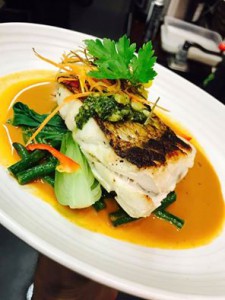 FRESH SNAPPER AND RED CURRY
Crisp skinned snapper fillet- red curry bisque- apple, eggplant, snake bean, coriander cashew pesto.
CHARGRILLED SALMON HARISSA WITH CARROT AND ORANGE SALAD
Ingredients
4 x 150g pieces skinless, boneless salmon fillets
Olive oil cooking spray
Harissa
2 long red chillies, halved lengthways, deseeded, roughly chopped
1 clove garlic, peeled
½ tsp ground coriander
½ tsp ground cumin
2 tsp olive oil
Freshly squeezed juice of ½ lemon
Carrot and orange salad
3 medium carrots, peeled, coarsely grated
1 cup chickpeas, soaked overnight, rinsed, drained
Zest and freshly squeezed juice of 1 small orange
2 cloves garlic, crushed
Freshly ground black pepper, to season
1 tsp extra virgin olive oil
½ cup mint leaves
½ cup coriander leaves
Instructions
To make harissa, put chilli, garlic, coriander, cumin, olive oil and lemon juice in a small food processor, or use a hand-held blender with a bowl attachment. Process until mixture becomes a fine paste.
Put half the harissa in a shallow dish. Add salmon and rub harissa all over fish. Cover and set aside for 30 minutes to allow flavours to develop.
Meanwhile, to make carrot and orange salad, put carrot, chickpeas, orange zest and juice, garlic, pepper and oil in a large bowl. Toss to combine. Set aside for 30 minutes to allow flavours to develop (you can do this for up to 4 hours before serving). Add mint and coriander just before serving. Toss to combine.
Preheat a flat chargrill plate or a large non-stick frying pan on medium. Spray both sides of salmon with cooking spray. Add salmon to chargrill and cook for 2 minutes on each side or until fish is cooked to your liking. NB1
Divide salad between serving plates. Top with salmon and serve.
Nutrition Info PER SERVE 1743kJ, protein 41g, total fat 21g (sat. fat 5g), carbs 13g, fibre 5.8g, sodium 238mg. Carb exchanges 1. GI estimate low.
NB1 I cook the salmon in an air fryer, pre heated 160C for 10 -15 minutes. It can also be steamed if you prefer.
Adapted from http://www.diabeticliving.com.au/recipe/food/chargrilled-harissa-salmon-with-carrot-and-orange-salad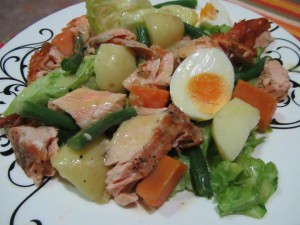 Salmon Nicoise salad. Nice and fresh on a hot night. I forgot to add the black olives before I took the pic!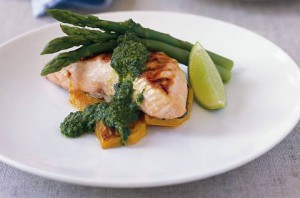 Super quick salmon with veggies dinner
SALMON, SPINACH AND RED QUINOA SALAD
INGREDIENTS
4 serves of fresh Atlantic salmon fresh
1 cup red quinoa, cooked NB1
3 medium tomatoes, diced, from the garden if possible
½ red onion, diced, diced, from the garden if possible
4 small spring onions, green part only, chopped, diced, from the garden if possible.
1 tablespoon extra-virgin olive oil
1 lime
3 cups baby spinach leaves, diced, from the garden if possible
½ lemon
INSTRUCTIONS
Steam your salmon fillets, squeezing lime juice over the top side before turning.
Combine the quinoa with the tomatoes, onions and spinach in a large bowl.
Dress with the lemon and olive oil and serve with a salmon fillet.
Image and recipe courtesy of dietitian and founder of the Shape Me weight loss program Susie Burrell.
Adapted from  http://kitchen.nine.com.au/2017/04/03/17/35/salmon-with-spinach-and-quinoa-salad#cW4hIQVCxCoDQzsz.99
NB1 Has a low glycemic index, which is good for blood sugar control
The glycemic index is a measure of how quickly foods raise blood sugar levels.
It is known that eating foods that are high on the glycemic index can stimulate hunger and contribute to obesity (18, 19).
Such foods have also been linked to many of the chronic, Western diseases that are so common today, like type 2 diabetes and heart disease (20).
Quinoa has a glycemic index of 53, which is considered low (21).
However, it's important to keep in mind that it is still pretty high in carbs, so it is not a good choice for a low-carb diet.
Bottom Line: The glycemic index of quinoa is around 53, which is considered low. However, it is still relatively high in carbohydrates.
https://authoritynutrition.com/11-proven-benefits-of-quinoa/
SALMON WITH SCAMBLED EGGS
INGREDIENTS
8 eggs
185g salmon steamed
150g baby spinach
1 tablespoon olive oil
½ cup Greek Natural Yoghourt
4 slices Burgen Whole Grain and Oats bread, toasted
2 tablespoons chopped chives
INSTRUCTIONS
Whisk eggs in a large bowl until smooth. Season.  Skin the salmon and coarsely flake. NB1
Heat a large non-stick frying pan over high heat. Add spinach and season. Toss for 1-2 minutes or until wilted. Set aside and cover to keep warm.
Wipe pan clean. Heat oil over medium-high heat. Cook eggs, stirring, for 2-3 minutes or until almost set. Remove from heat. Add yoghurt and stir until combined and creamy.
Serve scrambled eggs on toast with spinach and salmon. Sprinkle with chives.
Nutrition Information (per serve)
| | |
| --- | --- |
| Energy | 1550 kJ (370 calories) |
| Protein | 32g |
| Total Fat | 17g |
| Carbohydrates | 19g |
| Saturated Fat | 6g |
| Sugars | 4g |
| Sodium | 968mg |
Adapted from https://daa.asn.au/recipes/hot-smoked-salmon-scrambled-eggs/
NB1 Tex loves the salmon skin.