MEATLOAF
INGREDIENTS
3/4 cup no-salt-added tomato sauce, divided
2 egg whites
4 tablespoons reduced-sodium chunky salsa, divided (homemade if possible)
1/2 teaspoon black pepper
1/2 cup old-fashioned oatmeal
1/2 cup finely minced onion
1/3 cup canned no-salt-added mushroom stems and pieces, drained and chopped
1 clove garlic, finely minced
8 ounces/ 225 g lean ground turkey
8 ounces/ 225 g 96% lean ground beef
INSTRUCTIONS
Preheat oven to 180°C (160°C fan)/350°F/gas 4.. Spray piece of aluminum foil with nonstick cooking spray. Place foil on broiler pan; set aside.
Mix 1/2 cup tomato sauce, egg whites, 3 tablespoons salsa, and pepper in medium bowl. Stir in oatmeal, onion, mushrooms, and garlic.
Place ground turkey and ground beef in large bowl; mix lightly to combine. Stir in tomato mixture; mix well.
Transfer meat mixture to prepared pan; shape into rectangular loaf. Mix remaining 1/4 cup tomato sauce and 1 tablespoon salsa in small bowl; drizzle on top of meat loaf.
Bake 55 minutes or until cooked through. Let stand 5 minutes before slicing.
Yield: 4 servings
Nutrition
Calories: 220 calories, Carbohydrates: 13 g, Protein: 26 g, Fat: 7 g, Saturated Fat: 2 g, Cholesterol: 60 mg, Sodium: 300 mg, Fiber: 3 g
Adapted from Authentic Meatloaf – Easy Diabetic Friendly Recipes | Diabetes Self-Management (diabetesselfmanagement.com)
TANDOORI CHICKEN MEATLOAF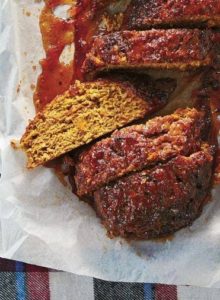 INGREDIENTS
2 carrots
1 onion, quartered.
50 g baby spinach leaves
½ cup chopped coriander leaves and stems.
2 garlic cloves, crushed.
4 cm piece (20 g) ginger, grated.
½ cup (50 g) rolled oats.
800 g Free Range Chicken Mince
1/3 cup (100 g) tandoori paste find recipe here http://www.findtex.com.au/diabetic-foods/chutney-etc/
INSTRUCTIONS
Preheat oven to 200 °C/ 180 °C (400° F) Gas 6.
Grate carrot and onion in a food processor. Change to blade attachment. Add spinach, coriander, garlic, ginger and oats. Process until combined. Add chicken and tandoori paste. Pulse until just combined. Shape into 12 x 34 cm loaf on a paper-lined oven tray. Bake for 45 minutes.
Serve meatloaf with salad.
This and other central Asian recipes can be found here.
http://www.findtex.com.au/recipes/asian/texs-indian/
CHICKEN QUESADILLA
INGREDIENTS
1½ Cups Mozzarella Cheese
1½ Cups Cheddar Cheese
1 Cup Cooked Chicken
¼ Cup Bell Pepper
¼ Cup Diced Tomato
⅛ Cup Green Onion
INSTRUCTIONS
Preheat oven to 200 °C/ 180 °C (400° F) Gas 6.
Cover a pizza pan with Parchment Paper (NOT wax paper). Mix the Cheeses together, then evenly spread them over the parchment paper (in a circle shape). Bake the cheese shell for 5 minutes. Pour off any extra oil as soon as it comes out of the oven.
Place the chicken over half of the cheese shell. Then add the sliced peppers, diced tomato and the chopped green onion. Fold the Cheese shell in half over the chicken and veggies. Press it firmly, then return it to the oven for another 4- 5 minutes.
Serve with sour cream, salsa and guacamole. Garnish with Chopped Fresh Basil, Parsley or Cilantro.
Note: To reheat, preheat oven to 200 °C/ 180 °C (400° F) Gas 6. Bake for 6-8 minutes (if cold).
NUTRITIONAL INFO
1 Keto Chicken Quesadilla = 2 Servings
Each Serving
599 Calories | 40.5 g Fat | 6.1 g Carbs | 0.7 g Fibre | 52.7 g Protein
5.4 g Net Carbs per 1/2 a Quesadilla
Adapted from KETO CHICKEN QUESADILLA – Ketogenic Health (ketodietyum.us)
BAKED CHICKEN WITH HALOUM
INGREDIENTS
4 chicken marylands
200 g haloumi cheese, cut into 1 cm thick slices.
60 ml (¼ cup) extra-virgin olive oil, plus extra to drizzle
finely grated rind and juice of 1 lemon
4 sprigs thyme
1 sprig rosemary
½ tsp dried thyme
½ tsp dried oregano
¼ tsp dried rosemary
Ginger and black pepper
steamed greens or a green salad, to serve.
INSTRUCTIONS
Preheat oven to 180°C (160°C fan)/350°F/gas 4.
Combine the chicken and remaining ingredients except for the lemon juice in a bowl.
Season to taste and toss gently until the chicken and haloumi are well coated in the herb mix.
Arrange the chicken in a baking dish and fill the gaps with haloumi.
Drizzle with extra olive oil then pour the lemon juice over the top. Transfer the tray to the oven and roast for 50-55 minutes until the chicken and haloumi are golden and the chicken is cooked through.
Serve with a green salad or steamed greens.
Cook's notes
Oven temperatures are for conventional; if using fan-forced (convection), reduce the temperature by 20˚C.
We use Australian tablespoons and cups: 1 teaspoon equals 5 ml; 1 tablespoon equals 20 ml; 1 cup equals 250 ml.
All herbs are fresh (unless specified) and cups are lightly packed.
All vegetables are medium size and peeled, unless specified.
Adapted from Baked chicken with haloumi (kotopolulo sto fourno me haloum) recipe : SBS Food
GRILLED CHICKEN WINGS
INGREDIENTS
2 pounds/ 900 g of Chicken Wings
2 teaspoons of Thyme, dried
1 teaspoon of Cumin, ground
1 teaspoon of Paprika
½ teaspoon of Coriander, ground½ teaspoon of Garlic Powder
½ teaspoon of Ginger Powder
½ teaspoon of Pepper
¼ teaspoon of Chili Powder
¼ cup of Olive Oil
INSTRUCTIONS
Place all the herbs and spices into a mixing bowl and mix.
Add the chicken wings and ensure they are all coated in the spice mix. Allow to marinate for 30 minutes.
Preheat your grill (or oven to 200C/390F).
Drizzle the oil over your wings to prevent sticking. For baking, place your wings on a lined cookie sheet.
Grill your wings for 15-20 minutes until cooked through OR bake for 25-30 minutes. Cooking time will depend on the size of your wings.
Serve with mayo find recipe here http://www.findtex.com.au/diabetic-foods/chutney-etc/.
Nutrition
Serving: 250g | Calories: 398kcal | Carbohydrates: 1g | Protein: 22g | Fat: 33g | Saturated Fat: 7g | Cholesterol: 94mg | Sodium: 674mg | Potassium: 211mg | Fiber: 0g | Sugar: 0g | Vitamin A: 510IU | Vitamin C: 2.5mg | Calcium: 23mg | Iron: 1.9mg
Adapted from https://www.myketokitchen.com/keto-recipes/ketogenic-texan-bbq-chicken-wings/?fbclid=IwAR3qINe39fcly-42A8i2rhRKXXw8sWwzRC1QRlcZnZesUNHGXNGpS5XPf_c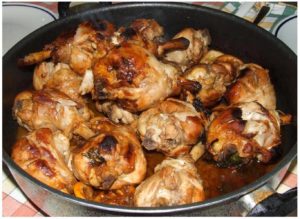 FRIED CHICKEN
INGREDIENTS:
1 Large omega-3 chicken skin removed (or parts of the chicken you like the most, can be legs)
7 cloves garlic, chopped
2 bay leaves
ginger to taste
Pepper to taste
1 bottle of milk stout
200ml of olive oil
1 teaspoon of paprika
1 Sliced Orange
Basil leaves to taste
1 teaspoon mustard
1 chilli
INSTRUCTIONS:
Cut the chicken into pieces.
Wash and drain well.
Season the chicken with all the ingredients (except the olive oil) and let the marinade from one day to the next.
Drain chicken thoroughly.
Put the olive oil in a large pot.
Let it heat up well enough to fry the chicken until well browned.
Add the marinade and let it cook for a few minutes, and then drain it before serving.
Serve with Your favourite side e.g. steamed vegetables.
CHICKEN AND MUSHROOM
INGREDIENTS
3 tbsp. Olive Oil
1 c Cremini mushrooms (Sliced)
8 oz/226 g. Shiitake Mushrooms (Caps Sliced)
1 large Shallot (Finely Chopped)
8 small chicken Thighs skinned (about 2 3/4 lbs./1.25 k)
1/3 c. dry White Wine
1/2 c. low-sodium Chicken Broth or water
3 Sprigs Thyme (Plus more for garnish)
1 tbsp. White Miso NB1
1/4 c. Heavy Cream
INSTRUCTIONS
Heat oven to 375°F/190°C. In a large oven-safe fry pan on medium-high, heat 2 tablespoons of olive oil.
Add mushrooms and cook, tossing occasionally 5 minutes.
Add shallot and cook, tossing occasionally, until mushrooms are golden brown, 2 to 3 minutes; transfer to plate and wipe skillet clean.
Return the fry pan to medium. Rub chicken with remaining 1 tablespoon oil
Add chicken to the fry pan, skin and cook until browned, 10 to 12 minutes; drain excess fat.
Turn chicken over; add wine, then broth/water and thyme. Transfer fry pan to oven and bake until chicken is cooked through (165°F), 5 to 6 minutes.
Transfer chicken to a plate, discard thyme and return fry pan to medium heat. Whisk in miso until dissolved, then simmer 3 minutes.
Stir in cream and mushroom mixture and cook until heated through about 2 minutes.
Serve with chicken and additional thyme, if desired.
Nutritional info (per serving): About 620 calories, 46g protein, 11g carbohydrates, 44g fat (14g saturated), 2g fibre, 495mg sodium.
Adapted from https://odiabetic.com/food/mushroom-chicken-skillet?fbclid=IwAR1REFEu89DwC00_-O7szpWUhxAB9ZAnnGxB97jLLT6hex5BZfDQTGgiCJE
NB1 White Miso: This miso is made from soybeans that have been fermented with a large percentage of rice. The actual resulting colour can range from white to light beige, and the miso has a definite sweet taste. It's best used in condiments like mayo or salad dressings, or in light sauces.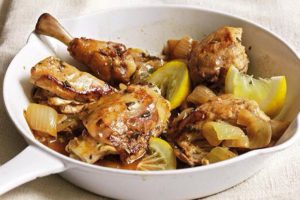 CHICKEN GABRIALA
INGREDIENTS
1 (3 1/2-to 4-pound/ 1.5 kg) chicken, skinned and cut into small pieces, with bone, thighs, and wings left whole (ask your butcher to do this for you or use kitchen shears)
2 onions, chopped
Leaves from 4 sprigs fresh rosemary (about 1/4 cup), finely chopped
5 fresh sage leaves, finely chopped
About 1.4 cup extra-virgin olive oil
Ginger and freshly ground pepper
1 cup dry white wine, such as Pinot Grigio
1 lemon
INSTRUCTIONS
Put the chicken pieces in a 30 cm fry pan (preferably non-stick) with a lid, along with the chopped onions, rosemary, and sage. Stir well to coat the chicken with the onion and herbs. Add enough olive oil to coat all of the chicken pieces, but not so much that it pools in the fry pan. Sprinkle with 3/4 teaspoon ginger and 1/4 teaspoon pepper.
Set the fry pan over medium heat. Cook until the onions are very soft and the chicken and onions have turned golden brown, about 20 minutes. If the onion begins to brown too fast, turn down the heat. Add the wine and bring to a boil. Reduce the heat, cover the pan, and simmer gently until the chicken is tender, about 20 minutes. Squeeze the lemon over, taste for ginger and pepper, and serve.
VIETNAMESE CHICKEN
INGREDIENTS
500g of chicken breast (approx 2 small breasts), poached slowly and shredded
2 carrots, julienned
1 handful red cabbage, finely sliced
1 handful mixed lettuce
3 eschallots finely sliced
piece of ginger
1 small garlic clove, finely sliced
3 fresh limes, juiced
100ml rice vinegar
2 Lebanese cucumbers, quartered lengthways and chopped
100g roasted unsalted cashews, roughly crushed
1 bunch coriander – tops for salad; use the root to flavour poaching water
INSTRUCTIONS
Combine carrot, eschallots and garlic with rice vinegar and the juice of 1 lime, allow to stand for at least 20 minutes.
Poach chicken breast in water with slices of ginger and the off-cut root section of the coriander. Shred chicken when cooked.
Serve rice, adding chicken, then carrot/eschallot mix with some of the liquid, then cucumber, coriander and cashews.
Season to taste with more fresh lime juice and add a fresh garden salad.
Nutrition Information (per serve) of original
| | |
| --- | --- |
| Energy | 2354 kJ (563 calories) |
| Protein | 43g |
| Total Fat | 17.6g |
| Carbohydrates | 51.3g |
| Saturated Fat | 3.6g |
| Sugars | 12.5g |
| Dietary Fibre | 8.8g |
| Sodium | 282mg |
Adapted from https://daa.asn.au/recipes/vietnamese-chicken/?fbclid=IwAR02wuvdWVhGepg006IyTyKKFrMdfSVdUrYxTB8YE4Bfd0s0pEUDNlS0b5E
AL BAIK CHICKEN KFC ALTERNATIVE
INGREDIENTS
1 large chicken cut into 8 pieces (without skin)
3 tbsp olive oil
1 tbsp ginger paste
2 tbsp garlic paste
3 tbsp lemon juice
1/2 tsp cinnamon powder
3 tsp red chili flakes
1 tsp black pepper powder
1 tsp dried thyme optional
1 tsp dried parsley optional
1 cup self-raising flour you can also use all-purpose flour or your favourite diabetic flour, can be omitted (Steam the chicken instead of frying)
2 eggs
Olive oil for frying
INSTRUCTIONS
Prick the chicken pieces with fork.
Mix together olive oil, ginger paste, garlic paste, lemon juice, cinnamon powder, 2 tsp red chili flakes, black pepper powder, dried thyme and dried parsley.
Marinate the chicken with the above spices for at least 4 hours or overnight.
Beat the eggs in a bowl and set aside.
Mix the self -raising flour and 1 tsp red chili flakes in a large zip lock bag and mix well.
Dip one chicken piece at a time in the beaten egg. Transfer this chicken piece to the zip lock bag and seal it. Shake well till the chicken is well coated with the flour. (You can repeat the process for extra crispiness). Set the coated chicken pieces on a plate.
Fry it in hot oil till done. Time the frying part for the perfect cooking. Generally cook on high heat for 5 minutes and then medium heat for approximately 10 minutes. It gets cooked perfectly for me.
Your delicious Al Baik Chicken recipe is ready to serve with garlic a hot sauce, steamed vegetables and/or a salad.
Recipe Notes
Do not add all the chicken pieces together in the zip lock bag. Coat the chicken pieces one at a time.
Do not over crowd the frying oil, fry them well spaced out in the oil.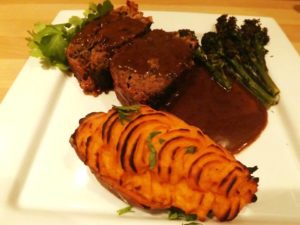 CHICKEN LOAF
INGREDIENTS
500g chicken mince (less than 5% fat) (make your own so that you know it is low fat)
1 large onion (chopped)
100ml water
1 tsp dried thyme
1 tbsp tomato purée
1 tbsp Worcestershire sauce (optional)
1 egg (beaten)
Olive oil oil
1 tsp ginger
1 tsp freshly ground black pepper
INSTRUCTIONS
Spray a small frying pan with the olive oil spray and fry the onions gently until onions are soft.
Add water, thyme, Worcestershire sauce, tomato purée and pepper and simmer until almost all the stock has absorbed. Leave to cool for 10 minutes.
Place mince in a bowl with the beaten egg and add the onion mixture and mix well. You can use your hands or a food mixer.
Place in a loaf tin sprayed with olive oil.
Bake on gas 6/200 C/400 F for 1 hour.
Serve with steamed vegetables and cauliflower mash or a salad.
Adapted from https://vicki-kitchen.blogspot.com/2016/08/tasty-turkey-meatloaf-slimming-world.html?spref=fb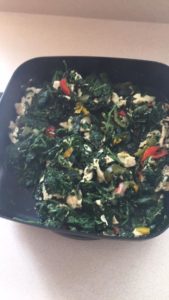 CHICKEN AND GREEN VEGETABLES BALTI
INGREDIENTS
800g skinless chicken thighs or chicken breast (trimmed of fat and cut into bite size pieces)
1 large onion (sliced)
1 bag washed baby spinach and/or any in season green vegetables
2 cloves garlic (crushed or use frozen)
1 thumb size piece of fresh ginger (grated or use frozen)
1 small can chopped tomatoes
500ml  water
2 tbsp curry powder (mild, medium or hot) from http://www.findtex.com.au/diabetic-foods/sugar-free-curry-powder/
Olive oil
INSTRUCTIONS
Spray a wok or large stoneware fry pan with the drizzle of olive oil and add the onion and fry gently for a few minutes until starting to soften then add the garlic and ginger and continue to fry for a few minutes.
Add the chicken and turn the heat up and keep moving the chicken around the pan to stop it sticking.
When the chicken has started to brown after 10-15 minutes add the curry powder and fry for another minute or two (add a splash of water if it starts to stick.)
Add the tomatoes and water bring to a boil then reduce the heat to a simmer and simmer for about 20-30 minutes until the sauce has reduced and is thicker.
Add the bag of spinach and other green vegetables and keep stirring it will wilt into the sauce.
Adapted from  https://vicki-kitchen.blogspot.com/2018/04/chicken-and-spinach-balti-slimming.html?spref=fb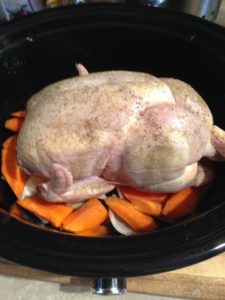 SLOW COOKED ROAST CHICKEN
INGREDIENTS
1 large chicken (free range and omega 3 if possible) skin removed
salt and pepper
Olive oil spray
Spice Mix
1/2 tsp paprika
1/2 tsp cumin
1/2 tsp garlic powder
INSTRUCTIONS
Mix spices together well
Place some scrunched up foil in the bottom of the slow cooker, so the chicken isn't sitting in all the fat and juices and place the chicken on top.
Spray lightly with oil and season well with the spice mix (if used).
Cook on 'low' for 8 hours.
Adapted from https://vicki-kitchen.blogspot.com.au/2017/07/slow-cooker-roast-chicken-slimming.html?spref=fb
LOW-CARB CHICKEN CURRY WITH CAULIFLOWER RICE
INGREDIENTS
½ Kg omega-3 chicken thighs, boneless
1 cup broccoli
1 cup fresh green beans
1yellow onion finely chopped
3 tablespoons olive oil
1 tablespoon red curry paste try one from http://www.findtex.com.au/diabetic-foods/sugar-free-curry-powder/
1red chili pepper finely chopped or grated
1 tablespoon grated fresh ginger
ginger and pepper, to taste
1/3 cup of water
Cauliflower rice
½ a cauliflower
½ teaspoon ginger
1 tbs. Olive oil
½ teaspoon turmeric (optional)
INSTRUCTIONS
Heat the olive oil in a stoneware pan.
Fry finely chopped onion, ginger and chili pepper until they become fragrant and softened, about 5 minutes.
Add curry paste and chicken. Fry until chicken is light brown (5–10 minutes).
Chop broccoli and green beans and add to the pan.
Add the water season and let simmer for 15 minutes.
While the chicken is simmering, prepare the low-carb cauliflower rice.
Cauliflower rice
Using a grater or food processor fitted with a metal blade, grate the entire cauliflower head, including the stem.
Heat olive oil in another stoneware fry pan. Add the cauliflower rice and cook over medium heat for 5-10 minutes, or until the rice has softened a bit.
Add ginger and optional turmeric while frying.
You can also cook the rice in the microwave. Put the rice in a glass bowl, cover with plastic wrap, and microwave it for 5-6 minutes.
Adapted from https://www.dietdoctor.com/recipes/low-carb-curry-chicken
CHICKEN AND CASHEW YELLOW CURRY
Dairy Australia
Serves 4
Type of recipe: healthy mains/dinner, gluten free
INGREDIENTS
olive oil spray
2 cloves garlic, crushed
2 teaspoons finely grated ginger
3 coriander roots, well washed and finely chopped
2 teaspoons Thai yellow curry paste (ensure it is sugar free) NB1
300g chicken breast fillet skin removed, cut into 1 1/2 cm pieces
300g pumpkin, cut into 2cm cubes
125g green beans, trimmed and halved
4 ripe tomatoes, chopped
1 cup reduced fat natural yogurt
1 cup bean shoots
1/4 cup fresh coriander leaves
2 tablespoons raw cashews, toasted and chopped
2 cups cooked basmati rice, for serving (optional replace with a salad,)
INSTRUCTIONS:
Lightly spray a deep non-stick frypan or wok with olive oil and gently cook the garlic, ginger, coriander root and paste for 1-2 minutes or until fragrant. Stir in the chicken, pumpkin, beans and tomatoes Bring to a boil, cover, reduce heat and simmer for 10-15 minutes or until the chicken and pumpkin are cooked.
Remove curry from heat and stir through yoghurt.
Serve curry topped with bean shoots, coriander leaves and cashew nuts and accompanied by a salad.
Tips / Handy Hints
Try using Thai red curry paste instead of yellow if desired. This curry is also delicious cooked with a firm white fish.
Nutrients per serve if served with rice:
Energy         1735kJ
Total fat         13.7g
Saturated fat   3.5g
Carbohydrates 38.4g
Fibre    5.7g
Sodium  325mg
Calcium  173mg
Adapted from https://www.diabetesvic.org.au/Recipe?bdc=1
NB1 Make your own THAI YELLOW CURRY PASTE
INGEDIENTS
7 dried hot red chilies (long ones of the cayenne variety)
5 ounce shallots, chopped (140g)
1 tablespoon fresh lemongrass, that has been thinly sliced crossways
10 garlic cloves, peeled and chopped (10 if small or 5 if large)
1 inch piece fresh ginger, peeled and chopped (2 1/2cm)
1⁄2 teaspoon white pepper powder
1 teaspoon sugar free curry powder
1⁄2 teaspoon ground cumin
1 teaspoon ground coriander
1⁄2 teaspoon ground cinnamon
1⁄2 teaspoon shrimp paste (optional), chopped or 3 anchovies (preferred), from a can (fresh if possible) chopped
1⁄2 teaspoon ground turmeric
INGREDIENTS
Soak the red chillies in 5 tablespoons hot water for 1-2 hours. (You could also put them in a microwave oven for 2-3 minutes and then let them sit for 20-30 minutes.)
Put the chillies, together with their soaking liquid, into a blender along with all the remaining ingredients in the order listed.
Blend, pushing down with a rubber spatula as many times as necessary, until you have a smooth paste.
What you do not use immediately should be refrigerated or frozen.
Adapted from http://www.food.com/recipe/yellow-curry-paste-135878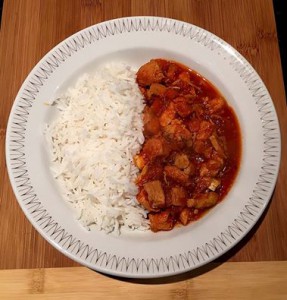 SLOW COOKED CHICKEN CASSIATORE
Please note that the photo is not a balanced diabetic plate but the chicken is worth looking at.
This recipe is a simple tasty slow cooked cacciatore.
Ingredients
• Olive Oil
• 1 Brown Onion
• 2 Chicken breasts or thighs, cut into bite size pieces, skin removed
• 2 Celery Stalks, diced
• 2 Carrots, diced
• 3 Garlic cloves, finely chopped
• 500g tomato passata (Leggo's no added salt) or fresh tomatoes
• 1 cup water
• 1 teaspoon dried oregano
• 500g mushrooms sliced
Instructions
1. Heat some olive oil in a large frying pan over a medium heat. Add onion, cook stirring for 5 minutes or until softened. Transfer to slow cooker.
2. Heat a little more olive oil in the pan over a medium high heat. Cook chicken for 2 minutes each side or until just browned all over. Add to slow cooker
3. Add celery, garlic, passata, water and oregano to slow cooker. Stir to combine. Cover and cook on high for 4 hours (or low for 8 hours), adding mushrooms in the last 30 minutes of cooking, season to taste.
Serve with rice, pasta or veggies and crusty mutligrain bread. Use less rice than in the picture.
SLOW COOKED CHICKEN
INGREDIENTS
1 omega 3 bone-in chicken skin off
250 gms. whole mushrooms, washed
2 large carrots, peeled and cut into chunks
2 to 10 cloves of garlic, crushed (obviously, depends on your garlic preferences)
1 cup water
½ cup onions, sliced, diced or minis
Any in season vegetables
½ cup red wine
¼ cup balsamic vinegar
INSTRUCTIONS
Place the chickens in the bottom of the slow cooker insert.
Add the carrots and the other vegetables, then the mushrooms.
Mix the remaining ingredients and pour over the chicken and vegetables.
Cover slow cooker, and cook on Low setting for 6 to 8 hours.
Serve with steamed green vegetables.
Adapted from https://www.slowcookerkitchen.com/crock-pot-balsamic-chicken/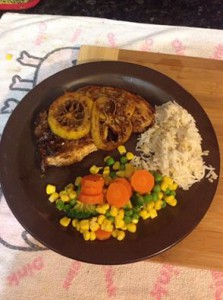 CHICKEN BREASTS
Ingredients for 6
6 medium boneless skinless chicken breasts
1/2 cup wholemeal flour (Gluten free or chick pes flour can be used)
Multigrain bread crumbs (Omit for gluten free)
1/2 teaspoon ginger
2 teaspoons lemon pepper
Olive oil spray
2 lemons sliced thinly
2 tablespoons lemon juice
Instructions
Pound chicken breasts to about 1 cm thick
In a shallow bowl combine flour, bread crumbs ginger and lemon pepper. Coat chicken breasts with a mixture.
In a stone ware fry pan coated with the olive oil spray cook crumbed chicken in till brown and no longer pink. Remove all cooked chicken from pan leaving juices and cook lemon slices for about 2 to 3 minutes or until lightly brown turning once. Return all chicken to pan over lapping chicken breasts slightly. Drizzle lemon juice over chicken breasts and add the lemon slices. Cook for about 2 to 3 minutes or until chicken is fully cooked.
Serve chicken with the lemon slices.
The whole family enjoyed this simple meal.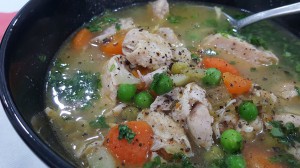 CHICKEN, SPLIT PEA, SWEET POTATO AND CARROT SOUP
INGREDIENTS
4 boneless, skinless, Omega 3 chicken breasts (about 750 gms.), cut into bite size pieces
2-3 Tbsp. olive oil
2 celery ribs, sliced
2 medium carrots, peeled and sliced
1 onion, diced
1 tsp. fresh chopped rosemary
1 tsp. ginger
½ tsp. fresh ground black pepper
1 cup green split peas soaked overnight and drained (Any dried bean can be used.)
1 dry bay leaf
1 litre water
3 russet sweet potatoes, diced
3 carrots diced
2 garlic cloves, pressed
¼ cup fresh chopped dill
INSTRUCTIONS
In 5 litre stockpot on medium/high heat, cook chicken in olive oil until lightly golden; about 8-10 minutes.
Add celery, carrots, onion, rosemary, ginger and pepper; cook for additional 5 minutes or until onion begins to soften.
Add split peas, bay leaf and water. Bring to a boil. Reduce heat to low/medium and simmer, partially covered for 20 minutes or until peas are semi soft.
Add sweet potatoes and continue to simmer until sweet potatoes are knife tender and peas are soft, about 8-10 minutes.
Stir in pressed garlic and chopped dill. Taste for ginger and pepper and adjust as needed. Remove from heat. Serve hot.
adapted http://www.littlebroken.com/2015/09/29/chicken-split-pea-soup/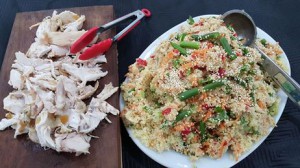 Sunday night fridge cleanout dinner with home grown herbs and cherry tomatoes, too easy.
– Left over chicken from the store for those who want it, skin removed.
– Couscous, fine burghul, veg with lemon/lime dressing and sesame seeds.
In the couscous and fine burghul salad I had capsicums, green beans, grated carrot, cucumbers, home grown tomatoes.
Dressing was just lemon juice, home grown lime juice and garlic. Sprinkle with loads of just picked coriander and roasted sesame seeds and mix. Yum! and Cheap.

CHICKEN TIKKA
Ingredients
70 gms of Boneless, skinless, Chicken Cubes
1 large Tomato
1 large Capsicum
1 large Onion
100 ml Water
1 Lemon
1/2 tsp Garlic and Ginger Paste
1/4 tsp of Turmeric Powder
1/2 tsp of Coriander Seeds Powder
1/2 tsp Red Chili Powder
1 ground or finely chopped Bay leaf
3 Cloves
2 Cardamoms
1 Stick of Cinnamon
30 gms Water Melon Seeds Paste.
Coriander Leaves
Little food Colouring
Instructions
Mix all ingredients, except for the chicken in a blender or food processor.
Pour the marinate over the chicken and place in the fridge for up to 24 hours.
Place chicken cubes on skewers and BBQ until tended
Via Thadani
                            
Tandoori chicken
Ingredients
freshly ground black pepper
1 large thumb-sized piece of ginger
½ a lemon , juice from
200 g low-fat natural yoghurt
1 teaspoon ground cinnamon
1 heaped teaspoon ground cumin
1 teaspoon ground coriander
1 heaped teaspoon paprika
12 Omega-3 or free range chicken thighs and drumsticks skin removed, (1.5kg)
olive oil
900 g sweet potato and any other fresh or in season vegetables
1 tablespoon garam masala
½ a bunch of fresh coriander
4 cloves of garlic
1-2 fresh red chillies seeds in or out to taste
Instructions
Peel the garlic and deseed the chillies if desired, then roughly chop and place in a pestle and mortar. Bash to a rough paste, then transfer to a large bowl. Peel, finely grate and add the ginger along with the lemon juice, yoghurt, ½ teaspoon black pepper, the cinnamon, cumin, coriander and paprika. Mix well to combine.
Add the chicken and stir to coat, then cover and place in the fridge to marinate for around 12 hours.
Once you're ready to cook, remove the chicken from the fridge and allow to come up to room temperature.
Preheat the oven to 200ºC/400ºF/gas 6. Place the chicken into a large baking pan, drizzle with olive oil, then cover and place in the hot oven for 30 minutes.
Remove the chicken directly on baking racks and return to the oven for a further 30 minutes, or until golden and cooked through.
Meanwhile, cut the vegetables into small equal-sized florets and spread out on a large roasting tray in a single layer. Sprinkle over the garam masala, season well and drizzle with oil.
Stir fry in a little olive oil until tender and lightly charred. Serve with steamed basmati  rice, raita and fresh coriander scattered on top.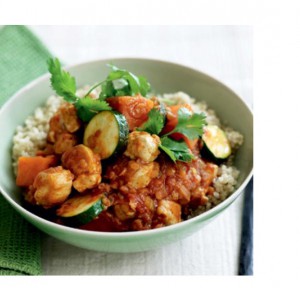 CHICKEN, LENTIL, AND SWEET POTATO CURRY
Ingredients
olive oil spray
500g chicken breast fillets, cut into 1.5cm cubes
1 large red onion, finely chopped
1 celery stalk, diced
1 1/2 tablespoons gluten-free korma curry paste
350g sweet potato, peeled, cut into 2cm cubes
1/2 cup (100g) red lentils, rinsed, drained
400g fresh tomatoes chopped
1 large zucchini, trimmed, sliced
2 cups steamed quinoa or basmati rice, to serve
coriander leaves, to garnish
Instructions
Spray a large saucepan (that has a lid) with olive oil; set over medium heat. Add chicken in 2 batches; cook for 2–3 minutes, or until golden. Remove chicken from pan and set aside.
Spray pan with olive oil again and return to medium heat. Add onion and celery; cook, stirring occasionally, for 5 minutes, or until onion softens. Add curry paste to pan; cook, stirring, for 1–2 minutes, or until fragrant. Add sweet potato cubes to pan and cook for 1 more minute.
Add lentils and diced tomatoes to pan with 2 cups water; bring to the boil. Reduce heat and simmer (pan partially covered with lid) for 18–20 minutes, or until sweet potato is just tender.
Return reserved chicken to pan with sliced zucchini and simmer for another 5 minutes, or until zucchini is just tender. Season curry with cracked black pepper.
Divide steamed quinoa (or rice) among serving bowls, garnish with coriander leaves and serve.
Adapted from: http://www.healthyfoodguide.com.au/recipes/2014/august/chicken-lentil-and-sweet-potato-curry#sthash.R8yNKm9k.dpuf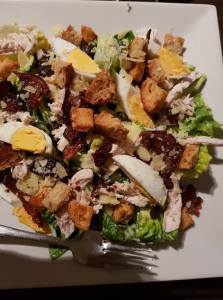 CHICKEN CAESAR
Ingredients
1 lemon
5 g Parmesan cheese if you require more dairy in your diet NB1
2 sardines in spring water
4 heaped tablespoons natural yoghurt
½ teaspoon English mustard
1/2 teaspoon Worcestershire sauce
white wine vinegar
extra virgin olive oil
1 small red onion
½ a small cauliflower (300g)
1 romaine lettuce
olive oil
1 sprig of fresh rosemary
2 x 120 g free-range or Omega 3 skinless chicken breasts
1 thick slice of wholegrain bread (Try Burgen Wholegrain and Oats,)
Instructions
Finely grate the lemon zest and Parmesan into a large bowl. Slice and add the sardines, along with the yoghurt, mustard and Worcestershire sauce. Squeeze in half the lemon juice, add 1 tablespoon of vinegar and 2 tablespoons of extra virgin olive oil and mix to make your dressing.
Assemble the salad and dressed onion, tossing together only moments before serving.
Put 1 teaspoon of olive oil in a frying pan on a medium heat. Pick the rosemary leaves over the chicken and lightly season it on both sides, flattening it slightly with the heel of your hand. Cook for 4 minutes on each side, or until golden and cooked through. Cube the bread and toast alongside the chicken, moving regularly until evenly golden and gnarly, removing only when super-crispy (NB2). Toss the salad together and season., slice up the chicken and serve with a sprinkling of croutons and lemon wedges for squeezing over.
Adapted  http://www.jamieoliver.com/recipes/chicken-recipes/healthy-chicken-caesar/?%2Futm_source=social&utm_medium=RecipeOftheDay&utm_term=2016#qm6g14YJTAku8kAW.99\
NB1 There are two thoughts about cheese.
Use low fat cheese
Use a little of a strong cheese like Parmesan or goat/ sheep cheese, get that cheesy taste with a smaller portion. We all enjoy cheese in moderation so why not try a little of a strong cheese.
NB2 The olive oil should reduce the GI of the bread or toast in a toaster.
PUNJABI SOOKHI URAD KI DAL
Ingredients (NB1)
Ingredients for Dal
Urad dhuli (split & de husked) – 1 cup (white lentils)
Ginger / Adrak – 1 small piece, julienned
Oils & Spices
Olive oil – 2 tsp
Cumin seeds / Jeera – ½ tsp
Asafetida / Hing – a small pinch
Cinnamon stick / dal chini – 1 small piece
Cloves/Laung – 2
Bay leaf / tej patta – 1
Turmeric / Haldi – a small pinch (optional)
ginger – to taste
water – 1 cup
Ingredients for Onion Barista
Onions – 1 big, chopped fine
Olive oil – 1&1/2 tbsp
Tadka Ingredients
Olive oil – 1 tsp
Cumin seeds – ½ tsp
Red chili powder – ¼ tsp or to taste
Red chillies, dry & whole – 2
Instructions
Take the Urad dal in a bowl and wash it till the water runs clear. Soak it in 1 cup of water for 1 hour.
Preparing Dal
This Dal can be prepared either in a pressure cooker or in an open pan.
When ready to cook, drain the water out of the soaked dal and set aside.
For Pressure Cooker
Take the pressure cooker and heat 2 tsp of Olive oil in it. Add asafetida, cumin seeds, cinnamon stick, cloves and bay leaf to the hot Olive oil. Lower the heat to medium.
Once the cumin seeds crackle, add ginger and soaked & drained dal to it. Add turmeric and salt to the dal. Stir gently. Add 1 cup water. Stir again. Put the pressure cooker lid on with the weight of the cooker.
Cook for 1 whistle and release the pressure/steam of the pan immediately. Open the cooker carefully. If there is more water in the dal, cook the dal on medium high heat till water evaporates. Handle the dal very gently, without breaking the dal.
We want khilwa (separated) texture.
Preparing Onion Barista
Heat 1&1/2 tbsp Olive oil in a heavy bottom pan. Add the finely chopped onions to it and fry on medium heat, till they are golden and crisp. Set aside.
Prepapring Tadka
Heat ghee in a small pan and add cumin seeds to it. Once the seeds crackle, add dry whole red chili and chili powder to it. Turn off the heat.
Serving Punjabi Sookhi Urad ki Dal
Take the serving bowl and fill it up with the cooked Sookhi Urad ki dal. Handle it gently so that the grains are not broken. Now top it with the Onion Barista. Mix it with the dal lightly. Now pour the hot Ghee ka Tadka/Tempering on the top.
Serve it hot with fresh and hot rotis and paranthas of your choice.
Adapted from http://simplyvegetarian777.com/punjabi-sookhi-urad-ki-dal/
NB1 some commercial versions of these spices may contain sugar and salt in various forms.
BACK LENTILS URAD DAL
Ingredients
Urad dal – 1/2 cup, wash and soak in water for 1-2 hours (black lentils)
Tomatoes – 2, medium, finely chopped
Garlic – 2-3 cloves, finely minced OR Asafoetida – 1/4 tsp
Ginger – 1″, finely minced
Kasuri methi – 1/2 tsp, crushed
Green chilis – 3, slit
Turmeric powder – 1/2 tsp
Red chili powder – 1 tsp
Coriander powder – 1/2 tsp
ginger to taste
Coriander leaves – 2 tbsps, finely chopped for garnish
For tempering:
Cumin seeds – 1/2 tsp
Olive oil – 2 tbsps
Instructions
In a pressure cooker, add the soaked and drained urad dal, 2 1/2 cups water, turmeric powder, half of the minced ginger, one slit green chili and ginger and pressure cook for 2 minutes after coming to the boil.
Alternately, you can add the urad dal in an earthen pot and cook over stove top or wood fire. Add at least 4-5 cups water and bring to a boil. Reduce flame and slow cook till the dal turns soft yet hold shape.
In a small pan, add olive oil. Once it turns hot, add cumin seeds and allow to splutter. Add the kasuri methi and finely minced garlic and sauté for a few seconds. Add the remaining minced ginger and green chilies and mix.
Add red chili powder and mix. Add chopped tomatoes and sauté for 6 mts.
Immediately add this to the cooked dal and mix. Allow to simmer on low flame till the desired consistency is achieved. Adjust ginger if required.
Turn off flame and remove to a serving bowl. Garnish with chopped coriander leaves and serve with roti, pulka, paratha or Basmati rice.
Tips
You can add a chopped onion after step 3. Sauté onions for 3 mts before adding spice powders and tomatoes.
For a more garlicky flavour, increase garlic cloves.
Garlic can be replaced with 1/2 tsp asafoetida.
Adapted from http://www.sailusfood.com/2016/01/07/urad-dal-recipe-indian-dal-recipes/
CHICKEN POT PIE
Ingredients
4 cups pre-cooked omega 3 or free-range chicken, shredded;
3 to 4 carrots, sliced;
1 cup red onion, chopped;
1 celery stalk, chopped;
1 cup mushrooms, quartered;
2 garlic cloves, minced;
1/4 cup white wine; (optional)
2 cups water;
1 tbsp. fresh dill, minced;
Olive oil;
Instructions
Preheat oven to 160 C.
Heat the olive oil in a fry pan over medium-high heat.
Add the garlic, carrots, red onion, and celery and cook 3 to 4 minutes.
Add mushrooms and cook another 3 to 4 minutes.
Poor in the white wine, if using, and continue cooking until reduced by half.
Stir in the water, fresh dill, and shredded chicken, and cook another 5 minutes.
Place fry pan in the oven and bake for 15 minutes.
Chicken is a fantastic source of protein a Type 2 diabetic should consider eating, but it's one protein food many people become bored with. That does not need to be the case as long as you are willing to put a little creativity into the mix.
Remember to remove the skin.
Let's look at six ways you can use to start preparing chicken breasts…
http://about-diabetics.blogspot.com.au/2016/11/healthy-ways-for-diabetics-to-prepare-chicken.html