MAKE YOUR OWN SOURDOUGH STARTER
INGREDIENTS
Whole wheat flour
Unsweetened pineapple juice (optional)
Purified water
INSTRUCTIONS
Mix 3 ½ tbs. whole wheat flour with ¼ cup unsweetened pineapple juice. Cover and set aside for 48 hours at room temperature. Stir vigorously 2-3x/day. ("Unsweetened" in this case simply means no extra sugar added).
Add to the above 2 tbs. whole wheat flour and 2 tbs. pineapple juice. Cover and set aside for a day or two. Stir vigorously 2-3x/day. You should see some activity of fermentation within 48 hours. If you don't, you may want to toss this and start over.
Add to the above 5 ¼ tbs. whole wheat flour and 3 tbs. purified water. Cover and set aside for 24 hours.
Add ½ cup whole wheat flour and 1/4 to 1/3 cup purified water. You should have a very healthy sourdough starter by now.
Adapted from https://breadtopia.com/make-your-own-sourdough-starter/?fbclid=IwAR27QK4CmlZoWqdg_C7rZfdSl7KUkkKAaeC5bp2l2Id8vFNay3B8BvubK5I
SOURDOUGH CHOCOLATE CAKE.
While I would not recommend chocolate cake, I believe this could pass as a chocolate cake that you might enjoy and share at your next diabetic party or get together. Please note that the cake was a lot darker than in the photos.
Ingredients.
1 cup rolled oats (soaked overnight.
1 cup bakers flour
1 Cup brown teff flour
1/3 oat brand
1/3 barley brand]
2 egg whites
¾ cup of water
2 tsp. dried yeast
Instructions.
Place all in ingredients in a bread maker
Set for normal loaf (Bake option 1)
Press start.
Do what you like for 3 – 4 hours
Serve fresh (This does not keep well.)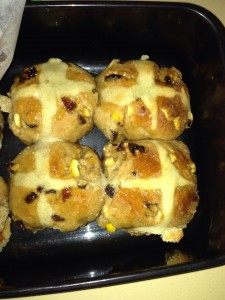 SOURDOUGH HOT CROSS BUNS
Starter 
340g Heart Active milk
250g white bread flour
1 tsp starter yeast or starter mix if you have it
Soak 250g dried fruit (currants, raisins, candied peel) in boiling water, and leave for 12 hours
Leave for ~12 hours
Dough 
200g white bread flour
50g wholemeal flour
1/2 tsp allspice,
1/2 tsp gr ginger,
1/2 tsp nutmeg,
1tsp cinnamon
add starter and fruit
Mix/knead briefly, leave for 10 minutes
repeat,
Leave for 3-4 hours,  folds every hour
Divide into 14 x  90g (~12 x 100g), shape
Put in fridge overnight
Mix for Cross
The next morning
make piping mix
5g olive oil
25g water
23g flour
Brush tops of buns with (soy) milk
Pipe on crosses
Bake at 200C for 25 mins
NB1 While sourdough has a low GI this may not suit all diabetics. If this affects your sugar levels do not make it again.
NB2 the dried fruit in this may affect some diabetics sugar level. If this affects your sugar levels leave the fruit out of the buns or do not make again.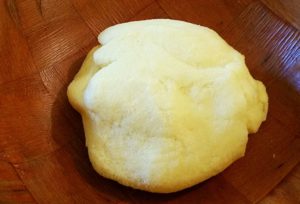 SOURDOUGH FLATBREAD WITH ONLY 3 INGREDIENTS
INGREDIENTS
1 cup (8oz/225g) full fat natural plain yogurt (or Greek yogurt) Add enough yogurt to match the consistency of bread dough. You may not need the entire cup depending upon the type of yogurt and flour you use.
1 cup (5oz/142g) Multigrain flour NB1
1 teaspoon dried yeast or sourdough starter
Optional toppings
2-3 cloves garlic finely minced
parsley roughly chopped
herbs of choice.
INSTRUCTIONS
In a large bowl combine the flour and yeast. Next, add in the yogurt and mix with a spatula until the yogurt has absorbed the flour. You will need to get in there with your hands to really bring the dough together.
Please Note: Depending upon where you live and what flour you use, you may not need all of the yogurt. Start with the initial quantity of flour and add yogurt until you get the same consistency as bread dough. You may not need all the yogurt so it's best to add it little by little.
Once the dough is formed into a smooth ball, place it on a floured surface. Using a knife divide the dough into 6 (2oz) balls.
Allow to rise in a warm place for about an hour.
Working with one ball of dough at a time, roll each one out to form a circle. Try to roll the dough as thin as possible as this will ensure the bread cooks evenly on both sides with a nice space in between.
Heat a large stoneware fry pan over medium heat spray with a little olive oil.
Using a pastry brush, brush one side of the rolled dough with the olive oil before placing it on the hot fry pan. Allow the bread to toast and bubble up cooking for about 2-3 minutes on each side.
Once the bread is nice and toasty on each side remove from the heat sprinkle with fresh chopped parsley, garlic or herbs of your choice
Repeat this process until all 6 flatbreads are cooked. Stack up on a plate or in a covered basket to keep warm. Store at room temperature for 3 days and reheat on the pan before use.
NB1 You can replace the all-purpose flour with whole wheat, chickpea or other gluten free flours.
I placed my whole stack of flatbreads in the freezer. I take them out, place them on the pan for roughly 1-2 minutes on each side to refresh and they are ready to use.
Nutrition Facts of original
Amount Per Serving (1 g)
Calories 102 Calories from Fat 9 %  Daily Value*
Total Fat 1g 2%
Cholesterol 5mg 2%
Sodium 20mg 1%
Potassium 220mg 6%
Total Carbohydrates 18g 6%
Sugars 1g
Protein 3g 6%
Vitamin A 0.8%
Vitamin C 0.2%
Calcium 11%
Iron 6%
* Percent Daily Values are based on a 2000 calorie diet.
Adapted from  https://www.biggerbolderbaking.com/flatbread-recipe-3-ingredients-easy/