STEAK AND EGG BURRITO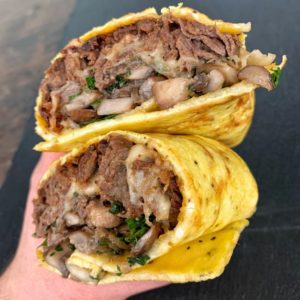 INSTRUCTIONS
Mushroom and Onion Mixture:
1 8 oz/ 226 g pack of sliced cremini or button mushrooms
1 onion thinly sliced
1 clove minced garlic
1/2 cup chopped parsley
2 tbsp olive oil
Egg Tortillas:
8 eggs
1 cup shredded mozzarella
2 tbsp olive oil
1 tbsp per tortilla
The Steak:
1/2 lb/ 226 g Top Round Steak cut ultra-thin
1 tbsp garlic powder
1 tbsp onion powder
1 tbsp olive oil
6 slices provolone cheese
BEEF & SWEET POTATO CASSEROLE WITH CHEESY CRUST
INGREDIENTS
2 lb/ 900 g ground beef (mince)
3-4 lb/ 1.8 kg sweet potatoes
1 tablespoon olive oil
1 onion, diced
8 oz/ 142 g frozen mixed vegetables or fresh homemade.
1 teaspoon onion powder
2 teaspoons garlic powder
¼ cup Water
3 teaspoons ginger, divided
2 tablespoons olive oil
½ cup milk (Heart Active)
1 cup shredded cheese
INSTRUCTIONS
Peel and dice sweet potatoes. Place in a large pot of water, and boil until completely tender.
While the potatoes are cooking, place a large fry pan or pot over medium-high heat. Add the oil and the onion and cook 3-5 minutes until onion is translucent and browning at edges.
Add the beef to the onion, then sprinkle on 2 teaspoons of ginger, onion powder, and garlic powder. Mix the spices into the meat, breaking it up with a spoon, and allow to cook a further 5 minutes.
Add the water and mixed vegetables, then reduce heat and simmer for 15 minutes.
Once the sweet potatoes are cooked, drain and then return them to the boiling pot. Add olive oil, milk and remaining ginger, and blend with an immersion blender until smooth. You can mash the potatoes by hand using a masher, but they will be lumpier unless you push them through a sieve or strainer.
Layer the meat mixture into a casserole dish, then spoon the potatoes over the top, spreading to cover the meat completely.
Spread shredded cheese on top of the potato, and place under a grill to until golden brown to form the cheesy crust, about 2-4 minutes.
Adapted from https://jesspryles.com/recipe/beef-sweet-potato-casserole-with-cheesy-crust/?fbclid=IwAR2BWQgixGH-tvK-N-XZFB3pW-CKTDDT9hJ3zl9QyCwueUH2v1ynvRsyl4A
UNSTUFFED CABBAGE AND GROUND BEEF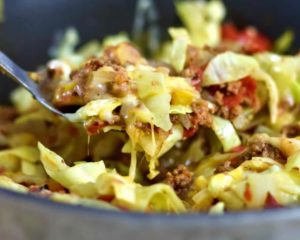 INGREDIENTS
INSTRUCTIONS
PREP THE VEGETABLES:
Chop the onions, peppers and put them together in a medium bowl.
Chop the head of cabbage into narrow strips. Set aside.
BROWN THE BEEF:
Set your fry pan to medium heat.
Add the olive oil.
Add the ground beef and sprinkle it with ginger, pepper and other spices.
Break apart the ground beef into small evenly sized pieces.
Cook until browned. Remove from skillet and set aside
SAUTÉ THE VEGETABLES:
Add the chopped onions and peppers into your fry pan and cook a few minutes until tender.
FINISH:
Add the browned ground beef back into the skillet.
Add the fire roasted tomatoes and stir together.
Add the chopped cabbage slices over the ground beef mixture and cover with a lid.
Cook until cabbage is wilted. (about 15 minutes-check and stir occasionally)
Remove cover and add shredded cheeses
Cover and let the cheese melt 5 minutes.
Refresh spices as desired.
Serve from the fry pan
NOTES
TO MAKE THIS DINNER KETO:
Omit the onion and replace with celery or increase the peppers.
This will bring the NET carbs of this recipe down to KETO level (Under 8 carbs).
INSTANT POT INSTRUCTIONS:
Follow the recipe prep instructions as directed.
Use the sauté function to brown the meat, spices and vegetables.
Cover the pot with the lid and cook on sauté until the cabbage is wilted.
Top with cheese and serve when it's melted.
Amount Per Serving
Calories 453
Total Fat 30g
Saturated Fat12g
Trans Fat1g
Unsaturated Fat15g
Cholesterol 109 mg
Carbohydrates 13g
Fiber 4g
6 Serving Size
CHEESE TACO SHELLS
INGREDIENTS
INSTRUCTIONS
Preheat oven to 375°F/ 190°C. Line a baking sheet with parchment paper and spray with olive oil cooking spray. Place 1/2 cup mounds of cheddar on baking sheet and season with pepper.
Bake until cheese is melty and slightly crispy, 5 to 7 minutes. Blot grease with a paper towel.
Meanwhile, set up 4 stations of two upside-down glasses and a wooden spoon as a bridge. Using a spatula, immediately transfer cheese mounds to wooden spoons to form shells. Let cool.
Meanwhile, make meat: In a large fry pan over medium heat, heat olive oil. Add onions and cook until soft, 5 minutes, then add ground beef and cook until no longer pink, 6 minutes more. Drain fat and season with taco seasoning.
Assemble tacos: Place beef in shells and top with lettuce, tomatoes, and hot sauce.
Nutrition (per serving): 430 calories, 39 g protein, 4 g carbohydrates, 1 g fiber, 2 g sugar, 28 g fat, 16 g saturated fat, 480 mg sodium
Adapted from https://www.delish.com/cooking/recipe-ideas/recipes/a52731/cheese-taco-shells-recipe/?fbclid=IwAR2-CqfaUwz8M2km4ks__AicNZciWamPaUMF3I2jVgHDTJf99-pvcxHCZVA
STEAK ROLLS

INGREDIENTS
10 thinly sliced pieces of grass fed sirloin steak
Extra-virgin olive oil.
2 sprigs of chopped fresh rosemary.
1 yellow onion.
1 red bell pepper.
1 green bell pepper.
1 zucchini.
1 pack of sliced mushrooms.
1/4 cup Dark balsamic vinegar.
2 tbs Red wine.
1 Garlic clove.
1ts Corn starch.
1/4 cup Chicken or beef broth or water
For the Rosemary Balsamic Glaze:
1/4 cup dark balsamic vinegar.
2 tablespoons red wine.
1 clove garlic.
2 sprigs fresh rosemary.
¼ teaspoon freshly ground black pepper.
¼ teaspoon ginger
1 teaspoon corn starch dissolved in ¼ cup beef or chicken broth or water
INSTRUCTIONS
1. First get the rosemary balsamic glaze going while you prepare the steak and veggies:
Place all the ingredients in a small fry pan and bring it to a boil over medium-high heat for 2 minutes. Reduce the heat and simmer for about 10 minutes. Discard the sprigs of rosemary. Stir in the corn starch/beef broth mixture and stir until the sauce is thickened, about a minute.
While the glaze is simmering, cook the vegetables in a fry pan with a little olive oil, ginger and pepper until tender.
Lay the sirloin slices on a cutting board and lightly rub all sides with olive oil. Sprinkle with some ginger, pepper and rosemary. Divide the veggie slices among the steak strips, lining them up on one end of each steak. Start with that end and roll the steaks, securing them with a toothpick.
Cook the steaks on a grill or in a fry pan for about 4 minutes on each side or according to desired doneness. Serve immediately drizzled with the rosemary balsamic glaze.
5. ENJOY 
BEEF STEW
INGREDIENTS
1 1/4 pound/ 560 g trimmed beef chuck roast, cubed (1 inch)
8 ounces/ 142 g whole mushrooms, quartered
6 ounces/ 170 g celery root, peeled and cubed into 3/4 inch pieces (or sub turnips or radishes)
4 ounces/ 115 g pearl onions, trimmed and peeled (or regular onion, large dice)
2-3 ribs celery, sliced
3 ounces/ 85 g carrot, roll-cut (or sliced)
2 cloves garlic, sliced
2 tbsp tomato paste
2 tbsp olive oil,
5 cups beef broth or water
1 large bay leaf
1/2 tsp dried thyme
ginger and pepper to taste
INSTRUCTIONS
Remove the chuck roast from the refrigerator to come to temperature.  Quarter the mushrooms and set aside. Wash and chop the vegetables, including the garlic, putting them together in a bowl for later. Trim the excess fat off of the chuck roast (pot roast) and cut into 1-inch/ 25 mm cubes. (I used 1 1/4 pounds of meat, but you may use more if you wish.) Thoroughly mix two teaspoons of oil into the beef.
Place a Dutch oven or heavy bottomed pot on the stove over medium heat. When hot, add the rest of the oil and swirl to coat the bottom of the pot. Add the mushrooms and stir to coat. Do not disturb them for 2 minutes. Stir and let them cook for two minutes more. Remove the mushrooms from the pot and add them to the other vegetables.
Brown the beef in the pot in batches, adding more oil as needed. Place all of the beef into the pot and stir in the bay leaf, thyme, and tomato paste making sure to coat the beef. Let it cook for less than a minute, then slowly add 1 cup of broth/ water while scraping up the browned bits from the bottom of the pot. Add the rest of the broth and bring the stew up to a simmer. Cover and reduce the heat to low-ish and simmer gently for 1 1/2 hours. 
Insert a fork into a piece of meat to check for tenderness, it should meet little to no resistance. If tough, let it cook another 20 minutes. When tender, add the vegetables and turn up the heat until it simmers. Turn down the heat and simmer uncovered for 40 minutes to an hour or until the vegetables and meat are tender. Add salt and pepper to taste.
Makes 11 cups with approximately 1 3/4 cups per serving. 
Notes
HIGH ALTITUDE INFORMATION: A reader said that it took 4 hours of cooking for her beef to get tender. She also said that the recipe was worth the time. 
ADDITIONAL NOTES: It's important to get nice colour on the beef and in the bottom of the pot. The fond (browned bits on the bottom of the pan) should be dark in colour (not black) and dry. This caramelization is what gives a nice depth of flavour to the stew. Other ways to add more flavour is by adding 1/2 cup of red wine after adding the tomato paste and letting it reduce by half, or adding 1 teaspoon of beef base, and also making sure that the broth is seasoned appropriately with ginger and pepper. I find that adding more pepper makes the stew nice and savory.
Nutrition Facts
Amount Per Serving
Calories 288 Calories from Fat 180
% Daily Value*
Fat 20 g 31%
Carbohydrates 8 g 3%
Fibre 2 g 8%
Protein 20 g 40%
* Percent Daily Values are based on a 2000 calorie diet.
Nutrition
Calories: 288 kcal | Carbohydrates: 8 g | Protein: 20 g | Fat: 20 g | Fibre: 2 g
Adapted from https://www.lowcarbmaven.com/low-carb-beef-stew-gluten-free-keto-whole30/?fbclid=IwAR0c0JnjAA6yIR_LhiF8GWXe_oql-tak5-OMBNJFfYH8oypbgivP2HblAXY
GARLIC GRILLED BEEF BROCHETTES
INGREDIENTS
1/3 cup light Caesar salad dressing
3 cloves garlic, minced
1 pound/ 450 g beef tenderloin tips or steaks, cut into 1 1/2-inch chunks (50 mm)
1 small red onion (or 1/2 medium), cut into 1/2-inch-thick wedges (15 mm)
1 large red or yellow bell pepper (or 1/2 of each), cut into 1-inch chunks (25 mm)
2 tablespoons chopped fresh thyme or rosemary
INSTRUCTIONS
Heat the grill on the BBQ to medium-high heat. Combine dressing and garlic in a shallow dish. Add tenderloin, onion, and bell pepper; toss to coat well and let stand 20 minutes.
Alternately thread meat and vegetables onto 4 long metal skewers. Brush any remaining marinade from dish over meat and vegetables.
Grill skewers on covered grill 5 minutes on each side. (Tenderloin will be pink in centre and vegetables will be crisp-tender.) Top with thyme.
Nutrition Information:
Calories: 252 calories, Carbohydrates: 8 g, Protein: 27 g, Fat: 12 g, Saturated Fat: 3g, Cholesterol: 85 mg, Sodium: 313 mg, Fibre: 1 g
Exchanges per serving: 1/2 Fat, 2 Vegetable, 3 Meat.
Adapted from https://www.diabetesselfmanagement.com/recipes/main-dishes/garlic-grilled-beef-brochettes/?fbclid=IwAR2mGerY-0BhbQezspImjUMC1Ow4H1kKp8OQTJimuXyuRL8pO3KXZeTG4xc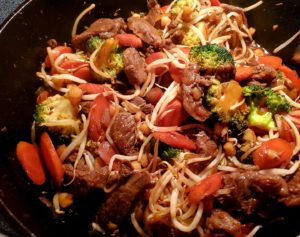 BEEF AND VEGGIE STIR FRY
INGREDIENTS
1 1/2 lbs/ 680 g of grass fed lean beef, sliced (any meat can be used.)
5 large organic carrots, sliced on the bias to be fancy
1 head of fresh broccoli cut into smaller sections
1 can of water chestnuts, chopped
1 bag, or you can use 1 can, of bean sprouts
6 tbls olive oil, divided (1 to 2 tbls at a time as needed)
1 tbls red pepper flakes
1 onion, small, chopped
2 cloves garlic, minced
3/4 cups low sodium soy sauce
INSTRUCTIONS
Heat a large cast iron fry pan or wok with 2 tbls of olive oil.
When hot, add sliced beef and brown until the juices just evaporate.
Add your chopped onions and cook through stirring often.
Add a few splashes of soy sauce to keep everything steaming and to start your flavour profile.
When the onions start to become translucent, add your minced garlic.
Stir and cook on medium high until fragrant.
Remove your meat mix from your pan onto a plate.
To your fry pan or wok add another 2 tbls of olive oil to the centre. Let that heat up, then add your broccoli and carrots.
Stir well and occasionally for about 10 mins, letting them brown, but don't overcook to much.
Add a few more splashes of soy sauce as needed to keep things going.
Move the veggies to the outer edge of you pan, add 2 to 3 more tbls of your olive oil. Let it heat through, then add your water chestnuts and bean sprouts.
Add your meat and mix everything together. Simmer for about 4 or 5 minutes until heated through.
Enjoy!
http://www.findtex.com.au/recipes/stir-frys/
KETO CHILLI
INGREDIENTS
2 Pounds/ 900 g Ground grass fed beef any ground meat can be used (make your own if possible.)
1 Head cauliflowerriced in the food processor
2 1/2 Tsp ginger
1 small bottle Ginger Beer
5 Tbs olive oil
2 Tbs Bay leaves
1 Tbs Onion chopped in cubes
2 Tbs Serrano chilis chopped
8 Tbs Garlic cloves minced
2 Tbs Jalapeno peppers seeded and minced finely
4 Tbs chili powder
1 23 Oz/ 650 g can Cut up tomatoes including the juice
1 Bunch Cilantro finely chopped
1 1/2 Tsp black pepper
3 Tsp Cumin
1 Sprig Fresh basil or cilantro for Garnish
INSTRUCTIONS
Place chopped onion in a stoneware fry pan.
Place on high heat
Pour olive oil in, on top of the chopped onion and stir well
Allow to heat up and cook onion for 2-3 minutes
Add ground beef and brown for another 2 minutes
Place all other ingredients in a pressure cooker and stir well
Cover ingredients with water
Close the pressure cooker and cook on high for 20 minutes
Adapted from https://completelyketo.com/harlan-kilsteins-completely-keto-speed-chili/?fbclid=IwAR0ebD2p_R8RO9Gz1DVEZzYWAfQ7dfSl7THP_BWaoasO2zGayRqR0AhKUvw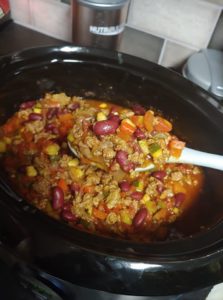 EASY CHILLI
INGREDIENTS
2 lb/ 900 g lean grass fed ground beef (any meat can be used.)
1 large onion- diced
2+ jalapenos- diced
1 red bell pepper- diced
1 large zucchini or 2-3 small- diced (can use yellow squash too or a combo)
Minced garlic (to your liking)
1 can diced tomatoes or fresh if possible
2 cans red kidney beans (optional) or dried soaked overnight
1 cup water
4 tbsp chili powder
2 tbsp cumin
2 bay leaves
1 tsp onion powder
1 tsp garlic powder
Ginger and pepper
Red chili flakes (to your liking)
Any other vegetables available and diced
Any other seasonings you want find recipe here http://www.findtex.com.au/uncategorised/spice-mix-sugar-salt-and-fat-free/?fbclid=IwAR0b2ho50Kj5nl0Zw7NhKBoPoQ0ggoCeVMfcSj31LQ6yvLx05hEo16KKs_s
INSTRUCTIONS
Brown ground beef with diced onion, peppers, and jalapeno. Drain and add in spices.
Add mixture and everything else in the crockpot/ slow cooker and mix well.
Cook on low 8 hours
http://www.findtex.com.au/recipes/chicken/crock-pot-south-western-chicken-chilli/
SLOW COOKED STROGANOFF
INGREDIENTS
1kg grass fed Beef Chuck Steakor Gravy Beef, or any other lean cheap cuts of beef
1 brown onion roughly chopped
1 carrot roughly chopped
2 stalks celery roughly chopped
Sauce
2 teaspoons garlic paste
2 teaspoons sweet paprika
1/ 2cup dry red wine
1 cup water
1 tablespoon no added salt tomato paste
3 teaspoons Dijon mustard
1 teaspoon ginger
1/2 teaspoon pepper
400 grams mushrooms sliced
To serve
1/2cup sour cream (optional)
INSTRUCTIONS
The morning prior to serving, chop all vegetables as above and cut the meat into 2.5 cm cubes.
Combine all sauce ingredients together in a bowl.
Add the onion, carrot and celery to the bottom of the slow cooker. Place the sliced mushrooms on top, followed by the beef.
Pour the prepared sauce on top and cook on low for 8 hours.
When ready to serve, gently stir through the sour cream and let sit for 5 minutes with the lid off the slow cooker.
Serve with cauliflower rice
Nutrition Facts of original
Slow Cooker Stroganoff
Amount Per Serving
Calories 177 Calories from Fat 90
% Daily Value*
Fat 10g 15%
Saturated Fat 4g 25%
Cholesterol 18mg 6%
Sodium 467mg 20%
Potassium 453mg 13%
Carbohydrates 11g 4%
Fibre 3g 13%
Sugar 2g 2%
Protein 3g 6%
Vitamin A 1075IU 22%
Vitamin C 1.6mg 2%
Calcium 39mg 4%
Iron 2.2mg 12%
* Percent Daily Values are based on a 2000 calorie diet and all calculations are estimates only.
Adapted from https://aussieketoqueen.com/slow-cooker-keto-stroganoff/?fbclid=IwAR0ZjpRoLxECa5lPIRxkVbCTTsJj346yBQl86Q9Yy6u9Tnb3CbgSZtQPd3w
http://www.findtex.com.au/recipes/chicken/crock-pot-south-western-chicken-chilli/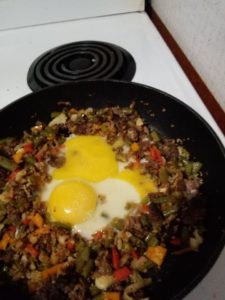 MINCED BEEF
INGREDIENTS
Grass fed minced beef (Any meat can be used. If possible, make your own.)
Cauliflower rice
Green beans finely chopped,
Mini red & orange pepper (1 each)
Any other vegetables available.
3 garlic cloves, diced
2 eggs
Cheese (shredded)
1 tsp. Ginger Juice
Pepper
INSTRUCTIONS
Fry up the ground beef, add the cauliflower, stir and let it cook till near softened.
Add the green beans next, stir.
Add the pepper, and Ginger juice mix in well.
Add the peppers, the other vegetables and garlic.
Keep cooking at medium heat and create a circle in the middle of it. Crack the eggs and add to the circle you created.
Cook till they are done and serve. The cheese is added after it is on the plate.
CHEESE LASAGNA
INGREDIENTS
For the "Noodles":
For the Filling:
1 lb/450 g grass fed ground beef
1 1/2 cups Three Cheese Marinara Sauce, divided find recipe here. http://www.findtex.com.au/diabetic-foods/chutney-etc/3/4 cup mozzarella cheese, shredded
6 tbsp whole milk ricotta cheese
1 tbsp minced onion flakes
1 tsp dried oregano
1 tsp garlic powder
1 tsp dried basil
1 tsp Italian seasoning
INSTRUCTIONS
For the "Noodles":
This part will take the longest, so feel free to make the "noodles" the night before and just leave them in the fridge until you are ready for them.
Preheat oven to 375°F/ 190°C Line a baking dish with parchment paper
In a large mixing bowl, using a hand mixer, cream together cream cheese and eggs.
Next, add Parmesan cheese, Italian seasoning, garlic powder, and onion powder. Mix until all ingredients are well combined.
Using a rubber spatula, fold in mozzarella cheese and mix until well incorporated.
Spread the mixture into the baking dish, forming a nice even layer.
Bake on the middle rack for 20-25 minutes.
When the "noodles" are done baking, cool in the fridge for about 20 minutes and then cut into thirds. This makes three perfectly sized "noodle" layers for a loaf pan.
For the Filling:
In a large stoneware fry pan over medium-high heat, combine ground beef, minced onion, oregano, garlic powder, dried basil and a pinch of salt. Cook until the meat is browned.
Drain excess fat from pan and add ¾ cup marinara sauce to meat. Reduce heat to low and simmer for 10 minutes.
Putting it all together:
Pour ¼ cup marinara sauce into bottom of loaf pan. Top with the first "noodle" layer
Layer a third of the ground beef mixture. Top with ¼ cup mozzarella cheese and 3 tbsp ricotta cheese, and cover with another "noodle" layer. Repeat these steps.
Cover the top "noodle" layer with remaining ground beef, and mozzarella cheese. Sprinkle Italian seasoning over top. Bake for 20 minutes.
Nutrition
Per Serving – Calories: 486 | Fat: 34g | Protein: 57g | Net Carbs: 9.5g
Adapted from https://peaceloveandlowcarb.com/just-like-the-real-thing-lasagna/?fbclid=IwAR1lg33BbsPFCgAV-DA-cW1feycwjhDN-mttsWGE51U6Tcz1Zfi2DTVs1zM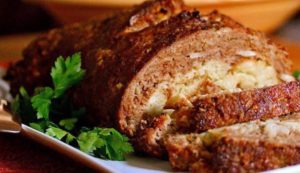 MEATLOAF WITH MOZZARELLA
INGREDIENTS:
800g ground grass-fed lean beef
1 onion (7g carbs)
2 garlic cloves
100 g of pitted black olives (6g carbs)
1 bunch of parsley
1 boiled egg
ginger and pepper to taste
2 tbsp olive oil
100 g of mozzarella cheese (3,1g carbs)
50 g of multigrain breadcrumbs (50g bread crumbs has 25g carbs) (can be omitted) (crushed nuts can be used.)
INSTRUCTIONS:
In a prep bowl, mix the meat, onion, parsley, garlic cloves, olives and egg well. Season with ginger and pepper.
Oil an aluminium foil sheet with the olive oil and sprinkle with the breadcrumbs if using.
Spread the meat across the aluminium foil and top with the grated cheese. Roll the meat carefully and arrange in a pan, place in the oven for about 50 minutes at 200 ° C.
Remove the aluminium foil and serve the roll in slices.
Serve with side of mixed salad.
Side suggestion:
In the same tray where you baked the meat roll, place 250g of grated nuts, 250 g of pre-cooked cauliflower and 250g whole mushrooms, to take advantage of the meat sauce for flavouring.
Just count the carbs!
BEEF STEW.
INGREDIENTS – Serves 4 Adults
675g / 1½ lb of lean stewing beef, diced
1 dessertspoon olive oil
1 beef stock cube dissolved in 575ml / 1 pint of water or homemade stock
40g / 1½ oz. of plain flour optional
5 medium carrots, peeled and chopped
1 medium onion, chopped
Ginger and pepper, to taste
INSTRUCTIONS
Fry the meat in a frying pan on both sides until browned
Remove from the frying pan and place in a saucepan
Chop the onions and carrots and fry lightly
Remove from the frying pan and place with the meat in the saucepan
Sprinkle the flour if using into the frying pan and stir well
Add the stock cubes, water and seasoning. Continue stirring
Add this to the meat and vegetables and cook gently over a low heat for 1 to 1½ hours until the meat is tender
Nutrition values in original
Adapted from https://www.diabetes.ie/living-with-diabetes/living-with-type-2/food-diabetes/recipes/main-meals/beef-stew/?fbclid=IwAR22Qfy3dkEezjXJor9jE6GRHQ5k_Qbxjci2l8ZBbXuwBDgFGnKFN-fqcQg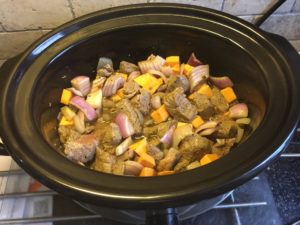 INGREDIENTS
2 lbs/900 g Stew Meat
1 lb/450 g. Baby Carrots, cut in half.
6 l Stalks Celery, cut in 2.5 cm pieces.
1 Med. Gold sweet Potatoes, cut in quarters lengthwise, each quarter cut in 1/3rds.
1 l Yellow Onion, sliced in 2.5 cm slices.
1 l Red Bell Pepper, cut in large chunks.
1 Tbsp. Can no added salt Tomato Pasta Sauce
2 Tbsp. Garlic Pepper Seasoning, or to taste.
5.5 C. water
INSTRUCTIONS
1. Layer sliced onion on the bottom; cubed sweet potatoes next; followed by carrot chunks; sliced celery; then pepper chunks. Lastly, put stew meat on top.
2. Season liberally Garlic Pepper, then pour tomato pasta sauce over it all.
3. Add 5 1/2 C. of hot water. Pour over everything.
4. Using a heavy-duty spoon, give everything a good stir to mix all of the liquid ingredients.
5. Place lid on crock pot and let cook on high for 4 – 6 hrs, or on low for 8 – 10 hrs. Meat should be VERY tender! Don't be surprised if your onions "melt" or dissolve into your sauce. It only adds to the flavour.
6. Serve with steamed green vegetables.
KOREAN BEEF
INGREDIENTS
2 lbs/ 900 gms beef flat iron steak, cut into 1 inch/ 2.5 cm pieces
2 Tablespoons arrowroot powder
2 Tablespoon olive oil
3/4 cup water
8 garlic cloves, minced (or 1.5 tsp garlic powder)
1 Tablespoon fresh ginger, grated
1 Tablespoon apple cider vinegar
1/2 teaspoon ginger
1/4 teaspoon red pepper flakes (this amount doesn't result in a spicy dish, but more can be added if desired)
Garnish with sliced green onions and sesame seeds
INSTRUCTIONS
Add the cut beef to a gallon sized zip lock bag with 2 Tablespoons arrowroot powder, close the bag and shake until all the beef is coated.
In a mixing bowl or large measuring cup stir together the water, minced garlic, grated ginger, apple cider vinegar, ginger and pepper flakes.
Turn on the instant pot to the sauté setting or heat a fry pan and add the olive oil allowing it to heat up for 1-2 minutes.
Once the oil is hot, add the beef pieces and cook for 2 minutes then turn over the pieces using tongs and cook for another 2 minutes.
Pour the sauce mixture over the beef to deglaze the pot and scrape off any bits from the bottom of the pot.
Secure the instant pot lid, set the valve to sealing and cook on high pressure/manual for 10 minutes or simmer for 10 minutes.
Once the cooking has completed allow the instant pot to depressurize for 10 minutes before quick releasing any remaining pressure and removing the lid.
Serve immediately over spaghetti squash and/or cauliflower rice. Garnish with sliced green onions and sesame seeds.
Eat and enjoy!
Nutrient values for original
Serves 6
Serving Size: 1 plate
Calories Per Serving: 341
% Daily Value
21% Total Fat 13.7g
32% Cholesterol 96.8mg
52% Sodium 1237.9mg
5% Total Carbohydrate 15.7g
0% Dietary Fiber 0.1g
Sugars 12.1g
67% Protein 33.6g
0% Vitamin A 1.6µg
2% Vitamin C 1.4mg
4% Calcium 41.1mg
14% Iron 2.5mg
0% Vitamin D 0µg
9% Magnesium 36.4mg
16% Potassium 558.8mg
40% Zinc 6.1mg
Adapted from https://www.finishedwithsalt.com/korean-beef?fbclid=IwAR36MnEG9zIcIAKvardEizpeRqdfCFdi-IfpI7laICYEpSgHOibBFpmU60E
UNSTUFFED CABBAGE ROLLS
INGREDIENTS
1 1/2 pounds/ 680 g lean grass fed ground beef
1/2 onion, diced
2 cloves garlic, minced
1 large head of cabbage, chopped
1/2 cup water
1 teaspoon ginger
INSTRUCTIONS
Add the beef to a large pot over medium heat. Brown the meat, crumbling as it cooks.
When meat is partially cooked, add the onion and garlic to the pan and continue cooking, stirring often.
Add the cabbage, water, and ginger to the pan and stir to cover the cabbage in the marinara and beef.
Continue cooking, stirring occasionally, for 20 minutes or until the cabbage is as tender as you'd like.
Serve immediately.
Adapted from https://thatlowcarblife.com/unstuffed-cabbage-rolls/?fbclid=IwAR00XTJ7C5PR2CkfR-eY8Hf1Sof02f9-_CVI6q7JlqjJoBMnA53aIeQdYdQ
GRILLED STEAK & ASPARAGUS WITH FETA SAUCE
Ingredients
Olive oil cooking spray
2 bunches asparagus
5 tablespoons extra virgin olive oil
3/4 teaspoon ginger
1/2 teaspoon freshly ground black pepper
2 sirloin tip steaks (each 1 to 3 cm thick; about 1 kg total)
1 cup crumbled feta cheese
1/2 cup sour cream
2 tablespoons apple cider vinegar
1/4 cup finely chopped fresh chives
Instructions
Preheat the grill with a rack about 5 cm from the heat. Line a sheet pan with aluminium foil and mist a wire rack about the size of the sheet pan with olive oil cooking spray.
Snap off the bottom of one asparagus spear, to see where it breaks easily. Line up the rest of the bunch and slice off the bottoms at the same spot. Place the trimmed asparagus on the prepared tray, drizzle with 3 tablespoons of the olive oil, sprinkle with 1/4 teaspoon ginger and 1/4 teaspoon black pepper and toss to coat. Arrange the asparagus in a single layer around the perimeter of the pan and set the wire rack on top, nudging the asparagus aside as needed so the rack lies flat and even.
Blot the steaks dry with a paper towel. Season both sides with the remaining 1/2 teaspoon ginger and 1/4 teaspoon pepper. Place the steaks on the wire rack.
Place the tray under the grill (the steaks should be about an 2.5 cm from the heat). Grill, flipping the steaks once, until well browned and charred at the edges, 4 to 5 minutes per side for medium-rare. (If you prefer your steak more or less done, adjust the cooking time accordingly.)
While the steaks and asparagus cook, make the feta cream sauce: Combine the feta cheese, sour cream, remaining 2 tablespoons olive oil, and cider vinegar in a food processor or blender. Puree the ingredients until smooth. Add ginger and pepper to taste and give the sauce one last pulse. Pour the sauce into a bowl and fold in the chives.
Remove the tray from the broiler and allow the steak and asparagus to rest for 10 minutes on the rack. Transfer the steak to a cutting board before slicing it thinly against the grain. Serve the steak and asparagus with the feta cream sauce.
Adapted from https://www.thekitchn.com/recipe-broiled-steak-amp-asparagus-with-feta-cream-sauce-recipes-from-the-kitchn-217621?fbclid=IwAR346hnRtoDWgaiL4CgpVgGExglbeTzrswnX-9JazFjEr-opRpBw_1zKSY4
BEEF WITH SPINACH
INGREDIENTS
1 1/2 lb/ 680 g lean beef, cut into cubes (any lean meat can be used)
1 cup onion, shredded
1 cup extra virgin olive oil
10 green onions (scallions), cut into rings
1 tsp dry mint
1/2 cup fresh dill, chopped
1 cup tomatoes, chopped
ginger and pepper, to taste
2 lbs/900 g spinach
1 cup water
INSTRUCTIONS
In a deep pot, sauté meat, onions and olive oil for 5 minutes. Stir in green onions, mint, dill, tomatoes, ginger and pepper. Simmer for 20 minutes.
Add spinach and water. Stir well and cook for an additional 20 minutes, or until meat is tender. Serve warm.
Adapted from https://www.mediterraneanliving.com/recipe-items/beef-spinach-skillet-greece/?fbclid=IwAR04MQ4JdiZyZWNpYvuuSoXiiiea3xWECPgxCVdDgDG3tnUWBFeWCIDtFHw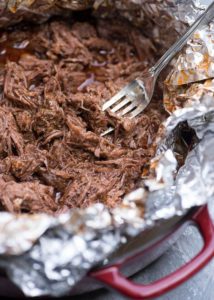 SHREDDED MEXICAN BEEF
INGREDIENTS
2-3/4 to 3pound/ 1.4 kgboneless beef chuck roast
1(7 ounce/200g)can diced green chilis(don't drain)
2clovesgarlicminced
2tablespoonschili powder
1teaspoondried oregano
1teaspoonground cumin
1/2teaspoonginger
Fresh ground black pepper to taste
INSTRUCTIONS
Preheat oven to 300 degrees F/160 C.
Trim any excess fat from the edges of the roast. Place roast on a sheet of heavy-duty foil large enough to enclose the meat. In a small bowl, combine the green chilis (with liquid), garlic, chili powder, oregano, cumin, ginger, and pepper. Mix well and spread out evenly over both sides of the meat. Enclose the meat in the foil and then wrap the foil package in a second sheet of foil to ensure the cooking liquid will not leak out during the cooking time. Place in a large baking or roasting pan.
Bake at 300 degrees F/160 C for 4-1/2 to 5 hours, or until the roast just falls apart with a fork. Remove from oven, open the foil package and shred the meat. Carefully remove foil from pan and transfer the meat and cooking liquid into the pan.
Use in a variety of Mexican-inspired dishes like tacos, burritos, burrito bowls, enchiladas, nachos or with steamed vegetables.
SLOW COOKER Method:
After wrapping the roast in foil, transfer to the slow cooker. Cook on low for 8 to 10 hours. Remove foil and shred meat into the cooking sauce in the crock pot. Serve.
Make-Ahead Method:
This beef is fantastic when reheated with the sauce it makes while cooking. If you want to really save time, make a day or two in advance, cover the pan with foil or plastic wrap and refrigerate till needed. Reheat in microwave and serve.
Adapted from Allrecipes
Nutrition
Calories: 319kcal
Fat: 19g
Saturated fat: 8g
Cholesterol: 117mg
Sodium: 415mg
Potassium: 636mg
Carbohydrates: 2g
Fiber: 1g
Protein: 33g
Vitamin A: 12.9%
Vitamin C: 10.6%
Calcium: 5.2%
Iron: 24.8%
Adapted from https://www.fromvalerieskitchen.com/shredded-mexican-beef-and-a-marriage-proposal/?fbclid=IwAR11phoT5w8eLQ6PujCT55loLD5tYnCCKLdTNxKw4HhEq2iqYXRwZw9PeTM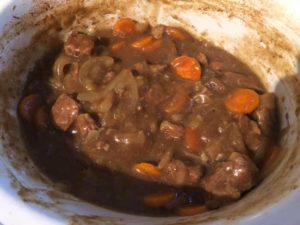 SPICED STEAK
INGREDIENTS
500 g Blade Steak
1/2 teaspoon Curry
1/2 teaspoon mustard
1/2 teaspoon ground ginger
1/2 teaspoon mixed spice
pepper to taste
1 cup of water
2 tablespoons vinegar
2 tablespoons tomato sauce
1 carrot
Any other in season vegetables
2 onions sliced
INSTRUCTIONS
Trim and cut steak place in bowl of slow cooker cover with sliced carrots, other vegetables and onions.
Mix dry ingredients in a bowl add sauce and vinegar mix all thoroughly and add water.
Pour over steak and veggies cook high for 4 hours or slow for six.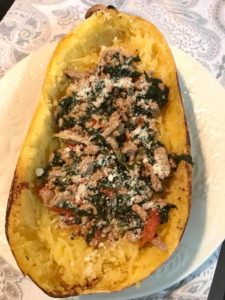 BEEF AND MUSHROOM RAGU WITH SPAGETTI SQUASH
INGREDIENTS
4 medium spaghetti squash cut in half
1 teaspoon olive oil
1/2 medium onion, diced
1 medium carrot, peeled and diced
3 garlic cloves, chopped
12 kg chuck eye roast, trimmed and cut into 5cm pieces
ginger
fresh black pepper, to taste
8 ounces/ 225 gms sliced mushrooms
1 cup chopped tomatoes
1/4 cup water
Perorino Romano or parmesan cheese rind (optional)
2 sprigs fresh thyme
2 dried bay leaves
For serving:
6 tablespoons grated Perorino Romano, for serving
6 tablespoons part-skim ricotta cheese, for serving
chopped parsley, for garnish
INSTRUCTIONS
Roast the spaghetti squash
Pressure cooker:
In a stoneware fry pan heat the oil and sauté the onions, carrots and garlic and cook until golden, about 3 minutes.
Season the beef with 1/2 teaspoon ginger and pepper then transfer to the pressure cooker.
Top with mushrooms then pour the tomatoes and water over the beef, add the cheese rind, bay leaves and thyme.
Cover and cook high pressure, 45 minutes. Quick or natural release.
Let the pressure release, discard bay leaves, thyme and rind.
Transfer the beef to a plate and shred the meat with two forks, return to the sauce.
To serve, place just under 1 cup sauce over each spaghetti squash half, 1 tablespoon of grated Percorino Romano and 1 tablespoon of ricotta cheese. Finish with parsley and serve hot.
Stove Top:
In a large heavy stock pot or Dutch oven, heat the oil over medium-high, add the onions, carrots and garlic and cook until golden, about 3 to 4 minutes.
Season the beef with 1/2 teaspoon ginger and pepper then transfer to the pot.
Top with mushrooms then pour the tomatoes and 1/2 cup water over the beef, add the cheese rind, bay leaves and thyme.
Cover and cook low heat, until the meat is tender, 1-1/2 to 2 hours.
Discard bay leaves, thyme and rind.
Transfer the beef to a plate and shred the meat with two forks, return to the sauce.
To serve, place just under 1 cup sauce over each spaghetti squash half, 1 tablespoon of grated Percorino Romano and 1 tablespoon of ricotta cheese. Finish with parsley and serve hot.
Nutrition Information
Yield: 8 servings, Serving Size: 1 scant cup
Amount Per Serving:
Freestyle Points: 4
Points +: 8
Calories: 310 calories
Total Fat: 11.5g
Saturated Fat: 5g
Cholesterol: 44.5mg
Sodium: 551.5mg
Carbohydrates: 36.5g
Fiber: 6g
Sugar: 15g
Protein: 16.5g
Adapted from  https://www.skinnytaste.com/beef-and-mushroom-ragu-with-spaghetti-squash/#drz7LB2fVcSwgvfr.99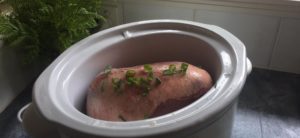 SLOW COOKED BLADE ROAST
INGREDIENTS
Blade roast
Spring onions
minced garlic
ginger and pepper
INSTRUCTIONS
1. Place silicon eggs rings in the bottom of the slow cooker (you can purchase these from dept stores).
2. Add some minced garlic to the bottom of the slow cooker.
3. Place blade roast on top. Add ginger, pepper and spring onions.
Cook in high for 5 hours.
PORK, BEFF AND SUNDRIED TOMATO
INGREDIENTS
3 Tbs Extra Virgin Olive Oil
300g diced grass-fed lean beef
300g diced lean pork
¼ celery, leaves included, roughly chopped into large chunks
3 cloves garlic
1 brown onion, outer leaves removed and quartered
2 carrots quartered
1 zucchini quartered
½ cup sundried tomatoes, roughly chopped
2 Tbs no added salt tomato paste
1 cup dry red wine
500mls water
2 sprigs rosemary
2 sprigs thyme
1 bay leaf
To serve
½ cup freshly grated parmesan
Extra Virgin Olive Oil
INSTRUCTIONS
Preheat the oven to 170 degrees Celsius, fan forced.
Place the garlic, celery and onion in a food processor and blitz for 30 seconds, add the carrots and zucchini and blitz until very finely chopped.
Put a large oven proof high sided fry pan on the stove top. Heat on medium high heat, add half of the Extra Virgin Olive Oil and once hot add the diced meat. Brown on all sides and remove from the pan.
Add the remaining of the Extra Virgin Olive Oil and once hot add your blitzed vegetables. Turn the heat down to medium and cook until the vegetables have started to soften, they will let out liquid when you first put them in but after a few minutes this will have evaporated.
At this point add the tomato paste and cook off for 1 minute, add the white wine and sundried tomatoes and cook until the wine has evaporated. Add the browned meat back into the pan.
Add the water, rosemary, thyme and bay leaf and bring to a simmer. Stir in the season with a generous pinch of ginger and a few cracks of black pepper.
Cover with the lid and place in your preheated oven. Cook for two hours, stopping to stir and check the liquid hasn't evaporated at least 3 times. After two hours the meat should be tender enough for you to break it up with the pressure of a wooden spoon. Break up all the meat using the end of the spoon and then cover and place back in the oven at 160 degrees. If the sauce is getting dry add a little water.
Once cooked, drain, toss with Red Island extra virgin olive oil, the parmesan. Sprinkle with parmesan to serve.
Adapted from https://redisland.com/pork-beef-sundried-tomato-ragu
LAMB OSSO BUCO
INGREDIENTS
1 litres water
3 ½ tablespoons olive oil
1 kg lean grass-fed lamb shanks, cut in half (ask your butcher to do this) (Any lean meat can be used.)
4 garlic cloves, crushed
1 onion, finely sliced
6 rosemary sprigs, leaves picked and roughly chopped
1 long red chilli, split lengthways sea salt
1 carrot, roughly diced
2 celery stalks, roughly diced
2 tablespoons tomato paste
¼ cauliflower head (about 250 g), chopped into small florets
¼ bunch of Kale (about 300 g), roughly shredded
freshly ground black pepper
INSTRUCTIONS
Preheat the oven to 160°C.
Place a stoneware frying pan over medium–high heat and add 1 tablespoon of the olive oil. Add the lamb shanks and cook for 2 ½ minutes on each side, or until they are nicely browned. Remove from the heat and set aside.
Heat some olive oil in an ovenproof casserole dish over medium heat. Add the garlic and cook for 2 minutes, or until soft. Add the onion, rosemary and chilli. Stir well and cook for a few minutes, or until the onion is soft. Add the carrot and celery, stir well and cook for a further 2 minutes. Stir in the tomato paste and cook for 2 minutes. Remove from the heat.
Place the lamb and cauliflower in the casserole dish and add the water. Cover with a tight-fitting lid. Cook in the oven for 2 hours, or until the meat is just starting to come away from the bone. Add the kale and return to the oven to cook for another 5 minutes, or until the Kale is just wilted.
This can also be cooked in a slow cooker, 4 hours on high 6 – 8 hours on low with a cup of water.
Adapted from www.thepaleoway.com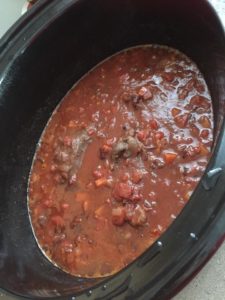 SLOW COOKED BEEF CURRY
INGREDIENT
1 kg lean grass fed diced beef
2 large onions (sliced)
1/2  tsp chili flakes (or fresh chopped chili if you prefer)
1 can chopped tomatoes or fresh if possible
2 tsp ground cumin
2 tsp ground coriander
2 tsp turmeric
3 cloves garlic (crushed)
thumb sized piece of fresh ginger (grated )
water to cover
INSTRUCTIONS
Put everything in the slow cooker stir well and cook on low for 6-8 hours . When you get home take off the lid and turn it up to high for the last hour, so the sauce can thicken and reduce.
Adapted from  https://vicki-kitchen.blogspot.com/2016/10/easy-slow-cooker-beef-curry-slimming.html?spref=fb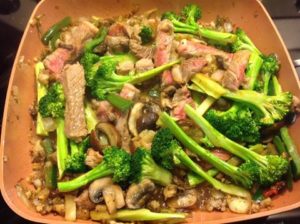 BEEF AND VEGETABLES CHINESE
INGREDIENTS
¼ Kg grass fed steak
2 teaspoons olive oil
1 clove garlic minced
2.5 cm piece ginger root minced
4 cups broccoli chopped
1 small head bok choy, chopped
Any other in season vegetables
½ teaspoon freshly ground black pepper
1/2 lime juiced
INSTRUCTIONS
Trim away any excess fat from the steak and thinly slice on a bias against the grain.
Heat oil in wok or stone-ware fry pan.
Add garlic and ginger and sauté until fragrant, about 30 seconds.
Add steak. Cook for 3 to 5 minutes until steak begins to brown.
Add broccoli and bok choy, other vegetables and season with black pepper.
Add lime juice.
Toss and allow to cook for 5 minutes until steak is cooked and vegetables are crisp.
Serve immediately.
Adapted from https://www.verywellfit.com/healthier-chinese-beef-and-broccoli-4144237?utm_campaign=wellfed&utm_medium=email&utm_source=cn_nl&utm_content=20180530&utm_term=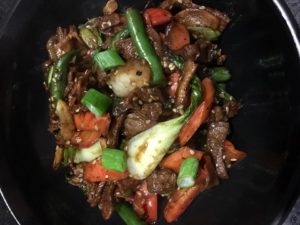 MOROCCAN BEEF WITH COUCOUS AND VEGETABLES
INGREDIENTS
600g lean grass-fed beef stir-fry strips
3 teaspoons Moroccan seasoning mix from http://www.findtex.com.au/uncategorised/spice-mix-sugar-salt-and-fat-free/
1 tablespoon olive oil
1/2 cup (100g) couscous (Some may omit)
Grated zest and juice of 1 lemon
1 small red onion thinly sliced
1/2 cup roughly chopped coriander
1/4 cup raw almonds roughly chopped
150g thin green beans, trimmed, blanched in boiling water for 2 minutes, refreshed in cold water
Any other in season vegetables steamed.
INSTRUCTIONS
Combine beef, spice mix and oil in a bowl. Stand for 3 minutes.
Meanwhile, place couscous, lemon zest and juice in a large bowl and pour over 1/3 cup (80ml) boiling water. Cover and stand for 4 minutes, then fluff with a fork. Fold through onion, coriander, almonds and beans and other vegetables.
Heat the oil in a large non-stick frypan over medium-high heat. Cook the beef in 2 batches, tossing, for 2-3 minutes until seared. Serve the beef over couscous.
Adapted from  https://www.delicious.com.au/recipes/moroccan-beef-couscous-green-beans/90e71830-340e-48ab-aa95-308e31c87c36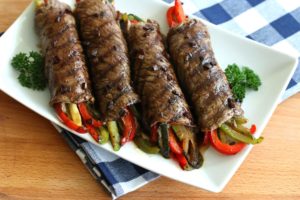 BALSAMIC GLAZED STEAK ROLLS
INGREDIENTS (makes 8-10 rolls)
* 1 kg grass fed skirt steak/ 8-10 thin sliced sirloin
* ginger & Pepper (according to taste)
* 1 tbsp olive oil
For the Veggie filling –
* 1 carrot
* 1 bell pepper
* 1/2 a zucchini (depending on size)
* 5-6 green onions
* 2 cloves of garlic
* 1 tsp Italian herb seasoning
Any in season vegetable
For the Balsamic glaze sauce–
* 2 tsp Extra Virgin Olive Oil
* 2 tbsp finely chopped shallots
* 1/4 cup balsamic vinegar
* 1/4 cup water
INSTRUCTIONS
– Trim as much fat as possible. You can then tenderize the meat with a meat hammer (if you're using sirloin it doesn't need any tenderizing).
– Season the steak pieces generously on both sides with ginger and pepper. And let them sit in the marinade for at least 30 mins if not a couple hours.
– While the steak is marinating you can prep the filling for them. Chop up the carrot, bell pepper and zucchini into matchstick size pieces, little longer than the width of the steak strips. Then cut the green onion in a similar size. For the garlic, simply peel and crush the cloves with the flat side of your knife, just enough to bruise them.
– Now for the sauce, Heat the EVOO in a small sauce pan on medium heat.
– Add the finely chopped shallot and sauté it for a minute or 2 until they turn soft and translucent.
– Add the balsamic vinegar and water and stir to mix everything well.
– Allow the sauce to come to a boil and then reduce the heat until it reduces to almost half its volume.
– In the same pan (no need to wash it) add a touch of olive oil and toss in the garlic cloves to allow them to flavour the oil for a few minutes.
– Turn the heat up to high and toss in the carrots, bell pepper and zucchini (there's no need to cook the green onion) and stir fry the veggies for no longer than 2-3 minutes.
– Season them with the Italian herb seasoning and transfer the veggies to a bowl.
– To assemble the steak rolls, simply take a strip of the marinated steak and lay it with the short side towards you. Place the veggies (don't forget the green onion!) in the middle and oil the beef up over the filling, securing it with toothpick. Repeat the same with the other rolls.
– Heat a large skillet/BBQ over medium-high heat. When hot, add beef rolls, seam side down. Then turn roll and cook it on all sides in the same way. Cook to your liking.
– Remove the toothpick and serve with the balsamic glaze sauce spooned over the top of each roll.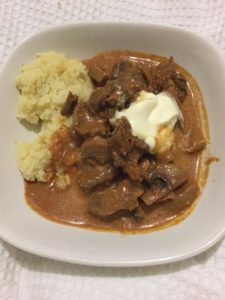 ZIGINI (BEEF STEW)
INSTRUCTIONS
1 cup olive oil
1 kg lean grass-fed beef cubed or any other lean grass-fed meat
2 onions diced finely
4 sweet peppers very finely diced (red or yellow bells)
4 tomatoes very finely diced
2 Tablespoons garlic cloves minced
2 Tablespoons ginger
1 Tablespoon turmeric
3 Tablespoons Berbere seasoning recipe found here http://www.findtex.com.au/uncategorised/spice-mix-sugar-salt-and-fat-free/
1 Tablespoon cumin
1 small can no added salt tomato paste
Instructions
In a large pot heat up the oil and add in the beef, cook a few minutes until browned and add in the onions. Cook together just a couple of minutes and add in all the other ingredients except for the berbere and minced garlic. Stir everything together and cook covered on medium heat for two hours.
Add in the berbere seasoning and minced garlic, stir, cover and cook for another 5 minutes.
Serve warm with steamed in season vegetables and cauliflower rice.
Enjoy!
Adapted from https://www.internationalcuisine.com/zigni/
SLOW COOKED BEEF WITH RED WINE SAUCE
INGREDIENTS AND INSTRUCTIONS
In a slow cooker place on low place
3 carrots
2 onion
3 sticks celery all roughly chopped
3 cloves garlic
1 bay leaf
2 sprigs thyme
Pinch cloves
Brown lean roast beef well in a pan on stove then place in slow cooker. (Any lean meat can be used)
Top of vegetables.
Add 2 cups red wine to pan, scrape up brown bits then put into slow cooker.
Add 2 cups water to slow cooker.
Cook on low 6 to 8 hours.
While meat is resting, strain liquid into pan on stove and thicken with cornflour. Season Serve with sliced beef along with the vegetables and seamed green vegetables.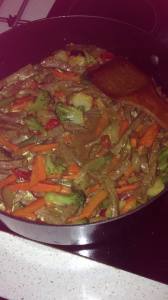 LEAN MEAT AND LENTIL STEW
INGREDIENTS
2 tablespoons olive oil
1 kg lean beef chuck, cut into 2 cm cubes (Any lean meat can be used)
1 onion, chopped
3 garlic cloves, minced
4 carrots, sliced
3 large celery stalks, sliced
1 1/2 cup dried green or brown lentils
1 small can of crushed tomatoes or fresh chopped if possible
6 cups water
1 cup dry red wine
3 bay leaves
1 tablespoon dried thyme
Pinch of cayenne pepper
3 tablespoons fresh chopped tarragon
Ginger to taste
Any in season vegetables
INSTRUCTIONS
Heat the oil in a large stoneware fry pan over medium-high heat. Sauté the onions for 3-4 minutes, then add the beef and garlic.
Brown the meat, stirring regularly, for 5-10 minutes.
Add the carrots, celery, lentils, tomatoes, water, wine, bay leaves, thyme, vegetables and cayenne pepper.
Bring to a boil, cover, then reduce heat and simmer for about 45-60 minutes, until the lentils are tender. Stir in the tarragon.
Adapted from https://www.aspicyperspective.com/beef-and-lentil-stew/2/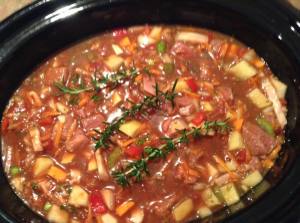 MEXICAN SLOW COOKED BEEF STEW WITH CORN BREAD DUMPLINGS NB1
INGREDIENTS
2 tablespoons olive oil
1kg gravy beef, cut into 3cm pieces visible fat removed
1 brown onion, finely chopped
2 carrots finely chopped
2 stalks celery, finely chopped
4 garlic cloves, thinly sliced
1 tablespoon smoked paprika
1 teaspoon ground Mexican chilli
2 cups baby Roma tomatoes chopped
1 cup water
2 tablespoons no added salt tomato paste
Greek Natural Yoghourt, to serve
For the cornbread dumplings
1½ cups wholemeal flour (or your favourite diabetic flour)
1 cup polenta
1 tablespoon baking powder
1½ cups Greek Natural Yoghourt
1 cup grated cheddar
½ cup finely chopped coriander
1 long red chilli, finely chopped
INSTRUCTIONS
Preheat oven to 160ËšC or 140ËšC fan-force.
Heat 2 teaspoons of oil in a large flameproof baking dish over medium-high heat. Cook third of beef for 2-3 minutes or until well browned. Set aside. Repeat in 2 more batches with remaining oil and beef.
Heat remaining oil over medium heat. Cook onion, carrot, celery and garlic, stirring occasionally, for 10 minutes or until softened. Add spices and cook until fragrant. Add tomatoes, water, tomato paste and stir until combined. Return meat to pan with any juices. Season and bring to the boil. Cook, covered, in oven for 2½ hours.
Increase oven to 200ËšC or 180ËšC fan-force. Combine all ingredients for dumplings in a large bowl. Season and stir until combined. Dollop heaped spoonful of dough over hot stew. Bake, uncovered, for 20-25 minutes or until dumplings are golden and cooked through.
Note:  Mexican chilli is a mix of ground paprika, cumin and chilli. You can freeze beef stew (without dumplings) for up to 1 month. You can make the stew in advance but make sure the stew is boiling hot when you add the dumpling dough.
Nutrition Information (per serve)
| | |
| --- | --- |
| Energy | 1930 kJ (461 calories) |
| Protein | 40g |
| Total Fat | 16g |
| Carbohydrates | 35g |
| Saturated Fat | 6g |
| Sugars | 10g |
| Sodium | 377mg |
Adapted from https://daa.asn.au/recipes/mexican-slow-cooked-beef-stew-with-corn-bread-dumplings/
NB1 some diabetics may find corn affects their sugar, if this is you leave it out.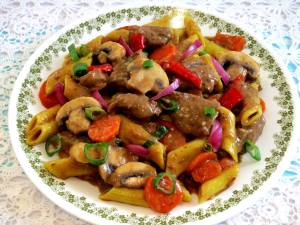 CLASSIC BEAF CASSEROLE
INGREDIENTS
800 g lean grass-fed beef meat cut into bite size – pieces (any meat can be used)
1 red onion sliced
3 medium size carrots, sliced
250 g fresh mushrooms, sliced
1 red capsicum, seeds removed and sliced
black pepper, to taste
water 2 L
100 ml Greek Yoghurt
Parisian Essence Browning essence
2 heap Tbsp. of corn flour mixed with …. bit water (Or your favorite flour)
shallot, to garnish (optional)
Red onion, to garnish (optional)
vegetables oil
INSTRUCTIONS
1) Heat 2 Tbsp. of oil in a large saucepan over high heat add meat and cook until browned. Add onion, carrots, about 2 L water, stir all well cover with lid and bring to boil. Reduce the heat and simmer until the meat is soft. Add mushrooms, capsicum, Parisian essence and cook for few minutes. Add yoghurt stir and slowly pour in corn flour, keep stirring and cook until bubbling and the sauce thickens. Taste and season with pepper and ginger
2) Serve on steamed green vegetables.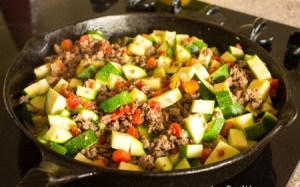 MEXICAN ZUCCHINI AND BEEF
INGREDIENTS
2 medium zucchini, sliced and quartered
1 1/2 pounds ground grass fed beef NB1
2 garlic cloves, minced
1 small can low salt tomatoes & green chilies (or salsa, or diced tomatoes fresh if possible)
1 tablespoon chili powder
1 teaspoon ground cumin
1 teaspoon ginger
1/2 teaspoon black pepper
1/2 teaspoon onion powder
1/4 teaspoon crushed red pepper flakes
INSTRUCTIONS
Brown ground beef with minced garlic, ginger, and pepper.
Cook over medium heat until meat is browned.
Add tomatoes and remaining spices. Cover and simmer on low heat for another 10 minutes.
Add the zucchini. Cover and cook for about 10 more minutes until zucchini is cooked, but still firm.
Serve with steamed vegetables.
NB1 any grass fed meat can be used. Try cutting meat into small cubes or thin slices.
Adapted from http://lowcarbyum.com/mexican-zucchini-and-beef/
T-BONE FOR THREE
Grass fed T-bone for three. (Someone put too much salt on this one.)
Tex would enjoy this bone. (He enjoys large cooked bones and has learnt not to eat the bone itself just the meat left on it)
Health Benefits of Grass Fed Beef v Grain Fed
Omega 3 and Omega 6 fatty acids are such fats, and it is the balance of these essential fatty acids that is important.
There is much evidence to suggest that the diet on which we evolved consisted of a ratio of omega-6 to omega-3 fatty acids of around 1:1. Modern day western diets however, have much higher relative levels of omega 6 fatty acids, which has been found to promote diseases like heart disease and cancer, as well as inflammatory and autoimmune diseases (1). Shockingly, most current western diets consist of ratios of around 16:1 and even higher!
Choosing grass fed beef over grain fed beef assures you a healthy balance of fats.  Grass fed beef has an omega-6 to omega-3 ratio of around 1.5 : 1 – a level consistent with wild game – because, like wild game, grass fed animals are eating what nature intended!  This is compared with grain fed animals – the meat of which has a ratio of up to 7:1 and even as high as 16:1(2) – much higher in its relative quantity of the less desirable omega-6 fatty acids.
High concentrations of Omega 6 in the diet have been linked to memory problems, confused behaviour and Alzheimer's disease, as well as weight gain, allergies and depression.
http://theconsciousfarmer.com.au/grass-fed-v-grain-fed/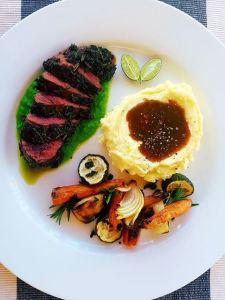 HERB CRUSTED KANGAROO NB 1
Herb crusted kangaroo with cauliflower mash, pea puree, BBQed vegetables and bush tomato gravy.
Is kangaroo the best red meat on the planet?
New Scientist released an article on October 13 examining the health and environmental benefits of the Aussie grazer. Like other game meats, roo meat is high in protein and low in fat, but is it also one of the most ethically and environmentally sound sources of meat in the world?
Kangaroos live in the wild, are protected by legislation, and are harvested by licensed shooters in accordance with a strict code of practice. In addition, their digestive systems differ from ruminants like cattle and sheep, so they don't clog the air with methane, which some say makes their meat a good choice for combating global warming. In addition, "one kangaroo consumes about a third as much plant material as a sheep, and just 13 percent of the water," states New Scientist. For a country like Australia with periodic droughts, this is a very good thing.
http://www.independent.co.uk/life-style/health-and-families/is-kangaroo-the-best-red-meat-on-the-planet-2106610.html
NB1 Personally I have eaten game meat for most (if not all my life). As game meat may not (in some cases definitely not) ever seen a drench gun I tend to overcook it. I have heard of some awful stories of eating game meat cooked rear. I advise to use it in stews etc. so that it is well cooked.
SLOW COOKER BEEF STEW
INGREDIENTS
1kg lean low fat stewing beef, cubed (Any meat can be used.)
2 medium sweet potatoes, washed and chopped
1 medium onion, chopped
3 carrots, chopped
2 ribs celery, chopped
Any vegetables that you have at hand washed and chopped.
1 clove garlic, minced
1/2 teaspoon paprika
1 teaspoon ginger, plus more to taste
1 teaspoon pepper, plus more to taste
2 tablespoons fresh parsley, chopped
crusty multigrain bread to serve (Optional)
INSTRUCTIONS
Season cubed beef with 1/2 teaspoon ginger and 1/2 teaspoon pepper, then set aside
Into a slow cooker, add carrots, celery, onion, potatoes. Season vegetables with 1/2 teaspoon ginger, 1/2 teaspoon pepper and paprika. Stir, and then top with seasoned beef. Cover with water.
Cover and cook on high for 5 hours, stirring halfway through.
Season with more ginger and pepper to your taste, stir and let sit for 15 minutes before serving garnished with chopped parsley with toasted and buttered crusty bread.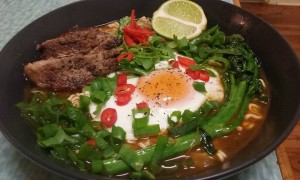 BEEF RAMAN AND PASTAIngredients
Broth
1 tablespoon olive oil
Few drops sesame oil
3 cloves garlic chopped roughly
1 tablespoon fresh ginger cut into sticks
1 tablespoon mild red chilli chopped
2 tablespoons of fresh coriander stalk
1 teaspoon lemongrass paste
1 spring onion chopped
1 brown onion sliced
1 carrot peeled and chopped
1 stick of celery chopped
1 teaspoon vinegar
Water
Pepper
Pasta1 cup pasta of choice or pasta substitute NB1Beef1 small beef rump steak any visible fat removed
1 egg
1 stalk of broccoliTo serve1 spring onion chopped the green part only
1 lime wedge
Mild red chilli chopped
Fresh corianderInstructions
Heat up a wok or frying pan add the olive and sesame oil then the onion garlic ginger chilli and coriander stalks stir for 2 minutes then add the rest of the ingredients
Add a kettle full of water bring the stock to boil the then turn down to simmer for 30 minutes
Taste and adjust seasonings you may need to add more water or keep cooking for longer if it's too watery
You can strain the broth if you like or just ladle out the liquid make sure it's nice and hot when ready to serve
Place them in a bowl with the strained broth.
Pour boiled water over top to cover the pasta and let it sit for 1 minute to cook the pasta, with a fork strain and rinse under cold water
Fry the steak egg and broccoli in a fry pan ( Seasoned the steak with garlic powder onion powder ginger and pepper it was beautiful )
Slice the steak in strips once rested
To serve place the pasta in a bowl
Ladle in some of the broth place the fried egg in the middle
Arrange the sliced beef broccoli spring onion chilli lime and coriander around the egg
Ladle a little more broth in around the edges of the bowl and serve.
NB1 some ideas for a pasta substitute can be found:-
http://www.findtex.com.au/diabetic-foods/zucchini-fritters-with-chili-lime-mayo/
BEEF AND GREE N BEANS
Had a bit of a get together with friends last night. Cooked this.
Fat free grass feed sirloin cut thin.
Cooked on the BBQ with a little Olive oil along with my home grown beans from the freezer.
Dressed with lemon juice and spring onions
Teamed up with steamed low GI vegetables.
It was easy and a winner.
VEGGIE STACK
All vegetables steamed and served with left over grass fed roast meat. Can be served with Basmati rice.
SIMPLE MEALS
Sometimes the simplest of meats are the best.
This is simple. Lean grass feed meat her it is beef.
Low GI Vegetables eg sweet potatoes, pumpkin, carrots, onions and garlic.
Cover the bottom of a slow cooker with water and cook everything for 3 hours on high.  Or bake in an oven until cooked.
Serve with steamed, in season, green vegetables and corn or a light salad.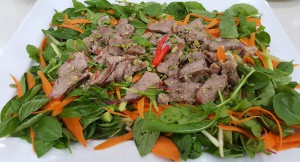 THAI BEEF SALAD
– rocket
– basil
– mint
– cucumbers
– red chilli
-Almond nuts
10 cm stalk lemon grass
-Grass fed beef or other lean meat, chicken can also be used.
Marinated the beef in the following. 20 minutes at least, overnight is best.
2 tsp olive oil
½ cup lime juice
A splash of fish sauce
2 gloves of garlic crushed.
1 red chilli.
I cook the lean beef in a slow cooker for 3 hours. Cook twice as much as you need and use the left overs in the following night.
CHILLI CON CARNE
Ingredients
500g grass fed beef mince (Game mince also works well and would be more authentic.)
1 brown onion sliced finely
1 red capsicum chopped
1 stick of celery diced finely
1 carrot grated
4 cloves garlic minced
2 fresh mild red chillies dived fine
1 teaspoon paprika
1 teaspoon cumin powder
4 large tablespoons No added salt tomato paste (Fresh if you got them)
1 tablespoons mixed herbs
1/2 jar of jalapenos chopped ( I used a bit of the juice as well )
1 teaspoon chilli flakes
1 cup of kidney beans soaked overnight and drained
Ginger and pepper to taste
Instructions
Fry of the mince vegetables garlic and fresh chilli in some olive oil add the rest of the ingredients except the kidney beans plus 1/2 litre of water
Bring to the boil and turn down to simmer for 1 hour add ginger and pepper to season plus the kidney beans let it cook for a few minutes if it is to watery cook until the sauce reduces if it is to dry just add more water
Serve with basmati rice.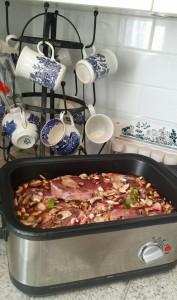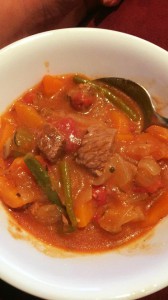 VEAL OSSO BUCO WITH ANCHOVY
Ingredients
4 veal Shins (osso buco), weighing 350–450 g each
Ginger to taste
freshly ground black pepper
100 ml extra virgin olive oil
2 medium–large onions, finely diced
2 garlic cloves, finely chopped
2 good-quality anchovy fillets
2 large thyme sprigs
2 large sage sprigs
1 large rosemary sprig
1 bay leaf
250 ml (1 cup) dry white wine
4 tomatoes, peeled, seeded and crushed
250 ml (1 cup) veal stock
Any low GI vegetables you have at hand, peeled and roughly chopped (e.g. mushrooms, sweet potatoes, carrots etc.)
Gremolata
2 garlic cloves, finely chopped
2 tbsp finely chopped flat-leaf parsley
2 tbsp finely chopped good quality anchovy fillets
Instructions
Season the osso buco pieces with ginger and pepper.
Heat half the olive oil in a heavy-based saucepan that is wide enough to fit the osso buco pieces in one layer. Add to the pan and brown the pieces on each side. Transfer to a plate and set aside.
Heat the remaining olive oil in the pan and add the onion, garlic, anchovies and herbs and gently sauté for 5 minutes, until the onion is translucent. Turn up the heat and deglaze the pan with the wine. Cook until the wine is almost completely reduced, then add the crushed tomatoes and veal stock. Bring to the boil,
Add all the ingredients to a slow cooker set on Auto or low and cook for 4 – 6 hours until the meat falls from the bone.
Combine the ingredients for the gremolata. Scatter it over the osso buco and cover with the lid for 5 minutes.
Lift the pieces of osso buco onto plates and spoon the sauce around the meat and vegetables.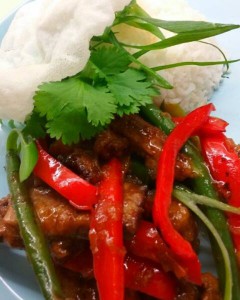 MONGOLIAN BEEF
Added Red Capsicum, Green Beans, Carrot, Shallots, & Coriander Served with Basmati Rice and Quinoa.
LOW CARB CHILI BEEF
INGREDIENTS
1 kg grass fed beef mince (Game can also be used)
1 small tub tomato paste (Leggo's no added salt)
1½ tomatoes, chopped
1 red bell pepper, chopped
2/4 cup onion, chopped
2 celery sticks, chopped
1½ teaspoons cumin
1½ teaspoon chili powder
½ teaspoon pepper
1½ teaspoons ginger
¾ cup water (add more if needed)
INSTRUCTIONS
Brown meat in medium-large pan. Once almost finished, drain off fat and sprinkle ½ teaspoon ginger over meat.
Add onions and peppers to pan and continue to cook for 1-2 minutes.
Combine cooked meat, onions, peppers, tomatoes, celery, water, and tomato paste in medium-large pot.
Stir spices into pot. Bring to boil, then reduce heat to low-medium and let simmer for 1-2 hours, stirring every 30 minutes or so.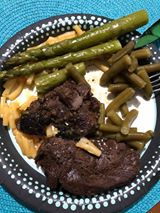 Moose meat cooked in olive oil, with mushrooms, garlic, asparagus and green beans
SLOW COOKED BEEF AND RED WINE CASSEROLE
Ingredients
1 kg chuck steak (grass fed beef) cut into pieces
2 tbs wholemeal or chick pea flour
2 tbs oliveoil
2 garlic clove minced
1 onion diced
3 fresh large tomato from garden if possible
2 carrot diced
1 capsicum diced
500 green beans cut into pieces
1 cup red wine
2 bay leaf
1 tsp dried rosemary
1 tsp dried thyme
1 tbs worcestershire sauce
1 pinch peper or other spice to taste
Instructions
Cut steak into 2.5 cm cubes. Coat beef cubes in flour.
Heat fry pan and add olive oil. Brown beef.
Add all ingredients into slow cooker and cook on high for 4-6 hours or low for 6-8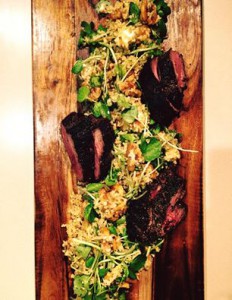 Hubby did a watercress spicy walnuts salad with BBQ kangaroo. I had to put mine back one the BBQ to take the hop out of it
Any game can be used.
The fat in game meat should be healthy fat as it is intramuscular and should have a lower Omega 6 level and a better Omega6: Omega 3 ratio. I recommend that it be well cooked.
PARSLEY
It is spring in OZ and it is time to think about adding some herbs to your garden. They can also be grown in pots on a balcony. Do you grow parsley? I prefer the continental flat leaf parsley to the curly variety as it has better flavour.
Here are some recipes to inspire you.
Recipes.
– at least 2 cups of fresh parsley chopped
– 1/2 cup mint leaves fresh (if desired)
– 1/2 cup fine Burghul, (also known as bulghur wheat, is a versatile Middle Eastern staple) soaked in water for a good 20 minutes.
– 1 tablespoon pomegranate seeds
– pepper freshly ground
– 1 tablespoon olive oil (can omit)
– 1/4 teaspoon chilli powder
– 1 teaspoon cumin seeds
– green shallots
– Juice of 1 sour lemon
– 1/2 cup chopped tomatoes.
Add to and team up with: –
– tabhouli
– charcoal grill marinated lean sirloin on our new charcoal grill, something about the smoky flavour you can only get with wood or charcoal.
– add home-made tamarillo and chilli to go with the steak
– cauliflower
– simple, freekah  ( is a versatile superfood packed with nutrition and health benefits. It is produced by harvesting grains while still soft) and lemon rind and verjuice salad. Cook freekah like you do rice for about 20 minutes on a slow simmer.
– flash grilled mushrooms with garlic, ginger and pepper.
WASABI-GINGER BEEF AND SALAD
INGREDIENTS
1 tablespoon wasabi paste or horseradish NB1
500g lean rump steak, trimmed
2 teaspoons olive oil
450g pack brown Basmati rice
1 Lebanese cucumber, halved lengthways, thinly sliced
1 small ripe avocado, thinly sliced
2 large carrots, sliced with a julienne peeler
2 shallots, thinly sliced diagonally, plus reserved slices, to garnish
1 1/2 cups bean sprouts
1/4 cup pickled ginger, drained, thinly sliced NB2
1/4 cup rice wine vinegar
2 tablespoons gluten-free, reduced-salt tamari NB3
1 tablespoon finely grated ginger
INSTRUCTIONS
Step 1Brush wasabi paste onto both sides of steak with a pastry brush or the back of a spoon. Heat olive oil in a large non-stick frying pan set over medium–high heat. Cook steak for 3–4 minutes per side, or until done to your liking. Remove beef from pan, cover to keep warm and leave to rest for 5 minutes; cut into thin slices.
Step 2Meanwhile, cook the rice according to packet instructions NB4. Transfer rice to a large salad bowl. Add sliced cucumber, avocado, carrots and shallots to bowl with bean sprouts and sliced pickled ginger; toss to combine.
Step 3Whisk vinegar, tamari and ginger in a small bowl to make dressing; add to salad and toss.
Step 4Top the salad with beef slices, garnish with shallots and serve.
http://www.healthyfoodguide.com.au/recipes/2015/january/wasabi-ginger-beef-and-sushi-salad
NB1 Other substitutes can be found here http://www.gourmetsleuth.com/ingredients/detail/wasabi-paste
NB2 This may not suit all diabetics
NB3 Made with 100% whole soybeans and no wheat, San-J Organic Tamari Gluten Free Soy Sauce has a richer and milder taste than regular soy sauce. This may effect some diabetics, do not use if your sugar is effected,
NB4 It is claimed the recooking cooled rice increases the fibre (the resistant starch in rice), I think that it is more likely that the soluble starch has gone down the sink. But there is some science behind the claim:- So, according to scientist Dr Denise Robertson, from the University of Surrey, if you cook and cool pasta down then your body will treat it much more like fibre, creating a smaller glucose peak and helping feed the good bacteria that reside down in your gut. You will also absorb fewer calories, making this a win-win situation. This also applies to rice.
http://www.bbc.com/news/magazine-29629761
Also worth a read: Potatoes, yams and pastas that are cooked, and cooled (heating and cooling alters the chemical structure).
http://www.informationaboutdiabetes.com/lifestyle/lifestyle/diabetes-diet-benefits-of-eating-digestive-resistant-starches
100% Home grown! Everything in this stir fry is home grown, goat, broccoli, turnips, purple & green cabbage, coloured silver beet, rocket and stinging nettle.