EGGPLANT LASAGNA
INGREDIENTS
Olive oil Cooking Spray
1 cup part-skim ricotta cheese
3/4 cup grated Parmesan cheese
3/4 teaspoon dried Italian seasoning find recipe here http://www.findtex.com.au/uncategorised/spice-mix-sugar-salt-and-fat-free/?fbclid=IwAR37XPao3ZQ795MOXtlNyP_MyG2DNH9kgbFh4azPtBJyd8zz1XxWN3kmWZs
1 large eggplant (about 1 pound/ 450 g), cut into 1/4-inch thick lengthwise slices
1/4 cup extra virgin olive oil
1/2 teaspoon ginger
1/2 teaspoon ground black pepper
1 package (20 ounces/ 550 g) ground turkey
3/4 cup chopped yellow onion
1 tablespoon finely chopped garlic
1 can (14.5 ounces/ 400 g) Diced Tomatoes, No Salt Added, drained
1/4 cup no added salt Tomato Paste
1/4 cup thinly sliced fresh basil
1-1/2 cups shredded part-skim mozzarella cheese
INSTRUCTIONS
Heat oven to 350ºF/185ºC. Spray a glass baking dish with cooking spray.
In small bowl, combine ricotta cheese, Parmesan cheese and Italian seasoning; set aside.
Heat grill fry pan over medium-high heat. Brush eggplant slices with oil; sprinkle both sides with ginger and pepper.
In batches, place eggplant on grill fry pan. Cook each side 1-2 minutes or until lightly browned and tender. Remove and place on baking sheet lined with paper towels; pat to remove excess moisture.
Spray large fry pan with cooking spray; heat over medium-high heat. Add turkey and cook 3 minutes, stirring occasionally. Add onion and garlic; cook 2-3 minutes more or until onion is tender and turkey is crumbled and no longer pink. Drain.
Add drained tomatoes, tomato paste and basil to the fry pan; stir to combine. Reduce heat and simmer 2 minutes more.
Assemble lasagna by spreading 3/4 cup meat mixture over bottom of dish. Place 3 eggplant slices over meat mixture, top with 3/4 cup meat mixture, half of ricotta cheese mixture and 1/2 cup mozzarella cheese.
Repeat layers, ending with a layer of eggplant slices topped with meat mixture and remaining mozzarella cheese.
Spray underside of aluminium foil with cooking spray; cover dish tightly with foil. Bake 30 minutes. Let stand 10 minutes before serving.
 Nutritional Information Per Serving:
Calories: 318
Fat: 19 grams
Saturated Fat: 7 grams
Fibre: 3 grams
Sodium: 363 milligrams
Cholesterol: 72 milligrams
Protein: 22 grams
Carbohydrates: 13 grams
Adapted from https://diabeticgourmet.com/diabetic-recipe/eggplant-lasagna?fbclid=IwAR3df4xpyCr_kSVouzukQBB_alim6uLAsTvlaG3Y7efG87L38qAFkE81-vY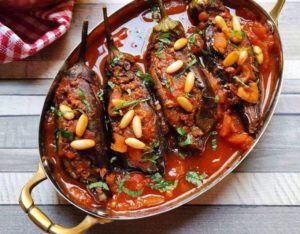 SHEIKH el MAHSHI – Stuffed baby eggplants with meat
INGREDIENTS
Eggplants dish
2.2 pounds small eggplant (1KG)
.88 pound minced meat (400g)
1 large onion diced
1/2 teaspoon ginger for filling
1/2 teaspoon cinnamon
1/4 teaspoon black pepper
1 teaspoon no added salt tomato paste for filling
2 oz pine nuts (50g)
2 tablespoon vegetable oil
1/4 teaspoon Lebanese 7 spices mix find recipe here http://www.findtex.com.au/uncategorised/spice-mix-sugar-salt-and-fat-free/
1/2 teaspoon allspice find recipe here http://www.findtex.com.au/uncategorised/spice-mix-sugar-salt-and-fat-free/
Sauce
2.2 pounds tomatoes (1KG) peeled and diced (1 KG)
1 tablespoon no added salt tomato paste for sauce
1 cup hot water
1/2 teaspoon ginger for sauce
dash cinnamon and allspice
1/2 lemon juiced
INSTRUCTIONS
Sauce
1. Cook tomatoes with water and tomato paste on medium heat for 20 minutes.
2. Puree the mix. Season with ginger and some cinnamon and allspice
3. Finish with lemon juice, set the sauce aside
Eggplants
1. Prepare the eggplants by cutting a pocket using a knife and deep fry them.
2. In a large pan sauté onions untill soft, then add minced meat and cook thoroughly
3. Season with ginger, cinnamon, allspice, black pepper and Lebanese 7-spices mix
4. Add tomato paste and pine nuts. Cook for 5 minutes
5. Stuff the Eggplants generously
6. In a baking tray, spread the sauce and then add the eggplants
7. Cook in the oven on medium heat in the lower rack for about 20 minutes
8. Garish with chopped parsley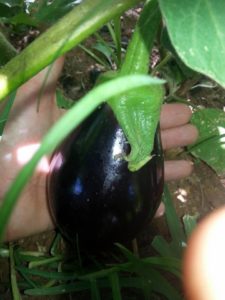 KETO MOUSSAKA
INGREDIENTS
Olive oil cooking spray
2 large eggs
3/4 cup plain Greek yogurt
2 large eggplants
1 1/2 teaspoons ginger
1 tablespoon olive oil
1 large onion,f inely chopped (8 oz)
1/450 g. lean ground lamb
1 tablespoon minced garlic
1 (15 oz/425 g) can diced tomatoes, drained (6 oz/ 170 g drained tomatoes) or 170 g of fresh diced tomatoes
1/2 teaspoon dried coriander
1/2 teaspoon dried oregano
1/4 teaspoon ground cinnamon
1/4 teaspoon ground cumin
1/4 teaspoon black pepper,divided
1/2 cup shredded part-skim Mozzarella cheese (2 oz/56 g)
INSTRUCTIONS
Preheat oven to 500 degrees F/ 260 degrees C. Line a large baking sheet with foil and spray it with olive oil spray. Take the eggs and yogurt out of the fridge to allow them to get to room temperature.
Partially peel the eggplants, leaving some unpeeled stripes. Slice crosswise into 1/2-inch-thick rounds (12 mm). Arrange in a single layer on the prepared baking sheet, spray with olive oil, sprinkle with 1/2 teaspoon ginger, and roast 10 minutes. Turn to the other side and roast 10 more minutes. The eggplant slices might appear too big to fit in your pan when raw, but they will noticeably shrink during baking.
While the eggplants are roasting, in a large skillet, heat the olive oil over medium-high heat, 3 minutes. Add the onion and the meat and sauté until meat is browned, about 5 minutes, stirring frequently and breaking it up as it cooks. Add the garlic and cook 1 more minute.
Stir in the tomatoes, coriander, oregano, cinnamon, cumin, 1/2 teaspoon ginger and 1/8 teaspoon black pepper. Cook, uncovered, stirring occasionally, about 10 minutes, or until liquids have evaporated.
Lower the oven temperature to 375 degrees F/ 190 degrees C. Spray a shallow rectangular baking dish with olive oil spray.
Arrange half of the eggplant slices in the bottom of the prepared baking dish. Spread the meat mixture over the eggplant slices, pressing to flatten. Cover with the remaining eggplant slices.
Whisk together the eggs, yogurt and remaining 1/2 teaspoon ginger and 1/8 teaspoon black pepper until creamy and pour over the eggplants. Sprinkle the cheese on top. Bake, uncovered, 40 minutes, until the top is golden and set.
Remove from oven. Carefully pour out any liquids that might have accumulated in the bottom of the pan. Place the pan on a wire rack and allow to slightly cool and set, about 15 minutes. This is important – do not try to cut into the low carb moussaka while it's piping hot. Cut into 8 portions and serve.
NUTRITION INFO Nutrition info is approximate and may contain errors. It is calculated using the SparkPeople.com recipe calculator or the WP Recipe Maker Plugin calculator. Carb count excludes sugar alcohols. Please read the disclaimers in our Terms of Use carefully before using any of our recipes. Recommended and linked products are not guaranteed to be gluten-free. Please verify they are before using.
Nutrition Facts
Keto Moussaka
Amount Per Serving
Calories 227 Calories from Fat 126
% Daily Value*
Fat 14g 22%
Sodium 338mg 15%
Carbohydrates 9g 3%
Fibre 2g 8%
Protein 17g 34%
* Percent Daily Values are based on a 2000 calorie diet.
Adapted from https://healthyrecipesblogs.com/low-carb-moussaka/?fbclid=IwAR39UT0sf8QlgPmJuQqQGMcHtEKqZCPOXP-4s9ljOZ0haoiOM2G1fjm5BOo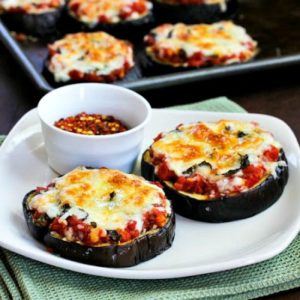 QUICK EGGPLANT PARMY
INGREDIENTS
1 large eggplant
1 tbsp. olive oil + ½ tbsp.
1 cup (240ml) no added salt tomato passata
2 cloves garlic, minced
1 small onion, sliced
2-3 handfuls spinach
¾ cup (75g) shredded mozzarella cheese
1-2 tsp. oregano
INSTRUCTIONS
Preheat the oven to 400F (200C).
Slice the eggplant lengthwise, about 1 cm thick. Rub 1 tbsp. olive oil on each side of the eggplant slices and place it on a baking tray lined with baking paper — season with ginger and pepper.
Place in the oven for about 10 minutes.
Meanwhile, in a fry pan, heat the remaining ½ tbsp. olive oil. Add in the garlic and onion, and sauté for about 3-4 minutes, until soft — season with ginger and pepper.
Next, add in the tomato passata and spinach and cook for another 1-2 minutes until the spinach has wilted.
Remove the eggplant slices from the oven, and top each with the tomato sauce mixture.
Sprinkle with grated cheese and oregano. Place in the oven for another 5 minutes, or until the cheese has melted.
EGGPLANT LASAGNA ROLLS
INGREDIENTS
3 large eggplants
½ teaspoon salt, divided
3 tablespoons extra-virgin olive oil
2 cups crushed tomatoes
½ cup chopped fresh basil, divided
3 teaspoons minced garlic, divided
1 cup frozen chopped spinach, thawed or fresh if possible
2½ cups part-skim ricotta cheese
¼ cup grated Parmesan cheese
½ teaspoon ground pepper
1 cup shredded part-skim mozzarella cheese
INSTRUCTIONS
Position racks in the middle and upper third of oven; preheat to 425°F/220°C. Coat 2 rimmed baking sheets with cooking spray.
Slice each eggplant lengthwise into ½ cm thick strips. Discard any small or misshapen pieces. You should have about 24 strips. Sprinkle the strips with ¼ teaspoon salt and let stand for 15 minutes.
Pat the eggplant slices dry and brush both sides with olive oil. Place on the prepared pans, overlapping the slices a little if necessary. Roast until soft and beginning to brown, swapping the pans from top to bottom midway, about 20 minutes. Let cool slightly.
Meanwhile, combine tomatoes, ¼ cup basil and 2 teaspoons garlic in a large bowl. Spread ½ cup of the mixture in a oven-safe baking pan. Squeeze spinach to remove any excess liquid. Combine the spinach, ricotta, Parmesan, pepper and the remaining 1 teaspoon garlic in a medium bowl.
When the eggplant is cool enough to handle, spread a generous tablespoon of the ricotta mixture on each slice. Starting from the narrowest end, roll up the slices and place in the baking pan seam-side down. Top with the remaining tomato mixture.
Bake the rolls on the middle rack until the tomato mixture is hot and bubbling, 40 to 45 minutes. Remove from the oven and preheat the grill to high.
Top the rolls with mozzarella. Broil until the cheese is bubbling and beginning to brown, 1 to 2 minutes. Sprinkle with the remaining ¼ cup basil and serve.
Nutrition Information or original
Serving size: 4 rolls
Per serving: 373 calories; 21 g fat(9 g sat); 9 g fibre; 29 g carbohydrates; 22 g protein; 123 mcg folate; 47 mg cholesterol; 12 g sugars; 0 g added sugars; 4,052 IU vitamin A; 15 mg vitamin C; 534 mg calcium; 3 mg iron; 656 mg sodium; 1,079 mg potassium
Nutrition Bonus: Vitamin A (81% daily value), Calcium (53% dv), Folate (31% dv), Vitamin C (25% dv)
Carbohydrate Servings: 2
Exchanges: 4½ vegetable, 2½ medium-fat protein, 1½ fat
Adapted from www.eatingwell.com/recipe/261760/eggplant-lasagna-rolls/?utm_campaign=eatingwell_eatingwell&utm_source=facebook.com&utm_medium=social&utm_content=link_recipes&utm_term=6D2BDBBC-7EF1-11E9-A22A-6966EBB2EA9A&fbclid=IwAR2HgGhNZPBUcBcxN5Fe0we3Y1gx8abx3x0VNBkNeV9x594c5mGHbTLSJEA
GARLICKY STIR-FRIED EGGPLANT
INGREDIENTS
2 lb./1 Kg Chinese or Japanese eggplant (about 6 medium)
1 Tbs. corn starch
2 Tbs. olive oil; more as needed]
1 Tbs. Asian (toasted) sesame oil
10 large cloves garlic, minced (about 3 Tbs.)
2 tsp. finely grated fresh ginger
1 Tbs. soy sauce; more to taste
Sliced scallion (green part only, for garnish)
INSTRUCTIONS
Slice the eggplant on the diagonal 3/4 to 1 inch/ 2.5 cm thick, larger pieces cut in half lengthwise.
Put the eggplant in a colander in the sink or over a bowl, toss with 1 Tbs. salt, and set aside to drain for about 45 minutes. Rinse the eggplant thoroughly, pat dry, and transfer to a large bowl.
Sprinkle the corn starch over the eggplant and toss to coat evenly. Heat the oil in a large stoneware fry pan or wok over medium-high heat. Add just enough eggplant to create a single layer so that no slices overlap. Cook, flipping once, until the eggplant is golden and a bit charred in places, 2-1/2 to 3 minutes total. Transfer the eggplant to a paper-towel-lined rimmed baking tray. Repeat with the remaining eggplant, adding more oil to the pan as needed.
Wipe the pan clean, then add the sesame oil over low heat. Add the garlic and ginger, and cook, stirring, until fragrant, about 20 seconds. Return the eggplant to the pan.  Add the soy sauce, and toss to combine, about 1 minute.
Serve topped with the scallion, and season to taste with soy sauce.
Nutritional Information
Calories (kcal): 110
Fat Calories (kcal): 60
Fat (g): 7
Saturated Fat (g): 1
Polyunsaturated Fat (g): 2.5
Monounsaturated Fat (g): 3
Sodium (mg): 250
Carbohydrates (g): 12
Fibre (g): 4
Sugar (g): 5
Protein (g): 2
Adapted from https://www.finecooking.com/recipe/garlicky-stir-fried-eggplant?utm_source=facebook&utm_medium=social&utm_campaign=socialflow&fbclid=IwAR0eK-fqx1qKAXJY0F2gMvNudboH5Giiip7GsEeWplGeL8Js6e0ToJxZvd4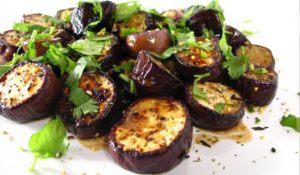 MIDDLE EASTERN EGGPLANT
INGREDIENTS
2 large eggplant, peeled and cut into ½-inch cubes
1 small onion, small dice
2 cloves garlic, minced
1 14 oz can whole plum tomatoes
Olive oil
2 Tbps tomato paste
1 ½ T Masala find recipe here http://www.findtex.com.au/diabetic-foods/sugar-free-masala/?fbclid=IwAR2gn-Yw1aFFyxmZMVAL2FL0c6mduTngzARSxws8vEfgBILIuM0Rboyd9xw
1 T curry powder find recipe here http://www.findtex.com.au/diabetic-foods/sugar-free-curry-powder/?fbclid=IwAR2oP9M50pxs795QxAc-CYv3eSi7tflZoOZwuf6PjwwIsPkodzUAEG5-YY0
¼ t ground clove
2 Tbsp balsamic vinegar
½ cup chicken broth or water
Ginger and pepper to taste
INSTRUCTIONS:
Add olive oil to coat the bottom of a large, hot stoneware fry pan.
Add onion and eggplant, ginger and pepper generously.
Add garlic and toss frequently until the eggplant has a little colour to it.
Next add the tomato paste, allowing to heat and toast just a bit from the heat of the pan.
Pour in balsamic vinegar and heat until the liquid reduces by half.
Stir in the spices and raisins.
Add tomatoes, crushing by hand as adding, reduce heat to a simmer.
Add chicken broth/water and allow the dish to simmer until thickened to almost a stew.
MEDITERRANEAN ROASTED EGGPLANT
INGREDIENTS
INSTRUCTIONS
Preheat the oven to 400 degrees F/ 200 degree C
Pat the eggplant slices dry and arrange on a lightly oiled baking sheet. Brush the top of the eggplant slices with olive oil. Bake in the heated-oven for 35-40 minutes, or until the eggplant turns a nice golden brown.
Meanwhile, make the tahini sauce according to the recipe below.
When the eggplant is ready, remove from the oven. There should not be too much excess oil, but if you like, you can carefully place the eggplant slices on a try lined with paper towel to drain.
Arrange the eggplant slices on a serving tray. Sprinkle with za'atar. Spoon some of the tahini sauce on top and place the rest of it in a small bowl to serve. Finally, top the eggplant slices with the fresh parsley, pomegranate arils, and toasted pine nuts.
Adapted from https://www.themediterraneandish.com/roasted-eggplant-recipe/?fbclid=IwAR0cCSGFzwcKKsaCuImse_kszCxezZSO3y3o8_kpKZBSEnRYOMCGzaqko1U
TAHINI SAUCE
INGREDIENTS
To make Tahini Dressing, you'll need:
025 c Tahini (sesame seed paste) 050 c Water or more
100 tb Lemon juice; fresh
100 cl Garlic; crushed
INSTRUCTIONS
Mix all ingredients
The mixture should be the consistancy of a creamy salad dressing
Add more water if necessary
Use as a sauce for falafel sandwich.
From https://www.diabetes.co.uk/recipes/tahini-dressing.html
or find recipe here http://www.findtex.com.au/recipes/vegetarian/tahini-sauce/?fbclid=IwAR2nABUtb3mBuWSb69-e3hHRCD9vGPRgbxN5BI7ZbqjI2arKiy2Kl0k-rHQ
EGGPLANT SALAD
INGREDIENTS
2 large, firm eggplant, such as Italian
2 to 3 tablespoons tahini paste
1/4 cup walnuts or pine nuts
2 tablespoons fresh squeezed lemon juice
ginger and fresh ground black pepper, to taste
1 to 2 tablespoons pomegranate seeds
2 to 3 cloves garlic
1 bunch fresh cilantro leaves, divided
Garnishes: Toasted pine nuts or sesame seeds and pomegranate arils; drizzle of extra-virgin olive oil
For Serving: Radishes, celery, apples, crostini
INSTRUCTIONS
Preheat oven to 400° F.  Line a baking sheet with parchment paper (or aluminium foil).  Place eggplants on the parchment-lined sheets and roast for about 40 minutes or until eggplant is tender when pierced with the tip of a knife.  Remove from oven and let cool enough to handle.
Slice eggplants lengthwise and, using a spoon, scoop out the flesh and place in a food processor (or blender).  Add tahini, walnuts (or pine nuts), lemon juice, ginger, pepper, garlic, 1 tablespoon of the pomegranate molasses, if using, and half of the cilantro leaves.  Pulse until blended.
Mound dip onto a serving dish and garnish with pine nuts, the remaining cilantro leaves, and pomegranate arils. Add a drizzle of olive oil or more pomegranate molasses, if desired.  If making ahead, chill the eggplant mixture and garnish just before serving.  Serve with radishes, celery or apples.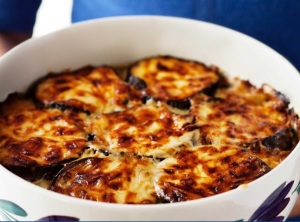 LOW-CARB EGGPLANT GRATIN
INGREDIENTS
2 eggplants
2yellow onions
2 tablespoons olive oil, for frying
2 tbs. feta cheese
1 tablespoon dried mint
1⁄3 cup fresh parsley, finely chopped
2 tbs. shredded cheese
ginger and pepper
INSTRUCTIONS
Slice the eggplants into 1cm slices.
Apply olive oil and ginger with a brush on both sides of the eggplant slices and place on parchment paper on a baking tray. Bake in oven at 400°F (200°C) until golden.
In the meantime, slice the onion thinly, with a food processor or mandolin.
Sauté the onion in a medium frying pan over medium heat until softened, about 5-7 minutes. Season with ginger and pepper.
Place a layer of baked eggplant slices a baking pan, then half of the onions, mint, parsley and 2/3 of the feta cheese.
Add a final layer of eggplant and the rest of the onion.
Finish with additional feta cheese and grated cheese on top.
Place the baking dish back into the oven at 450°F (220°C) for 30 minutes until the gratin is golden colour and the cream is bubbly.
Tip!
Garnish with parsley for a festive presentation!
Adapted from https://www.dietdoctor.com/recipes/low-carb-eggplant-gratin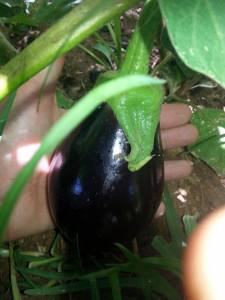 FAUX REFRIED BEANS USING EGGPLANT
INGREDIENTS
2 cups diced eggplant
1/4 cup minced onion
1 clove garlic, pressed or minced
2 tbsp no added salt tomato paste
1 tsp cumin
1/2 tsp chili powder
1/4 tsp oregano
pinch red pepper flakes
Ginger and pepper, to taste
1/2 cup water
INSTRUCTIONS
1.    Lightly oil a pan with olive oil spray.
2.    Sauté eggplant, onion, and garlic until soft and brown.
3.    Add in remaining ingredients and stir well.
4.    Bring to a boil, then reduce heat and cover. Simmer for 5-8 minutes, stirring occasionally, until eggplant is extremely soft, and sauce has thickened.
Using a potato masher or immersion blender, mash/puree eggplant mixture until it resembles refried beans in texture. (this is optional – I minced my eggplant in ½ cm pieces and didn't have to mash it at all 🙂
Nutritional Info
Servings Per Recipe: 2
Amount Per Serving
Calories: 42.3
Total Fat: 0.3 g
Cholesterol: 0.0 mg
Sodium: 132.4 mg
Total Carbs: 9.8 g
Dietary Fiber: 3.1 g
Protein: 1.8 g
Adapted from https://recipes.sparkpeople.com/recipe-detail.asp?recipe=1758595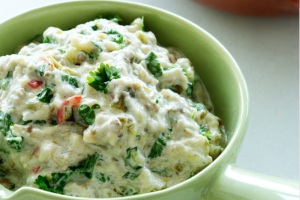 EGGPLANT SALAD
INGREDIENT
2 eggplants
2green bell peppers
1red chili pepper
½ cupmayonnaise
½ cup fresh parsley
2garlic cloves
1 lemon, the juice
1 teaspoon ginger
INSTRUCTIONS
Preheat the oven to 480ºF (250ºC).
Cut the eggplants and bell peppers in half length-wise and deseed the bell peppers.
Place the vegetables peel-side up in an ovenproof dish.
Set the dish in the middle of the oven, and bake for half an hour, turning the eggplants after twenty minutes.
Remove the dish from the oven and let the vegetables cool down a little.
Cut the chili in half and deseed it. Use rubber gloves to complete this task, and do not touch your face!
For a spicier eggplant salad, leave the seeds in the chili.
Chop the chili very finely.
Chop the parsley and crush the garlic.
In a bowl, mix it all with the lemon juice.
Pull the skins off the grilled vegetables and cut them into small dices; add to the parsley mix and the mayonnaise.
Mix thoroughly.
Chill for a few hours to give the flavours time to develop.
Adapted from https://www.dietdoctor.com/recipes/eggplant-salad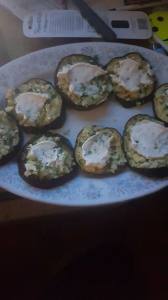 LOW CARB EGGPLANT AND PARESAN BITES
INGREDIENTS
1eggplant/auberginesliced
Ginger and pepper to taste
1omega 3 egg lightly beaten
25galmond flour or meal
1tbspdried herbs of choiceI used rosemary and thyme
50ggrated cheese of choice
25g grated parmesan
Herb and cheese crust
INSTRUCTIONS
Place the sliced eggplants on an oiled baking tray, sprinkle each slice with ginger and pepper.
Grill (medium) or bake 180C/350F until browned.
While the eggplants are baking, mix all the herb and cheese crust ingredients in a small bowl.
Remove from the oven and turn each slice over and sprinkle with more ginger and pepper.
Grill until just turning browned and cooked. Do not cook too long as they will go soft.
Remove from the oven.
Brush the top of each eggplant slice with the beaten egg.
Sprinkle with the herb and cheese crust then place back in the oven/grill until the cheese is just melted and beginning to brown.
Serve with sour cream or Greek yoghurt as a side sauce.
Nutrition Facts
Low Carb Eggplant Parmesan Bites
Amount Per Serving % Daily Value*
Calories 72 Calories from Fat 41
Total Fat 4.5g 7%
Total Carbohydrates 5g 2%
Dietary Fiber 2.4g 10%
Sugars 2.6g
Protein 3.9g 8%
* Percent Daily Values are based on a 2000 calorie diet.
Adapted from https://www.ditchthecarbs.com/low-carb-eggplant-parmesan-bites/
MIDDLE EASTERN BABA GHANOUSH (Dip)
INGREDIENTS
2 large eggplant (about 650g)
Juice of 1 lemon, plus a little extra
2 tbsp. tahini
2 garlic cloves, crushed
3 tbsp. chopped mint or flat-leaf parsley
1 tbsp. pomegranate seeds (optional)
2 tbsp. extra virgin olive oil
chili flakes
INSTRUCTIONS
You just need 2 big eggplants, some tahini, lemon juice and garlic and you are set. Trick is to grill the eggplants on a barbeque to get the crispy skin, some of which you leave in the dip.
Mix all ingredients in a blender until smooth.
Adjust ingredients to taste.
For a smoother version you can add a few dollops of natural yoghurt.
Serve with vegetable sticks.
http://www.findtex.com.au/diabetic-foods/diabetic-friendly-dips/
MEDITERRANEAN EGGPLANT BRUSCHETTA WITH GOAT CHEESE
INGREDIENTS
1 medium eggplant, chopped into rustic cubes
1/2 red capsicum, chopped into rustic cubes
1/2 cup kalamata olives, pitted, cut in half
1/2 cup grape tomatoes
3/4 cup of button mushrooms – rustic cubes
1 clove of garlic
Uncut fresh sourdough bread – cut two 2.5cm thick slices NB1
1-2tbsp Olive oil
2 tbsp. of soft goat cheese
1/2 cup of rocket
2-4 tsp of balsamic glaze to serve (optional)
INSTRUCTIONS
Brush or drizzle a small amount of the olive oil on one side of each slice of bread.
Remove the skin from the clove of garlic and cut it in half.
Wipe the cut side of the garlic clove all over the oiled side of the slices of bread, and then thinly slice the two halves of the garlic clove.
Heat a large frying pan to a high temperature, add the mushroom garlic and eggplant as well as 1 tbsp. of the olive oil.
The mushrooms and eggplant will soak up much of the oil, so you will likely need to add more.
Fry the mushrooms and eggplant until they gain some colour then add the grape tomatoes, olives and capsicum.
Allow the vegetables to fry for a few minutes and turn off the heat.
Meanwhile, heat a griddle pan to a medium temperature and grill the oiled side of the bread until lightly charred.
Arrange the grilled sourdough on the plate and top with vegetable mix, rocket and crumbled goats cheese then drizzle with balsamic glaze.
Nutrition Information (per serve)
| | |
| --- | --- |
| Energy | 2242 kJ (536 calories) |
| Protein | 10g |
| Total Fat | 33g |
| Carbohydrates | 40g |
| Saturated Fat | 8g |
| Sugars | 19g |
| Dietary Fibre | 12g |
| Sodium | 700mg |
NB1 Some claim that sourdough bread is a good choice for diabetics as the yeast in it consumed all available sugars in the fermentation process
Sourdough bread better for blood sugar control
http://www.sheknows.com/health-and-wellness/articles/804898/sourdough-bread-better-for-blood-sugar-control
http://www.findtex.com.au/uncategorised/sourdough
http://www.findtex.com.au/uncategorised/mediterranean/
SMOKY BABA GHANOUSH (DIP)
INGREDIENTS
8 small Japanese eggplants
1/2 cup tahini
4 tablespoons olive oil
2 tablespoon lemon juice
2-3 cloves garlic, grated
1 teaspoon salt
INSTRUCTIONS
Either on the BBQ, or directly on your gas stove, char the eggplant, turning to insure every bit of skin is charred. Don't worry, you're going to peel off the charred skin, so you really want to get the skin black and flakey as this is where the smoky aroma will come from.
Set the charred eggplant aside until it cools enough to handle. Flake most of the black skin off (it's okay if there's a little left), then shred the eggplant by pulling it apart with your fingers and place it in a strainer for 30 minutes to drain the extra liquid.
Mince the eggplant, and then combine it in a bowl with the tahini, olive oil, lemon juice, garlic and salt. Stir well to combine and adjust seasonings to taste. Garnish with more olive oil and chopped parsley or sumac. Serve with crackers or chips.
http://www.findtex.com.au/diabetic-foods/diabetic-friendly-dips/
MEDITERRANEAN CHICKPEA SALAD WITH FRIED EGGPLANT.
Ingredients
1 large eggplant, thinly sliced (no more than 1/4 inch in thickness)
Salt
oil for frying, preferably extra virgin olive oil
1 cup cooked or canned chickpeas, drained
3 tbs. mixed herbs, divided
3 Roma tomatoes, diced
1/2 English cucumber, diced
1 small red onion, sliced in 1/2 moons
1 cup chopped parsley
1 cup chopped dill
For the Garlic Vinaigrette:
1-2 garlic cloves, minced
1 large lime, juice of
1/3 cup virgin olive oil
Ginger + Pepper
Instructions
Place the sliced eggplant on a large tray and sprinkle generously with salt. Let it sit for 30 minutes (the eggplant will "sweat out" its bitterness as it sits.)
Now line another large tray or baking paper.
Pat the eggplant dry. In a large non-stick frypan add a tbs. olive oil. Heat on medium-high until the oil is hot. Now fry the eggplant in the hot oil in batches (do this carefully). When the eggplant slices turn golden brown on one side, turn over and fry on the other side. Remove the eggplant slices and arrange them on the paper towel-lined tray to drain and cool.
Once cooled, assemble the eggplant on a serving dish. Sprinkle with 1 tbsp. mixed herbs
In a medium mixing bowl, combine the tomatoes, cucumbers, chickpeas, red onions, parsley and dill. Add the remaining mixed herbs.
In a small bowl, whisk together the vinaigrette ingredients. Drizzle 2 tbsp of the salad dressing over the fried eggplant; pour the remaining dressing over the chickpea salad and mix.
Add the chickpea salad to the serving dish with the fried eggplant. Serve with pita bread and other sides like hummus.
http://www.findtex.com.au/uncategorised/mediterranean/
GREEK BAKED EGGPLANT WITH ONIONS
INGREDIENTS
2 large eggplant
2 medium onions, sliced
1-4 cloves garlic, minced
3 tomatoes, diced
Oregano
Approximately 1/2 cup extra virgin olive oil
ginger and pepper, to taste
INSTRUCTIONS
Slice eggplant lengthwise into ¼ inch slices and arrange on a plate. Salt the eggplant (about 1 teaspoon) and let sit.
In a saute pan on medium, heat 2 Tablespoons oil. Cook the sliced onions in the oil stirring often for about 30 minutes until completely caramelized. Remove from pan. Preheat oven to 350 degrees F (180 C).
Pat the eggplant dry with a paper towel.
In a rectangular baking dish drizzle 1 teaspoon olive oil on the bottom. Add a small layer of chopped tomatoes.
Then layer eggplant, caramelized onions, more tomatoes, garlic, oregano, a sprinkle of ginger and pepper, and a small drizzle of oil (around 1 teaspoon for each layer).
Continue layering until all ingredients are used up.
Bake at 350 F/180C covered for 1 hour and 15 minutes.
Serve as a side dish or an appetizer with bread to dip in the juices.
Servings : 6
Ready in : 105 Minutes
Course : Appetizers, Sides
Recipe Type : Vegan, Vegetarian
Ingredient : Eggplant, Garlic, Onions, Tomatoes
http://www.findtex.com.au/recipes/vegetarian/stuffed-mushrooms/
Mediterranean Eggplant stuffed with Fresh Tomato and Onion
Ingredients
6 medium long eggplant
1/3 cup olive for frying plus more for drizzling
6 onions finely chopped
6 garlic cloves finely chopped
½ cup chopped parsley
3 large tomatoes chopped
Pepper
Instructions
Preheat oven at Fahrenheit (200 degrees Celsius).
Wash the eggplant. Remove most of the stem. Peel parts of the eggplant lengthwise all around so that you have a striped eggplant. Make deep slits on the peel parts lengthwise.
Place eggplant in a pan, drizzle with a bit of olive oil and sprinkle with salt and pepper and roast for about 1 hour.
In the meantime start on the onion mixture. Sauté the chopped onion in a pan with 1/3 cup olive oil until soft. Add the chopped garlic, tomato, parsley and ½ cup water and simmer for about 15-20 minutes. Add additional water if needed. When the mixture is ready it should not be watery.
Once the eggplant is ready, open one of slits and stuff with the onion mixture. Do this with all the eggplant and place in the pan. Drizzle with olive oil. Add a bit of water at the base of the pan, roast for about 30 minutes.
Remove from the oven. Serve warm or at room temperature with feta.
VEGGO NIGHT BUDDHA BOWL STYLE
It's a bowl of complete and varied deliciousness. Different every time I make it and dependent on what I have as leftovers or in the crisper or pantry. Leftover meat can be added if desired.
Tonight's was
INGREDIENTSAND INSTRUCTIONS
– sautéed swiss mushrooms and leeks
– flash fried eggplant basted with oil, garlic, chili, ginger, pepper and sundried tomato liquid from the jar.
– broccoli
– baby spinach leaves with balsamic vinegar
– sun dried tomatoes
– organic tofu
– fresh snow peas from the garden
– cashew nuts
– tomatoes
You probably need at least 6 elements to make it full like this and a bigger bowl!
Do you do the Buddha bowl thing?
http://www.findtex.com.au/uncategorised/texs-vegetarian/'
VEGETARIAN CURRY
INGREDIENTS
1 large eggplant, cut into 2cm chunks
2 red onions, diced
4 cloves of garlic, diced
2 thumb-sized pieces of ginger, grated
4 tablespoons rogan josh curry paste (check for sugar content) or sugar free  curry of choice
2 tablespoons olive oil
500g yellow split peas
1 vegetable stock cube
1 cup basmati rice NB1
INSTRUCTIONS
Preheat oven to 180C/350F/gas 4. Put eggplant, onion, garlic and ginger into a large high-sided roasting tray with curry paste and olive oil. Toss together until well coated, then roast for 20 to 25 minutes, or until sticky and caramelised.
Remove half the roasted veg to a large pan and return the tray to the oven to keep warm – turn the oven off so that the remaining veg don't dry out.
Place the pan on a low heat on stove. Stir in split peas, stock cube and add 2 litres of boiling water. Simmer for 1 hour 20 minutes with the lid on, or until the split peas are tender and it has thickened, stirring occasionally, and adding splashes of water to loosen, if needed.
Put rice and 2 cups of boiling water into a pan with a pinch of ginger. Cook on a medium heat with the lid on for 12 minutes, or until all the liquid has been absorbed.
Serve rice in a bowl topped with dahl and roast veggies. Scatter with coriander and top with a dollop of natural yoghurt.
NB1 some may prefer to leave out.
http://www.findtex.com.au/uncategorised/texs-vegetarian/