KETO SHEPHERDS PIE
INGREDIENTS
Filling
1tbsp olive oil
68kgground beef/lamb
80gonion, diced
2stalkscelery, diced
1largecarrot, diced
2cloves garlic, minced
1tsp rosemary
1tspthyme
1/2tsp black pepper
235g

chicken broth 

or water
2tbsp no added salt tomato paste
1-2tbsp Worcestershire sauce(optional)
Mashed Cauliflower Topping
1largecauliflower head, cut into small florets, steamed
113gshredded cheddar cheese
2tbspcream cheese, softened
2tbsp heavy cream
2tbspolive oil
2cloves garlic
1/4tsp black pepper
fresh parsley, garnish
INSTRUCTIONS:
Heat oil in a large pan over medium-high heat. Add beef (or lamb) and cook until no longer pink, breaking it up with a wooden spoon and stirring frequently, about 5 minutes.
Add diced onions, celery, carrots, green beans, garlic, and seasonings to the pan. Cook until the vegetables soften, about 5 minutes, stirring occasionally.
Add chicken broth/water, tomato paste, and Worcestershire sauce to the pan, stirring until the paste dissolves. Reduce heat slightly and let it continue to simmer until the sauce thickens, about 15 minutes, before turning off the heat.
Preheat oven to 400 degrees F/ 200 degrees C.
Place steamed cauliflower to a food processor or blender. Add ½ cup cheddar cheese, cream cheese, cream, olive oil, garlic, and pepper. Puree until smooth consistency, scraping the sides as necessary.
Transfer meat and veggie mixture to a baking dish, spreading it in an even layer.
Spread the mashed cauliflower evenly over the meat, then top with remaining shredded cheddar cheese.
Bake for 30 minutes, or until the peaks of the mashed cauliflower are browned. Remove from oven and cool slightly, then garnish with parsley, if desired. Serve immediately.
Nutrition Facts of original
Keto Shepherds Pie
Amount Per Serving
Calories 350 Calories from Fat 225
% Daily Value*
Fat 25g 38%
Carbohydrates 10g 3%
Fibre 3g 12%
Protein 22g 44%
* Percent Daily Values are based on a 2000 calorie diet.
Adapted from https://www.ketoconnect.net/keto-shepherds-pie/?fbclid=IwAR21NaMV0IkXWUBVjUWRrF5ibEUrI0es46k8Kpv9rtYybVGFzYf4uxFI5jE
CHICKEN POTPIE WITH CAULIFLOWER TOPPING
INGREDIENTS 6 servings
2 cups shredded, cooked omaga-3 chicken breast
1 (10.8-oz/300g). package frozen garlic baby peas & mushrooms, such as Birds Eye
1 (10.75 ounce/300 g) can reduced-fat, reduced-sodium condensed cream of mushroom soup, such as Campbell's Healthy Request
1 cup corn, fresh or frozen (optional)
1 cup sliced celery
½ cup chopped onion
3 tablespoons chopped fresh parsley, plus more for garnish
2 teaspoons chopped fresh thyme or ¾ tsp. dried
1 teaspoon lemon zest
¼ teaspoon ground pepper
Topping
1 (10 ounce/300 g) package frozen riced cauliflower, such as Birds Eye or homemade.
⅓ cup grated Parmesan cheese
¼ cup all-purpose flour or panko breadcrumbs (optional)
2 tablespoons unsalted butter, melted or water (optional)
INSTRUCTIONS
Preheat oven to 425°F/220°C.
Combine chicken, frozen peas & mushrooms, mushroom soup, corn, celery, onion, parsley, thyme, lemon zest, and pepper in a large bowl. Transfer to a deep-dish pie pan.
To prepare topping: Combine cauliflower, Parmesan, flour (or breadcrumbs), and melted butter in a medium bowl. Sprinkle the topping over the chicken mixture or just use cauliflower and Parmesan.
Bake the potpie until the filling is heated through and the topping is golden, about 40 minutes. Let stand for 10 minutes before serving. Sprinkle with additional parsley, if desired.
Nutrition information of original
Serving size: 1⅓ cups
Per serving: 259 calories; 9 g fat (4 g sat); 4 g fiber; 22 g carbohydrates; 21 g protein; 56 mg cholesterol; 7 g sugars; 627 mg sodium;
Carbohydrate Servings: 1½
Exchanges: 2 lean protein, 1 fat, 1 starch, 1 vegetable
Adapted from http://www.eatingwell.com/recipe/263989/chicken-potpie-with-cauliflower-topping/?fbclid=IwAR2WltBLH9fc_6vMnkEwNww21IuTJGr-jc4bRMD0SzXm4WiJZVjF9pwy4Q8
LIGHT CHICKEN PIE
INGREDIENTS
500g omega-3 chicken breast, skin removed
1 tbsp. olive oil
1 medium onion, finely chopped
2 carrots, chopped into small pieces
1/4 cup flour (Use your favourite diabetic friendly flour)
2 1/2 cups reduced fat milk
1 cup frozen peas or fresh if possible
1 sheet reduced fat puff pastry
INSTRUCTIONS
Preheat oven to 180°C.
Pan fry or grill chicken breast. Set aside.
Over medium heat, cook onion and carrot in a saucepan. Add flour and then gradually stir in milk. Cook until mixture thickens. Remove from heat.
Add peas and chicken to the mix and pour into a pie dish.
Brush pastry with a little olive oil and cut or mould to fit the top of the pie.
Bake for 20-25 mins or until lightly browned then serve.
Serves 4
Calories 290
Fat 10g
Protein 26g
Carbs 3g
Fibre 3g
I do not believe 3 g of carbs is in this
Adapted from http://www.shapeme.com.au/weight-loss-recipes/59/Light-Chicken-Pie?fbclid=IwAR1V4yye1sL2LJOPW71iRkNBJmoA_82_kvpLaL6OK3AfP5hiswkcJds9UQM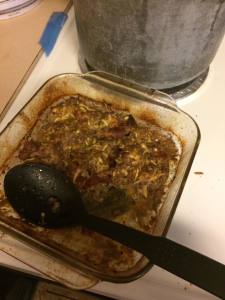 MEATLOAF
INGREDIENTS
½ kg low fat home-made meat mince. Any meat can be used, chicken, goat etc.
4 eggs
3/4 cup multi-grain bread crumbs
2 tablespoons mustard
1 cup minced carrots
½ cup minced celery
1 cup chopped spinach
Any other in season green vegetables.
½ teaspoon ginger
¼ teaspoon pepper
INSTRUCTIONS
Heat oven to 350 degrees.
Spray an oven proof casserole dish with olive oil spray.
Combine all ingredients; mix thoroughly.
Pat meat loaf into the casserole dish and bake for 40 minutes or until thoroughly cooked.
Serve with a side salad.
Adapted from https://diabetickitchen.com/eating-healthy-on-a-food-stamp-budget/
These pies were sent to me by a face book friend. I feel that with a few little changes it can be made both healthier, diabetic friendly and Gluten free
SPINACH PIE
If you grow your own vegetables spinach should be in full production this time of year in the southern Hemisphere. Why not try a pie with your favourite pastry?  NB1
INGREDIENTS
3 – 4 bunches of spinach
2 tablespoons of olive oil
4 green (spring onions) finely chopped
freshly ground black pepper
grated nutmeg
300 grams (11 ounces) feta cheese
4 eggs
1 tablespoon finely chopped dill
2 cups of multigrain flour. Gluten free or nut flour can be used
2 tsp dried yeast
Egg white for pastry wash to give a golden brown colour to your pie.
INSTRUCTIONS
Prepare your pastry, I make a multigrain version in the bread maker using the pastry option
Pre-heat oven to 180 C (350F)
Trim tough stalks from spinach and rinse leaves well in a sink of cold water. Drain and chop roughly.
Heat olive oil in large pan and add spinach and green onions, tossing until all the spinach is wilted.  Place spinach and onion in a colander, allow to cool and press out as much excess water as you can.
Roughly mash feta and add lightly beaten egg, dill, nutmeg and black pepper.  Then add cooled drained spinach and onion, Mix well.
Roll your pastry mix and cover with a damp tea towel so it doesn't dry out while you work.
Oil oven proof baking dish about 24cm by 28cm (9 ½ by 11 inches) with a little extra olive oil. Lay the pastry and in baking dish allowing to overlap the sides.
Add spinach and cheese then add a layers of pastry on top.
Tuck pastry in to the dish and trim any excess pastry. Score top of the pie (but not down to the filling into squares.  Was top of pastry with the egg white using a pastry brush.
Bake for 40 to 50 minutes until golden and the filling has set.  Cool for ten minutes and cut into squares to serve.
Adapted from https://thebackyardlemontree.com/2013/04/03/spanakopita-greek-feta-and-spinach-pie/\
NB1 Pastry may not be suitable for all diabetics; it can be made without the pastry.
MEET PIE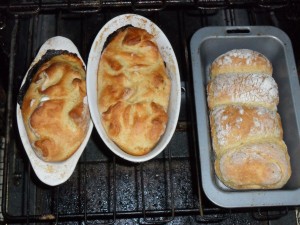 Ingredients:
1 sheet puff pastry. Use multigrain flat bread; make your own pastry using one of my bread recipes, or gluten free pastry mix
1 package Taco Bell seasoning mix may contain sugar and salt.
1 pound ground beef.  Most mince contain fat and preservatives; chicken, pork or veal mince may be better or make your own by finely chopping lean meat, pork or veal or chicken breasts. Left over stew can also be used.
1/2 cup chopped onion
1/2 cup salsa. I make my own using finely chopped onions, tomato, capsicum, mixed herbs, spices, chilli and garlic to taste.
Shredded lettuce
1 medium tomato, chopped
1 cup sharp cheddar cheese, shredded. Sour cream, optional. Use egg white and milk beaten together.
Directions:
place pastry on the bottom of a greased pie tin.
In a medium skillet, cook beef and onions until beef is browned and cooked through. Drain. Add Salsa and taco seasoning. Cook until bubbly. Pour into crust. Top with the egg white and milk mix.
Bake for 25 minutes, or until crust is golden brown. Let cool for 5 minutes.
Top with lettuce, and tomatoes.
Adapted from a recipe originally by:- Ann Camillen.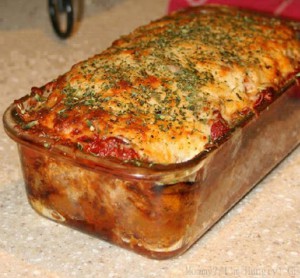 PARMESAN MEATLOAF
INGRIEDIENTS
1 lb ground skinless lean turkey or skinless chicken breast
1 lb ground lean beef
2 eggs
1/4 cup gluten free breadcrumbs
1/2 teaspoon dried basil
1/2 teaspoon dried thyme
1/2 teaspoon dried oregano
1-2 cloves garlic, finely minced
1 small onion, grated
1/2 teaspoon ginger
1/4 teaspoon ground black pepper
1/4 cup grated Parmesan cheese
1/2 cup no added salt pasta sauce
1/4 cup shredded Italian cheese blend (Cottage or ricotta).
minced parsley for garnish
INSTRUCTIONS
Preheat the oven to 350 C degrees. Lightly oil a loaf pan (I used a regular glass loaf dish as in the photo above) with olive oil cooking spray, set aside.
In a large bowl, combine the ground turkey and beef, eggs, breadcrumbs, thyme, oregano, basil, garlic, onion, salt, pepper and Parmesan cheese. Try not over handle the mixture otherwise it will get tough. Place the mixture in the greased loaf pan and form into a loaf. Top the meatloaf with pasta sauce.
Place filled loaf pan on a baking sheet and bake in the preheated oven for 45 minutes – 1 hour. Remove the meatloaf from the oven and sprinkle the top with the remaining shredded cheese. Place the meatloaf back in the oven and bake until the cheese is melted.
Remove the meatloaf from the oven and allow to rest for 5-10 minutes before serving/slicing. Garnish with parsley if desired.
*(new cooking time added, mine usually takes 1 hr for 2 lbs meat)
Adapted from: Kingideas
http://world-recipes.co/2016/10/parmesan-meatloaf/
LENTIL, ROAST PUMPKIN AND RICOTTA OPEN PIE
INGREDIENTS
500g butternut pumpkin, peeled, seeded, diced
1 medium red capsicum, seeded, diced
1 medium red onion, peeled, cut into thin wedges
1 teaspoon Moroccan seasoning (Check sugar and salt content before use)
olive oil spray
200g punnet grape tomatoes, halved (Fresh is better from the garden)
400g can no-added-salt lentils, rinsed, drained (Dried soaked overnight rinsed and drained)
1/2 cup (115g) reduced-fat ricotta
2 tablespoons chopped flat-leaf parsley
4 reduced-fat short-crust pastry sheets, just thawed (Optional) (A gluten free pastry can be used.)
1 egg white, lightly beaten
INSTRUCTIONS
Step 1 Preheat oven to 200°C. Line 2 large baking trays with baking paper. Place pumpkin, capsicum and onion on one of the prepared trays. Sprinkle veg with Moroccan seasoning and spray with olive oil. Roast veg for 25 minutes, or until tender; set aside to slightly cool.
Step 2 Place roast veg, tomato, lentils, ricotta and parsley in a large bowl; stir gently to combine filling and season with cracked black pepper.
Step 3 Cut an 18cm circle from each pastry sheet. Brush pastry rounds with egg white. Place one-quarter of the filling in the center of each round, leaving a 3cm border. Fold up each pastry border to enclose filling, leaving pie tops open.
Step 4 Put pies on the other prepared tray. Bake for 15 minutes, or until pastry is crisp and golden.
Nutritional information (per serve)
Kilojoules: 2,070kJ
Calories:  495cal
Protein:  18.7g
Total fat: 18.6g
Saturated fat: 10.6g
Carbohydrates: 58.7g
Sugars: 11.5g
Dietary fiber: 8.5g
Sodium: 565mg
Calcium: 131mg
Iron: 3.3mg
http://www.healthyfoodguide.com.au/recipes/2014/may/lentil-roast-pumpkin-and-ricotta-open-pies