Ingredients:
1 teaspoon of dry instant coffee to taste
1 cup boiling water
275 gm dried, pitted dates chopped
1 tablespoon ground ginger to taste
1 cup Self Raising Flour or Gluten free flour.
Directions:
Combine coffee and boiling water.  Pour over dates and allow to soak overnight. (Or at least 2 hours).
Pre heat your oven to 160 C.
Line a loaf tin with baking paper and set aside.
Mix ginger and flour with the dates.
Pour mixture into tin.
Bake for 45 to 60 minutes. (Cake will by moist but an inserted skewer should come out clean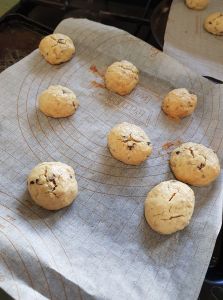 QUINOA CRUSTED VEGGIE CAKES WITH HORSERADISH YOGHURT
Horseradish yoghurt is a great way to add oomph to veggie fritters. Add other vegetables such as wilted kale, grated eggplant, zucchini or corn and substitute wasabi for horseradish and amaranth for quinoa if you wish. Serves 6
INGREDIENTS
400g can cannellini beans, rinsed and drained (or dried soaked overnight, drained and rinsed.)
400g can chickpeas, rinsed and drained (or dried soaked overnight, drained and rinsed.)
1 cup coriander leaves
1 medium red chilli, seeded and chopped
1 clove garlic, crushed
1 egg, lightly beaten
1 tbsp Greek yoghurt
1 cup cooked quinoa NB1
1/3 cup edamame, blanched
1/3cup green peas, blanched
1 green onion, finely sliced
1/2 cup quinoa flour NB1
2 eggs, lightly beaten with 2 tbsp Greek yoghurt
½ cups quinoa flakes
Olive oil or Olive oil spray
Lemon wedges to serve
Horseradish yoghurt
1 cup Greek yoghurt
1½ tbsp prepared horseradish
1½ tbsp lemon juice
ginger and cracked pepper, to taste
INSTRUCTIONS
Preheat oven (220°C/200°C fan forced) and line a baking tray with baking paper
Puree cannellini, chickpeas, coriander, chilli, garlic, egg and yoghourt in a food processor until coarsely mashed but mixture holds together.
Place mixture in a large bowl and add quinoa, edamame, green peas, green onion, and ginger and pepper to taste if desired.
Shape approx ¼ cup of mixture into balls and flatten slightly. Dip in flour, dust off excess, dip in egg and yoghurt mix, then roll in quinoa flakes.
Spray or lightly brush with oil and bake, for 20 minutes or until golden, turning halfway through.
To make horseradish yoghurt, place all ingredients in a bowl & whisk to combine.
Serve fritters with horseradish yoghurt and lemon wedges.
Per serve
2025kJ/485 calories; 25g protein; 10g fat (includes 2.5g saturated fat; saturated : unsaturated fat ratio 0.33); 64g available carbs (includes 15g sugars and 49g starches); 15g fibre; 465mg sodium; 943mg potassium; sodium : potassium ratio 0.49
Adapted from http://ginews.blogspot.com.au/
NB1 Quinoa Glycemic Index
A 150g serving of cooked quinoa has received a glycemic index rating of 53 from the Glycemic Index Foundation.
http://www.med-health.net/Quinoa-Glycemic-Index.html