THAI BAKED CHICKEN DRUMSTICKS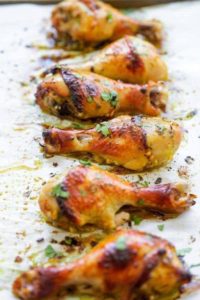 INGREDIENTS:
1 3/4 lbs. (800 g) chicken drumsticks (I would remove the skin.)
2 tablespoons finely chopped cilantro stems (Coriander)
3 cloves garlic, minced
chopped cilantro leaves, for garnishing (Coriander)
Thai sweet chili sauce, for dipping
Marinade:
1 tablespoon olive oil
1 3/4 tablespoons fish sauce
3 dashes ground black pepper
1 pinch cayenne pepper
1 pinch turmeric powder
INSTRUCTIONS:
Preheat oven to 375°F (190°C).
Rinse the chicken and pat dry with paper towels. Combine all the ingredients in Marinade, whisk to mix well to form a nice pale yellow mixture.
Add the cilantro and garlic to the chicken, rub onto the chicken drumsticks with your hand. Add the Marinade to the chicken, mix to coat well and marinate for 30 minutes or best for two hours.
Arrange the chicken on a cookie sheet lined with parchment paper, bake for 40 minutes or until the chicken is cooked through. Garnish with chopped cilantro and serve immediately with Thai sweet chili sauce.
THAI CHICKEN & SLAW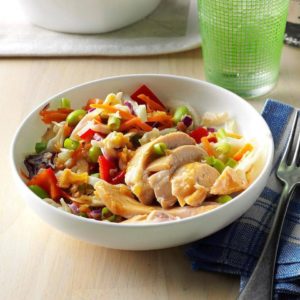 INGREDIENTS
1/2 cup olive oil
1/2 cup white wine vinegar
2 tablespoons minced fresh ginger root
2 tablespoons reduced-sodium soy sauce
2 garlic cloves, minced
1 teaspoon sesame oil
8 boneless skinless chicken thighs (about 2 pounds/900 g)
SLAW:
6 cups coleslaw mix
1 cup frozen shelled edamame beans, thawed. Or fresh if possible.
1 medium sweet pepper, chopped
1 tablespoon creamy peanut butter
1/2 teaspoon ginger
4 green onions, sliced
INSTRUCTIONS
In a small bowl, whisk the first 6 ingredients until blended. Pour 1 cup marinade into a bowl or shallow dish. Add chicken and turn to coat. Cover and refrigerate overnight. Cover and refrigerate remaining marinade.
Preheat oven to 180°C (160°C fan)/350°F/gas 4.
Drain chicken, discarding marinade from the bowl. Place chicken in a baking dish coated with cooking spray. Bake, uncovered, until cooked about 30-40 minutes.
Meanwhile, place coleslaw mix, edamame and pepper in a large bowl.
Add peanut butter and ginger to reserved marinade, whisk until blended. Pour over coleslaw mixture; toss to coat. Refrigerate until serving.
Serve chicken with slaw. Sprinkle with green onions.
ASIAN SALMON CAKES WITH SALAD
INGREDIENTS
Salmon Cakes:
2 kaffir lime leaves, finely chopped
10   g (5cm) lemongrass stalk, trimmed
1 small birdseye chilli, finely chopped
500g salmon, skinned and deboned, roughly chopped (or 500g tinned salmon if fresh unavailable)
2 (70 g) eggs
½ (400 g) tin cannellini beans, drained or dried soaked overnight
120 g (1 cup) green beans, trimmed and finely chopped
Salad:
105 g (3 cups) beansprouts
2 medium carrots, peeled and finely grated
1 bunch each of coriander and mint, torn
1 tbsp orange juice (optional)
1 tbsp fish sauce (optional)
1 clove garlic, minced
1 small Birdseye chilli, minced
2 tsp olive oil, for frying
INSTRUCTIONS
In a food processor, blitz the kaffir lime leaves, lemongrass and chilli to a rough paste. Add the salmon, eggs and cannellini beans and blitz again until the mixture is smooth. Stir through the green beans, divide into 12 even patties and refrigerate.
To make the salad, combine the bean sprouts, carrots and herbs in a large bowl. In a small bowl combine the orange juice, fish sauce, garlic and chilli for the dressing, then set aside.
Heat oil in a large non-stick frying pan and cook the fishcakes in batches for 2-3 minutes on each side or until golden. (These can be steamed if preferred.)
Add the dressing to the salad and toss to coat. Serve immediately with salmon cakes.
Adapted from https://www.impromy.com/recipes/asian-salmon-cakes-with-salad/?utm_source=Facebook&utm_medium=Newsfeed&utm_campaign=IHW&utm_content=V6&fbclid=IwAR3-wBYkcWdH7ZHtivp6uS6iU7dVZFOA_ztU-dpGaLrM5J6LNUg2TEHmYEo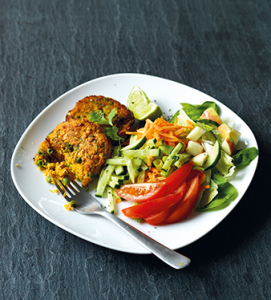 THAI FISH KABAB
INGREDIENTS
Boneless fin fish ½ kg
Ginger garlic paste 1 tbsp.
Mint 2 tbsp. (chopped)
2 omega 3 eggs more if required
Green chili 1 tsp (chopped)
Red chili powder 1 tsp
Oregano 1 tsp
Black pepper powder ½ tsp
Onion 1 (chopped)
Green coriander ½ cup (chopped)
Ginger to taste
Olive Oil for frying
INSTRUCTIONS
Mince fish, ginger garlic paste, mint, green chili, red chili, black pepper powder, green coriander, and salt.
Take out mixture in a bowl and mix corn flour, oregano and onion.
Give it shape of kabab and shallow fry in warm oil.
Serve with a chili garlic salad.
Adapted from http://www.therecipespk.com/thai-fish-kabab/
THAI FISH CAKES
INGREDIENTS
500g snapper fillets (any oily fish can be used)
1 tablespoon green curry paste (check sugar content)
2 snake beans chopped fine
Handful of coriander leaf
1 egg lightly beaten
2 teaspoons light soy sauce (Check sugar content)
Juice of a lime
Zest of a lime
Half a cup of rice flour or your favourite flour
INSTRUCTIONS
finely dice your fish and add it to a large bowl. Add curry paste, soy sauce, lime juice/zest, egg and rice flour. Mix thoroughly. Add beans and coriander. Mix again, cover and keep in the fridge for half an hour.
Using damp hands make small balls of the mixture and shallow fry in a large hot pan using olive oil spray. Flip once.
Serve with a salad.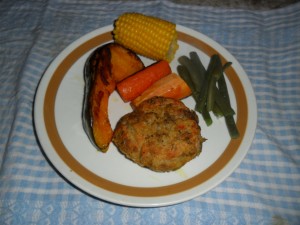 500g redfish fillets
2 red chillis, chopped
1 tbsp grated fresh ginger
2 cloves garlic, peeled
1 tsp grated lemon rind
1 tsp EQUAL SPOON FOR SPOON (Over time reduce the amount here until you no longer miss the sweetness of sugar or sugar substitute.)
20ml fish sauce
1 green onion, chopped
1 egg (Egg white)
1/4 cup coriander leaves
125g green beans, sliced
1 tbsp  Olive oil
Place fish, chilli, garlic, ginger, onion, lemon rind, fish sauce, Equal, egg(white)and coriander into the bowl of a food processor and blend until well combined and smooth. Transfer mixture to a bowl and stir through finely sliced beans.Chill for at least 2 hours.
Heat oil in a non-stick fry pan. Use a spoon to shape the fish cakes as the mixture is sticky, and cook in batches until browned on both sides.
For those who like a little more spice, add an extra chilli to the fish mixture and dipping sauce. Fish cakes may be shaped into larger cakes and served as an entre or light lunch with a green salad.