MEEN MOILEE (Fish Curry)
INGREDIENTS
200 gms fish fillet, cut into cubes
20 gms onion (julienne)
8 gms ginger (julienne)
1 green chilly (slit)
1 gms turmeric powder
15 ml olive oil
1 sprig curry leaf
1 gm mustard seed
INSTRUCTIONS
Heat oil in a fry pan/wok and add mustard seed, white urad dal and curry leaf. Let them crackle.
Add onion, ginger and chilly and sauté till onion is translucent.
Add fish and stir a little, add turmeric powder.
Now add 150 ml water and bring to boil. On low heat let the fish simmer till well cooked.
Adjust seasoning and serve hot.
This gravy should be bright yellow, shiny, fragrant and thin.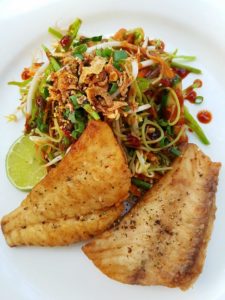 FISH COOKED IN YOGHURT
INGREDIENTS
3 onions
4 garlic cloves, chopped
1 tbsp chopped ginger
1 tsp chilli powder
1 tsp ground turmeric
280 g (1 cup) Greek-style yoghurt
4 x 2 cm-thick Spanish mackerel cutlets (about 1 kg)(Any fin fish can be used)
100 ml olive oil
4 green cardamom pods, crushed
4 whole cloves
1 small cinnamon quill
1 bay leaf
125 ml (½ cup) chicken stock or water
Salad and a lemon slices, to serve
INSTRUCTIONS
Roughly chop 1 onion, then place in a food processor with garlic, ginger, chilli powder and turmeric, and process to a smooth paste. Add yoghurt and process to combine. Pour into a bowl and add fish, tossing to coat. Cover bowl with plastic wrap and refrigerate for 2 hours.
Meanwhile, thinly slice remaining 2 onions. Heat olive oil in a large frying stoneware fry pan over medium heat. Add onion, spices and bay leaf and cook, stirring, for 20 minutes or until onion is dark golden. Using a slotted spoon, transfer onion and spices to a bowl and set aside, reserving pan and as much oil as possible.
Remove fish from marinade, scraping as much marinade from the fish as possible. Reserve marinade. Reheat oil in pan over medium heat. Add fish in a single layer. Cook for 3 minutes or until golden. Turn fish over, add reserved marinade and half the water, then bring to a gentle simmer. Cook, partially covered, for 10 minutes, adding extra water as necessary, until fish is just cooked.
Serve fish with a salad and lemon slices.
Adapted from https://www.sbs.com.au/food/recipes/fish-cooked-yoghurt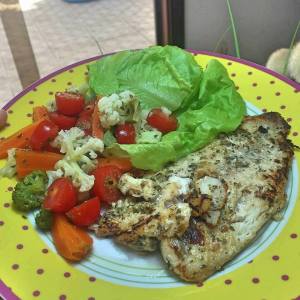 GRILLED FISH MASALA
INGREDIENTS
olive oil
1 clove of garlic
½ a bunch of fresh coriander
1 x 140 g fish fillet, such as salmon, pollock or any fin fish, scaled and pin-boned
½ teaspoon turmeric
½ teaspoon chilli powder
¼ teaspoon ground coriander
½ teaspoon ground cumin
1 small naan bread , optional
CORIANDER SALAD
1 baby gem lettuce
4 spring onions
½ a fresh red chilli
½ a lemon
1 tablespoon chutney try on from http://www.findtex.com.au/diabetic-foods/chutney-etc/
INSTRUCTIONS
Preheat the grill to high and line a baking tray with foil, then brush with a little oil.
Peel the garlic clove.
Pick and roughly chop the coriander leaves and finely chop the stalks.
Put the fish on the tray.
Grind the garlic and coriander stalks to a paste with a pestle and mortar, then stir in the dried spices and 1 tablespoon of oil.
Cover the fish with the herb paste, turn the grill down to medium, then grill for 8 minutes, turning halfway through – it's done when the flesh is opaque and flakes easily.
Meanwhile, prepare the salad. Trim, separate out and roughly chop the lettuce leaves, trim and roughly chop the spring onions, then deseed and finely slice the chilli. Cut the lemon into wedges.
Toss the coriander leaves, baby gem, spring onion and most of the chilli in a bowl with a squeeze of lemon juice, a splash of oil and some seasoning.
Arrange the salad on a serving plate, place the fish on top, skin-side up, and spoon over the chutney. Sprinkle with the reserved chilli, then serve with the yoghurt and remaining lemon.
adapted from wedges.tinyurl.com/y992ed5j
Paksiw na Isda Recipe

Ingredients
2 pieces fish (about half a pound each), cleaned and scales removed
1 knob ginger, sliced and pounded
6 cloves garlic, skin removed
1/2 cup vinegar
1 cup water
1 medium onion, sliced
1 small bitter gourd, chopped (optional)
3 pieces finger chili
1 teaspoon whole peppercorn
Cooking Procedure
Heat a pan and cooking pot then pour-in vinegar and water. Bring to a boil.
Arrange the fish in the pan along with the ginger, garlic, onion, bitter gourd, and finger chili. Cover and simmer in low to medium heat for 12 to 15 minutes.
Turn off the heat and transfer to a serving plate.
Serve hot with steamed rice. Share and enjoy!
BANGUS BISTEK
Ingredients:
1 – 1/5 Kg Bangus, butterfish (any white oily fish can be used.)
1/3 cup soy sauce
1/3 cup vinegar or calamansi or lemon juice
6 garlic cloves, minced
1 medium size onion
1 tsp cinnamon
Ground black pepper to taste
1/2 cup olive cooking oil
Instructions:
1. Heat frying pan and place cooking oil. Once cooking oil is fully hot reduce the heat to medium and start frying the fish till golden brown Set fish aside.
2. Mix soy sauce, vinegar, cinnamon and ground pepper. Taste test for desired salty sour sweetness and set aside.
3. Using a clean frying pan add 2 tablespoon of cooking oil. Quickly fry the onions and set aside. Now brown the garlic then add the soy sauce vinegar mixture. Simmer sauce in medium low heat for few minutes, Place the fried fish in the sauce. Simmer for few more minutes,
4. Arrange the fish then the sauce in a serving dish. Top with slices of onion and serve hot.