TAVA FISH FRY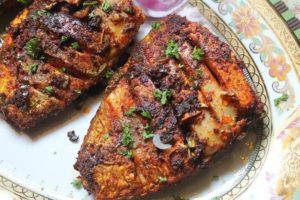 INGREDIENTS:
Fish – 3 pieces (any white fish)
Olive Oil – 4 to 5 tblspn
For Marination:
Chilli Powder – 1 tblspn
Kashmiri Chilli Powder – 2 tblspn
Turmeric Powder / Manjal Podi – 1 tsp
Coriander Powder – 1.5 tblspn
Pepper Powder – 2 tsp
Ginger Garlic Paste – 1 tblspn
Garam Masala Powder – 1 tsp find recipe here http://www.findtex.com.au/diabetic-foods/sugar-free-masala/
Coriander Leaves – 2 tblspn finely chopped
Curry leaves – 2 tblspn finely chopped
Lemon Juice – 1 tblspn
Water as needed
INSTRUCTIONS:
Clean fish pieces, make deep slashes in it.
Mix all the ingredients for marination and add very little water and make it into a thick paste.
Apply masala all over the fish, deep into the slits and slashes.
Leave this to marinate for 30 mins.
Heat olive oil in a pan, place fish over it. Cover it and cook on a medium low heat for 5 to 6 mins. Now flip over and cook on high heat for 5 more mins. Now the fish is done.
Serve with steamed vegetables or a salad.
This and other Asian recipes can be found here.
www.findtex.com.au/recipes/asian/texs-indian/
NUT CRUSTED SALMON
INGREDIENTS
10 oz/ 300 g salmon fillet
1 cup ground almonds or any nuts
1/2 tsp ginger
1/2 tsp onion powder
2 Tbsp mayonnaise
INSTRUCTIONS
Set oven to 180°C (160°C fan)/350°F/gas 4..
Mix all the nuts in a bowl with all the spices. Coat the salmon in the mayo then pour the nuts mix over evenly.
Bake for 13-15 minutes uncovered in a greased baking pan. Remove and let cool.
Adapted from Harlan Kilstein's Completely Keto Nut Crusted Salmon – Completely Keto
MUSTARD SALMON
INGREDIENTS
20 oz/ 567 g salmon fillets cut into 4 fillets, skinless
1/2 tsp garlic powder
1/2 tsp onion powder
1/2 tsp black pepper
1 Tbsp mustard powder
1 tsp dill
2 Tbsp Extra virgin olive oil
INSTRUCTIONS
Heat up one tablespoon of the EVOO in a large pan over medium-high heat.
Sprinkle the salmon evenly with all the spices and pat the spices into the salmon.
Cook 2 fillet pieces at a time for 7 minutes per side. Add the other tablespoon of EVOO between batches.
Best served as fresh as possible.
Adapted from Harlan Kilstein's Completely Keto Mustard Salmon (SK) – Completely Keto
EASY LOW-CARB BAKED MAYO-PARMESAN FISH
INGREDIENTS
four 6-8 oz./ 225 g fish fillets
1 tsp. Szeged Fish Rub, for rubbing on the fish. Find recipe here http://www.findtex.com.au/uncategorised/spice-mix-sugar-salt-and-fat-free/?fbclid=IwAR3hvBlQtzdqc4jY_Q4PowMk72mmmsQLzgo4h7uWEkz_I74tjyzpL5-UE3o
1/2 cup mayo
4 T freshly-grated or coarsely-grated Parmesan
1/2 tsp. garlic powder
coarse ground black pepper to taste
INSTRUCTIONS
If frozen Thaw fish overnight in the fridge and then drain well. (If the fish seems quite wet, place it between two paper towels and press out the excess moisture.)
Lay fish out on the cutting board, rub on both sides with Szeged Fish Rub and let fish to come to room temperature while you preheat oven to 400F/200C.
In a small bowl or glass measuring cup combine the mayo, coarsely grated Parmesan, and garlic powder. The mixture will be stiff, try to get it combined well.
Keeping the fish on the cutting board, use a rubber scraper to spread that mixture in an even layer on the top of each piece of fish.
Then carefully transfer fish to the baking dish, use the smallest dish you have that fits all the pieces. Season with some fresh-ground black pepper to taste over the topping on the fish.
Bake fish in the upper half of the oven for about 12 minutes, or until the fish is starting to get firm when you press on the side with a fork (thicker pieces will take longer to bake).
Then switch your oven to BROIL and brown the topping for 3-4 minutes. (Watch it carefully!) Serve hot
Nutrition Facts
Calories 637
Protein 94 g
Fat 26 g
Carbohydrates 2 g
Adapted from Easy Low-Carb Baked Mayo-Parmesan Fish | Punchfork
LEMON-BAKED FISH
INGREDIENTS
3 medium lemons, divided
4 tilapia (or any other white fin fish) fillets (about 1 pound total/ 450 g) rinsed and patted dry
1/2 teaspoon dried thyme leaves
1/4 teaspoon black pepper
2 tablespoons olive oil
2 tablespoons Louisiana hot sauce
2 tablespoons chopped parsley, divided
INSTRUCTIONS
Preheat oven to 400°F (200°C).
Line baking sheet with foil. Slice 2 lemons into 8 rounds total. Arrange lemon rounds in 4 rows (2 slices each). Place 1 fillet on top of each row. (The lemons act as a "bed" for each fillet.)
Combine thyme and pepper in small bowl and sprinkle evenly over fillets. Bake 10 to 12 minutes, or until fillets are opaque in center.
Meanwhile, grate 2 teaspoons lemon peel from remaining lemon, place in small bowl with olive oil, hot sauce, and 1 tablespoon parsley. Stir until well blended.
To serve, top each fillet with equal amounts of olive oil mixture and sprinkle evenly with remaining 1 tablespoon parsley. May serve on lemon slices, if desired.
Yield:
4 servings
Serving size:
1 (3-ounce/ 85 g) fillet
Nutrition of original
Calories: 137 calories, Carbohydrates: 2 g, Protein: 23 g, Fat: 4 g, Saturated Fat: 2 g, Cholesterol: 56 mg, Sodium: 366 mg, Fiber: 1 g
Exchanges per serving: 3 Meat.
Adapted from Lemon-Baked Fish With Cajun Buttery Topping – Diabetes Self-Management (diabetesselfmanagement.com)
CHEESY SPINACH STUFFED SALMON
INGREDIENTS
1 cup cream cheese
3 cup crushed almonds
1 1/4 cup fresh spinach
110 ml olive oil
1/2 cup parmesan cheese grated
1/2 tsp black pepper
1/2 tsp garlic powder
6 oz/170 g salmon fillets
Extra virgin olive oil to lather salmon
INSTRUCTIONS
Preheat oven to 450 degrees F/ 220- 240 degrees C
Boil a large pot with water and cook the spinach for 30 seconds. Drain the water and immediately rinse the spinach with cold water. Try to remove as much liquid as possible after by squeezing the spinach.
Mix the spinach with all the other ingredients in a bowl, except for the oil and salmon. Put on the side.
Line a baking sheet with parchment paper and put some EVOO lathered on the paper.
Form a pocket on the side of each fillet by cutting a slice into the thickest part of each fillet. Evenly divide the spinach stuffing between the fillets and stuff generously.
Put the fillets on the baking pan with the skin side down and lather more olive oil onto the top of each fillet. Bake for 17 minutes, best served right out of the oven.
Adapted from Harlan Kilstein's Completely Keto Cheesy Spinach Stuffed Salmon – Completely Keto
BAKED SALMON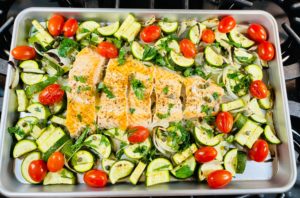 INGREDIENTS
salmon,
zucchini,
onions,
capers,
cherry tomatoes,
olive oil,
ginger,
pepper, parsley
INSTRUCTIONS
Mixed all ingredients
bake at 375°F/ 190°C for 15-20 minutes!
Serve
SESAME CRUSTED SALMON
INGREDIENTS
48 oz/ 225 g salmon fillet
1 cup mixed white and black sesame seed
pinch of black pepper
1/2 cup Extra virgin olive oil
2 Tbsp sesame oil
1/2 cup Wheat Free Tamari Sauce
1/2 cup mustard
6 Tbsp lime juice
INSTRUCTIONS
Preheat oven to 325° F (160° C).
Mix the sesame and pepper together fully. Pour all the oils into a sauté pan over medium-high heat. Put the salmon in skin side down and cook for around 3 minutes per side.
Move the salmon to a baking sheet and cook for 5 minutes in the oven skin side down.
Add in all the rest of the ingredients to the pan. Keep cooking until it gets thicker and reduces which should take about 90 seconds give or take.
Plate the salmon and pour the sauce over generously.
Adapted from Harlan Kilstein's Completely Keto Sesame Crusted Salmon – Completely Keto
MASALA FISH FRY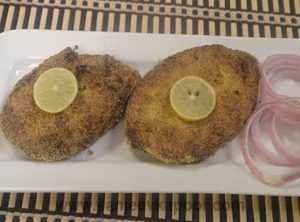 INGREDIENTS
King fish (surmai) 8 slices (any white fish can be used)
Crushed black peppercorns 1/2 teaspoon
Turmeric powder 1/2 teaspoon
Garlic paste 2 teaspoons
Red chilli paste 2 teaspoons
Fresh coriander leaf paste 2 teaspoons
Coriander powder 1/2 teaspoon
Clove powder 1/2 teaspoon
Ginger to taste
Olive Oil 2 tablespoons
Lemon juice 2 teaspoons
Almond flour 1/2 cup find out to make your own here http://www.findtex.com.au/recipes/bread/gluten-free-flour/
Onion rings
Lemon wedges
INSTRUCTIONS
Mix together crushed black peppercorns, turmeric powder, garlic paste, red chilli paste, coriander leaf paste, coriander powder, clove powder, ginger and 2 tablespoons olive oil. Add lemon juice and mix again.
Apply this mixture to the fish pieces so that they are well covered with the masala. Set aside to marinate for about fifteen minutes.
Heat sufficient olive oil in a non-stick frying pan.
Spread the almond flour on a plate. Coat the fish pieces with this mixture well.
Shallow fry the fish pieces, in batches, in the hot oil on medium heat, turning sides, till both sides are golden. Drain on absorbent paper.
Serve hot with onion rings and lemon wedges with a salad.
BLACKENED MAHI MAHI
INGREDIENTS
2 SERVINGS
CAJUN SEASONING
1 tbsp paprika
1 tsp oregano
2 tsp ground cayenne pepper, use less for less heat
1 tsp ground pepper
¾ tsp ground thyme
½ tsp garlic powder
1 tsp onion powder
MAHI MAHI
2 fillets mahi mahi, fresh or thawed or any other white fish
2 tbsp olive oil
squeeze lemon juice
INSTRUCTIONS 
First, combine all Cajun seasonings in small bowl. Stir to combine.
Remove skins of mahi mahi fillets. Pat fillets dry with paper towels. Use hands to coat both sides of fish with Cajun seasoning.
In a large fry pan over medium heat, add olive oil. Once oil is hot, add mahi mahi to the fry pan.
Cook for 5 minutes. Then, carefully flip and cook another 4 to 5 minutes or until fish is flaky.
Finally, remove from pan. Squeeze lemon juice on fish if desired.
NOTES
This Cajun seasoning has a kick to it.  Feel free to adjust to your taste.
Thoroughly coat both sides of fish with seasoning.
If using frozen mahi mahi, allow it to thaw before use.
Remove skins from fish.
Fish is done when it easily flakes.
Store leftovers in the fridge for up to 3 days.
Nutrition
calories: 288 kcal, carbohydrates: 4 g, protein: 32 g, fat: 16 g, saturated fat: 2 g, polyunsaturated fat: 2 g, monounsaturated fat: 10 g, cholesterol: 124 mg, sodium: 734 mg, potassium: 805 mg, fiber: 2 g, sugar: 1 g, vitamin a: 1321 IU, vitamin c: 8 mg, calcium: 61 mg, iron: 3 mg
Adapted from Blackened Mahi Mahi – Organically Addison
BAKED TILAPIA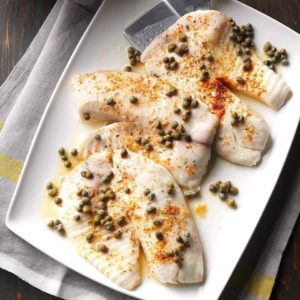 INGREDIENTS
4 tilapia fillets or any white fish (6 ounces each/ 170 g)
3 tablespoons olive oil
3 tablespoons lemon juice
1-1/2 teaspoons garlic powder
2 tablespoons capers, drained
1/2 teaspoon dried oregano
1/8 teaspoon paprika
INSTRUCTIONS
Place tilapia in an ungreased baking dish.
In a small bowl, combine the olive oil, lemon juice and garlic powder; pour over the fillets. Sprinkle with capers, oregano and paprika.
Bake, uncovered, at 425° F (220° C) until fish just begins to flake easily with a fork, 10-15 minutes.
RED PEPPER & PARMESAN TILAPIA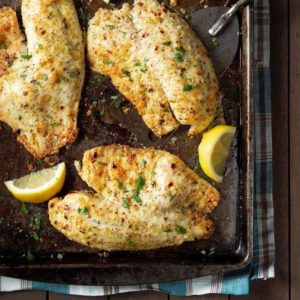 INGREDIENTS
INSTRUCTIONS
Preheat oven to 450°F/ 220 -230°C.
Place egg in a shallow bowl. In another shallow bowl, combine the cheese, Italian seasoning, pepper flakes and pepper.
Dip fillets in egg and then in cheese mixture.
Place fillets in a baking pan coated with olive oil cooking spray.
Bake until fish just begins to flake easily with a fork, 10-15 minutes.
SALMON SKEWERS
INGREDIENTS
2 lb/ 900 g salmon
1/3 cup Extra virgin olive oil
2 Tbsp lime juice
1 tsp onion powder
2 large bell peppers cut into squares
skewers
INSTRUCTIONS
Slice the fish into 1 inch/.5 cm cubes.
Mix the onion powder and lime juice in a bowl then coat the fish in it.
Let it marinate for 60 minutes.
If using wood skewers let them soak for a few minutes.
Drain the juice from the fish and thread onto the skewers with the pepper squares in a pattern.
Broil for 5 minutes per side.
Adapted from Harlan Kilstein's Completely Keto Salmon Skewers (SK) – Completely Keto
GRILLED CAJUN SALMON
INGREDIENTS – Serves 4 Adults
INSTRUCTIONS
Preheat the grill for 10 minutes at a medium heat.
Rub a little olive oil over each salmon fillet.
Then add the Cajun spice to the salmon and leave to marinate in the fridge for 5 minutes.
Cook the salmon gently for 8 to 10 minutes, turning occasionally.
Adapted from www.safefood.eu
BENGALI FISH FRY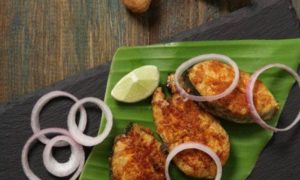 INGREDIENTS
600 gms white oily fish fillets
2 tbs Turmeric paste
2 tsp Red chilli powder
1 ½ tbsp. Ginger garlic powder
Olive Oil for frying
INSTRUCTIONS
Take about 600 gms fish (flesh without bones) and make about 12 pieces of filets (flat slice).
Mix turmeric paste, red chilli powder and ginger garlic paste together.
Allow the fish filets to marinate for 15-20 minutes in the paste.
Heat oil in frying pan. Fry the fish till it turns golden brown.
Take out the fried fish pieces and put over kitchen napkin to soak the excess oil. Serve hot.
This and other central Asian recipes can be found here.
http://www.findtex.com.au/recipes/asian/texs-indian/
SALMON WITH LEMON AND GINGER SAUCE
INGREDIENTS
4 salmon fillets, 5 oz (150 g) each
2 green onions
1 ½ tsp (7 mL) fresh ginger root, minced
1 clove garlic, minced
2 tbsp (25 mL) low-sodium soya sauce
1 tbsp (15 mL) fresh lemon juice
1 tsp (5 mL) grated lemon rind
1 tsp (5 mL) olive oil
INSTRUCTIONS
Preheat oven to 425◦ F (220◦ C)
Chop green onions; set aside chopped green tops for garnish. In a bowl combine white part of onions, ginger root, garlic, soya sauce, lemon juice and rind and olive oil to make the marinade.
Place salmon fillets in a single layer in a shallow baking dish. Pour marinade over; let stand at room temperature for 15 minutes or in the refrigerator for up to 1 hour.
Bake, uncovered, in preheated oven for 13 to 15 minutes or until salmon turns opaque. Arrange on serving plates, spoon sauce over and sprinkle with green onion tops.
Notes
To cook salmon and other fish quickly, use the microwave. Arrange fish and sauce in a shallow baking dish and cover with microwave-safe plastic wrap; turn back one corner to vent. Microwave at Medium for 4 minutes. Turn fish over and re-cover; microwave at Medium for 3 to 5 minutes more or until salmon turns opaque.
This fish dish is also great to cook on the barbecue.
Adapted from Salmon with lemon-ginger sauce – Diabetes Canada
BAKED COD WITH PARSLEY AND HORSERADISH CRUST
INGREDIENTS
1 tbsp creamed horseradish
1 slice multigrain bread, crumbed.
1 tbsp fresh parsley, chopped.
2 x 125 g chunky pieces cod fillet
freshly ground black pepper
80 g rocket
INSTRUCTIONS
Preheat the oven to 200 °C/ 180 °C (400° F) Gas 6.
Mix together the horseradish, breadcrumbs and parsley, season well and press onto the cod fillets.
Place on a baking sheet and bake for 10–12 minutes until the fish is cooked through. Serve with rocket salad and a wedge of lemon.
Nutrition in original
Adapted from Baked cod with parsley and horseradish crust | Diabetes UK
HERB-CRUSTED SALMON AND GRILLED ASPARAGUS
INGREDIENTS:
2 x 200 g salmon fillets, skin off
2 slices wholemeal bread, crusts removed. (optional)
1 tbs finely grated parmesan cheese
Freshly grated zest of half a lemon
1 tbs parsley, chopped.
1 tbsp dill, chopped.
1 tbsp thyme, chopped.
1 egg white, beaten.
2 tbsp extra virgin olive oil
1 bunch of asparagus
1/4 cup walnuts, chopped.
INSTRUCTIONS:
Preheat oven to 180C/350F fan-forced. Line a baking tray with baking paper.
Place the bread into a food processor or kitchen chopper and pulse to form rough crumbs. Add the parmesan, lemon zest, all the herbs and egg white. Season with ginger and pepper then pulse until just combined.
Place the salmon on the baking tray, brush with 1 tbs oil and press the breadcrumb mixture on top. Bake for 10-15 minutes or until crust is golden and fish is cooked.
Meanwhile, blanch the asparagus in boiling water for 1 minute then drain. In a frying pan heat remaining oil and toss in asparagus and walnuts, cooking for a further 2 minutes.
Take salmon out of the oven and serve with asparagus.
Adapted from Baked Salmon Recipe – Kayla Itsines
CAJUN AIR FRIED SALMON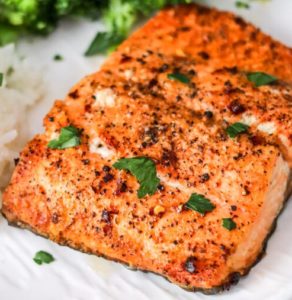 INGREDIENTS
INSTRUCTIONS
Rub olive oil over the tops of the fillets. Sprinkle with cajun seasoning, black pepper, and red pepper flakes.
Place the cajun salmon fillets into the air fryer basket. Make sure they are NOT touching. You can cook as many fillets at once that will fit in your basket.
Set the air fryer to 400° F (204° C) and 8 minutes. Depending on the size of your fillets, you may need another minute.
Remove from the air fryer basket carefully and serve the air fryer salmon immediately.
Serve with steamed vegetables or a salad.
Adapted from https://domesticsuperhero.com/air-fryer-salmon-cajun-style/?fbclid=IwAR0pnHsDr-X-ysaKawdJ4htI3hVdL9FDwsgXOsdMG5_MjvwsGX8cEJOavDc
For those who can tolerate breadcrumbs.
SALMON WITH CRUNCHY BREADCRUMB CRUST
INGREDIENTS
75g (11/2 cups) panko breadcrumbs (or multigrain breadcrumbs)
1 nori sheet (edible seaweed)
1 tablespoon sesame seeds
1 tablespoon Olive oil
1 tablespoon white miso paste
4 (about 180g) skinless salmon fillets
Lemon wedges, to serve
INSTRUCTIONS
Preheat oven to 180C/160C fan forced. Line a baking tray with baking paper. Place the breadcrumbs in a large bowl. Use your hands to finely crumble the nori over the breadcrumbs. Add the sesame seeds and stir to combine.
Heat the olive oil and miso paste in a small saucepan over medium-high heat. Whisk until smooth. Add the breadcrumb mixture and use a spatula to stir until well combined.
Place the salmon on the prepared tray. Press the breadcrumb mixture evenly over the salmon. Place the tray on the bottom rack of the oven. Bake for 10-12 minutes or until the flesh flakes when tested with a fork.
Divide the salmon among serving plates. Serve with lemon wedges.
Adapted from https://startsat60.com/media/lifestyle/recipes/tasty-baked-salmon-with-crunchy-seasme-seed-crust-recipe?fbclid=IwAR3assZalPfD33PPaWwWh2rjzwN8bF5XdDXmpXGsqV6qHmMpU6WbqSo4hvM
WILD SOCKEYE SALMOM WITH ZUCCHINI
Heat oven to 375°.
Slice Zucchini (or vegetable of your choice)
Bake for approximately 25 minutes on sheet pan. Cooking times may vary depending on thickness of fish. Salmon cooked with lemon pepper, fresh herbs and capers.
5 carbs for meal.
SALMON WITH PINK PEPPERCORN YOGHURT SAUCE
INGREDIENTS
1/2 teaspoon sweet basil leaves
1/2 teaspoon pink peppercorns
1/4 + a pinch teaspoons Ground Cayenne chili pepper
1/2 teaspoon ginger .
1/2 teaspoon black pepper
1/2 teaspoon paprika
2 cups plain Greek yogurt
1/2 teaspoon fresh lemon zest
1 pound/ 400g skin on salmon filets
1 tablespoon olive oil
INSTRUCTIONS
Preheat oven to 400 degrees F/200 degrees C. On a large baking sheet, brush salmon filets with olive oil. Combine dry spices for salmon and rub spice mixture on salmon.
2. Bake salmon for until salmon flakes easily (10-13 mins). In a medium mixing bowl, combine yogurt, lemon zest, basil, pink peppercorns, a pinch of cayenne pepper, a pinch of ginger, and the juice of 1/2 lemon. Combine into a smooth sauce.
3. Remove salmon from oven, place on a plate skin side down. Spoon sauce over salmon and garnish with additional pink peppercorns.
Adapted from https://www.frontiercoop.com/community/recipe/homemade-broiled-salmon-with-pink-peppercorn-yogurt-sauce?fbclid=IwAR36UkDZ1AuRk3oGsp5A8RK5_iMRNZZP_Ts5AjnUXBZ86tDPk_rDlwVeUkw
SALMON WITH YOGHURT, SPINACH, LEMON AND CAPERS
INGREDIENTS
2 lemons, peeled and thinly sliced
1 16 oz container Chobani Greek yogurt
8 cloves garlic, minced or squeezed through garlic press
10-ounce bag fresh spinach, chopped
1/4 cup extra virgin olive oil
2 teaspoons dried dill
1/8 teaspoon ground black pepper
1/2 cup capers, drained
1 ½ pounds/ 680 g fresh salmon filet (wild, not farm raised, if possible)
INSTRUCTIONS
Preheat oven to 350 degrees F/ 180 degrees C.
Layer the lemon slices in the bottom of a casserole dish (needs to be big enough to fit salmon in one layer).
Mix yogurt, garlic, spinach, olive oil, dried dill, pepper, and capers in a bowl.
Place salmon on top of lemon slices.
Cover salmon with yogurt mixture.
Cover casserole dish tightly with aluminium foil or other tight cover.
Bake covered for 20 minutes, uncover and continue baking for 10-20 minutes more, or until salmon is flaky and no longer pink in the middle. Drain excess liquid if necessary.
Adapted from https://www.mediterraneanliving.com/recipe-items/salmon-with-yogurt-spinach-lemon-and-capers-2/?fbclid=IwAR07V2nJQmhatqt_VSAH2iqYRY7EUI8lqxgWvwm5wzJpzoEdAdzXTy5Efdc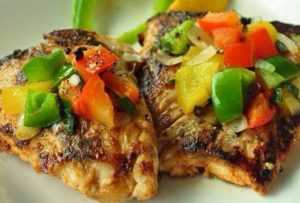 BAKED PEPPER FISH
INGREDIENTS
100 gm fish, salmon or boneless any oily fin fish
3 spring onion, cubes
1 spring onion greens, chopped
1/2 red pepper, cubes
1/2 yellow pepper, cubes
1/2 green pepper cubes
2-3 cloves garlic
1 tbsp red chilli sauce (optional)
Half lemon juice
Ginger
Black pepper powder
1 tsp Olive oil
INSTRUCTIONS
1. Pre heat oven at 200 degrees C. Mix the red chilli sauce and fish pieces in a bowl.
2. In a baking tray place the fish pieces, top it with crushed garlic, onions, greens and all the peppers.
3. Sprinkle ginger and black pepper powder and lemon juice on it.
4. Drizzle olive oil on it.
5. Bake it for 5 minutes and serve hot.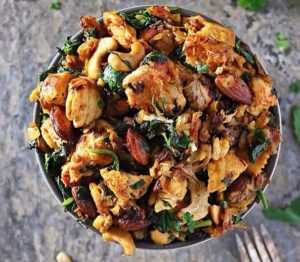 SALMON HASH
INGREDIENTS
2 tbsp Olive Oil
1 medium yellow onion
3 cloves garlic
1/2 inch piece of ginger
2 salmon fillets
1/2 tsp coriander
1/2 tsp smoked paprika
1/4 tsp turmeric
3 basil leaves
1 tbsp fresh parsley
1 small sweet potato
2 cups fresh spinach
2 tbsp almonds
2 tbsp cashews
INSTRUCTIONS
1. Finely dice onion and garlic cloves. Also, carefully grate ginger up with a handheld grater.
2. Add Olive Oil to a medium Stoneware Fry pan over medium heat and add in the diced onion. Sauté about 10 minutes, stirring often so onion doesn't burn.
3. Add in the ginger and garlic and sauté about a minute. Using a grater, grate the sweet potato into the pan and let cook a couple of minutes.
4. Remove any skin from salmon fillets and move the sweet potato/onion mix to the side and add salmon to the fry pan with onions, etc. Also, sprinkle in the turmeric, coriander, and smoked paprika. Let fillets sauté about 5 minutes.
5. Flip fillets over and gently flake them with your spoon. let it cook for another 3- 5 minutes.
6. Chop the basil and parsley and add to the salmon fillets. Then stir well.
7. Add in the spinach and cashews and almonds and stir. Sauté until spinach has wilted.
Season with ginger and pepper to taste and serve warm.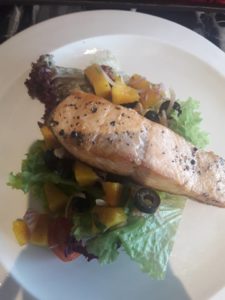 LIME AND BLACK PEPPER SALMON
INGREDIENTS
Juice and zest of 1 lime
1.5 Tbs of Extra Virgin Olive Oil
1 tsp black pepper
1 crushed clove of garlic
280g salmon (in 2 portions)
1 lime for serving
INSTRUCTIONS
Mix together the first 4 ingredients.
Pour half over the salmon and set aside for 10 mins.
Prepare a steamer
Steam for 10 minutes or until cooked through.
Serve with a salad.
Adapted from https://redisland.com/holly-hunters-lime-black-pepper-salmon
SALMON WITH WHITE BEAN MASH 
INGREDIENTS
1 tbsp olive oil
2 garlic cloves, crushed
1 tsp ground cumin
1 tsp finely grated lemon rind
2 x 400g (14oz) cans cannellini beans, rinsed, drained (fresh or dried if possible)
1 tbsp fresh lemon juice
1 cup fresh continental parsley leaves
1 small red onion, halved, thinly sliced
1 tbsp baby capers, rinsed, drained
olive oil spray 4
(about 125g/4oz each) skinless salmon fillets
steamed green round beans, to serve
INSTRUCTIONS
1. Heat the oil in a medium saucepan over medium heat.
Add the garlic, cumin and lemon rind and cook, stirring, for 30 seconds or until aromatic.
Add the cannellini beans and lemon juice and cook for 2 minutes.
Use a fork to coarsely crush. Set aside and cover to keep warm.
Combine the parsley, onion and capers in a small bowl.
Heat a large non-stick frying pan over medium-high heat. Spray with oil. Cook the salmon for 3-4 minutes each side for medium or until cooked to your liking.
Divide the bean mixture among serving plates. Top with the salmon and the parsley mixture.
Serve with green beans.Per serve 
2250kJ/ 540 calories; 41g protein; 25g fat (includes 5g saturated fat; saturated: unsaturated fat ratio 0.25); 27g available carbs (includes 6g sugars and 21g starches); 16g fibre; 690mg sodium; 1300mg potassium; sodium: potassium ratio 0.53
Adapted from http://ginews.blogspot.com.au/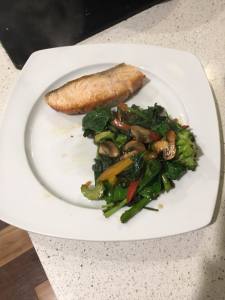 SPICY SALMON WITH STIR-FRIED VEG NB1
INGREDIENTS
1 cup brown rice (Some here may like to delete) NB2
1 1/2 tablespoons olive oil
2 x 180g skinless salmon fillets, halved to make 4 fillets (Any fin fish can be used)
5 button mushrooms, quartered if small, thinly sliced if large
2 garlic cloves, thinly sliced
4cm piece ginger, peeled, grated
1 long red chilli, thinly sliced (optional)
2 bunches bok choy, quartered
2 cups snow peas, trimmed
2 teaspoons sesame seeds, to serve
Any other vegetables in season
2 teaspoons spice mix from http://www.findtex.com.au/uncategorised/spice-mix-sugar-salt-and-fat-free/
INSTRUCTIONS
Step 1 Cook brown rice according to packet instructions; drain, cover to keep warm and set aside.
Step 2 Meanwhile, set a wok (or large non-stick frying pan) over medium heat and heat half of the olive oil. Coat salmon fillets evenly with the spice mix; cook, turning occasionally, for 3–4 minutes, or until fillets are golden brown and starting to flake. Remove cooked salmon from wok, cover to keep warm and set aside.
Step 3 Add remaining olive oil to wok (or pan) with mushrooms, garlic, ginger and chilli (if using); cook, stirring occasionally, for 1–2 minutes, or until mushrooms are soft and mixture is aromatic.
Step 4 Add bok choy, snow peas and vegetables to the wok (or pan) with 2 tablespoons water. (The mixture will steam slightly.) Cook veg for 2 more minutes, or until greens are bright green and just tender.
Step 5 Divide reserved cooked rice among 4 bowls, then top with stir-fried vegies and reserved five-spice salmon; scatter with sesame seeds and serve.
Nutrition Information (per serve) of original
Kilojoules 
2,173kJ
Calories 
519cal
Protein 
34.7g
Total fat 
21g
Saturated fat 
4.4g
Carbohydrates 
44.8g
Sugars 
3.8g
Dietary fibre 
6.6g
Sodium 
490mg
Calcium 
132mg
Iron 
4.4mg
Adapted from https://daa.asn.au/recipes/five-spice-salmon-with-stir-fried-veg-2/
NB1 the method by which we cook vegetables can affect their GI. Here are two hints.
Resistant starch and day-old potatoes has been discussion before, yams including sweet potatoes, the same can be said for pasta and it is claimed that also rice.
Diabetes Diet: Benefits of Eating Digestive Resistant Starches
Potatoes, yams and pastas that are cooked, and cooled (heating and cooling alters the chemical structure).
http://www.informationaboutdiabetes.com/lifestyle/lifestyle/diabetes-diet-benefits-of-eating-digestive-resistant-starches
2. Also Glycemic Index of Sweet Potato
The way you prepare sweet potatoes makes a difference in their GI. The GI of a 150g sweet potato, boiled with its skin for 30 minutes, is 46. That number rises to 94 if the same sweet potato is baked for 45 minutes. These dramatic differences come from the way the starches in sweet potatoes gelatinize during cooking. Foods that turn viscous, or jelly-like, in your digestive tract have a lower GI because the gelatinous substance slows the release of the nutrients in the food. Baking your sweet potatoes instead of boiling them changes the quality of their starches and transforms this root vegetable from a moderate-GI food to a high GI-food.
http://www.livestrong.com/article/295025-the-glycemic-index-for-sweet-potatoes/
NB2 Some here may prefer cauliflower rice. Recipes can be found here.
http://www.findtex.com.au/diabetic-foods/roasted-turmeric-cauliflower/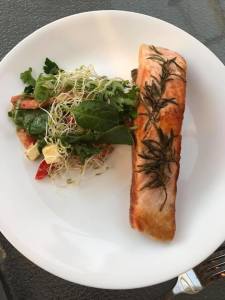 SALMON
INGREDIENTS
140g fresh Salmon – skin on
2 bunches of sprouted broccoli, dry ends trimmed
Juice and zest of 1 lemon
Olive oil Spray
1/2 bunch fresh parsley, roughly chopped
¼ cup almond nuts
INSTRUCTIONS
Preheat oven to 200°C (fan forced).
Line a baking tray with baking paper and set aside.
Arrange the sprouted broccoli and the salmon portions on the tray, Squeeze the lemon juice over the salmon then sprinkle with lemon zest.
Cook for eight minutes, then remove from the oven. Scatter the almonds on top and return to the oven for another five minutes.
Remove from oven, sprinkle the parsley over the dish and serve with steamed vegetables or a salad.
Adapted from https://www.bhg.com.au/super-salmon?utm_source=BHG+CPV&utm_medium=Facebook+Driver&utm_campaign=Huon+Salmon&utm_term=Pacific&utm_content=Pacific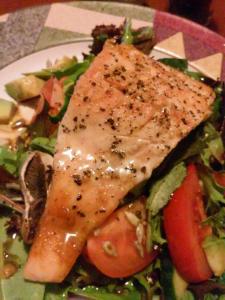 BAKED SALMON WITH GARLIC BALSAMIC GLAZE
Ingredients
For Balsamic Glaze 
1 cup balsamic vinegar
4 garlic cloves, minced
1/2 tsp cayenne pepper
1/2 tsp pepper
1 tbsp Dijon mustard
2 tbsp extra virgin olive oil
For Salmon
3 lb. 1.25kg Salmon fillet, no skin
ginger and black pepper
1/3 cup chopped fresh parsley leaves
1/3 cup chopped fresh dill
Instructions
Preheat oven to 425 F 220 C.
In a small saucepan, mix balsamic vinegar add garlic, spices, mustard, and olive oil. Mix until well combined.
Line a large baking sheet with parchment paper.
Season salmon well with ginger, and a little black pepper on both sides. Brush one side with the balsamic glaze, then lay salmon, glazed sided down, on the prepared baking sheet. Dress the top generously with the balsamic glaze (reserve a small bit of the glaze for the end.)
Place salmon in oven (middle rack), and bake until salmon flakes nicely. Baking time will depend on the thickness of your salmon, as determined by the thickest part of the salmon fillet. For every inch/2,5 cm of thickness, roast 8 to 10 minutes. Could be a total of 15 to 18 minutes.
Remove from oven and brush with remaining glaze. Top with fresh chopped herbs. Enjoy!
Serve with a salad.
Notes
Leftover Instructions: Baked salmon will keep for 3 to 5 days in the fridge (in tightly) closed container. Reheat gently in oven or use cold.
Adapted from https://www.themediterraneandish.com/easy-baked-salmon-garlic-balsamic-glaze/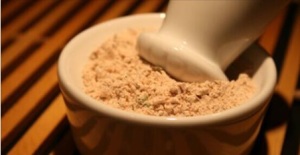 SPICE MIX
Sometimes as diabetics we desire bread crumb mix, here we present a spice mix without the bread that will be diabetic friendly.
INGREDIENTS
Paprika 4 tbsp
Garlic powder ½ tsp
Ground mustard 1 tsp
French thyme 1 tsp (ground)
Oregano 1 tsp (ground)
Ginger powder 1 tsp
INSTRUCTIONS
Mix all together.
Take pieces of skinless chicken or fish or any other meat desired and dip in slightly beaten raw egg.
Roll in spices.
Bake in a glass pan in a 350F/180C degrees oven for 45 minutes, less for fish. This also works well in an air fryer at 160C
Adapted from http://www.therecipespk.com/kfc-chicken-seasoning-mix/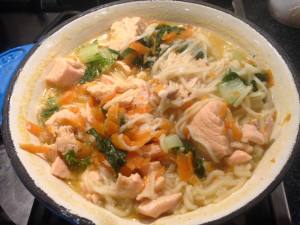 GRILLED SALMON WITH SOBO NODDLES AND WASABI MAYO.
INGREDIENTS
180 g dried soba noodles NB1
2 cups finely shredded wombok or savoy cabbage
1 carrot, finely shredded
2 spring onions, finely shredded
¼ cup mint leaves, finely shredded
2 tbs. olive oil
2 x 200 g salmon fillets
Olive oil spray
Any other in season vegetables
Wasabi mayo
½ cup Low Fat Greek yoghourt
½ tsp wasabi paste NB2
2 cm piece fresh ginger, finely grated
1 lemon, rind finely grated
INSTRUCTIONS
Cook noodles in a medium pan of boiling water for 2 minutes or until tender. Drain and rinse under cold water. Combine the noodles, cabbage, carrot, spring onion and mint in a large bowl. Add the olive oil and toss gently to mix.
Preheat a barbecue grill or char-grill pan. Spray the salmon with oil spray and season to taste with ginger and pepper. Cook the salmon 2-3 minutes each side (depending on thickness) until almost cooked through. Remove from heat.
To make the mayo, combine the yoghurt, wasabi paste, ginger and lemon rind in a bowl. Thin with a little lemon juice if you like.
Divide the noodle salad between serving plates. Top with a piece of salmon and drizzle over the mayo. Serve with extra pepper.
Note:  Add some extra wasabi paste to the mayo if you prefer a sharper bite.
 Nutrition Information (per serve)
| | |
| --- | --- |
| Energy | 2171.5 kJ (519 calories) |
| Protein | 29.9g |
| Total Fat | 25.4g |
| Carbohydrates | 39.9g |
| Saturated Fat | 4.9g |
| Sugars | 8.2g |
| Dietary Fibre | 5.3g |
| Sodium | 654.6mg |
Adapted from https://daa.asn.au/recipes/char-grilled-salmon-with-soba-noodle-slaw-and-wasabi-mayo/
NB1 Soba noodles
It usually refers to thin noodles made from buckwheat flour, or buckwheat and wheat flours (Nagano soba). They contrast to thick wheat noodles, called udon. In Japan, the word can refer to any thin noodle. Soba noodles are served either chilled with a dipping sauce, or in hot broth as a noodle soup.
https://en.wikipedia.org/wiki/Soba
Also try
As medical research has demonstrated, the higher the viscosity of soluble fiber, the better the ability to control blood sugar level. The glucomannan fiber is the most viscous soluble fiber in nature, making it the best way to control the blood sugar level of diabetic people. At the same time, it is a very efficient way to control blood sugar level when you take it before each meal. Simply consume as a beverage before each meal.
As stated, Konjac fiber is the most viscous fiber in nature. This allows the Konjac to move through the digestive tract very slowly which can slow down carbohydrate absorption. This slowed absorption will keep the blood sugar at a moderate level during the digestion process. Konjac also acts to trap food and waste residues as it moves through the digestive system. Konjac fiber can block substances that are easily reabsorbed such as excess bile acids. The digestive regulatory quality of Konjac fiber makes it a natural agent in the treatment and regulation of diabetes and high cholesterol.
Glucomannan is known to show hypoglycemic effects by inhibiting the uptake of glucose by the body. It is believed that it does this by preventing contact of the glucose with the intestinal walls for absorption. By reducing the amount of blood sugar, glucomannan can help patients with type II diabetes. Konjac fiber when absorbs lots water, it will form soft gel, the glucomannan will delays gastric emptying and slows the release of sugar into the bloodstream, which helps to lower levels of insulin and blood glucose. Additionally, glucomannan improves blood-lipid profiles and can lower systolic blood pressure. Because of these effects, glucomannan can greatly benefit individuals with metabolic syndrome or diabetes.
http://www.konjacfoods.com/noodles/19.htm
Also Try Kelp Noodles Asian Salad
http://www.furtherfood.com/recipe/kelp-noodles-asian-salad-recipe-mango-macadamia-nuts-lime-zest-diabetes-diet/
Also try zucchini noodles.
NB2 Wasabi is generally sold either as a stem, which must be very finely grated before use, as dried powder in large quantities, or as a ready-to-use paste
https://en.wikipedia.org/wiki/Wasabi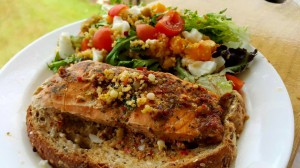 Steamed salmon fillet on multigrain bread with couscous poached egg salad on the side
Pick up some salmon on the way home for this quick and easy herb crusted salmon recipe.
Preparation Time
20 minutes
Cooking Time
20 minutes
Ingredients (serves 10)
140g (2 cups) fresh breadcrumbs (made from day-old multigrain bread)
75g fresh Baby Capers.
1 cup chopped fresh continental parsley
1/2 cup chopped fresh dill
2 tbs finely grated lemon rind
50g cottage cheese (Egg white can be used here)
10 (about 170g each) skinless salmon fillets, pin boned
Lemon wedges, to serve
Method
Preheat oven to 200C. Place the breadcrumbs, capers, parsley, dill and lemon rind in a large bowl. Add the cottage cheese and stir until well combined.
Line a roasting pan with baking paper. Divide the breadcrumb mixture among salmon and press down firmly. Place, flesh-side down, in the pan. Roast for 20 minutes or until fish flakes easily when tested with a fork.
Divide the salmon among serving plates and serve with lemon wedges.
Notes
Make it ahead: Prepare this recipe to the end of step 1 up to 4 hours ahead. Store in an airtight container. Continue from step 2, 30 minutes before serving.
Divide the breadcrumb mixture evenly among the salmon, then use your fingers to press down to create a firm crust.
Source
Based on Good Taste – December 2008
Good Taste – December 2008, Page 61
Recipe by Michelle Southan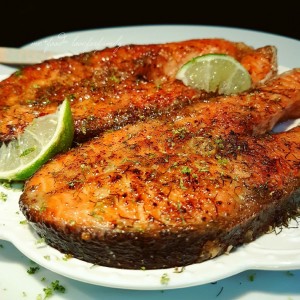 BAKED SALMON WITH Garlic Cilantro Sauce
Ingredients
For the Garlic Cilantro Sauce
4 to 6 garlic cloves, chopped
ginger
1 whole bunch fresh cilantro, stems trimmed (only remove about 1 inch of the stems)
1/2 cup extra virgin olive oil
1 lime, juice of
For the Salmon
½ kg skinless salmon fillet
ginger and pepper
1 large tomato, sliced into rounds
1/2 lime, sliced into rounds
Instructions
Preheat the oven to 425 degrees F (220C).
In the bowl of a small food processor, add all the ingredients for the garlic cilantro sauce. Blend until everything is well combined into a sauce.
Place the salmon fillet in a lightly oiled baking. Sprinkle lightly with ginger and pepper. Now spoon the garlic-cilantro sauce on top of the salmon fillet and spread evenly to coat the salmon. (You will have extra garlic-cilantro sauce, pour it into a small bowl to serve next to the salmon.)
Arrange the tomato and lime slices on top of the salmon fillet.
Bake in the 425 degrees F 220 C heated-oven for 10-12 minutes. Remove from the oven and cover lightly with foil and let sit for another 8 minutes or so to finish cooking. Enjoy!
Adapted from https://www.themediterraneandish.com/baked-salmon-recipe-garlic-cilantro-sauce/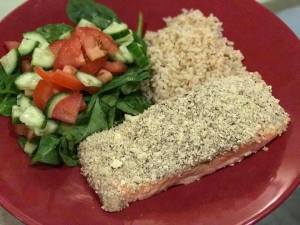 POACHED SALMON
Serves 4
INGEDIENTS
½ cup dry white wine
½ cup water
¼ cup fresh dill
¼ cup chopped parsley
1 shallot, thinly sliced
4 x 150 g salmon fillets
Ground pepper
Lemon wedges
INSTRUCTIONS
Add wine, water, dill, parsley and shallots to a deep-frying pan and bring to a gentle simmer on medium heat.
Add salmon, skin side down and cover.
Cook for 5–10 minutes, or until salmon is cooked through.
Season with pepper and a squeeze of lemon juice.
Nutritional information per serve
Total energy 1400 kJ / 333 cal
Protein 41 g
Total fat 18 g
Saturated fat 5 g
Total carbohydrate 1 g
Fibre 1 g
Sodium 87 mg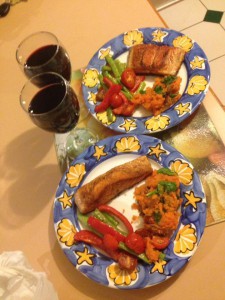 SALMON WITH ROSNARY PEPPER AND  GARLIC
Ingredients
4 Atlantic salmon fillets
2 teaspoons olive oil
1 clove garlic
1 tablespoon fresh rosemary
freshly ground black pepper
1 tablespoon lemon juice
2 tablespoons dry  white wine
Method
Pat fillets dry on kitchen paper
Brush oil over the base of a frypan and cook crushed garlic, chopped rosemary and pepper for 1 minute
Add fish and brown 1 minute on both sides
Add lemon juice and wine, reduce heat, cover and steam for about 5 minutes or until fish flakes easily when tested with a fork. The liquid should almost evaporate
Serve with lightly mashed steamed sweet potato and a tossed salad
Adapted from https://www.diabetesaustralia.com.au/recipes/13176
CHAR-GRILLED SALMON TACOS
INGREDIENTS
500g boneless, skinless salmon fillets
1 tbs. reduced salt taco seasoning (Check for sugar content)
1 tbs. olive oil
2 fresh corn cobs, husks removed (optional)
1 large red capsicum, roughly chopped
250g packet (10) mini light tortillas (Wholemeal or multigrain if you can find them)
1 large ripe avocado, peeled and chopped 1 tbs. lime juice
2 green shallots, thinly sliced
2 tbs. chopped fresh coriander
10 small lettuce leaves (baby cos, butter or oakleaf)
lime wedges, to serve
INSTRUCTIONS
Cut salmon into 2cm thick strips. Sprinkle with taco seasoning to coat lightly.
Heat a char-grill plate or barbecue flat plate and brush lightly with olive oil. Add corn and capsicum. Cook, turning occasionally until lightly charred (approximately 3-5 minutes for capsicum and 8-10 minutes for corn). Remove. Cover and keep warm.
Add salmon strips to char-grill or barbecue. Cook for 2-3 minutes on each side or until lightly browned and just cooked through. Remove. Cover and keep warm.
Heat tortillas as directed on packet.
To make guacamole, roughly mash avocado with lime juice in a small bowl. Stir in shallots and coriander.
Cut corn kernels from cobs.
Top warm tortillas with lettuce leaves, corn, capsicum and flaked salmon. Serve with lime wedges.
Nutrition Information (per serve)
| | |
| --- | --- |
| Energy (kJ) | 1240 |
| Protein (g) | 15.7 |
| Fat  – Total (g) | 15.6 |
| –  Saturated fat (g) | 3.4 |
| Carbohydrate – Total (g) | 20.5 |
| Fibre (g) | 5.0 |
| Sodium (mg) | 267 |
Adapted from http://diabetesnsw.com.au/recipe/char-grilled-salmon-tacos-guacamole/
PANFRIED FLATHEAD
I do not know about you but I just get like fried fish for a change from steamed. While not perfect here is my healthy version.
Prepare 3 trays
Wholemeal four
Omega 3 Egg white
Multigrain bread crumbs.
Coat your flathead fillets evenly with the contents of each bowl.
Set aside in the fridge for 20 minutes to allow the gg white to set.
Fry with a little olive oil close to smoking point.
Serve with a salad.
Also try my sourdough batter:-
http://www.findtex.com.au/recipes/find-tex-originals/sea-bream-and-rice/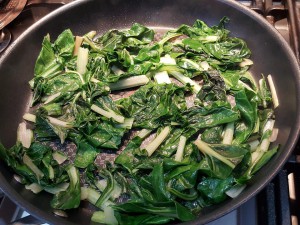 BLACK PEPPER SALMON WITH BABY GIA LAN
Ingredients
300 grams' boneless salmon fillet, cubed
coarsely cracked black pepper
⅓ cup almonds
2 tbsp. olive oil
2 cloves garlic, crushed
3cm piece fresh ginger, peeled and cut into julienne
2 tsp black pepper sauce
1 tbsp. water
300 grams' baby gai lan (Chinese spinach)
1 small carrot, cut into julienne
1 tbsp. mirin
fresh coriander, to garnish
Instructions
Season salmon with a generous amount of cracked black pepper, and set aside for around 20 minutes.
Meanwhile, dry-fry almonds in a hot wok over medium heat, stirring constantly, until golden-brown. Set aside.
After salmon has been marinated for 20 minutes, heat 1 tablespoon of the olive oil in a frypan over medium heat and fry salmon until golden-brown and cooked through. Set aside.
Heat remaining tablespoon of oil in a wok over medium heat and stir-fry garlic and ginger for around 2 minutes or until fragrant. Turn the heat down to medium-low and add the black pepper sauce. Cook, stirring, for about 1 minute, then add the water.
Turn heat up to high and stir in the gai lan and carrot. Stir-fry until the gai lan is just wilted.
Return salmon to the pan and stir to combine. Drizzle with mirin.
Serve immediately with steamed basmati rice or a salad, sprinkled with almonds and fresh coriander.
Adapted http://www.qvm.com.au/seasonal-produce/gai-lan-chinese-broccoli/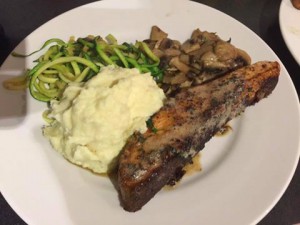 MARINATED SALMON COOKED IN AN AIR FRYER
Last night's yummy dinner. Salmon fillet marinated in garlic, ginger, fresh coriander, chili, then cooked in an air fryer (crispy skin – looks burnt in photo, but was just really dark golden and delish). With zoodles, mushrooms and cauliflower mash.
Smoked salmon salad with tahini dressing
Preparation time: 10 minutes
Cooking time: 15 minutes
Serving size: 4
Ingredients
560g sweet potatoes
450g hot-smoked salmon, flaked into bite-sized pieces NB 1
160g baby spinach leaves
1/3 cup chopped fresh parsley
1/3 cup torn fresh mint leaves
6 red radishes, trimmed, sliced
Tahini dressing
1 tbs tahini
1/3 cup low-fat plain yoghurt
2 tbs lemon juice
1 small clove garlic, crushed
Directions
Place sweet potatoes into a saucepan of cold water. Bring to the boil, then simmer for 15 minutes or until tender. Drain. Set aside.
Meanwhile, arrange salmon, spinach, parsley, mint, radish and zucchini on 4 individual serving plates, or a large platter.
Make Tahini dressing: Combine tahini with 1 tbs boiling water in small bowl. Stir to combine. Add yoghurt, lemon juice and garlic. Drizzle over salad. Serve with new potatoes.
Note 1 Smoked salmon may contain sugar and salt which may be used in the curing process.
STEAMED SNAPPER 
INGREDIENTS
• Snapper steaks
• fresh ginger and garlic,
• spring onions,
• a splash of olive oil.
• Baking paper
• snow peas,
• broccolini
• spring onions.
INSTRUCTIONS
1. Wrap the snapper fresh ginger and garlic, spring onions, in the paper and bake for 15 minutes on 180C in an air fryer.
2. Stir fry the snow peas, broccolini and spring onions.
PAN-FRIED SALMON AND ZUCCHINI
Serves 2
Ingredients
2 salmon fillets
Sesame seeds
2 small zucchini, thinly sliced
4 spring onion, chopped
2 tsp Olive oil or Olive oil spray.
Method
In a large non-stick frypan, I use a stoneware one, over medium heat, toast the sesame seeds. Set aside.
Place the salmon in the fry pan and cook for 5 minutes, each side. Remove the salmon from the frypan and keep it warm.
Add the zucchini, spring onions and to the frypan. Sauté for 4 minutes or until the zucchini starts to brown add some sesame seeds. Serve with the salmon.
Nutrition
Serving size = 1 salmon fillet with 1 cup zucchini
376 Calories
16 g Fat
87 mg Cholesterol
375 mg Sodium
11 g Carbohydrate
3 g Fibre
40 g Protein
NB This is not a balanced meal.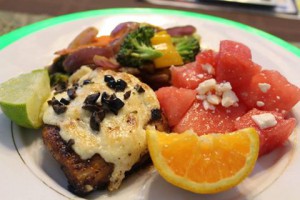 GRILLED SALMON
Grilled salmon finished under the broiler with mayo and black olives, Sauteed mixed veggies in olive oil, ginger and garlic. Watermelon salad with lime juice a little ginger and feta cheese.
BBQ SALMON WITH VEGGIE PACKETS AND LEMON SAUCE : IT IS IN THE SAURCE
Ingredients 
1 fennel bulb
4   cups broccoli florets and any other in season vegetables from the garden.
1   tablespoon olive oil
4   fresh salmon fillets with skin
1⁄2 cup Greek yoghurt
1 1⁄2   tablespoons lemon juice
1   tablespoon snipped fresh parsley
Instructions 
. Cut stalks and root end off fennel bulb, reserving the wispy fronds. Halve, core, and thinly slice fennel. Snip the fronds; set aside.
Tear off a 30 cm sheet of heavy baking paper. Place fennel slices and broccoli in the centre of paper. Drizzle with oil and sprinkle with 1⁄4 teaspoon ginger and 1⁄4 teaspoon black pepper; toss to coat. Bring up long edges of paper and fold to seal with a double fold. Fold ends to enclose vegetables, leaving space for steam to build.
Rinse salmon; pat dry with paper towels.
Place foil packet and salmon separately on the BBQ set at medium heat. Cover and cook until vegetables in packet are tender and salmon flakes easily when tested with a fork, turning once halfway through grilling. (Allow 12 to 15 minutes for vegetables and 2 to 3 minutes per cm thickness of fish.)
Meanwhile, for sauce, in a small bowl stir together yoghurt, lemon juice, parsley, and 1 teaspoon of the snipped fennel fronds.
Serve salmon with vegetables and sauce. If desired, garnish with additional snipped fennel fronds.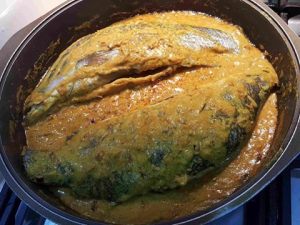 FISH NIGHT
Fish night here tonight. With 5 day vegetarianism, it's only about once a month now!
We went out to get some good fish from a Chinese fishmonger. We chose barramundi. And with it we made..
Bombay Fish curry with whole Barramundi.
From a recipe I've had for years from a book called "Australian Seafood banquet". I also marinated the fish with lemon juice, turmeric, kasmiri chilli powder, ginger, garlic, cumin and pepper for 10 minutes before popping into the curry sauce. So yum