At Christmas or on those special occasions when you are with your children or grand children use this activity to engage the whole family. Make a ginger bread man.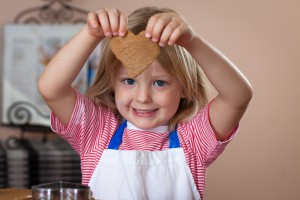 Ingredients
A cup of stout. (Any alcohol will boil out in th cooking process but the stout adds colour and goodness.
3 cups of flour
1 serve of left over boiled or steamed pumpkin.
1 cup of left over basmati rice.
1  cup of oat meal
2 tablespoons of ginger or to taste.
I cinnamon stick ground to a powder.
2 teaspoons of bakers yeast.
A red pepper.
Peas
Corn for decoration.
A scone or pizza tray.
1 teaspoon of olive oil.
Method
Place ingredients 1 to 8 in your bread maker.
Select dough maker option
Lightly oil your cooking tray with the olive oil to prevent sticking
When finished fashion into a ginger bread man using lightly floured hands
Decorate with the red pepper peas and corn.
Place in warm place like the oven for 30 -40 minutes and allow to rise.
Cook for 30 or 40 minutes at 180 C.
Remove and let cool for a few minutes.
Enjoy.
Texs Score card
| | | |
| --- | --- | --- |
| Contains no | Score / 10 Higher the better | Comment |
| Sweetener | 10 | |
| Fat | 10 | |
| Salt | 10 | |
| Fibre | 8 | This is kids version if you included multigrain I would give it 10 |
| Total | 38/40 | |
GINGERBREAD
Ingredients
2 cups Almond flour or your favorite diabetic flour mix.
1 Cinnamon
1 1/2 tsp Ground ginger
1/4 tsp Ground cloves
1/4 tsp Nutmeg
1/2 tsp Gluten-free baking powder or yeast NB1
1/4 cup Erythritol (Omit NB2)
1/4 cup Butter (softened) I would use olive oil.
1 large Egg
1 tsp Vanilla extract
Instructions
In a medium bowl, stir together the almond flour, cinnamon, ground ginger, ground cloves, nutmeg, and baking powder/ yeast.
In a large bowl, use a hand mixer to beat the butter and erythritol for 1-2 minutes, until fluffy. Beat in the egg and vanilla extract. Beat in the almond flour mixture until a dough forms.
Form the dough into a ball and refrigerate for at least 30 minutes, or until ready to bake. If using yeast stand in a warm place so that it will rise.
Preheat the to 350 degrees F/ 180C. Line a cookie sheet with parchment paper (you may need to do this twice for all the cookies).
Place the ball of dough between two large pieces of parchment paper. Roll out to 1/4″ thickness. Use a cookie cutter to cut out cookie shapes and transfer them to the parchment paper. (Transferring can be tricky because the dough is very soft. You can use a thin turner or flat spatula to help transfer each one.) When you've cut out all the shapes you can, re-form the remaining dough into a ball, roll it out again, and repeat, until you've used up all the dough.
Bake for 10-15 minutes, until golden on the edges. Cool on the cookie sheet before handling.
Notes
Nutrition Facts of original
Amount Per Serving
Calories 180 Calories from Fat 144
% Daily Value*
Total Fat 16g 25%
Total Carbohydrates 6g 2%
Dietary Fiber 3g 12%
Sugars 1g
Protein 6g 12%
Vitamin A 3%
Vitamin C 0.3%
Calcium 6%
Iron 7%
* Percent Daily Values are based on a 2000 calorie diet.
Adapted from https://www.wholesomeyum.com/recipes/sugar-free-gingerbread-cookies-low-carb-paleo/
1.     NB1 the yeast will consume any available sugars n the flour mix and will form a sourdough like dough.
2.     NB2 What is erythritol?
Erythritol ((2R,3S)-butane-1,2,3,4-tetraol) is a sugar alcohol that occurs naturally in some fruits and fermented foods. It has been approved for use as a food additive in the United States and throughout much of the world. In general, erythritol is free of side effects in regular use.
Reference: en.wikipedia.org/wiki/Erythritol