(10 minutes of prep!)
Like any good pizza, you can pretty much fill them with whatever you want, I use left over stew and curries, then just pack them up and get out for some fun in the sun!
Makes 4 to 6 servings (12 pizza rolls)
Prep Time: 10 minutes
Active Time: 10 minutes
Total Time: 35 minutes (plus cooling time)
Plain Flour, as needed for dusting (Gluten free if required)
2 (1/2 Kg) balls pizza dough (make your own multigrain Dough it is more enjoyable) (gluten free can also be used
3 egg whites
2 tbs milk
1 Leggo's salt free tomato paste
1 1/2 cups mixed  tomatoes, halved or sliced
1/2 cup basil leaves, torn
1/2 teaspoon red pepper flakes
ginger and other spices to taste
Any cooked leftover lean meat can be added.
Preheat an oven to 450 degrees F. Line two baking sheets with baking paper and set aside.
Lightly dust a work surface with plain flour. Carefully stretch both balls of pizza dough out into a rectangle about 30 cm long and 20 cm wide (the dough should be between 3 and 5 mm thick).
Using the back of a spoon spread the tomato paste over the dough.
Evenly spread the tomatoes, basil, and pepper flakes over each piece of dough.
Season them with ginger and the other spices on top.
In a bowl mix the egg white and milk and pour over the pizzas.
Starting on the wider side of the dough, roll each piece of dough into a log. Slice each log into 6 equal portions and transfer the rolls to the prepared baking sheets leaving at least 25mm between each roll.
Bake the pizza rolls, rotating the pans halfway through baking, until deep golden brown, about 25 minutes. Let the rolls cool slightly before serving them warm (if packing them up for a picnic, let them cool completely)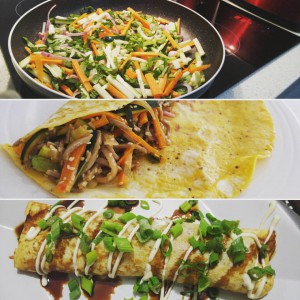 JAPANESE OMMLET
A homemade adaption of a yummy soba noodle omelette from our local Japanese restaurant easily made in a few steps!  Traditionally used with left over rice etc. from the meal the night before.
1. Throw together a stir fry by chopping up vegetables such as red onion, Bok cChoy, zucchini and carrots and stir frying in a pan with a little olive oil, garlic, ginger, soy sauce (Watcher the sugar and salt in this), chilli and sesame seeds and a small packet soba noodles until a little tender.
2. Cook an omelette per person in a stoneware fry pan with olive oil spray(I use one egg, two egg whites and a little Heart active milk and pepper whisked.
3. Place omelette onto plate. Pile stir fry down long edge of omelette and roll up. Decorate with Greek Yoghurt and chopped chives.
4. Enjoy the deliciousness!!