This crisp and mildly spiced flatbread is perfect for spooning up dal or gravy. We cannot do without the oil here as it gives the flaky texture that is characteristic of missi roti.
Preparation Time :11-15 minutes
Cooking time : 6-10 minutes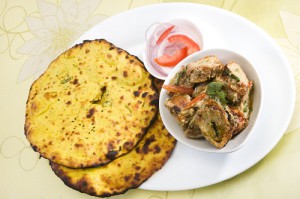 Servings : 4
Main Ingredients
Gram flour (besan), Whole-wheat flour (atta)
Ingredients
Gram flour (besan)  180 grams  (*Note 1)
Whole-wheat flour (atta) 105 grams
Fresh coriander leaves chopped 60 grams
Green chillies chopped 4
Onion chopped 1 medium
Ground turmeric1 teaspoon
Ground ginger 1/2 teaspoon
Chaat masala1 teaspoon (*Note 2)
Pomegranate seeds (anardana)1 tablespoon
Olive oil 1 tablespoon plus extra for greasing
Method
 1 Sift together the two flours. Add all the other ingredients, plus enough water to form a soft dough. Knead until the dough is smooth. Rest for 10 minutes.
2 Divide the dough into sixteen equal portions and form into balls.
3 Grease the palms of your hands and also the worktop. Place a dough ball on the worktop and press it down a little to form a disc. Slightly dampen one palm and, using both hands, pat the dough between them to make a roti. Alternatively, you can simply roll the dough on a lightly floured surface, using a rolling pin, until you have a disc roughly 15cm in diameter. Make the rest of the roti in the same way.
 4 Heat a tandoor. Lightly dampen one side of each roti and stick it on to the tandoor wall. Alternatively, you can roast the rotis on a hot tawa. (Note 3)
 5 Cook until the chapatis are light brown.
Note 1 you can use a mix of ½ multigrain flour and ½ wholemeal if you cannot get these flours. Gluten free could be used here.
Note 2, this mix contains salt.
Note 3 Tawa = A tava(h), tawa(h), teghna(h), tabbakhe(y), saj, or sac is a large, flat or convex disc-shaped frying pan made from metal, usually sheet iron, cast iron, sheet steel or  aluminium. It is used in South, Central, and West Asia for cooking a variety of flatbreads and as a frying pan for meat. It also sometimes refers to ceramic frying pan.
Note 4, White this would not a traditional missi rot 2 teaspoons of yeast can be added (the yeast will feed on any available sugar) or baking powder can be added. If you use yeast at least 1 hours rest would be required after step 3.
See more at: http://www.sanjeevkapoor.com/Recipe/Masala-missi-roti.html#sthash.nN16isrl.dpuf