SMOKED SALSA
INGREDIENTS
4 tomatoes, diced
2 onions, diced
1 green bell pepper, diced
1 red bell pepper, diced
1 yellow bell pepper, diced
1 orange bell pepper, diced
3 jalapeno peppers, diced
1 lime, juiced
1/4 teaspoon garlic powder, or to taste
ginger and ground black pepper to taste
1 bunch fresh cilantro, finely chopped
INSTRUCTIONS
Preheat a smoker grill to 250 degrees F (120 degrees C). Add wood chips according to manufacturer's directions.
Combine tomatoes, onions, bell peppers, and jalapeno peppers in a grill pan. Place on the grate of the preheated smoker grill; smoke for 3 hours.
Remove vegetables from the smoker and place in a blender. Blend to desired consistency. Mix in lime juice, garlic powder, ginger, and pepper. Add fresh cilantro for decoration.
Nutrition Facts
Per Serving: 58 calories; 0.4 g fat; 13 g carbohydrates; 2.2 g protein; 0 mg cholesterol; 30 mg sodium
Adapted from https://www.allrecipes.com/recipe/273874/smoked-salsa/?lnkid=ussfac&utm_medium=social&utm_content=20200225&utm_source=facebook.com&utm_campaign=social-share-recipe&fbclid=IwAR3XHiFWbWyErDXas8KqKocaZHyv2j97CXaJAH0eKJipP8O6FvpgUwe-uJk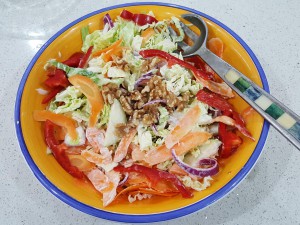 FRESH COLESLAW
INGREDIENTS
Onion,
red capsicum,
green apple mixed with lime or lemon juice,
Walnuts nuts
finely sliced carrot.
ginger and freshly ground pepper.
Chilli to taste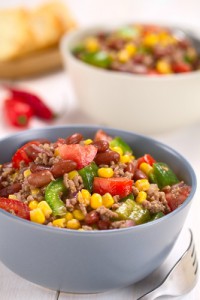 Ingredients
2 red capsicum and as many chili as you like.
2 yellow capsicum
1 tbs sweet corn, preferable fresh cut from the cob
2 tablespoons white or rice wine vinegar
1 garlic clove, minced
1 tablespoon capers
2 tablespoons BYRON BAY Heavenly Habanero Chilli Sauce (Or use your own, salt ,sugar and fat  free)
ginger and pepper
2 tablespoons dill and a onion coarsely chopped.
Method
Roast capsicum and chili in a 250° oven until slightly blackened on all sides..
Carefully place on a plate and allow to sit for 15 minutes.
Peel away skin.
Cut in half, remove core and seeds, slice into thick strips and place in a bowl.
Whisk together remaining ingredients and pour over capsicum and chili
Serve at room temperature.
VEGETABLE CURRY
Low fat, Low saturated fat, Source of fibre, High protein, Low Sodium, Wheat-free (Gluten Free), Vegetarian
Ingredients
For the curry paste
2 tsp cumin seeds (cumin powder can also be used)
2 1/2 tsp coriander seeds (coriander powder can also be used)
3 – 6 red chilies, chopped (for a mild curry use 3, for hot curry use 6)
2 tsp turmeric
6 spring onions, chopped
2 cloves of garlic, chopped
3 cm piece of ginger, peeled and chopped
3 lemon grass stalks (white part only), chopped
For the curry
2 tsp sesame oil
1 large brown onion, diced
1 cup gluten free low sodium vegetable stock
2 large sweet potatoes, peeled and chopped into 2 cm cubes
3 large carrots, peeled and cut into 2 cm cubes
1 cup butternut pumpkin, peeled and chopped into 2 cm cubes
1 cup green beans, topped and tailed
half a cauliflower, chopped into florets
1/2 a wombok (Chinese cabbage), shredded
400g firm tofu
1 – 2 tbls gluten free corn flour
1/4 cup water
To serve
4 spring onions, sliced diagonally
1 cup bean sprouts
1 cup Thai basil and coriander leaves
6 cups steamed Basmati rice
Method
To make the curry paste
If using cumin and coriander seeds, grind them to a powder using a mortar and pestle. Add the ground spices to a food processor along with the rest of the curry paste ingredients. Blend into a smooth paste.
To make the curry
Add sesame oil to a pan and sauté onions on a medium heat until they are brown. Add the curry paste, stirring constantly for 2 minutes until it becomes fragrant. Add half of the stock. Bring to the boil.
Add the sweet potatoes and carrots and simmer for 10 minutes. Add the pumpkin, beans and the cauliflower, simmer for another 5 minutes. Add the rest of the stock to cover the vegetables.
Add the wombok and tofu. Simmer for 2 – 3 minutes or until the wombok is soft.
Simmer until all of the vegetables are tender, add 1 – 2 tablespoons of corn flour dissolved in water to thicken the sauce.
Serve in bowls atop steam rice. Sprinkle the bean sprouts, basil and coriander over the curry.