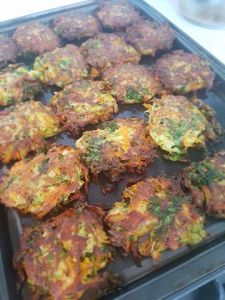 Vegan Zucchini 'Meatballs'
Ingredients:
1 cup chickpeas, soaked overnight, drained and rinsed cooked
3 garlic cloves
1/2 cup rolled oats*
1 teaspoon dried basil
1 teaspoon dried oregano
1/2 teaspoon ginger
2 tablespoons nutritional yeast
juice of 1/2 lemon
1 cup shredded zucchini (about 1 large zucchini)
8 ounces whole grain pasta NB1
INSTRUCTIONS:
In the bowl of a food processor, combine the drained and rinsed chickpeas, garlic cloves, and rolled oats. Pulse for about 5-10 seconds, until finely chopped. When you press the mixture between your fingers, it should hold together.
Transfer to a large bowl along with the dried herbs, ginger, nutritional yeast, lemon juice and shredded zucchini. Do not use more than 1 cup of shredded zucchini.
Stir together until well-combined. If the mixture is too wet to handle, add a little flour (you can grind extra oats into a flour) or nutritional yeast to help absorb excess moisture.
Preheat the oven to 375°F 190 C then line a baking sheet with parchment paper.
Using your hands, scoop out on heaping tablespoon of the zucchini mixture at a time and roll into 12 separate balls. Arrange on the baking sheet a few centimeters apart then bake in the oven for 25 minutes. Meanwhile, cook pasta as directed.
Once the zucchini balls are light golden brown, remove them from the oven and set aside. Serve warm over cooked pasta. Garnish with fresh basil and enjoy!
*Be sure to use certified gluten-free oats for allergies
Click Here for Nutrition Facts
Adapted from http://makingthymeforhealth.com
NB1
Try Konjac noodles
Konjac Foods for People with Diabetes (Noodles. Pasta.)

As medical research has demonstrated, the higher the viscosity of soluble fiber, the better the ability to control blood sugar level. The glucomannan fiber is the most viscous soluble fiber in nature, making it the best way to control the blood sugar level of diabetic people. At the same time, it is a very efficient way to control blood sugar level when you take it before each meal. Simply consume as a beverage before each meal.

As stated, Konjac fiber is the most viscous fiber in nature. This allows the Konjac to move through the digestive tract very slowly which can slow down carbohydrate absorption. This slowed absorption will keep the blood sugar at a moderate level during the digestion process. Konjac also acts to trap food and waste residues as it moves through the digestive system. Konjac fiber can block substances that are easily reabsorbed such as excess bile acids. The digestive regulatory quality of Konjac fiber makes it a natural agent in the treatment and regulation of diabetes and high cholesterol.

Glucomannan is known to show hypoglycemic effects by inhibiting the uptake of glucose by the body. It is believed that it does this by preventing contact of the glucose with the intestinal walls for absorption. By reducing the amount of blood sugar, glucomannan can help patients with type II diabetes. Konjac fiber when absorbs lots water, it will form soft gel, the glucomannan will delays gastric emptying and slows the release of sugar into the bloodstream, which helps to lower levels of insulin and blood glucose. Additionally, glucomannan improves blood-lipid profiles and can lower systolic blood pressure. Because of these effects, glucomannan can greatly benefit individuals with metabolic syndrome or diabetes.
http://www.konjacfoods.com/noodles/19.htm
Also Try Kelp Noodles Asian Salad
http://www.furtherfood.com/recipe/kelp-noodles-asian-salad-recipe-mango-macadamia-nuts-lime-zest-diabetes-diet/
Also try one from this page:-
http://www.findtex.com.au/diabetic-foods/zucchini-fritters-with-chili-lime-mayo/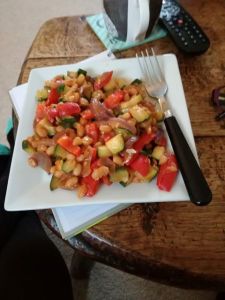 BLACK-EYED PEA SALAD
INGREDIENTS:
2 1/2 cups cooked black-eyed peas
1 cup cooked peas
1 cup cooked carrots
1 large tomato, diced
1 /2 onion, diced
2 green onions, sliced
1/3 cup parsley, chopped
1/4 cup Extra Virgin Olive Oil
2 tbsp. Apple cider vinegar
ginger and freshly ground black pepper, to taste
INSTRUCTIONS:
Wash and peel carrots.
Slice them and boil them in water until tender. Do not overcook.
Toss to combine black-eyed peas, peas, carrots, tomato, onion, and green onion in a large bowl.
In a small bowl mix Olive Oil and vinegar. Season with ginger and pepper.
Pour dressing over bean mixture. Toss to coat. Stir in parsley and season to taste with ginger and pepper.
Refrigerate until ready to serve (the longer it sits the better the flavor will be).
Adapted from http://mygreekitchen.gr/black-eyed-pea-salad/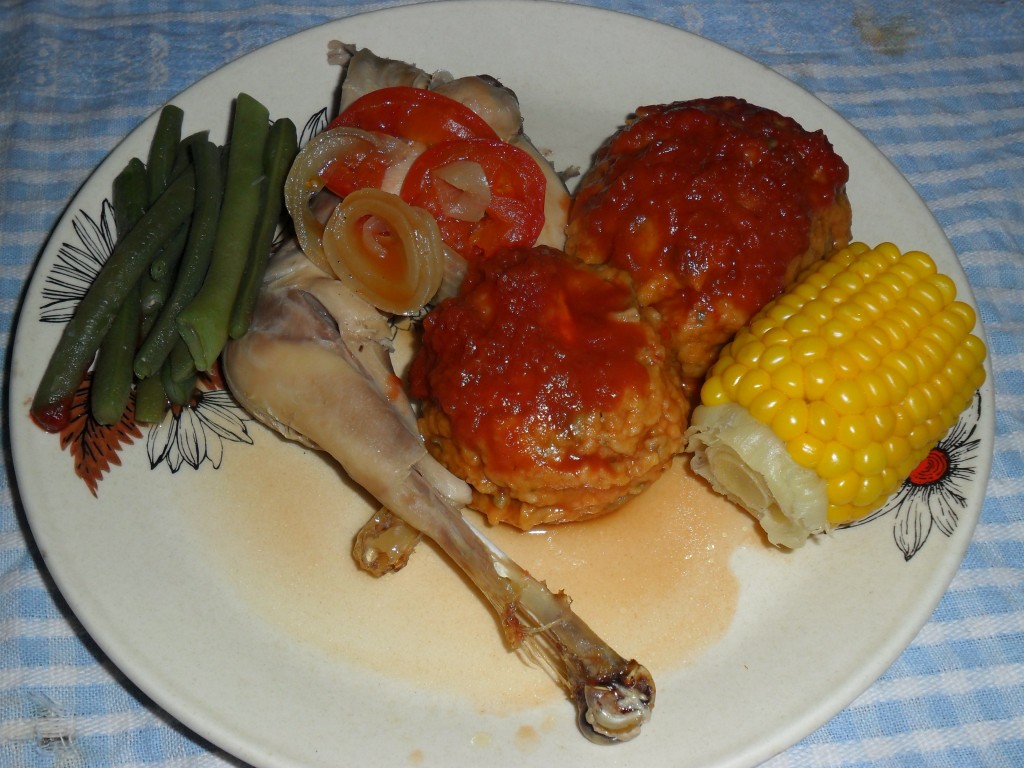 Ingredients
1 serve pumpkin cooked
1 serve Sweet potato cooked
beans
sweet corn
Any other fresh vegetables from the garden
1 cup finely chopped silver beat or other green from garden
1 carrot grated
1 medium sized sweet potato grated.
I cup cooked Basmati rice.
1 cup rolled oats soaked over night.
1/3 cup oat bran
1  cup flour (can use gluten free flour: be aware that oats can be contaminated with gluten.)
1 tub of Leggo's Tomato Paste No added salt.
2 teaspoons baker or yeast. (I use this so that the yeast can work on any available sugars; therefore I believe it lowers the GI index of the dish.)
Herbs and spices to taste; I use 2 tablespoons Paprika, 2 tablespoons curry powder 1 teaspoon of the following Cumin Seed Ground, Cinnamon, Mixed spices, and Nutmeg.
2 tablespoons garlic
2 tablespoons ginger; (if you are addicted to salt use more ginger)
If you are addicted to sugar use a sugar substitute such as Splenda. (This can be reduced over time)
1/3 cup of water.
Directions
Place all the above except for the tomato Past in your bread maker a set for Dough only.
When the bread maker has done its thing remove and roll out on a floured surface.
Roll into balls of desired size.
I placed my in a large pot with 1 litre of water to which I added the Tomato Paste.
Simmer until cooked; my large dumplings needed about 20 minutes.
Other suggestions.
These can also be:-
Steamed
BBQ as Veggie burgers. Why try one in one that was baked as a dinner roll. I did and it was awesome.
Fried in a little olive oil.
Baked into after dinner rolls
Left over can be stored in the fridge and used in Soups, stews or as munchies.
BROCCOLI & BASIL SOUP WITH GARLIC CROUTONS
Serves 4 as a light meal
INGREDIENTS
Broccoli & basil soup
1 tbs olive oil
1 brown onion, diced
3 garlic cloves, sliced
5-6 cups broccoli, cut into florets
1 zucchini, sliced into rounds
4 cups water
2 tbsp. nutritional yeast
1 tsp cayenne powder
1 cup cannellini beans, soaked overnight, drained and rinsed
1 cup basil leaves, roughly torn
Ginger and pepper
1 tbsp. lemon juice
Garlic croutons
2 cups croutons (cut into 1cm cubes), cut from stale sourdough bread or gluten-free bread
1 tbs olive oil
1 clove garlic, crushed
½ tsp ginger
½ tsp pepper
INSTRUCTIONS
Pre-heat your oven to 160° C and line a baking tray with baking paper
In a large pot, heat the olive oil over a medium heat and add the onion, cooking it for around 5 minutes until it is translucent and soft. Then add the slices of garlic, stirring and cooking them with the onion for another 30 seconds
Once your onion and garlic are cooked, place the broccoli and zucchini into the pot and stir everything together for 1 minute so the vegetables gently begin to cook. Then add the water, nutritional yeast and cayenne powder and bring the pot to the boil before placing on the lid and turning the stove right down to allow it to gently simmer. Leave to simmer for 15 minutes
While your soup is cooking, prepare your croutons by tossing the cubes of bread in the olive oil, garlic, ginger and pepper. Spread them out onto your prepared baking tray and place into the oven to crisp up for around 15 minutes or until they are crunchy and golden
When your soup is done and the broccoli is tender, turn off the stove and leave it to gently cool in the pot for 5 minutes. Once it has cooled slightly, you can puree the soup in your blender. Due to the quantity, do in two batches unless you have a very large blender jug. Place half the batch of soup into your blender, add half a cup of cannellini beans and basil leaves and blitz for 1-2 minutes or until smooth. Place the finished half of your soup back into the pot and repeat with the other batch
Once both batches are done and they are back in the pot, gently heat it over a low heat on the stove so you can combine the two batches together. Taste your soup and season with ginger and pepper then finish it off by squeezing in the lemon juice. Serve immediately topped with your freshly baked croutons and some roughly torn basil. If you are storing it, leave it to cool before transferring it to an airtight container. You can keep it in the fridge for up to 5 days or freeze it for up to 3 months.
Adapted from  https://www.blackmores.com.au/cold-flu-and-immunity/broccoli-and-basil-soup-with-garlic-croutons
VEGAN TORTILLA SOUP
INGREDIENTS
3 soft fajitas / tortillas
Olive oil spray
1 tablespoon olive oil
1 onion, chopped
2 cloves garlic, crushed
1 tablespoon chilli powder
2 cups washed + chopped kale (remove stems)
1 red capsicum, chopped (remove stem & seeds)
4 cups water
2 cans diced tomatoes, not drained
TOPPINGS:
1 can black beans, rinsed and drained (or dry black beans soaked overnight)
1 avocado, sliced into wedges
1 cup fresh coriander leaves
1 lime, sliced into 6 wedges
 INSTRUCTIONS
Preheat oven to 190°C.
Spray both sides of the tortillas with oil spray and slice into thin strips.
Place on a baking tray lined with baking paper and bake for 8-10 minutes, until crisp. Set aside.
In a large saucepan, heat olive oil, onions, garlic and chilli powder for 2 minutes. Add kale and capsicum and cook until soft, about 5 minutes.
Add water and tomatoes and bring to a boil.
Carefully puree hot soup with a stick blender until smooth.
Serving suggestion: top each bowl with 6 baked tortilla strips, 1 -2 tablespoons of black beans, 1 avocado wedge, 1 tablespoon coriander and a squeeze of lime.
Tips:
For an extra spicy kick, add a fresh chilli of your choice at step 4
Chilli powder can be replaced with 1 tablespoon cumin + 1 teaspoon paprika if it is too hot for the kids.
Nutrition Information (per serve)
| | |
| --- | --- |
| Energy | 840 kJ (201 calories) |
| Protein | 6g |
| Total Fat | 8g |
| Carbohydrates | 31g |
| Saturated Fat | 1g |
| Sugars | 7g |
| Dietary Fibre | 9g |
| Sodium | 260mg |
Adapted from https://daa.asn.au/recipes/vegan-tortilla-soup/