GOLDEN SOUP
INGREDIENTS
1 red onion
1 white onion
1 red pepper
2 yellow/orange peppers
2 large or 4 small courgettes
2 tomatoes
pinch dry, mixed herbs
1 heaped tsp nutritional yeast
Olive oil spray (optional)
1 low-salt stock cube (optional)
500 ml boiling water
INSTRUCTIONS
Preheat oven to 180°C (160°C fan)/350°F/gas 4.
Chop all the veg into chunks, sprinkle with dry mixed herbs and nutritional yeast, spray with olive oil to speed up the process of roasting.
Place in middle of oven for 25 – 30 mins until veg are bronzed and browned on the edges.
Separately stir stock into warm water ready to add to the food processor.
Add everything in the food processor, stir and blitz.
Check your seasoning and serve.
nutritional info in original
Adapted from https://www.diabetes.org.uk/guide-to-diabetes/recipes/golden-soup?utm_source=facebook&utm_medium=social-media&utm_campaign=enjoy-food&utm_term=09062020&utm_content=organic
BEETROOT AND YOGHURT SOUP
Steam 10 small beetroots (quartered) with two rough cut onions, and generous pepper and a sprinkle of powdered ginger.
Once beetroot is soft Blend.
Then add: Zest and juice of two lemons.
Add one tub 1kg plain yoghurt. 3 stems of mint, small sprig of rosemary. Blend together. Garnish with feta cheese and more mint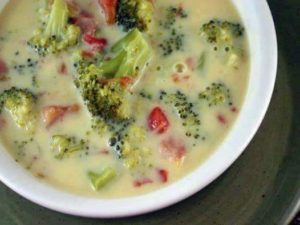 BROCCOLI CHEESE SOUP
INGREDIENTS:
3 (14 1/2 ounce/425 g) cans chicken broth
2 (1 lb/500 g) bags frozen broccoli or fresh
1 (10 1/2 ounce/300 g) can tomatoes and green chilies
10 ounces/280 g cheese of choice
INSTRUCTIONS
1 Mix chicken broth, frozen broccoli and tomatoes and chilies together.
2 Simmer for 25 minutes or until veggies are tender.
3 Cube cheese and put into soup pot.
4 Simmer just until cheese is melted.
5 This recipe freezes and refrigerates well.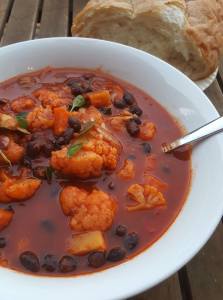 CAULIFLOWER, SWEET POTATO AND CHILI SOUP
INGREDIENTS AND INSTRUCTIONS
Soak your beans – I used 2 cups of dried beans to make a substantial volume soup for leftover.
Soak for at least 4 hours then rinse and discard water. Cook in your usual manner maybe leaving them a little undone as they will cook longer later, I like to pressure cook to save time.
Set aside the cooked beans until soup is done. Beans are added at the end
Sauté 2 chopped brown onions in Olive oil. After a few minutes, Add-
1 tablespoon grated good garlic
1 teaspoon sliced fresh red chilli
Stir for a few minutes
and then the veg which is
1 cup sweet potato
1 cup chopped carrot
1/2 cup chopped celery
1/2 cup chopped and peeled parsnip (peeled) .
1 cup cauliflower (large florets if you can)
Mix and add in
– 2 tablespoons No added salt tomato paste
– 4 cups water
– 1/2 cup red wine (optional)
– 1/2 teaspoon fresh thyme (or 1/4 teaspoon dried thyme)
cook for 6 minutes in a pressure cooker on high or for 30 minutes on the stove until the vegetables are tender. Add in ginger as needed and heaps of black pepper.
Stir through the cooked beans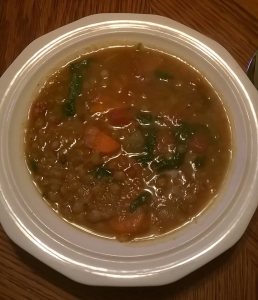 Slow Cooker Chickpea Sweet Potato Stew
Ingredients:
1 yellow onion, chopped
2 cans garbanzo beans, drained or dried soaked overnight drained and rinsed
1/2 sweet potatoes, peeled and chopped
1 tablespoon garlic, minced
1/4 teaspoon coarse ground black pepper
1 teaspoon ground ginger
1 1/2 teaspoons ground cumin
1 teaspoon ground coriander
1/4 teaspoon ground cinnamon
4 cups water
4 cups fresh baby spinach
Any other in season vegetables
INSTRUCTIONS:
Add all the ingredients to your slow cooker.
Cook on low for 6-7 hours or on high for 3-4 hours.
Add in the spinach leaves and stir.
Cook an additional 15 minutes on high.
Stove Directions:
Add the ingredients together except the spinach and cook on medium-low heat for 35-40 minutes.
Stir every 10 minutes or so, adding additional broth if you find the liquids reducing by too much.
Add the spinach the last 2 minutes, until wilted.
Instant Pot:
Add the ingredients together expect the spinach and cook on high pressure for 10 minutes.
Natural release, stir in the spinach and let it sit 2 minutes covered, until wilted.
Nutrition Information
Yield: 6 servings, Serving Size: 1 1/2 cups
Amount Per Serving:
Smart Points: 3
Points +: 4
Calories: 165
Total Fat: 2.2g
Saturated Fat: 1.4g
Cholesterol: 0mg
Sodium: 751mg
Carbohydrates: 32.3g
Fiber: 6.2g
Sugar: 5.4g
Protein: 6.3g
Adapted from https://www.skinnytaste.com/chickpea-sweet-potato-stew/
THICK AND CHUNKY VEGETABLE SOUP
INGREDIENTS
1 TBS extra-virgin olive oil
4 cloves of garlic, minced
1 sweet onion, diced
3 medium parsnips (or carrots)
1 bell pepper (I prefer red)
2 cups of sweet potato, peeled and chopped
1 zucchini, chopped into half moons
1 can of diced tomatoes or fresh if possible
Ginger and Pepper to taste
1 Bay leaf
4 cups of baby spinach
1 can of black beans, rinsed (optional)
4 cups of water
INSTRUCTIONS
In a large pot, heat the oil over medium heat. Add the garlic and onions and sauté until the onions are translucent, about 5 minutes.
Add parsnips, bell pepper, sweet potato, zucchini, diced tomatoes, and water. Bring to a boil and then reduce to a simmer. Season liberally with ginger and pepper. Add bay leaf.
Allow soup to simmer for 20 minutes, or until the vegetables are tender. Stir in spinach and beans. When the spinach is wilted, season with ginger and pepper and remove bay leaf. Enjoy!
Nutrition Facts of original
Serves 4
Amount Per Serving
Calories
437
% Daily Value*
Total Fat 7.9g
12%
Cholesterol 7.2mg
2%
Sodium 612.8mg
26%
Total Carbohydrate 77.1g
26%
Sugars 23.6g
Protein 19.2g
38%

Vitamin A 79%
Vitamin C 179%
Adapted from www.simplysissom.com/loadedvegetablesoup/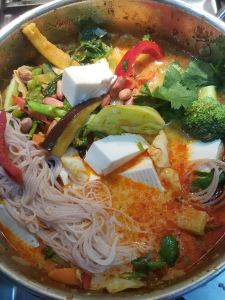 VEGETABLE SOUP
INGREDIENTS
3 tablespoons olive oil
3 garlic cloves, finely chopped
1 red chilli, seeded, finely chopped
1 tablespoon chopped fresh oregano
1 red onion, diced
3 celery stalks, diced
3 medium carrots, diced
1 bay leaf
1 small sweet potato, diced
4 cups good quality chicken stock or water
1 can cherry tomatoes, drained (reserving the liquid)
½ cup ditalini pasta NB1
1 cup borlotti beans, soaked overnight, drained and rinsed.
1 zucchini, cut into rounds
2 handfuls finely sliced cabbage
2 handfuls finely sliced cavolo nero (cavolo nero is also known as black kale, black cabbage, Tuscan kale,)
To serve
1 tablespoon basil pesto
Grated parmesan
Handful basil leaves
Ginger and pepper to taste
INSTRUCTIONS
In a soup pot, place the olive oil, garlic, chilli, oregano and onion and cook until the onion is translucent and caramelised.
Stir in the carrots and celery and continue cooking until they start to soften.  Add the sweet potato, reserved tomato juice, and stock and bring to the boil. Reduce the heat and simmer until the potato is nearly cooked.
Add the pasta and cook until almost al dente.
Stir in the beans, then add the cabbage, cavolo nero, zucchini and cherry tomatoes and let them heat through for 1–2 minutes – no longer as you want them to retain the vibrancy and texture of the greens.
Serve with parmesan cheese (grated or finely peeled with a vegetable peeler), little dollops of pesto dollops and basil leaves. Season with ginger and pepper to taste.
Per serve 
1520 kJ/ 365 calories; 17g protein; 16g fat (includes 4g saturated fat; saturated : unsaturated fat ratio 0.33); 31g available carbs (includes 10g sugars and 21g starch); 12g fibre; 1348mg sodium; 1007mg potassium; sodium : potassium ratio 1.34.
http://ginews.blogspot.com.au/
NB1  Try Kelp Noodles Asian Salad
http://www.furtherfood.com/recipe/kelp-noodles-asian-salad-recipe-mango-macadamia-nuts-lime-zest-diabetes-diet/
or try Konjac Noodles:  In Japan, a noodle made from a flour called 'konjac' has been a dietary staple for 2000 years. It contains zero net calories and zero net carbs and has a glycemic index score of zero, meaning it will not spike your blood sugar levels at all.
https://miraclenoodle.com/blogs/miraclenoodle-blog/105467078-how-to-beat-the-glycemic-index
OR
Konjac Foods for People with Diabetes (Noodles. Pasta.)As medical research has demonstrated, the higher the viscosity of soluble fiber, the better the ability to control blood sugar level. The glucomannan fiber is the most viscous soluble fiber in nature, making it the best way to control the blood sugar level of diabetic people. At the same time, it is a very efficient way to control blood sugar level when you take it before each meal. Simply consume as a beverage before each meal.As stated, Konjac fiber is the most viscous fiber in nature. This allows the Konjac to move through the digestive tract very slowly which can slow down carbohydrate absorption. This slowed absorption will keep the blood sugar at a moderate level during the digestion process. Konjac also acts to trap food and waste residues as it moves through the digestive system. Konjac fiber can block substances that are easily reabsorbed such as excess bile acids. The digestive regulatory quality of Konjac fiber makes it a natural agent in the treatment and regulation of diabetes and high cholesterol.Glucomannan is known to show hypoglycemic effects by inhibiting the uptake of glucose by the body. It is believed that it does this by preventing contact of the glucose with the intestinal walls for absorption. By reducing the amount of blood sugar, glucomannan can help patients with type II diabetes. Konjac fiber when absorbs lots water, it will form soft gel, the glucomannan will delays gastric emptying and slows the release of sugar into the bloodstream, which helps to lower levels of insulin and blood glucose. Additionally, glucomannan improves blood-lipid profiles and can lower systolic blood pressure. Because of these effects, glucomannan can greatly benefit individuals with metabolic syndrome or diabetes.
http://www.konjacfoods.com/noodles/19.htm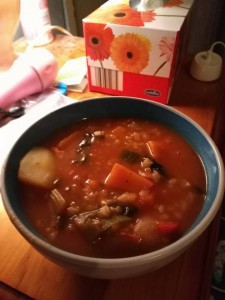 HOME MADE VEGGIE SOUP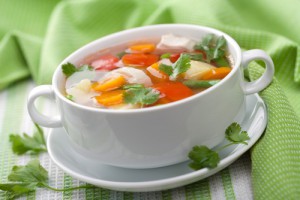 Preparation time: 10 minutes minutes
A diabetic soup tend to by chunky to avoid sugar spikes and Hypos. Soups are usually the broth from a stew which contains dissolved sugars starch fats and small particles of food which will be absorbed quickly.
It is our job as diabetics to slow this absorption through the use a fibre and large particles of food. The teeth cannot chew food as small as a blender. A diabetic soup is therefore more like a watery stew than a broth.
Cooking time: 25 minutes minutes
Serves 6
Ingredients
1 onion, chopped
4 parsnips, peeled and chopped
2 large sweet potatoes, peeled and chopped
2 cloves garlic
4 cups water
440g fresh beans
1 tsp balsamic vinegar
Any fresh vegetables from the garden can be added.
Method
1. Place onion, parsnips, potatoes, garlic and stock in a large saucepan and bring to the boil. Reduce heat, cover and simmer 20 minutes or until vegetables are tender.
2. Add beans and blend until smooth. Season with freshly ground pepper and keep warm.
3. Spoon soup into bowls. Drizzle a little balsamic vinegar over each serve.
This works well with left over chicken or fish, try Leather Jackets, ocean perch, rock code or Lion fish.
Adapted from http://daa.asn.au/for-the-public/smart-eating-for-you/recipes/browse/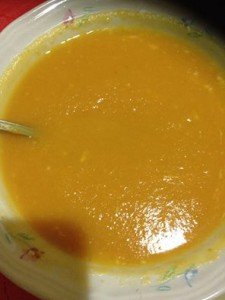 I made some sweet potato, red lentil & veg soup
Sweet Potato Chicken and Kale Soup
Ingredients:
2 (500 g) skinned chicken breasts, roughly chopped.
1/2 tsp. olive oil
1 large onion, chopped
2 celery stalks, chopped
3 garlic cloves, chopped
1/2 tsp. dried oregano
1/2 tsp. dried thyme
1/2 tsp. ground cumin
6 cups water
1 large sweet potato, peeled and diced 1-inch cubes
3 cups kale, roughly chopped
1 fresh chili, sliced in half lengthwise
Directions:
Heat a large non-stick pot or Dutch oven over medium-low heat, add the oil and the onions and celery and cook until soft and golden, about 8 to 10 minutes.
Add the garlic and dry spices and cook 2 to 3 minutes.
Add the water, chicken and chili.  Cover and cook 20 minutes, then add the sweet potato and kale and cook until the sweet potatoes are tender and the chicken is cooked, about 25 to 30 minutes.
Serve the soup into 6 bowls.
Servings: 6 • Size: 1 1/2 cups
Calories: 223
Fat: 4 g • Carb: 19 g
Fiber: 4 g
Protein: 28 g
Sugar: 2 g
Sodium: 1142 mg (without salt)
Cholesterol: 63 mg
Adapted from:- http://www.skinnytaste.com/2015/02/chicken-sweet-potato-and-kale-soup.html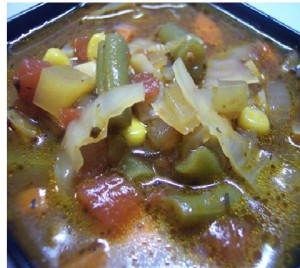 Christina's Winter Vegetable Soup
Ingredients
2 carrots
2 stalks celery
2 medium onions
1 small turnip
1 1/2 cups frozen green beans (Fresh if possible)
1 cup frozen corn (Fresh if possible)
1/2 a medium sized head of cabbage, shredded
1 can stewed tomatoes (Fresh if possible)
1 cup water
2 tbsp italian  mixed dried herbs (Fresh if possible)
2 bay leaves
2 tbsp Olive Oil
Ginger and pepper to taste
Method
Dice all veggies to desired size. I like to keep them all about the same size. Add all veggies to a large pot on stove and saute them in 2 tbsp Olive oil until warmed. Then add cabbage, water, tomatoes, seasonings and bay leaves. Bring to a rolling boil on high, then reduce heat and let simmer for 1 to 2 hours covered on top of stove. Serve hot.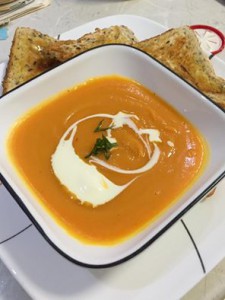 Curried Kumera (sweet potato) soup with gluten free bread
SWEET POTATO AND CAULIFLOWER SOUP
NB1
Ingredients
1 head of cauliflower, chopped into florets
2 medium-sized sweet potatoes, peeled and cubed;
5 garlic cloves, peeled;
1 tsp. paprika
4 cups water
1/2 cup almond milk
2 tbsp. olive oil;
Ginger and freshly ground black pepper;
Instructions
Preheat a steamer pot.
Place the, cubed potatoes, in the bottom of the steamer and boil for 20 minutes.
Heat a stoneware fry pan, drizzle with olive oil, brown the garlic and season to taste with ginger and pepper.
Place the cauliflower in the top of the steamer and continue cooking until the vegetables are soft.
Transfer the vegetables to another saucepan.
Pour the water from the steamer into the saucepan, and add the paprika.
Bring to a simmer and purée the soup using an immersion blender or potato masher. (Do not worry if it is a little chunky.
Add the almond milk, and give everything a good stir.
Continue simmering until warm, and season to taste before serving.
NB1 Why boil and steam
Glycemic Index of Sweet Potato
The way you prepare sweet potatoes makes a difference in their GI. The GI of a 150-g sweet potato, boiled with its skin for 30 minutes, is 46. That number rises to 94 if the same sweet potato is baked for 45 minutes. These dramatic differences come from the way the starches in sweet potatoes gelatinize during cooking. Foods that turn viscous, or jelly-like, in your digestive tract have a lower GI because the gelatinous substance slows the release of the nutrients in the food. Baking your sweet potatoes instead of boiling them changes the quality of their starches and transforms this root vegetable from a moderate-GI food to a high GI-food.
http://www.livestrong.com/article/295025-the-glycemic-index-for-sweet-potatoes/
CHUNCY VEGGIE SOUP