Serves 2
Ingredients:
1/4 cup chia seeds
1 cup almond (or skim) milk
1/4 cup canned pumpkin (Cooked fresh pumpkin can be used and is better)
1/2 teaspoon cinnamon
1 pinch nutmeg
Directions:
Combine all ingredients in a bowl.
Cover and refrigerate for at least 3 hours, or overnight.
Scoop it, garnish with greens, and enjoy!
NOAH'S PUDDING
Ingredients
1/2 cupuncooked pearl barley
1 tablespoonbasmati rice
4 cupswater
1/2 cup chickpeas, soaked overnight, rinsed and drained
1/2 cupcanned kidney beans, rinsed and drained
1/4 cupraisins
1/4 cupdried apricots, finely chopped (NB1)
1/4 cupdried figs, finely chopped (NB1)
1 tablespoonrose water
3 tablespoonschopped almonds
3 tablespoonschopped pistachios
3 tablespoonspomegranate seeds
Preparation
Place the barley and rice in a medium bowl, and cover with water to 2 inches above barley mixture. Cover and soak overnight. Drain.
Place barley mixture and 4 cups water, in a large saucepan; bring to a boil. Cover, reduce heat, and simmer 25 minutes. Remove from heat, and drain in a colander over a bowl, reserving 2 1/4 cups cooking liquid.
Place 1 1/2 cups barley mixture and 1/4 cup reserved liquid in a food processor; process 2 minutes. Return pureed mixture to saucepan; add remaining barley mixture, remaining 2 cups reserved liquid and the other ingredients stirring to combine. Bring to a boil. Reduce heat; simmer 30 minutes. Remove from heat; stir in rose water, and sprinkle with nuts and pomegranate seeds.
Serve with Greek yoghurt
NB1 some diabetics may find the sugar in these fruits effects their sugar levels. If this is you leave it out.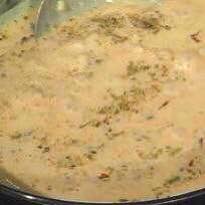 LOW FAT MAKHANA KHEER
Serves – 4
Time – 2 Hours 15 Minutes to prepare
INGREDIENTS
1 litre low fat milk
1/4 cup makhana (puffed lotus seeds)
2 tsp chopped pistachios
2 tsp chopped almonds
1 tsp green cardamom powder (optional)
INSTRUCTIONS
In a deep vessel, pour in the milk, break the makhanas into smaller pieces, add them to the milk and let it simmer for about 1 1/2 to 2 hours without covering, till the milk boils down and the seeds are soft.
Stir for a few minutes.
Add the pistachios, almonds and cardamom powder, stir well again.
Serve hot or cold as a sweet.
http://www.findtex.com.au/recipes/asian/texs-indian/