Serves: 4
Ingredients
4 iceberg lettuce leaves
1 tablespoon olive oil
500g Finely chopped chicken breast or lean beef, lean pork, fin fish, veal, venison or other lean game meat;
1 serve per person of grated sweet potato and carrot
1 clove garlic, crushed
2 teaspoons grated fresh ginger
2 spring onions, finely sliced
4 -6 shiitake mushrooms, thinly sliced
1/3 cup curry paste made using your choice of spices.
1 cup Basmati cooked rice
5 Almond nuts sliced or crushed.
1 packet crisp/fried noodles, left over spaghetti can be used  here baked until crispy
Instructions
Step 1
Soak the lettuce in cold water.
Step 2
Heat oil in wok and cook chicken, sweet potato and carrot, ginger, spring onion and mushrooms; stir-fry for 2 minutes.
Step 3
Stir through curry paste
Simmer for 3 minutes until mixture is hot and slightly thickened.
Step 4
Gently stir in cooked rice and Almond nuts.
Step 5
Drain and pat dry lettuce cups place on serving plates. Fill each cup with the chicken mixture, drizzle with remaining curry paste and sprinkle with crispy fried noodles.
Original recipe can be found at:-
http://fivetastes.com.au/Recipes/Crispy-Noodles–Chicken-San-Choy-Bau
 Vermicelli noodle salad for dinner.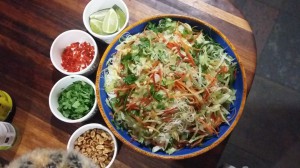 PASTA IN PARSLEY PESTO
Serves 4
INGREDIENTS:
200 gms pasta, boiled cooled for 24 hours. NB1 (Try a pasta substitute NB2)
¾ cup walnuts, broken
1 cup parsley
1 clove garlic, chopped
¼ cup olive oil
ginger to taste
6 pickled gherkins
2 green chillies, chopped
1 tbsp olive oil
 INSTRUCTIONS
Place the walnuts, parsley, ginger, garlic, green chillies, and gherkins in a blender.
Slowly pour in the olive oil and blend till a smooth sauce like consistency is made.
Heat 2 tpsp of olive oil in a pan.
When hot add in the parsley pesto mixture with a little water.
Bring it to a boil and add in the pasta (Substitute).
Sauté till it is cooked.
Serve hot.
Adapted http://www.diabeticlivingonline.in/food/lets-cook-walnuts
NB1 Diabetes Diet: Benefits of Eating Digestive Resistant Starches
Potatoes, yams and pastas that are cooked, and cooled (heating and cooling alters the chemical structure).
http://www.informationaboutdiabetes.com/lifestyle/lifestyle/diabetes-diet-benefits-of-eating-digestive-resistant-starches
NB2 some ideas for a pasta substitute can be found:-
http://www.findtex.com.au/diabetic-foods/zucchini-fritters-with-chili-lime-mayo/
CHILI, CHICKEN AND NOODLE SALAD
INGREDIENTS:
200g dried rice stick noodles NB1
2 cups chopped cooked skinless chicken breast, trimmed of fat
1 red capsicum, cut into thin strips
200g snow peas, cut into thin strips
5 green shallots, thinly sliced
1 small bunch coriander, roughly chopped
2 tbs. lime juice
2 tbs. chili chopped
2 tsp olive oil
2 tsp toasted sesame seeds, to garnish
INSTRUCTIONS:
1. Prepare noodles as directed on packet. Drain, rinse under cold water then drain again and chop roughly with kitchen scissors.
2. Combine noodles, chicken, capsicum, snow peas, shallots and coriander.
3. To make dressing, whisk together lime juice, chili and olive oil.
4. Add dressing to noodle salad and toss gently to mix well.
5. Garnish with toasted sesame seeds.
Tip: To toast sesame seeds, stir over heat in a small ungreased frypan until light golden. Be careful not to burn them.
Nutrients Per Serve of original recipe: Energy 1320kJ; Total Fat 5.6g (Saturated Fat 1.1g; Monounsaturated Fat 2.2g; Polyunsaturated Fat 1.8g); Protein 34g; Carbohydrate 30g; Fibre 2g; Sodium 480mg
Sourced with permission from Healthy Kids at www.healthykids.nsw.gov.au
Adapted from http://www.gisymbol.com/sweet-chilli-chicken-and-noodle-salad/
NB1  Try Kelp Noodles Asian Salad
http://www.furtherfood.com/recipe/kelp-noodles-asian-salad-recipe-mango-macadamia-nuts-lime-zest-diabetes-diet/
or try Konjac Noodles:  In Japan, a noodle made from a flour called 'konjac' has been a dietary staple for 2000 years. It contains zero net calories and zero net carbs and has a glycemic index score of zero, meaning it will not spike your blood sugar levels at all.
https://miraclenoodle.com/blogs/miraclenoodle-blog/105467078-how-to-beat-the-glycemic-index
OR
Konjac Foods for People with Diabetes (Noodles. Pasta.)As medical research has demonstrated, the higher the viscosity of soluble fiber, the better the ability to control blood sugar level. The glucomannan fiber is the most viscous soluble fiber in nature, making it the best way to control the blood sugar level of diabetic people. At the same time, it is a very efficient way to control blood sugar level when you take it before each meal. Simply consume as a beverage before each meal.As stated, Konjac fiber is the most viscous fiber in nature. This allows the Konjac to move through the digestive tract very slowly which can slow down carbohydrate absorption. This slowed absorption will keep the blood sugar at a moderate level during the digestion process. Konjac also acts to trap food and waste residues as it moves through the digestive system. Konjac fiber can block substances that are easily reabsorbed such as excess bile acids. The digestive regulatory quality of Konjac fiber makes it a natural agent in the treatment and regulation of diabetes and high cholesterol.

Glucomannan is known to show hypoglycemic effects by inhibiting the uptake of glucose by the body. It is believed that it does this by preventing contact of the glucose with the intestinal walls for absorption. By reducing the amount of blood sugar, glucomannan can help patients with type II diabetes. Konjac fiber when absorbs lots water, it will form soft gel, the glucomannan will delays gastric emptying and slows the release of sugar into the bloodstream, which helps to lower levels of insulin and blood glucose. Additionally, glucomannan improves blood-lipid profiles and can lower systolic blood pressure. Because of these effects, glucomannan can greatly benefit individuals with metabolic syndrome or diabetes.
http://www.konjacfoods.com/noodles/19.htm