RECIPE: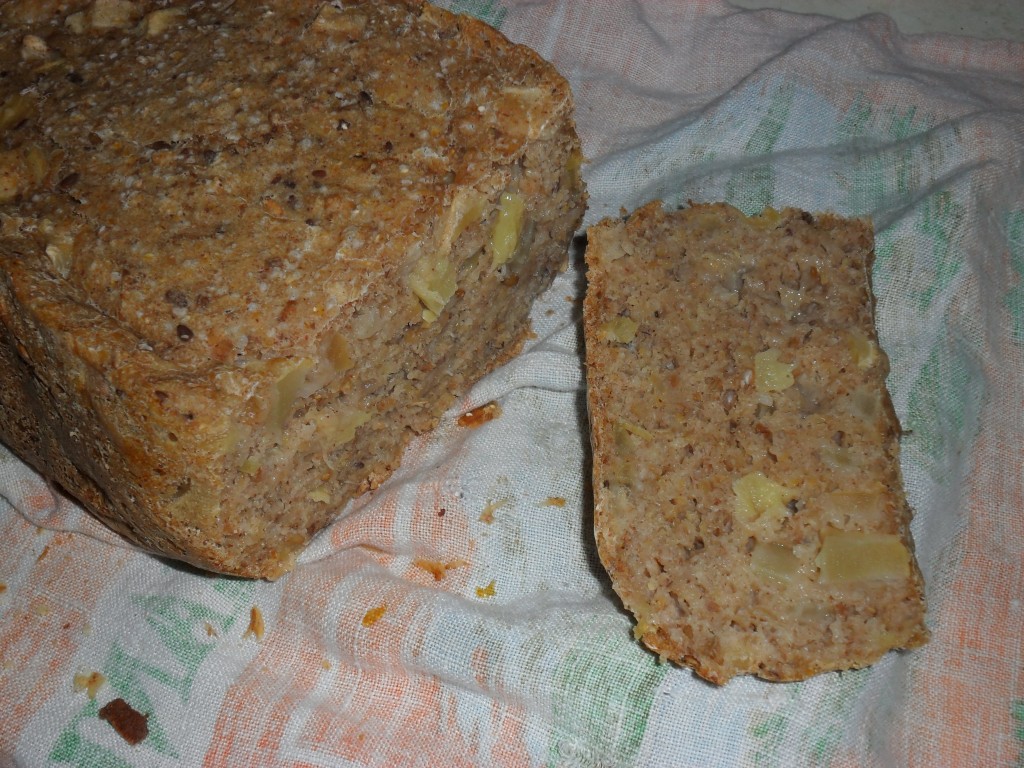 1 3/4 cups flour
1 cup of famers mix grains soaked overnight.
1/3 cup oat bran
3/4 teaspoon baking soda (or 2 teaspoons of bakers yeast to be used with a bread maker).
1 and 1/2 teaspoon cinnamon
2 eggs whites
1 small can of pineapple drained
1 large apple (peeled, cored, chopped)
DIRECTIONS
Mix together flour, baking soda and cinnamon…
Blend in eggs…
Stir in pineapple and apple. Pour batter into greased loaf pan.
Bake at 350 degrees for about 1 hour or until toothpick test
comes out clean.
BREAD MAKER.
I used yeast in the hope that this would react with the natural sugars and reduce the sugar content.
Place all of the above in the bread maker pan and select small loaf. Press start button.
TEXS COMMENTS
We found this too sweet, perhaps from the canned pineapple; fresh pineapple may be better or use dates instead. This should work well with most fruits and even nut. Gluten free flour should also work well.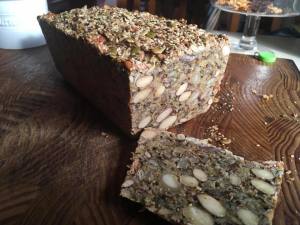 NORDIC NUT BREAD
INGREDIENTS
Provides 1 loaf of 2.2 lbs, 20 slices of 1.8 oz. (Provides 1 loaf of 1 kg, 20 slices of 50 grams.)
dry ingredients
3.5 oz (100 g) pumpkin seeds
3.5 oz (100 g) sunflower seeds
3.5 oz (100 g) almonds
3.5 oz (100 g) walnuts
3.5 oz (100 g) linseed
3.5 oz (100 g) sesame seeds
3.5 oz (100 g) poppy seeds (optional)
3.5 oz (100 g) water (optional)
wet ingredients
5 omega 3 eggs
0.4 cup (1 dl) water
INSTRUCTIONS 1.
Mix all the ingredients together, put the mass into a bread form. Lubricate if it is not "anti-stick".
1 quart (1 liter) bread form – bake for 1 hour at 320°F (160°C).
2 quarts (2 litres) bread form – bake for 1 hour at 320°F (160°C).
INSTRUCTIONS 2
Place the water followed be the other ingredients in a bread maker on setting 5 (yeast free or cake) press start.
When cooked wrap in a cloth and place on cake cooling tray to cool.
Adapted from http://www.kvalifood.com/page/nordic-nut-bread-paleo-bread-stone-age-bread/uuid/e501ae0b-4f7c-11e6-bf84-ec6a6103c249
TUNA AND QUINOA LOAF
This is high in protein and omega -3, packed with vegetables and loaded with nutrients, not to mention delicious too!
Ingredients
2 x 95g cans tuna in spring water, drained use fresh if available, (any oily fish can be used, fresh tuna if possible.)
1 tablespoon olive oil
1 medium red onion, finely chopped
½ cup sweet potato, finely diced
¾ cup Kent or butternut pumpkin, finely diced
pumpkin, peeled and very finely sliced (8-10 slices)
1 medium zucchini, grated
1 ½ cups cooked quinoa
2 eggs and 4 egg whites lightly beaten
ginger and freshly ground black pepper
Method
Preheat oven to 170° degrees. Using a large heavy frying pan on a medium heat add the oil and fry the onion, sweet potato and diced pumpkin until they are tender and just starting to turn colour.
Stir in the cooked quinoa, grated zucchini, season to taste with ginger and pepper and leave to cool slightly.
Using a loaf tin or deep ovenproof dish, brush the sides with olive oil and line the base with baking paper. Place very thin slices of pumpkin slightly over lapping round the sides of the dish.
Add the drained tuna into the vegetable and quinoa mixture and then add the beaten egg, mix well.
Check the seasoning again then pour the mixture into the lined loaf tin.
Cover with more baking paper and bake in the oven for about ¾ of an hour until firm set and golden on top.
Remove from the oven and allow to sit and rest for about 10 minutes before loosening the sides of the loaf with a knife or spatula and turning out onto a board or serving dish. Serve warm with a tomato or chilli relish and salad. Serves 4.
Fruit is Not Forbidden But Some Fruit Choices are Better Than Others
http://diabetes.about.com/od/nutrition/ss/Fruits-to-Avoid-if-You-Have-Diabetes.htm#showall
CARROT AND ZUCCHINI BREAD.
Ingredients
2 eggs
½ cup grated carrot
½ cup buckwheat or chick pea flour
¼ cup oat bran
¼ cup flax meal
1 tsp baking powder
¼ cup Greek yogurt or almond milk
½ cup grated zucchini
¼ cup chopped walnuts
½ tsp ground cinnamon
¼ tsp ground nutmeg
Pinch of ginger
2 tsp yeast
¾ cup water
Instructions
Place all ingredients in a bread maker, setting No 3.
Nutrition Information per Serving
131 Calories
6 g Fat
48 mg Cholesterol
74 mg Sodium
18 g Carbohydrate
3 g Fiber
5 g Protein