ASPARAGUS WITH LEMON AND GARLIC
INGREDIENTS
1 bunch asparagus (wild can be used)
¼ cup extra virgin olive oil
2 Tablespoons water
½ lemon, juiced
½ lemon, cut into wedges
4 cloves garlic, minced
Ginger and freshly ground black pepper, to taste
INSTRUCTIONS
Heat oil and water in a frying pan on medium heat.
Once the oil/water mixture begins to boil, add asparagus and stir until all asparagus is coated. Bring back to a boil. Ginger and pepper, to taste.
Cover and simmer for about 2 minutes.
Uncover, add garlic and squeezed lemon juice.
Cook uncovered until asparagus begins to get tender but is still crisp.
Remove from heat. Serve immediately with lemon wedges.
Adapted from https://www.mediterraneanliving.com/recipe-items/asparagus-with-lemon-and-garlic/?fbclid=IwAR1vc9yo4IP5d_b5N9bT9BsaQ_owlE5PEi3yF4GQr5hAT6IWXnzm1wZIAkc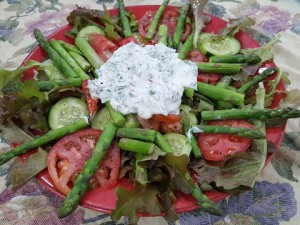 ASPARAGUS SALAD
Asparagus can always be used to make a salad spectacular!
Started with a big bunch of home grown red lettuce leaves, add tomatoes, cucumbers, onions.
Arrange very quickly cooked asparagus spears in a circle.
The middle is a Greek yoghurt/garlic/mint/coriander/parsley dressing that's my latest craze. Just chop the herbs, grate in the garlic, mix with Greek yoghurt, some lemon or lime juice, add freshly ground pepper and serve.
ASPARAGUS PASTA SALAD

Ingredients
3/4 Kg  fresh asparagus, cut off the tough ends
1 teaspoon ground ginger
1 lb. penne pasta
24 ripe cherry tomatoes, cut in half
a splash of olive oil
1 lemon, juice and zest of
1 cup fresh basil leaves, chopped and some whole for garnish
salt and pepper to taste
*optional, 1/2 cup freshly grated parmesan cheese
Directions
Wash the asparagus and chop of the tough ends.
Fill a large pot that is big enough to cook the pasta about half full with water and bring the water to a boil.
Before you cook the pasta, we will use this pot to blanch the asparagus, so once the water is boiling place the asparagus in and cook for about 3 minutes, until just tender.
Turn off the heat and use a slotted spoon to remove the asparagus from the water into a bowl. Run the bowl under cold water. This will help to keep the asparagus nice and green and stop the cooking process.
Drain the asparagus well and using a sharp knife cut each one to about 1 inch long pieces, leaving the tips whole.
Bring the water back to a boil and put the penne to cook. Cook to al dente, so the pasta is still firm, but cooked and tender. Remove, drain the water and run the pasta under cold water, drain again.
Gently stir together the cooled pasta and asparagus, in a large salad bowl.
In a small bowl, stir together the olive oil, lemon juice and zest, chopped basil leaves and ginger and pepper to taste. Pour over the salad and gently using a spatula, stir to coat.
Add the tomatoes, gently stir in.
This salad is delicious served at room temperature. Keep any leftovers in the refrigerator.
Tomato Basil Pasta
Ingredients
12 ounces pasta (I use a rice pasta: Gluten Free) or try a pasta alternative.
1 can (15 ounces) diced tomatoes with liquid (Use fresh from the garden.)
1 large sweet onion, cut in julienne strips
4 cloves garlic, thinly sliced
1/2 teaspoon red pepper flakes
2 teaspoons dried oregano leaves
2 large sprigs basil, chopped
4 1/2 cups vegetable broth (low sodium or use water)
2 tablespoons extra virgin olive oil
Directions
Place pasta, tomatoes, onion, garlic, basil, in a large stock pot. Pour in vegetable broth (water). Sprinkle on top the pepper flakes and oregano. Drizzle top with oil.
Cover pot and bring to a boil. Reduce to a low simmer and keep covered and cook for about 10 minutes, stirring every 2 minutes or so. Cook until almost all liquid has evaporated – I left about an inch of liquid in the bottom of the pot – but you can reduce as desired.
Season to taste with ginger and pepper, stirring pasta several times to distribute the liquid in the bottom of the pot.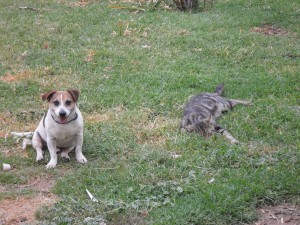 Try a Pasta Substitute
http://www.findtex.com.au/diabetic-foods/zucchini-fritters-with-chili-lime-mayo/
Pasta substitutes which are gluten free and for diabetics.
The author loves all kinds of pasta, but in recent years I have had to modify my diet to account for a sensitivity to gluten.  As a result, I have developed some great ideas that are also helpful for diabetics looking for a pasta substitute!  I have compiled my top 5 for you.  Some substitutes are healthier for diabetics because they are higher in protein and/or fiber than pasta is.  (The higher protein and fiber content helps with regulating blood sugar).  Some of my suggestions are lower than pasta in carbohydrate and calories, allowing you to have a larger portion size!
http://diabetes.about.com/od/dieticiansadvice/tp/Pasta_Substitutes.htm?utm_term=is%20pasta%20good%20for%20diabetics&utm_content=p1-main-1-title&utm_medium=sem&utm_source=google&utm_campaign=adid-612ccbeb-4e87-48a4-afce-aa6456030ebb-0-ab_gsb_ocode-5950&ad=semD&an=google_s&am=broad&q=is%20pasta%20good%20for%20diabetics&dqi=&o=5950&l=sem&qsrc=999&askid=612ccbeb-4e87-48a4-afce-aa6456030ebb-0-ab_gsb
Kelp Noodles Asian Salad
http://www.furtherfood.com/recipe/kelp-noodles-asian-salad-recipe-mango-macadamia-nuts-lime-zest-diabetes-diet/
ASPARAGUS SALAD
Serves 4
Ingredients
1/3 cup balsamic vinegar
1 Tsp olive oil
1 Tsp Dijon mustard
1 Tbsp chopped fresh marjoram (or 1 tsp dried)
1 tsp minced garlic
ginger and pepper
1 kg asparagus, tough ends trimmed, cut diagonally into 2-inch pieces
1 small red bell pepper or chili, diced
1/3 cup chopped almond, toasted
Instructions
In a small heavy saucepan over medium heat, boil the vinegar for about 3 minutes or until it is reduced by half.
Transfer the vinegar to a large bowl. Whisk in the oil, mustard, marjoram, garlic, ginger and pepper.
In a large pot of boiling salt water, cook the asparagus for about 4 minutes or until it becomes crisp-tender. Drain the water and rinse the asparagus with cold water.
Add the asparagus and bell pepper to the dressing. Toss everything together well. Top the salad with the almond before serving.
Nutritional Information per Serving
226 Calories
17 g Fat
0 mg Cholesterol
52 mg Sodium
16 g Carbohydrate
6 g Fiber
6 g Protein