CAULIFLOWER RICE STIR FRY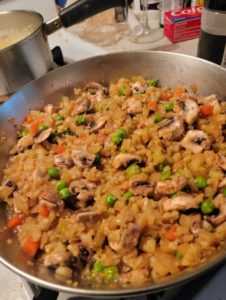 INGREDIENTS
1 cup chopped cauliflower
1 small diced carrot, chopped
1 stalk celery, chopped
1/2 small onion, chopped
1 cup sliced mushrooms
1/3 cup frozen peas or fresh if possible.
1 tablespoon low-sodium soy sauce
1/4 cup chicken broth or water
Ginger and pepper, to taste
INSTRUCTIONS
Sauté carrot, celery, onion until tender.
Add cauliflower and cook until hot.
Add soy sauce and chicken broth (water) and cook until cauliflower is crisp/tender.
Add peas and mushrooms and cook until hot.
Add ginger and pepper as needed.
Only about 5 carbs per serving.
This and other cauliflower recipes can be found here.
http://www.findtex.com.au/diabetic-foods/roasted-turmeric-cauliflower/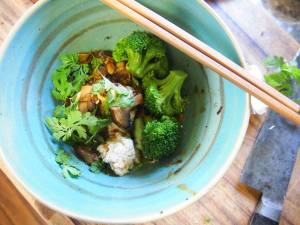 STIR FRY
INGREDIENTS
1 cup Portobello or other mushrooms, sliced
1 tbsp. sesame, olive, or coconut oil for cooking mushrooms
2 cloves garlic
1 tbsp. ginger
1 tsp Sichuan peppercorns
1 tsp dried chili flakes (or to taste)
1 tbsp. soy sauce (use gluten free if you like)
1 tbsp. cornstarch or arrowroot, for thickening
1 cup water or vegetable soup stock
1 cup momen NB1 or silken tofu NB2
Any other vegetables available
INSTRUCTIONS
Slice or chop the mushrooms. You want relatively chunky bits – not too small, not too large. Mince garlic and ginger together.
Preheat a frying pan over medium-high heat (I love my Lodge cast-iron pan). Spread whatever oil you are using, and when the pan and oil are nice and hot, carefully lay the mushroom bits in a single layer. You want the mushrooms to brown, so don't overcrowd the pan. Leave the mushroom alone (don't stir) for 3-4 minutes till one side has browned and shrunk a bit. Flip the mushrooms over with a spatula, and let the other side brown for 2-3 minutes.
Add chili flakes, Sichuan peppercorns, minced garlic and ginger to the pan, and cook for a minute or so. Add soy sauce and stir for a few seconds (it should sizzle), until it all starts to smell amazing.
Dissolve cornstarch or arrowroot in water or stock, and pour it in the pan. Mix, until the water has boiled (shouldn't take long), and the sauce thickened. Reduce heat to a simmer, and let the sauce cook gently for a few minutes. If the liquid evaporates too much, just add more water or stock to bring it back to a nice saucy consistency. Adjust seasoning to your taste.
Pour the sauce over a good chunk of tofu and any other vegetables you have around. Scatter a few leaves of cilantro / coriander or chopped scallions if you have any.
Adapted from http://www.diabetes.piggledee.com/2017/09/27/the-breakfast-conundrum-and-sichuan-mushroom-sauce-recipe-vegan-gf-low-carb/
NB1 Hard or Soft Tofu: Momen and Kinu
At your local supermarket in Japan, tofu is divided up into two main categories, called もめん (momen) and きぬ (kinu). In Western grocery stores, the same distinction is made as "hard" tofu and "soft" tofu, although the actual difference goes a little beyond simple firmness.
http://www.accessj.com/2012/06/hard-or-soft-tofu-momen-and-kinu.html
NB2 What's the Difference Between Silken and Regular Tofu?
There are two main kinds of tofu: silken and regular. Silken tofu, also called soft, silk or Japanese-style tofu has a softer consistency than regular tofu and will fall apart if not handled carefully. You may notice that silken tofu (soft tofu), unlike regular tofu, is sometimes packaged in aseptic boxes that do not require refrigeration. Because of this, silken tofu is sometimes sold in a different section of grocery stores than regular tofu, which is packed in water and requires refrigeration.
https://www.thespruce.com/difference-between-silken-and-regular-tofu-3378599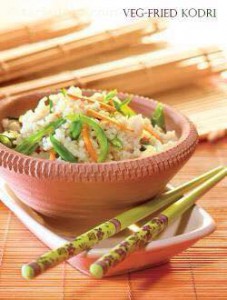 VEG FRIED KODRI NB1
A variant of the popular fried rice, which is considered a trademark dish of chinese cuisine, this is a version that you can eat to your heart's content (in moderation) as kodri is much healthier than rice. With no compromise on the taste and experience, you can enjoy a healthy treat!
Veg Fried Kodri  NB2 ( Healthy Diabetic Recipe ) recipe – How to make Veg Fried Kodri ( Healthy Diabetic Recipe )
Soaking Time: 5 to 7 minutes Preparation Time: 15 mins Cooking Time: 40 mins Makes 4 servings
INGREDIENTS
2 tsp olive oil
1 tbsp chopped celery
1/2 cup chopped spring onions whites
1/2 cup thinly sliced french beans
1/4 cup thinly sliced carrots
1/2 cup thinly sliced capsicum
1/2 cup shredded cabbage
1/2 cup bean sprouts
2 1/2 cups cooked kodri (varagu)
1 tsp vinegar
1 cup chopped spring onion greens
ginger to taste
Serving
chillies in vinegar
chilli sauce made without salt or sugar
INSTRUCTIONS
Heat the olive oil in a non-stick fry pan or woke, add the celery, spring onion whites, french beans carrots, capsicum, cabbage and bean sprouts, mix well and sauté on a high flame for 3 to 4 minutes while stirring continuously.
Add the kodri, spring onion greens and ginger, toss gently and sauté on a high flame for another minute, while stirring gently once in between.
Serve hot with chillies in vinegar and chilli sauce.
Nutrient values
Energy 71 calories
Protein 3.1 gm
Carbohydrates 8.9 gm
Fat 2.7 gm
Vitamin C 35.2 mg
Iron 1.2 mg
Folic acid 14.0 mcg
Zinc 0.5 mg
Fibre
Via  Thadani
NB1 Adapted from TARLA DALAL : Tarla Dalal (June 1936 – 6 November 2013) was an Indian food writer, chef, cookbook author and host of cooking shows.[1][2] Her first cook book, The Pleasures of Vegetarian Cooking, was published in 1974. Since then she wrote over 100 books and sold more than 3 million copies. She also ran the largest Indian food web site, and published a bi-monthly magazine, Cooking & More. Her cooking shows included The Tarla Dalal Show and Cook It Up With Tarla Dalal.
https://en.wikipedia.org/wiki/Tarla_Dalal
NB2 Kodri (also known as Foxtail Millet, Varai, Varagu, Khododhan, Kodra, Kodon, or Paspalum scrobiculatum) is a couscous-like / rice-like grain which is commonly eaten in India (largely grown in Gujarat, Maharashtra, Madhya, Pradesh, Andhra, Pradesh, Tamil Nadu, Odisha and Bihar) – and it's delicious!
https://www.google.com.au/webhp?sourceid=chrome-instant&ion=1&espv=2&ie=UTF-8#q=KODRI
STIR FRIED VEGETABLES
If you are tired of the usual salads, why not stir-fry your vegetables this time for a more flavourful and satisfying meal?
Ingredients:
2 tablespoons olive oil
2 cloves garlic, finely chopped
1-inch piece ginger, finely chopped
1 scallion, thinly sliced on the diagonal
1 stalk celery, thinly sliced
1 head broccoli, cut into florets
1/4 head cauliflower, cut into florets
1/2 head bok choy, thinly sliced on the diagonal
1 red pepper, thinly sliced
1 cup snow peas or any fresh peas
4 mushrooms, sliced
2 tablespoons tamari sauce (wheat-free)
1 teaspoon chili flakes (to taste)
4 tablespoons low salt chicken stock or water
Any fresh vegetables from the garden can be used.
Procedure:
In a wok or large skillet, saute scallions, garlic, and ginger on low heat for 1 minute.
Add celery, broccoli, cauliflower, bok choy, and red pepper. Saute on medium-high heat, stirring constantly until vegetables are halfway cooked.
Add snow peas and mushrooms, and continue to cook for 2 to 3 minutes.
Add tamari, chili flakes and chicken stock. Bring to a boil and reduce sauce until vegetables are glazed and shiny, about 3 to 4 minutes.
Other vegetable choices include asparagus, zucchini, eggplant, endive, cabbage, a variety of different mushrooms, string beans, and torn collard greens or other greens. Sprouts are a great addition, stirred in at the end to avoid overcooking.