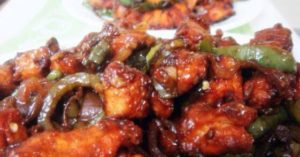 CHILLI CHICKEN
INGREDIENTS
For preparing the chicken:
Boneless omega-3 chicken pieces (cut into equal cubes) – 1/2 kg
egg whites -2
Soya Sauce – 4tsp
Olive Oil – for deep frying
For preparing the sauce:
Green Chilli Sauce – 4 tsp
Tomato sauce – 5tsp
Vinegar – 2tsp
Red food colour – 15 drops
Soya Sauce – 3 tsp
other ingredients:
Garlic chopped – 2 tsp
Ginger chopped -2tsp
Onion sliced thin – 1
Capsicum (thin long slices) – half
Green chillies – 6
Curry leaves- few
White pepper – 1/2 tsp
INSTRUCTIONS
Coat the chicken with the egg whites and marinate in the soy sauce for half an hour.
Mix all the ingredients for preparing the sauce and keep aside.
Deed fry the chicken cubes until light brown on medium heat. Then keep the chicken aside on an absorbent paper.
Then, take another fry pan and heat 2 tbsp oil and add sliced onions, slit green chillies, capsicum, curry leaves, chopped garlic and ginger and mix well and sauté for some time for about 5 to 6 minutes.
To this, add the chicken white pepper and the sauce mixture. Mix well and allow it to cook for a few minutes.
Garnish with chopped coriander or spring onions and serve hot.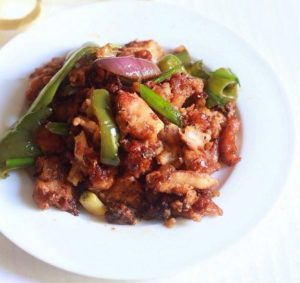 PEPPER CHICKEN
INGREDIENTS:
500 gms boneless, skinless chicken, cut into small pieces
3 tbsp Olive oil
2 onions, finely sliced
3 tbsp black pepper, freshly crushed
1 green capsicum/green bell pepper, deseeded and sliced
2 green chili, split
2 tbsp ginger garlic paste
2 tbsp coriander powder
1 tsp masala powder find recipe here http://www.findtex.com.au/diabetic-foods/sugar-free-masala/
spring onions for garnishing
INSTRUCTIONS:
1. Clean the cut chicken pieces thoroughly and set aside.
2. Heat Olive oil in a pan and add the onions and green chilis. Sauté till the onions turn translucent. Now add the ginger garlic paste and cook till all the raw smell has vanished.
3. Add the chicken and cook till all water dries up. Now add the coriander powder, masala powder. Cook on low heat till all the spices are incorporate well into the chicken. Add half a cup of water if required. Cook till the chicken is done.
4. Now add the sliced green capsicum and freshly crushed black pepper powder. Stir well and fry for a couple of minutes. Remove from fire and serve hot garnished with spring onions.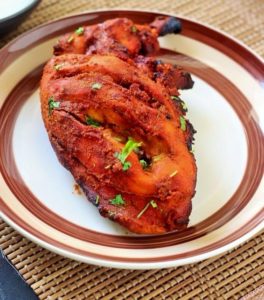 OVEN BAKED TANDOORI CHICKEN
INGREDIENTS
1 Omega-3 Chicken whole cut into 4 pieces skin removed.
2 tsp red chilli powder
3 tbsp Lemon juice
1 cup natural Yogurt
2 tbsp Ginger paste
2 tbsp Garlic paste
Olive oil to baste
1/2 tsp fresh turmeric/ for colouring optional finely sliced
1 tsp Garam masala powder and 1/2 tsp Chaat masala find recipe here http://www.findtex.com.au/diabetic-foods/sugar-free-masala/
INSTRUCTIONS
Make incisions with a sharp knife or prick with a fork into the chicken.
Apply a mixture one tsp red chilli powder and one tbsp lemon juice over the chicken and set aside for half an hour.
Place the yogurt into a bowl and add the remaining red chilli powder, ginger paste, garlic paste, remaining lemon juice, garam masala powder,  and fresh turmeric two tbsp olive oil.
Rub this mixture over the chicken and marinate for at least three to four hours in a refrigerator or overnight.
Cook the skewered chicken in a moderately hot tandoor (clay oven) for ten to twelve minutes, or in a preheated oven at 200°C/400°F/Gas Mark 6 until almost done.
Baste chicken with a little oil and cook for another four minutes. Cook on a grill to get a good smoky flavour. Remove and set aside.
Sprinkle chaat masala powder and serve with a salad and lemon wedges.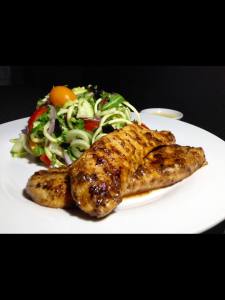 SPICY CHICKEN
INGREDIENT
Chicken skin removed ½ kg
Onion 1
Tomato 1
Green chili 4-5
Green coriander 2 tbsp.
No added salt Tomato paste 2 tbsp.
Olive Oil ¼ cup
Red chili powder 1 tsp
ginger 1 tsp or to taste
Dry coriander powder 1 tsp
Masala powder ½ tsp try one from here findtex.com.au/diabetic-foods/sugar-free-masala/
Yogurt 2 tbsp.
Green coriander leaves for garnish
INSTRUCTIONS
Blend together onion, tomato. green chili, green coriander, and tomato paste.
Heat olive oil in a pan add blended mixture and cook for 2-3 minutes.
Now add chicken, red chili powder, ginger, coriander powder, masala powder and yogurt.
Cover and cook until chicken tender.
Turn off heat. Sprinkle green coriander leaves and serve warm with a salad.
Adapted from http://www.therecipespk.com/how-to-make-chicken-white-handi/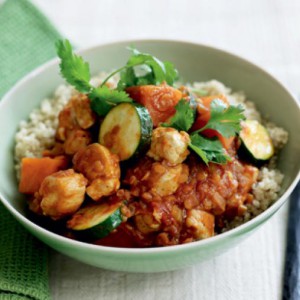 CHICKEN CURRY SRI LANKAN STYLE
Serves 4
INGREDIENTS
4 chicken breasts skin removed and cubed (Free range or Omega 3 chicken.)
2 onions, sliced
2 garlic cloves, minced
400g fresh diced tomatoes
Any vegetable available diced.
1 tbs olive oil
Water as required.
Spices:
1 tsp fresh ginger, minced or grated
¼ tsp fenugreek NB1
10 curry leaves
1 tsp turmeric
1 tsp ground cumin
1 tbs ground coriander
1 tsp paprika
1 tsp ground chilli
 INSTRUCTIONS
In a large saucepan with a lid, heat the oil and fry the onion, garlic and ginger over medium heat until softened, but not browned.
Add the fenugreek, curry leaves, turmeric, cumin, coriander, paprika and chilli and cook for 1 minute or until you can smell the aromas.
Add the chicken pieces and any root vegetables and gently fry, turning on each side. Add the tomatoes, and water if required, cover with a lid and cook for 30-40 minutes or until the chicken is cooked.
Add the green vegetables and cook for 10 minutes
Serve with steamed vegetables.
NB1 Is Fenugreek Good for Diabetes?
These websites are provided for information only, some of their claim may not be based on science
http://en.wikipedia.org/wiki/Fenugreek
http://www.webmd.com/vitamins-supplements/ingredientmono-733-fenugreek.aspx?activeingredientid=733&activeingredientname=fenugreek
Fenugreek the Natural Herbal Cure for Diabetes and 15 other Health Benefits
Side Effects of Fenugreek:
While Fenugreek is generally considered to be safe when used moderately, there have been reports of a few minor side-effects. Nausea is one common side effect, while other people have reported gastrointestinal discomfort (diarrhea and/or gas). Also, when using this herb topically on the skin, it is important to watch out for skin irritations and rashes.
Fenugreek use during pregnancy is not recommended, since it has the potential to induce labor. If you are pregnant and wish to take it, you should do so only after consultation with your doctor.
If you are currently taking any oral medications, you should always use this herb at least 2 hours before or after these drugs. This is important since Fenugreek fiber has the potential to interfere with the absorption of oral medications due to its mucilaginous fiber (which gives it a moist and sticky texture).
http://www.curejoy.com/content/fenugreek-the-natural-herbal-cure-for-diabetes-and-15-other-health-benefits/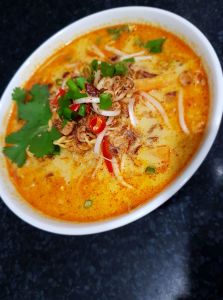 LACHA CHICKEN
INGREDIENTS
Omega 3 Chicken breast skin off 4
Ginger garlic paste 1 tbsp.
Vinegar ¼ cup
Crushed brown onion ½ cup
masala 1 tsp. (Try one from : http://www.findtex.com.au/diabetic-foods/sugar-free-masala/)
Red chili powder 1 tsp
Crushed red chili ¼ tsp
Greek Yogurt ½ cup
Lemon juice 1 tbsp.
Ginger sliced, sliced green chilies and chopped green coriander for garnish
INSTRUCTIONS
Marinade chicken breast with ginger garlic paste, ginger and vinegar. Leave for 10 minutes (Overnight is better)
Add chicken in a pan with marinade and cook until chicken tender in its own water and water dries.
Shred chicken in medium large pieces.
Add crushed brown onion, masala, red chili powder, crushed red chili, ginger, yogurt, and lemon juice in shredded chicken.
Heat oil in cooking pan; put chicken in oil and stir fry till yogurt water evaporates and oil comes on top.
Dish out garnish with ginger, green chilies, green coriander and serve with paratha, roti or naan along raita.
Adapted from http://www.therecipespk.com/lacha-chicken/
SPICY CHICKEN
Ingredients
8 boneless skinless chicken thighs, about 1 kg (you could use breasts as well but thighs stay moister)
2 teaspoons olive oil…
Rub:
2 teaspoons granulated garlic (you can sub 1 teaspoon garlic powder here)
2 teaspoons chilli powder
1/2 teaspoon onion powder
1/2 teaspoon coriander
1 teaspoon ginger
1 teaspoon cumin
1/2 teaspoon chilli powder or to taste
Instructions
Combine the rub spices in bowl and mix well.
Use kitchen shears to trim off any excess fat from the chicken pieces. Pat dry.
Drizzle oil over chicken and rub in with your hands to lightly coat all the pieces. Then toss chicken with the spice rub to coat all sides well
Grill chicken for 3-5 minutes on each side, until cooked through.
Serve with steamed vegetables including sweet potatoes and Jerusalem artichoke.
SOUTHWESTERN CHILLI CHICKEN
Spice up your dinner with this delicious Southwestern chili recipe. It goes well with any meat of your choice!
Ingredients:
2 tablespoons olive oil
1 to 2 garlic cloves, finely chopped
2 large onions, chopped
1 green pepper, chopped
1 cup mushrooms, sliced
1 ½ pounds ground chicken, grass-fed beef, buffalo, ostrich, or lean game meat
1 bay leaf
2 tablespoons chili powder
2 tablespoons ground cumin
1 tablespoon dried oregano
¼ teaspoon ground allspice
A pinch of red chili flakes
2 16-ounce cans tomatoes with liquid**
2 cans kidney beans
2 tablespoons fresh parsley, chopped
2 tablespoons fresh cilantro, chopped
3 scallions, thinly slivered on the diagonal
Procedure:
1. Heat the oil in a large heavy pot, over medium-low heat. Add garlic, onions, green peppers, and mushrooms. Cook for about 10 minutes, stirring occasionally.
2. Add ground meat and cook until browned. Add spices and toss to cover meat well.
3. Add tomatoes and their liquid, and simmer for 30 minutes. Add beans and simmer for 30 minutes more. Adjust seasoning according to taste.
4. Serve garnished with scallions, parsley, and cilantro.
SPANISH CHICKEN SKEWERS
Ingredients
1 piece Multigrain flat bread, cut into 2cm pieces
Olive oil spray
1/4 teaspoon sumac
3 large (about 900g) skinless chicken breast fillets, cut into 3cm pieces
2 tablespoons Table of Plenty Spanish Spice Rub
2 tablespoons chopped fresh coriander
1 large red capsicum, deseeded, cut into 3cm pieces
1 large zucchini, peeled into ribbons
1 large yellow capsicum, deseeded, cut into 3cm pieces
2 little gem lettuces, leaves separated, washed, dried, cut into 2cm-thick slices
6 red radishes, ends trimmed, thinly sliced
4 tomatoes, coarsely chopped
1 green capsicum, deseeded, coarsely chopped
1 Lebanese cucumber, coarsely chopped
1 bunch curly parsley, leaves picked, washed, dried
1 bunch fresh mint, leaves picked, washed, dried
2 tablespoons fresh lemon juice
2 teaspoons extra virgin olive oil
1 garlic clove, crushed
Method
Step 1
Preheat oven to 200°C. Place the bread on a baking tray. Spray with olive oil spray and sprinkle with sumac. Bake in oven for 5-8 minutes or until golden and crisp.
Step 2
Meanwhile, combine the chicken, Spanish spice rub and coriander in a large bowl. Alternately thread pieces of chicken, red capsicum, zucchini and yellow capsicum onto the skewers, finishing with chicken.
Step 3
Heat a non-stick frying pan over medium heat. Spray with olive oil spray to grease. Add one-third of the skewers and cook, turning occasionally, for 8-10 minutes or until the chicken is cooked through. Transfer to a plate and cover with foil to keep warm. Repeat, in 2 more batches, with the remaining skewers, reheating the pan between batches.
Step 4
While the skewers are cooking, combine the lettuce, radish, tomato, green capsicum, cucumber, parsley and mint in a large bowl. Whisk together the lemon juice, oil and garlic in a jug. Season with ginger and pepper.
Step 5
Add the bread to the lettuce mixture and toss to combine. Divide among serving plates. Drizzle a white wine vinegar as a dressing. Top with the skewers and serve.
NB Any lean meat can be used.
PAPRIKA CHICKEN WITH A PUMPKIN AND SPINACH SALAD
Ingredients
1 tablespoon smoked paprika
1 garlic clove, crushed
1 lemon, rind finely grated, juiced
4 small skinless chicken breast fillets (about 450g), trimmed
Pumpkin & spinach salad:
750g butternut pumpkin, cut into 2cm pieces
Olive oil cooking spray
Black pepper, to season
1 small orange, juiced
1 tablespoon extra virgin olive oil
Pinch ground cinnamon
100g baby spinach leaves
Instructions
For the pumpkin & spinach salad: Preheat oven to 240°C (220°C fan-forced). Line a large baking tray with non-stick baking paper. Place the pumpkin on the tray. Spray with olive oil and season with pepper. Roast for 15-20 minutes or until golden and tender. Set aside to cool to room temperature.
Meanwhile, combine, paprika, garlic, lemon rind and juice in a shallow ceramic dish. Add chicken and turn to coat. Cover and refrigerate for 10 minutes if time permits. (Overnight is better)
Preheat barbecue plate on medium heat. Remove the chicken from the marinade. Place a piece baking paper onto the hot barbecue plate and top with chicken. Barbecue for 5-6 minutes each side or until cooked through. Transfer to a plate, cover and allow to rest for 5 minutes. Discard the paper.
Whisk the orange juice, oil and cinnamon together. Combine the spinach and pumpkin in a bowl. Spoon over the dressing and toss gently to combine. Serve with the paprika chicken.