CHICKEN SHISH TAOUK
INGREDIENTS:
Chicken Boneless – 1/2 kg
Ginger- 1 teaspoon
Red chilli powder – 1 teaspoon
Black pepper – 1 teaspoon
Garlic powder – 1 teaspoon
Paprika powder – 1 teaspoon
Oregano leaves – 1 teaspoon
Tomato paste – 1 tablespoon
Mustard paste – 1 teaspoon
Lemon Juice – 2 tablespoon
Yogurt – 1/2 cup
Olive oil – 2 tablespoon
Oil for frying
INSTRUCTIONS:
In a bowl add chicken boneless, ginger, red chilli powder, black pepper, garlic powder, paprika powder, oregano leaves, tomato paste, mustard paste, lemon juice, yogurt, olive oil and mix until well combined.
Put chicken boneless cubes on skewers.
In a frying pan heat some oil and fry it until chicken is done.
Eat and enjoy.
This and other Mediterranean recipes can be found here.
http://www.findtex.com.au/uncategorised/mediterranean/
SOUVLAKI
INGREDIENTS
Add the following ingredients to slow cooker:
– leg of lamb (bone in)
– 1 can diced tomatoes
– 2 tsp Oregano
– 4 cloves garlic, crushed
– 1-2 tbsp balsamic vinegar
– juice of half a lemon (and I throw the half lemon in too once squeezed)
– 4 sprigs rosemary.
INSTRUCTIONS
Cook 8-10 hours on low. Remove the bones and shred the lamb. Use a slotted spoon to coop all the tomatoes and some of the stock into the lamb mixture and mix through.
Serve with salad of choice (I usually use: spinach/ lettuce, tomato, cucumber, carrot, red onion, avocado, olives, feta) and a dollop of Greek yoghurt. I serve as is for me and on wraps for my family.
Hint: Keep any leftover stock to use in other recipes such as vegetable soup
Lamb and stock both freeze perfectly!
BBQ CHICKEN SKEWERS WITH SPICY PLUM SAUCE
INGREDIENTS
8 x chicken tenderloins threaded onto metal skewers.
1 Tbsp extra virgin oil
1 red onion, chopped.
1 clove garlic, chopped.
1 small chilli, chopped finely (optional)
1 tsp ginger, grated.
2 Tbsp tomato paste, no added salt
2 medium plums, stone removed and quartered.
1/3 cup white wine or water
1 pinch black pepper
1 lemon cut into quarters to serve.
INSTRUCTIONS
To make the plum sauce, heat half of the oil in a saucepan over a medium heat and gently sauté the onion, garlic, chilli, ginger, and pepper, stirring with a wooden spoon. Add the tomato paste, plums and white wine and keep cooking for a further 5 minutes until the plums are cooked through.
Allow to cool slightly, then puree until it becomes a thick sauce. Set aside.
Meanwhile, heat the rest of the oil on a grill plate until hot and BBQ the chicken skewers for 4 minutes on each side.
Serve with a wedge of lemon and place the spicy plum sauce in a small dish.
Nutrition per serve
Energy 1412 kJ
Total fat 9 g
Sat fat 2 g
Total carb 6 g
Protein 55 g
Fibre 3 g
Sodium 172 mg
Adapted from https://diabetesnsw.com.au/recipe/bbq-chicken-skewers-with-spicy-plum-sauce/?fbclid=IwAR2HuHQIe1zETB1TwMt9dVGxPPqqzP3lm7grQ_yLi1VL-YuT4osGgdEk8Mc
LEBANESE STYLE KABABS
INGREDIENTS
2 lbs/900 gof skinless boneless chicken breast, cut into cubes/Kabab chunks
1 cup of freshly squeezed lemon juice
a small slice of lemon with the peel (optional, don't put too much)
15 cloves of garlic, crushed.
6 table spoons of plain yogurt (Greek yogurt)
6 table spoons of olive oil.
2 table spoons of red vinegar (apple cider vinegar)
5 to 2 teaspoons of ground white pepper
⅓ teaspoon of ground ginger spice
½ teaspoon of ground thyme, or ground oregano
⅓ teaspoon of paprika
½ to 1 teaspoon of tomato paste
INSTRUCTIONS
Mix all ingredients well together while rubbing the chicken.
Place in a container, cover, and let rest/marinate in the fridge for at least 4 hours.
Skewer the chicken right before grilling.
Grill on medium heat for 12-18 minutes maximum.
As soon as you remove them from the grill, place them in a big warm pot, replace the lid tightly, and let rest for 8-10 minutes – this helps the chicken become more moist, (this step is optional).
Adapted from https://www.mamaslebanesekitchen.com/poultry/shish-tawook-chicken-kabob-recipe/?fbclid=IwAR1QbJsdv-6TfoodnQTRgzuHZSlJSPgKE7oORiTu61x24FsPj-H9ptpeQHw
ITALIAN CHICKEN KABABS
INGREDIENTS
INSTRUCTIONS
First clean chicken by running it under cold water, pat dry with paper towels. Cut and discard any fat pieces.
After Cut chicken into large cubes and add to a large zip lock bag.
Then in a medium bowl combine the rest of the ingredients: olive oil, Italian seasoning, parsley, garlic, lemon juice, lemon zest, ginger and pepper. Whisk until fully combined. Pour the mixture on top of the chicken.
Then Close the zip lock bag, shake to coat the chicken consistently in the marinade and refrigerate for at least one hour or overnight. If possible, shake and toss the chicken during this period a few times, so it marinates evenly.
After, for outdoor grilling, heat the grill until hot and spray it with olive oil cooking spray. For indoor cooking, put a cast iron grill pan oven medium-high heat and add to it about 2 tablespoons of olive oil.
Then, If desired, arrange the chicken pieces on wooden skewers. Grill for 3-4 minutes on each side, or until the chicken is no longer pink in the middle.
Finally, serve with a salad, lemon and your favourite dressing for dipping. Find recipe here http://www.findtex.com.au/diabetic-foods/diabetic-friendly-dips/ or here http://www.findtex.com.au/diabetic-foods/chutney-etc/
Adapted from https://www.ireloop.com/keto-italian-chicken-skewers/
http://www.findtex.com.au/uncategorised/mediterranean/
SLOW COOKED ROAST LAMB
INGREDIENTS
Roast Lamb
2kg (4.4 lb) leg of lamb
2 tsp ginger
½ tsp pepper
1 tsp garlic
2 tsp rosemary leaves
1 Tbsp oregano
½ cup chicken stock or water
Vegetables
2 tsp garlic, crushed
2 onions, chopped
2 carrots, chopped
4 serves sweet potatoes, chopped
INSTRUCTIONS
Rub the ginger, pepper, and garlic into the leg of lamb.
In a stoneware frypan over high heat, add 1 tbsp of olive oil. Once the oil is hot, brown the lamb on all sides.
Transfer the lamb to a slow cooker.
In a slow cooker, add the onion, carrots, and sweet potatoes. Scatter the garlic across the vegetables.
Scatter the rosemary leaves, oregano over the top of the meat and vegetables. Lastly, add the chicken stock/ water.
Cook on low for roughly 8 hours.
Serve & Enjoy.
Adapted from https://slowcookingperfected.com/slow-cooker-roast-lamb/?fbclid=IwAR2W0afvFJmnJH_Q3NJLJ8bcb-rsqCYAx8Do_b3cryC-9JZ_5oxGzgDOm-0
ROAST LEG OF LAMB
INGREDIENTS
3 tablespoons coarse-grain mustard
2 cloves garlic, minced (Note*)
1 1/2 teaspoons dried rosemary, crushed
1/2 teaspoon black pepper
1 leg of lamb, well trimmed, boned, rolled and tied (about 4 pounds/1.8 kg)
INSTRUCTIONS
Combine mustard, garlic, rosemary, and pepper. Rub mustard mixture over lamb (Note **). Place roast on meat rack in foil-lined shallow roasting pan.
Preheat oven to 400°F. Roast 15 minutes. Reduce oven temperature to 325°F/ 204° C; roast about 20 minutes per pound/ 450 g for medium or until internal temperature reaches 145°F/60°C when tested with meat thermometer inserted into thickest part of roast.
Transfer roast to cutting board; cover with foil. Let stand 10 to 15 minutes before carving. Internal temperature will continue to rise during stand time.
Cut strings from roast, discard. Carve into 20 slices.
*Note. For a more intense garlic flavor inside the meat, cut garlic into slivers. Cut small pockets at random intervals throughout roast with the tip of a sharp knife; insert the garlic slivers.
**Note. At this point the lamb may be covered and refrigerated up to 24 hours before roasting.
NUTRIENT INFORMATION
Calories: 172 calories, Carbohydrates: 1 g, Protein: 25 g, Fat: 7 g, Saturated Fat: 2 g, Cholesterol: 78 mg, Sodium: 121 mg, Fiber: 1 g
Exchanges per serving: 3 Meat.
Adapted from https://www.diabetesselfmanagement.com/recipes/main-dishes/roast-leg-lamb/?fbclid=IwAR0qKT-cqY_4fLtpsPL1WOXmzJTBIVaF9YgLJ8Dt-eVzksYwIW3Pa1V9sHc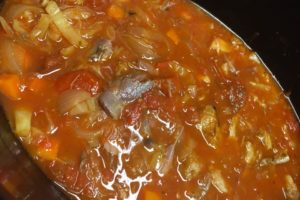 LAMB SHANK STEW
INGREDIENTS:
lamb shanks, browned
1 onion, sliced
2 carrots, diced
1/4 cabbage, shredded
1 diced tomato
500ml chicken stock or water
2 teaspoons minced garlic
1 teaspoon minced chilli
1 teaspoon oregano
INSTRUCTIONS
Add vegetables to slow cooker.
Place lamb shanks on top.
Pour tomatoes over lamb shanks.
Combine chicken stock/water, garlic and chilli, pour over tomatoes.
Cook on LOW for 8-10 hours.
Shred meat from bones.
SWEET POTATO WITH LAMB
INGREDIENTS:
8 racks lamb, frenched. (Can be individual cutlets if preferred)
2 cloves garlic, crushed
2 medium sized sweet potatoes, cubed
1 cup cooked red quinoa
2 cup rocket leaves
4 tbsp. sesame seeds, toasted
Zest and juice from 1 lemon
2 tbsp. red wine vinegar
1/4 bunch of parsley leaves, chopped finely
2 tbsp. Dijon mustard
ginger & pepper to garnish, if desired
INSTRUCTIONS:
Heat the oven to 180°C and a pan over a medium-high heat. Coat the lamb rack in the crushed garlic and sear in the pan before roasting in the oven for 10 minutes (If the cutlets are already individual, cook for 2 minutes less). Set aside to rest.
Meanwhile steam the sweet potato and combine with the quinoa, rocket, sesame seeds, lemon zest and juice, red wine vinegar and parsley.
Divide the salad among plates and serve with 2 cutlets and 1/2 a tbsp. of Dijon mustard.
Serves 4
Calories 300
Fat 13g
Protein 23g
Carbs 20g
Fibre 5g
Adapted from http://www.shapeme.com.au/weight-loss-recipes/889/Sweet-Potato-Lamb?fbclid=IwAR2g1KUTkuGMF_tV14cpzZnFhi13kThtym66KCI1HTLOK5G4xV5UZRKJ_YQ
KETO LAMB KEBABS
INGREDIENTS
1/2 onion
1/4 bunch flat leaf parsley
2 tbsp olive oil
2 tsp dried mint
2 tsp ground cumin
2 tsp ground coriander
2 tsp smoked paprika
2 tsp lemon rind finely grated
500 g lamb mince preferably grass fed
1 tsp Chilli sauce this is optional find recipe here http://www.findtex.com.au/diabetic-foods/chutney-etc/
6 kebab skewers
INSTRUCTIONS
Preheat oven to 200℃.  Line baking tray with baking paper.
To a food processor, blender add all ingredients EXCEPT lamb.  Blend 5 seconds or medium speed.
Add lamb and mix 30 seconds speed 3.  Alternatively mix seasoning through your lamb mince by hand.
Divide mince into 6 equal amounts and squeeze into sausage shapes around your kebab skewer.  Place onto prepared baking tray.
Cook in oven 20 minutes. Turn and cook for further 10 minutes or until lightly golden and cooked through.
Nutrition Facts
KAFTA – Lebanese Keto Lamb Kebabs
Amount Per Serving (1 serve (2 kebabs))
Calories 572 Calories from Fat 432  % Daily Value*
Total Fat 48g 74%
Saturated Fat 18g 90%
Cholesterol 121mg 40%
Sodium 107mg 4%
Potassium 495mg 14%
Total Carbohydrates 2g 1%
Dietary Fibre 1g 4%
Sugars 1g
Protein 28g 56%
Vitamin A 22.7%
Vitamin C 12%
Calcium 6%
Iron 25%
* Percent Daily Values are based on a 2000 calorie diet.
Adapted from https://www.madcreationshub.com/recipe/kafta-lebanese-keto-lamb-kebabs/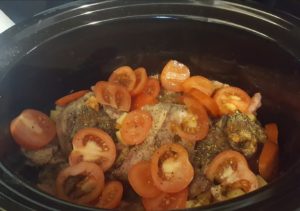 SLOW COOKED LAMB AND EGGPLANT
INGREDIENTS
4 lamb shanks or 800 gms diced lamb (lamb shoulder or lamb leg can be used as well)
400 gms/14 oz diced tinned tomato sugar free (Fresh if possible)
2 medium onions halved and thinly sliced
3 tspns minced garlic
2 tspns ground cumin
1 tspn minced ginger
1 tspn ground coriander
1 tspn ground turmeric
1 tspn ground paprika
1 heaped tspn cinnamon
1 Tbspn Balsamic vinegar
2 lemon slices
1/4 tspn nutmeg
1/4 tspn cayenne-or to taste… spicy!!
A pinch cloves
A pinch of saffron crushed and steeped in a little water for 30 minutes- optional
1 large or 2 small eggplant cut into chunky fingers
1 cup of water
INSTRUCTIONS
1. Turn the slow cooker onto high.
2. Sprinkle the spices over both sides of lamb shanks.
3. Add the sliced onions and 2 slices of lemon
4. Add the tinned tomato and water and stir till mixed.
Season with ginger and pepper.
5. Cook for 2-3 hours before adding the eggplant fingers and coating in the sauce. Add the saffron water and continue to cook on high for approximately another hour, or 2 or until cooked and tender.
To serve, sprinkle with fresh chopped coriander or parsley with a salad or steamed vegetables.
Various Cooking Times
Cook on medium for approximately 6 hours or on low for approximately 8 hours. Add the eggplant around 3/4 of the way through cooking.
If you forget to add the eggplant or add it too late to cook properly, simply zap it in the microwave for about 5- 10 minutes to precook it before adding to the slow cooker. It does need to sit in the juices for as long as possible to soak in the flavours though.
If you use a leg of lamb, you may need to cook for a bit longer, depending on how large the leg is.
Adapted from  https://ketohh.com/low-carb-slow-cooker-syrian-lamb-and-eggplant-tagine/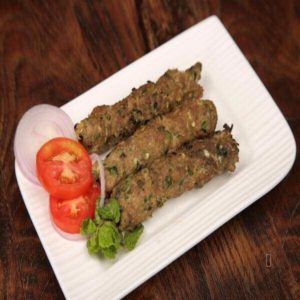 MUTTON SEEKH KABABS
INGREDIENTS
400 gm mutton (goat or any other lean game meat)
4 green chilli
2 onion
1/2 tablespoon ginger paste
1/2 tablespoon garlic paste
1 tablespoon coriander leaves
1/2 teaspoon cumin powder
1/2 tablespoon red chilli powder
1/3 teaspoon garam masala powder recipe found here. http://www.findtex.com.au/uncategorised/spice-mix-sugar-salt-and-fat-free/
1 tablespoon chaat masala recipe found here. http://www.findtex.com.au/uncategorised/spice-mix-sugar-salt-and-fat-free/
2 tablespoon lemon juice
Olive oil s required
INSTRUCTIONS
1. Wash the mutton under running water. Now take a mincer and mince the mutton carefully.
On a chopping board and chop onions, green chillies and coriander leaves. Keep them in separate bowls. Meanwhile preheat the oven at 230 degree Celsius.
3. Take a grinder and add minced mutton, onion, green chilies and coriander leaves. Grind them to get a paste of thick consistency. Transfer it to a bowl and add red chilli powder, garam masala, cumin powder and ginger-garlic paste. Mix them well.
4. Divide this mixture into 10 portions equally. With moist hands pat the mixture, shape the mixture into kebabs and put them onto the skewers.
5. Place the kababs into the oven and cook until reddish-brown colour. While the kebabs are in the oven, baste each side of the kebabs at intervals with olive oil.
Sprinkle chaat masala and lemon juice equally onto each kebab. Serve hot with a salad.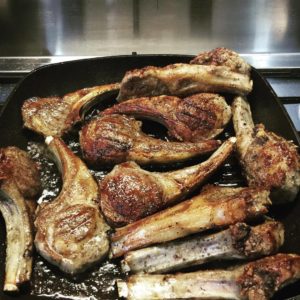 MOROCCAN LAMB CUTLETS WITH STEAMED VEGETABLES
INGREDIENTS
12 lamb cutlets, fat trimmed
1 tbsp olive oil
2 garlic cloves crushed
2 tbsp Moroccan spice find recipe here http://www.findtex.com.au/uncategorised/spice-mix-sugar-salt-and-fat-free/
1 tsp fennel seeds lightly crushed
1 large bunch baby carrots (about 12), trimmed, peeled, quartered
400g brussels sprouts, thinly sliced
Any other in season vegetables
Zest and juice of 1 lemon
80g feta cheese, crumbled
1/3 cup coriander leaves
Greek yogurt, to serve
INSTRUCTION
1.    In a small bowl combine the olive oil, half the garlic, and Moroccan spice. Season and rub cutlets with mixture. Place in the fridge for at least 20 minutes.
Heat a large chargrill fry pan or barbecue over medium-high heat and cook the lamb for 3 to 4 minutes each side or until cooked to your liking. Set aside on a plate loosely covered with foil to rest for 5 minutes.
Meanwhile prepare a steamer. Add carrots and cook for 3 to 4 minutes. Add brussels sprouts, lemon zest and juice. Add remaining garlic and fennel seeds. Cook for a further 3 to 4 minutes or until tender.
Place vegetables on a platter and sprinkle with feta and coriander and serve with lamb and Greek yoghurt on the side.
Adapted from https://www.australianlamb.com.au/moroccan-spiced-lamb-cutlets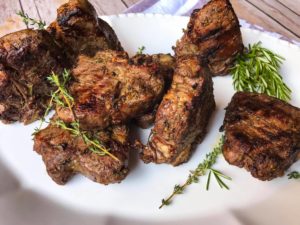 CHINESE LAMB RIBS
Ingredients
2.5 kg grass fed lamb ribs or any other lean cut of meat.
3 tbsp olive oil
11/2 tbsp finely grated ginger
4 cloves garlic, finely grated
3 tsp ground pepper
3 tsp ground cumin
1 tsp dried chilli flakes
200 ml rice vinegar
Thinly sliced spring onion and toasted sesame seeds, to serve
Crunchy slaw
1 wombok finely shredded
2 carrots cut into matchsticks or coarsely grated
4 spring onions, white and green parts, thinly sliced
2/3 cup coriander sprigs
50 ml olive oil
2 tbsp rice vinegar
2 tbsp finely grated ginger
1 clove garlic crushed
INSTRUCTIONS
Preheat oven to 140°C. Combine oil, ginger, three-quarters of the garlic and spices in a bowl, rub all over lamb ribs and place in large baking trays. Cover tightly with foil. Roast until very tender (2-2 ½ hours). Cool slightly and cut into double ribs.
Meanwhile, simmer vinegar and remaining garlic in a saucepan over medium-high with a little water, heat until reduced to a glaze (10-15 minutes).
Increase oven to 200°C. Place ribs on a baking tray lined with baking paper, brush with glaze and roast until glossy (15- 20 minutes).
To make the crunchy slaw, toss ingredients in a bowl. Serve with lamb ribs and scattered with spring onion and sesame seeds.
Tips
The ribs can be slow cooked a day ahead to make preparation easier, then the second part of the cooking is completed just before serving.
This same flavours and slow cooking could be applied to lamb shanks, lamb shoulder and lamb neck.
Adapted from https://www.australianlamb.com.au/chinese-style-lamb-ribs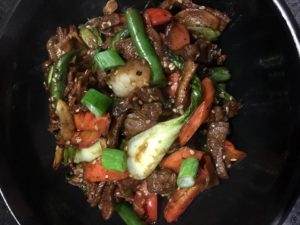 Mongolian lamb stir-fry
Ingredients
500g grass-fed lamb steaks, thinly sliced
1 1/2 tbsp olive oil
2 garlic cloves crushed
3cm piece ginger, finely grated
1 small red onion thinly sliced
115g baby corn, halved diagonally (some here may prefer to omit)
150g snow peas
1 bunch broccolini, cut into 3cm lengths
1 bunch baby pak choy, quartered
Any other in season vegetables
Soba noodles (NB1), coriander sprigs and sliced red chilli, to serve
INSTRUCTIONS
Heat 1 tablespoon oil in a hot non-stick wok or frying pan over high heat. Cook lamb in batches for 2 to 3 minutes or until browned, remove from wok and set aside on a plate.
Add remaining oil over medium-high heat then add garlic, ginger and red onion to wok and stir-fry for 2 mins. Add corn, snow peas and broccolini and stir-fry for a further 2 to 3 minutes. Add pak choy and cook for a further minute. Stir in 1/4 cup water and cook for another 1 minute. Return lamb to wok, toss well to heat through and season.
Serve lamb stir-fry on a bed of soba noodles topped with coriander and chilli, if desired.
Adapted from https://www.australianlamb.com.au/mongolian-lamb-stirfry
NB1 Soba noodles
It usually refers to thin noodles made from buckwheat flour, or buckwheat and wheat flours (Nagano soba). They contrast to thick wheat noodles, called udon. In Japan, the word can refer to any thin noodle. Soba noodles are served either chilled with a dipping sauce, or in hot broth as a noodle soup.
https://en.wikipedia.org/wiki/Soba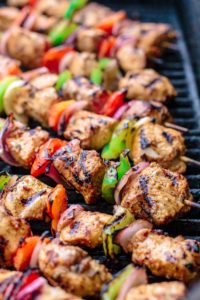 CHICKEN KABABS GREEK STYLE
INGREDIENTS
2 lbs boneless skinless chicken breasts, 1″ pieces
20 Kalamata olives, pitted & halved
1 large red onion, 1″ pieces
2 large garlic cloves, grated & divided
1 lemon, juice and zest of
2 tbsp basil or oregano, dried
1 1/2 tsp ginger powder divided
1 1/2 tsp ground black pepper divided
2 tbsp olive oil, extra virgin
1 large zucchini, 1/2″ thick rounds
3 large bell peppers, 1″ pieces
Olive oil Cooking spray
INSTRUCTIONS
If using wooden skewers, soak for at least 30 minutes. In a large bowl add chicken, olives, onion, 1 garlic clove, lemon juice + zest, basil or oregano, ginger and 1 tsp black pepper. Toss to coat and marinate for 30 minutes – 24 hours. The longer meat marinates, more flavourful it is and cooks faster.
To make garlic oil, combine olive oil and 1 garlic clove in a small bowl and set aside. Toss zucchini and bell peppers and 1/2 tsp black pepper. If marinating meat overnight, you can do this step right before grilling.
Skewer meat alternating with olives, red onion and vegetables onto each skewer. I ended up using 5 – 6 pieces of chicken, 2 zucchini slices and 3 – 4 bell pepper slices on each out of 10 long metal skewers. Discard remaining marinade.
Preheat grill on low – medium heat and spray with cooking spray. Grill skewers with lid closed turning every 2 – 3 minutes for even grilling. Kebabs are ready when chicken is cooked through, about 8 minutes. Remove from the grill and brush each skewer with garlic oil. Serve hot with your favourite steamed vegetables and/or salad.
Nutrition Facts of original
Serving Size 1 kebab
Serves 10
Amount Per Serving
Calories
173
% Daily Value*
Total Fat 6.6g
10%
Cholesterol 66.2mg
22%
Sodium 393.1mg
16%
Total Carbohydrate 5.6g
2%
Sugars 2.8g
Protein 21.4g
43%
·         Vitamin A 6%

·         Vitamin C 111%
Adapted from https://ifoodreal.com/greek-chicken-kabobs/
Kofta Kebab Recipe NB1
INGREDIENTS
1 medium yellow onion quartered
2 garlic cloves
1 whole bunch parsley, stems removed (about 2 packed cups parsley leaves)
½ kg grass fed ground beef
¼ kg grass-fed ground lamb
1 slice of multigrain bread toasted until browned and soaked in water until fully tender (optional)
Salt and pepper
1 1/2 tsp allspice recipe here http://www.findtex.com.au/uncategorised/spice-mix-sugar-salt-and-fat-free/
1/2 tsp cayenne pepper
1/2 tsp ground green cardamom
1/2 tsp ground sumac
1/2 tsp ground nutmeg
1/2 tsp paprika
Salad to serve
For the Fixings:
Tahini Sauce
Tomato wedges
Onion wedges
More parsley
INSTRUCTIONS
Soak 10 wooden skewers in water for about 1 hour; remove from the water when you are ready to begin. Lightly oil the grates of a gas BBQ and preheat it to medium high for about 20 minutes.
Prepare the pita bread and the fixings.
In a food processor, chop the onion, garlic, and parsley
Add the beef, lamb, bread (be sure to squeeze out the water completely), and the spices. Run the processor until all is well combined forming a pasty meat mixture.
Remove the meat mixture from the food processor and place in a large bowl. Take a fistful portion of the meat mixture and mould it on a wooden skewer. Repeat the process until you have run out of meat. For best results, make sure each kofta kebab is about 2.5 cm in thickness.
Lay the skewered kofta kebabs on a tray lined with parchment paper
Place the kofta kebabs on the lightly oiled, heated gas BBQ. BBQ on medium-high heat for 4 minutes on one side, turn over and grill for another 3-4 minutes.
Serve the kofta kebabs immediately with salad, tahini and the fixings you prepared.
Adapted from https://www.themediterraneandish.com/kofta-kebab-recipe/
NB 1 Kofta is a family of meatball or meatloaf dishes found in the Indian subcontinent, Caucasian, Middle Eastern, Balkan, and Central Asian cuisines. In the simplest form, koftas consist of balls of minced or ground meat—usually beef, chicken, lamb, or pork—mixed with spices and/or onions. In the Indian subcontinent and the Middle East, koftas are usually made from lamb, beef, mutton or chicken, whereas Greek, Cypriot, and Balkan versions may use pork, beef, lamb, or mixture of the three. In India, vegetarian varieties include koftas made from potato, calabash, paneer, or banana. In Europe, kofta is often served as fast-food sandwich in kebab shops.
https://en.wikipedia.org/wiki/Kofta
http://www.findtex.com.au/recipes/asian/texs-indian/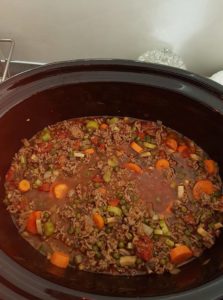 BASIC STEW SUDANESE STYLE
INGREDIENTS
2 tablespoons Olive oil
2 medium onions, chopped
3 large cloves garlic, finely minced
½ Kg lean meat, coarsely ground or chopped
2 cups water
2 tablespoons nut butter,
Any in season vegetables lots of greens
1 cup plain yogurt
Ginger to taste
Red pepper flakes (omit if preferred)
INSTRUCTIONS
Heat the oil in a saucepan over low heat. Add the onions, garlic, and meat, stir to combine, and sauté until brown.
Add the water and all the ingredients into a slow cooker and cook on high for 4 – 5 or on auto for 6 – 87 hours.
Serve warm
Adapted from https://www.splendidtable.org/recipes/mullah-robe-lamb-and-yogurt-stew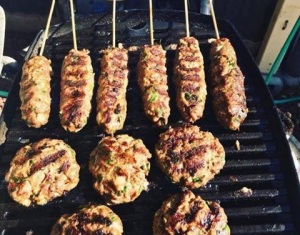 BBQ LAMB KABAB AND BEEF BURGERS
INGREDIENT for kabab
600g lean lamb mince (any lean meat can be used minced)
3 cloves garlic
2 omega-3 eggs
1 tsp dried thyme
Olive oil
1/4 finely chopped onion
1 tablespoon water
INSTRUCTIONS
Mix all ingredients well and place around skewer sticks moulding the shape with hands cook on the BBQ grill for a few mins each side and enjoy salad
INGREDIENTS for Beef burgers
750g beef mince (like topside)
70g (1 cup) multigrain breadcrumbs, made from day-old bread
1 large brown onion, grated
1 egg, lightly whisked
1/4 cup chopped fresh parsley
2 garlic cloves, crushed
1 water
INSTRUCTION
Mix all ingredients and shape like burgers cook on BBQ grill for a few mins each side and enjoy!
Serve with a sald.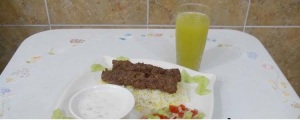 TURKISH ADANA KABABS
INGREDIENTS
Lean Lamb/beef mince 500g
Red capsicum 1
Brown onion 1
Garlic 4-5 cloves
Red chilli flakes 1 tsp
Coriander powder 1 tsp
Cumin powder 1 tsp
Black pepper powder 1 tsp
Ginger 1 tsp or to taste
Brown Basmati rice or a slice of Multigrain bread (Burgen Wholegrain and oats) for serving NB1
Salad
Onion 1 (sliced)
Tomato 1 (cubed)
Cucumber 1 (cubed)
Any other in season salad vegetable
Lemon juice 1 tsp
Dip
INSTRUCTIONS
Place capsicums, onions, garlic and other spices into a blender and blend to make a smooth paste.
In a large bowl mix together mince with spice paste. Allow to marinade for 4-6 hours or overnight. (Overnight is good for more delicious taste)
Divide the mixture into equal parts and put on skewer.
Cook over hot coals for 4-5 minutes per side or until done, turning frequently. You can also broil in an oven or cook on grill pan or on a BBQ
Salad
Mix all salad ingredients in a bowl.
Dip
Combine yogurt and mint chutney.
Serving Suggestion
You can serve all things separate or put Adana Kebab on bed of rice, placing salad in one side on platter along dip.
Adapted from www.therecipespk.com/turkish-adana-kebabs/
NB1 some here may not tolerate rice. I find a slice of toasted Burgen Wholegrain and oats a good alternative and provides some carbs to the dish.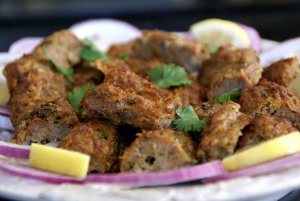 STEAMED KABAB
INGREDIENTS
Grass fed Beef mince ½ kg (any meat can be used for mincing)
Onion 1
Ginger 1 medium piece
Garlic paste 2 tbsp.
Fresh coriander ¼ bunch
Green chilies 6
Crushed black pepper 1tbsp
Olive Oil for fry
Salad leaves for garnishing
INSTRUCTIONS
Chop all above ingredients except oil.
Apply oil on hands. Make kebab.
Deep fry kebab in hot olive oil to cook the outside layer.
Then put kabab in steamer and steam them 12-15 minutes.
Set salad leaves in a platter and place steam kebabs on leaves.
Adapted from http://www.therecipespk.com/how-to-make-delicious-steam-kabab-by-chef-zakir-qureshi-english-and-urdu-recipe/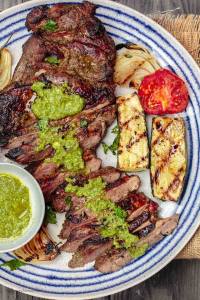 SUMAC LAMB FILLET WITH TZATZIKI
This light summer dish is ideal for the barbecue. It's quick and easy to whip up for one, or simply double quantities for two. Complete the meal with steamed or baked butternut pumpkin (winter squash) wedges. We appreciate that lamb fillet can be pricy, so try it with chicken tenderloins if you prefer. Good quality goat can also be used but be careful not to overcook it. Prep: 5 mins • Cook: 15 mins • Serves: 1
INGREDIENTS
150g (5oz) lamb tenderloin
1 tsp sumac
1 tsp olive oil
½ Lebanese cucumber
1 small clove garlic, crushed
½ tbsp.. lemon juice
¼ cup plain yoghurt
Small handful baby spinach
150g (5oz) cherry tomatoes, quartered
½ tsp olive oil
½ tsp sumac
INSTRUCTIONS
Coat the lamb fillet with 1 tsp sumac by pressing it all over, and set aside at room temperature.
Grate the cucumber on a large setting and place in a sieve to drain with a pinch of salt.
Heat olive oil in a heavy based pan or heat a barbecue. Cook lamb for 4 minutes each side (for medium rare), then set aside to rest (5 minutes) while preparing tzatziki.
Stir drained cucumber with garlic, lemon juice and ginger and pepper to taste.
Toss cherry tomatoes with baby spinach, sumac and olive oil.
Slice rested lamb thinly and serve on the spinach and tomato salad with tzatziki on the side.Per serve
1850kJ/ 440calories; 53g protein; 18g fat (includes 6g saturated fat; saturated : unsaturated fat ratio 0.5); 12g available carbs (includes 10g sugars and 2g starches); 5g fibre; 590mg sodium; 1275mg potassium; sodium : potassium ratio 0.46
Adapted from http://ginews.blogspot.com.au/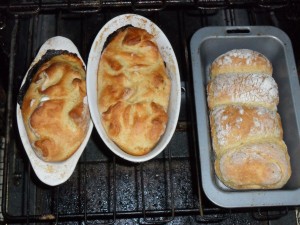 Preparation time: 15 minutes minutes
Cooking time: 35 minutes minutes
Serves 6
Ingredients
Olive oil spray
250g lean lamb mince (Make Your own it will contain less fat, If possible use lean goat, it more authentic and will taste better)
100g button mushrooms, chopped
1-2 tbsp Middle Eastern Spice Blend
2 tbsp multigrain flour (cooked basmati rice can also be used here.)
1.5 cups Campbell's Real Stock  Salt Reduced Vegetable (Water can be used)
6 sheets filo pastry Make your own using one of my breads or pastry mixes.http://www.findtex.com.au/livestock/recipes/2011/10/31/bread
440g Fresh or frozen peas.
Method
1. Preheat oven to 180C. Lightly spray 6 cups of a large muffin tin with olive oil.
2. Heat a large frying pan and cook lamb, mushrooms, celery and spice mix until browned. Sprinkle over flour and stir until incorporated.
3. Water and peas and cook for 5 minutes until a thick consistency.
4. Fold each filo sheet 4 times, and then press each square into a muffin cup. Spoon filling into the pastor and bake for 15 minutes until golden.
If desired, top pies with sweet potato mash and sprinkle with toasted slivered almonds. Serve with a side salad dressed with a little wine vinegar.
http://daa.asn.au/for-the-public/smart-eating-for-you/recipes/browse/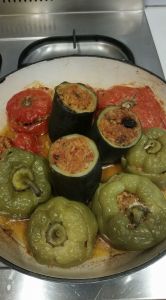 STUFFED CAPSICUMS WITH LAMB, RICE & LENTILS
INGREDIENTS
6 capsicums
200g lean lamb mince (Mutton)
1-2 tablespoons olive oil
200g cooked brown rice (or black rice if you prefer) NB1
200g cooked brown lentils
2-3 cloves garlic crushed
1 large onion, finely diced (or 2 smaller onions)
1 generous handful basil or parsley, finely chopped
1 400ml no added salt tomato passata
Ginger and pepper to taste
INSTRUCTIONS
Cut tops off capsicums and remove seeds and inner membranes.
Heat olive oil in a large pan over medium heat.
Add diced onion and crushed garlic and sauté until onion is translucent.
Add lamb mince and brown
When lamb mince is browned add in cooked rice and lentils and tomato passata.
Simmer for 10-15 minutes then stir in the fresh herbs and season with ginger and pepper to taste.
Using a slotted spoon, spoon lamb mixture into each capsicum and place the top of the capsicum on top.
Pour the remainder of the lamb mix into the bottom of a baking tray and arrange stuffed capsicums on top.
Bake in a pre-heated oven (180 degrees Celsius) for 40 minutes to an hour.
Serve and enjoy!
Adapted from https://healthyhappywonderful.squarespace.com/blog/capsicums-stuffed-with-lamb-rice-lentils
NB1 NB1 You can use leftover cooked rice or other cooked grains like barley or millet in this recipe.
Resistant starch and day-old potatoes has been discussion before, yams including sweet potatoes, the same can be said for pasta and it is claimed that also rice.
Diabetes Diet: Benefits of Eating Digestive Resistant Starches
Potatoes, yams and pastas that are cooked, and cooled (heating and cooling alters the chemical structure).
http://www.informationaboutdiabetes.com/lifestyle/lifestyle/diabetes-diet-benefits-of-eating-digestive-resistant-starches
Also read: http://www.findtex.com.au/diabetic-foods/can-we-lower-the-gi-of-rice/
OR Try Konjac rice
Konjac Foods for People with Diabetes (Noodles. Pasta.)As medical research has demonstrated, the higher the viscosity of soluble fiber, the better the ability to control blood sugar level. The glucomannan fiber is the most viscous soluble fiber in nature, making it the best way to control the blood sugar level of diabetic people. At the same time, it is a very efficient way to control blood sugar level when you take it before each meal. Simply consume as a beverage before each meal.As stated, Konjac fiber is the most viscous fiber in nature. This allows the Konjac to move through the digestive tract very slowly which can slow down carbohydrate absorption. This slowed absorption will keep the blood sugar at a moderate level during the digestion process. Konjac also acts to trap food and waste residues as it moves through the digestive system. Konjac fiber can block substances that are easily reabsorbed such as excess bile acids. The digestive regulatory quality of Konjac fiber makes it a natural agent in the treatment and regulation of diabetes and high cholesterol.Glucomannan is known to show hypoglycemic effects by inhibiting the uptake of glucose by the body. It is believed that it does this by preventing contact of the glucose with the intestinal walls for absorption. By reducing the amount of blood sugar, glucomannan can help patients with type II diabetes. Konjac fiber when absorbs lots water, it will form soft gel, the glucomannan will delays gastric emptying and slows the release of sugar into the bloodstream, which helps to lower levels of insulin and blood glucose. Additionally, glucomannan improves blood-lipid profiles and can lower systolic blood pressure. Because of these effects, glucomannan can greatly benefit individuals with metabolic syndrome or diabetes.
http://www.konjacfoods.com/noodles/19.htm
BEEF KABABA
INGREDIENTS
8 bamboo skewers
500g grass fed rump steak, visible fat removed cut into strips (Any meat can be used.)
2 red capsicums, cut into cubes
1 red onion, cut into wedges
INSTRUCTIONS
Soak skewers in cold water for 10 minutes.
Thread beef strips, capsicum and red onion alternatively onto skewers, then brush with olive oil.
Heat a grill pan to medium high and cook for 5-6 minutes each side, brushing with remaining soy. Serve with salad.
Nutrition Information (per serve)
| | |
| --- | --- |
| Energy | 1054.5 kJ (252 calories) |
| Protein | 29.0g |
| Total Fat | 6.0g |
| Carbohydrates | 19.2g |
| Saturated Fat | 2.1g |
| Sugars | 19.1g |
| Dietary Fibre | 3.3g |
| Sodium | 617.0mg |
Adapted from https://daa.asn.au/recipes/beef-skewers/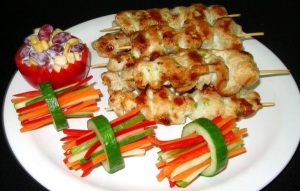 How to Make Reshmi Kabab
INGREDIENTS
·         Boneless chicken ½ kg skin removed (cut into thin strips)
·         Ginger garlic paste 1 tsp (heaped)
·         Thick yogurt 2 tbsp.
·         Papaya paste 1 tbsp.
·         Green chili paste 1 tbsp.
·          masala powder ½ tsp (Try one from : http://www.findtex.com.au/diabetic-foods/sugar-free-masala/)
·         Vinegar 2 tbsp.
·         Olive oil for pan frying
INSTRUCTIONS
1.    Marinate chicken with all the above ingredients for overnight or at least 5, to 6 hours.
2.    Now skewer all chicken strips like zig zag.
3.    When all sticks complete pan fry with very little oil till done.
4.    In end give charcoal steam. Serve with salad & fresh veggies.
5.    You can also grill in oven at 180-degree C for 25 to 30 minutes from both sides. In half way brush oil on kabab.
Adapted from http://www.therecipespk.com/how-to-make-reshmi-kabab/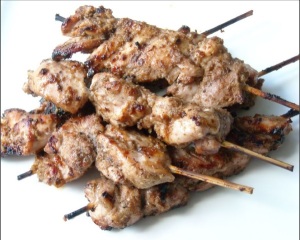 CHICKEN MALAI BOTI (CHICKEN KABABS)
INGREDIENTS
·         Boneless chicken 1 kg (thigh pieces)
·         Oil as required
Marination
·         Yogurt ¼ cup
·         Cream 4 tea spoons
·         Lemons 2
·         Ginger, garlic paste 2 tea spoon
·         Green chili paste 2 tea spoons
·         Cumin powder 1 tea spoon
·         Black pepper powder 1½ tea spoons
·         Garam masala powder 1 tea spoons (Try one from : http://www.findtex.com.au/diabetic-foods/sugar-free-masala/)
·         Onion rings and lemon wedges for garnishing
INSTRUCTIONS
1.    Cut chicken into bite size pieces.
2.    Mix together marination and coat the chicken with it. Leave to marinade for 2-4 hours.
3.    Put chicken pieces on skewers then barbeque over charcoal. Apply oil when half done and turn the side.
4.    For Baking: Preheat oven for 10 minutes.
5.    Arrange chicken on baking tray and bake at 180 Degree C for 10-12 minutes from one side then apply oil and turn the side and bake another 10-12 minutes from the other side till tender.
6.      Decorate with onion and lemon slices and serve with a salad
Adapted from http://www.therecipespk.com/chicken-malai-boti/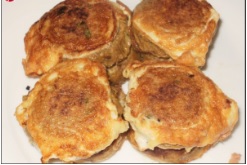 Best Chicken Shami Kabab Recipe
INGREDIENTS
·         Chicken 1 kg (large pieces or you can also use boneless skin removed.)
·         Water 3 cups
·         Bengal gram lentil (dal chana) 300g (washed and soaked)
·         Onions 2 (sliced)
·         Garlic 1 pod
·         Red chili powder 2 tsp
·         Coriander powder 1 tsp
·         Cumin powder 1 tsp
·         Green chilies 8 (finely chopped)
·         Green coriander ½ bunch (finely chopped)
·         Garam masala powder 1 tsp. (Try one from : http://www.findtex.com.au/diabetic-foods/sugar-free-masala/)
·         Eggs 2 (beaten)
·         Olive Oil for frying
INSTRUCTIONS
1.    Pour 3 cups of water in a pan; add chicken, gram lentil, onions, garlic and red chili powder and bring to a simmer. When chicken is half tender, add coriander powder and cumin powder and cook until completely done.
2.    The mixture is just about dry, there should be little moisture. Check spices and adjust seasoning.
3.    Remove from heat. Let it cool. (Discard bones if chicken is with bones)
4.    Grind in a food processor until smooth.
5.    Now add garam masala powder, chopped coriander and green chilies in it. Mix it well with hands.
6.    Leave covered in the fridge for an hour or two to set a little.
7.    Make flat kebab. Form the mixture into flat kababs about 5cm (3inches) in diameter
8.    Add just enough oil in frying pan to cover the surface. Dip the kebabs with the egg. Add 3 to 4 kebabs at a time and fry on medium low heat until brown and crisp from both sides.
9.    Serve with a salad.
Notes
You can also freeze these kebabs before frying for 2-3 weeks in a plastic box. Layer kebab then lay cling film, repeat layering and place in freezer.
When you want to fry, just take out from freezer, dip in egg and fry.
Adapted from http://www.therecipespk.com/how-to-make-chicken-shami-kabab-recipe-english-recipe/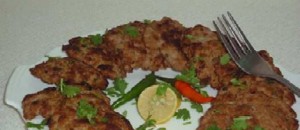 KABAB
Ingredients
Ingredients
Mince ½ kg
Ginger garlic paste 2 tsp
Onion 1 medium (chopped)
Fresh coriander handful (chopped)
Green chilies 4-6 (chopped)
Ginger to taste
Red chili powder 1 tsp
Cumin powder ½ tsp
Olive Oil for fry
Instructions
Put mince and all other ingredients except oil in a bowl and mix. Leave for at least 30 minutes.
Make round kabab.
Heat oil in a frying pan and pan fry kabab from both sides.
Remove to a plate, garnish with lemon and onion. Serve with rice.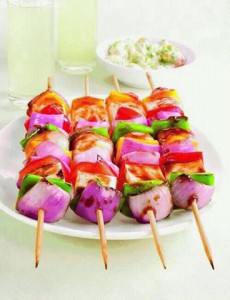 KIDS SPECIAL….VEG KABABS…
By Tarla Dalal
MEXICAN KABABS
Here is a combination of capsicum, babycorn, paneer and mushrooms marinated in a unique mixture of cocoa powder, curds, oregano and garlic. Go ahead and indulge in the exotic taste!
Preparation Time: 15 mins Cooking Time: 10 mins Makes 4 servings
INGREDIENTS
To Be Mixed Into A Marinade
2 tsp cocoa powder
2 tsp chilli powder
2 tsp crushed garlic (lehsun)
1/2 tsp dried oregano
1 tsp oil
Ginger and freshly ground black pepper (kalimirch) powder to taste
Other Ingredients
1/4 cup capsicum cubes (red , green and yellow)
1/2 cup blanched and sliced baby corn
1 cup low fat paneer (cottage cheese) cubes
1/2 cup blanched mushrooms
1/2 cup onion cubes
METHOD
Combine the capsicum, baby corn, paneer, mushrooms and onions with the marinade and keep aside for 4 to 5 hours.
Thread them on individual wooden satay sticks and cook the kebabs over the grill or over a charcoal barbeque till they are evenly browned on all sides(approx. 3 to 4 minutes).
Serve hot.
Kababs With Vegetables and cheese
VEGAND HALOUMI KABABS TZATIKI COLESLAW
INGREDIENTS:
12 wooden skewers
2 medium zucchinis, diced
1 large red onion, sliced
80g haloumi, cut into 12 cubes NB1
12 cherry tomatoes
12 small new potatoes, cooked (cooked sweet potato can be substituted) NB1
1 yellow capsicum, diced into
1.5cm cubes
16 small button mushrooms
Glaze
1 tablespoon olive oil
4 tablespoons lemon juice
1 tablespoon thyme
2–3 teaspoons wholegrain mustard
Tzatziki coleslaw
2 cups shredded red cabbage
3 shallots, sliced
1/3 cup sultanas
1 Lebanese cucumber, diced
3 tablespoons mint or parsley
1 teaspoon crushed garlic
1/2 cup low-fat natural yoghurt
Adapted from Next media's Healthy Food Guide.  For the full method, head to the Healthy Food Guide Magazine website.
http://daa.asn.au/recipes/veg-and-haloumi-kebabs-with-tzatziki-coleslaw/
NB1 Halloumi /həˈluːmi or hellim (Turkish) is a Cypriot semi-hard, unripened brined cheese made from a mixture of goat's and sheep's milk.
NB2 It is claimed that:- Potatoes, yams and pastas that are cooked, and cooled (heating and cooling alters the chemical structure).
http://www.informationaboutdiabetes.com/lifestyle/lifestyle/diabetes-diet-benefits-of-eating-digestive-resistant-starches
HUBBIE'S KABABS
VEGETABLE AND TUFU KABABS
INGREDIENTS
½ red capsicum, cut into chunks
150g Soyco Japanese Tofu, cut into 18 pieces
1 large zucchini, cut into chunks
100g broccoli, cut into small florets
6 small wooden skewers
85g (1⁄3 cup) SunRice Doongara Clever Low GI White Rice or brown Basmati
Cooking spray
1 tsp olive oil
1 bunch baby bok choy, trimmed, leaves separated
½ tsp olive oil
1½ tbsp sweet chilli sauce (This will contain sugar and may be omitted)
2 tsp sesame seeds, toasted
INSTRUCTIONS
Thread capsicum, tofu, zucchini and broccoli onto skewers.
Cook rice in a small saucepan of boiling water following pack instructions or until tender. Drain well.
Meanwhile, preheat a barbecue grill or chargrill pan on medium. Spray skewers with olive oil cooking spray and add to grill. Cook for 2-3 minutes on each side or until vegetables are just cooked. Transfer to a plate and cover with foil to keep warm.
Heat oil in a large wok over a high heat. Add bok choy. Stir-fry for 3-4 minutes or until tender. Add olive oil. Toss to coat.
Drizzle sweet chilli sauce (delete if preferred) over skewers and sprinkle with sesame seeds. Serve with rice and bok choy.
Note: Use remaining tofu to make a snack for two: Slice tofu and pan-fry in ½ tsp olive oil for 2-3 minutes. Top 1 low-fat, low-salt wrap with tofu, 15g (½ cup) baby spinach leaves, 40g (¼ cup) drained roasted red capsicum strips, in vinegar, ½ Lebanese cucumber, peeled into long ribbons, and ¼ cup fresh coriander leaves. Drizzle with 1 tsp sweet chilli sauce. Roll up, cut in half and serve.
To toast sesame seeds, cook in a small non-stick frying pan over a medium heat, stirring often, for 3-4 minutes.
Nutrition info per serve:
1719kJ, protein
4g, total fat 14.2g (sat. fat 1.8g),
carbs 46.6g,
fibre 6.7g,
sodium 373mg.
Carb exchanges 3.
GI estimate medium.
Adapted from http://www.diabeticliving.com.au/recipe/food/vegetable-and-tofu-skewers
BBQ BEEF SOUVLAKI & GRILLED TOMATO SALAD
INGREDIENTS
600g grass fed beef porterhouse steak, cut in cubes (Any grass fed meat can be used)
⅓ cup olive oil
1 tbs dried Greek oregano
2 garlic cloves, crushed
500g cherry tomatoes
2 Lebanese cucumbers, cut into cubes
80g feta, crumbled
⅓ cup Kalalmata olives, pitted and torn
2 tbs red wine vinegar
Lemon wedges, to serve
METHOD
Combine cubed beef, 2 tablespoons of oil, oregano and garlic in a medium bowl. Season with freshly ground ginger and freshly ground black pepper. Thread beef onto 12 metal skewers. Toss tomatoes with remaining oil and set aside.
Preheat barbecue to high. Cook beef for 5-6 minutes, turning, or until golden and cooked to your liking. Toss cherry tomatoes in 1 tablespoon of oil and cook on hot plate or piece of foil until slightly charred and soft.
Combine grilled tomatoes, cucumber, feta and olives and pour over remaining oil and vinegar. Serve with beef skewers and lemon wedges.
Adapted from https://www.originenergy.com.au/blog/lifestyle/bbq-beef-souvlaki-and-grilled-tomato-salad.html/?cid=sc:cp:content:fb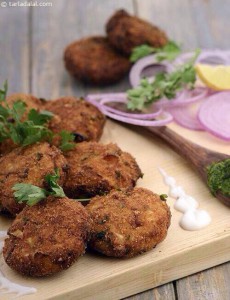 DAHI KE KABAB…
Enjoy this unique starter immediately with green chutney.
Preparation Time: 15 mins Cooking Time: 15 mins Makes 8 kebabs
INGREDIENTS
1 1/4 cups grated paneer (cottage cheese)
1/2 cup fried onions
3 tbsp chopped cashewnuts (kaju)
2 tbsp finely chopped coriander (dhania)
5 tbsp multigrain bread crumbs
1 tsp chilli powder
2 tsp finely chopped green chillies
ginger to taste
Multigrain bread crumbs for rolling
Olive oil for deep-frying
For Serving
green chutney
METHOD
Combine all the ingredients in a deep bowl and mix well.
Divide the mixture into 8 equal portions and shape each portion into a 50 mm. (2") diameter round kebab.
Roll each kebab in bread crumbs so that the kebabs are evenly coated from both the sides.
Heat the oil in a deep non-stick kadhai and deep-fry 2 kebabs at a time till they turn golden brown in colour from both the sides.
Drain on an absorbent paper. Serve immediately with green chutney.
Handy tip:
At step 4, do not turn the kebab too frequently while deep-frying, else they will break.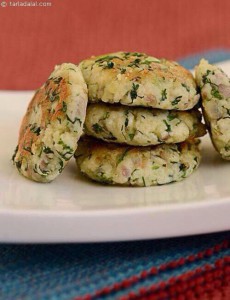 CHANDNI BADAMI KEBAB…
Preparation Time: 10 mins Cooking Time: 15 mins Makes 5 servings
INGREDIENTS
1/4 cup blanched and peeled almonds (badam)
1/4 cup paneer (cottage cheese)
1 slice bread , sides removed and crumbled
1 tsp finely chopped green chillies
2 tbsp finely chopped onions
ginger to taste
2 tsp fresh cream
1 tbsp chopped coriander (dhania)
2 tsp chopped mint leaves (phudina)
Multigrain bread crumbs for coating
1/2 tbsp  Olive oil for cooking
onion rings and phudina chutney for serving
METHOD
Combine the almonds and paneer with a little water and blend in a mixer to a thick mixture.
Transfer to a bowl, add the bread slice and mash well. Keep aside.
Heat the oil in a kadhai, add the green chillies and onions and sauté till the onions turn golden brown.
Add the prepared mixture and cook till the mixture leaves the sides of the kadhai.
Remove from the flame, add the coriander and mint leaves and mix well.
Divide the mixture into 10 equal portions and shape each portion into a flat, round kebab.
Roll each kebab in bread crumbs so that the kebabs are evenly coated from all sides.
Heat a non-stick tava (griddle) and cook the kebabs on both sides using a little oil till they are golden brown in colour. Drain on an absorbent paper.
Serve hot with onion rings and phudina chutney.
ROSEMARY GAME SKEWERS WITH CARROT TURNIP SALAD WITH ROSEWATER DRESSING.
Serves 2
Ingredients
200g game or grass feed meat roughly minced, seasoned with ginger and pepper
2 tablespoons of olive oil (to brush the rosemary lamb skewer)
2 cloves of garlic, finely chopped.
1 tablespoon of rosemary leaves, finely chopped.
6 long rosemary sprigs (15-20 cm)
7 carrots (washed and not peeled)
2 turnips (washed and not peeled)
4 tablespoons of low fat plain yoghurt (optional)
Rose water pistachio dressing
2 tablespoons of white wine vinegar
2 tablespoons of olive oil
1 tablespoon of rose water
30g of shelled pistachio
Method
Preheat stoneware fry pan to medium–high heat. Combine minced meat with chopped rosemary leaves and garlic and cook.
Place carrot and turnip in a saucepan of cold water and bring it to the boil.  Turn down to a simmer and cook for 5 minutes or until just tender. Drain, then slice the carrot in half and the turnip in quarters.
Combine white wine vinegar, olive oil, rose water and pistachios in a bowl for the dressing.
Serve with steamed green vegetables.
To assemble, place 3 rosemary game skewers on one side. Put yoghurt on the other side of the plate, then add carrot turnip salad on top. Dress the salad with rose water pistachio dressing.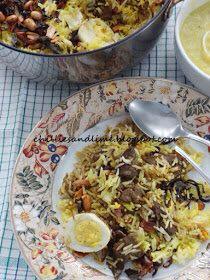 LAMB BIRYANI
Recipe adapted from the book Karunayanulaa Kehkun .
INGREDIENTS 
Serves about 4-5
350g Basmati Rice or cauliflower rice
300g-350g Lamb meat, cut into bite size cubes, or use goat meat, or small chicken skinned and jointed
Juice of 1/2 lime
2 large onions, sliced
6 dried chillies
3 cloves garlic
1″ ginger
4 tsp coriander seeds
2 tsp fennel
1 tsp cumin
1/2 tsp turmeric
1 sprig of curry leaves( about 12- 15)
1 (3″) pandan leaf, knotted
1 inch cinnamon
10 cardamom pods
large pinch saffron
1/4 cup hot water
2 tbsp. rose water
1/2 cup almonds
50g raisins (optional)
3 eggs, boiled and peeled and cut into half
about 6 tbsp. olive oil
INSTRUCTIONS
First, prepare the spice paste by heating a non-stick pan and warming up the spices, coriander, fennel and cumin seeds along with the dried chillies. Just warming, not toasting, just so the flavours come out. Grind to a fine powder.
Rub this mixture along with lime juice on to the lamb cubes, set aside.
Grind the cinnamon and cardamom (seeds). set aside.
Finely slice the onions, grind the garlic and ginger together.
In a casserole or saucepan with a heavy lid, heat 2 tbsp. of olive oil and fry half of the onions till translucent. Add curry leaves and pandan. Add ginger and garlic pastes along with the lamb mixture. Add just enough water to cover the meat and bring to a quick boil and then simmer covered on a low heat for one and half to two hours.
While the lamb is cooking, prepare the rice and garnishes.
Heat 3 tbsp. of olive oil, and once it is hot adding the onions and fry till light golden, remove on to a kitchen paper. Add the raisins and nuts and stir fry till the raisins puff up and the nuts turn golden. Drain on kitchen paper. Set aside
Wash the rice till the water runs clear, and place in a saucepan with water that comes 3cm inches above the rice (at a ratio of 2 cups of water to 1 cup of rice). Cook till the water level is just absorbed, remove from heat, set aside.
By now the meat will be tender, with very little gravy. Remove from heat. If there is too much gravy remove the lid and simmer a few more minutes.
Mix saffron with the hot water and leave for 10 minutes, then add the rose water and set aside
Take a large casserole or cooking vessel, a little oil, about 2 tbsp., and a layer of rice. sprinkle with a few tablespoons of the saffron mixture. Then on top spread half the curry. Then arrange some of the egg and fried onion and raisin mix. Then again layer of rice, a layer of curry, remaining eggs and then the last layer of rice. Sprinkle the remaining saffron water on the rice, top with remaining fried onion and nuts and (if available some fresh mint leaves). Dot with remaining tablespoon of olive oil and cover with foil. Place the lid and place the biryani in the oven (which has been preheated to 180 degrees C) for 30 – 45 minutes. Keep in the middle shelf. If cooking on stove top, place a large frying pan on top of the stove top and then place the briyani pot on top. Cook over a low heat. The frying pan prevents the bottom from burning.
PETER'S CUTTLES IN MASALA CURRY
Serves 4
Use freshly ground spices if possible to make the most of the rich, aromatic marinade in this dish. Pre-ground spices rarely match the flavour of whole seeds. Prepare the marinade a couple of hours before cooking the curry to allow the meat time to absorb the flavours. You could serve the curry alone for a vegetarian. Cutlets with a pumpkin-almond curry.
Ingredients
12 lamb cutlets trimmed of fat, (Game cutlets can also be used and would be more authentic.).
Olive oil
For the masala marinade
1 tsp fennel seeds
1 tsp coriander seeds
Seeds of 8 cardamom pods
1 large handful coriander leaves
1 large handful mint leaves
1 tsp ground chilli
1 tsp ground turmeric
1 1/2 tsp Garam masala
2 tbsp lemon juice
2 heaped tbsp plain Greek yoghurt
For the curry
1 tbsp vegetable oil
1/2 tsp brown mustard seeds
1 cardamom pod, crushed
1/2 tsp cumin seeds
4 fresh curry leaves
2 cloves garlic, finely sliced
1 small brown onion, cut into 1cm dice
350g butternut pumpkin, cut into 4cm chunks
1/2 tsp ground turmeric
1/4 cup whole blanched almonds
Method
FOR THE MARINADE, toast fennel, coriander and cardamom seeds in a dry frying pan over a medium heat until fragrant (about 4-5 minutes). Using a mortar and pestle, grind spices with a pinch of salt into a fine powder. Remove and reserve.
POUND THE CORIANDER and mint leaves in a mortar with a pestle until broken down. Add chilli, turmeric, Garam masala, the freshly ground spices, lemon juice and yoghurt.
COAT THE LAMB CUTLETS in the masala mixture and marinate for about 2 hours.
FOR THE PUMPKIN-ALMOND CURRY, warm oil in a large saucepan or wok on a low heat and sauté mustard seeds and cardamom pod for a minute. Add cumin seeds, curry leaves, garlic and onion and sauté for 2 minutes.
ADD PUMPKIN, 1 cup water, a pinch of salt, turmeric and almonds. Bring to a simmer and cook for about 15-20 minutes, until pumpkin is tender and sauce has slightly thickened (it should have the consistency of a soup).
IN A FRYING PAN, warm 1 tbsp olive oil over a medium heat. Cook cutlets in batches for about 3 minutes each side. Rest somewhere warm for 5 minutes, then serve with the curry.
MOROCCAN STYLE BEEF AND COUSCOUS
Ingredients
spray of  olive oil
500g grass fed lean beef, cut into strips (game can also be used.)
1 onion, cut into thin wedges
1 tsp minced garlic
1/2 tsp finely chopped red chilli
1 tsp ground cumin
1/4 tsp turmeric
4 crushed tomatoes
250ml (1 cup) water
2 zucchini (courgette), sliced
4 large silver beet leaves, shredded
1/2 cup sultanas NB1
2 cups couscous
1/2 cup toasted slivered almonds
Instructions
Spray a non-stick wok or frying pan with oil and heat. Stir fry beef in 2 batches over high heat for 3–4 minutes or until well browned. Remove from the pan and set aside.
Add onion to the pan and cook over medium heat for 3 minutes or until soft. Add the garlic, chilli and spices and stir fry for about 30 seconds. Stir in the tomatoes and stock, bring to the boil and reduce the heat. Add the zucchini, silver beet and sultanas, simmer for 5 minutes, stirring occasionally.
Put the couscous in a heatproof bowl and add 2 cups of boiling water. Cover tightly and stand for 3 minutes, then fluff up with a fork before serving.
Return beef to the pan to heat and serve over couscous, sprinkled with almonds.

HINT:This recipe is fairly mild, so add a little more chilli if you like a 'hotter' flavour.
NB1 Some diabetics find that the sugar in sultanas effect their sugar, if this effect you leave them out.
GAY'S BOBOTIE
Ingredients
2 onions, finely chopped
4 cloves of garlic, minced
1 celery stalk, finely chopped
500g minced lamb (game meat would be more authentic, omega-3 chicken breast can also be used)
1 carrot, finely chopped
1 apple, coarsely grated
50g sultanas
1 tbsp mild curry powder
2 tsp turmeric
1/2 tsp ground cinnamon
1/2 tsp ground cloves
1/4 tsp cayenne pepper
2 tbsp white wine vinegar
ginger and pepper to season
Topping
1 cup of water
2 eggs
3 bay leaves
Method
Preheat the oven to 160c.
To make the filling, add a spray of olive oil to a large frypan, then gently fry the onion, garlic and celery until soft
Add the lamb mince, breaking it up with a wooden spoon until it's cooked
Add the rest of the filling ingredients and cook through. Taste and add ginger and pepper as needed to season
Spoon it all into a large ovenproof dish and smooth it out evenly.
To make the topping, crack the eggs into a bowl and beat. Pour it over the meat mix, place the bay leaves on top then bake for 30 minutes.
Serve with a salad.
Curry Dilates Arteries With One Serving
Most dishes use sugar and salt to add taste. As diabetics we need to limit sugar and salt (for heart health) in our diet. I have used spices to add taste to my dishes but there may be additional benefits.
http://www.greenmedinfo.com/blog/how-spicy-food-can-save-your-life-1
MEDITERRANEAN GRILLED LAMB.
Ingredients
3 1/2 tbsp red onion, minced
1 tbsp olive oil, plus 1 teaspoon
2 tbsp balsamic vinegar, plus 2 teaspoons
2 cloves garlic, minced
2 tsp fresh basil, minced
Ginger and pepper to taste
4 grass fed lamb chops (game can be used and would be more authentic)
Preparation
Combine all ingredients. Add the lamb chops and marinate in the refrigerator about 3-5 hours.
Grill or broil lamb chops until done as desired.
Nutrition Information
Per serving:
Calories: 277
Fat: 14.9 g
Cholesterol: 101 mg
Protein: 32.2 g
Carbohydrates: 1.8 g
Fiber: 0.2 g
Sodium: 91 mg
CHILLI LAMB RISSOLES
These are a great way to smuggle extra veggies into your family's diet. Add 1 cup of grated vegetables into the mince before shaping. I also love them with a tablespoon of freshly chopped rosemary. These can also be baked or cooked on the BBQ.
Ingredients
* 500g/ 1 pound lean grass fed lamb mince or game minced (any lean meat works well, best if you make your own mince) NB 1
* 1 egg, lightly beaten
* 1 cup (100g) rolled oats
* 1⁄4 cup (60ml)  chopped chilli
Instructions
Place all ingredients in a large bowl and season with ginger, pepper and any other spices desired.
Mix well.
With damp hands, roll into 8 rissoles, place on a tray, cover and refrigerate for 30 minutes.
Heat a non-stick frying pan over moderate / high heat and cook turning occasionally for 15 minutes or until cooked through.
These are a great way to smuggle extra veggies into your family's diet. Add 1 cup of grated vegetables into the mince before shaping. I also love them with a tablespoon of freshly chopped rosemary.
These can be used in a burger with salad and a multigrain bun.
NB1 most store bought mince will contain fat and preservatives to keep its colour. If possible make your own.
INDONESIAN SATA SAPI (BEEF SATAY)
Tasted as good as it looked. Marinated the meat for a good 6 hours (PICTURE 4) . Once marinated, the meat only needs 3 minutes cooking each side.
The meal was served with an Asian flavoured cabbage/onion/cucumber/carrot salad arranged in 70s style by sis on our home grown lettuce. The dressing for the salad was
– olive oil
– lime juice
– fish sauce.
Got the beans, sweet potatoes, carrots, cucumber all ready to go to serve with this.
Ingredients For Skewers
1 kg rump steak, cut into bite-sized chunks (Game meat can be used and would be more authentic)
1 medium onion, finely chopped
4 large garlic cloves, finely chopped
2 tbsp olive oil
½ tsp ginger
1 tspground coriander
Almond nut sauce
225 g roasted almond nuts
200 ml hot water
olive oil
1 tsp ground coriander
1 medium onion, finely chopped
3 large garlic cloves, finely chopped
2–3 small red chillies, finely chopped
½ lime, juiced
Instructions
Marinating time 3–4 hours
Soaking time 1 hour
Combine the ingredients for the skewers, mixing the beef in well. Marinate in the refrigerator for 3–4 hours.
Soak some bamboo skewers in cold water for 1 hour.
To make the sauce:-
Blend the almond and hot water to a smooth paste.
Heat a wok over medium heat and add a splash of oil.
Briefly fry the coriander, then add the onion, garlic and chilli and cook for 2–3 minutes until the onion softens.
Add the almond paste, stirring well until the sauce starts to simmer.
Add the lime juice and season with ginger to taste.
Thread the beef onto skewers and barbecue over medium heat. Spoon over the warm almond nut sauce.