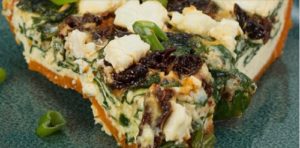 SPINACH AND SUN-DRIED TOMATO SWEET POTAT CRUST QUICHE
INGREDIENTS
for 8 servings
1 large sweet potato
olive oil, drizzle
ginger, to taste
pepper, to taste
4 large eggs
1 ½ cups milk (350 mL I use heart Active)
1 clove garlic, minced
4 oz jarred sun-dried tomato (115 g), drained
3 oz baby spinach (85 g), chopped
4 oz goat cheese (115 g)
INSTRUCTIONS
Preheat the oven to 375˚F (190˚C).
Poke a few slits through the skin of the sweet potato with the tip of a knife, then microwave on high for 1 minute. Let cool.
Cut off the ends of the sweet potato, then peel. Thinly slice the sweet potato into ⅛ inch (3 mm) thick slices.
Add the sweet potato slices to a bowl and toss with olive oil, ginger, and pepper.
Arrange the sweet potato slices in a 9-inch (23 cm) round baking dish, slightly overlapping so they cover the sides and bottom.
Bake for 20-25 minutes, or until the potatoes are softened. NB1
In a medium bowl, beat the eggs, ginger, and pepper. Add the milk, garlic, and sun-dried tomatoes and whisk to combine.
Spread the spinach over the sweet potato crust. Pour in the egg mixture. Top with goat cheese crumbles.
Bake for 30 minutes, or until the centre of the dish is set and no longer jiggles.
Cool for 10 minutes before slicing.
Enjoy!
Adapted from https://tasty.co/recipe/spinach-sun-dried-tomato-sweet-potato-crusted-quiche?fbclid=IwAR0ei1gz8oS9hI8xEOGqlXwwiir7nx_oZjzQO7YJBaW76gRJecExbmtL9Uw
NB1 Just be aware that baking may raise the GI of the sweet potato. (as with other vegetables)
The way we cook can change the GI of food e.g. The GI of a 150g sweet potato, boiled with its skin for 30 minutes, is 46. That number rises to 94 if the same sweet potato is baked for 45 minutes.
https://www.livestrong.com/article/295025-the-glycemic-index-for-sweet-potatoes/?fbclid=IwAR3-dl4ocLIoubKbmolh3CNkiR9ByXHEDoFOqPC9qYOn2f9ve2GX2ags3bo
SPINACH &GOAT CHEES QUICHE WITH SWEET POTATO CRUST
Ingredients
Olive oil cooking spray
1 large sweet potato, cut into 1/8th inch slices
1 teaspoon olive oil
1 small white onion, diced
1 large Roma tomato, diced
1 jalapeno, seeded and diced
5 oz/140 g of fresh spinach
1/4 teaspoon ginger
Freshly ground black pepper
4 large egg
4 large egg whites
1/3 cup unsweetened almond milk
1/4 teaspoon ginger
Freshly ground black pepper
1/2 cup goat cheese crumbles
Instructions
Preheat oven to 375 degrees F/190 degrees C. Oil a 23 cm pie pan with non-stick olive oil cooking spray. Add sweet potato slices all around the base. Cut some in half if you need them to fit on the sides. Spray the sweet potatoes with additional non-stick cooking spray. Bake for 20 minutes. Once done, remove from oven and allow to cool for 5 minutes. Keep heat in oven.
While sweet potato crust is baking, cook the veggies: Add olive oil to a medium fry pan and place over medium high heat. Add in onion, jalapeno, diced tomato; sauté for a few minutes. Then add spinach and sauté for another few minutes, or until spinach wilts. Remove from heat and set aside to cool.
In a medium bowl, whisk together eggs, egg whites, almond milk, ginger and pepper.
Add spinach mixture over the baked sweet potato crust, then pour egg mixture over the top. Sprinkle goat cheese crumbles on top along with an additional sprinkle of salt and pepper.
Bake for 30-45 minutes or until egg sets and puffs up. Remove from heat and allow to cool for a few minutes before cutting into 6 slices. Enjoy!
Nutrition Information of original
Serves: 6 servings
Serving size: 1/6th of recipe
Calories: 143
Fat: 5.9g
Saturated fat: 2.1g
Carbohydrates: 11.3g
Sugar: 4.1g
Fibre: 2.3g
Protein: 10.5g
Adapted from https://www.ambitiouskitchen.com/spinach-goat-cheese-quiche-sweet-potato-crust/?fbclid=IwAR2UrNU0rPAvAJxuR1PrZUB-_Zq09OWEHPWsvbkmx3_DKLtfQmEdLPkre1k
SWEET POTATO PIE
INGREDIENTS
·         500 g fat free beef mince (make your own if possible)
·         1 small onion finely diced
·         1 carrot peeled and finely diced
·         1 stick of celery finely diced
·         2 cups water
·         3/4 cup mushrooms diced
·         1 clove garlic crushed
·         2 tbsp no added salt tomato paste
·         2 tbsp olive oil
·         2 medium sized sweet potatoes cut in half longways
INSTRUCTIONS
Preheat a steamer.
Place the sweet potato cut into halves in the steamer.
Drizzle with 1 tbsp olive oil, sprinkle with cinnamon and place in the steam for 50 min.
When there's about 20 minutes to go on the oven timer, heat remaining olive oil in a large saucepan over a medium/high heat.
Add garlic and onion to the pan and fry, stirring constantly, until the onion is transparent.
Add carrot, celery and mushrooms to the pan and continue to stir mixture until vegetables have softened.
Add mince to the pan and break up with a wooden spoon to remove any lumps. Cook, stirring regularly, until mince has changed colour and is cooked through.
Add the water and tomato paste into the pan and bring the mixture to the boil. Reduce to medium/low heat and allow to simmer and thicken for 10-15 minutes.
While beef mixture is simmering, remove sweet potato from the oven (when cooked through and soft) and allow to cool slightly.
Being careful not to burn yourself, scoop sweet potato flesh out of each half using a large spoon and place in a mixing bowl. Discard the skin.
Using a fork (or potato masher) mash the sweet potato flesh until smooth.
Pour beef mixture into small dishes and top with mashed sweet potato.
Adapted from https://www.healthymummy.com/recipe/healthy-sweet-potato-shepherds-pie/
SWEET POTATO CRUST QUICHE
INGREDIENTS
2 sweet potatoes medium size orange, peeled, finely sliced
1 tablespoon olive oil
2 garlic clove finely chopped
1 large brown onion finely chopped
4 blanched whole leaves spinach (400 g)
1/4 teaspoon ground pepper optional
1/2 teaspoon ginger
QUICHE EGG BATTER
4 eggs
3/4 cup almond milk or milk of your choice (200 ml)
1/4 teaspoon ground nutmeg
1/4 cup grated cheese edam, cheddar, feta
INSTRUCTIONS
Preheat oven to 360 F (180 C).
Oil a 24 cm round quiche ceramic dish with olive oil. Set aside.
In a frying pan, under medium heat warm the olive oil.
Add garlic and onion. Fry until fragrant and golden brown. Stir often to avoid the spices to burn.
Add the spinach cover and reduce to low heat. Cook until the spinach is cooked through, soft and tender – about 15 minutes. Adjust with ginger and pepper regarding taste.
Meanwhile peel the sweet potatoes and finely slice the sweet potatoes.
Arrange the slices on the pan making sure that you cover all the bottom leaving no empty space. For the border, cut in half the sweet potatoes slices to create a 'flat' bottom it will hold better and create a beautiful crust border.
Steam the sweet potato crust for 15 minutes.  This is optional, you can also add the spinach and egg filling directly and bake your quiche. NB1
Spread the cooked spinach all over the sweet potatoes crust. Set aside.
In a medium mixing bowl beat the eggs, almond milk and nutmeg. Adjust with ginger and pepper if desired.
Pour the egg mixture onto the quiche.
Add a handful of grated cheese on the top of the quiche, if desired.
Bake for 25-30 minutes or until the sweet potatoes are soft and the cheese is grilled.
Serve immediately.
Adapted from https://www.sweetashoney.co/healthy-sweet-potato-crust-spinach-quiche/
NB1 The way you prepare sweet potatoes makes a difference in their GI. The GI of a 150g sweet potato, boiled with its skin for 30 minutes, is 46. That number rises to 94 if the same sweet potato is baked for 45 minutes. These dramatic differences come from the way the starches in sweet potatoes gelatinize during cooking. Foods that turn viscous, or jelly-like, in your digestive tract have a lower GI because the gelatinous substance slows the release of the nutrients in the food. Baking your sweet potatoes instead of boiling them changes the quality of their starches and transforms this root vegetable from a moderate-GI food to a high GI-food.
http://www.livestrong.com/article/295025-the-glycemic-index-for-sweet-potatoes/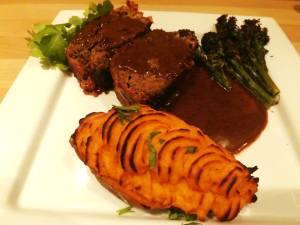 VEGETERIAN LOAF
Colder weather calls for warm bakes in the oven. Mince is replaced by lentils in this Lentil Moussaka for extra fibre!
INGREDIENTS:
150 ml split or red lentils
2 large tomatoes, chopped
60 ml tomato puree (4 T)
1 clove garlic, peeled and crushed
5 ml dried oregano (1/2 t) or
5 ml fresh oregano (1/2 t)
10 ml vegetable stock powder (2 t) (Check salt and sugar content before use)
250 ml boiling water (1 c)
30 ml oil, olive (2 T)
2 medium aubergines, topped and tailed
1 onion, peeled and chopped
1 egg
200 g fat free cottage cheese (1 tub)
Freshly ground black pepper, to taste
Pinch of nutmeg
INSTRUCTIONS
Place the lentils in a saucepan with the tomatoes, tomatoes puree, garlic, oregano and nutmeg.
Add the vegetable stock powder.
Pour the boiling water over and simmer covered for 20 minutes.
Preheat the oven to 180°C. Wash and thickly slice the unpeeled aubergines.
In a frying pan, heat one tablespoon of the oil over a medium heat and lightly fry the aubergines slices, adding about 50ml of water to the pan to prevent burning. Remove from the pan and set aside.
Heat the other tablespoon of oil in the same frying pan and gently fry the onion until just starting to brown, stirring all the time. Add the salt and stir through.
In a lightly greased oven-proof dish, layer half the aubergine slices on the bottom. Top evenly with two-thirds of the fried onion. Spoon all the lentil mixture on the onion. Sprinkle the rest of the onion onto the lentils, and place the leftover aubergine slices on top.
Beat the egg and cottage cheese together, and season with the pepper and nutmeg.
Pour evenly over the moussaka, and bake for 30-40 minutes.
Place under a hot grill for a few minutes until the topping is golden brown.
Serve with a salad to make a balanced meal.
Adapted from  Diabetes South Africa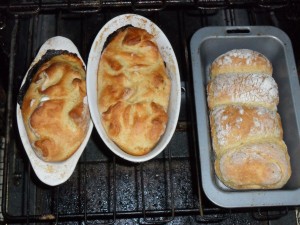 (makes 1)
2 C mashed sweet potatoes…
1/2 C milk
2 eggs whites
1/2 tsp nutmeg
1/2 tsp cinnamon
1 tsp vanilla extract
1-9″ unbaked pie shell (make your own using Tex's pastry mix.) (Or use a gluten free pastry)
Mash your sweet potatoes and stir in remaining ingredients until well mixed.
Using a mixer, beat until smooth. Pour into pie shell.
Bake at 350 degrees for 55-60 minutes or until set
SWEET POTATO FALAFELS WITH COLESLAW
Ingredients
1 large or 2 small sweet potatoes, about 700g/1lb 9oz in total
1 tsp ground cumin
2 garlic cloves, chopped
2 tsp ground coriander
handful coriander leaves, chopped
juice ½ lemon
100g wholemeal flour
1 tbsp olive oil
4 wholemeal or multigrain pitta breads
4 tbsp reduced-fat houmous (optional)
2 tbsp red wine vinegar
1 small onion, finely sliced
1 medium carrot, grated
¼ each white and red cabbage, shredded
For the coleslaw
Method
Heat oven to 200C/180C fan/gas 6.
Microwave sweet potato whole for 8-10 mins until tender.
Leave to cool a little, then peel.
Put the potato, cumin, garlic, ground and fresh coriander, lemon juice and flour into a large bowl, mash until smooth.
Using a tablespoon, shape mix and into 20 balls.
Put on an on a baking sheet sprayed with a little olive oil.
Bake for around 15 mins until the bases are golden brown, then flip over and bake for 15 mins more until brown all over.
Meanwhile, stir the vinegar, while tossing through the onion, carrot and cabbage, then leave to marinate for 15 mins.
To serve, toast the pittas, then split. Fill with salad, a dollop of houmous (optional) and the sweet potato bakes.