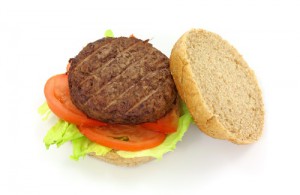 Preparation time: 10 minutes minutes
Cooking time: 25 minutes minutes
Serving Size: Serves 4
2 tbs olive oil
400g large button mushrooms, chopped…
400g lean chicken mince (make your own by roughly chopping skinless chicken)
6 green onions, thinly sliced
2 tsp smoked paprika
2 egg whites, beaten
11/2 cups soft breadcrumbs, made from day old multi-grain bread Or use one of my bread or pastry mix.
http://www.findtex.com.au/livestock/recipes/2011/10/31/bread
1/4 cup flat leaf parsley, finely chopped
4 small baguettes, halved leaving attached at one long end
100g mixed salad leaves
2 Lebanese cucumbers, thinly sliced
1. Heat 1 tablespoon oil in a large non-stick frying pan over high heat. Add the mushrooms and cook, stirring often, for 6-8 minutes or until the mushrooms are tender. Set aside to cool for 10 minutes. Drain the mushrooms to remove any moisture.
2. Combine the mushrooms, chicken mince, green onion, paprika, egg, breadcrumbs and parsley in a bowl. Season well with plenty of pepper, mix well to combine. Shape the mixture into small rissoles (see tip). Place onto a tray, cover and refrigerate 1 hour if time permits (this helps hold rissoles together when cooking).
3. Heat remaining oil in a large non-stick frying pan over medium heat. Cook the rissoles, in batches for 4 minutes on each side or until just cooked through.
4. On the baguettes. Top with salad leaves, cucumber and rissoles. Season with pepper and secure the baguette top.
http://daa.asn.au/for-the-public/smart-eating-for-you/recipes/browse/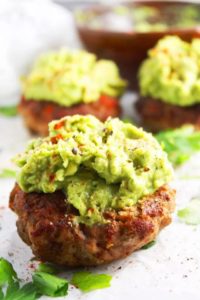 GUACAMOLE CHICKEN BURGERS
INGREDIENTS
½ Kg homemade omega-3 chicken mince
½ teaspoon chili powder
½ teaspoon cumin
½ teaspoon onion powder
½ teaspoon garlic powder
1½ avocados
2 teaspoons lime juice
¾ teaspoons garlic powder
3 teaspoons olive oil
INSTRUCTIONS
Mix the chicken mince together with the chili powder, cumin, onion powder and garlic powder, in a medium bowl
Form into three patties
Heat a large skillet over medium-high heat with 3 teaspoons of olive oil/ these can also be steamed in a steamer.
Cook the patties, making sure they brown on both sides if frying, until they are cooked through.
Meanwhile, make your guacamole. Mash together the avocados, lime juice, garlic powder in a bowl.
Serve burgers with a dollop of guacamole on each patty