CHICKPEAS TUNA LETTUCE CUPS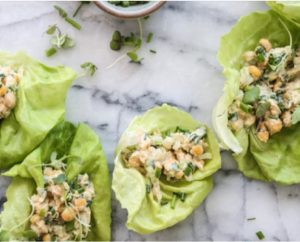 INGREDIENTS:
400g tin chickpeas, drained and rinsed
1 stick of celery, finely sliced
2-3 handfuls fresh dill, finely chopped
1 pickled cucumber, finely diced
3 tbsp of vegan mayonnaise
1-2 tsp Nori or Dulse Flakes (optional)
1-2 tbsp capers, roughly chopped
1 fresh lemon or lime
Ginger and pepper, to taste
Lettuce leaf 'cups', to serve
INSTRUCTIONS
Place chickpeas in a medium bowl and roughly mash with a fork.
Add the celery, dill, pickled cucumber, mayonnaise and nori/dulse flakes (if using), stir well to combine.
Taste and season if necessary.
Pile the mixture into individual lettuce leaves top with a sprinkle of capers and a squeeze of fresh lemon or lime juice.
TUNA SALAD PICKLE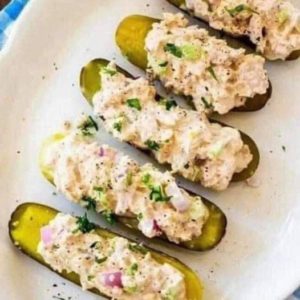 INGREDIENTS
5 large dill pickles, halved (cucumber or zucchini)
2 (5-ounce/ 140 g) packets or cans albacore tuna, drained
1/2 cup mayonnaise
2 teaspoons spicy brown mustard
1/4 cup finely chopped celery
1/4 cup finely chopped red onion
pepper
INSTRUCTIONS
Scoop the seeds out of each pickle half to make room for the tuna salad.
In a medium bowl, stir together the tuna, mayonnaise, mustard, celery and onion.
Add pepper to taste.
Fill each pickle half with tuna salad
MEDITERRANEAN SALAD
INGREDIENTS
1 package (10 ounces/ 300 g) ready-to-use chopped romaine lettuce (or freshly made)
1/2 pound/ 225 g fresh green beans, cooked and drained or 1 can (about 14 ounces/ 400 g) whole green beans, drained
1 package (5 1/2 ounces / 155 g) solid white tuna, flaked
8 ounces/ 225 g cherry tomatoes, halved
2 tablespoons olive oil
2 tablespoons cider vinegar or white vinegar
1 1/2 teaspoons Dijon mustard
1/2 teaspoon black pepper
INSTRUCTIONS
Yield:
4 servings
Serving size: 3 cups salad with dressing
Place lettuce, green beans, tuna and tomatoes in large bowl.
To make dressing, whisk oil, vinegar, mustard, and pepper in small bowl until blended. Pour dressing over salad; toss well. Serve immediately.
Nutrition
Calories: 156 calories, Carbohydrates: 9 g, Protein: 13 g, Fat: 8 g, Saturated Fat: 1 g, Cholesterol: 18 mg, Sodium: 218 mg, Fiber: 4 g
Exchanges per serving: 1 1/2 Fat, 2 Vegetable, 2 Meat Lean.
Adapted from Main-Dish Mediterranean Salad – Easy Diabetic Friendly Recipes | Diabetes Self-Management (diabetesselfmanagement.com)
This and other Mediterranean recipes can be found here.
http://www.findtex.com.au/uncategorised/mediterranean/
TUNA STUFFED AVOCADOS
INGREDIENTS
4 avocados
25 ounces/ 140 g cans tuna (I prefer albacore tuna)
¼ cup mayonnaise
1 stalk of celery, diced
2 tbsp red onion, diced
1-2 tbsp chopped parsley, chives and/or other herbs
½ tbsp Dijon mustard
Ginger and pepper, to taste
INSTRUCTIONS 
Add the tuna, mayonnaise, diced celery, diced red onion, herbs, Dijon mustard, ginger and pepper to a mixing bowl. Stir together until well combined.
Slice the avocados in half and remove the seed. Dollop a few spoon full of tuna salad onto each avocado half.
NUTRITION of original
CALORIES: 478.4 kcal, CARBOHYDRATES: 12.8 g, PROTEIN: 23.3 g, FAT: 39 g, SATURATED FAT: 5.1 g, CHOLESTEROL: 24.8 mg, SODIUM: 277.9 mg, FIBER: 9.6 g, SUGAR: 0.9 g
Adapted from Tuna Stuffed Avocados | Downshiftology
TUNA POCKETS
INGREDIENTS
2 large (6 1/2″) whole wheat pita breads, cut in half (this recipe uses only 3 pita halves)
6 ounces/ 170 g unsalted tuna in spring water, drained
3 tablespoons fat-free mayonnaise
2 tablespoons chopped celery
Dash Worcestershire sauce if desired
1/4 teaspoon dried dill weed
1 teaspoon fresh lemon juice
3 leaves romaine lettuce
3 slices cheese of choice, cut in half diagonally to form triangles
6 slices fresh tomato
6 slices cucumber with peel (or peeled if preferred)
6 pitted kalamata or black olives
INSTRUCTIONS
Slice pita bread in half. Use only three pita pocket halves for this recipe.
Mix tuna salad in small bowl by combining drained tuna, fat-free mayonnaise, chopped celery, Worcestershire sauce if using, dill weed, and lemon juice.
To assemble the pita sandwiches, place one romaine lettuce leaf inside each pita half. Scoop 5 tablespoons of tuna salad mixture (1/3 of recipe) into each pita half.
Insert 2 triangles of cheese into each pita half.
Place 2 slices of tomato and 2 slices of cucumber in the pita sandwich. Garnish with two olives.
Wrap in plastic wrap and chill until serving time.
Nutrition of original N
Calories: 237 calories, Carbohydrates: 23 g, Protein: 23 g, Fat: 6 g, Saturated Fat: 2 g, Sodium: 678 mg, Fiber: 3 g
Exchanges per serving: 1 1/2 starch, 3 very lean meat. Carbohydrate choices: 1 1/2.
Adapted from
https://www.diabetesselfmanagement.com/recipes/main-dishes/under-the-sea-tuna-pockets/?fbclid=IwAR1sEjqtHpVJS54vVAU9ARFD2ejQslJ2IQsyQRbFjOVG374yHs3K9JsW2kM
TUNA CAKES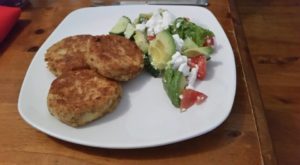 INGREDIENTS
2 (5 oz/ 140 g) cans tuna in water, well-drained and flaked with a fork or freshly steamed if possible.
2 tablespoons avocado oil mayonnaise
2 tablespoons Dijon mustard
2 teaspoons minced garlic
2 large omega-3 eggs, lightly beaten
1/2 teaspoon ginger
1/4 teaspoon black pepper
1/2 cup chopped fresh parsley or cilantro
4 tablespoons olive oil for frying
INSTRUCTIONS
Preheat oven to the "keep warm" setting (170°F/ 80°C).
In a medium bowl, use a fork to mix together the tuna, mayonnaise, Dijon mustard, minced garlic, eggs, ginger, black pepper and parsley.
Heat the olive oil in a large non-stick fry pan over medium heat.
Measuring 1/4 cup of the mixture for each cake, fry the patties until golden brown, about 3 minutes per side.
Fry 4 patties at a time, keeping the cooked tuna cakes in a warm oven while you fry the second batch.
Serve immediately.
Nutrition Facts of original
Tuna Cakes
Amount Per Serving (2 tuna cakes)
Calories 223Calories from Fat 135
% Daily Value*
Fat 15 g 23%
Saturated Fat 3 g 19%
Sodium 598 mg 26%
Carbohydrates 1 g 0%
Protein 19 g 38%
* Percent Daily Values are based on a 2000 calorie diet.
Adapted from https://healthyrecipesblogs.com/tuna-cakes/?fbclid=IwAR3Cb0uagkWwpGxMOJ_dWzUAyXby9uyAeyiHlBbiHNR81OXyYQfe6oYI6A0
AVOCADO TUNA SALAD
INGREDIENTS
2 – 5 oz./ 140 g Cans of Tuna – Drained or fresh steamed tuna if possible
1 Large Avocado – Peeled, Pitted and Cubed
1 Rib Celery – Finely Chopped
2 Cloves Garlic – Minced
3 Tbs. Mayonnaise
2 Tbs. Red Onion – Minced
2 tsp. spicy brown mustard
1 tsp. Italian Flat Leaf Parsley – Chopped
Ginger and Pepper – To Taste
INSTRUCTIONS
In a large mixing bowl, combine tuna, avocado, celery, garlic, mayonnaise, red onion, mustard, parsley, ginger and pepper.
Mix until all ingredients are well combined.
Notes
Per Serving Calories – 211 Protein – 14g Fat – 16g Total Carbs – 5g Fibre – 3.5g Net Carbs – 1.5g
Adapted from https://peaceloveandlowcarb.com/paleoavocadotunasalad/?fbclid=IwAR367IDcd81buNYtl3UdOzEi7zVhpTzYW964f76OQFzIQxDbIF2iB1xGXkA
GRILLED TUNA NICOISE SALAD
INGREDIENTS
Salad Ingredients:
3/4 lb small red sweet potatoes, diced (350 g)
1/2 lb green beans, trimmed (250 g)
4 tuna steaks (4 oz/125 g each, about 3/4-inch thick ( 2 cm) )
Olive oil cooking spray
4 cups (2 oz/57 g) baby spinach leaves (1 L)
16 pitted kalamata olives, coarsely chopped
Vinaigrette Ingredients:
2 Tbsp Olive oil (30 mL)
2 Tbsp red wine vinegar (30 mL)
1 Tbsp water (15 mL)
1/8 tsp ginger (.5 mL)
1/2 medium clove garlic, minced 1/2
1/8 tsp dried red pepper flakes (.5 mL)
1 Tbsp chopped fresh oregano leaves or 1 tsp (5 mL) dried oregano leaves (15 mL)
INSTRUCTIONS
Steam the sweet potatoes and green beans 6 minutes or just until tender. Drain and rinse with cold water, shaking off excess liquid.
While vegetables cook, combine vinaigrette ingredients in a small jar, secure with lid, and shake well to blend completely. Set aside 1/4 cup (60 ml) vinaigrette and brush remaining vinaigrette (1 Tbsp/15 mL) over fish.
Coat a grill pan with olive oil cooking spray and heat over medium-high heat until hot. Grill tuna over high heat 3 minutes on each side or until medium-rare or desired degree of doneness. (Do not overcook or fish will be tough.)
Divide greens equally on four serving plates. Arrange sweet potatoes, green beans, and olives over greens. Drizzle 1 Tbsp (15 mL) vinaigrette evenly over each salad and top with tuna.
Recipe Yield: Yield: 4 servings. Serving size: 1-1/2 cups (375 mL) and 1 tuna steak.
Nutritional Information Per Serving: of original
Calories: 345
Fat: 14 grams
Saturated Fat: 2 grams
Fibre: 5 grams
Sodium: 280 milligrams
Cholesterol: 40 milligrams
Protein: 29 grams
Carbohydrates: 26 grams
Adapted from https://diabeticgourmet.com/diabetic-recipes/grilled-tuna-nicoise-salad?fbclid=IwAR3ayW9Yz9pgF4-3r3QkxI_rdW_Pmy0o_GhdZn3ahHXAH92Tb9nmQvS4eQY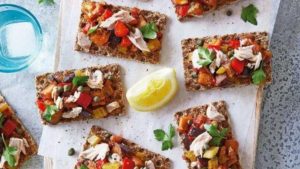 TUNA CAPONATA
INGREDIENTS
1 tbsp olive oil
1 clove garlic, crushed
1 eggplant, chopped
1 red capsicum, seeded and chopped
1 red onion, chopped
2 celery sticks, chopped
2 tsp no added salt tomato paste
¼ cup red wine vinegar
2 tbsp capers, rinsed and chopped
425 g can of tuna in spring water, drained, thickly flaked
½ cup parsley
12 crackers Ryvita crispbread
1 lemon, cut into wedges, to serve
INSTRUCTIONS
Heat the olive oil in a large non-stick frying pan over medium–high heat. Add the garlic, eggplant, capsicum, onion and celery and cook, stirring occasionally, for 10 minutes or until softened and golden.
Add the tomato paste and cook, stirring, for 30 seconds.
Remove the pan from the heat and immediately stir in the vinegar until well combined.
Add the capers, tuna and parsley and stir gently to combine. Season with freshly ground black pepper.
Spoon evenly over the crispbreads and serve with lemon wedges alongside.
POACHED TUNA STEAKS
INGREDIENTS
1 1/2 cups water
1 tablespoon fresh lemon juice
1 teaspoon cayenne pepper
ginger and pepper to taste
2 (4 ounce/ 120 g) albacore tuna steaks
3 kumquats – rinsed, seeded and sliced (optional)
1/3 cup chopped fresh cilantro (Coriander)
INSTRUCTIONS
In a medium saucepan over medium heat, mix water, lemon juice, and cayenne pepper. Season with salt and pepper. Bring to a gentle boil.
Place tuna steaks into the mixture, and sprinkle with kumquats and cilantro. Cook 15 minutes, until fish is easily flaked with a fork.
Serve with steamed vegetables or a salad
Nutrition Facts of original
Per Serving: 148 calories; 1.5 g fat; 6 g carbohydrates; 27 g protein; 50 mg cholesterol; 48 mg sodium.
Adapted from https://www.allrecipes.com/recipe/46495/poached-tuna-steaks/?lnkid=ussfac&utm_medium=social&utm_content=20200225&utm_source=facebook.com&utm_campaign=social-share-recipe&fbclid=IwAR1ozlotKaqYQOHbyE-x7XPGOswZIcNdXUfRGQewhk3KhjU7IO3-RIb2IoI
TUNA MELTS
INGREDIENTS
12 Mozzarella Cheese Slices
2 Cans of Tuna or fresh tuna steamed
4 Tbsp Mayonnaise
1 Tbsp Celery (Minced)
INSTRUCTIONS
Preheat oven to 325°F/160°C. Spread out the mozzarella slices onto 2 parchment paper (Not Wax Paper) lined baking sheets. Then in a bowl mix the drained cans of tuna with the mayonnaise and minced celery. Stir until very well combined.
Bake the cheese slices, until fully melted, approx. 4-5 mins. Remove from the oven and let cool slightly before adding a the tuna mix to the corner of each of the cheese shells. Then fold the squares in half, making triangle shapes. Firmly press the sides closed.
Return to the oven for another 5 – 10 minutes or until the edges are golden brown.
This recipe makes 12 Cheesy Keto Tuna Melts
Nutrition
220 Calories | 15 g Fat | 0 g Carbs | 0 g Fibre | 22 g Protein
Adapted from https://www.officiallyglutenfree.com/2019/02/cheesy-keto-tuna-melts/?fbclid=IwAR0UmKa0SCC9OO0cG7H0574NC3CSuyCXOvMln-8cEB8B-ifwdvW_T2F6pjs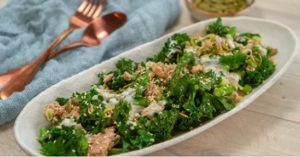 TUNA, ASPARAGUS AND KALE SALAD WITH TAHINI DRESSING.
INGREDIENTS
2 teaspoons olive oil
1 bunch of asparagus, trimmed and cut in short lengths
8 kale leaves, stems removed and chopped
2 spring onions, finely chopped
2 x 125 g tins tuna in spring water or home steamed tuna if available.
½ cup pepitas
3 tablespoons toasted sesame seeds
1 tablespoon of very finely shredded lemon peel
for the dressing
INSTRUCTIONS
In a small bowl, mix the tahini, crushed garlic, 2/3rds of the lemon juice, and enough water to make a thick dressing. Season to taste.
On a high heat in a large frying pan add the olive oil. Wait until it's hot, then add the asparagus and the kale. Cook until the asparagus is bright green and slightly charred and the kale is just slightly wilted. Remove from the heat, drizzle with the remaining lemon juice and season with pepper, transfer to a serving dish.
Layer up tuna and pepitas on the warm greens. Top with sprinkled toasted sesame seeds and finely shredded lemon zest.
Drizzle with the lemon and tahini dressing and serve warm.
Adapted from https://www.seafoodexperts.com.au/recipe-items/tuna-roast-asparagus-kale-tahini-salad/?fbclid=IwAR1OleR2W3j_Z3ENkaCg55906yt3QIkDuR-sI-JP7Atgnu6p1042sNRiXac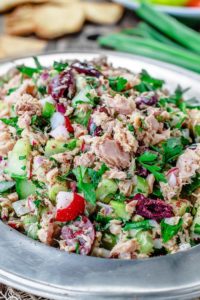 TUNA, AVOCADO SALAD
INGREDIENTS
2-3 big handfuls of baby arugula
1-2 tsp organic extra virgin olive oil
1 fresh lemon, squeezed
touch of ginger + fresh ground pepper
Add on whatever you can find:
wild caught tuna steamed and flacked
sliced avocado
cherry tomatoes, halved
crisp cucumber, sliced
red onion, sliced
olives
INSTRUCTIONS
How to: Toss those ingredients in a big bowl together, then add whatever you can find!
Adapted from https://cleanfoodcrush.com/arugula-tuna-avocado-salad-clean-eating/?fbclid=IwAR1E4Hbr6-KMYXyzRshWRxVpgCeuPX6H5qfEes1YQcoxlIlbbBoV5L0YurY
http://www.findtex.com.au/recipes/find-tex-originals/summer-salad/
AVOCADO AND TUNA SALAD
INGREDIENTS
15oz/ 425 gtuna in spring water, drained and flaked(3 small cans) (or fresh steamed tuna if possible.)
1English cucumbersliced
2large or 3 medium avocadospeeled, pitted & sliced
1small/medium red onionthinly sliced
1/4 cup cilantro (1/2 of a small bunch)
2Tbsp lemon juicefreshly squeezed
2Tbsp extra virgin olive oil
1tsp ginger or to taste
1/8tsp black pepper
INSTRUCTIONS
In a large salad bowl, combine sliced cucumber, sliced avocado, thinly sliced red onion, drained tuna, and 1/4 cup cilantro
Drizzle salad ingredients with 2 Tbsp lemon juice, 2 Tbsp olive oil, 1 tsp ginger and 1/8 tsp black pepper (or season to taste). Toss to combine and serve.
Nutrition Facts of original
Avocado Tuna Salad Recipe
Amount Per Serving
Calories 304 Calories from Fat 180
% Daily Value*
Fat 20g 31%
Saturated Fat 3g 19%
Cholesterol 12mg 4%
Sodium 645mg 28%
Potassium 571mg 16%
Carbohydrates 9g 3%
Fibre 5g 21%
Sugar 2g 2%
Protein 22g 44%
Vitamin A 250IU 5%
Vitamin C 11.6mg 14%
Calcium 29mg 3%
Iron 1.5mg 8%
* Percent Daily Values are based on a 2000 calorie diet.
Adapted from https://natashaskitchen.com/avocado-tuna-salad-recipe/?fbclid=IwAR0iIgYxW_Nyd8MfzXTOCVBP-3twtq8CIeZZAibX5ooxWh1nUItQVDegkic
TOMATO TUNA MELTS
INGREDIENTS
1 can (5 oz/ 140 g) solid white tuna in spring water, slightly drained
2 tbsp light mayo
3 tbsp finely chopped celery
1 tbsp finely chopped red onion
1 tsp red wine vinegar
2 ripe tomatoes, halved
4 slices Cheddar cheese
INSTRUCTIONS
Preheat the grill to high and adjust the rack second from the top. Arrange the tomatoes halves on a baking tray, season with ginger and pepper.
Combine the tuna salad ingredients in a small bowl.
Top each with 1/4 cup tuna salad and a slice of cheese. Grill the tomatoes until the cheese is melted, about 1 to 2 minutes. Remove from the oven and eat immediately.
Nutrition Information
Yield: 2 Servings, Serving Size: 2 halves
Amount Per Serving:
Freestyle Points: 6
Points +: 7
Calories: 271 calories
Total Fat: 7.5g
Saturated Fat: g
Cholesterol: 62mg
Sodium: 418.5mg
Carbohydrates: 11.5g
Fiber: 2g
Sugar: 0g
Protein: 25.5g
Adapted from https://www.skinnytaste.com/tomato-tuna-melts/?fbclid=IwAR0byYn50suXvKKvjSJsRsNYuVg9rnJSDwui1pJt22JFmQDootI1yhaQQxI#CP30qrc45oEoH1P4.01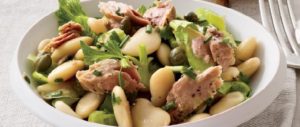 BUTTER BEAN, TUNA and CELERY SALAD
INGREDIENTS
2 tablespoons fresh lemon juice
2 teaspoons Dijon mustard
1/4 cup plus 1 tablespoon extra-virgin olive oil
1/4 cup snipped chives
ginger and freshly ground pepper
Four 100 g cans Italian tuna in spring water, drained. Or steamed fresh tuna if possible.
3 celery stalks with leaves, thinly sliced on the bias
Two 425 g cans butter beans, drained and rinsed
1 1/2 tablespoons drained capers
INSTRUCTIONS
In a small bowl, whisk the lemon juice with the mustard, then slowly whisk in the olive oil. Stir in the chives and season the lemon-mustard vinaigrette with ginger and pepper.
In a large bowl, gently toss the drained tuna with the sliced celery, butter beans and capers. Add the lemon-mustard vinaigrette and toss to coat the salad. Season the salad with salt and pepper and serve at once.
Adapted from https://www.foodandwine.com/recipes/butter-bean-tuna-and-celery-salad?fbclid=IwAR1Cbr4h6SlKgT_OO89vofx7lY7HdHXMkUY-StN7dxZlm-kDARGr06XHcNA
ITALIAN TUNA SALAD
Ingredients
1 – 15.5 oz can cannellini beans (white beans), drained and rinsed
2-5oz cans tuna in spring water
1/4 sweet onion, finely chopped
1/2 cup fresh Italian parsley, chopped
1 celery stalk, chopped
1 lemon, juiced
1 Tablespoon olive oil
Ginger and pepper to taste
Instructions
In a medium bowl partially mash the cannelloni beans using the back of a spoon or a potato masher.
In a separate mixing bowl mix together the tuna, onion, Italian parsley and the celery. Add the white beans and mix together.
Add the juice of 1 lemon, olive and ginger and pepper to taste and stir until completely mixed.
Serve on a bed of spinach or arugula.
Adapted from https://www.acedarspoon.com/italian-style-tuna-salad/?fbclid=IwAR2eTOTHVFm2b32_PKXh_HL5kkX7UBH3tqICMvRExu5hSbhfR0rFxo30TDQ
CHICKPEA AND PARMESAN SALAD
INGREDIENTS
2 & 1/2 cups cooked chickpeas
A handful of shaved parmesan cheese
A big handful of chopped parsley
As much diced red onion as you like
To dress your salad: freshly squeezed lemon juice &  a drizzle of extra virgin olive oil
Optional: canned, fish in spring water (Leftover steamed fish can also be used) , a handful of rocket or other leafy green, a handful of toasted seeds or nuts (pine nuts or pepitas would be especially good)
INSTRUCTIONS
Combine all the ingredients in a big bowl. Drizzle over the dressing & use your hands to mix everything together, then serve it up!
Adapted from https://applesundermybed.com/home/2017/11/13/chickpea-parmesan-salad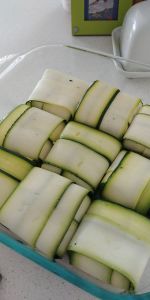 5 MINUTE SPICY TUNA ROLLS
INGREDIENTS
1 cucumber
1 can or steamed tuna
1 tbsp. Low carb mayo (for tuna mixture)
2 tsp garlic powder
Ginger, to taste
Pepper, to taste
Avocado, sliced and cut to match width of cucumber strips
INSTRUCTIONS
Slice cucumbers lengthwise with a vegetable peeler to get thin strips
Drain tuna if necessary and mix with mayo, garlic powder, ginger and pepper. Mixture should be slightly moist but not excessively wet.
Place cucumber strips on prep surface and neatly spread tuna mixture tightly along leaving about 2 cm at the end of the strip.
Place avocado pieces at end of cucumber strip on top of tuna and tightly roll
Adapted from https://www.heyketomama.com/5-minute-spicy-tuna-rolls-2/?utm_content=buffer125c3&utm_medium=social&utm_source=facebook.com&utm_campaign=buffer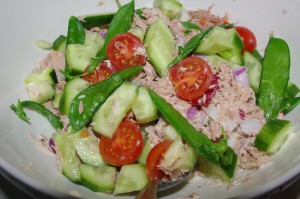 JULIANA'S TUNA SNOW PEAS AND CUCUMBER SALAD
Canned tuna, (fresh is best, any fin fish left overs can be used)
Diced cucumber,
Some halved cherry tomatoes,
Steamed snow peas,
Minced red onion mixed
2 tablespoons lite japanese mayo,
1 tablespoon olive oil,
1 tablespoon white wine vinegar,
1 tablespoon wholegrain mustard
1 tablespoon lemon juice.
Ginger and pepper to taste.
TUNA SALAD
INGREDIENTS:
1 can (5–6 ounces) tuna, drained and flaked. , (fresh is best, any fin fish left overs can be used)
1/4 cup Vegenaise
1 rib celery, finely chopped
2 tablespoons minced onion
1 tablespoon Lite Dijon mustard
1–2 tablespoons unsweetened dried cranberries
fresh lemon juice
Ginger and pepper
DIRECTIONS:
In a bowl, combine tuna, Vegenaise, celery, onion, mustard and cranberries.
Season with lemon juice, ginger and pepper to taste. Mix until well combined.
Chill for at least 1 hour before serving.
This is not a fancy salad or is it hard. It turns out differently every time I make it because I do not measure ingredients exactly and I add thinks depending on my taste and mood at the time.
Directions:
Cook noodles as for the directions on the box state.
Drain cooked noodles, rinse under cold water. Set aside while you prepare the rest of ingredients.
In a separate bowl add a large can of tuna in spring water… (Fresh cooked Tuna  or salmon can be used)
Add a cup or cup and a half of frozen peas
Add chopped olives.
A little good quality vinegar
Add minced onion or onion powder.
Mix well.
Add the noodles. Stir well to blend.
Refrigerate for a couple of hours and then enjoy!!
Ingredients variation:
Use green olives but have also used black…
almond nut add crunch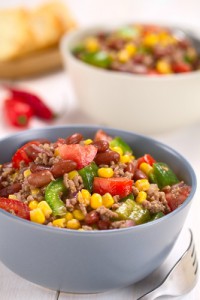 MEXICAN TUNA SALAD
Ingredients
1/2 tomato diced
1/2 green bell pepper diced…
1/2 white onion diced
1 can if sweet corn drained frozen or fresh can be used
2 cans of albacore tuna drained
1 tbsp of lime juice
1 tbsp of lemon juice
Salt and pepper to taste
Directions
Add all ingredients together and put in the fridge to chill for at least 30 mins. Serve on wheat crackers.
CHICKEN OR TUNA SALAD
Serves 4
Ingredients
250 gms roughly mined omega 3 chicken (Tuna can be used especially Albacore.)
1 medium red pepper, chopped
1 small yellow pepper, chopped
1/3 cup chopped onion
3 cl garlic, minced
1 1/2 cups salsa made without oil
1/2 cup kidney beans, rinsed and drained (Or dried beans soaked overnight)
2 tsp chili powder
8 cups torn lettuce
2 tbsp fresh cilantro leaves
Preparation
In a large skillet, cook the chicken, peppers, onion and garlic over medium heat 6-8 minutes. Drain.
Stir in salsa, beans, chili powder and cumin; heat through.
Divide lettuce among four plates. Top with chicken mixture. Sprinkle with cilantro and other fresh vegetables of your choice from the garden. Serve.
Nutrition Information per Serving
275 Calories
18 g Protein
525 mg Sodium
58 mg Cholesterol
13 g Fat
21 g Carbohydrate
MEDITERRANEAN TUNA SALAD
Ingredients
For the Zesty Dijon Mustard Vinaigrette
2 1/2 tsp good quality Dijon mustard
Zest of 1 lime
1 1/2 limes, juice of
1/3 cup olive oil
1/2 tsp sumac
Pinch of ginger and pepper
1/2 tsp crushed red pepper flakes, optional
For the Tuna Salad
3 5-ounce cans tuna in spring water (Fresh steamed tune is best if available)
2 1/2 celery stalks, chopped
1/2 English cucumber, chopped
4-5 whole small radishes, stems removed, chopped
3 green onions, both white and green parts, chopped
1/2 medium-sized red onion, finely chopped
1/2 cup pitted Kalamata olives, halved
1 bunch of parsley, stems removed, chopped (about 1 cup chopped fresh parsley)
10-15 fresh mint leaves, stems removed, finely chopped (about 1/2 cup chopped fresh mint)
Six slices heirloom tomatoes for serving
Multigrain or whole meal pita pockets for serving
Instructions
To make the zesty mustard vinaigrette, in a small bowl, whisk together the Dijon mustard, lime zest, and lime juice. Add the olive oil, sumac, ginger and pepper, and crushed pepper flakes (if using), and whisk again until well-blended. Set aside briefly.
To make the tuna salad, in a large salad bowl, combine the 3 5-oz cans of tuna with the chopped vegetables, Kalamata olives, chopped fresh parsley and mint leaves. Mix gently with a wooden spoon.
Dress the tuna salad with the zesty mustard vinaigrette. Mix again to make sure the tuna salad is evenly coated with the vinaigrette. Cover and refrigerate for half an hour before serving.
When ready to serve, toss the salad gently to refresh. Transfer to a serving platter with the pita bread and sliced heirloom tomatoes
Adapted from https://www.themediterraneandish.com/mediterranean-tuna-salad/
TUNA, SEMI-DRIED TOMATO AND BEAN SALD
INGREDIENTS
From the Grocer
1 x 250 g (9 oz.) tin tuna in olive spring water, drained and roughly broken up
2 x 400 g (14 oz.) tins cannellini (lima) beans, drained and rinsed
75 g (2 3/4 oz.) semi-dried (sun-blushed) tomatoes
about 50 black olives in olive oil, pitted and halved
ginger and freshly ground black pepper
180 ml (6 fl oz.) extra-virgin olive oil
1 teaspoons Dijon mustard (Optional)
From the Greengrocer
1 small red onion, very thinly sliced
3 tablespoons chopped flat-leaf (Italian) parsley
juice of 1 lemon
INSTRUCTIONS
Put the tuna, beans, tomatoes, onion, olives and parsley together in a bowl.
Season ginger and pepper.
In a teacup, mix the olive oil, mustard and lemon juice together. Season and check to see whether your balance of lemon to oil is good – remember you are going to add this to something very starchy so it needs a bit of tang.
Pour the dressing over the bean and tuna mixture, being careful not to squash the beans. Taste for seasoning and adjust as necessary.
Adapted from https://www.splendidtable.org/recipes/tuna-anchovy-semi-dried-tomato-cannellini-bean-salad
SALMON AND QUINOA SALAD
Ingredients
To make four serves, you'll need:
1 cup quinoa
420g fresh steamed Salmon, bones removed and flaked (Any oily fin fish can be used)
½ red capsicum, thinly sliced
¾ cup fresh Peas, blanched
1 Lebanese cucumber, diced
2 tablespoons chopped fresh mint,
2 tablespoons chopped fresh coriander, plus extra leaves, for garnish
125g  Chick Peas, soaked overnight and drained
1 tbs cup olive oil
Zest and juice of half a lemon
3 teaspoons Moroccan seasoning
Instructions
1. Cook quinoa following packet directions. Drain well. Place in a large bowl and set aside to cool slightly
2. Add the Salmon, capsicum, Garden Peas, cucumber, herbs and Chick Peas to quinoa
3. Combine remaining ingredients in a screw top jar. Season to taste. Replace lid and shake until combined. Toss dressing through salad and garnish with coriander leaves before serving.
ROASTED CHICKPEA, SALMON AND POMEGRANATE SALAD
This low-GI and gluten-free salad for 2.
Ingredients
420g (1cup) chickpeas, soaked overnight, rinsed and drained, patted dry
Olive oil cooking spray
1 tsp ground cumin
½ bunch kale, thick stem removed, shredded
70g (1⁄3 cup) pomegranate seeds
150g fresh cooked salmon, skin removed, flaked into pieces
Lemon dressing:
60g (1⁄4 cup) low-fat Greek-style plain yoghurt
½ tsp finely grated lemon zest
1 tsp freshly squeezed lemon juice
1 tsp extra virgin olive oil
1 clove garlic, crushed
Instructions
1.Preheat oven to 180°C (fan-forced). Line an oven tray with baking paper. Spread chickpeas in a single layer on prepared tray and spray with olive oil cooking spray.
Add cumin and toss to combine. Roast for 25-30 minutes or until crisp.
Meanwhile, combine kale, seeds and salmon in a large bowl.
To make lemon dressing, whisk together all ingredients in a bowl.
Add chickpeas to kale mixture and toss to combine. Divide salad between shallow serving bowls. Drizzle over dressing and serve.
Adapted from http://diabeticliving-deploy.prod.atlantic.digitalent.link/recipe/food/roasted-chickpea-salmon-and-pomegranate-salad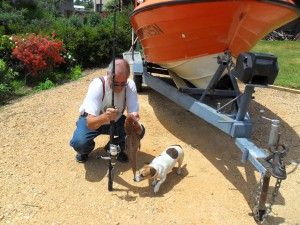 Pasta substitutes which are gluten free and for diabetics.
The author loves all kinds of pasta, but in recent years I have had to modify my diet to account for a sensitivity to gluten.  As a result, I have developed some great ideas that are also helpful for diabetics looking for a pasta substitute!  I have compiled my top 5 for you.  Some substitutes are healthier for diabetics because they are higher in protein and/or fiber than pasta is.  (The higher protein and fiber content helps with regulating blood sugar).  Some of my suggestions are lower than pasta in carbohydrate and calories, allowing you to have a larger portion size!
http://diabetes.about.com/od/dieticiansadvice/tp/Pasta_Substitutes.htm?utm_term=is%20pasta%20good%20for%20diabetics&utm_content=p1-main-1-title&utm_medium=sem&utm_source=google&utm_campaign=adid-612ccbeb-4e87-48a4-afce-aa6456030ebb-0-ab_gsb_ocode-5950&ad=semD&an=google_s&am=broad&q=is%20pasta%20good%20for%20diabetics&dqi=&o=5950&l=sem&qsrc=999&askid=612ccbeb-4e87-48a4-afce-aa6456030ebb-0-ab_gsb
Fish Salad
Serves 8
Ingredients
1 kg fish fillets (Tuna, Salmon, Flathead, snapper any fin fish)
Ginger
Pepper
2 cups shredded cabbage or lettuce
2 cups chopped vegetables (tomatoes, cucumber, green onions, celery, onions, mushrooms etc.)
1/2 cup salsa
Method
Season the fish with ginger and pepper. Cook the fish as desired (in a lightly oiled skillet over medium heat, in the oven at 180 C until it flakes apart easily.
Mix the cabbage or lettuce with the vegetables. Evenly divide the mixture among 8 plates.
Evenly divide the fish among the plates and salsa over top.
Nutritional Information per Serving
Serving size = 1 1/4 cup
210 Calories
6 g Fat
70 mg Cholesterol
560 mg Sodium
7 g Carbohydrate
1 g Fiber
30 g Protein
MEXICAN RICE SALAD WITH CORN AND TUNA
Instruction
for the salad
2 cups of basmati rice (soaked overnight)
200g of fresh tuna or caned  tuna in spring water (Fresh salmon or trout also works well)
400g corn kernels,
1 cucumber, diced
1 red onion, diced
1 x 400g can kidney beans, drained and rinsed (or dried soaked overnight)
2 tomatoes, diced
2 tablespoons jalapenos, chopped (more to taste)
3 tablespoons grated tasty cheese (if you require more dairy)
½ cup coriander, roughly chopped
for the dressing
2 tablespoons lime juice
2 tablespoons olive oil
1 teaspoon ginger
1 teaspoons tabasco
Instructions.
Cook the rice as per the instructions on the packet. Rinse under cold water until cold and drain well.
Steam the fish if using fresh fish.
Put all of the ingredients for the salad in a large bowl and mix together well.
Whisk the lime juice, oil, tabasco and ginger together in a small bowl and pour over the salad.
Mix the dressing through the salad until evenly combined. This dish can be served hot or cold and is also a great filling for burritos. Serves 4-6
TUNA PATTIES
INGREDIENTS
2 tins of tuna spring water (Fresh steamed if possible)
Onion
Egg
Bread crumbs/almond flour
60 grams cheese
Ginger and pepper
INSTRUCTIONS
Drain tuna
Add onion
Add Omega-3 egg
Add cheese
Add ginger and pepper to taste
Add multigrain breadcrumbs until you can make a soft ball
Fry in a stoneware frypan with olive oil spray
8 patties for under 5$. Serve with salad.