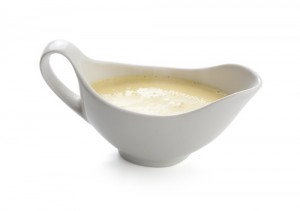 TAHINI SAUCE
INGREDIENTS
1/2 cup (120g) Tahini NB1
1/4 cup (60ml) Lemon Juice
1/2 tsp ginger
1/2 tsp Garlic Powder
1/4 cup Water NB 2
INSTRUCTIONS
Add all the ingredients to a measuring jug and whisk into a smooth sauce. If you're unsure of the consistency that you would prefer, then add in the water slowly until you reach the consistency you like.
Keep it stored in the refrigerator.
NOTES
NB 1 Mix your tahini well before use. Sometimes the oil and the tahini paste separate in the jar so need a vigorous stirring before use.
NB 2 Use less water if you want a thicker sauce or if you want it to be a sour cream consistency. This amount of water results in a fairly thin, easily pourable sauce perfect for drizzling
TAHINI SAUCE
1 clove of garlic
Ginger to taste
3/4 cup Tahini
1/2 cup lemon juice
1/2 cup finely chopped parsley
Crush garlic, add ginger, and mix to paste. Mix in tahini and beat in lemon juice.
Gradually mix in enough water to make mixture the desired thickness, add herbs and spices to taste.
TAHINI SAUCE
INGREDIENTS
1-2 garlic cloves
1/2 tsp ginger
1/2 cup Tahini paste
1/2 cup freshly squeezed lime juice
1/4 cup cold water, more if needed
1 cup freshly chopped parsley leaves, stems removed first (optional)
INSTRUCTIONS
Using a mortar and pastel, crush the garlic cloves with the ginger into a paste.
Add the crushed garlic, tahini paste and lime juice to the bowl of a food processor and blend until smooth. It will be thick as it emulsifies. Add a little bit of water and blend again. Continue to add water until you reach the desired consistency. It should have a runny, salad dressing-like consistency. But if you prefer tahini more as a dip, simply use less water.
Transfer the tahini to a serving bowl, and if you like stir in fresh chopped parsley. Enjoy!
Adapted from https://www.themediterraneandish.com/tahini-sauce-recipe-how-to-make-tahini/
http://www.findtex.com.au/diabetic-foods/chutney-etc/
Tahini dressing
1 tbs tahini
1/3 cup low-fat plain yoghurt
2 tbs lemon juice
1 small clove garlic, crushed
Beans And Tahini Hommus
Ingredients:
2 cups beans or peas, fresh if possible but frozen works well
1 Tb tahini
1 Tb cold pressed extra virgin olive oil
Method:
Steam the beans
Put everything in a blender and blend until smooth.
Serve with veg sticks or crackers and enjoy.
Nutrition
[Per100g]
Protein                            12g
Carbohydrate               10g
Fibre                                4g
Fat (total)                     5g
Fat (saturated)             0.7g
Lemon-Tahini Sauce
Ingredients
Small bunch (about 30 sprigs) flat-leaf parsley
1/2 cup sesame tahini
2 to 4 large cloves garlic
4 to 5 tablespoons freshly squeezed lemon juice
2 to 6 tablespoons water
3/4 teaspoon ginger, or to taste
1/8 teaspoon cayenne (optional)
INSTRUCTIONS
Holding the parsley in a bunch, trim off and discard an inch or so from the bottom of the stems. Cut the bunch crosswise into thirds. Place in a colander, rinse, and drain. Bounce the colander up and down to shake off excess water.
Place the tahini, parsley, garlic, 4 tablespoons lemon juice, and 2 tablespoons water into the bowl of a food processor. Blend well, scraping down the sides of the bowl as needed and adding enough additional water and/or lemon juice to create a sauce with a smooth, pourable consistency. (The amount of liquid you'll need to add will depend upon the thickness of the tahini and how much water adhered to the parsley.) Add the ginger and cayenne (if using) to taste. Refrigerate until needed, for up to 1 week.
Adapted from http://www.epicurious.com/recipes/food/views/lemon-tahini-sauce-354109
OTHER SAUCES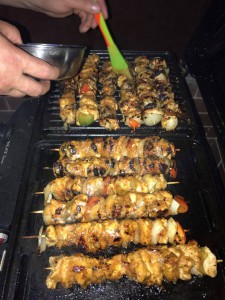 CRANBERRY -DIJON VINAIGRETTE
By Jennifer Segal, inspired by Taste of Home
Servings: 1-1/4 cups for table, just use a drizzle in moderations.
Prep Time: 10 Minutes
Total Time: 10 Minutes
INGREDIENTS
1/4 cup red wine vinegar
3/4 cup canola or vegetable oil
1/4 cup fresh cranberries
2 teaspoons Dijon mustard
2 tablespoons chopped shallots, from 1 shallot
1/4 teaspoon ginger
1/4 teaspoon freshly ground black pepper
INSTRUCTIONS
Combine all of the ingredients in a blender and purée until completely smooth. Refrigerate until ready to use. The dressing will keep nicely in the refrigerator for 2 to 3 days. Shake well before using.
Nutrition Information
Serving size:2 tablespoons
Calories:162
Fat:16 g
Saturated fat:1 g
Carbohydrates:4 g
Sugar:4 g (This was the original recipe before we removed the sugar)
Fiber:0 g
Protein:0 g
Sodium:70 g
Cholesterol:0 g
Via Thadani
SATAY SAUCE
INGREDIENTS
1 onion, finely chopped
2 garlic cloves, crushed
2 lemongrass stems, white part only, finely chopped
2 dried red chillies, reconstituted in water
60 ml (2 fl oz./¼ cup) peanut oil or olive oil
pinch of paprika
1 tsp curry powder
1 tsp ground turmeric
80 g (2¾ oz./½ cup) peanuts, coarsely ground
125 ml (4 fl oz/½ cup) water