ITALIAN CHICKEN MEETBALLS
INGREDIENTS
The meatballs
500 g lean ground chicken make your own if possible, from omega-3 chicken white meat.
1/2 medium onion, grated
3 garlic cloves, minced
1/4 cup minced flat-leaf parsley
1/4 cup whole wheat breadcrumbs (multigrain breadcrumbs or use an extra egg.)
1 egg
1 tsp ground oregano
1/2 tsp ginger
1/2 tsp ground pepper
The sauce
2 tsp olive oil
1 small onion, chopped
3 garlic cloves, minced
1 tsp ground oregano
1/4 tsp red pepper flakes
1/4 tsp ginger
1/4 tsp ground pepper
1 small can crushed tomatoes or make your own from fresh if possible
1/4 cup minced flat-leaf parsley
4 basil leaves, thinly sliced
INSTRUCTIONS
The meatballs:
Preheat the oven to 350 degrees F 180 C. Lightly coat a baking pan with olive oil cooking spray.
In a large bowl, stir together the ground chicken, onion, garlic, parsley, breadcrumbs, egg, oregano, ginger and pepper.
Divide the mixture into 8 portions, form into balls and place on the prepared baking pan.
Bake until the meatballs are firm to the touch and cooked through, 15 to 20 minutes.
The sauce:
Heat the olive oil in a large stoneware fry pan set over medium heat. Add the onion and cook until softened, about 5 minutes.
Stir in the garlic, oregano, ginger and pepper, and cook for 1 minute.
Add the crushed tomatoes, bring the sauce to a boil, and then simmer for 10 minutes. Stir in the parsley and basil.
Nestle the meatballs into the sauce and spoon sauce over to coat the meatballs.
Serve over zucchini noodles with other steamed vegetables.
Nutrition Facts
Serving Size
2 meatballs + 3/4 cup sauce
Amount Per Serving
As Served
Calories 336.2 cal Calories from fat 108
% Daily Value
Total Fat 12.5g
19%
Saturated Fat 3.4g
17%
Cholesterol 126.5mg
42%
Sodium 946.0mg
39%
Carbohydrate 31.3g
10%
Dietary Fiber 7.4g
30%
Sugars 16.1g
Protein 30.1g
Percent Daily Values are based on a 2,000 calorie diet. Your daily values may be higher or lower depending on your calorie needs:
Calories
2000
Total Fat
Less than
65g
Sat Fat
Less than
25g
Cholesterol
Less than
300mg
Sodium
Less than
2,400mg
Total Carbohydrate
300g
Dietary Fiber
25g
Adapted from https://www.cookincanuck.com/italian-turkey-meatballs-in-tomato-sauce-recipe/?fbclid=IwAR1wAsokgDsOVtWql426_Ln5fKc84Qk1Aul6EkCFipkTMK1IsLnzaHeUKAs
CHICKEN SHEPHERD PIE WITH CAULIFLOWER TOPPING
INGREDIENTS
1 cauliflower head, broken into florets
2 tbsp. extra-virgin olive oil, divided
1 carrot, diced
1 celery stalk, diced
1 medium onion, diced
2 garlic cloves, minced
½ Kg lean skinless ground chicken, (make your own if possible.)
1/2 tsp. ginger
1/4 tsp. freshly ground black pepper
1 omega-3 egg
1/2 cup water
1/2 cup shredded cheddar cheese
INSTRUCTIONS
Preheat oven to 400°F (204°C). oil a medium baking dish.
Fill a large stock pot halfway with water. Bring to a boil over high heat. Add the cauliflower and cook for about 5 minutes, until tender. Drain. Mash with a potato masher or immersion blender and add 1 tbsp. of olive oil.
In a large stoneware fry pan, heat 1 tbsp. olive oil over medium heat. Sauté the carrot, celery, onion, and garlic until the vegetables begin to soften, about 5 minutes.
Add the ground chicken and cook, breaking apart with a spatula, until browned. Season with ginger and pepper. Add the egg and stir to combine. Add the broth and cook until it just starts to simmer. Turn off the heat.
Spread the chicken mixture into the prepared baking dish. Top with the mashed cauliflower, smoothing with a spoon to press evenly over the chicken. Top with shredded cheese.
Bake for 30 minutes, until the top is brown and bubbly.
Nutrition info OF ORIGINAL (1 piece) Calories: 260; Total fat: 17 g; Saturated fat: 5 g; Cholesterol: 69 mg; Sodium: 341 mg; Carbs: 9 g; Fibre: 3 g; Sugar: 3 g; Protein: 18 g
Adapted from https://www.healthline.com/health/diabetes/fall-recipes-for-diabetes?slot_pos=article_1&utm_source=Sailthru&fbclid=IwAR3QWZi-YnckWBzJJCWIfHXT3NLe1uII0o0RPl6jCv19gsIycF61mW97muY#9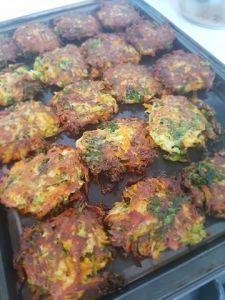 BASIL CHICKEN MEATBALLS
INGREDIENTS
Olive oil cooking spray
2 cups baby spinach
½ kg lean ground omega 3 chicken
3 minced garlic cloves
1 lightly beaten omega 3 large egg
3/4 cup whole-grain bread crumbs
1/4 cup crumbled feta cheese
1 tbsp finely chopped fresh basil leaves
Ginger and fresh ground black pepper, to taste
INSTRUCTIONS
Preheat oven to 450°F/220 C. Mist a large baking dish with olive oil cooking spray.
In a steamer basket over simmering water to medium, steam baby spinach until wilted, 1 to 2 minutes. Let cool, squeeze out water and chop.
In a large bowl, combine lean ground chicken, minced garlic cloves, lightly beaten large egg, whole-grain bread crumbs, crumbled feta cheese, finely chopped fresh basil leaves, ginger and fresh ground black pepper, to taste, and spinach; mix well to combine. Use your hands to form mixture into 12 balls.
Transfer to prepared baking dish and bake for 15 to 20 minutes, until golden brown and no longer pink inside
Serve with steamed vegetables or a salad.
Adapted from https://www.cleaneatingmag.com/recipes/basil-chicken-meatballs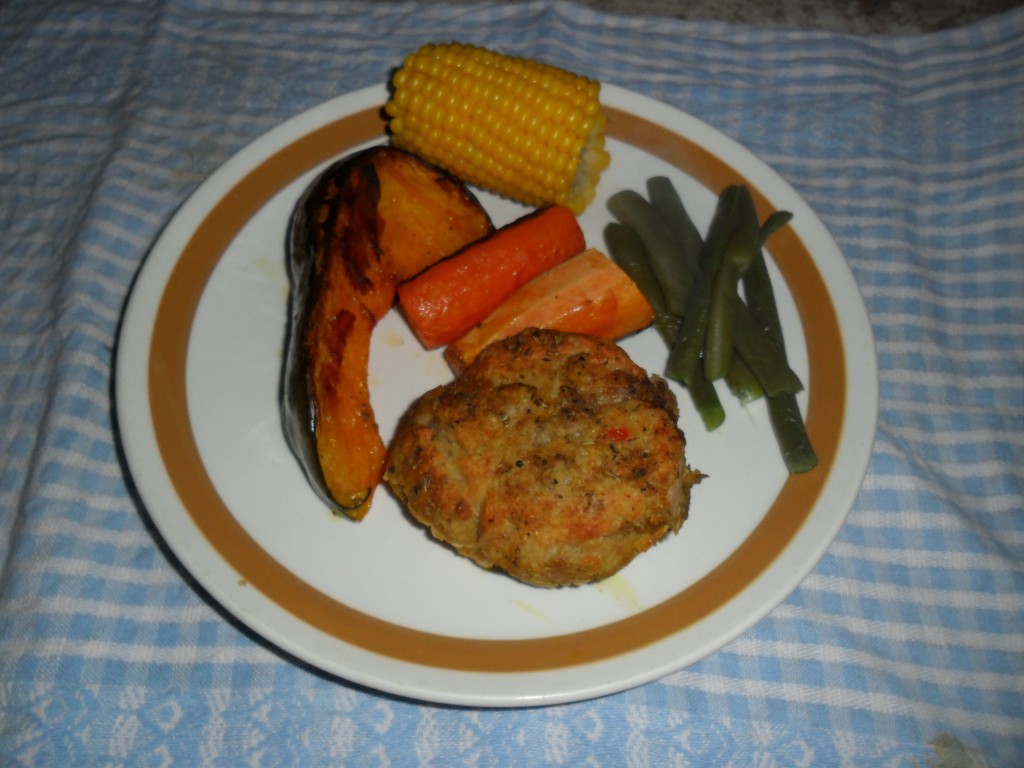 1.1 kg ground chicken. This may contain fat and parts of the chicken that contain high Cholesterol. It is better to make your own chicken mince by either buying boneless chicken and chopping it finely or asking your butcher to mince it for you. 500g Finely chopped chicken breast or lean beef, lean pork, fin fish, veal, venison or other lean game meat can be used.
2. 2 tablespoons chopped onion
3. 1 large tomato finely chopped
4. 1 tablespoon chopped parsley or parsley paste can be used.
5. 1 tablespoon ginger paste. (this can be used to replace salt.)
6. pepper to taste
7. 1 clove garlic, minced (to taste).
8. 1 teaspoon mixed herbs
9. 2 egg whites, whisked with milk.
10. Zest of half a lemon
11. Herbs and spices to taste.
12. Oat meal.
Preheat oven to 400F,  180 C setting rack to upper third part of oven.
In a large bowl, using your hands, gently mix together first 11 ingredients. Add the oatmeal slowly until you can form the mixture into ball. Shape into balls (somewhere between golf and tennis)
I rolled mine in a dish wit Curry Power Cumin Seed Ground, Cinnamon, Mixed spices, Ginger and Nutmeg. (You use spices to taste.)
Place a few inches from each other on a baking paper-lined baking sheet. Bake for 30 minutes turn after 15 minutes.
I cooked mine with other vegetables and served with steamed greens and sweet corn.
This can also be swerved with pasta, or cooked with a vegetable curry.
Cooked rice can also be added to the mix.
Enjoy
CHICKEN KABABS
Ingredients
1 small punt of button mushrooms
1 onion, cut into 1-inch pieces
1 green bell pepper, cut into 1-inch pieces
1 red bell pepper, cut into 1-inch pieces
500 gms boneless, skinless chicken breasts, cut into 1-inch pieces (omega-3 or freerange)
8 bamboo skewers, soaked in warm water
1/4 cup fat-free Italian dressing
Instructions
Assemble kabobs by placing mushrooms, onions, peppers, and chicken on each skewer.
Brush all sides of kabobs with dressing.
Grill kabobs over medium heat for about 10 minutes, turning occasionally.