ITALIAN STYLE MEATBALLS
INGREDIENTS
1/2 pound, 225 g ground beef chuck, 85 % lean
1/2 pound, 225 g ground pork (or turkey or veal)
1/4 cup Parmesan cheese, grated
1/4 cup heavy cream
1 large egg, beaten
2 tbsp minced fresh parsley.
1 tbsp finely grated onion (it will be mush)
1 clove garlic, grated (small – medium in size)
1/2 tsp ginger
1/4 tsp pepper
INSTRUCTIONS
Add the beef and pork to a medium bowl and break up into smaller chunks, aiming for an even mix.
Add the remaining ingredients to the meat and mix with a hand mixer until just combined. Do not over-mix.
Lightly oil hands and roll 12 meatballs. Divide the meatball mixture in half and roll 6 meatballs of even looking size and repeat with the remaining meat.
To Pan Fry Meatballs:
Heat a large frying pan over medium heat. When hot, spray the pan with oil.
Add the meatballs to the pan, making sure each have their own place. [DO NOT crowd the pan. If your pan is small and you add all of the meatballs, they will steam and be tough. If your pan is large, you can fit all 12 in the pan.]
Cook the meatballs approximately 1 1/2 minutes per side, turning at least 4 times. Use tongs to gently roll them over. Cook for 10-15 minutes total.  They should be browned like the picture in the post.
Garnish with parsley and serve or top with mozzarella cheese and place under the broiler to melt.
To Bake Meatballs in the Oven:
Pre-heat oven to 200 °C (400° F) and position rack to the middle.
Place meatballs on a foil-lined or rack-lined baking sheet. Bake meatballs for 15-20 minutes. Serve with warmed sauce topped with mozzarella cheese and place under grill to melt the cheese.
Nutrition of original
Calories: 387 kcal | Carbohydrates: 1 g | Protein: 19 g | Fat: 22 g | Sodium: 166 mg
Adapted from Mom's Low Carb Meatballs Recipe – Italian Style (keto meatballs) | Low Carb Maven
This and other Mediterranean recipes can be found here.
http://www.findtex.com.au/uncategorised/mediterranean/
CHICKEN MEATBALLS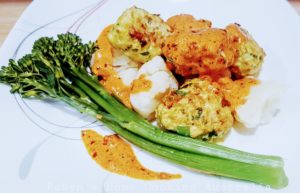 INGREDIENTS
Meatball-makes 20
500 g Chicken breast blended or Chicken mince (0 g Carbs)
95 g Spring Onion (4.4 g Carbs)
50 g Parmesan, grated Perfect Italiano Extra sharp 4 (0 g Carbs)
1 Egg, Large, free range 700 g (0.7 g Carbs)
1 Teaspoon, garlic powder (3.7 g Carbs)
14 g Nutritional yeast. (2.8 g Carbs)
Avocado oil, Grove brand. Or other.
*TOTAL CARBS PER MEATBALL MIX- 11.6 g Carbs/20 balls = 0.6 g Carbs each.
VEG (per serve)
30 g Broccolini (2.2 g Carbs)
70 g Cauliflower (1.4 g Carbs)
*TOTAL CARBS VEG- 3.6 g Carbs.
SAUCE
20 g Tomato pesto. (0.9 g Carbs)
20 ml Thickened cream. (0.6 g Carbs)
*TOTAL CARBS SAUCE- 1.5 g carbs
INSTRUCTIONS
Blend cut up chicken breast and spring onion. Add to blender garlic powder.
In a bowl add blended mixture with remaining meatball ingredients.
Roll into balls and place on a chopping board. (They will be moist, so gently roll)
Add small amount of oil to fry pan on stove. Heat the pan before adding balls.
Add ball in about 2-3 batches, so that you have plenty of room to turn them.
When done, place them in oven just on 'keep warm', while you prepare veg & sauce.
Use microwave steamer to do veg.
Mix sauce ingredients and heat for 2 x 40 seconds.
This and other meatball recipes can be found here
MEXICAN CHORIZO MINCE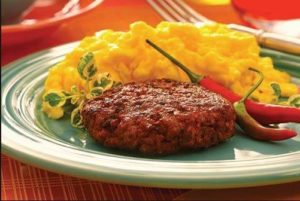 INGREDIENTS
2 pounds/ 900 g boneless pork shoulder butt, 75% lean, cubed
2 tablespoons sweet paprika
2 tablespoons chili powder
1 teaspoon dried oregano leaves
1 teaspoon ground cumin
1 teaspoon black pepper
1/2 teaspoon cinnamon
1/2 teaspoon ground cloves
1/4 teaspoon coriander seeds
1/4 teaspoon ground ginger
3 tablespoons red wine vinegar
3 tablespoons brandy
INSTRUCTIONS
Grind pork with a meat grinder fitted with coarse plate.
In a large bowl, combine ground pork with spices, vinegar and brandy. Mix thoroughly with hands to distribute spices evenly.
Place chorizo in a heavy, zip-top, plastic bag and seal. Refrigerate in very cold section of refrigerator for 1 to 3 days to allow mince to cure (do not exceed 3 days). The flavour will become stronger the longer mince cures. For longer storage, mixture can be frozen up to 2 months.
Shape mince into 16 equal size patties. Cook desired portion in a stoneware fry pan coated with oil for 10 to 15 minutes until browned and cooked through.
Renal and renal diabetic food choices
§ 1-1/2 meat
§ 1 fat
Carbohydrate choices
0
Helpful hints
§ If you do not have a meat grinder, ask the butcher to grind meat or use a food processor. Working in small batches, coarsely grind pork in food processor fitted with metal blade, using on and off pulses. Do not over-grind.
§ Mexican chorizo is raw and must be cooked. Spanish chorizo is dry-cured and ready to eat.
Nutrients per serving
• Calories 134
• Protein 10 g
• Carbohydrates 1 g
• Fat 10 g
• Cholesterol 38 mg
• Sodium 40 mg
• Potassium 186 mg
• Phosphorus 97 mg
• Calcium 18 mg
• Fiber 0.8 g
MEAT BALLS AND ZUCCHINI
INGREDIENTS
(Meatballs, serves 4 (approx. 5 balls per serve)
-Beef mince, extra grass fed, lean, 500 g
-Onion white, 140 g, thinly diced
-Beef stock cubes x 2,
*Basil, approx. 5 g
*Parsley, approx. 10 g
(Sauce)
-Mushrooms, 6 button, 120 g, sliced
-Capsicum red, 100 g, thinly diced
-Onion white, 60 g, thinly diced
-Tomato, 1 lge, 200 g
-Tomato sauce, 3 Tsp, (reduced sugar)
*Oregano, 5 g
*Minced garlic, 2 Tsp
INSTRUCTIONS
Meatballs,
Mix all ingredients,
Roll into approx 20 balls,
gently fry in small amount of olive oil.
Sauce,
mix all ingredients and simmer.
(Carbs 7.85 g per served with one Zucchini (145 g) per serve added, Total meal 14 g carbs)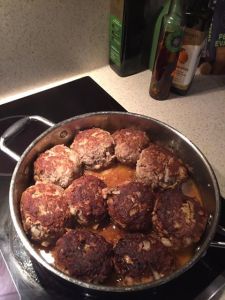 PORK MEATBALLS WITH CRUSHED CASHEWS
Prep: 10 mins. Cook: 20 mins. Total: 30 mins.
INGREDIENTS
600g lean pork mince (make your own for grater content control.)
4 spring onions, finely sliced
4 cloves garlic, peeled & crushed
200g sugar snap peas, trimmed & finely sliced
2 Tbsp olive oil
2 long red chilli, finely sliced
2 handful roasted cashews, roughly chopped
Small bunch coriander, leaves picked
INSTRUCTIONS
In a medium bowl, combine the pork mince, spring onion, and half of the garlic. Season with ginger and pepper. Shape into tablespoon-sized meatballs and set aside on a plate.
Cook the sugar snap peas in boiling water for30 seconds. Drain and set aside. Reserve one to two tablespoons of the cooking water and drain.
Heat a splash of olive oil in a medium frying pan over a medium high heat. Add the meatballs and cook for four to five minutes on each side or until cooked through. Transfer to a clean plate.
For the dressing, heat the remaining olive oil in the same frying pan over a medium heat. Add the long red chilli and cook for one to two minutes. Add the remaining garlic and cook for one minute or until fragrant. Add the roasted cashews and cook, stirring, for two minutes or until golden. Set aside. Reserved cooking liquid. Remove from the heat.
To serve, divide the sugar snap peas, meatballs and fresh coriander. Drizzle with the chilli dressing.
Serve with steamed vegetables or a salad.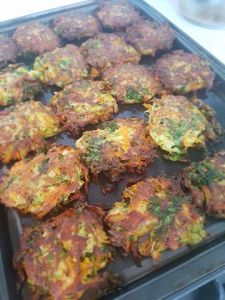 Vegan Zucchini 'Meatballs'
Ingredients:
1 cup chickpeas, soaked overnight, drained and rinsed cooked
3 garlic cloves
1/2 cup rolled oats*
1 teaspoon dried basil
1 teaspoon dried oregano
1/2 teaspoon ginger
2 tablespoons nutritional yeast
juice of 1/2 lemon
1 cup shredded zucchini (about 1 large zucchini)
8 ounces whole grain pasta NB1
INSTRUCTIONS:
In the bowl of a food processor, combine the drained and rinsed chickpeas, garlic cloves, and rolled oats. Pulse for about 5-10 seconds, until finely chopped. When you press the mixture between your fingers, it should hold together.
Transfer to a large bowl along with the dried herbs, ginger, nutritional yeast, lemon juice and shredded zucchini. Do not use more than 1 cup of shredded zucchini.
Stir together until well-combined. If the mixture is too wet to handle, add a little flour (you can grind extra oats into a flour) or nutritional yeast to help absorb excess moisture.
Preheat the oven to 375°F 190 C then line a baking sheet with parchment paper.
Using your hands, scoop out on heaping tablespoon of the zucchini mixture at a time and roll into 12 separate balls. Arrange on the baking sheet a few centimeters apart then bake in the oven for 25 minutes. Meanwhile, cook pasta as directed.
Once the zucchini balls are light golden brown, remove them from the oven and set aside. Serve warm over cooked pasta. Garnish with fresh basil and enjoy!
*Be sure to use certified gluten-free oats for allergies
Click Here for Nutrition Facts
Adapted from http://makingthymeforhealth.com
NB1
Try Konjac noodles
Konjac Foods for People with Diabetes (Noodles. Pasta.)As medical research has demonstrated, the higher the viscosity of soluble fiber, the better the ability to control blood sugar level. The glucomannan fiber is the most viscous soluble fiber in nature, making it the best way to control the blood sugar level of diabetic people. At the same time, it is a very efficient way to control blood sugar level when you take it before each meal. Simply consume as a beverage before each meal.

As stated, Konjac fiber is the most viscous fiber in nature. This allows the Konjac to move through the digestive tract very slowly which can slow down carbohydrate absorption. This slowed absorption will keep the blood sugar at a moderate level during the digestion process. Konjac also acts to trap food and waste residues as it moves through the digestive system. Konjac fiber can block substances that are easily reabsorbed such as excess bile acids. The digestive regulatory quality of Konjac fiber makes it a natural agent in the treatment and regulation of diabetes and high cholesterol.

Glucomannan is known to show hypoglycemic effects by inhibiting the uptake of glucose by the body. It is believed that it does this by preventing contact of the glucose with the intestinal walls for absorption. By reducing the amount of blood sugar, glucomannan can help patients with type II diabetes. Konjac fiber when absorbs lots water, it will form soft gel, the glucomannan will delays gastric emptying and slows the release of sugar into the bloodstream, which helps to lower levels of insulin and blood glucose. Additionally, glucomannan improves blood-lipid profiles and can lower systolic blood pressure. Because of these effects, glucomannan can greatly benefit individuals with metabolic syndrome or diabetes.
http://www.konjacfoods.com/noodles/19.htm
Also Try Kelp Noodles Asian Salad
http://www.furtherfood.com/recipe/kelp-noodles-asian-salad-recipe-mango-macadamia-nuts-lime-zest-diabetes-diet/
Also try one from this page:-
http://www.findtex.com.au/diabetic-foods/zucchini-fritters-with-chili-lime-mayo/
ITALIAN STYLE BAKED MEATBALLS
INGREDIENTS
80g extra-lean beef mince
80g extra-lean pork mince
1 tsp Dijon mustard or gluten-free mustard
1 small zucchini, coarsely grated, excess moisture squeezed out
2 Tbsp finely shredded basil leaves
2 Tbsp finely shredded flat-leaf parsley leaves
Freshly ground black pepper, to season
1⁄4 tsp extra virgin olive oil spray
1 clove garlic, crushed
400g can no-added-salt chopped tomatoes (Fresh is preferred)
Style Stock Powder (May contain sugar and salt)
125ml (½ cup) water
60g bocconcini, sliced
Extra basil leaves, to serve (optional)
2 x 60g slices wholegrain sourdough bread or gluten-free bread, to serve
INSTRUCTIONS
Preheat oven to 190°C (fan-forced). Combine minces, mustard, zucchini, basil and parsley in a large bowl. Season with pepper. Using your hands, shape into 6 even meatballs.
Spray and heat a medium non-stick frying pan over a medium-high heat. Add meatballs and cook, turning occasionally, for 2 minutes or until browned.
Transfer to 2 small ovenproof dishes and set aside. Add garlic to pan and cook, stirring often, for 1 minute. Add tomato, stock powder and water. Bring to a simmer and cook, stirring occasionally, for 5 minutes.
Put meatballs in a dishes on an oven tray and bake for 5 minutes. Remove tray from oven and sprinkle cheese over meatballs.
Bake for a further 5 minutes or until meatballs are cooked through and cheese is melted. Top with extra basil leaves, if using. Serve with bread.
COOK'S TIP: You can replace the Dijon mustard with wholegrain mustard
Nutrition Info Per Serve 1601kJ, protein 31g, total fat 13.2g (sat. fat 6g), carbs 33g, fibre 5g, sodium 477mg. • Carb exchanges 2¼. • GI estimate low. • Gluten-free option.
Adapted from http://www.diabeticliving.com.au/recipe/food/italian-style-baked-meatballs
CHICKEN AND ZUCCHINI CURRY RISSOLES
Ingredient.
250 g free range chicken mince
¼ cabbage chopped
1 cup parsley chopped
1 cup spring onions chopped
1 cup kale chopped
1 tbs curry of choice.
Instructions
Mix ingredients in a bowel.
Form into 4cm rissoles
Bake in a pre-heated air fryer at 160C for 15 minutes or until cooked through.
Serve with steamed vegetables.
NB Chillies and Moroccan Seasoning can be added if you prefer it hot.
CHICKEN MEATBALLS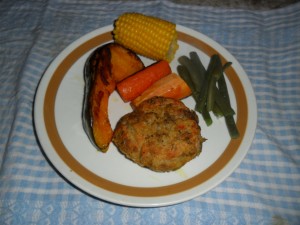 1/2 kg skinned chicken breast mince (works for any lean meat)
2 eggs whites, beaten with 1/2 cup milk (Heart Active)
1 cup oat bran
2 cloves garlic, minced
1/2 teaspoon oregano
1 teaspoon ginger
freshly ground pepper to taste
1/4 cup minced fresh basil or mixed herbs.
Mix all ingredients with hands.
Form into golf ball sized meatballs.
Bake at 350 degrees for 30 minutes.