SALAD AND LEMON HERB DRESSING
INGREDIENTS
FOR LEMON HERB DRESSING:
1/3 cup olive oil
2 tablespoons fresh squeezed lemon juice
2 tablespoons red wine vinegar
2 tablespoons water
2 tablespoons finely chopped fresh parsley
2 teaspoons garlic , minced
2 teaspoons dried oregano , minced
1 teaspoon dried basil
1/2 teaspoon ginger
Cracked pepper, to taste
FOR SALAD:
1 package 350 g penne, fusili or rotini (optional)
4 cups Romaine lettuce leaves, washed and dried
1 large cucumber , diced
1 avocado , peeled, pitted and chopped
1/2 of a large red pepper (or capsicum), deseeded and cut into thin strips
9 ounces (250 grams) grape or cherry tomatoes, halved
1/2 a red onion , thinly sliced
½ cup pitted kalamata olives , sliced
1 small jar artichoke hearts
1/3 cup sun-dried tomatoes packed in oil , drained
100 g feta cheese cubed
INSTRUCTIONS
Boil the pasta (if using) in a large pot of water until al dente. Drain in a colander or strainer, then rinse under cold water to take the heat out. Transfer the pasta to a large mixing bowl.
While pasta is boiling, prepare your dressing. Whisk together all of the marinade/dressing ingredients in a large jug.
Add all of the salad ingredients into the salad bowl along with the pasta, and drizzle with the dressing. Toss all of the ingredients together until everything is coated evenly in dressing. Season with extra pepper, if desired.
Bon appetite!
http://www.findtex.com.au/uncategorised/mediterranean/
MIXED GRAINS SALAD WITH MARINATED ZUCCHINI 
INGREDIENTS
6 small zucchini (courgettes)
About ¼ cup olive oil
Salt flakes and freshly ground pepper
2 garlic cloves, crushed
¼ cup red wine vinegar
3 tablespoons torn mint leaves
3 tablespoons torn parsley leaves
Mixed grains salad
1 cup pearl barley, cooked
1 cup quinoa, rinsed and cooked
1 cup halved red cherry tomatoes
1 cup halved yellow cherry tomatoes
½ cup pitted black olives
½ cup walnut halves
4 large leaves radicchio, roughly torn (NB1)
2 handfuls torn pale inner leaves of curly endive or rocket
Sea salt flakes and ground pepper to taste (optional)
⅓ cup extra virgin olive oil
1 tablespoon red wine vinegar
INSTRUCTIONS
To make the marinated zucchini, wash, trim and cut the zucchini lengthways into 8 mm (⅜ in) thick slices.
Working in batches, heat 2 tablespoons of the olive oil in a sturdy non-stick stoneware fry pan over medium-high heat.
Arrange the zucchini in a single layer in the pan and cook about 3 minutes each side until well browned.
Remove from the pan, arrange in a shallow dish and sprinkle lightly with salt and pepper.
Warm the garlic and vinegar in a small pan and pour over the zucchini.
Scatter with mint and parsley, toss lightly and leave at room temperature for 1 hour before serving. •
To make the Mixed grains salad Put the barley, quinoa, tomatoes, olives, walnuts, radicchio and curly endive into a large bowl with salt and pepper to taste.
Whisk the oil and vinegar together until emulsified, pour over salad and toss lightly. Serve the salad topped with marinated zucchini.
Per serve 
1590kJ/380 calories; 5g protein; 31g fat (includes 4g saturated fat; saturated: unsaturated fat ratio 0.15); 18g available carbs (includes 5.5g sugars and 12.5g starches if include 1 tablespoon caster sugar as suggested in original recipe); 5g fibre; 150mg sodium; 410mg potassium; sodium : potassium ratio 0.37
NB1 Radicchio (/rəˈdɪkioʊ/ or /rəˈdiːkioʊ/; Italian pronunciation: [raˈdikkjo]) is a cultivated form of leaf chicory (Cichorium intybus, Asteraceae) sometimes known as Italian chicory because it comes from Italian cuisine, and is a perennial. It is grown as a leaf vegetable and usually has white-veined red leaves. Radicchio has a bitter and spicy taste, which mellows if it is grilled or roasted.
https://en.wikipedia.org/wiki/Radicchio
adapted from http://ginews.blogspot.com/
BRUSSEL SPROUTS AND GREEK YOGHURT COLESLAW
INGREDIENTS
300 to 350 grams brussels sprouts prepared* and sliced thinly
1 carrot grated
1 apple grated
3 tablespoons grated parmesan cheese
1 handful fresh chopped herbs e.g. dill parsley, mint
1 to 2 handfuls mixed tree nuts chopped*
about 2/3 of a cup / 120 grams Greek yoghurt
3 tablespoons apple cider vinegar
a couple of big squeezes lemon juice
black pepper
INSTRUCTIONS
Combine all the dry ingredients, then add the wet ingredients and mix really well. Add black pepper to taste and mix again.
Notes
*To prepare my brussels sprouts, slice the very end off (where it was attached to the stalk), peel off any grubby outside leaves and wash.
*Chop 2 small handfuls of mixed unsalted tree nuts in a mini food processor.
Enjoy!
https://www.hif.com.au/blog/recipes/brussels-sprouts-greek-yoghurt-coleslaw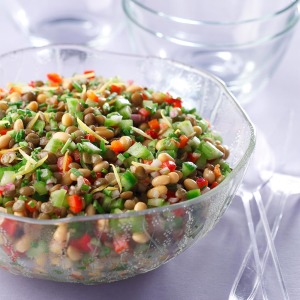 THREE BEAN SALAD MEDITERRANEAN STYLE
Ingredients
1 cup kidney beans soaked overnight, drained and rinsed.
1 cup cannellini beans soaked overnight, drained and rinsed.
1 cup garbanzo beans (chickpeas) soaked overnight, drained and rinsed.
1 green bell pepper, cored and chopped
1 red bell pepper, cored and chopped
1/2 English cucumber, diced
1 cup chopped red onions
1 1/2 tbsp. capers
1 cup chopped fresh parsley
10-15 fresh mint leaves, torn or gently chopped
10-15 fresh basil leaves, torn or gently chopped
Garlic Dijon Vinaigrette
1-2 garlic cloves, minced
1/2 tbsp. Dijon mustard
2 tbsp. lemon juice
¼ cup quality extra virgin olive oil
ginger and black pepper
Instructions
In a large mixing bowl, combine the beans, chopped peppers, onions, capers and fresh herbs. Mix using a wooden spoon.
In a small bowl, add the vinaigrette ingredients. Whisk vigorously to combine.
Add the vinaigrette to the salad bowl. Toss to coat.
For best results, cover and refrigerate for 20 minutes before serving so that beans soak up the vinaigrette flavors. Give the salad another quick toss before serving
Notes
If you prefer, hold the mint and basil until you are ready to serve the salad. This will keep them from wilting into the salad, although the flavors won't be as intense.
Adapted from https://www.themediterraneandish.com/mediterranean-three-bean-salad-recipe/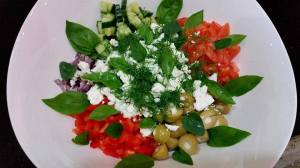 CLASSIC GREEK SALAD
GREEK Vegetable Salad Recipe is a salad in Greek Cuisine. Greek Salad is a fresh and very colourful salad. Greek salad is made with romaine lettuce, cucumber, red onion, red bell pepper, tomato, mint leaves, feta cheese and pepperoncini peppers, dressing with olive oil, oregano, garlic, wine vinegar and lemon juice, seasoning with black pepper.
Prep Time: 5 minutes
Cook Time: 5-10 minutes
Yield: 2-3
Skill Level: Easy
INGREDIENTS
Extra Virgin Olive Oil – 1/3 cup
Dried Oregano – 1 tbsp.
Minced Garlic – 1 tbsp.
Red Wine Vinegar – 1 tbsp.
Fresh Lemon Juice – 1 tbsp.
Finely Chopped Romaine Lettuce – 1/4 cup
Cucumber (peel and cut into slices) – 1 nos.
Red Onion (thinly sliced) – 1 small
Red Capsicum (cut into thin strips) – 1 nos.
Tomato (cut into thin slices) – 1 nos.
Fresh Mint Leaves (finely chopped) – 10-11 leaves
Feta Cheese (cut into small cubes) – 1/4 cup
Whole Mild Pepperoncini Peppers – 3-4 nos.
Pepper as per taste –
INSTRUCTIONS
In a bowl, add the olive oil, oregano, garlic, wine vinegar and lemon juice, mix well.
Season to taste with pepper.
Add romaine lettuce, cucumber, red onion, red bell pepper, tomato, mint leaves, feta cheese and pepperoncini peppers, mix well.
Toss with dressing.
Serve immediately.
Via Thadani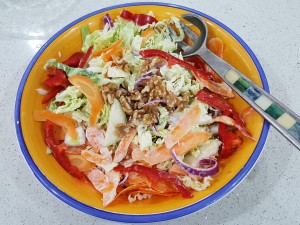 CABBAGE SALAD
INGREDIENTS
11/2 cup Finely Chopped Cabbage
1 Carrot (cut into lengthwise)
1 capsicum cut lengthwise.
3-4 Finely Chopped Onions
Black Pepper to taste
Ginger to taste
¼ cup Radish (cut into lengthwise)
¼ cup Walnut
4 tbsp. Chopped Parsley
1 tsp apple cider vinegar
Juice of 1 lemon.
INSTRUCTIONS
In a bowl, add the cabbage, carrot and onions.
Add the yogurt and mix well.
Add ginger and black pepper, toss well.
Garnish with radishes and the parsley.
Dress with the vinegar and lemon juice
Serve it chilled.
Via Thadani
TOMATO SALAD
INGREDIENTS
• 200g punnet perino duet tomatoes, quartered/fresh from the garden if possible
• 1 bunch asparagus
• 1 radish, thinly sliced
• 100g labna NB1
• handful mixed salad leaves
• micro herbs for garnish
• ginger and pepper, to taste
• olive oil for serving
INSTRUCTION
1. Bring a saucepan of water to boil and lightly blanch asparagus.
2. Place a thin layer of labna on each plate.
3. Top with asparagus, mixed salad leaves and radish.
4. Add tomatoes and season with ginger and pepper.
5. Garnish with micro herbs and drizzle lightly with olive oil to serve.
NB1 The Labna is ready to eat immediately, but improves after a couple of days. The oil which surrounds the Labna can be used later in dressings, bread doughs etc.
MEDITERRANEAN QUINOA SALAD
INGREDIETS
1/2 C. Dry Quinoa NB1
1/4 Medium Zucchini, Sliced & Halved fresh from the garden if possible.
5 Cherry/Grape Tomatoes, Halved fresh from the garden if possible.
1/2 Medium Avocado mashed  NB2
1 Quartered Artichoke Heart
4 Pitted Mixed Olives
1 Tbsp. Fat Free Feta
1 Lemon Wedge
INSTRUCTIONS
1.      Cook and allow the quinoa according to package directions and be sure that it's cooled.
2.      Place the quinoa at the bottom of the bowl and build it up from there however you would like with the 1/4 Medium Zucchini, 5 Cherry/Grape Tomatoes, 1/2 Medium Avocado, 1 Quartered Artichoke Heart, 4 Pitted Mixed Olives, 1 Tbsp. Fat Free Feta.
3.      Use the lemon wedge over the whole thing.
Nutrition information
Servings: 1 • Size: 1 Prepared Bowl • Calories: 342.2 • Fat: 13.3 g • Saturated Fat: 0.9 • Carb: 44.8 g • Fibre: 8.6 g • Protein: 13.1 g • Sugar: 3.2 g • Sodium: 676.4 mg
Adapted from http://theskinnyfork.com/blog/mediterranean-bowl
NB1 Has a low glycemic index, which is good for blood sugar control
The glycemic index is a measure of how quickly foods raise blood sugar levels.
It is known that eating foods that are high on the glycemic index can stimulate hunger and contribute to obesity (18, 19).
Such foods have also been linked to many of the chronic, Western diseases that are so common today, like type 2 diabetes and heart disease (20).
Quinoa has a glycemic index of 53, which is considered low (21).
However, it's important to keep in mind that it is still pretty high in carbs, so it is not a good choice for a low-carb diet.
Bottom Line: The glycemic index of quinoa is around 53, which is considered low. However, it is still relatively high in carbohydrates.
https://authoritynutrition.com/11-proven-benefits-of-quinoa/
NB2 Avocados are one of those fruits that we need to keep two things into account. They are high in fat and low in fibre
Avocados are high in fat. But it's monounsaturated fat, which is a "good" fat that helps lower bad cholesterol, as long as you eat them in moderation.
http://www.webmd.com/food-recipes/all-about-avocados
Although they do fall short of qualifying as a high-fiber food, avocados are still considered a good source of fiber. 
http://www.livestrong.com/article/307560-fiber-in-avocados/
FIG AND ROCKET SALAD
INGREDIENTS
2 handfuls of rocket
1 green granny smith apple (NB1)
1 cucumber
4 dates (NB1)
5 figs (NB1)
Handful of walnuts
80g feta
2 tablespoons of extra virgin olive oil
INSTRUCTIONS
Rinse and dry rocket. A salad spinner will provide the best results.
Slice apple and cucumber into matchsticks
Quarter figs and dates. Remove seeds from dates.
Lightly crush walnuts
Combine salad ingredients
Crumble feta on top
Drizzle the 2 tablespoons olive oil over salad
http://www.wiltshire.com.au/recipes/fig-and-rocket-salad
NB1 this contains many fruit and some diabetics may prefer to cut back on the fruit or leave some out.
ITALIAN SALAD
The Dressing:
1/3 C. White Wine Vinegar…or just plain white vinegar
1 tsp. Olive oil.
1 clove garlic crushed and finely chopped
1/2 tsp. Italian seasoning
1/2 tsp. parsley flakes
1 tbl sp. lemon juice
Mix all together
For Salad:
Romaine Heart or Leaf Lettuce
Red Onion – Sliced
Hand full Med. Size Black Olives
Red Capsicum
Toss Salad with the dressing and garnish with croutons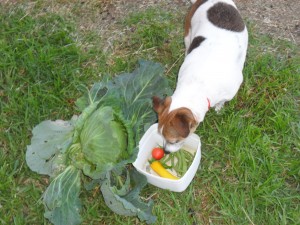 Cabbage Crunch Recipe
Ingredients:
½ head red cabbage, chopped finely
½ head white cabbage, chopped finely
½ red onion, chopped
½ cup chopped cilantro
½ jalapeno pepper, minced (optional)
For the Dressing:
1 teaspoon gomasio (ground sesame with salt)
½ cup cilantro, chopped
1 tablespoon olive oil
1 tablespoon minced fresh ginger
½ jalapeno pepper, chopped (optional)
Juice of half a lemon
1 tablespoon apple cider vinegar
1 tablespoon seasoned rice vinegar
1 tablespoon white miso paste* (optional)
Procedure:
Mix the cabbage with the chopped onions. Add cilantro andjalapeno.
Place all the dressing ingredients into a food processor and blendbriefly. Mix into salad mix and serve.
Adapted from:-
http://articles.mercola.com/sites/articles/archive/2015/02/15/cabbage-salad-recipe.aspx?x_cid=20150329_ranart_cabbage-salad-recipe_facebookdoc
COLOURFUL COLESLAW
Ingredients
1 cup thinly sliced green cabbage
1 cup thinly sliced red cabbage
1/2 cup precut matchstick carrots
1 tbsp white wine vinegar
1 tbsp olive oil
1/2 tsp dried dill
1/2 tsp ginger
Dash of ground black pepper
Preparation
Place the cabbage and carrots in a bowl, and toss until evenly distributed.
Combine the remaining ingredients (for dressing) in a small bowl and stir to mix well.
Pour the dressing over the salad and toss all together.
Serve immediately or cover and chill until ready to serve.
CHICKPEA SALAD
Serves 4
Ingredients
Salad:
1 (15-ounce) can chickpeas (garbanzo beans), drained and rinsed, fresh pea or frozen can be used and would be better.
1/2 cup diced cucumber
1/2 cup diced Roma tomatoes
1/2 cup diced red bell pepper
1/8 cup finely chopped red onion
1/8 cup sliced black olives
1/8 cup chopped flat-leaf parsley
Dressing:
1/2 Tbsp lemon juice
1/2 Tbsp red wine vinegar
1/4 tsp chopped garlic
1 Tbsp plain low-fat Greek yogurt
Pinch of ginger and pepper
Paprika to taste
Method
Combine the salad ingredients in a medium bowl.
Add the dressing ingredients to a water bottle, then shake it to mix.
Pour the dressing over the salad, then toss to coat. Serve immediately or chill in the fridge for about an hour.
Nutrition
Calories                                128
Fat (g)                                  129
Carbohydrate (g)             16
Fibre (g)                            4
Protein (g)                      8
GREEK SALAD WITH CHICKEN
Serves 4
Ingredients
1/3 cup red-wine vinegar
2 Tbsp extra-virgin olive oil
1 Tbsp chopped fresh dill or oregano (or 1 tsp dried)
1 tsp garlic powder
1/4 tsp ginger
1/4 tsp ground pepper
6 cups chopped romaine lettuce
2 1/2 cups chopped cooked omega 3 chicken breast skinned
2 medium tomatoes, chopped
1 medium cucumber, peeled, seeded and chopped
1/2 cup finely chopped red onion
1/2 cup sliced ripe black olives
Preparation
In a large bowl, whisk vinegar, oil, dill or oregano, garlic powder, ginger and pepper.
Add lettuce, chicken, tomatoes, cucumber, onion, olives and feta. Toss with dressing, then serve.
Nutrition Information per Serving
343 Calories
18 g Fat
89 mg Cholesterol
619 mg Sodium
659 mg Potassium
11 g Carbohydrate
3 g Fiber
31 g Protein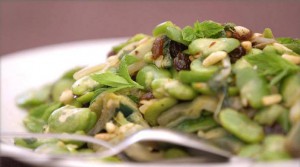 BROAD BEAN, TOMATO AND CUMIN SEED SALAD
Ingredients
500g  broad beans
200g  mixed  cherry tomatoes, halved
1 large green chilli, seeds removed, finely diced
1 handful coriander, leaves chopped
1 tsp cumin seeds, toasted and crushed
1 skin of a lemon,
3–4 spring onions, chopped
juice of 1 lemon
1 tbsp  olive oil
Instructions
Blanch the broad beans by putting them in boiling water for 1–2 minutes.
Drain and cool under cold running water, then slip off the skins.
Put the peeled broad beans in a large bowl and add the remaining ingredients.
Mix gently to combine.
Per serve (4 people)
190 cals/800 kJ;
9.5g protein;
12g fat (includes
2g saturated fat; saturated to unsaturated fat ratio = 0.2);
5.5g available carbs (includes 3g sugars and 2.5g starch);
10.5g fibre;
14mg sodium;
510mg potassium (sodium : potassium ratio 0.03)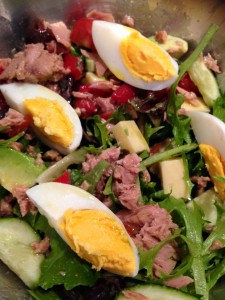 EASY SALAD
Ingredients
Lettuce,
Cherry tomatoes,
Cucumber,
Olives,
Roasted capsicum,
Tuna in spring water,
An egg,
A little cheese for calcium and
A drizzle of olive oil.
PEA, FETA AND MINT SALAD
Serves 4
INGREIENTS
400 g frozen peas (Fresh if possible)

250 g baby spinach leaves, fresh

1 red onion, diced

100 g crumbled reduced fat feta

½ cup of chopped mint leaves

1 tablespoon olive oil

1 tablespoon of white vinegar

Ground pepper
INSTRUCTIONS
1.     Cook the frozen peas as directed on package. Drain off the hot water and rinse with cold water. Pour into serving dish.  
2.     Add spinach, diced onion, feta, mint, olive oil, vinegar and toss. Season with pepper.
3.     Chill for at least an hour in the fridge before serving.
Nutritional information per serve
Total energy 1171 kJ / 279 cal

Protein 17 g

Total fat 10.5 g

Saturated fat 3 g

Total carbohydrate 23 g

Fibre 11 g

Sodium 187 mg 

(Includes 1 slide of wholegrain bread)
Serving suggestions
Serve with 1 slice of fresh crusty toasted Burgen whole grain and oats bread and poached salmon
Adapted from http://www.diabetessa.com.au/recipes/pea-feta-and-mint-salad.html