Ingredients
3 lbs. ground turkey or fat free chicken breast mixed
3 eggs whites
1 (8 oz.) can tomato sauce (Use salt free or fresh tomatoes blended)
1 1/2 cup raisins
2 large carrots finely minced
1 large onion finely minced
1 teaspoon garlic powder
2 tablespoons olive oil
3 teaspoons ginger
1/2 teaspoon ground black pepper
2 cups multigrain bread crumbs or gluten free
8 to 10 cups water.
Cooking Procedure
In a large mixing bowl, combine the ground turkey, onion, carrots, raisins, olive oil, tomato sauce, and eggs whites. Mix well using a spatula or a stand mixer.
Add the garlic powder, ginger, pepper, and bread crumbs. Continue to mix until all the ingredients are evenly dispersed.
Lightly oil with olive oil a bread pan.
Place the mixture in the bread pan
Bake on medium heat for 40 to 50 minutes.
Remove, this can served hot or chilled .
CHICKEN EGG ROLL BOWL
INGREDIENTS
1 Tbsp. olive Oil
1 Lb./ 490 g Ground Chicken/ turkey Breast
1/2 C. White Onion, Chopped
3 Garlic Cloves, Minced
1/2 Tsp. Ginger
14 Oz./ 400 g Dry Slaw Mix
3 Tbsp. Reduced Sodium Soy Sauce
1 Tbsp. Sriracha (optional)
1 Tbsp. Rice Wine Vinegar
Sesame Seeds
Pepper to Taste.
INSTRUCTIONS
Heat the 1 Tbsp. Sesame Oil in a large stoneware fry pan over medium-high heat and add in the 1 Lb. 490 g Ground Chicken Breast and 1/2 C. White Onion.
Cook until the meat is nearly done, and the onion is soft and translucent before adding in the 3 Garlic Cloves and 1/2 Tsp. Ginger.
Continue to cook for another few minutes, stirring on occasion.
Add the 14 Oz. / 400 g Dry Slaw Mix, 3 Tbsp. Reduced Sodium Soy Sauce, 1 Tbsp. Sriracha (if using), and 1 Tbsp. Rice Wine Vinegar and cook down, stirring on occasion until the slaw is softened slightly and everything is well mixed together.
Season with ginger and pepper to taste.
Remove from the heat and divide evenly among bowls.
Top with sesame seeds and an additional drizzle of sriracha if desired and enjoy!
Nutritional Claims: 
Servings: 4 • Size: About 2 Cups • Calories: 280 • Fat: 14 g • Saturated Fat: 4 g • Carb: 12 g • Fiber: 2 g • Protein: 25 g • Sugar: 7 g • Sodium: 395 mg
Low Carb, Dairy Free, Gluten Free, Wheat Free, Egg Free, Peanut Free, Tree Nut Free, Soy Free, Fish Free, Shellfish Free, Pork Free, Red Meat Free, Crustacean Free, Celery Free, Mustard Free, Lupine Free, Mollusk Free, Alcohol Free, No Sugar Added, Kosher
Adapted from Low-Carb Chicken Egg Roll Bowl (Keto-Friendly) — The Skinny Fork
QUINOA TURKEY BURGERS
INGREDIENTS
1 pound/ 450 g lean ground turkey breast
1/2 cup cooked quinoa
1/2 cup kale, chopped
2 scallions, thinly sliced
1 tablespoon olive oil
1 teaspoon chili powder
1/2 teaspoon cumin
1/2 teaspoon garlic powder
INSTRUCTIONS
In a large bowl, combine all ingredients; mix well. Form mixture into 4 patties.
Coat a grill pan or large fry pan with cooking spray and cook burgers over medium heat for 5 to 6 minutes per side or until no longer pink in center.
Notes
Go bunless and serve these turkey burgers with some fresh salsa and fat-free sour cream!
Nutritional Information
Servings Per Recipe: 4
Amount Per Serving % Daily Value *
Calories 287
Calories from Fat 123
Total Fat 14 g  21 %
Saturated Fat 2.7 g 14 %
Trans Fat 0.1 g 0 %
Protein 26 g 52 %
Cholesterol 78 mg2 6 %
Sodium 83 mg 3 %
Total Carbohydrates 16 g 5 %
Dietary Fiber 2.1 g 8 %
Sugars 0.2 g 0 %
* Percent Daily Values are based on a 2,000 calorie diet.
Adapted from Quinoa Turkey Burgers | EverydayDiabeticRecipes.com
EGG ROLL IN A BOWL
INGREDIENTS
2 Tbsp. olive oil divided
1 lb./ 450 g lean ground turkey or beef
1 ½ cup sweet onion finely diced
1 cup carrots shredded
½ tsp ginger minced
3 cloves garlic crushed
¼ cup chicken broth or water
5 cups cabbage cut into ¼-inch shreds
2 Tbsp. soy sauce, gluten-free (optional)
2 tsp. apple cider vinegar or rice wine vinegar
½ tsp. ginger to taste
¼ tsp. pepper to taste
1 tsp. toasted sesame oil
Toasted sesame seeds optional
Green onions optional
INSTRUCTIONS
Sauté olive oil and ground turkey in a large Sauté pan over medium heat.
Cookfor 5-6 minutes, or until turkey is almost cooked through.
Pushturkey to the side of the pan and add onion and the other tablespoon of oil. Sauté for 3-4 minutes.
Addshredded carrots, garlic, and ginger and Sauté for 2 minutes. Stir the vegetables and turkey together.
Pourchicken broth or water in the pan and scrape the bottom of it to deglaze it.
Addcabbage, soy sauce, vinegar, ginger, and pepper. Stir well and cover with a lid.
Reduceheat to medium-low and cook for 12-15 minutes, or until cabbage is to your desired tenderness.
Justbefore serving add toasted sesame oil and stir to combine.
Nutrition Facts
Egg Roll in a Bowl | Keto + Paleo
Amount Per Serving
Calories 315 Calories from Fat 162
% Daily Value*
Fat 18 g 28%
Saturated Fat 3 g 19%
Cholesterol 83 mg 28%
Sodium 824 mg 36%
Potassium 616 mg 18%
Carbohydrates 15 g 5%
Fibre 4 g 17%
Sugar 7 g 8%
Protein 24 g 48%
Vitamin A 5515I U 110%
Vitamin C 40.1 mg 49%
Calcium 87 mg 9%
Iron 2.1 mg 12%
* Percent Daily Values are based on a 2000 calorie diet.
Adapted from https://www.evolvingtable.com/egg-roll-in-a-bowl-paleo-keto/?fbclid=IwAR1ZGYf4XQwnhtUAQinCQWsYSI4te7uoB44Nn3ekZTJFVEkSrd7Cp_Bzsy4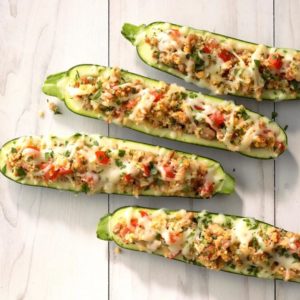 STUFFED ZUCCHINI
INGREDIENTS:
4 medium size Zucchini
1 tbsp olive oil
½ onion, finely diced
2 cloves garlic, minced
1 tbsp tomato paste
1 lb/ 450 g Extra Lean Ground Turkey or lean omega 3 chicken breasts minced
2 tbsp chopped fresh thyme
1 tomato, diced
1/3 cup chopped roasted red peppers
1 tsp lemon zest
½ cup freshly grated Parmesan cheese
Ginger and pepper
INSTRUCTIONS:
Cut zucchini in half lengthwise. Using a melon baller or a metal teaspoon, carefully scoop out the flesh from the zucchini. Reserve 1 cup (250 mL) of the zucchini flesh and chop it up. Set aside. Season the half zucchinis with ginger and pepper. Set aside.
Heat olive oil in a large fry pan over medium-high heat. Sauté onions and garlic for two to three minutes. Add tomato paste and cook, stirring for another minute. Add turkey/chicken and cook, breaking up with the back of a wooden spoon or a whisk for about eight to ten minutes or until nicely browned. Stir in thyme, tomato, roasted peppers, reserved chopped zucchini and lemon zest. Cook for three to four minutes and remove from the heat.
Preheat oven to 375°F (190°C).
Spoon meat mixture into the hollowed zucchini. Sprinkle with Parmesan and place on a parchment lined baking sheet. Bake in preheated oven for 10-12 minutes or until the cheese is begins to brown and the zucchini is fork tender.
http://www.findtex.com.au/diabetic-foods/zucchini-fritters-with-chili-lime-mayo/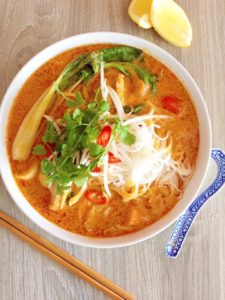 SLOW COOKED TURKEY CHILI
INGREDIENT
INSTRUCTIONS
In a frying pan over high heat, cook the ground turkey.
Once browned, drain the excess fluid and transfer the cooked turkey it to a slow cooker.
Add the rest of the ingredients to the slow cooker and stir.
Cook on low 8 hours.
Season to taste with ginger and pepper.
Serve & Enjoy.
Cooking Tips
The beans can be left out of the recipe if you don't like them. Some chunky diced carrots are an excellent alternative to beans, especially if you want a decent no bean chili. It's also perfect if you're going to make it Paleo friendly.
Frying the turkey will help reduce the amount of oily liquid in the slow cooker. If time is an issue, then you can easily skip this step. Your chili will still be delicious.
I find that the amount of chili in this recipe is more than enough. However, if you like things really spicy, then I highly recommend that you increase the amount. Some people find two teaspoons works quite well.
Simply halve the amount of time and cook on high if you want to have this turkey chili cooked faster.
Adapted from https://slowcookingperfected.com/slow-cooker-turkey-chili/?fbclid=IwAR1knPw9XlS1FkjHO6ijtXVGyF2smsc3PKUlSa-G3Ea_KshVhAvfohyS3mI
CABBAGE AND TURKEY RAGOUT
INGREDIENTS
1 lb./450 gms. ground turkey/chicken
1 large onion, chopped
6 cloves garlic, minced
3 medium carrots, thinly sliced
2 medium stalks celery, thinly sliced
2 medium green bell peppers, diced
1 small green cabbage, chopped
1 (28 oz./800 gms) can no salt added diced tomatoes or fresh if possible
3/4 cup reduced-fat, reduced-sodium chicken broth
1 Tbsp. vinegar
1 tsp. dried thyme
1 tsp. dried basil
1/4 tsp. cayenne or red pepper, or to taste
Ginger and freshly ground black pepper
INSTRUCTIONS
In large pot over medium-high heat sauté the turkey, onion, garlic, carrots, celery and peppers about 12-14 minutes or until turkey is no longer pink.
Stir in remaining ingredients. Cover and bring to a boil. Uncover and let simmer about 15 minutes or until vegetables are tender.
Serve hot as is or over cauliflower rice.
Recipe Yield: Yield: 6 servings
Nutritional Information Per Serving: of original
Calories: 203
Fat: 7 grams
Saturated Fat: 2 grams
Fibre: 6 grams
Sodium: 208 milligrams
Protein: 18 grams
Carbohydrates: 21 grams
Adapted from https://diabeticgourmet.com/diabetic-recipes/cabbage-and-turkey-ragout?fbclid=IwAR3bbCJBoSpbkzvVGyXMssooZp0bdWIveBj2d01nI0mj1EsQ91FelBxiAws