CHICKEN POT PIE SOUP
INGREDIENTS
2 tablespoons olive oil
2 shallots minced
1 cup mushrooms chopped
2 celery stalks chopped
1 teaspoon minced garlic
1 cup frozen baby peas thawed (or fresh if possible)
16 ounces/ 450 g cooked chopped chicken
Ginger and pepper
4 cups chicken broth or water
3 ounces/ 85 g cream cheese cubed
1 cup heavy cream
INSTRUCTIONS
Heat the olive oil in a large saucepan over medium heat. Add the shallots, mushrooms, celery, and garlic to the pan. Cook for 7 minutes, stirring occasionally.
Add the peas and chicken to the pan and season to taste with ginger and pepper.
Add the chicken broth/ water and cream cheese and cook until the cream cheese melts.
Stir in the heavy cream and reduce the heat to low. Simmer for 10 minutes.
Nutrition
Calories: 257.14 kcal | Carbohydrates: 5.98 g | Protein: 15.35 g | Fat: 19.33 g
Saturated Fat: 11.08 g | Cholesterol: 96.26 mg | Sodium: 569.36 mg | Potassium: 444.03 mg | Fiber: 1.25 g | Sugar: 2.16 g | Vitamin A: 823.23 IU | Vitamin C: 17.2 mg | Calcium: 46.48 mg | Iron: 0.89 mg
Adapted from https://kicking-carbs.com/low-carb-keto-chicken-pot-pie-soup/?fbclid=IwAR1YzRY3ebVN9Igf0nOrCqak6lpKqVEdv1xNFCaNDCDqoE0R9WVHq5dVW1M
CHICKEN AND CAULIFLOWER RICE
INGREDIENTS
1 tbsp olive oil
1 medium onion, chopped
3 medium carrots, peeled and sliced
3 celery stalks, sliced
2-3 garlic cloves, minced
1½ pounds/ 250 g boneless skinless chicken breasts
1 tsp dried thyme
1 ½ tsp dried parsley
5 cups homemade chicken broth or stock or water
2 cups cauliflower florets, riced
2 tbsp chopped fresh parsley
ginger and black pepper, to taste
INSTRUCTIONS
Press the SAUTE button on the Instant pot and let stand until screen reads "HOT".
Add the olive oil.
Add the onion, carrots and celery and cook, stirring occasionally for 2-3 minutes.
Add the garlic and cook for 30 seconds.
Press the CANCEL button.
Add the chicken, dried thyme, dried parsley and chicken broth and mix to combine.
Close and seal the Instant pot.
Turn the venting knob to SEALING.
Press PRESSURE COOK button and check to make sure the pressure level shows as "High" on the display.
Adjust the timer to 8 minutes.
When finished cooking, let the pressure come down naturally for 5 minutes, then quick release the rest of the pressure.
Open the lid.
Remove the chicken from the pot.
Shred the chicken with 2 forks.
Press the SAUTE button.
Return the chicken to the pot.
Stir in the cauliflower rice and cook for 1-2 minutes or until tender.
Stir in the chopped parsley.
Press the CANCEL button.
Season to taste with ginger and black pepper.
Serve warm.
Nutrition Information
Calories 266
Carbohydrates 15.5 g
Fat 7.9 g
Sugar 6.4 g
Protein 32.2 g
Fiber 2.7 g
| | |
| --- | --- |
| Calories | 266 kcal |
| Potassium | 905.5 mg |
| Vitamin A | 275.1 µg |
| Vitamin C | 23.7 mg |
| Folic Acid (B9) | 59.9 µg |
| Sodium | 986.5 mg |
Adapted from https://paleogrubs.com/instant-pot-chicken-rice-soup?fbclid=IwAR2EszQ1tLMHm95OLRDZt1-wU-OO1gYfbQyRiK1I0UTDm4IFRV8hr8HAr4o
SLOW COOKED CHICKEN AND SALSA
INGREDIENTS:
INSTRUCTIONS:
Add chicken to the slow cooker. Top with salsa and beer or broth, sprinkle with cumin and season with a few generous pinches of ginger along with pinch or two of pepper. Stir and turn chicken around, being sure to coat both sides. Cover. Set crock pot for 3-4 hours on high heat, or 7-8 hours on low heat.
The chicken is ready when easily shreds with a fork. Remove excess liquid & set aside. This makes shredding easier. Shred the chicken in the slow cooker, using 2 forks. Add extra liquid that was set aside, per preference. You can use a slotted spoon to add the green chili residue gathered from both. Serve warm.
For leftovers, store in refrigerator for up to 5 days, or in the freezer for up to 3 months.
If you prefer gluten-free, use gluten-free beer. Or replace the beer with chicken broth or water
CHICKEN NOODLE SOUP
INGREDIENTS
1 chicken – skin and fat removed
Cold water as needed
1 large onion chopped
2 carrots peeled, chopped
2 celery stalks chopped
1/2 teaspoon freshly-ground white pepper
2 cups broad noodles NB1
1/4 cup chopped fresh parsley
Cold water as needed
Any other in season vegetables
Ginger and pepper to taste
INSTRUCTIONS
Place chicken in pot. Cover with cold water. Add onion, carrots, celery, ginger and pepper.
Bring to boil, lower heat to simmer, cover, and cook 1 1/2 hours.
Remove chicken from broth. Remove flesh from bones, chop, cover with plastic wrap, and refrigerate. Refrigerate broth overnight. Remove hardened fat. Remove carrots from soup, mash, and return to soup. Bring to boil.
Add noodles to soup and cook 6 to 8 minutes. Add chicken and parsley. Heat. Serve.
Nutritional Facts
Servings
10
Calories 235
Calories from Fat 51
Total Fat 6g
Saturated Fat 1g
Cholesterol 65mg
Sodium 421mg
Without Added Salt 208mg
Carbohydrate 20g
Dietary Fibre 2g
Sugars 2g
Protein 25g
NB1 Instead on wheat noodles try Soba noodles
It usually refers to thin noodles made from buckwheat flour, or buckwheat and wheat flours (Nagano soba). They contrast to thick wheat noodles, called udon. In Japan, the word can refer to any thin noodle. Soba noodles are served either chilled with a dipping sauce, or in hot broth as a noodle soup.
https://en.wikipedia.org/wiki/Soba
Also try
Try Konjac noodles
Konjac Foods for People with Diabetes (Noodles. Pasta.)As medical research has demonstrated, the higher the viscosity of soluble fiber, the better the ability to control blood sugar level. The glucomannan fiber is the most viscous soluble fiber in nature, making it the best way to control the blood sugar level of diabetic people. At the same time, it is a very efficient way to control blood sugar level when you take it before each meal. Simply consume as a beverage before each meal.

As stated, Konjac fiber is the most viscous fiber in nature. This allows the Konjac to move through the digestive tract very slowly which can slow down carbohydrate absorption. This slowed absorption will keep the blood sugar at a moderate level during the digestion process. Konjac also acts to trap food and waste residues as it moves through the digestive system. Konjac fiber can block substances that are easily reabsorbed such as excess bile acids. The digestive regulatory quality of Konjac fiber makes it a natural agent in the treatment and regulation of diabetes and high cholesterol.

Glucomannan is known to show hypoglycemic effects by inhibiting the uptake of glucose by the body. It is believed that it does this by preventing contact of the glucose with the intestinal walls for absorption. By reducing the amount of blood sugar, glucomannan can help patients with type II diabetes. Konjac fiber when absorbs lots water, it will form soft gel, the glucomannan will delays gastric emptying and slows the release of sugar into the bloodstream, which helps to lower levels of insulin and blood glucose. Additionally, glucomannan improves blood-lipid profiles and can lower systolic blood pressure. Because of these effects, glucomannan can greatly benefit individuals with metabolic syndrome or diabetes.
http://www.konjacfoods.com/noodles/19.htm
Also Try Kelp Noodles Asian Salad
https://en.wikipedia.org/wiki/Kelp_noodles
Also try zucchini noodles.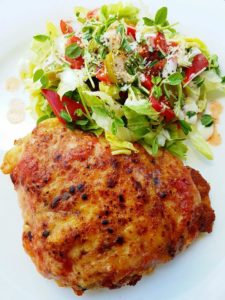 HERBED SLOW COOKED CHICKEN
INGREDIENTS
1 tablespoon olive oil
1 teaspoon paprika
1/2 teaspoon garlic powder
1/2 teaspoon ginger
1/2 teaspoon dried thyme
1/2 teaspoon dried basil
1/2 teaspoon pepper
4 bone-in 0mega-3 chicken breast halves
1/2 cup water
INSTRUCTIONS
In a small bowl, combine the first seven ingredients; rub over chicken. Place in a slow cooker; add water. Cover and cook on low for 4-5 hours or until chicken is tender.
Nutrition Facts
1 chicken breast half: 211 calories, 7g fat (2g saturated fat), 91mg cholesterol, 392mg sodium, 1g carbohydrate (0 sugars, 0 fibre), 33g protein.
Diabetic Exchanges: 5 lean meat, 1 fat.
https://www.tasteofhome.com/recipes/herbed-slow-cooker-chicken/?fbclid=IwAR2ObYQBGMmmwDeUg7wkYv0NY3PwY-7AY9VdR3j84h3H0IIVoVumJsiXYmg#.XCoceuAI65c.facebook
CHICKEN IN A POT
INGREDIENTS
4 boneless, skinless chicken breasts (approx. 100g each)
12 shallots, peeled
1 clove garlic, crushed
2 sticks celery, chopped
8 baby carrots, peeled
450g sweet potatoes
200ml dry white wine
450ml water
sprig thyme
2 baby savoy cabbages, quartered (and/or any other in season green vegetables)
INSTRUCTIONS
Preheat the oven to 400ºF/200ºC/ gas 6.
Place the chicken, shallots, garlic, celery, carrots, potatoes, wine, water and thyme into a large casserole dish, cover and cook for 30 minutes.
Remove the lid, add the cabbage and cook uncovered for a further 30 minutes until the chicken is cooked through.
Adapted from https://www.diabetes.org.uk/guide-to-diabetes/recipes/chicken-pot?utm_source=facebook&utm_medium=social-media&utm_campaign=enjoy-food&utm_term=01102018&utm_content=organic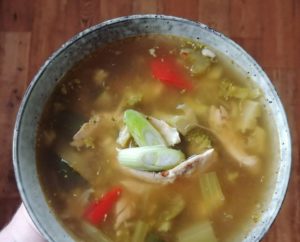 CHICKEN SOUP
INGREDIENTS
· 1/2 leftover skinless cooed omega 3 chicken
· 2 cups water
· 1/2 red capsicum diced thickly
· 1 head broccoli plus any other in season vegetables
· 2 zucchinis diced thickly
· 5 stalks celery chopped up
· 1/2 tbsp rosemary
· 1 tbsp garlic
· ginger & pepper
INSTRUCTIONS
Put all ingredients in electric pressure cooker. Set on "pot roast" and cook for 20 minutes. Alternately use a pot and simmer for 30 – 40 minutes.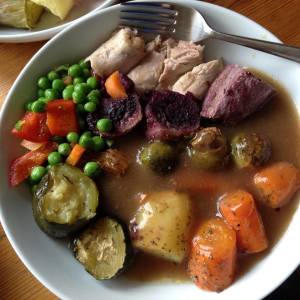 CHICKEN WITH CAPSICAN AND BASIL
INGREDIENTS
2 tbsp olive oil
6 omenga-3 chicken thigh cutlets, bone in skin off
ginger and pepper, to season
2 red onions, peeled and cut into wedges
4 cloves garlic, peeled and lightly crushed
1 red capsicum, cut into thick slices
1 yellow capsicum, cut into thick slices
6 anchovies, chopped (optional)
½ cup water
1 cup loosely packed basil leaves, torn
a splash of balsamic vinegar (optional)
INSTRUCTIONS
Set a slow cooker to high and turn on
Take a large baking dish or frying pan that can be placed on a stovetop as well as into the oven and heat over medium heat. Add the olive oil, season the chicken thigh cutlets with ginger and pepper and fry, skin side down, until golden brown.
Turn the chicken and add the onions, garlic and capsicum around the chicken pieces. Scatter with the anchovies (if using) and pour over the stock. Season very well with ginger and pepper and transfer to the slow cooker and cook until the chicken is just cooked though About 3 to 4 hours
Scatter with the torn basil leaves and serve immediately, with a splash of balsamic vinegar on top if you like and steamed vegetables.
adapted from https://www.goodfood.com.au/recipes/chicken-capsicum-and-basil-tray-bake-recipe-20180129-h0qc60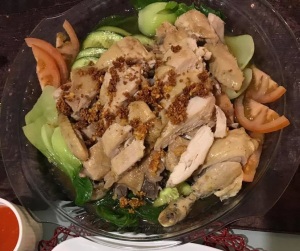 POACHED CHICKEN
INGREDIENTS
1 x 1.6 kg free-range omega-3 chicken skin removed.
Master stock
6 litres cold water
3 cups dry sherry
8 spring onions, trimmed and cut in half crossways
12 garlic cloves, crushed
1 1/2 cups ginger slices
INSTRUCTIONS
Place all stock ingredients in a large stockpot and bring to the boil. Reduce heat and simmer gently for 40 minutes to allow the flavours to infuse.
Rinse the chicken under cold water. Trim away excess fat from inside and outside cavity, but keep neck, parson's nose and winglets intact. Lower chicken, breast-side down, into simmering stock, ensuring it is fully submerged. Poach chicken gently for exactly 14 minutes. There should be no more than an occasional ripple breaking the surface; adjust the temperature, if necessary, to ensure stock does not reach simmering point again.
Remove the stockpot immediately from the stove and allow chicken to steep in the stock for 3 hours at room temperature to complete the cooking process. Using tongs, gently remove chicken from the stock, being careful not to tear the breast. Place chicken on a tray to drain and allow to cool. Strain the stock and freeze it to use for another dish.
Serve with a salad.
Adapted from Chop the chicken Chinese-style
Crock Pot Chicken and Next Day Chicken Noodle Soup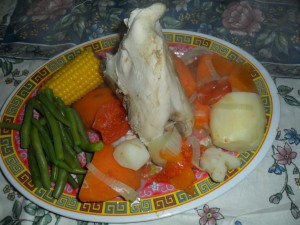 Ready to feed the family.
Looking for a CHEAP recipe that you can spread over two days?!? You have come to the right place Crock Pot Chicken with vegetables one day, and Chicken Noodle soup the next!!…
Ingredients:
(For Chicken)
1 Whole Chicken skinned
Garlic Power
Italian Seasoning
Root vegetables e.g. sweet potato, white potato and carrot etc
Pumpkin
Garlic
Basil
Cooking
Skin the chicken.
Rinse off the chicken.
Peel and prepare the vegetables. Skin can be left on for a health meal which increases the fibre.
Cover the bottom of the crock pot with water.
Place the vegetables in the bottom of the crock pot and on the sides as they take longer to cook than the chicken, place the chicken on the vegetables. Add seasoning to the top! (As little or as much as desired, although it does not take much.) (Spices can also be added if you desire)
As the chicken cooks it will create chicken stock.
Set you crock pot on LOW cover and let it cook for about 6-7 hours. Or on high cook for three hours.
THAT'S IT!!! Serve with steamed green vegetables.
Keep the juices and bones from the chicken for your soup!! Extra water may be need to the left over juice from the chicken and let the bones simmer over night in the rook pot set on low or auto.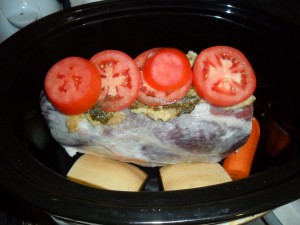 This is my game version, a rump of goat, note the lack of fat and because kit is grass or naturally fed it should be rich in Omega-3.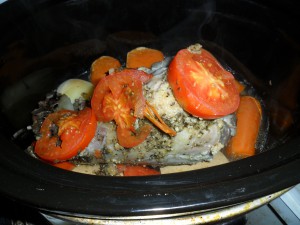 Cooked and ready to serve.
I was interested in seeing that the "Australian Dietary Guidelines" Below states:-
"Small quantities of these fatty acids (Omega 3) are also found in lean grass-fed red meat, poultry and some eggs."
Game meat such as goat, Roo, venison, wild rabbit and free range chicken should be mainly grass fed. As they are naturally lean they do not suit traditional baking or BBQing. They need to cooked moist.
Here is my method.
Marinate your meat with mixed herbs, crushed garlic and ginger for at least 20 minutes (overnight is better)
In a slow cooker add enough water to cover the bottom.
Add vegetables, sweet potatoes, carrots, pumpkin and other root vegetables.
Add your game meat.
Top with tomatoes
Cook on high for three and half hours.
Serve with steamed greens.
I find that this cooks the meat just beyond medium rear, it does depend on the size of the cut. I think that it is important to note that game meat may not have seen a drench gun and therefore should be cooked well.
Any leftovers can be added to a vegetable curry.
Please note I would not recommend wild pigs.
https://www.nhmrc.gov.au/_files_nhmrc/publications/attachments/n55a_australian_dietary_guidelines_summary_131014.pdf
Next day Chicken Noodle Soup
Ingredients:
The chicken stock from the crock pot
Carrots
Celery
Corn
Peas
Left over Chicken
Egg Noodles
after you have allowed the broth and bones to simmer over night you can now remove the bones from the juice, discard the bones.
Cut up vegetables and add them to the broth, add extra water just to cover the vegetables. Cook on low or high until tender (about 4-5 hours depending on the crock pot setting)
Add Noodles and Chicken when vegetables are done!
DO NOT ADD NOODLES UNTIL ABOUT 5 MIN BEFORE YOU EAT (they will go soggy if you over cook them)
While this recipe uses chicken and meat can be used.
Left over's can be used in the following ways
Pies
Pizza
Used with scrambled eggs on toast.
Toasted sandwiches
Use your imagination
A diabetic soup tend to by chunky to avoid sugar spikes and Hypos. Soups are usually the broth from a stew which contains dissolved sugars starch fats and small particles of food which will be absorbed quickly.
It is our job as diabetics to slow this absorption through the use a fibre and large particles of food. The teeth cannot chew food as small as a blender. A diabetic soup is therefore more like a watery stew than a broth.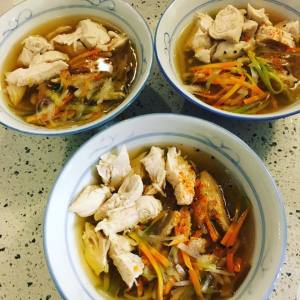 CHICKEN STOCK
Chicken stock with Dashi seasoning added. Dried shiitake mushrooms, julienne daikon, carrot and spring onions and chicken tenderloins. Poach the chicken and veg in the stock, add glass noodles (Optional) and you are done. Simple and delicious.
SLOW COOKER SHREDDED CHICKEN TEX-MEX
I almost always shred onions so that the kids don't pick them out but the dish still gets all the flavour.
ingredients
1 whole chicken breast, skinless (about 1 kg) (I use Omega-3 chicken)
1 medium onion, shredded
2 cloves garlic, finely minced
1 or 2 fresh diced tomatoes
2 tablespoons cumin
1 teaspoon ginger
1/2 teaspoon pepper
1 can white beans (Fresh or dried soaked overnight.)
1 cup frozen corn or canned sweet corn (I use fresh cut from the cob)
Instructions
Into a slow cooker set on auto, add the shredded onion, garlic, tomatoes, cumin, ginger and pepper. Stir gingerly. Slide the mixture over and add the chicken; use a ladle or big spoon to completely cover the chicken breast with sauce. Cook on high for 4-6 hours.
Turn slow cooker to low. Remove chicken and let cool enough to work with. Cut the chicken into chunks and put back into the slow cooker. Add white beans and corn. Mix and serve.
Pasta substitutes which are gluten free and for diabetics.
The author loves all kinds of pasta, but in recent years I have had to modify my diet to account for a sensitivity to gluten.  As a result, I have developed some great ideas that are also helpful for diabetics looking for a pasta substitute!  I have compiled my top 5 for you.  Some substitutes are healthier for diabetics because they are higher in protein and/or fiber than pasta is.  (The higher protein and fiber content helps with regulating blood sugar).  Some of my suggestions are lower than pasta in carbohydrate and calories, allowing you to have a larger portion size!
http://diabetes.about.com/od/dieticiansadvice/tp/Pasta_Substitutes.htm?utm_term=is%20pasta%20good%20for%20diabetics&utm_content=p1-main-1-title&utm_medium=sem&utm_source=google&utm_campaign=adid-612ccbeb-4e87-48a4-afce-aa6456030ebb-0-ab_gsb_ocode-5950&ad=semD&an=google_s&am=broad&q=is%20pasta%20good%20for%20diabetics&dqi=&o=5950&l=sem&qsrc=999&askid=612ccbeb-4e87-48a4-afce-aa6456030ebb-0-ab_gsb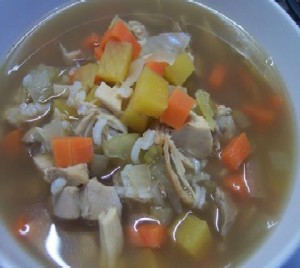 Christina's Easy Chicken & Rice Soup
Ingredients
2 cartons, low sodium, chicken broth or water
1 1/2 cups cooked, chicken breast chopped roughly (use omega 3 or free range.)
1/4 cup diced celery
1/4 cup diced onion
1/4 cup diced carrot
1/4 cup diced turnip
1/2 cup, uncooked, basmati rice
Method
Add broth or water and all veggies into a large stock pot and heat to boiling. Boil until veggies are tender. Add chicken, rice and seasoning and let simmer for 10-15 minutes. Add ginger and pepper to taste and serve with wholegrain rolls or home made wholegrain bread.
Serves 2-3 people.
PRESSURE COOKED CHICKEN WITH HERBS AND SWEET POTATO SALAD
Pressure cooked herbed and lemony chicken and home grown sweet potato salad.
Roast chicken, skin removed, in the pressure cooker (or some would say steamed chicken) it is  wonderful full of herbs like thyme, sage and celery from the garden and a lemon and garlic clove whole inserted into the bird before pressure cooking.
Plus the best kind of sweet potato salad with potatoes from the garden. – with onions, carrots, and peas.
Not really gourmet but yummy nonetheless.
CHICKEN SOUP
INGREDIENTS:
8 oz vermicelli (bean thread) noodle
6 dried shitake mushrooms
2 tbsp olive oil
2 cloves garlic, minced
1 onion, chopped
2 cups shredded cooked chicken meat (I used left over Omega -3  chicken meat)
⅛ tsp white pepper
4 cups water
Chopped green onions
INSTRUCTIONS:
Soak bean thread noodles in warm water for 15 minutes, drain and set aside.
Soak shitake mushrooms in hot water for 20 minutes. Squeeze out the excess water. Discard the stems and thinly slice the caps. Set aside.
Heat a pot over medium heat. Add oil and sauté garlic until golden brown. Add onions and sauté for 2 minutes or until soft. Add mushrooms and chicken meat; sauté for 2-3 minutes.
Add white pepper and broth, bring to a boil. Add drained noodles and cook for 3 -5 minutes or until noodles are tender. Transfer to a soup bowl. Garnish with green onions and serve.
Enjoy!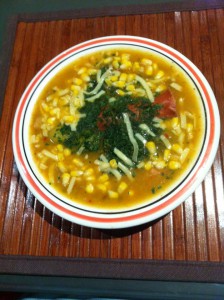 EVERYTHING IN THE FRIDGE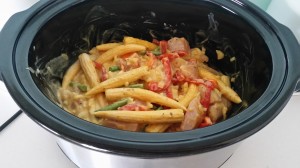 THAI CHICKEN IN A SLOW COOKER
Thai Chicken for dinner tonight
500g of chicken breast trimmed
1 can of corn spears
Half a medium red capsicum
1 brown onion
2 carrots
Handful of green beans
3-4 hours on low
CHICKEN VEGETABLE SOUP WITH KALE
INGREDIENTS
3 cups of water
2 bay leaves
1 rib of celery, finely diced
2 medium carrots, finely diced
1 large onion, finely diced
2 cloves of garlic, crushed
2 free-range boneless, skinless chicken thighs
1 cup of loosely packed baby spinach
1 cup loosely packed basil leaves
1 cup loosely packed kale leaves
1/2 cup of lemon juice
1/2 cup of extra-virgin olive oil
1/3 cup of toasted pine nuts
ginger and cracked pepper
INSTRUCTIONS
Heat a little olive oil in a pan, and sauté the celery, carrot and onion until translucent. Add the garlic and toss around for another two minutes.
Pour over the water, bay leaves and cook until vegetables are tender. Bring to the boil. Add the chicken and reduce to very low.
Simmer for about twenty minutes until the chicken is cooked through and soft. Remove and shred with a fork. Season soup with ginger and pepper.
Whilst the chicken is cooking, make the pesto. Start by pulsing the kale leaves, basil and pine nuts in a food processor, before whizzing in remaining ingredients. Season with ginger and pepper.
Serve the soup with spinach leaves wilted in and spoonsful of pesto on top.
Adapted from http://thestockmerchant.com.au/recipes/paleo-diet-recipes/chicken-vegetable-soup-with-kale-pesto/