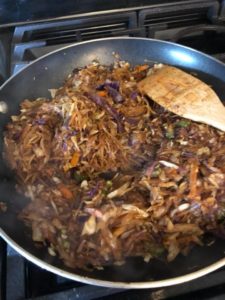 SPAGHETTI SQUASH CHOW MEIN
INGREDIENTS
1 large spaghetti squash
3 cloves garlic, minced
2 teaspoons freshly grated ginger
1/4 teaspoon white pepper (or black pepper!)
2 tablespoons olive oil
1 onion, diced
3 stalks celery, sliced diagonally
2 cups col slaw mix (home-made shredded cabbage and carrots)
INSTRUCTIONS
Cut a spaghetti squash in half, length wise and scoop out seeds. Lay skin side up in a baking tray and pour 2.5 cm of water in the bottom of the pan. Bake at 400 F 200 C for 30-40 minutes, until flesh is very tender. Once done, scoop out flesh with a fork so it breaks apart into strings, set aside.
In a small bowl, mix together ginger and white pepper; set aside.
Heat olive oil in a large stoneware fry pan over medium high heat. Add onion and celery, and cook, stirring often, until tender, about 3-4 minutes. Stir in cabbage until heated through, about 1 minute.
Stir in spaghetti squash and sauce mixture until well combined, about 2 minutes.
Serve immediately.
Adapted from https://littlebitsof.com/2014/10/spaghetti-squash-chow-mein/
MUSHROOM CHOW MEIN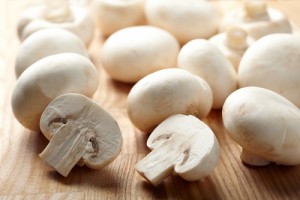 Original At http://daa.asn.au/for-the-public/smart-eating-for-you/recipes/browse/
Preparation time: 15 minutes minutes
Cooking time: 10 minutes minutes
Serve Size: Serves 4
350g fresh chow mein noodles
1 tbs oilive oil
3 eggs whites, lightly beaten
400g cup mushrooms, sliced
2 garlic cloves, crushed
4 green onions, thinly sliced
1/4 cup water
2 tbs salt-reduced soy sauce
2 tbs salt-reduced oyster sauce
1/2 small Chinese cabbage (wombok), shredded
1 cup bean sprouts, trimmed
1. Prepare the noodles following packet directions. Drain well and set aside.
2. Heat a wok over medium heat. Add 1 tsp oil and swirl to coat. Add egg and swirl to form a thin omelette. Cook for 30 seconds or until almost set, the top should be a little bit sticky. Slide omelette onto a chopping board. Roll up and thinly slice crossways.
3. Heat remaining oil in the wok over high heat. Add mushrooms, garlic and green onions. Stir-fry for 3 minutes until mushrooms are tender.
4. Combine water, soy sauce and oyster sauce and add to the wok, stir-fry to coat the mushrooms then bring to the boil. Add noodles and cabbage. Stir-fry for 1 minute. Add bean sprouts and omelette. Toss to combine. Serve.
Pasta substitutes which are gluten free and for diabetics.
The author loves all kinds of pasta, but in recent years I have had to modify my diet to account for a sensitivity to gluten.  As a result, I have developed some great ideas that are also helpful for diabetics looking for a pasta substitute!  I have compiled my top 5 for you.  Some substitutes are healthier for diabetics because they are higher in protein and/or fiber than pasta is.  (The higher protein and fiber content helps with regulating blood sugar).  Some of my suggestions are lower than pasta in carbohydrate and calories, allowing you to have a larger portion size!
http://diabetes.about.com/od/dieticiansadvice/tp/Pasta_Substitutes.htm?utm_term=is%20pasta%20good%20for%20diabetics&utm_content=p1-main-1-title&utm_medium=sem&utm_source=google&utm_campaign=adid-612ccbeb-4e87-48a4-afce-aa6456030ebb-0-ab_gsb_ocode-5950&ad=semD&an=google_s&am=broad&q=is%20pasta%20good%20for%20diabetics&dqi=&o=5950&l=sem&qsrc=999&askid=612ccbeb-4e87-48a4-afce-aa6456030ebb-0-ab_gsb
SAUTÉED BUTTON MUSHROOMS IN WHITE WINE SAUCE
INGREDIENTS
½ Kg small button mushrooms
1/4 cup olive oil, divided
4 cloves garlic, chopped or crushed
1 medium onion, minced
1/2 cup white wine
1 tablespoon lemon juice
1/2 teaspoon chili flakes
2 tablespoons Greek yoghurt
2 tablespoons chopped parsley
ginger to taste
fresh cracked black pepper to taste
INSTRUCTIONS
Brush the mushrooms clean. Keep the mushrooms whole, or if they are large, cut them in half.
Heat large stoneware frypan over high heat. Add half of the olive oil (2 tablespoons-30ml), then mushrooms. Cook and stir mushrooms until they start to brown and caramelize, about 3-5 minutes.
Add remaining olive oil and then add onions and garlic, cook until translucent.
Add wine, lemon juice and chili flakes. Cook for about 2 minutes or until liquid reduces a bit.
Add yoghurt and chopped parsley, cook for an additional 1 minute.
Season with ginger and pepper. Serve warm.
Adapted from https://bestrecipebox.com/sauted-mushrooms-white-wine-garlic/
VEGAN LAKSA CURRY MALAY STYLE
INGREDIENTS
1 tsp olive oil
Laksa curry paste found here http://www.findtex.com.au/diabetic-foods/chutney-etc/
150 gm Mushrooms sliced
180 gm Carrots sliced
100 gm Red Capsicum sliced
3 – 4  cups water
200 gm brown Rice noodles or Konjac or zucchini noodles NB1
60gm baby Spinach
½ tsp ginger
50 gm Coriander
mint for garnish
100gm Tofu cut in batons and shallow fried,
INSTRUCTIONS
Heat oil in a pan over medium heat. Add all of the Curry paste (1/3 to ½ cup) and fry for 3 mins. Stir occasionally.
Add the Mushrooms and cook for 2 mins.
Add the veggies and water and bring to a boil. Reduce heat to medium low. Add the Rice noodles and simmer for 10 mins.
Fold in the Spinach. Taste and adjust ginger and heat. Add more water if needed. Simmer for another few mins. Garnish with fresh Coriander, Mint, Bean sprouts & crisped Tofu and serve.
NB1
Try Konjac noodles
Konjac Foods for People with Diabetes (Noodles. Pasta.)As medical research has demonstrated, the higher the viscosity of soluble fiber, the better the ability to control blood sugar level. The glucomannan fiber is the most viscous soluble fiber in nature, making it the best way to control the blood sugar level of diabetic people. At the same time, it is a very efficient way to control blood sugar level when you take it before each meal. Simply consume as a beverage before each meal.As stated, Konjac fiber is the most viscous fiber in nature. This allows the Konjac to move through the digestive tract very slowly which can slow down carbohydrate absorption. This slowed absorption will keep the blood sugar at a moderate level during the digestion process. Konjac also acts to trap food and waste residues as it moves through the digestive system. Konjac fiber can block substances that are easily reabsorbed such as excess bile acids. The digestive regulatory quality of Konjac fiber makes it a natural agent in the treatment and regulation of diabetes and high cholesterol.

Glucomannan is known to show hypoglycemic effects by inhibiting the uptake of glucose by the body. It is believed that it does this by preventing contact of the glucose with the intestinal walls for absorption. By reducing the amount of blood sugar, glucomannan can help patients with type II diabetes. Konjac fiber when absorbs lots water, it will form soft gel, the glucomannan will delays gastric emptying and slows the release of sugar into the bloodstream, which helps to lower levels of insulin and blood glucose. Additionally, glucomannan improves blood-lipid profiles and can lower systolic blood pressure. Because of these effects, glucomannan can greatly benefit individuals with metabolic syndrome or diabetes.
http://www.konjacfoods.com/noodles/19.htm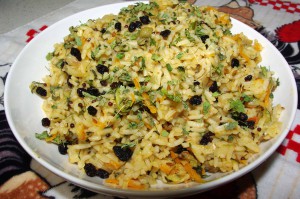 FRAGRANT RICE PILAU WITH CARROT AND ZUCCHINE
if you have a pressure cooker, finished in 25 minutes start to end.
In large saucepan, lightly sautéed 2 chopped onions and mustard seeds in olive oil.
Add chopped/grated fresh garlic and stir
Add medium carrot grated
Add medium zucchini grated
Add crushed ginger, 1/2 teaspoon of chilli powder or chilli flakes, and a curry powder mix or coriander/cumin combo.
Add 1 teaspoon roughly pounded cardamom pods.
Add 1 tablespoon dried fenugreek leaves.
Add 1/2 teaspoon ginger
Stir then add 1 cup of soaked Basmati rice.
(Note, proportion of ingredients is to your liking of course, start small and next time add more till you think it's just right)
Cover with about 1.5 cups of water. Mix to combine.
Bring to boil and simmer for 20 minutes, lid on, and do not stir. Or pressure cook on low for 8 minutes, rapid release.
Add in an extra teaspoon of crushed garlic and extra teaspoon of crushed ginger at this point. (This part is the extra that really works – when you add fresh garlic and ginger to the end of a dish that may have cooked garlic ginger, it adds a new dimension.) I rarely see this in recipes but have found it a good extra touch to many dishes that feature garlic or ginger or both. Definitely do this for a stir fry.
Sprinkle on with dried fenugreek leaves*
Stir with fork… yum!!!!
*You can get dried fenugreek leaves in Indian/Sri Lankan stores. Can be omitted if you can't find it.
To make this diabetic friendly use 50% Basmati Rice and 50% Quinoa.
FRIED RICE WITH VEGETABLES
Ingredients
– loads of grated garlic at various stages in cooking
– loads of grated fresh ginger
– egg omelette with ginger and pepper chopped
– light soy
– jalapeno chillis diced (from the garden)
– Veg like             corn off the cob,
peas,
cubed carrots,
cabbage sliced,
mushrooms,
snow peas diced,.
Heaps of scizzored green shallots from the garden.
Serve With grilled lean grass fed meat.