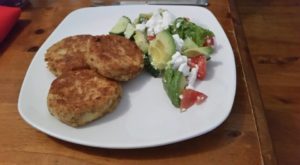 TUNA RISSOLES
INGREDIENTS
10ouncestuna (2 cans of 5 ounces each)about 7 ounces or 200 grams drained. Or fresh if possible.
1/3cupcelery stalkfinely chopped (about 1 stalk)
1/3cupsmall red pepperfinely chopped (about 1/2 pepper)
1/3cup multigrainbreadcrumbscan also use panko or use more eggs
2tablespoonschivesfinely chopped
1tablespoonfresh dillfinely chopped
1tablespoonfresh Italian flat leaf parsleyfinely chopped
2teaspoonsdijon mustard
ginger and pepper to taste
2eggsslightly beaten
1teaspoonolive oil to pan fry the patties
lemon wedges
INSTRUCTIONS
Drain the tuna.
In a large mixing bowl, combine the tuna with all of the ingredients except the raw eggs.
Taste and adjust seasonings.
Add the beaten eggs and mix well together.
Form into 5 equal patties.
In a cast iron or a non-stick fry pan, add the oil and sauté the patties over medium heat.
Cook until golden brown, about 3-4 minutes per side.
Serve with lemon wedges.
Nutrition of original
Serving: 1serving | Calories: 179kcal | Carbohydrates: 6g | Protein: 19g | Fat: 7g | Saturated Fat: 1g | Cholesterol: 75mg | Sodium: 307mg | Potassium: 194mg | Sugar: 1g | Vitamin A: 12% | Vitamin C: 17.8% | Calcium: 3.3% | Iron: 8.5%
Adapted from https://www.shelovesbiscotti.com/best-no-mayo-tuna-patty-recipe/?fbclid=IwAR13X6VajOgoircMiDMqhBkjOwuRUu9prul8stmAe_NFl0Ixg55hpnAGGhs
BURGERS SANS BEEF.
Lemon Garlic Tuna Burgers
Makes: 4 Servings
Serving Size: Serving: 1 Tuna Patty
Calories per serving: 175
Fat per serving: 4g
Ingredients
1 can of tuna fish in spring water, drained and flaked (Fresh steamed tuna is better if you can get it)
½ cup multigrain bread crumbs or wholemeal flour
a cup of grated sweet potato
2 scallions, finely chopped (¼ cup)
¼ cup fresh parsley, finely chopped (3 tablespoons)
2 garlic cloves, minced
juice of 1 lemon
3 tablespoons Greek Yoghurt
1 large omega-3 egg
¼ teaspoon ginger
¼ teaspoon pepper
Instructions
Preheat the oven to 180 degrees C. Line a large baking sheet with parchment paper.
In a large bowl, combine the tuna, panko, scallions, parsley, garlic, lemon, sour cream, egg, ginger, and pepper, and mix well with your hands. Form into 4 patties (they will be wet), place on the prepared baking sheet, and bake dry on the outside and slightly puffed, 16 to 20 minutes.
Serve the burgers on toasted multigrain bun with lettuce and tomato.
Nutrition Information
(not including bun): Calories 175, Fat 4g, Carb: 10g, Fibre 0g, Sugars 0g, Protein 24g
 FISH BURGER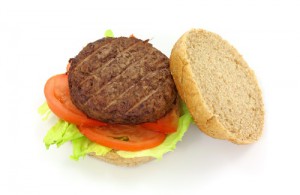 Preparation time – 10 minutes
Cooking time – 15 minutes
Serves 4
Ingredients
½ cup home made chilli sauce (Or finely chopped chili to taste)
4 tablespoons chopped coriander
1 tablespoon lime juice
½ -1 tablespoon finely grated ginger
500g boneless white fish fillets
4 small wholegrain bread rolls, cut in half
1 cup loosely packed mixed lettuce leaves
2 small Lebanese cucumbers, sliced thinly
1 Tbs Olive Oil
Method
To make the sauce, place the home made chilli sauce, coriander, lime juice and ginger into a jug and mix well. Set aside.
Heat oil in a non-stick frying pan over a medium heat. Add the fish and cook until golden on both sides (the fish flakes easily when a knife is inserted into the thickest part.) Set aside and keep hot.
Place the rolls onto the pan cut side up, and cook until golden brown.
Place the bottom halves of the rolls on plates, top each with lettuce, cucumber, fish and sauce.
NB Barramundi fillets are great for this burger, always choose the freshest fish of the day.
Add some sliced tomato or any of your other favourite salad vegetables from the garden.
Try a boneless albacore fillet grilled on the BBQ, you will be surprised.
RUSSIAN FISH PIE (COULIBIAC)
2 sheets of pre-made multigrain puff pastry
2 hard boiled eggs peeled and finely sliced
2 x 95g cans  salmon drained (Fresh is best use left overs (cook extra the night before for this))
1 medium onion finely diced
1 cup cooked  basmati rice. (left overs)
1 cup button mushrooms sliced
½ cup chopped flat leaved parsley
1 tablespoon of chopped fresh dill (optional)
1 teaspoon lemon zest
1 tablespoon lemon juice
ginger and freshly ground black pepper
olive oil spray
To glaze
METHOD
Preheat the oven to 180°C
In a large heavy bottomed stoneware frying  pan, spray olive oil and sauté the onion and mushrooms until soft and just changing colour.
Add all the other ingredients (apart from the egg glaze) and mix well, season to taste and allow to cool for 10 to 15 minutes.
Lay one sheet of the pastry on a baking tray lined with baking paper.
Pile the salmon filling in the centre (as cooked above), wipe a little water on the edges and then top with the second sheet.
Crimp the edges of the pastry well to hold the pie together.
Brush the pie with the egg glaze.
Slash the top and bake for 20-25 minutes until the pastry is crisp and golden.
Serve with a salad or steamed green vegetables. Serves 4.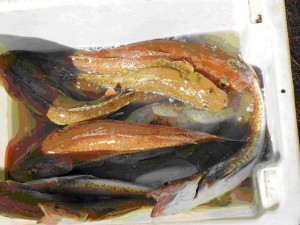 FISH TACOS WITH CABBAGE AND CORIANDER SALAD
INGREDIENTS
700g sweet potato, scrubbed, cut into wedges NB1
1 tablespoon olive oil
8 mini corn tortillas
600g flathead fillets
1 tablespoon mild paprika
olive-oil spray
300g packet coleslaw mix
1/2 cup chopped coriander leaves
2 tablespoons reduced-fat French dressing
1 small avocado, chopped
1 tablespoon lime juice
1 large tomato, chopped
INSTRUCTIONS
Step 1 Preheat oven to 200°C. Line a large baking tray with baking paper. Put sweet potato wedges on prepared tray, drizzle with olive oil and toss to coat. Roast wedges for 30 minutes, or until tender, golden and crisp.
Step 2 Meanwhile, oil the grill plate and hotplate of a barbecue; heat to medium–high. Warm tortillas on grill plate for 2–3 minutes per side, or until browned. Transfer tortillas to a plate, cover with foil to keep warm and set aside.
Step 3 Sprinkle fish fillets evenly with paprika, then spray with olive oil. Cook fish on hotplate, turning, for 3–4 minutes, or until just cooked through. Transfer fish to a plate and leave to rest for 2 minutes.
Step 4 Meanwhile, combine coleslaw mix, coriander leaves and French dressing in a large salad bowl. Place avocado and lime juice in a small bowl; mash roughly with a fork until almost smooth.
Step 5 Spread reserved warm tortillas with mashed avocado, then top with fish, chopped tomato, and cabbage and coriander salad.
Step 6 Serve tacos with sweet potato wedges and remaining salad.
HFG tip
Three top tips for a better barbecue
Make sure the grill plate is hot before adding food. If you can hold your palm 6cm above the hotplate for 3-4 seconds, it's ready. If you can't, it's too hot. And if you can last any longer, it's too cold.
Don't overcrowd a grill, as this lowers the temperature, causing the meat to stew in its juice.
Resist turning meat too often. Turn only once when you see it release the juices.
Nutrition Information (per serve)
| | |
| --- | --- |
| Energy | 2234 kJ (534 calories) |
| Protein | 41g |
| Total Fat | 13g |
| Carbohydrates | 56g |
| Saturated Fat | 3g |
| Sugars | 18g |
| Dietary Fibre | 11g |
| Sodium | 682mg |
Adapted from http://www.healthyfoodguide.com.au/recipes/2015/february/fish-tacos-cabbage-and-coriander-salad
via https://daa.asn.au/recipes/fish-tacos-with-cabbage-and-coriander-salad/
NB 1 Glycemic Index of Sweet Potato
The way you prepare sweet potatoes makes a difference in their GI. The GI of a 150g sweet potato, boiled with its skin for 30 minutes, is 46. That number rises to 94 if the same sweet potato is baked for 45 minutes. These dramatic differences come from the way the starches in sweet potatoes gelatinize during cooking. Foods that turn viscous, or jelly-like, in your digestive tract have a lower GI because the gelatinous substance slows the release of the nutrients in the food. Baking your sweet potatoes instead of boiling them changes the quality of their starches and transforms this root vegetable from a moderate-GI food to a high GI-food.
http://www.livestrong.com/article/295025-the-glycemic-index-for-sweet-potatoes/
TUNA AND QUINOA LOAF
This is high in protein and omega -3, packed with vegetables and loaded with nutrients, not to mention delicious too!
Ingredients
2 x 95g cans tuna in spring water, drained use fresh if available, (any oily fish can be used, fresh tuna if possible.)
1 tablespoon olive oil
1 medium red onion, finely chopped
½ cup sweet potato, finely diced
¾ cup Kent or butternut pumpkin, finely diced
pumpkin, peeled and very finely sliced (8-10 slices)
1 medium zucchini, grated
1 ½ cups cooked quinoa
2 eggs and 4 egg whites lightly beaten
ginger and freshly ground black pepper
Method
Preheat oven to 170° degrees. Using a large heavy frying pan on a medium heat add the oil and fry the onion, sweet potato and diced pumpkin until they are tender and just starting to turn colour.
Stir in the cooked quinoa, grated zucchini, season to taste with ginger and pepper and leave to cool slightly.
Using a loaf tin or deep ovenproof dish, brush the sides with olive oil and line the base with baking paper. Place very thin slices of pumpkin slightly over lapping round the sides of the dish.
Add the drained tuna into the vegetable and quinoa mixture and then add the beaten egg, mix well.
Check the seasoning again then pour the mixture into the lined loaf tin.
Cover with more baking paper and bake in the oven for about ¾ of an hour until firm set and golden on top.
Remove from the oven and allow to sit and rest for about 10 minutes before loosening the sides of the loaf with a knife or spatula and turning out onto a board or serving dish. Serve warm with a tomato or chilli relish and salad. Serves 4.
FISH TACO AND SALAD
Ingredients
2 pounds fish fillets (salmon tuna, snapper or any fresh fin fish )
ginger
Pepper
2 cups shredded cabbage or lettuce
2 cups chopped vegetables (tomatoes, cucumber, green onions, celery, avocado)
1/2 cup salsa
8  authentic corn meal Tacos
INSTRUCTIONS
Season the fish with ginger and pepper. Cook the fish in the oven at 180C until it flakes apart easily.
Mix the cabbage or lettuce with the vegetables. Evenly divide the mixture among 8 plates.
Evenly divide the fish among the plates, then drizzle ranch dressing and salsa over top.
Serve on the  tacos, these can be heated in the oven.
Nutritional Information per Serving
Serving size = 1 1/4 cup
210 Calories
6 g Fat
70 mg Cholesterol
560 mg Sodium
7 g Carbohydrate
1 g Fiber
30 g Protein