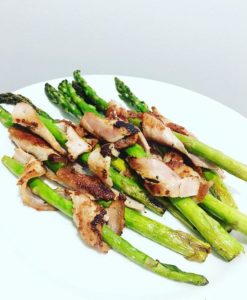 LEMON CHICKEN AND ASPARAGUS
INGREDIENTS
2 tablespoons olive oil
1 tablespoon whole grain mustard
2 tablespoons freshly squeezed lemon juice
1 teaspoon lemon pepper
1 teaspoon basil
Ginger and pepper, to taste
3 tablespoons olive oil, divided
6 bone-in, skin-off chicken thighs
750 gms asparagus, trimmed and cut into thirds
Juice of ½ lemon
INSTRUCTIONS
1. Preheat the oven to 400°F/200°C.
2. Stir together the olive oil, mustard, lemon juice, lemon pepper and basil in a small bowl. Use a pastry brush to coat the chicken in the mixture, covering both sides of each piece.
3. Heat 2 tablespoons olive at medium-high heat in an oven-safe fry pan. Place the chicken pieces in the fry pan and sear each side for 2-3 minutes.
4. Remove the chicken from the fry pan, add the asparagus and stir. Immediately add the chicken pieces on top of the asparagus. Sprinkle with ginger and pepper to taste.
5. Put the fry pan in the oven and cook for 25-30 minutes or until the chicken is cooked through. Remove from oven
6. Quickly transfer to a serving dish poured the lemon juice over the cooked chicken.
Serve with steamed vegetables
Adapted from CleverHousewife.com
SPICED CHICKEN WITH CHICKPEAS, CARROTS AND LEMON.
INGREDIENTS
½ tsp each ground cumin, ground coriander, ground fennel and ground chilli
Finely grated rind of 3 lemon and juice of 2
70 ml olive oil
8 chicken thigh cutlets (about 1.6kg), skin removed
2 carrots, halved lengthways and thinly sliced
2 baby fennel bulbs, thickly sliced, fronds reserved
1 Spanish onion, thinly sliced
2 garlic cloves, thinly sliced
Pinch of saffron threads
200 gm cherry tomatoes
Any other in season vegetables
500 ml (2 cups) water
120 ml dry white or red wine
400 gm canned chickpeas, drained, rinsed or dried soaked overnight
½ cup each coarsely chopped flat-leaf parsley and mint, plus extra to serve
INSTRUCTIONS
Preheat oven to 220C. Combine spices and 12 of the lemon rind in a small bowl, rubbing to combine, then season chicken pieces generously with the mixture.
Heat half the oil in a large frying pan over medium-high heat, add chicken and turn occasionally until browned (4-5 minutes). Transfer to oven and roast until cooked through (10-15 minutes).
Meanwhile, heat remaining oil in a large saucepan, add carrot, fennel, onion, garlic, vegetables and saffron, and stir occasionally until onion begins to soften (4-5 minutes). Add tomatoes, water and wine, bring to the simmer and cook until carrot are tender and liquid reduces by half (12-15 minutes). Add drained chickpeas, herbs, the remaining lemon rind and lemon juice.
Serve carrot mix hot over spiced roast chicken, scattered with fennel fronds and extra herbs.
Adapted from https://www.gourmettraveller.com.au/recipes/fast-recipes/spiced-chicken-with-chickpeas-carrot-and-preserved-lemon-13465?fbclid=IwAR3ACrSbHESqbciTG-4eQa9ANFZ__3eGvrZZArwmR_h52kpJU0AdM5x5aho
WINE-BRAISED CHICKEN THIGHS WITH SHALLOTS AND MUSHROOM
INGREDIENTS
For Spice Mixture
1 tsp/ 1.20 g dried rosemary more for later
1 tsp/2 g sweet paprika
1 tsp/ 1.2 g coriander
1/2 tsp/ 1.15 g black pepper
1/2 tsp / 1 g nutmeg
1/2 tsp / 0.95 g ground allspice
For Chicken
8 chicken thighs, bone in, remove skin and trim all extra skin/fat
extra virgin olive oil
7 shallots, peeled and halved
10 garlic cloves, roughly chopped
4 tbsp no added salt tomato paste
3/4 cup dry red wine
2 cup water
2 bay leaves
1 tsp/ 1.20 g dry rosemary
3 oz/ 85 g dry figs, halved (you can use apricots instead)
12 oz/ 340 g white mushrooms or Baby Bella mushrooms, cleaned, trimmed, and halved
1/2 lemon, juice of
Fresh parsley, a handful for garnish
INSTRUCTIONS
Preheat oven to 350 degrees F/180 degrees C.
In a small bowl, combine the spices to make the spice mixture.
Pat chicken dry and season well with the spice mixture on both sides (make sure to lift skin up and rub some of the spice mixture underneath.) Leave aside for 20 minutes or refrigerate uncovered for 2 hours if you have the time.
In a large stock pot or Dutch oven, heat 1 to 2 tbsp extra virgin olive oil over medium-high heat until shimmering but not smoking (be sure to coat the bottom well with the EVOO.) Add chicken and cook undisturbed for 8 minutes until golden brown (lower heat if it starts to smoke excessively.) Turn chicken over and brown on the other side briefly (about 3 minutes). Transfer chicken to a plate for now.
To the pot, add shallots and garlic. Cook briefly over medium heat until softer and fragrant. Stir in tomato paste, wine, and water. Add bay leaves and 1tsp dry rosemary. Bring to a simmer for 4 minutes or so.
Carefully nestle chicken into the liquid, making sure the liquid covers only 3/4 of the chicken thighs leaving the skins exposed. Add dry figs (or apricots) to the pot. Bring to a simmer.
Transfer chicken to oven and cook, uncovered, until totally tender and liquid has reduced by about half, about 40-45 minutes (Check half way through to be sure liquid is okay, you should still have some liquid in the end.)
While chicken is cooking, heat a small non-stick fry pan, adding a very small drizzle of extra virgin olive oil. Add mushrooms and sauté.
About 10 minutes or before the chicken has finished cooking, add mushrooms. Return to oven for those last 10 minutes.
10.Remove from oven. Finish with lemon juice and a garnish of fresh parsley.
Serve with a side of Greek salad
Adapted from https://www.themediterraneandish.com/braised-chicken-thighs-recipe/?fbclid=IwAR1shAee-gNSIdTEO8c2rm9ZWnPiZVrx0B1UQagSlPnROM83or-UQUOOF18
ALLSPICE CHICKEN WITH CHINICHURRI AND BROWN RICE
INGREDIENTS
¾ cup brown rice
4 spring onions, finely sliced
2 tablespoons currants
2 tablespoons red wine vinegar, plus 2 tablespoons extra
2 cups baby spinach
1 punnet cherry tomatoes, halved
1 bunch firmly packed basil leaves
2 teaspoons ground cumin, plus 1 tablespoon extra
1 tablespoon extra-virgin olive oil, 1 tablespoon extra
2 teaspoons extra virgin olive oil
8 chicken skinless tenderloins (or 2 chicken breast fillets sliced 1.5cm thick)
2 bunches asparagus
1 long red chilli, finely sliced
3 garlic cloves, finely sliced
2 teaspoons allspice find recipe here http://www.findtex.com.au/uncategorised/spice-mix-sugar-salt-and-fat-free/
INSTRUCTIONS
Place rice in a small saucepan, cover with hot water and bring to the boil. Reduce heat to a simmer and cook for 18- 25 minutes or until tender. Stir through spring onion, currants, cherry tomatoes, two tablespoons of vinegar and baby spinach.
To make the chimichurri finely chop the basil (reserve ¼ bunch leaves for serving) and combine in a bowl with two teaspoons of cumin, olive oil and remaining two tablespoons of red wine vinegar. Set aside to serve.
Rub remaining cumin and the allspice over the chicken. Heat a large frying pan with one tablespoon of olive oil. Cook over high heat for 2-3 minutes each side or until golden and just cooked through. Remove chicken from pan and add asparagus, chilli and garlic. Cook for 2-3 minutes or until asparagus is bright green and lightly charred.
Serve chicken and asparagus on rice with chimichurri to top.
Nutrition Information (per serve)
| | |
| --- | --- |
| Energy (kJ) | 2139 |
| Protein (g) | 34.3 |
| Fat  – Total (g) | 21.7 |
| –  Saturated fat (g) | 3.7 |
| Carbohydrate     – Total (g) | 40.7 |
| | |
| Fibre (g) | 7.5 |
| Sodium (mg) | 72 |
Data provided by Foodworks https://www.xyris.com.au/
Adapted from http://diabetesnsw.com.au/recipe/allspice-chicken-chimichurri-brown-rice/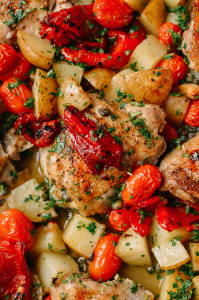 Please not we use Sweet potato not white potato
LEMON HERB MEDITERRANEAN CHICKEN
INGREDIENTS
4 skin-off, bone-in chicken thighs
¼ cup lemon juice (juice of 1 lemon)
3 tablespoons olive oil, divided
1 tablespoon red wine vinegar
4 large garlic cloves, crushed
3 teaspoons dried basil
2 teaspoons dried oregano
2 teaspoons dried parsley
2 teaspoons ginger, plus extra
2 sweet potatoes, halved
1 red onion, cut into wedges
1 red bell pepper (capsicum), deseeded and cut into wedges
1 large zucchini, sliced
4 tablespoons pitted Kalamata olives
Lemon slice, to serve
INSTRUCTIONS
Pat thighs dry with paper towel. In a shallow dish make the marinade by combining the lemon juice, 2 tablespoon of olive oil, vinegar, garlic, basil, oregano and parsley. Keep half of the marinade and store in a jug to use later.
Add the chicken to the marinade in the dish and coat evenly. Cover and marinate for 15 minutes if rushed; 1 hour if time allows; or overnight, turning each chicken thigh occasionally in the marinade.
Preheat oven to 220°C | 430°F. Heat a large pan and add 1 tablespoon of the olive oil.  Remove the chicken from the marinade and sear the chicken on both sides until golden browned (about 4 minutes each side). Drain some of the excess fat, leaving about a tablespoon for added flavour.
Arrange the vegetables around each chicken thigh. Drizzle the vegetables with the remaining marinade, tossing them through the oil mixture to evenly coat.
Cover pan with a lid (or foil), and bake until the sweet potatoes are soft and the chicken is completely cooked through (about 35 minutes). Change oven setting to grill / broil on a medium heat setting for about 5-10 minutes, or until chicken and sweet potatoes are crispy and golden browned. Serve with olives and lemon slices.
https://cafedelites.com/2016/09/12/garlic-lemon-herb-mediterranean-chicken-potatoes/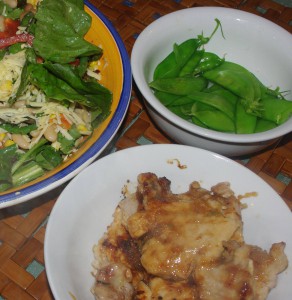 Lemon Chicken
2 tsp canola oil (Olive oil better)
500g chicken breast fillets, thinly sliced Skin removed
3 spring onions, sliced
200g broccolini, cut into 5cm pieces
200g snow peas, trimmed
1 red capsicum, sliced
2 tbsp water
1/3 cup lemon juice
2 tbsp water
1/3 cup EQUAL SPOON FOR SPOON (Over time reduce the amount here until you no longer miss the sweetness of sugar or sugar substitute.)
1 tbsp sherry
2 tbsp reduced salt chicken salt (Add ginger here as a salt substitute)
3 tsp corn flour (Try a multigrain flour)
Heat the oil in a wok, add the chicken breast and stir-fry over a high heat for 5 minutes or until browned. Add the spring onions, broccolini, snow peas, capsicum and water and stir fry for 3 minutes or until the vegetables are bright and tender. Whisk together the lemon juice, water, Equal, sherry, stock and corn flour and stir to dissolve the Equal. Add to the wok and stir until boiling.
Serve on a bed of steamed (Basmati) rice.
JULIANA'S CHICKEN FILLETS WITH LIME/GINGER SAUCE
4 serves
Well if this isn't the best simple chicken fillets you can prepare its very close.
Ingredients :
650g chicken thigh fillets (1000 calories) (omega-3 or free range)
2 tablespoons olive oil (240 calories.
Pound out your fillets
Cook on a hot grill or barbeque and baste for at least 10 minutes.
The basting sauce is :
1/4 cup lime juice (15 calories)
1 large or 2 small crushed garlic (8 calories)
Dash of tabasco sauce (1 calorie)
1 tablespoons piece of ginger minced (4 calories)
Prepare and mix.
Brush over chicken check its done by piercing particularly if using any thick pieces.
Total dish= 1368 calories
total per serve : 342calories
Serve with a salad and other light veg (beans, snow peas, carrots or broccoli) from the garden is best and fresh.