Here is a Mutton Korma
WHITE BADAMI KORMA
INGREDIENTS:
Almonds blanched 8-10
20-25 Poppy seeds 1 tbs
1 cup of your favourite diabetic Milk
Oil 2 tsp
Olive Oil 1 cup
Whole Spices 1 tsp
Black pepper 8
Cloves 4-5
Cardamom 3-4
Black cardamom 1 Cinnamon sticks 2
Ginger Paste ½ tbs
Garlic paste ½ tbs
Mutton/ goat or any lean meat 750 gm (Chicken could be used)
Red Chili powder 1 tsp Nutmeg Mace powder ½ tsp
Coriander powder 1 1/2 tsp Salt 1 1/2 tsp or to taste Green Cardamom Powder
Prepared Almond mixture Yogurt 1 & 1/2 Cup
Onion Fried 1 Cup
Whole spice powder 1 tsp
nutmeg and mace powder 1 tsp
Kewra water 1 tbs (Kewra Water is an aromatic water made from the distilled flowers of the tropical Kewra plant (pandanus odoratissimus). Kewra flowers have a sweet, perfumed, fruity flavour similar to that of rose flowers.)
INSTRUCTIONS:
1. In a blender add Almonds and poppy seeds with milk and blend to form a paste. Set aside.
In a stoneware fry pan, heat oil and add whole spices and fry, add mutton and fry. 3. Add red chili powder, ginger paste and fry until meat changes colour.
Add nutmeg and mace powder, cardamom powder and yogurt and give a good mix. Now add to the almonds' blended mixture and mix well. Cover and cook for 20-25 mins or until meat is tender. Add water if and when required.
Once meat is done add fried onion and mix. Add kewra water. Cook until desired thickness or gravy. Add garam masala. Garnish with fried almonds.
Serve with steamed vegetables.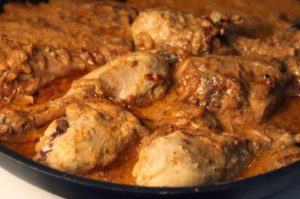 CHICKEN KORMA
INGREDIENTS
750 grams skinless chicken (drumsticks)
12 tbsp natural yogurt
1 inch ginger julienne
1 tsp garlic paste
6 cloves
6 pepper corns
6 green cardamoms
3 black cardamoms
1/2 tsp mace NB1
1/2 tsp nutmeg powder
1 tsp jeera
1 tsp red chilli powder
1 tsp garam masala find recipe here http://www.findtex.com.au/diabetic-foods/sugar-free-masala/
1 tsp coriander powder
1 large onion, thinly sliced
6 tbsp olive oil
INSTRUCTIONS
Whisk the yogurt and mix all spices; add the chicken to the spiced yogurt
Heat the olive oil in a large stoneware fry pan and fry the onion till it turns dark
Strain the fried onions.
Remove the fry pan from heat for a few minutes to let the (residual) oil cool down; this is important because adding yogurt to hot oil would make it curdle, which should be avoided
Once the pan has cooled down, add the chicken soaked in spiced yogurt
Cook on low-medium heat for about 30 minutes, stirring intermittently
Add the fried onion
Cook for another 15 minutes and Karim's Shahi Korma is ready! Enjoy with steamed vegetables.
NB1 Mace, spice consisting of the dried aril, or lacy covering, of the nutmeg fruit of Myristica fragrans, a tropical evergreen tree. Mace has a slightly warm taste and a fragrance similar to that of nutmeg.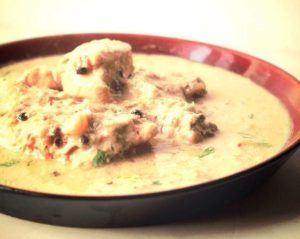 WHITE CHICKEN KORMA
INGREDIENTS
1 kg skinless chicken cut into small pieces (use either bone-in or boneless)
2 tbsp + 2 tbsp olive oil
2 medium sized onions finely sliced
1 inch stick cinnamon
2 green cardamom
2 cloves
1 bay leaf
2 tsp black pepper corns
2 green chillies cut into half
2 tbsp ginger garlic paste
1 tbsp white pepper powder
1 cup yogurt
INSTRUCTIONS
Heat 2 tbsp olive oil in a pan and fry the onion till golden brown in colour. Remove from heat, set aside.
Once the onions are cool, take a large bowl and add fried onion, cinnamon, cardamom, cloves, bay leaf, black pepper, green chili, ginger garlic paste, white pepper powder and yogurt. Mix well.
Add the chicken and mix thoroughly. Marinate this overnight.
Heat 2 tbsp olive oil in a pan and add the chicken marinade.
Once the chicken is done, stir and switch off the heat.
Serve hot with steamed vegetables and/or a salad.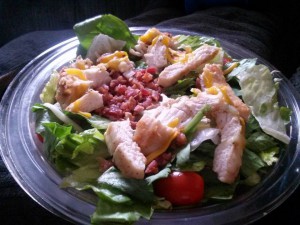 1 tbsp oil
450g chicken breast, no skin, cubed
1 onion, cubed
100g korma curry paste
425ml water
150ml low fat natural yoghurt
2 tbsp EQUAL SPOON FOR SPOON (Over time reduce the amount here until you no longer miss the sweetness of sugar or sugar substitute.)
50g flaked almonds, toasted
2 tbsp coriander, chopped
Heat the oil in a pan and add the chicken and the onion. Fry for 3-4 minutes. Stir in the curry paste and continue to fry for 2 minutes. Pour over the water, bring to the boil and simmer for 35-40 minutes.
Stir in the yoghurt and the Equal. Sprinkle with almonds and coriander and serve with fluffy jasmine rice. (Basmati rice better).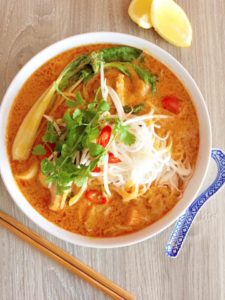 CHICKEN CURRY
INGREDIENTS
½ tsp cinnamon, ground
1 tsp coriander, ground
1 tsp cardamom, ground (green)
1 tsp turmeric, ground
1 tsp chilli powder
2 tsps. fenugreek
2 tsps. cumin seeds
2 Tbs Extra Virgin Olive Oil
1 brown onion finely chopped
1 Tbs coriander root and stem, finely chopped
1 Tbs ginger, freshly grated
2 cloves garlic crushed
500g chicken thighs, skin removed and chopped into bite sized chunks
400g sweet potatoes, chopped into bite sized chunks
400g cauliflower, chopped into bite sized chunks
1 can of whole peeled tomatoes or fresh if possible
400ml water
1 cup plain yoghurt + extra to serve
Coriander leaves and lime quarters to serve
Any other in season green vegetables
INSTRUCTIONS
Place all the dry spices in the bottom of a medium to large saucepan and toast on medium high heat for 1-2 minutes, until fragrant. Add the Extra Virgin Olive Oil, onion, coriander root, garlic and ginger and cook until the onion has softened.
Add chicken thigh pieces and stir to coat in the spice mix. Cook for a few minutes, stirring frequently to ensure they are lightly coloured on all sides.
Add sweet potatoes, tomatoes and water. Simmer for 20 minutes and then add the cauliflower. Simmer for a further 15-20 minutes or until the cauliflower and potatoes are tender and the sauce has thickened.
Remove a few tablespoons of sauce and stir into the yoghurt. Continue to do this a tablespoon at a time until the yoghurt is the consistency of pouring cream. Incorporate the yoghurt mixture into the curry a tablespoon at a time so that it doesn't split or curdle. Check seasoning before serving.
Drizzle extra yoghurt over the curry and scatter with extra coriander leaves. Squeeze over lime juice just before eating. Serve with rice or/ and flat bread to soak up the delicious sauce.
Adapted from https://redisland.com/hollys-chicken-curry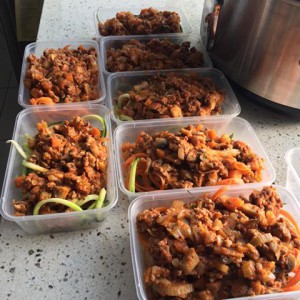 TURKEY RAGOUT
Ingredients
500g turkey mince (Homemade chicken or turkey mince from breasts preferred)
750ml fresh tomato purée
750ml water
4 garlic cloves
1lg onion diced
1 bag ready to cook veggie mix from supermarket (Fresh if possible)
1tbsp paprika (smoked would be nice)
1tbsp mixed herbs
Ginger and pepper to taste
Instructions
Sweat down veg, add mince and brown.
Add garlic, paprika and herbs and stir through.
Add tomatoes and stock.
Bring to boil and drop heat to a simmer.
Simmer for 1hr or until liquid has reduced.
Extra can be frozen for future use.
CHICKEN TIKKA MASALA
Ingredients
2   teaspoons garam masala
1⁄4   teaspoon ground cumin
1⁄4   cup plain fat-free Greek yoghurt
1   pound chicken breast tenderloins
1   tablespoon olive oil
1 1⁄2   teaspoons ginger paste
1 1⁄2   teaspoons garlic paste
1⁄2   of a medium fresh jalapeño chille pepper, finely chopped
1   tablespoon tomato paste
1   140 g tub no-salt-added tomato sauce
1⁄8   teaspoon cayenne pepper
1⁄4   cup fat-free Greek yoghurt
1 1⁄2   teaspoons olive oil
1⁄4   cup snipped fresh cilantro
Instructions
In a small bowl stir together garam masala, cumin, 1⁄4 teaspoon ginger, and 1⁄8 teaspoon black pepper. In a medium bowl combine yoghurt and 1/2 teaspoons of the spice mixture. Add chicken; toss to coat. Stand in fridge for at 20 minutes, overnight is best.
For sauce, in a small saucepan heat 1 tablespoon oil over medium heat. Add the remaining spice mixture; cook and stir for 30 seconds or until mixture is fragrant. Add ginger paste, garlic paste, and jalapeño pepper; cook and stir for 1 minute. Add tomato paste; cook and stir for 1 minute more. Stir in tomato sauce, sugar, and cayenne pepper. Bring to boil; reduce heat. Simmer, uncovered, for 10 minutes. Stir in half-and-half. Remove from heat; cover and keep warm.
Meanwhile, thread chicken accordion-style on eight skewers. Brush chicken with 1 1⁄2 teaspoons oil. For a charcoal or gas BBQ grill, place skewers on the grill rack directly over medium-high heat. Cover and grill for 8 to 10 minutes or until chicken is done, turning once halfway through grilling.
Serve chicken kebabs with sauce.